6 area rug mistakes to avoid – and expert advice on how to get them just right
Design experts offer tips on choosing the right size, color and style for your rooms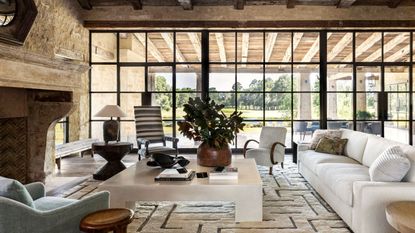 (Image credit: Julie Soefer)
Sign up to the Homes & Gardens newsletter
Decor Ideas. Project Inspiration. Expert Advice. Delivered to your inbox.
Thank you for signing up to Homes & Gardens. You will receive a verification email shortly.
There was a problem. Please refresh the page and try again.
A well-chosen area rug is the perfect finishing touch for any room, but make the wrong choice and you can ruin a space. With that in mind, what are the area rug mistakes to avoid?
We asked interior designers and flooring experts for their advice what not to do when choosing an area rug. Their expert advice is just as valuable, whether you're choosing a small accent rug to highlight and complement a key feature or color in the room scheme, or a much larger area rug that covers most of the floor.
So take note of the rug mistakes to avoid, and the current rug trends, to make a successful choice, and add comfort and style to the space you're furnishing.
6 mistakes to avoid with area rugs
One of the biggest area rug mistakes is to choose one that's too small, especially for living room rugs. Other frequent mistakes highlighted by our design experts include: buying a cheap, poor quality rug; choosing the wrong style or color rug for the room; positioning a rug badly; and keeping a rug past its sell-by date.
1. Getting the rug size wrong
For most of the experts we spoke to, not choosing the right size of area rug really is their number one pet peeve and the most frequently seen area rug mistake. There's perhaps a misconception that a small rug will allow a room more breathing space and make it look more spacious but in fact the exact opposite is true; it will draw the eye inward, making the room look smaller. So not only is it a rug mistake, it can end up being a living room layout mistake.
Stacy Waggoner of custom rug specialists Studio Four NYC says: 'If a rug is too small for the space, it makes the whole room look smaller. When shopping for a rug it's important to remember that a rug should be large enough to go under the furniture.'
And there's another consequence of choosing a rug that's too small, as interior designer Liz Lipkin, explains, 'Undersized rugs tend to look a little sad and lost, and fail to ground a room. A good rule of thumb is to choose a rug that's large enough to extend underneath all four feet of the furniture in the room – or at least beyond the front feet of larger pieces like sofas and armchairs.'
Chad Falkenberg, of Canadian interior design firm Falken Reynolds, agrees and says: 'We like to use oversized rugs that go under furniture – it makes rooms feel larger and is also nicer to step on when our feet kick back getting up from a sofa or chair.'
Boston-based interior designer Gary McBournie adds this interesting tip: 'I like for rugs to almost fill the space – leaving a border of floor around the room that relates to the architecture – ie, a small room with lower ceilings would have a small border with the opposite being true.'
In essence, interiors experts agree, and the Toronto-based designer Elizabeth Metcalfe neatly sums it up: 'When in doubt, always go a size larger. A larger area rug will visually make a room feel more expansive.'
There are, as always, exceptions, says Lucy Searle, Editor in Chief, Homes & Gardens: 'There is an emerging trend for rugs with decorative edges and plain centers, and the intention of these rugs is very much to show off these pretty borders, whether they're colored, patterned, textured or even scalloped.
'In the case of these area rugs, a smaller rug can work, though you will still have more success if you ensure these area rugs are large enough that they stop just short of filling the entire floor space in the center of the room in front of the furniture.'
Lucy Searle has written about interiors, property and gardens for over 30 years, starting within the interiors departments of women's magazines before switching to interiors-only titles in the mid-1990s. In 2018, Lucy took on the role of Global Editor in Chief for Realhomes.com, taking the site from a small magazine add-on to a global success. She was asked to repeat that success at Homes & Gardens, where she has also taken on the editorship of the magazine, which is the UK's oldest interiors magazine at 103 years old. Lucy is a serial renovator and also owns rental properties in the UK and Europe, so brings first-hand knowledge to the subjects she oversees.
2. Choosing the wrong style and color
It's important to choose a rug style and color to complement and enhance the room scheme; get that wrong and the rug will never look at ease in its surroundings. We love the way the well-chosen area rug in the image above perfectly fits the room color ideas, by referencing both the overall color scheme and the geometric patterns in the drapes and accessories, creating a real impact.
Interior designer Tancred Vilucchi, favors this approach and prefers rugs to be more of a focal point: 'Rugs have substantial presence in a room and should follow the overall flow level and integrity of a selected design scheme. For example, in maximalist design we source or design rugs made of vibrant colors and patterns, fabricated with high-level quality materials and craftsmanship. As an element coming out from the floor, rugs are impactful design tools to maximize the overall atmosphere and its flow.'
Before we get too hung up on rug colors to avoid, it's worth knowing that choosing a rug that contrasts with the rest of the room can be very effective, as Elizabeth Metcalfe explains: 'Interesting combinations can be achieved when you insert an element that is contradictory to the overall design direction. It can change the narrative of a space, making a formal dining room feel more inviting, or adding depth to a minimal contemporary living room. The key is to choose carefully and add additional elements that support the story you're telling which creates a cohesive and intentional design.'
Amy Knerr, owner and principal designer at Of Place Studio, says, 'I typically choose neutral rugs that serve as an added layer to a space – they usually aren't the main design element, but rather a complementary element. I love a subtle pattern, a nice texture, interesting materiality, something that adds to the room but is not the focal point.'
3. Selecting a rug that's not fit for purpose
As well as thinking about the rug style and color, you need to think about its purpose and that of the room, as these will all have a bearing on your choice. Considering dining room rug ideas, designer Liz Lipkin says: 'A pile carpet isn't going to be practical under the family dining table, but it'll feel nice underfoot in the bedroom. And don't be afraid to use 'outdoor' rugs indoors, especially in kids' or family rooms. There are so many soft, colorful, washable, and eco-friendly options to choose from.'
The picture above shows an outdoor rug in use on a deck, but some of the best outdoor rugs could work just as well inside in the right setting.
Florence Livingston, an interior designer based in Marin County, also singles out the dining room rug for a special mention: 'Using a rug too small for the space is definitely a mistake that we keep seeing, especially in dining rooms where the rug needs to be large enough so that it doesn't interfere with moving the dining chairs in and out. And you don't want to use a rug that's too thick as food crumbs can get lost in the fibers and the chairs may be challenging to move around.'
On that practical note, Gary McBournie adds, 'Consider your lifestyle. Medium tones and patterns are much more forgiving than the white silk carpet you may be envisioning.'
4. Not buying the best quality rug you can afford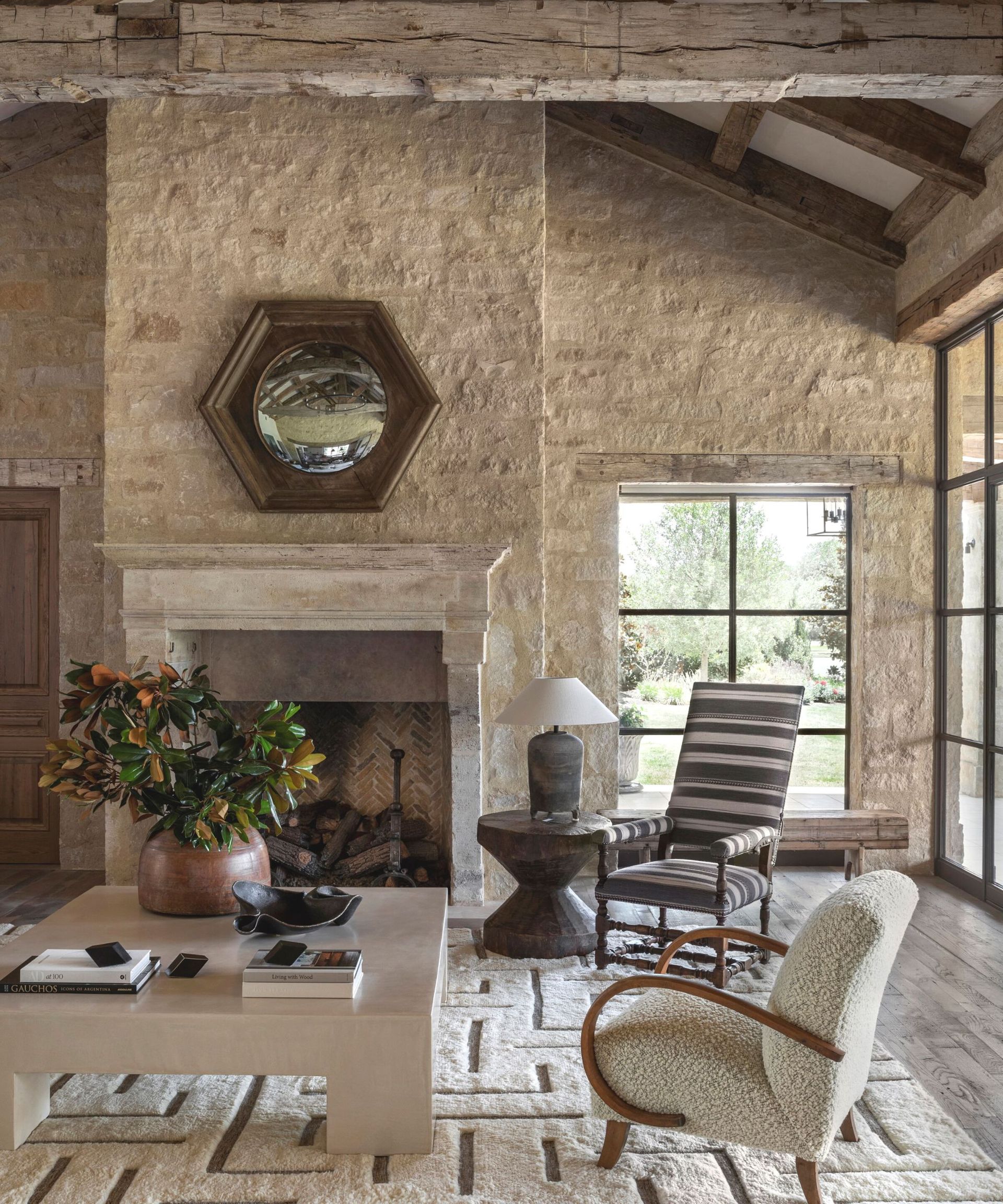 The expert advice around quality is no different when choosing rugs from when making any other major household purchase: do your research, consider the best places to buy rugs, and then buy the best quality you can afford. A cheap, poor quality rug may look okay for a short while, but is likely to prove a false economy, wearing badly and requiring replacing within a couple of years.
One of the stars of the farmhouse living room scheme above is a top quality custom wool handwoven Moroccan rug from Matt Camron, well worth the investment. Chad Falkenberg agrees, and says: 'Quality is number one for rug selection – a well made rug can last decades if not hundreds of years. We look for rugs using natural fibers that are woven or knotted in places where they have been doing it for centuries. Wool is our go-to for durability and warmth, and silk for texture and luster. One thing many people overlook is the tightness of the knot or weave – loose ones will cause the fibers to shed more (taking more effort to keep rooms clean).'
Custom rug expert Stacy Waggoner also stresses the sense in choosing quality rugs that will last for years, with the following caveat: 'But it also depends on how and where you are using it, for instance, if you're buying your first rug for your first apartment and your budget is tight, there are many cheap and cheerful options with style to be found with retailers where you may also be buying your first apartment furniture. Probably not lifetime purchases, but these can see you through until you can up your decorating game.'
And for sourcing quality rugs at lower prices, Waggoner adds, 'Don't forget to look at old rugs at antique stores, flea markets, etc; there are some amazing old rugs that can add character – but buy one because you love it and see yourself living with it, not because you think it will appreciate in value.'
5. Not positioning your rug carefully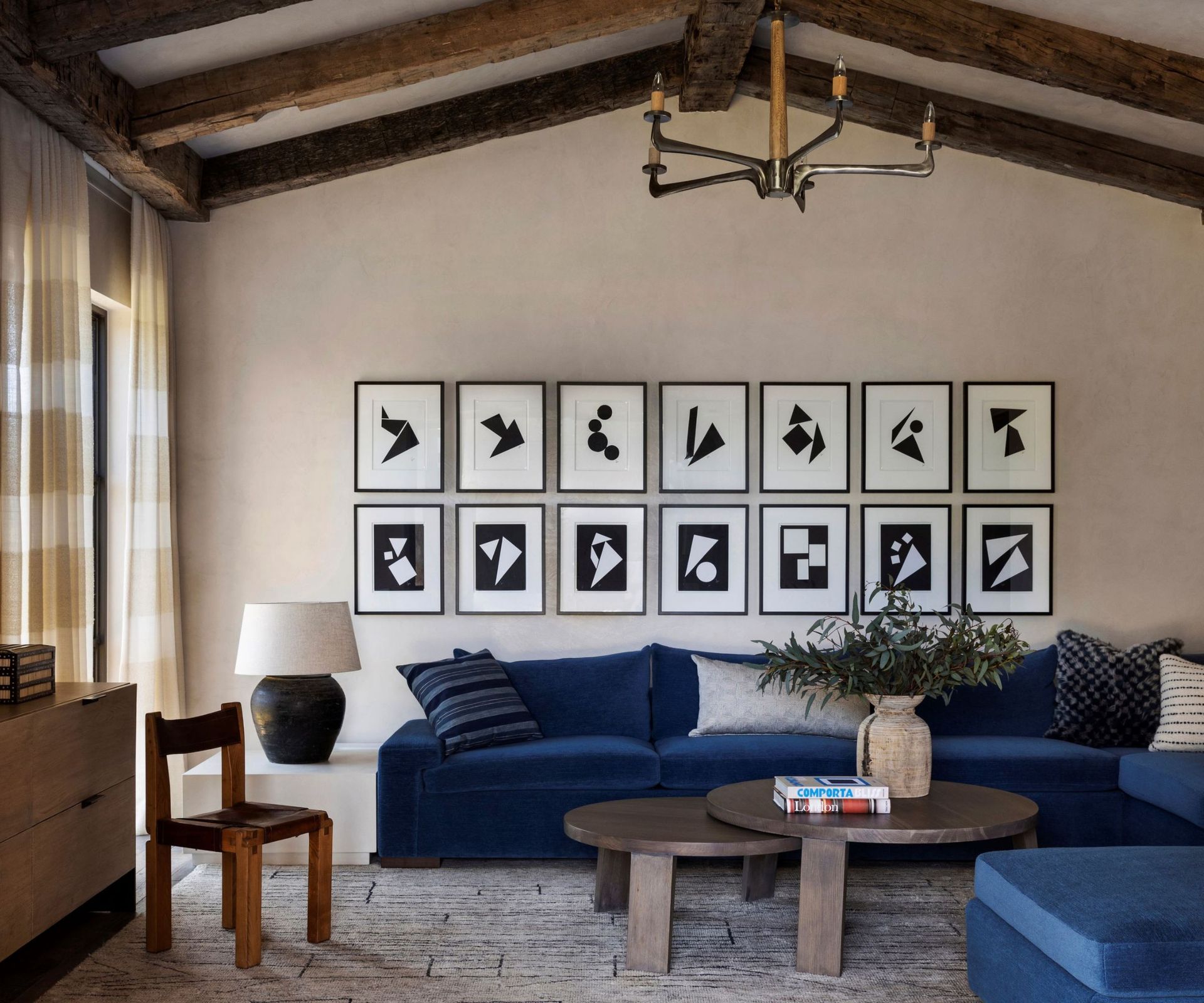 Positioning a rug wrongly is a common mistake, and in other rooms too. We discussed the importance of choosing the right size of area rug above, but once you've got the rug how do you position it in the room?
As mentioned above, it's important that the rug is big enough to sit under the furniture, as in the image above, or at least under the front feet of the furniture. But there are additional considerations to take into account.
'An area rug should never look like an "island" floating in the middle of a room,' advises designer Elizabeth Metcalfe. 'It should act as the anchor, uniting your composition of furniture pieces around a central point. A free-form organic-shaped area rug allows more flexibility, but it should be strategically positioned to create an arrangement where it connects various pieces in the room.'
Liz Lipkin suggests measuring your room to determine the ideal rug size, and then 'using painter's tape to mock up size and position options on the floor if you have trouble visualizing'.
Don't forget to take doors into account when you're thinking about where to position a rug. Lipkin says: 'Measure door clearances and check rug heights to ensure that doors will swing open and closed easily.'
And once the rug's in its optimum position, ensure it stays that way, with a rug pad. 'It not only keeps your rug in place, it adds cushioning and extends the life of the rug,' adds Lipkin
Amazon sells a huge range of rug pads in various sizes.
6. Keeping a rug that's dirty or beyond its best
Lastly, even when you've chosen the perfect size area rug in the optimum style and color, ensuring it's good quality, and have positioned it with care, there will still come a point when it's time to let it go – or at least know how often to deep clean your area rug if that's possible.
Liz Lipkin, like many of our experts, extols the virtues and longevity of natural fibers, saying 'Don't be afraid to invest in a wool rug. They're soft, durable, stain resistant, and will last for generations.'
Once you know how, it's just as easy to clean a wool rug as it is to clean synthetic fibers.
For designer Lisette Fernandez-Hilson co-founder of Together Home, leaving a rug in place when it's past its prime is her pet peeve. 'It's easy to lay it and forget it,' she says, 'but once a rug starts to fade, fray or funk (do you have a dog? your rug could smell funky after some time), it's time to replace it!'
Point taken, we're off to do the funk test, or at least have a serious think about how to clean an area rug.
FAQs
Is it better for an area rug to be too big or too small?
It's better for area rugs to be a little too large for a space than too small since small rugs look out of place and disconnected from the rest of the furniture. That is, assuming a too-large rug is practical, doesn't curl up against baseboards and stop doors from opening and closing efficiently.
---
Of course there are times when the biggest area rug mistake is laying one where the floor might be best left bare. This might be in a space where it's truly impractical to have an area rug, where the area rug hides a beautiful natural material, such as wood or stone, or where it acts as a visual divide in a small open-plan space, making it feel smaller still.
Sign up to the Homes & Gardens newsletter
Decor Ideas. Project Inspiration. Expert Advice. Delivered to your inbox.
Karen is the houses editor for homesandgardens.com and homes editor for the brand's sister titles, Period Living and Country Homes & Interiors, and an experienced writer on interiors and gardens. She loves visiting historic houses for Period Living and writing about rural properties for Country Homes & Interiors, and working with photographers to capture all shapes and sizes of properties. Karen began her career as a sub editor at Hi-Fi News and Record Review magazine. Her move to women's magazines came soon after, in the shape of Living magazine, which covered cookery, fashion, beauty, homes and gardening. From Living Karen moved to Ideal Home magazine, where as deputy chief sub, then chief sub, she started to really take an interest in properties, architecture, interior design and gardening.