Aesthetic bedroom ideas – 11 inspiring looks for your sleep space
Discover beautiful aesthetic bedroom ideas to help create your perfect themed sanctuary, from ultra-modern to classic country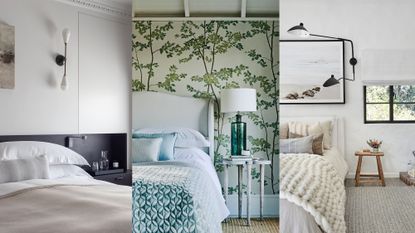 (Image credit: TR Studio / Future / Julia Dempster)
Whether you're embarking on a new room design or updating an existing scheme, these aesthetic bedroom ideas are guaranteed to inspire.
As private spaces, bedrooms are rooms where we can be free to express our personalities and should be filled with the things we love. While a more reserved approach to decorating may suit communal areas in the home, such as living rooms and the kitchen, bedrooms offer the perfect opportunity to tune in to your favorite look or 'aesthetic' or, alternatively, to tear up the rule book altogether and create an eclectic look meaningful to you.
To whet your appetite for the endless possibilities available, we've gathered an array of beautiful bedroom ideas and bedroom trends we think you'll love.
Aesthetic bedroom ideas
If you're looking for bedroom inspiration then you're in the right place as these aesthetic bedrooms not only look beautiful but offer a host of different decorating ideas to channel whatever your taste.
Within the world of interiors, the term 'aesthetic' has come to mean different things across the centuries. Delving back into design history, The Aesthetic Movement n Britain (1860 – 1900) sought to promote visual beauty and pleasure within design and interiors in an increasingly industrialized society. However, today the term is used more generally within interiors and online to refer to beautiful spaces or room designs that tap into particular styles or looks.
Whether you're wondering 'what are good themes for bedrooms?' Or simply want to scroll through some dreamy spaces to brighten your day, read on to discover some of our favorite bedroom looks along with decorating tips from interior designers on how to create them.
1. Go for a cool minimalist look
The minimalist aesthetic is a popular choice for modern bedrooms, as more and more of us seek calm spaces to escape our busy lives. To achieve the clean, pared-back look choose a monochrome palette, limit furniture to key pieces and factor in plenty of built-in bedroom storage.
In this simple bedroom, TR Studio designed numerous built-in, clever recessed storage units and a bespoke headboard to maximize the floor area and maintain a clean, minimal and aesthetically pleasing look.
'There are plenty of clever design devices to add extra storage to space without the need for extra furniture. One way is to make use of alcoves by building them out with concealed storage. This not only makes use of unused space, but it also makes the wall visually appear more expansive,' says Tom Rutt, founder TR Studio. 'A bespoke headboard with a slim, built-in bedside table or shelf also frees up a lot of space and is ideal for small bedrooms or making a bedroom look more sophisticated.'
2. Create a luxurious bedroom
As spaces designed to relax and recuperate, bedrooms are the perfect place to introduce a little luxury. In this luxury bedroom, interior designer David Frazier has combined a sumptuous elongated headboard idea with an oversized ceiling light and layers of luxurious texture to evoke the feeling of a boutique urban hotel.
'To elevate the space and give it a luxurious feeling we layered rich textures with furniture that has clean, contemporary lines without being too minimal,' says David Frazier.
'The walls have a natural grass cloth, the custom bed that extends wall to wall is in a mohair velvet, the lamps are made of parchment leather, the fur blanket is layered to provide a rich contrast to the linen bedding and the drapery is a linen silk blend.'
3. Go for a cottage-style bedroom
While cottage core may be a big trend at the moment, done right, the look is timeless and enduring. If you're looking to create a relaxed cottage bedroom you can't go wrong with choosing furniture in natural materials says Joana Aranha.
'Materials in their purest state are so much more authentical and charming – try natural woods without varnish, linens, natural stones, and even old rice bags.'
She also suggests adding in 'small accent antique pieces – not necessarily expensive ones. Those pieces found in flea markets that bring history with them. The ones that tell a story just by looking at them. These elements make all the difference!'
4. Create a quirky boho look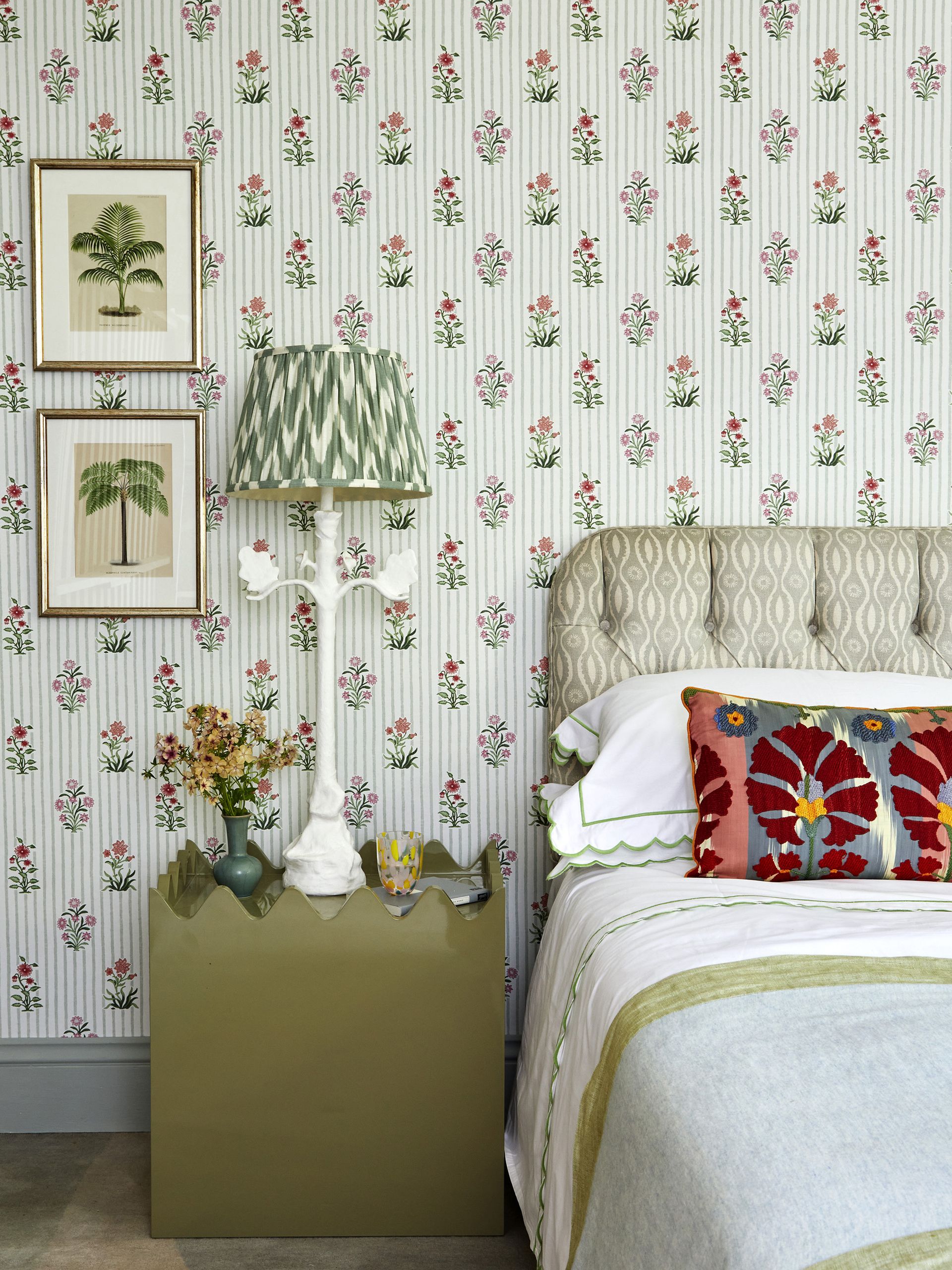 When creating a bohemian bedroom anything goes and more is often more, so if you love prints feel free to introduce them over multiple surfaces from bedroom wallpaper ideas to headboard ideas and cushions.
'When combining many different patterns within one room it's a good idea to mix different types or different scales together, to create a point of difference that will allow the eye to appreciate each individual pattern,' says Kate French, creative director at Dado.
A fresh and pretty mix of ditsy florals and stripes, this charming Bindi Flower wallpaper by Daydress for Dado makes a perfect backdrop for a bedroom scheme as it has plenty of colors to draw from without feeling overpowering.
'Pair with geometrics, ikat prints or larger florals for an eclectic feel,' adds Kate French. 'Mixing in plain fabrics, as well as painted finishes, will balance the overall look and ensure the room feels cohesive and considered.'
5. Channel the coastal aesthetic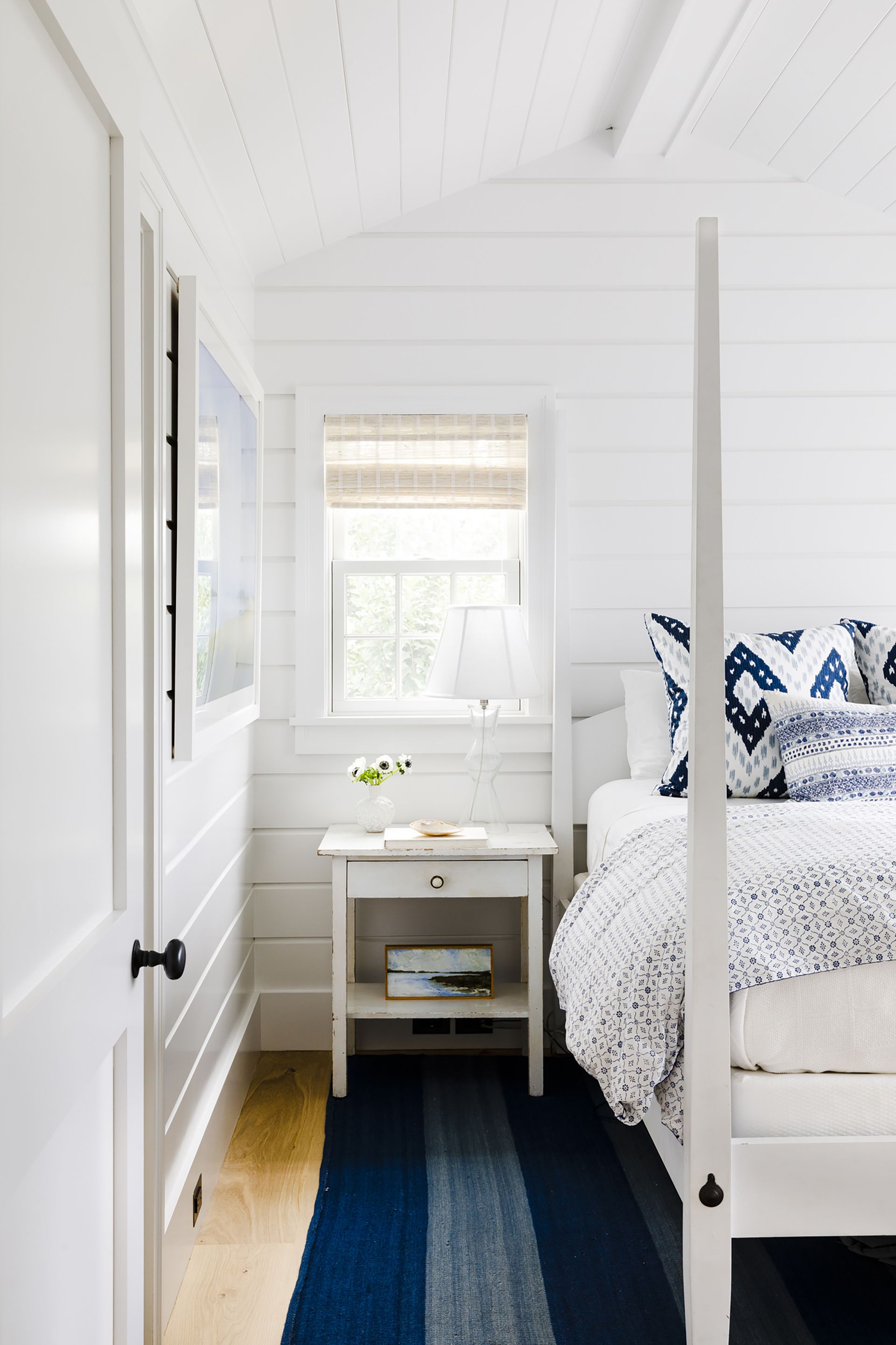 There's nothing like a trip to the seaside to recharge the batteries, so it's no wonder coastal decor is a popular theme for creating a restful bedroom. Shiplap bedroom wall ideas make the perfect foundation for the look along with a palette of white, neutrals and ocean blues, but 'be careful to avoid overly cliché coastal accents' says interior designer Allison Babcock.
'The focus of a coastal interior should always be drawing the outside in,' she adds. 'Create a color palette that reflects the coastal nature of the space, whether that's injecting oceanic blues with sandy tans or accenting stormy slate gray with natural linen.'
6. Add personality with artwork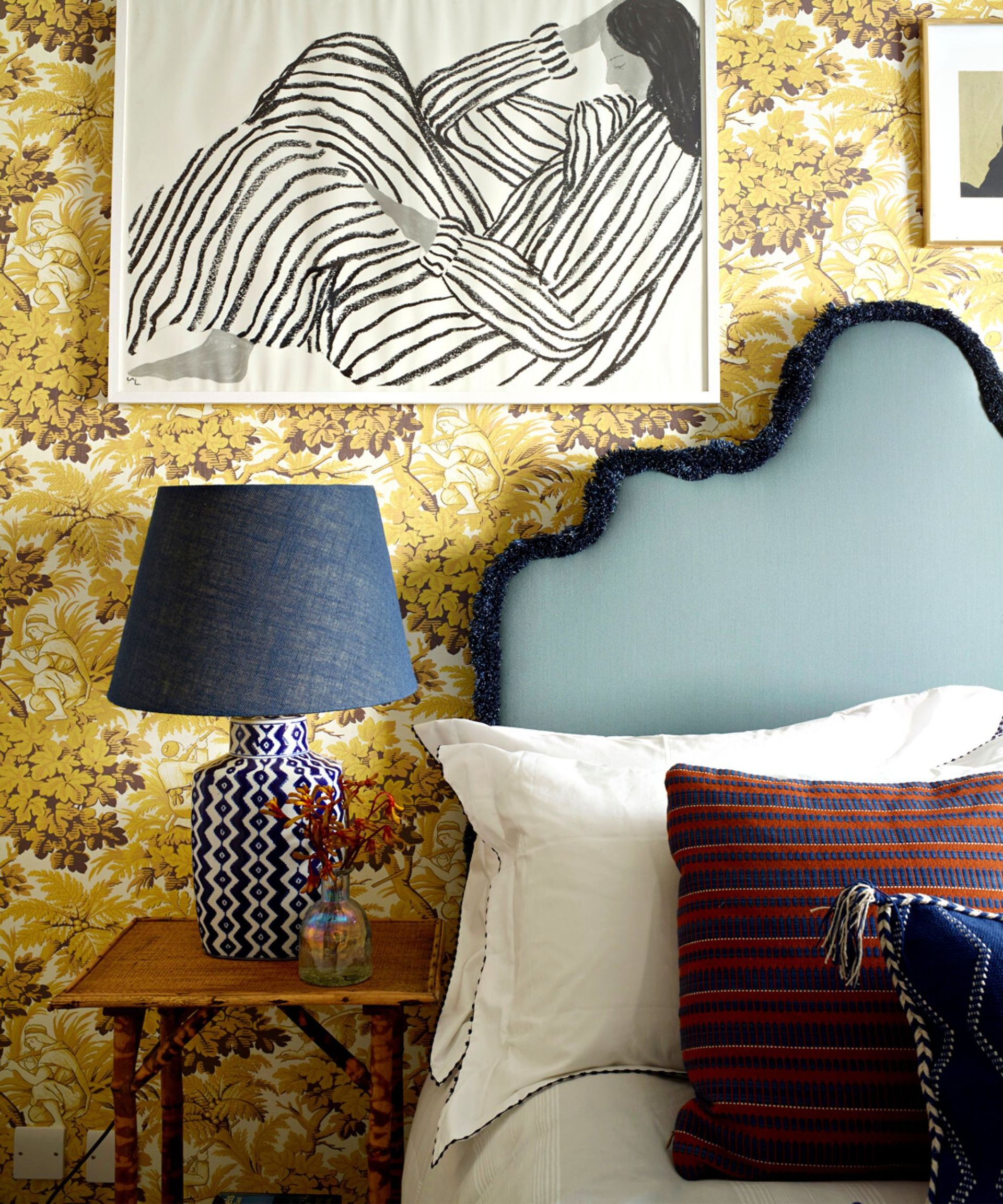 Decorating with art is a quick and easy way to inject your personality into a space or tap into a trend and unlike wallpaper and paint, bedroom art ideas are easy to switch up and change around for a fresh feel.
'For me, art isn't just the 'finishing touch' in a home. Art can really help to define the feel of a space and be really transformative. As well as complementing a design scheme, it can also be the starting point for interior design, with the scheme taking its cues from the colours of a piece of art,' says Helen Armon-Jones, founder of The Art Buyer.
'If you want to create a gallery wall, then I'd always advise laying your frames out on the floor to create the layout. This will allow you to move pieces around until you find the layout that works best for you, and will avoid you creating many holes in the wall. Ultimately, the key is to create a relaxing room, allowing space and room to breathe around artworks and furniture.'
7. Try a vintage look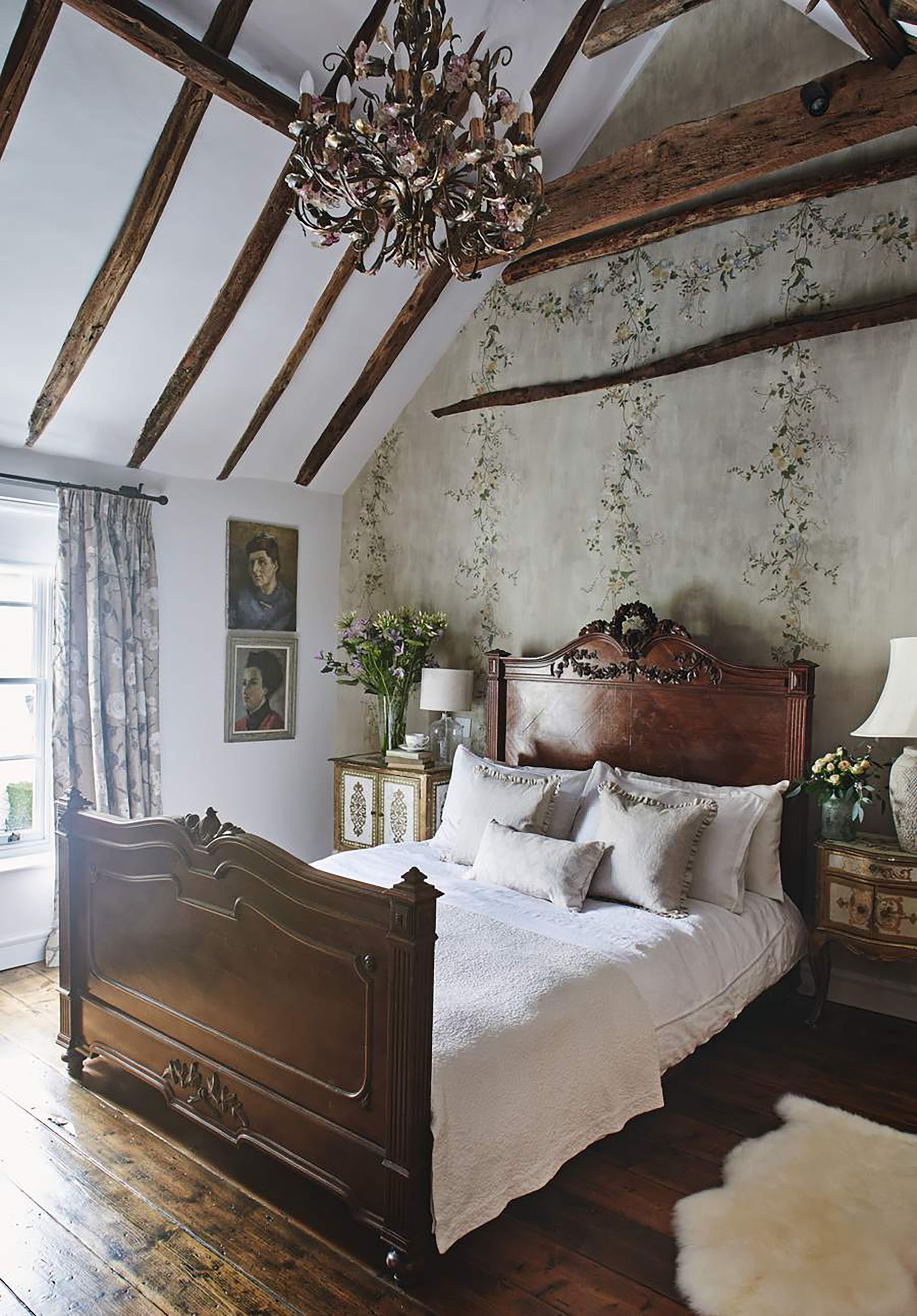 If you're a nostalgic soul after a vintage bedroom try mixing delicate floral prints and muted colors with antique pieces.
'Finding vintage furniture, whether from antique shops, thrift stores, online marketplaces, or even the side of the road. This is a great way to find quality pieces of furniture with vintage character,' says Rudy Saunders, Dorothy Draper & Company, New York. 'Painting and reupholstering are great ways to freshen vintage pieces up.'
When it comes to bedroom lighting, 'swap out overhead lighting for a chandelier or lantern. This will add a lot of charm to the space and is an easy fix,' says Rudy. He also suggests adding a bed canopy for vintage flair and to 'find old silver trays to use on your nightstands, dresser, etc. These are a great way to hide clutter (think remote controls and other modern things) as well as adding vintage charm.'
8. Create a relaxing bedroom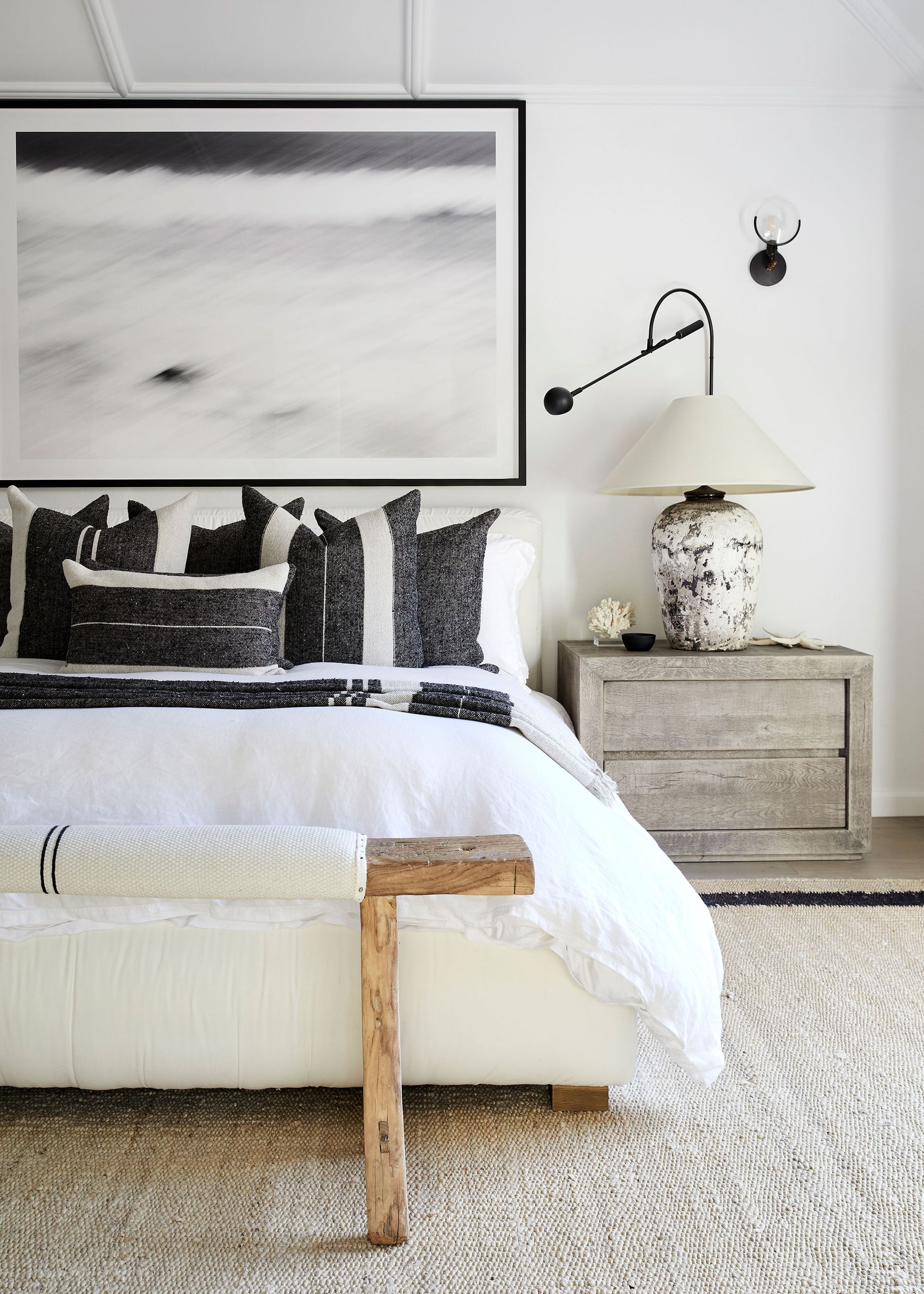 For a look guaranteed to endure why not buck the bedroom trends and opt for a simple, relaxing bedroom? For a restful feel take inspiration from the colors or nature, or play it safe with versatile neutral bedroom ideas.
'For feelings of tranquillity and calm, choose cool neutrals. For a timeless and traditional feel, opt for warmer colors,' advises interior designer Julia Dempster. 'Neutrals are versatile, and you can completely change the look and feel using accessories, such as pillows, throws and duvet covers.'
When decorating with neutrals 'it is important to use contrasting textures,' says Julia Dempster. 'I love using linen bedlinen against vintage pillows with a thick woven wool throw to dress the bed, a thick pile knotted rug adds to the contrasting texture against rustic reclaimed wood.'
9. Create a romantic bedroom
When it comes to romantic bedroom ideas the key is to combine elegance with intimacy and coziness. Opt for warm neutrals or try rich deep tones, plus factor in plenty of wall lighting, table lamps and dimmable lighting in order to set the mood.
For a romantic guest room, 'consider using a dark, cocooning color for the walls. It will make the room memorable, and your guests will feel indulged and cozy,' says Simon Temprell, interior design manager at Neptune.
'If you have the space, a four-poster bed is the ultimate in boutique-hotel luxury. Add curtains to the bed frame and the bed becomes an enclosure, creating a room within a room.'
10. Create a country bedroom
To create a country bedroom, there's no better place to look for inspiration than the rural surroundings. Team subdued earthy tones with plenty of rustic natural wood, and textural wool and linen. For depth and interest decorate with checks and delicate flower and leaf prints then complete the look with beautiful original landscape paintings.
Here the bedroom wall paneling sets the tone for the country decor but also makes a fabulous shelf for creative relaxed seasonal displays.
11. Go for a botanical theme
It's well-documented that biophilic design promotes health and well-being, so for a restful and rejuvenating bedroom try decorating with botanicals.
Blue the boundaries between outside and in and immerse yourself in nature with a leafy print wall-to-wall. To keep the scheme feeling restful and calm fair it with a soft white upholstered headboard, fresh white paintwork and layers of gentle texture.
What kind of bedroom aesthetics are there?
There's a huge array of aesthetics to choose from when decorating a bedroom from ultra-modern bedrooms and high-end glamorous looks to more relaxed farmhouse decor ideas. What aesthetic is best for your space will ultimately come down to personal taste but may also depend on the size of the room, the architectural style of the property and who will be using the room.
Main bedrooms are spaces where we can throw caution to the wind and really embrace our personal tastes, alternatively, with guest bedrooms or bedrooms used for multiple functions such as home offices it may be better to take a more pared-back approach.
How do I make my bedroom aesthetic?
There are lots of ways to make a bedroom more aesthetic and add instant personality, from paint and wallpaper ideas to simply adding in some beautiful cushions and throws.
Whether it's a single statement piece or a busy gallery wall, introducing artwork can instantly transform a space plus you could try decorating shelves with beautiful objects or cherished possessions.
Decorating with plants or adding in fresh flowers is a wonderful quick update that is guaranteed to bring instant freshness and life to a room no matter the size or decor..
Sign up to the Homes & Gardens newsletter
Decor Ideas. Project Inspiration. Expert Advice. Delivered to your inbox.
Pippa is Content Editor on Homes & Gardens online contributing to Period Living and Country Homes & Interiors print issues. A graduate of Art History and formerly Style Editor at Period Living, she is passionate about architecture, creating decorating content, interior styling and writing about craft and historic homes. She enjoys searching out beautiful images and the latest trends to share with the Homes & Gardens audience. A keen gardener, when she's not writing you'll find her growing flowers on her village allotment for styling projects.