What color should I paint my bedroom if I have anxiety? 9 expert-approved hues to make you happy
Create the perfect space to de-stress with these expert-approved paint colors for bedrooms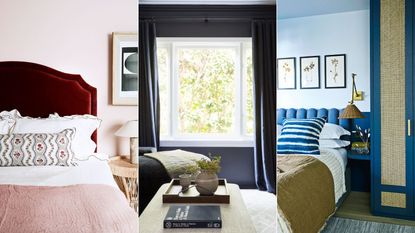 (Image credit: Future)
Sign up to the Homes & Gardens newsletter
Decor Ideas. Project Inspiration. Expert Advice. Delivered to your inbox.
Thank you for signing up to Homes & Gardens. You will receive a verification email shortly.
There was a problem. Please refresh the page and try again.
Choosing the perfect color for your bedroom can be easier said than done, especially when you consider that we spend a third of our lives in bed. With thousands of shades to choose from, how can you ensure you land on the right one? Some colors can invigorate you, making your mornings easier than ever, while others can aid in your relaxation, making your evenings a breeze. It really all comes down to discovering what you want from your bedroom, as well as the best bedroom color ideas for a relaxing bedroom.
Color is a powerful and proactive tool and one that we often take for granted when thinking about our health and well-being, so it is also worth noting what colors cause anxiety, too. Here, we've curated our favorite bedroom colors to help combat anxiety.
What color should I paint my bedroom if I have anxiety?
For those of us who suffer from anxiety, creating a bedroom that feels like a relaxing, safe retreat from the stressors of the outside world is ideal. Angela Hamwey of Mackenzie & Co. agrees, stating that bedrooms should feel cozy and even cocooning.
'Often considered a space of sanctuary, bedrooms are a place we look towards to induce feelings of peace and tranquility,' says Angela. 'When selecting paint, it's important to choose shades that create a soothing environment. We strongly suggest leaning into cool, soft colors such as blues and greens and avoiding bright, energetic colors that may evoke strong emotions.'
If you have anxiety, the following expert-approved hues are great options for your bedroom. Please note: no color choice can cure anxiety or any other mental health issue, but these relaxing shades may help your personal sanctuary feel more welcoming.
1. Greige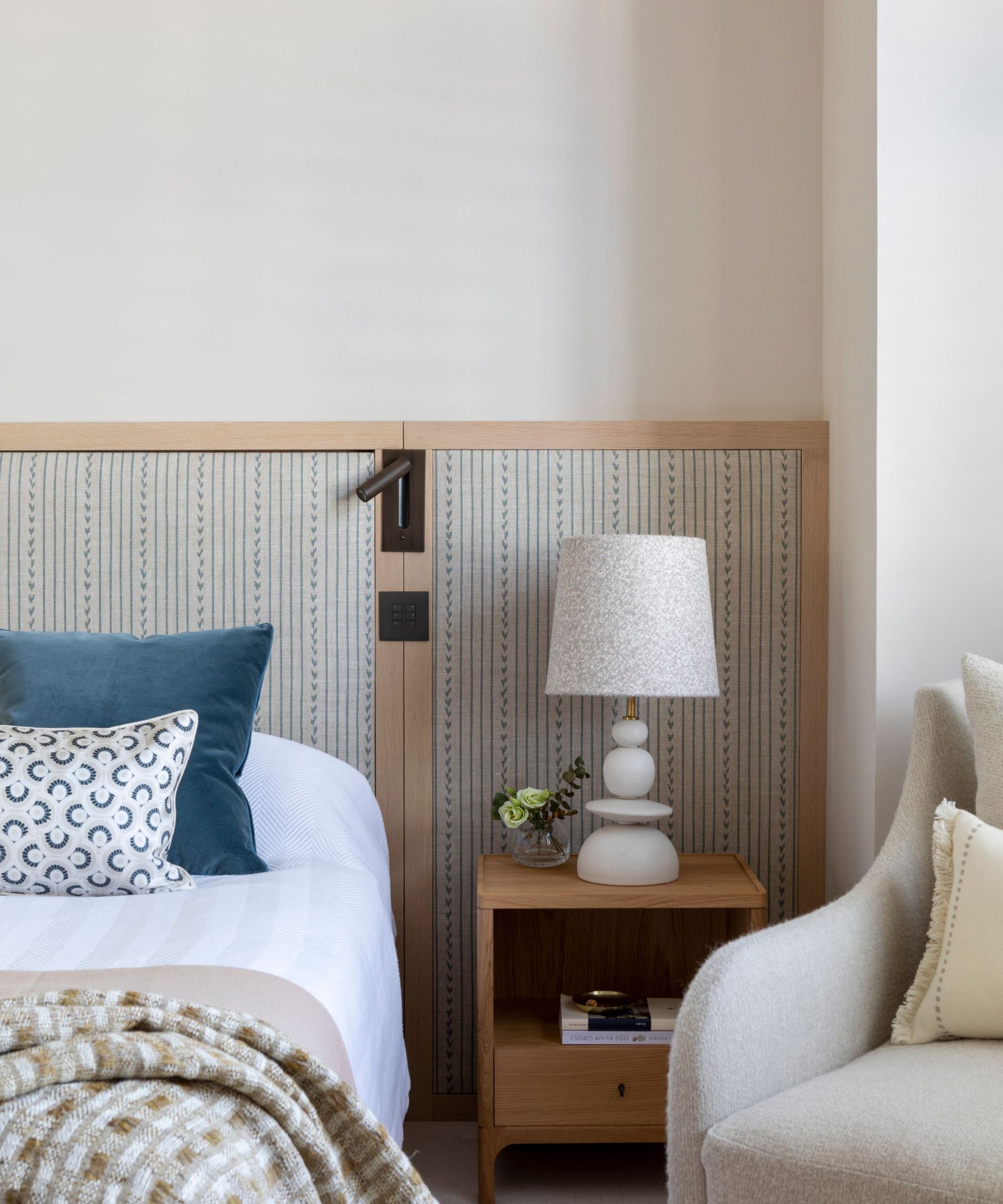 Greige is a shade known for marrying the best of gray and beige tones. And according to Linda Hayslett of LH. Designs can also help you relax and decompress when you are anxious.
According to color psychology, greige is the most stress-reducing shade – so it is ideal for curating an anxiety-reducing environment in the bedroom. They also make a good neutral background for displaying art.
'The gray and beige combined help with making a space feel Zen with its neutrality,' she says. 'Benjamin Moore Balboa Mist is a great greige to help get those stress levels down and feel more calming in a space.'
2. Warm whites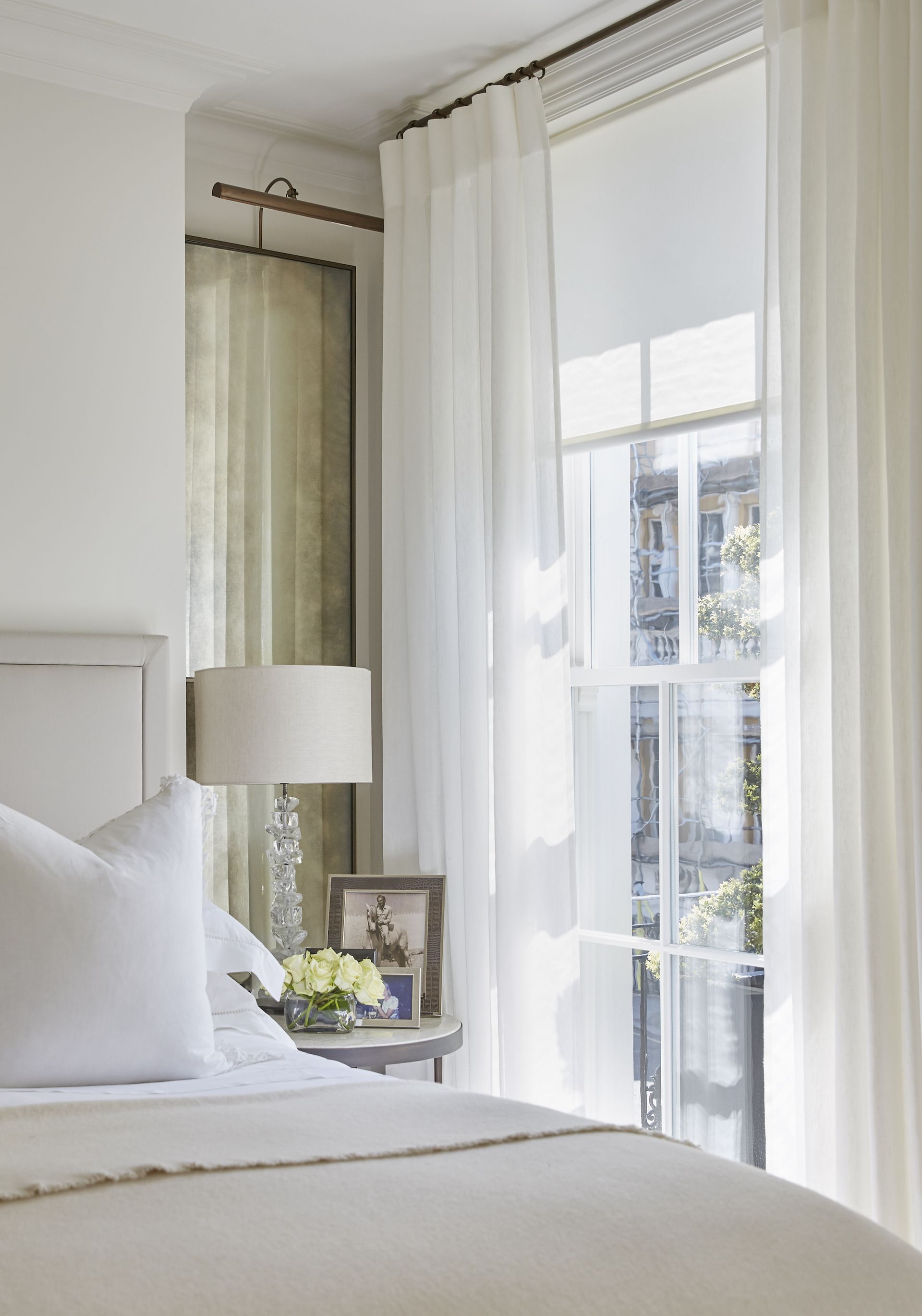 During this turbulent time, so many of us have sought comfort in the surroundings of our bedrooms, but could the colors in your space be causing you anxiety? If so, color psychologists and decorators suggest reaching for a tried-and-trusted white bedroom.
Evoking purity and cleanliness alongside confidence and sophistication, white is a color that works really well for bedroom ideas of all shapes and sizes.
Molly Torres Portnof of DATE Interiors suggests bringing in a warm, shade of white to help infuse your bedroom with serenity. 'Ballet White from Benjamin Moore is a soft, warm shade that can make a bedroom feel more serene,' she says.
3. Light blue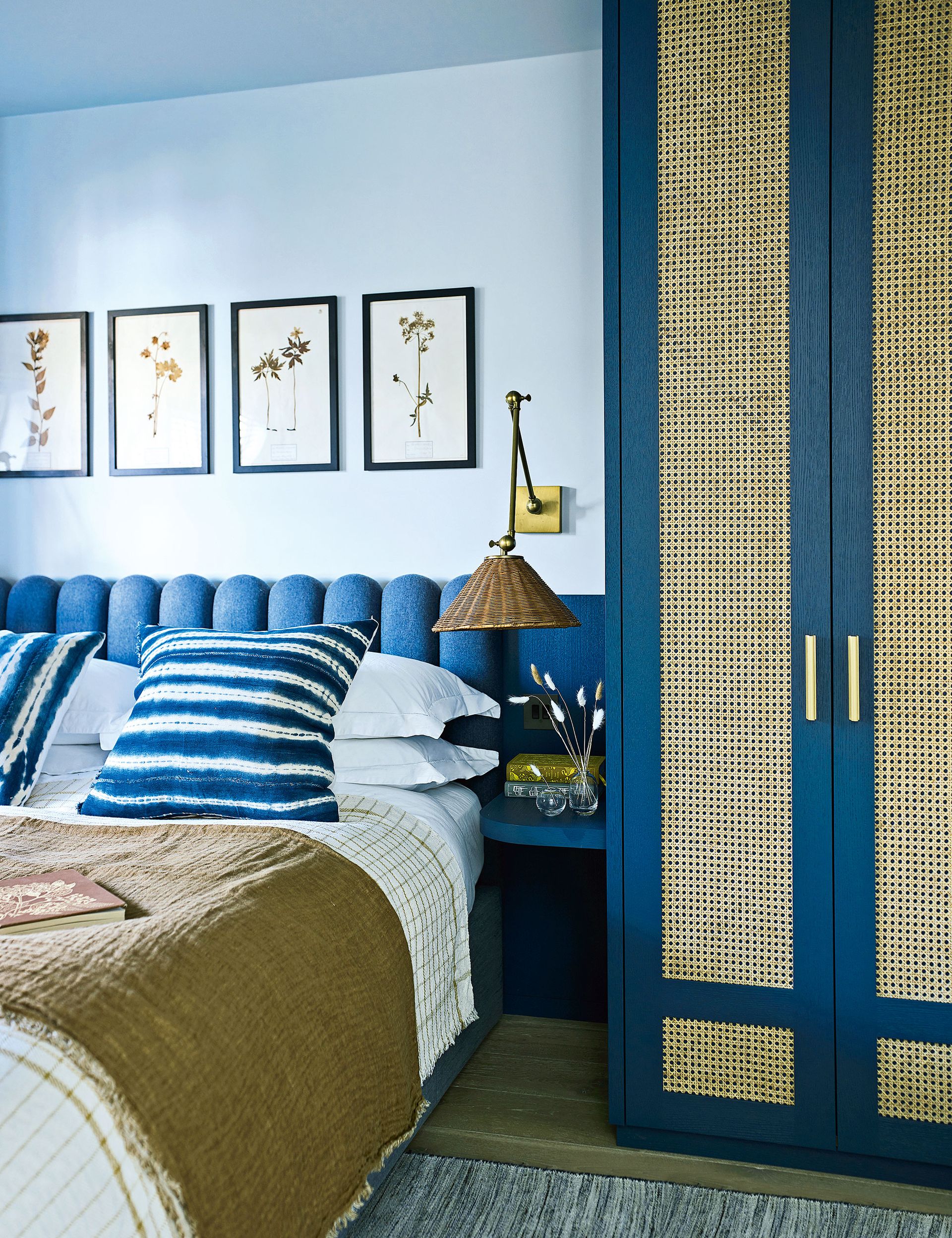 Blue has long been considered one of the most soothing shades out there, and for good reason. Both the sky and our oceans are blue, lending the color a natural feel that is hard to replicate. Soft blues are particularly good for those with anxiety as the lighter tint feels approachable and soothing.
'Blue is a color that gives a feeling of openness and a sense of space, creating a calming and restful backdrop for any room,' says Judy Smith, color consultant at Crown. 'Due to its connection with nature and its relaxing qualities, it's incredibly popular for anxiety-reducing bedroom schemes.'
4. Sage green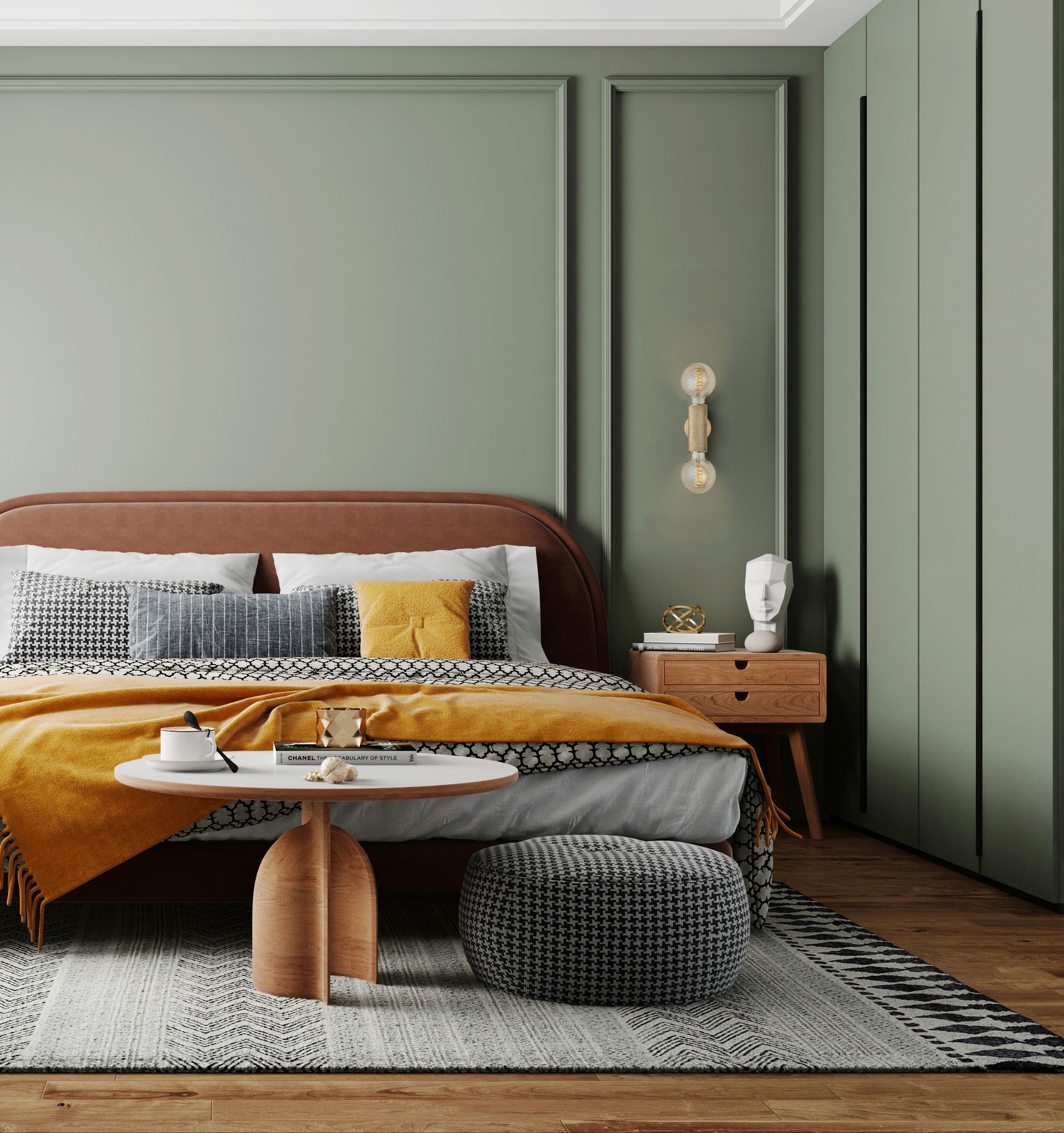 Another great option for people struggling with anxiety is sage green. Green bedroom ideas promise to renew your connection to nature and are said to evoke feelings of balance, vibrancy, and good fortune.
The earthy, pale shade of green has been trending for a few years now and it shows no sign of falling out of favor. Similar to the leaves of a sage plant, this muted color is soothing, inviting, and relaxing all at the same time making it an ideal choice for the walls of a bedroom.
5. Terracotta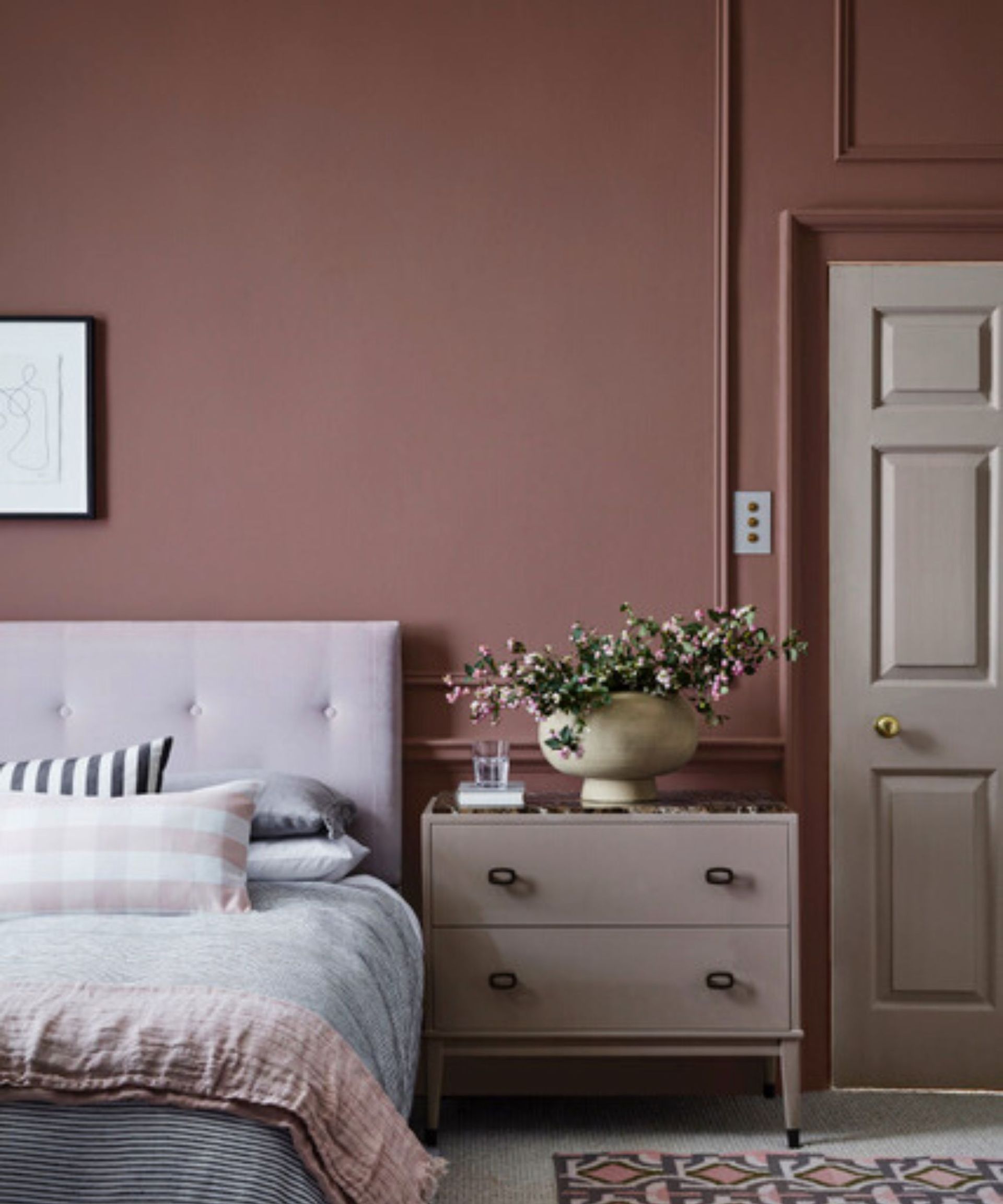 For nature lovers who don't feel called to the typical greens and blues that top most lists, terracotta decor may be an ideal choice for bedroom walls. The warm, earthy red-orange shade calls to mind the colors of the sunset and the desert and adds a soft glow to any space it's used in.
Not quite decorating with red, and not quite decorating with orange, terracotta brings its own unique and calm atmosphere to a room. Its generosity of character means that terracotta has the ability to wrap its arms around your bedroom with its all-year-round mood of warmth.

6. Pale yellow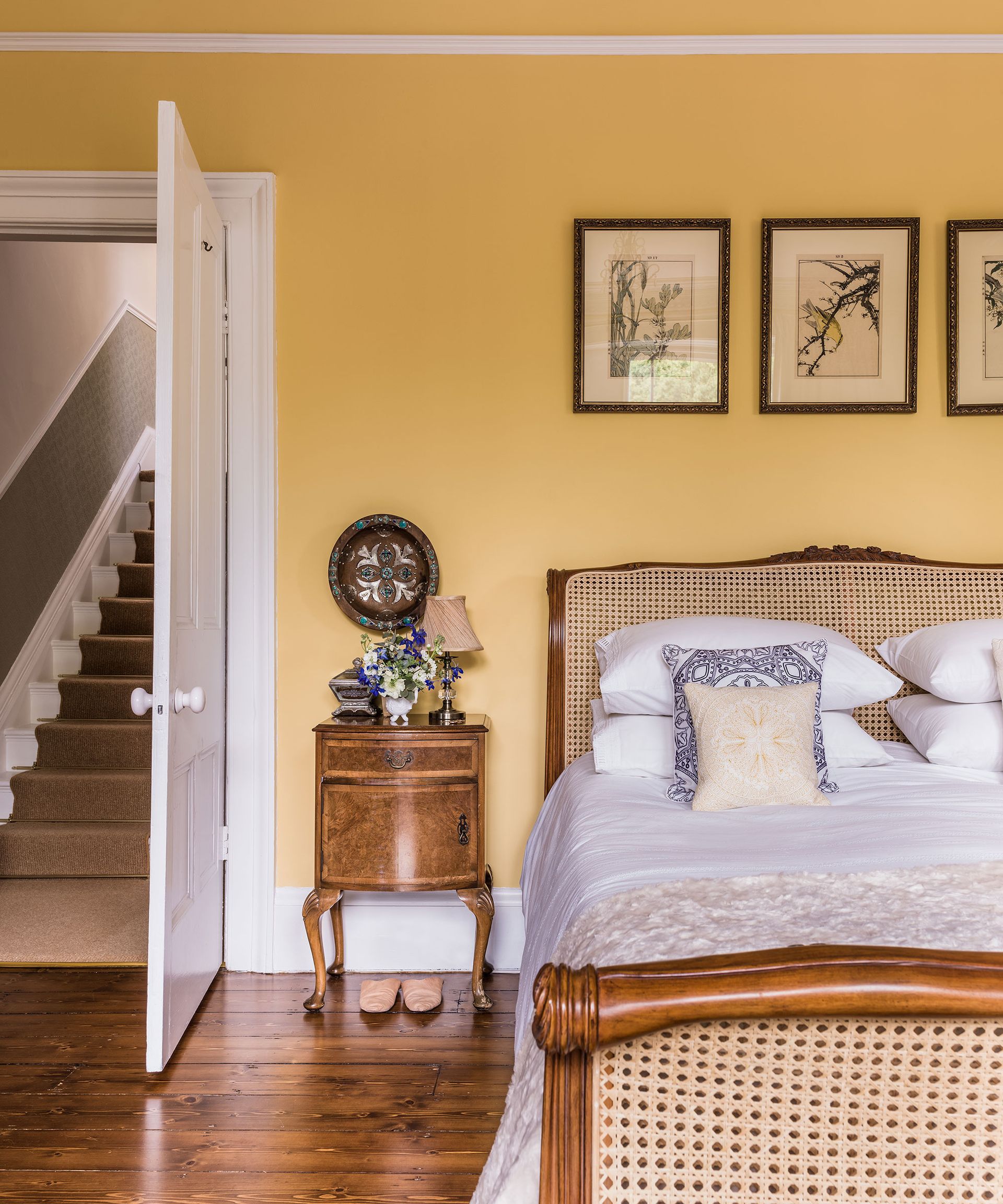 If you love the thought of a yellow bedroom but haven't had the courage to decorate in this sunny palette, the anxiety-reducing effect of this color may just convince you. Warm colors are being hailed as a way to be happier at home, so perhaps now is the time to decorate 'sunny side up'.
While most people eschew yellow as a paint color choice, there are tons of shades that don't look like mustard or those famous yellow arches. In fact, yellow when done right can be one of the most inviting colors around. Consider a pale hue that mimics the early morning light in order to create an environment that makes waking up and falling asleep easier.
7. Blush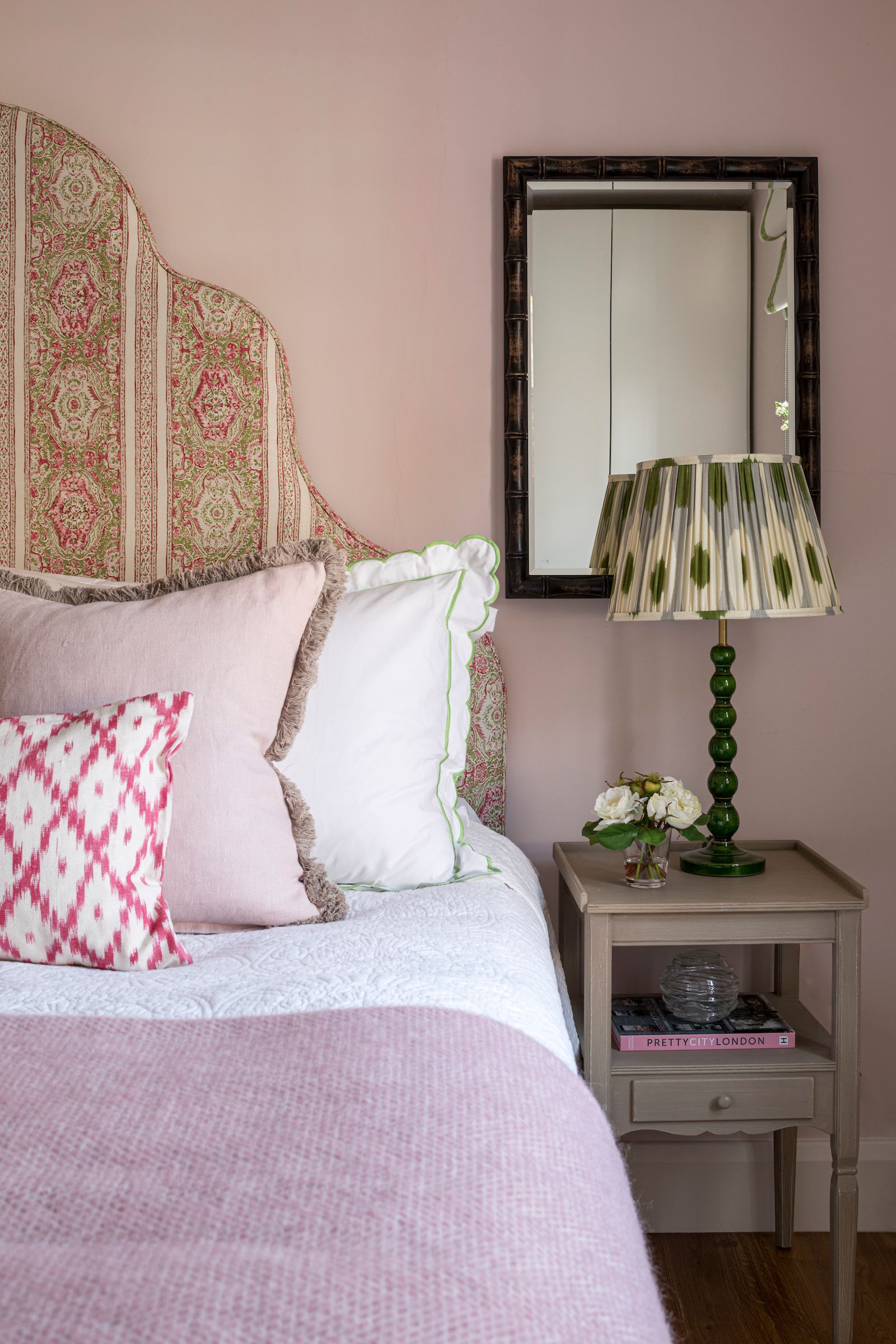 Pink bedroom ideas are the optimum choice for introducing warmth, romance and softness to a bedroom scheme – a great option for helping to reduce anxiety.
Millennial pink may no longer be the color du jour, but blush itself shows no sign of slowing down in the interior design world. Cocooning and pretty, pink room ideas are the essences of grace, purity, and elegance, while the color also has significant historical provenance.
8. Cream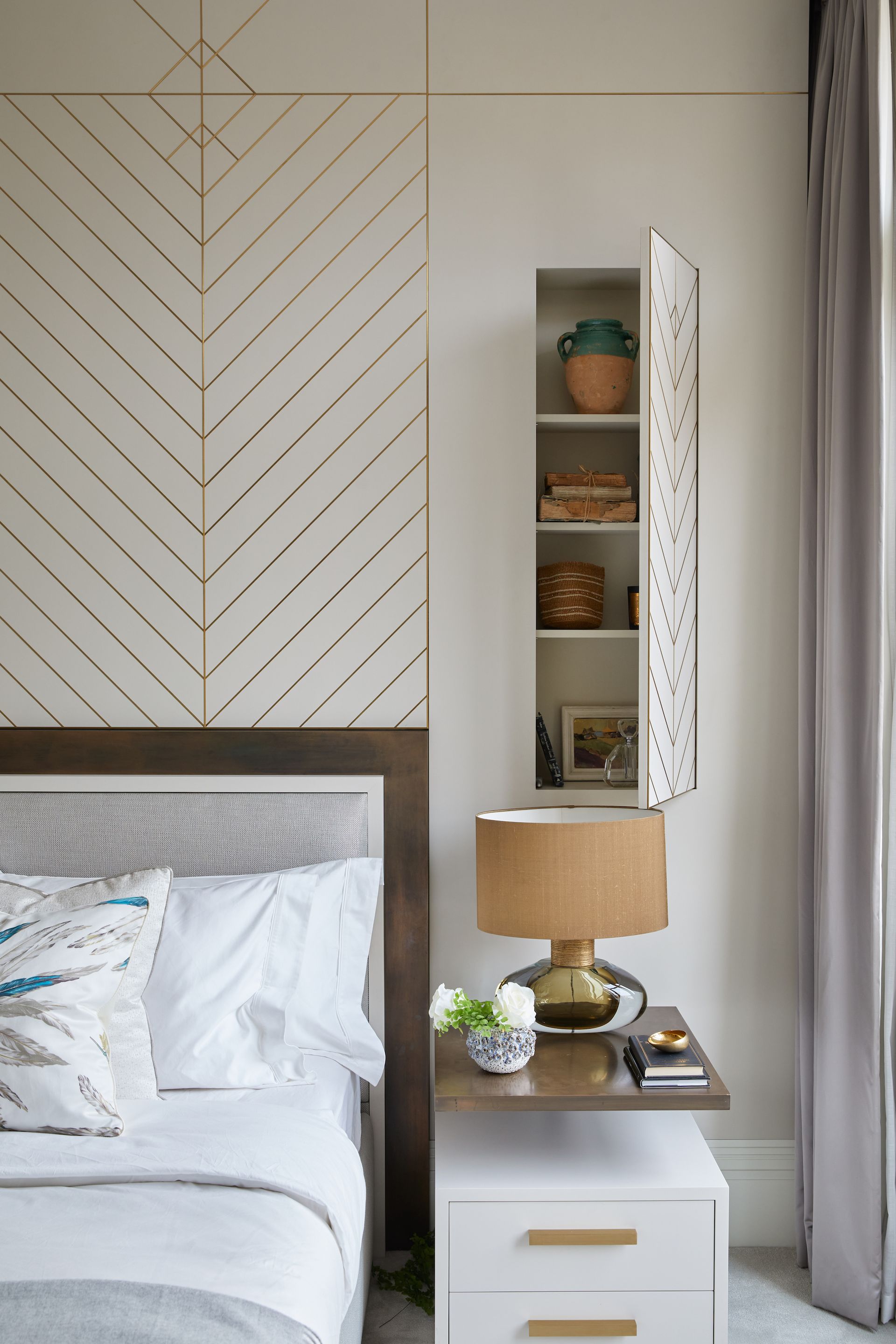 If you're color-resistant, don't worry. You don't need to paint your walls non-neutral to reap the benefits of anxiety-fighting shades. Stark white may not be the best choice, so consider more dynamic whites like cream and ivory instead. You'll still get the clean, fresh feeling that comes with white walls, just with a little warmth.
9. Black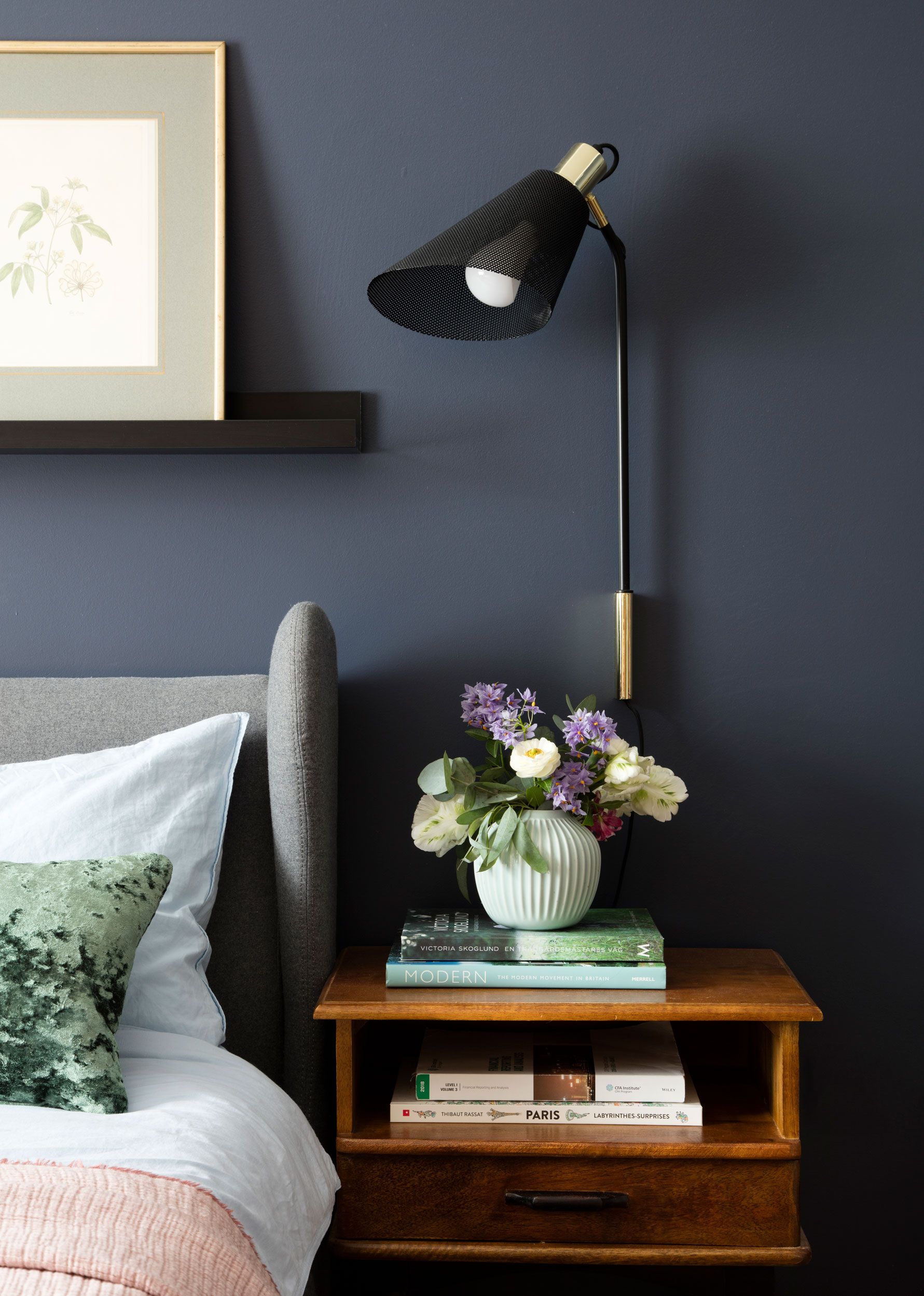 Black bedrooms may have a reputation for being dark, moody, and uninviting, but that's not always the case. Dark walls can be one of the best choices for people struggling with anxiety. The deep shades can make your bedroom feel more like a sanctuary, especially if you have trouble sleeping. Also, black's neutrality means it will match with the decor you already have.
---
While there are generalities we can make about what colors reduce anxiety, and what people associate with them, colors and our affinity toward them have a lot to do with our personalities, environment, and experiences, so it is imperative to choose some of the most relaxing colors for a shade that makes you happy and comfortable at home.
Sign up to the Homes & Gardens newsletter
Decor Ideas. Project Inspiration. Expert Advice. Delivered to your inbox.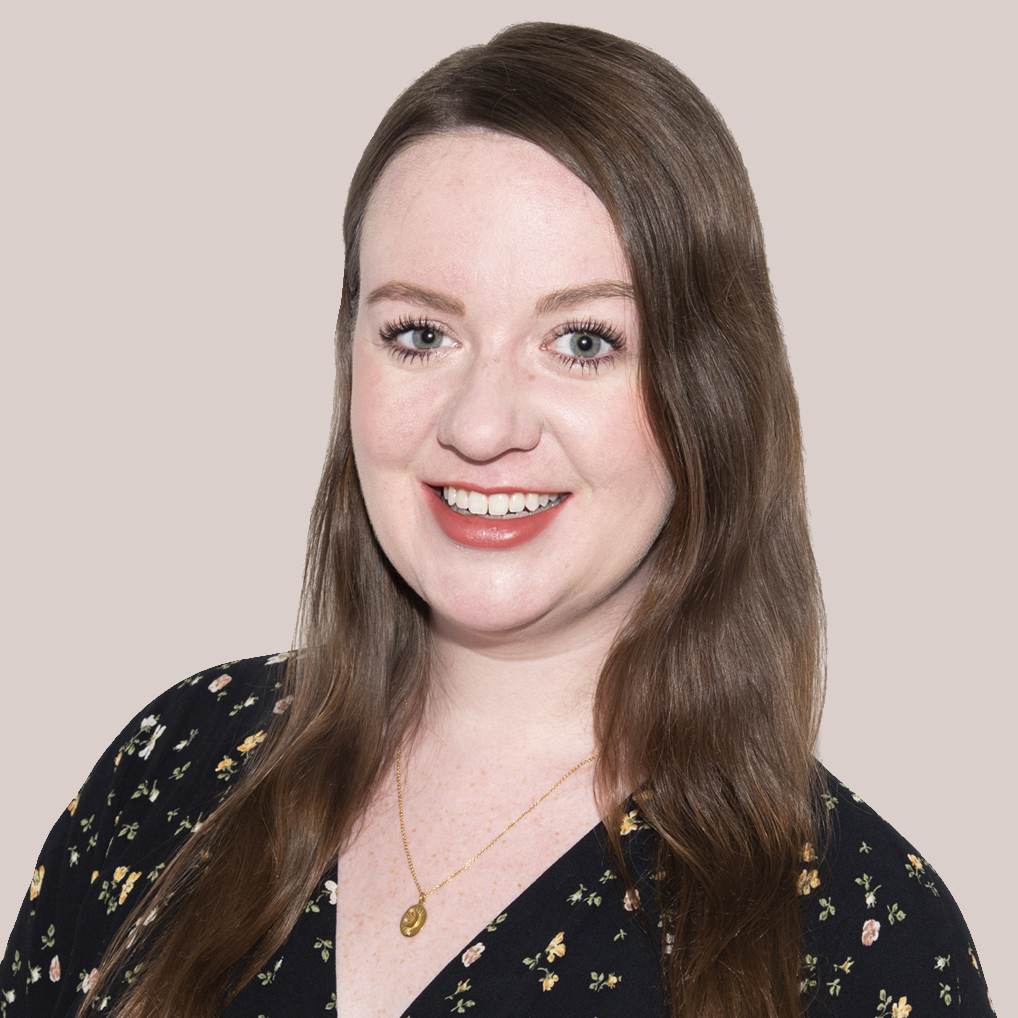 Bridget Mallon is an experienced design and lifestyle editor with over a decade of experience in the field. She was previously the Editorial Director at The Spruce and MyDomaine and has held positions at Apartment Therapy, HGTV, Elle Decor, and Veranda. Her work can also be found on sites like Cosmopolitan, Esquire, The Huffington Post, and House Beautiful. Bridget studied journalism through the Honors Tutorial College at Ohio University. She graduated Magna Cum Laude in 2013. Bridget writes about all things home for Homes & Gardens.