6 colors you should never paint a ceiling, according to the interior experts
You should think twice before painting your ceiling white, amongst other colors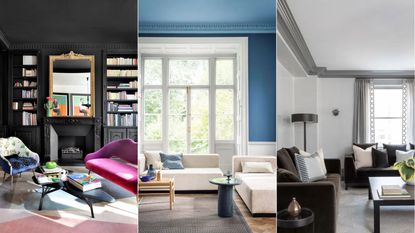 (Image credit: Future, Crown Paints, Raquel Langworthy)
Historically, ceilings have often been painted white, reserving more adventurous colors for the walls of a room. This doesn't need to be the case, however, and experts say that white perhaps isn't the best color to adorn your ceilings with.
With so many options to choose from that can each transform the overall look and feel of a room, it can be difficult to know where to start with ceiling paint ideas. As a starting point, experts warn that there are indeed colors that should in most cases be avoided on the ceiling ideas. However, the colors you opt for are ultimately personal to you so it's important to follow what you love, regardless of the rules.
As Ashley McCollum, color expert at Glidden rightly says, 'The best part about paint is that you make the rules based on what best fits you and your family.'
What colors should you avoid when painting a ceiling?
According to the color experts, we've rounded up six color ideas that should generally be passed by to avoid making ceiling painting mistakes. But, as Helen Shaw, Director of Color Marketing at Benjamin Moore says, remember that 'the color you paint a ceiling all depends on your personal preference and the overall atmosphere you want to create.'
1. Dark hues
There's certainly a place for embracing dark hues on the ceiling, and it's a good option if you want to create a cozy and moody atmosphere by color-drenching the entire room in one rich color.
Experts warn, however, that dark colors on the ceiling can result in the room feeling a lot smaller: 'A dark ceiling can make a room feel smaller, and bring the ceiling down,' explains Devon Wegman, Design Director at Devon Grace Interiors.
It's therefore best to think carefully before opting for a dark color on the ceiling, especially if you're trying to make the room appear larger.
2. Pastels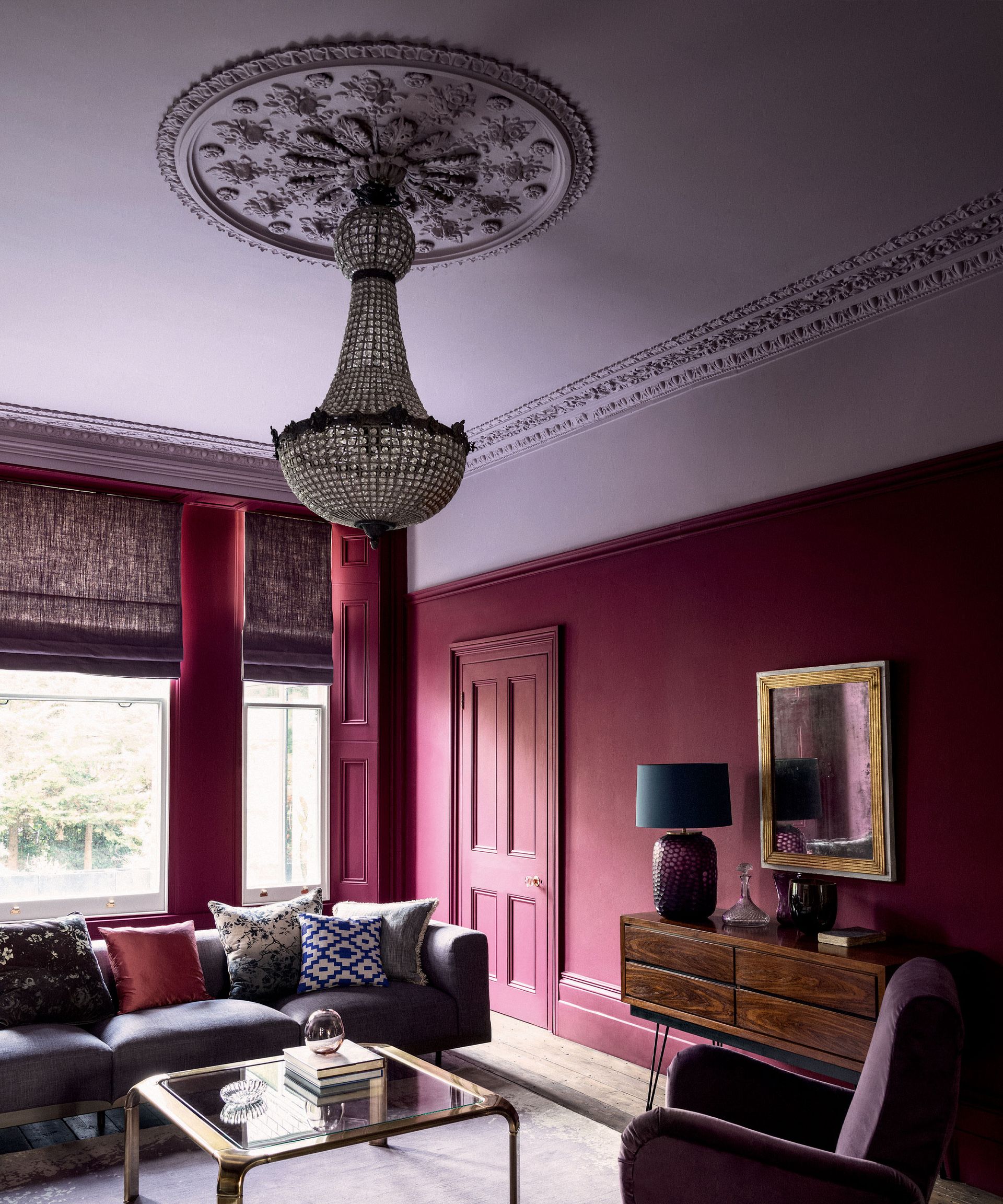 If you're drawn to pastel room ideas, you should steer clear of this as a ceiling color, according to the experts: 'Generally, you're going to want to avoid light pastel colors.' says Amanda Wiss, Founder of NYC-based home staging firm Urban Staging. 'These often have a negative connotation with hospitals, senior living facilities, and other exceedingly clinical spaces,' she continues, suggesting that pastels don't always lend themselves to creating an inviting and homely feel.
3. Bright white
While it's arguably the most common of colors seen on ceilings, there are many reasons why you should never paint a ceiling white. It can result in an overall bland look that lacks interest, so it's a better idea to opt for the subtle warmth of decorating with neutrals, instead of stark white.
'Try to avoid painting your ceilings bright white,' advises Joshua Smith Principal and Founder of Joshua Smith Inc. 'You'll feel like you are in a rental apartment or commercial space with no warmth or depth to it. If there is no interesting millwork or no crown moldings, you may want the ceiling to recede, not jump out as an undecorated surface.'
Named a Rising Star by House Beautiful and part of Traditional Home's New Trad Class of '23. With projects on both coasts, Joshua Smith Inc, offers full-service residential interior design – and life-changing spaces. Joshua draws on decades of experience transforming functional spaces into inspiring environments that engage the senses and nourish the soul. By cultivating the connections between mind, body, spirit, and space, he helps his clients elevate their experience each day.
4. Neon
For those inclined to create a bold statement in the home with neon paint ideas, it's best not to continue this look onto the ceilings, as Joshua suggests: 'I would say no neon-colored ceilings.' However, he continues to say that 'most colors if muted work well on ceilings,' so if you're looking to create a warm and energizing feel with neon, just make sure you tone down the intensity of the hue for the ceiling.
5. Green
While decorating with green walls can be a popular paint idea for its calming effect and close links to nature, experts say it's best not to use this color on the ceiling, since it can present unflattering tones throughout the room in certain lights:
'Be careful of green on a ceiling because it is not flattering to the skin at evening time when the warm light fixtures cast a green glow in the room,' explains Joshua.
5. Red
Lastly, you should be wary of decorating with primary colors on the ceiling, since they're highly saturated and can be very harsh on the eye. Monica Breese, Founder of The Designed Domicilio advises avoiding 'red if you have a low ceiling', and 'primary colors in general unless you have a very succinct plan.'
Amanda agrees, saying: 'You also want to steer clear of over-saturated and bold tones, like red. Red is a color of power, but also one that can spark anxiety. The last thing you want when sitting in a room is to feel an oppressive air weighing on you.'
FAQs
What color should you paint a ceiling?
While these hues are best to avoid on the ceiling, there is still a wide range of other colors to choose from that will look great. It all depends on your interior style and the overall mood you are trying to create, but the experts also have lots of ideas on colors that work well on the ceiling.
You certainly can't go wrong with soft warm shades on the ceiling, as Joshua suggests: 'My go-to's for ceilings are a creamy white, light blue, or light pink. "Subtle on the ceiling" is my motto unless crafting a den where you want darker, moodier vibes.'
For a dramatic look, you can choose dark hues, just make sure your space is big enough to handle them: 'Although daunting, don't be afraid to opt for a dark color which will imitate the staple, more is more, ethos. Pair with a clean and classic white for a high level of contrast. This offers a dramatic feel and works well in a room with exceptionally high ceilings,' explains Helen.
In summary, it's best to choose a color that complements the size of your space. Sue Wadden, Director of Color Marketing at Sherwin-Williams adds: 'Bright and light colors help create the sense of a bigger space, while dark colors are used to make a room feel cozier, and bold and unexpected colors can look fun.'
Helen Shaw is part of Benjamin Moore's UK division. Color expert and international marketing director, Helen and her husband Craig are founders of Shaw Paints, acquired by Benjamin Moore in 2020.
Should the ceiling be painted the same color as the walls?
Deciding whether you paint your ceiling the same color as your walls depends on your preferences, but either way, it's an important aspect to consider.
Choosing to paint the ceiling the same color as the walls is a more trend-drive idea, as Ashley explains: 'We have been seeing an uptrend of painting both the walls and ceiling the same color, or even keeping your walls neutral and adding your pop of color on the ceiling instead of an accent wall. We've seen this done well in so many areas of the house, but our favorite place for this trend is an office or playroom.'
On the other hand, Sue prefers to opt for differing colors on the walls and ceiling: 'I would recommend staying away from painting ceilings the same color as its surrounding walls. When looking to paint a ceiling, it's best to use a color that will complement the rest of the space and draw the eyes up.'
With a strong background in design and color leadership, Sue Wadden was appointed director of color marketing at Sherwin-Williams in 2016, and has been with the paint brand since 1998.
---
There are lots of things to consider when settling on the perfect paint color trends for ceilings throughout your home, but with these expert-approved colors to avoid, you will be less likely to go wrong. It's always worth thinking about the finish of your chosen paint color too, as Devon concludes: 'It's important to add some gloss to the finish of the paint to help light bounce around and in turn, make the space feel taller.'
Sign up to the Homes & Gardens newsletter
Decor Ideas. Project Inspiration. Expert Advice. Delivered to your inbox.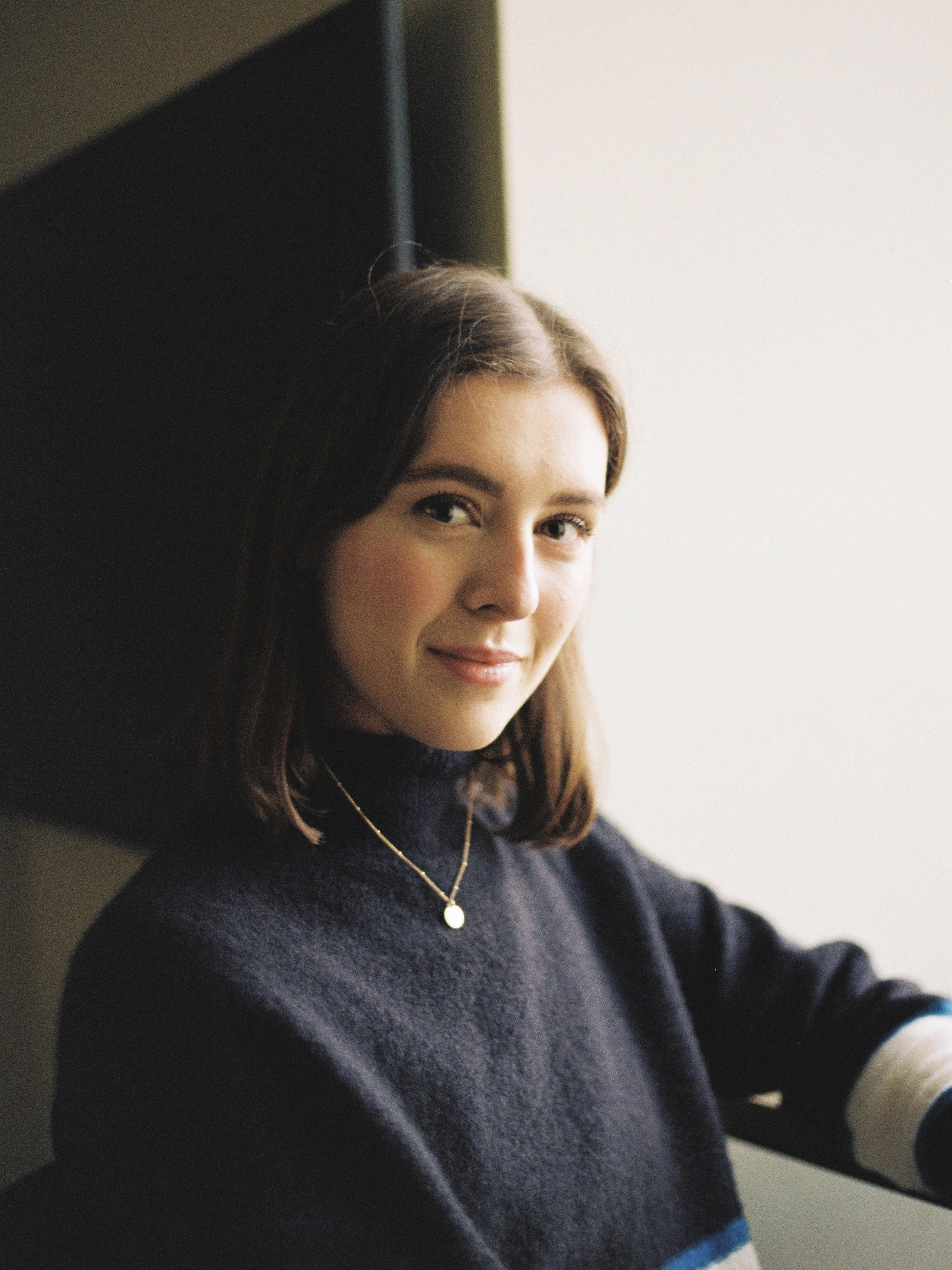 Emily Moorman is a News Writer at Homes & Gardens, working across a range of topics spanning interiors, celebrity and emerging trends. With a background in the fashion industry, Emily is well-versed in the world of design and trend cycles. Her undergraduate degree was in Fashion Communication and Promotion which she studied at Norwich University of The Arts, specialising in writing and digital communications.