Home office ideas for her – 10 comfortable spaces you will love
These home office ideas for her are designed to provide you with comfort and calm so that your space is a retreat as well as a place to work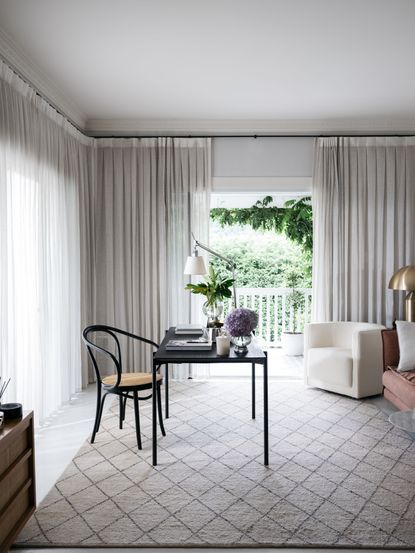 (Image credit: KING Living )
There's nothing that says that home office ideas for her need to look a particular way or be just for women, but we do think that, like other rooms, they should offer respite, comfort and calm away from your busy life, as well as providing a practical space to work from.
So, if you are looking for home office ideas and want to give your space the mildest of feminine twists, these are the spaces for you. They will help you get your home office setup just right, as well as providing you with a room that looks beautiful.
1. Create calm and comfort with a textured, neutral backdrop
If yours is a busy life you'll want a modern home office that's uncluttered, calm and comfortable.
'Create a soothing environment for your home office with soft neutral colors that will evoke a serene atmosphere, keeping you focussed and calm whilst at work. Opting for a textural finish on the walls will add interest and depth, ensuring the space feels comfortable and delivers an 'at home' ambience, rather than being a stark and cold space.
'Adding in a rug and a favorite chair will continue that feeling and ensure that when you come to work at home, you feel easily settled and ready for your day,' says Philippe Desart, managing director at Arte.
2. Take advantage of views
Whether you are looking for home office ideas for her, him or them, having views of nature can be soothing, so ensure that if there's a view, you can see it. It's said to improve home office productivity, too.
'Make the most of natural light by placing your workspace close to a window. A double-sided table/desk by a window also gives the flexibility to look outside or into the room depending on mood.
'Choose a desk you love to ensure your home office represents you and feels like your very own design statement. Feature bold prints and playful chair styles to represent your style and make it a creative space in which to spend your time,' says Natalia Miyar, architect, designer and found of Natalia Miyar.
3. Invest in a curvy desk chair
Curves are much kinder on the eye, and if they go hand-in-hand with comfort, it's a win-win. This puts stylish but ergonomic home office seating ideas right up the top of our must-have list.
'Comfort is key for any work from home space. Ensure your chair is comfortable, as your sitting experience is paramount to a successful, productive day of work. A curved desk chair not only makes a stylish addition to your workspace but its curved back caters to contours of the body, cocooning you so that you can power through work,' says Patricia Gibbons, from the design team at Sofa.com.
4. Soothing colors will keep stress levels down
You'll notice that the home office paint colors we have featured here are all quite muted. This is purposeful.
'To create a working from home space that promotes maximum productivity but balances comfort, utilize a timeless scheme that combines practical elements with welcoming additions. This will evoke a strong sense of balance and inner calm that can't help but lower stress levels.
'One of the most important decisions for a home office is color. Calming hues such as neutrals, or blues and greens soothe the mind, reduce mental strain and provide stimulation for greater focus. If painting a wall is not practical, adding similar tones with furniture or plant life will provide the same effect,' say the King Living Design Studio.
5. Make whatever size space you have, work for you
'Working from home has become the norm for many of us and creating the perfect office space will ensure maximum productivity. Whether you have a dedicated room, a corner of a guest bedroom, or a little study nook it is important to consider the layout. If possible, try to position your desk close to a window to allow plenty of natural light to illuminate your working area.
Organizing your desk well is vital to a calm atmosphere, too.
'Clutter, particularly in a home office environment can be distracting, so give some thought to your home office storage needs. Built-in units work well in a dedicated office space, however if you have a limited room size, try simple shelves to store books and display inspiring objects.
'Soft furnishings such as curtains, blinds and cushions will help bring comfort to the area and can be used to inject some of your own personal style,' says Debbie Leigh, design manager at ILIV.
6. Go all out with textures
'Textures make a scheme interesting, and of course give a room a tactile quality, it's a key element when using a neutral color palette.
'Here, the Japandi trend is noticeable and rightly so – wood, sheepskin and stone are the main ingredients and you can see how they give this home office a cozy yet classic look,' says Jennifer Ebert, digital editor, Homes & Gardens.
Home office lighting ideas can play a part here, too, with lamps usually to be found in a living space adding curves, color and texture to your scheme.
7. A neutral desk is a great base for color pops
Home office design tips often center around the desk, but it's what's on them, too, that's vitally important at setting the tone of a home office for her.
'Home office desks are so much more than a piece of furniture, they're where novels are written, masterpieces drawn and theories developed,' says Lou Graham, creative director at Graham & Green.
'Display items in your home office that inspire you, such as sentimental trinkets, as well as layers of natural materials, and gentle pops of color. You'll be amazed to see how much easier creativity comes to you.'
8. Consider custom storage design
Bookshelf ideas needn't just be about practicality in home offices for her; you can make plenty of space for display, too, with an inventive design.
'We love the airy, light feel that this office provides. The neutral tones make it a calming space, which is perfect for those more stressful work days! Opting for a sleek, simple desk as the centerpoint of the room allowed us to add more decor details and personalization to the background without it feeling overwhelming or overcrowded.
'Topping the room off with a vase of flowers and a woven basket for a favorite throw blanket adds a gentle feminine touch to the space,' says Lindye Galloway, founder and chief creative officer of Lindye Galloway Studio + Shop.
9. Go for pretty over corporate
'Home offices don't need to look corporate; with the right furniture, you can create a lovely workspace that fits in with the rest of your home. For example, if your house is quite traditionally feminine in style, don't feel you have to choose a boring office chair or table.
'Something like our Cythera, which has a carved underskirt, is a nice way of making something practical feel a bit prettier. I'd pair it with a really comfortable seat and decorate it with some accessories to make it more,' says Sue Jones, co-founder and creative director of OKA.
10. Consider a freestanding storage unit in small space
If your home office for her is for a compact or shared space, you may need to think clever. Small home office ideas include clever storage and built-in furniture to maximize space, but hidden desk ideas can solve all manner of problems.
'In some homes it may be necessary to create two separate home office spaces to satisfy the needs of both partners,' says Simon Temprell, interior design manager at Neptune.
'There are no set rules or formulae for creating gender-specific work areas but you may wish to consider scale and color choices to create a more masculine or feminine aesthetic. These cabinets can be painted with a contrasting color on the interior, expressing personality each time you open the doors, our original Chichester workstation is shown here, painted in Charcoal with the interior painted in Old Rose.'
How do you make your home office feminine?
We are often asked how you make a office feminine, and the answer is: by decorating it as beautifully as you would any other room, for any other member of your family. If you want it to be overtly, traditionally feminine, you can choose pale, pretty colors and accessories. However, a home office for her doesn't need to be traditionally feminine in any way – simply picking an eye-catching rather than purely functional desk and chair, keeping clutter to a minimum and investing thought into dressing the windows, picking out a beautiful lamp and hanging lovely artwork can give the room an inviting feel.
Sign up to the Homes & Gardens newsletter
Decor Ideas. Project Inspiration. Expert Advice. Delivered to your inbox.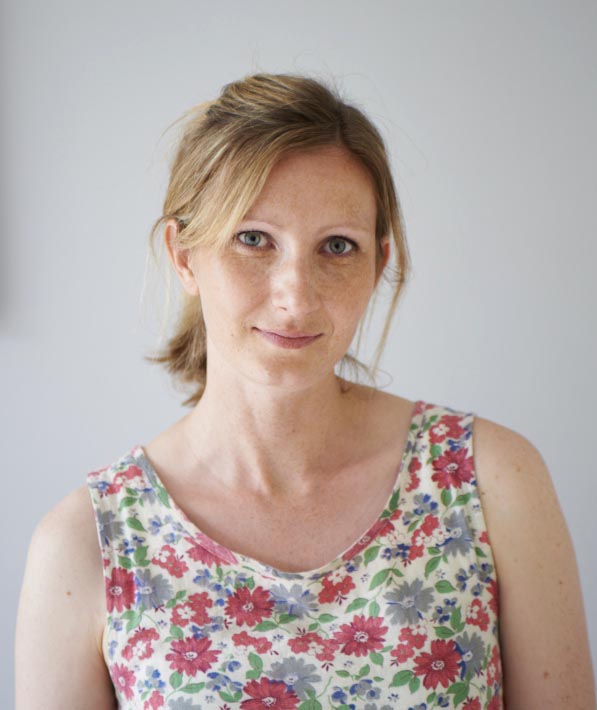 Sophie has been an interior stylist and journalist for over 20 years and has worked for many of the main interior magazines during that time, both in-house and as a freelancer. On the side, as well as being the News Editor for indie magazine, 91, she trained to be a florist in 2019 and launched The Prettiest Posy where she curates beautiful flowers for modern weddings and events. For H&G, she writes features about interior design – and is known for having an eye for a beautiful room.