How to get couch measurements right: designers' failsafe tips
There is more to couch length, width, and height than we realized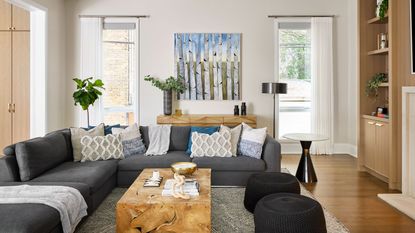 (Image credit: Dustin Halleck for Devon Grace Interiors)
As one of the spaces that we spend the most of our downtime in, thoughtful living room design is intrinsic to a home that welcomes you around every corner. Color treatment and furniture finishes all play a role in creating a space that is inviting, but perhaps one of the most key pieces in achieving this is indeed the couch.
As eclectic as designs come nowadays, a couch should still enhance and complement your interior design scheme. And getting couch measurements right, in fact, goes a little beyond (albeit crucial) depth, height, and width.
Though it might seem a case of finding a lavish 3-seater, or brightly upholstered sectional, and simply popping it into the corner of your room, where it fits (on paper), there is more to consider so that this vital piece of living room furniture works hard to enhance the room dynamics on all levels.
How to get couch measurements right
Your couch should enhance, rather than take anything away from the space – visually or practically. As a pair of shoes might 'fit' and be of your shoe size, if the heel is too low, or if it doesn't complement the rest of your outfit, there is work to be done and it is back to the drawing board.
Measuring for your couch should be no different. Only a couch is arguably much less of a fleeting investment than shoes, and therefore deserves the same if not more, care and consideration on purchasing. This is how interior experts recommend we ensure our couch measurements are correct.
1. Make generous allowances for living room traffic and interaction between furniture
Ease of movement is essential for every room in the house, and measuring the space you have available for a couch, with clearance for other furniture items, and household traffic in mind, is most definitely where to start.
'Start by mapping out your circulation paths,' advises Devon Wegman, design director and founder of Devon Grace Interiors. 'Those should always be at least 36-42" wide. From there, determine the biggest size sofa you can fit without blocking those off.'
Where you place your couch will determine this, as you might not necessarily want 'circulation paths' around your entire couch. You should lean into what your furniture's needs are, as well as your own, not forgetting guests.
'Consider the "dance" between furniture and space,' interior design expert, and founder of Arsight, Artem Kropovinsky shares with H&G.
We recommend leaving around 16-18 inches between a coffee table and a couch, as it respects the room's flow and should provide sufficient legroom, but when it comes to walkways specifically, Kropovinsky also recommends a generous allowance for a more welcoming space.
'Leave at least 30 to 36 inches for walkways between larger furniture pieces. It's like an invitation to enter and exit a space with ease.'
Best mid-century
Height: 32.5" Width: 71" Depth: 31.5"
Upholstery options: 1
Coordinating furniture: Chaise lounge, chair
+ Effortless design
+ Feels premium
- Self-assembly
Luxurious and sumptuous, this couch is a blend of mid-century style and modern-day durability. It's ultra comfortable with elegant biscuit tufting and bolster pillows. The dense foam padding is firm and supportive with poplar wood legs. You'll have to assemble it yourself, however.
Best color range
Height: 34" Width: 80.3" Depth: 33.4"
Upholstery options: 6
Coordinating furniture: Chair, chaise lounge
+ Simple design
+ Plush feel
- Too plain for some
Well suited to any living room décor, this fresh style comes in 6 different colors to uplift any living space. It's refined and sophisticated with flared arms and plush sears. The faux-leather is waterproof, durable, and ultra-comfortable too.
Best lounger
Height: 24" Width: 62" Depth: 34"
Upholstery options: 1
Coordinating furniture: Chair
+ Really comfortable
+ Feels durable
- Lacks structure for some
Irresistibly comfortable, this modern couch is all about sink-in comfort. It's soft and yet durable, perfect for living rooms, cinema rooms, and play rooms. This is made with recycled materials, which are Greenguard Gold Certified too.
Devon Grace Interiors is an award-winning full-service design and general contracting firm specializing in inspiring luxury residential and commercial projects. Based in Chicago and led by husband and wife duo Devon and Michael Wegman, DGI synthesizes architecture, construction, and design disciplines to create thoughtful spaces to live, work, and play. The firm prides itself on challenging outdated industry practices, using cutting-edge technology to streamline the design process, which sets them apart from other firms.
Devon is the creative force behind DGI. With a multidisciplinary background and years of experience working with some of the most prestigious architecture and design firms, she has honed her eye for contemporary, textural design. Devon looks at spaces holistically and creates cohesive, tailored designs that balance dramatic, bold moves with modern, clean lines.
Based in New York, Artem Kropovinsky boasts extensive global design
experience spanning a decade. With a commitment to sustainability and
authenticity, Artem, alongside his dedicated team, undertakes projects
both in the US and internationally, earning recognition through prestigious design awards. Artem is the founder of Arsight, an esteemed global design firm known for its expertise in residential and commercial interior design.
2. Consider if your couch will have enough depth
What is a living room if not a convivial space where you can connect with others? And a couch that you can get a little lost in is always a positive. When measuring up, be sure to keep comfort at the forefront of your mind when looking at couch depth.
'Often, designers emphasize width and length, but depth matters too,' highlights Kropovinsky. 'A couch's depth can dictate how conversations unfold in a living space, either promoting intimacy or space.'
How you lay out a living room can have a great impact, so measure to comfortably keep a couch that is deep enough to encourage hearty conversations with friends and family.
3. Match the height of your sofa to the room's intention
In the same breath, you may, in fact, reserve your living room space for more formal occasions. However you wish to predominantly use your space, keep the design intentions of your living room in mind when considering the best couch height.
'The height of the sofa depends on the end use of the space,' says Wegman. 'More formal living areas typically want higher-backed sofas since you'll be sitting up, likely engaging in a conversation in these spaces. For family rooms or TV rooms, a lower back sofa can be a great way to encourage a loungey, relaxed vibe.'
Consider how you want your space to feel. 'Remember, the height of the couch can be customized to your preference, ensuring not just a perfect fit for the space, but also a personalized touch that aligns with your unique comfort needs,' says Ginger Curtis, CEO and Founder of Urbanology.
If you want a loftier appearance, you may choose a design with legs for added height, as recommended if buying a couch for a small living room, for instance.
'Couch height can subtly affect room dynamics,' further notes Kropovinsky. 'A lower silhouette can give an aura of laid-back luxury, while a taller one evokes formality and tradition.'
Rooted in simplicity and elevated by extraordinary beauty, interiors by Dallas-based Urbanology Designs bring organic luxury to life. Their soft, modern approach allows clients to relax in the warmth of a comfortable and crafted home. Their design-forward sensibility looks beyond today's times, trends, and whims to create homes with longevity and intention.
Why is room scale and couch size so important?
Not respecting the space that other key features of your lounge may need between each other is an unfortunate living room layout mistake we often make.
And there are many ways to make a small living room cozy, but keeping a couch that is a tight squeeze in a space, is not one of them. Always consider the scale of the room you are working with as Curtis reminds us: 'Tailoring your couch to the dimensions of your room is crucial for a harmonious aesthetic,
'Let the room's scale guide you to ensure you have the right size furnishing for the space.'
Consider whether it is possible to float a couch too, as this will affect whether you can choose that luxurious 3-seater, or if a love seat might be more fitting.
'Letting a couch float can be a design statement. It requires ample room around it – a minimum of 12 inches from the walls or other furniture allows the piece to breathe and anchor the space,' adds Kropovinsky.
How can I be sure my couch will fit?
The saying 'measure twice, cut once' should not be overlooked when measuring for your couch. Ensure that these key measurements still apply with other key considerations taken into account like ease of movement, and ambiance. To get a clear sense of whether the couch you have set your sights on will be a suitable match for your living room, use painter's tape from Amazon, or offcuts of cardboard to physically carve out the dimensions of the design in your room as Kropovinsky suggests: 'Before committing, mock up the couch size with tape or cardboard on the floor,
'This physical footprint lets you "feel" its presence.'
If using painter's tape, check that no residue will be left on your living room floor type by testing it in a small, inconspicuous area to start with. Understanding how the couch will feel around the other elements you have in your room, is all part of the measurement process.
'It's not just about the couch in isolation. Think of its relationship with other elements – rugs, coffee tables, and art. They should converse, not compete.'
---
Adding furniture that does not bring delight is fairly catastrophic in a living room. As well as giving thought to the color of walls, and how you will style your coffee table, ensure you have taken everything into consideration when measuring for a new couch to ensure a beautiful outcome for your household and guests alike.
Sign up to the Homes & Gardens newsletter
Decor Ideas. Project Inspiration. Expert Advice. Delivered to your inbox.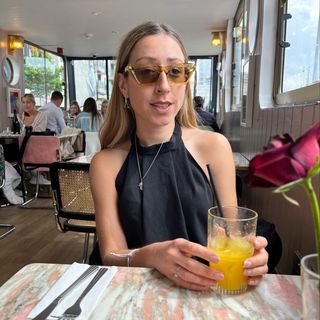 Camille is the former deputy editor of Real Homes where she covered a broad range of topics, including house tours, small space design, and gardens. She studied English language and Italian at the University of Manchester and during a year abroad studying linguistics and history of art in Bologna, Italy she started documenting her adventures and observations in a blog. Camille is always creating and spends her downtime painting, taking photos, traveling, and writing short stories.