Blue and grey living room ideas – 10 ways to use this versatile pairing
Create beautifully balanced interiors with these blue and grey living room ideas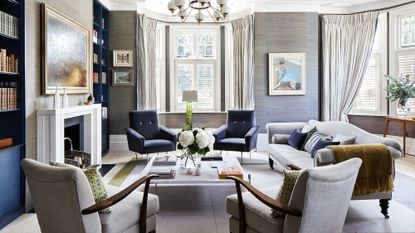 (Image credit: Future)
When it comes to blue and grey living room ideas the options are endless.
A popular pairing, grey and blue are both versatile shades that together can be used to create myriad looks and interior styles, from calming coastal to dramatic and intimate, plus the two-tone combination works well with many other accent colors.
Whether you're after a tranquil space to unwind or a statement living room perfect for entertaining, a living room color scheme of blue and grey can work perfectly depending on how it's put together. With each shade offering a wide-ranging spectrum of tones, from soft pebble greys to charcoal, and delicate pastel blues to bold cobalt and navy, there's plenty of scope for creative combinations within grey room ideas.
To prove how versatile this pairing can be we've rounded up an array of blue and grey living rooms along with some tips from the experts.
Blue and grey living room ideas – 10 ways to use this versatile pairing
Choosing blue and grey living room ideas can be an exciting and creative process as there's so many ways the two shades can be used together. Whether you're looking for a grey living room with accents of blue, a blue living room with hints of grey, or a cohesive scheme which beautifully balances both, the pairing can be used in multiple ways, plus, it can also look great alongside a host of other colors.
When it comes to grey and blue living room ideas, 'the first element of any design scheme to approach is walls, walls dominate an interior space more than any other component so creating interest here is key,' says Martin Waller, founder of Andrew Martin.
In order to determine what shades to use, it's important to establish what mood you want to create and to take into account the size of your living room. 'Opt for darker, more dramatic tones such as navy to make larger rooms appear more intimate or choose lighter hues, such as grey to create the illusion of space.'
1. Use blue as an accent in a grey room
Decorating with grey provides a brilliant neutral backdrop for all sorts of interior looks, but flat greys used wall-to-wall can sometimes look dreary. Introducing blue accents in a deeper shade is a great way to add depth and create focal points within an airy light grey room, plus, switching black for blue can be a gentler take on the traditional monochrome scheme.
In this space the interior designer chose a textural wallpaper to add interest and soften the look, while the wall-to-floor bespoke living room shelving painted in a deep blue help punctuate what would be a large expanse of grey wall. The navy chairs and cushions co-ordinate with the bookshelves and help lead the eye across the room.
2. Lift a white living room with blue and grey
Decorating with white is guaranteed to make spaces feel brighter and lighter but they can feel cold. Adding in a variety of delicate tones of grey and blue through textiles and furniture can help to gently lift the space preventing it from feeling stark and austere. Here, a patterned light blue rug, textured grey sofa and armchairs, a pastel blue table frame and dusky blue velvet cushions are all layered to bring softness and interest to the scheme.
3. Create intimacy with a dark grey
When it comes to living room paint ideas, tone is a key factor, as this can have a big impact how a space looks and feels.
'The paler the tone, the more it will reflect the available light, the darker the tone, the more light it will absorb. So a pale grey would be good if you wanted to make a room look larger, a deep charcoal would make it appear smaller,' says Justyna Korczynska, Senior designer at Crown.
'For a moody atmosphere, greys and blues in darker tones are a go-to choice as they create a deep backdrop that really allows your furniture and accessories to sing,' adds adds Emma Deterding, founder and creative director, Kelling Designs. 'People are becoming bolder with design choices, often opting for really deep, inky blues and charcoal greys for a dramatic statement that evokes a cocoon-like effect,'
Dark colors can work particularly well in large living rooms with high ceilings as they can bring the space in and help it feel more intimate as demonstrated in this scheme. The high-blacked velvet sofa adds to the cocooning feel while red accents bring essential warmth.
4. Choose a warm grey for a cozy feel
In addition to tone, getting the temperature of the wall color right is also important, particularly if you're planning on painting the walls grey.
The first thing to think about is the orientation of the room and how much light it receives. If you have a south-facing room it can take cooler greys, while a in north facing room that receives little light you may want to consider a grey with warm undertones to keep the space feeling cozy.
'I like using warm greys to give depth to walls without dictating the room's furniture palette – light greys add a layer of softness while rich greys add depth. Coating the windows, doors and trim in the same grey wall color further unifies the backdrop to a Living Room and can give the illusion of a higher ceiling when painted in a contrasting color. I gravitate towards greys with less blue and more brown in them,' says Catherine Fowlkes of the DC-based architecture firm, Fowlkes Studio.
In this scheme the grey on the walls has brown undertones allows the cobalt blue armchairs to pop, while the addition of a velvet sofa in rich terracotta brings further warmth.
5. Create calm with pastel blue
Synonymous with sea and sky, pastel blues are perfect for interiors that soothe the soul and make a versatile shade for decorating, providing a touch of color without overpowering a scheme.
'Pale pastel blues are popular choices for dining and sitting rooms creating a light, bright atmosphere, and work well for children's bedrooms due to their calming, serene effect,' says Dominic Myland, director of Mylands.
If you're worried that decorating with blue will leave your living room feeling cool, consider adding pops of warmer color as done in this scheme with the tan leather armchairs and an fall artwork.
6. Combine grey and blue for a modern coastal look
Decorating with blue and white is a hallmark of coastal decor. However, if you're looking for a more chic, contemporary take on the nautical look, try switching the white for grey. In this scheme, interior designer Tracy Morris wanted to use a palette of watery hues to allude to the coastal hometown of owners, so chose a warm grey as a base to set them off.
'Our clients were moving from a coastal location. I knew we were going to use many tones of blue in the house, so I needed a clean backdrop that would bring out the blue tones – Benjamin Moore's Revere Pewter was the perfect complement! This warm paint balanced the cool tones in the fabrics and rugs creating the perfect backdrop for this home.'
7. Create atmosphere with a bluey-grey paint
If you're looking to create a cozy atmosphere then don't be afraid to use a darker shades of blue says Dominic Myland, director of Mylands Paints.
'Despite common misconception that dark blue shades can make a room feel small and unwelcoming, they can in fact make a room feel bigger. Rich, dark blues can instantly bring inviting warmth and won't overpower a room.'
Here this stormy blue paint shade with grey undertones brings a sophisticated, cocooning feel to this space and is the perfect backdrop to a statement seascape artwork. The gilt frame, terracotta velvet cushion and red ikat lampshade bring elements of warmth as does the blue velvet armchair.
8. Use grey and blue in a country scheme
Rustic, exposed stone walls and weathered wood beams in myriad grey-ish brown tones are prized features of country living room ideas. If you're lucky enough to have these original features then decorating in a palette of grey and blue can be a great way to showcase them.
Here the grey-painted ceiling idea helps create a cozy atmosphere but also beautifully contrasts with the Cotswold stone, allowing its honeyed hues to shine through.
Accents of dark navy blue introduced through the alcove shelf idea and the sumptuous velvet blue couch living room idea help bring depth and a modern twist to the country look.
9. Add in yellow accents
Sitting opposite blue on the color wheel, yellow makes a perfect accent color for blue, and is a happy shade for livening up neutrals like grey. For a delicate, fresh spring look perfect for a cottage living room, consider a soft lemon yellow.
'Lemon yellow and soft smoke blue complement each other so perfectly. The tone of each of these colors is gentle which draws you into a room. This shade of yellow (above), which I call Hay, is so fresh, making you feel happy, full of hope and sunshine. On the other hand blue if often seen as peaceful and secure,' says fabric designer Vanessa Arbuthnott.
10. Introduce bold blue fabrics
If you love the idea of using bold colors but are cautious of using them wall-to-wall then opting for bold blue blue living room curtains or cushions in a neutral grey scheme is a good place to start as these can be altered easily from season to season.
Does blue and grey go together in a living room?
'When it comes to the living room, a classic color scheme that always works well is pairing blue and grey. Not only do they complement each other perfectly, they can also blend together seamlessly too and often fall in line with the timeless, coastal aesthetic,' says Emma Deterding, founder and creative director of Kelling Designs.
'I particularly love the versatility of the blue and grey combination – not only is it timeless, but whichever way you go, the colors will change according to the light available – they can blend together, stand apart, play more grey or more blue depending on the light in the space.'
Opting for dark blues and greys can create a scheme with drama and impact as well as a cozy and inviting feeling. Alternatively, if bold and dark isn't for you, then combining light and airy blues and greys also works effectively, creating an elegant and sophisticated look that is soothing, explains Emma Detering. 'The brighter shades and muted hues help create a calming space that can be updated time and time again with more affordable accessories to refresh the look. You can really add texture and dimension to this by layering light and airy linens and natural textures that pay homage to the coastal look.'
What color goes with blue and grey?
Together blue and grey work well with lots of other colors, so it's not a wonder the palette is popular for decorating. 'Blues work well on their own or can really come to life when combined with other shades within the palette for a harmonious interior; off-white, greens and greys are classic combinations but contrasting pinks and reds are increasing in popularity for a layered look.' says Dominic Myland, director of Mylands Paints.
If you're thinking of pairing grey and blue with other colors then, 'go for something well balanced like our 'French Grey' family,' says Ruth Mottershead, creative director of Little Greene. 'These greys can be paired with other shades with ease, combining well with blues, greens and pinks. Accent colors should be used to highlight and work in tandem with the base shade rather than against it.'
However it isn't just accent colors that work with blue and grey, they also pair beautifully with a range of materials. David Harris, design director at Andrew Martin, says that, 'dark blues, greens and greys work really well with marble, brass and walnut.'
Sign up to the Homes & Gardens newsletter
Decor Ideas. Project Inspiration. Expert Advice. Delivered to your inbox.
Pippa is Content Editor on Homes & Gardens online contributing to Period Living and Country Homes & Interiors print issues. A graduate of Art History and formerly Style Editor at Period Living, she is passionate about architecture, creating decorating content, interior styling and writing about craft and historic homes. She enjoys searching out beautiful images and the latest trends to share with the Homes & Gardens audience. A keen gardener, when she's not writing you'll find her growing flowers on her village allotment for styling projects.