Items to get rid of in your living room – 10 things decluttering experts want to clear out
Designers and home organizers say these 10 things need to go now – and for good reason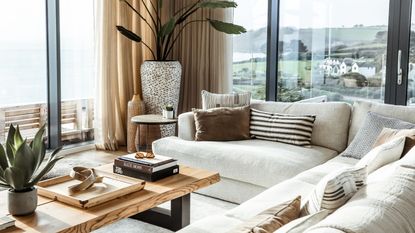 (Image credit: Mint House)
The living room is different for all of us. For some, it is a great place for the family to gather, and for others a relaxing space to escape into with a good movie. For all of us, however, it is safe to say that this space is a bit of a catch-all for everyday items and general clutter.
So what should you get rid of from a living room to make the space more practical?
If you are finding organizing a living room difficult, it may be that you have too many things for the space, or are trying to sort items that don't even belong there in the first place.
What to get rid of from a living room
Deciding what to get rid of from a living room is not easy, especially when looking at things such as home furnishings or things that aren't clearly marked for the trash like junk, recognizes interior designer Sarah Walker of Nuance Interior Design Showroom. 'I live and design by William Morris' statement, "Have nothing in your houses that you do not know to be useful or believe to be beautiful."' she says.
'When I design homes, I follow this criterion knowing that intentional design means creating a space that inspires people to live better. When I design a living room, it isn't only a beautiful space, but also a functional room where people are inspired to entertain, relax, or work how they want – and that sometimes means cutting back on things, even if they look beautiful.'
These are the 10 things professional organizers and designers say you should get rid of from a living room for a more functional family space.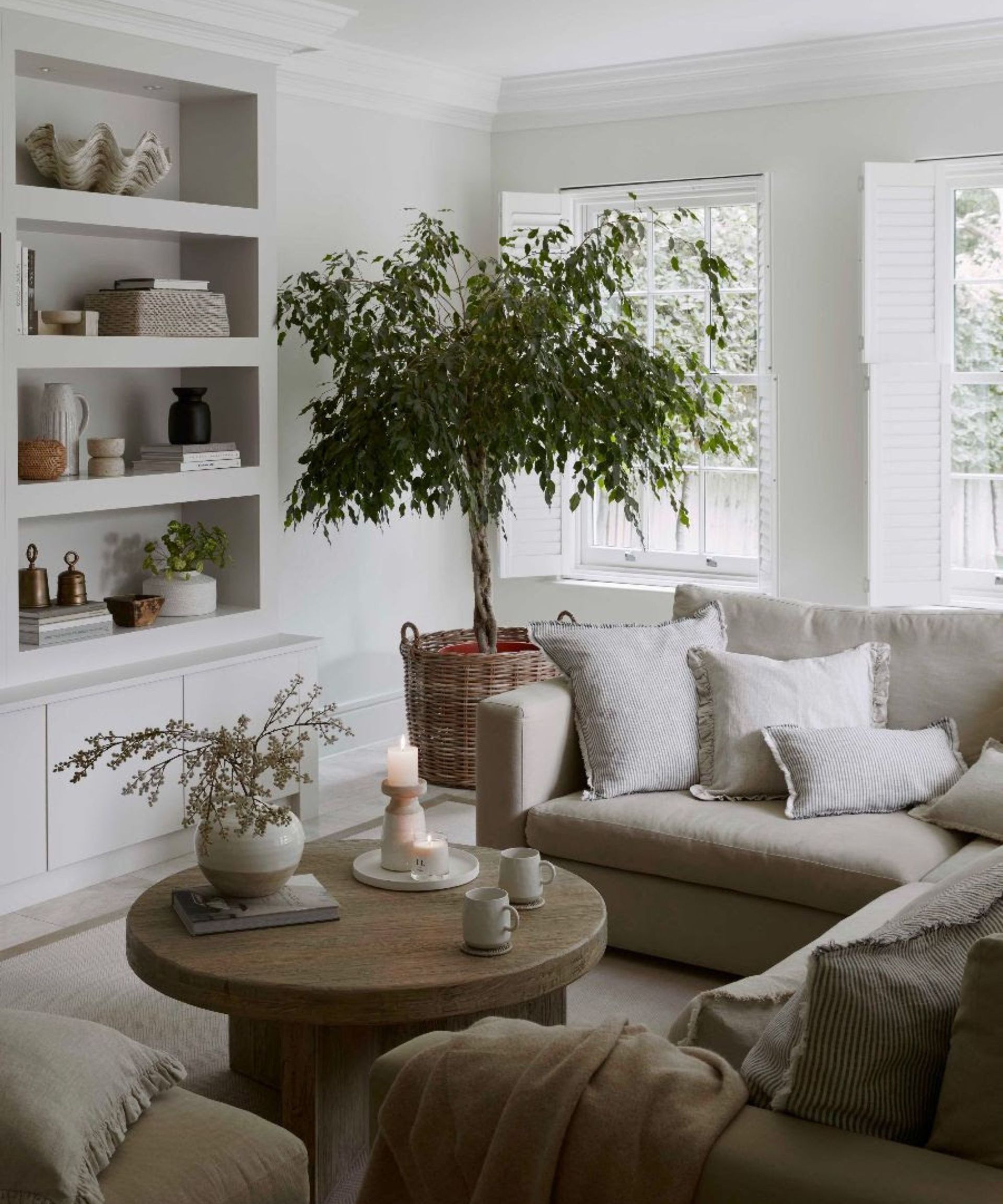 Sarah Walker is the principal designer at Nuances Designs. She has a holistic take to design, as a gateway to health and well-being that begins with sustainable, healthy materials in her luxury showroom. Her expertise in combining beauty with functionality in unique ways sets her apart.
1. Anything stacked up on a side table
Although coffee table styling usually means stacked coffee table books, decor, and candles, a side table should be kept clear to make room for drinks and snacks, says Lisa Cantu, professional organizer and founder of An Organized Home OC. As a result, anything cluttering up these surfaces should be removed, she says.
'When decluttering a living room, we sort and edit out old magazines, clear off table spaces, suggest furniture pieces that offer storage, and contain items in a basket or on a tray that becomes decor,' Lisa says. 'We encourage clients to create a space with minimal table and floor clutter to allow the space to look larger and more purposefully planned.'
Lisa Cantu is a certified professional organizer and founder of An Organized Home OC. She now oversees a team of organizers who help clients across Orange County downsize their homes and develop a custom plan to keep thir spaces in order.
2. Half-empty storage baskets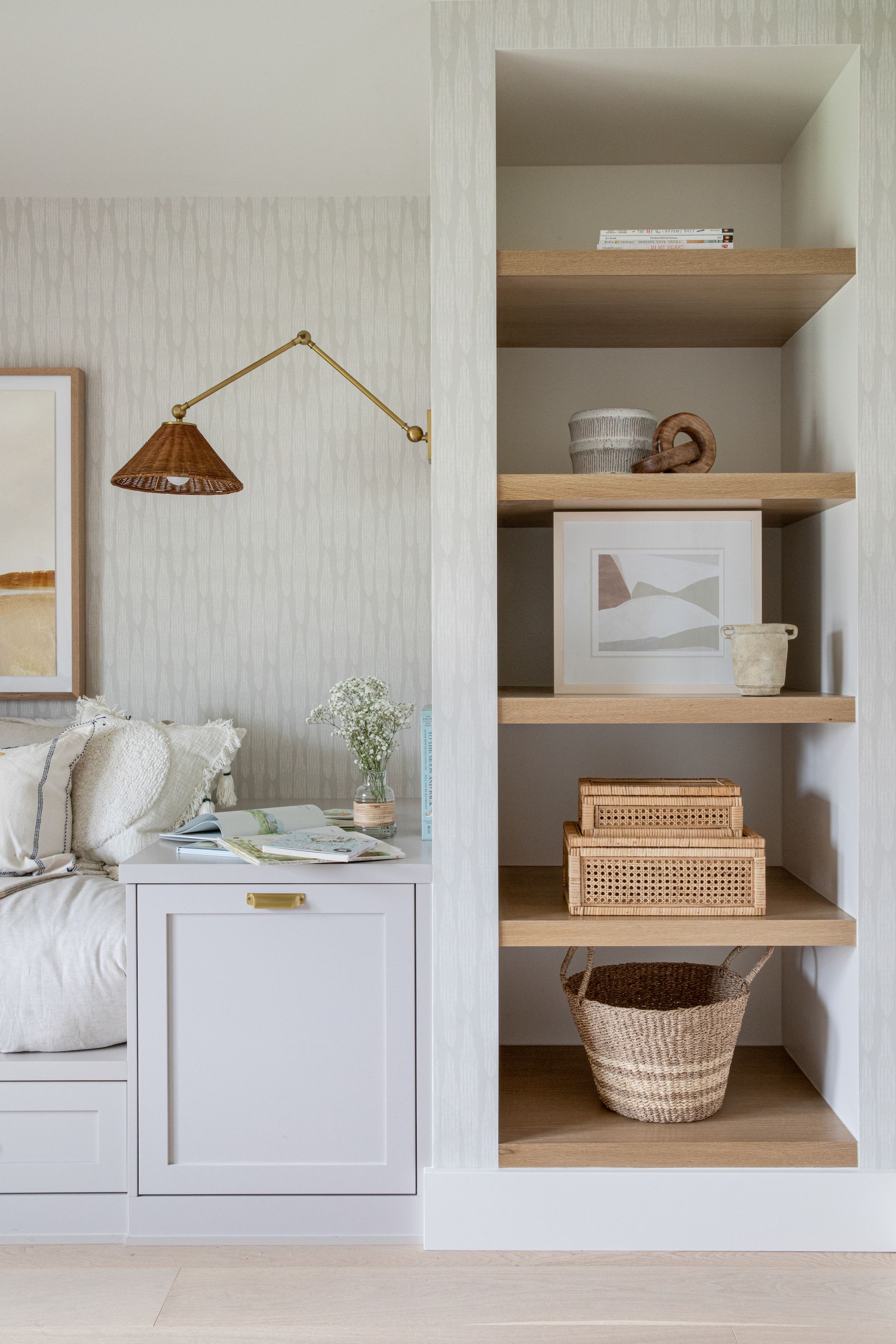 The recent uptick in people adding beautiful living room storage to their homes means that many of us have ended up with a little too much, or even choosing solutions that don't quite suit our space in the name of aesthetics. 'This spring we are saying get rid of your half-empty baskets,' says Carly Shafiroff professional organizer and owner of Creative Interiors.
'Half-empty storage baskets not only take up valuable real estate but will encourage you to purchase more clutter to fill them with. We suggest consolidating your baskets and keeping out only the ones that are being fully utilized, and moving the unused baskets to another room in your house where they will be used.'
Carly Shafiroff is a professional designer and founder of her own boutique studio. Over the years, Carly has created a name for herself designing spaces that inspire, ground and offer a relaxed retreat.
3. Unused or broken furniture
Arranging living room furniture will only go so far in creating good flow, designers point out. Getting rid of any old, unused, or even broken furniture from your living room will help create more space and reduce visual clutter – especially in small living rooms.
This doesn't mean sacrificing useful furniture pieces, however, as Sarah Walker, interior designer at Nuance Interior Design Showroom assures. 'To use fewer furniture pieces, I find multipurpose pieces such as a cocktail ottoman that doubles as a coffee table, comfortable footrest, or extra seating.'
4. Extra pillows and throws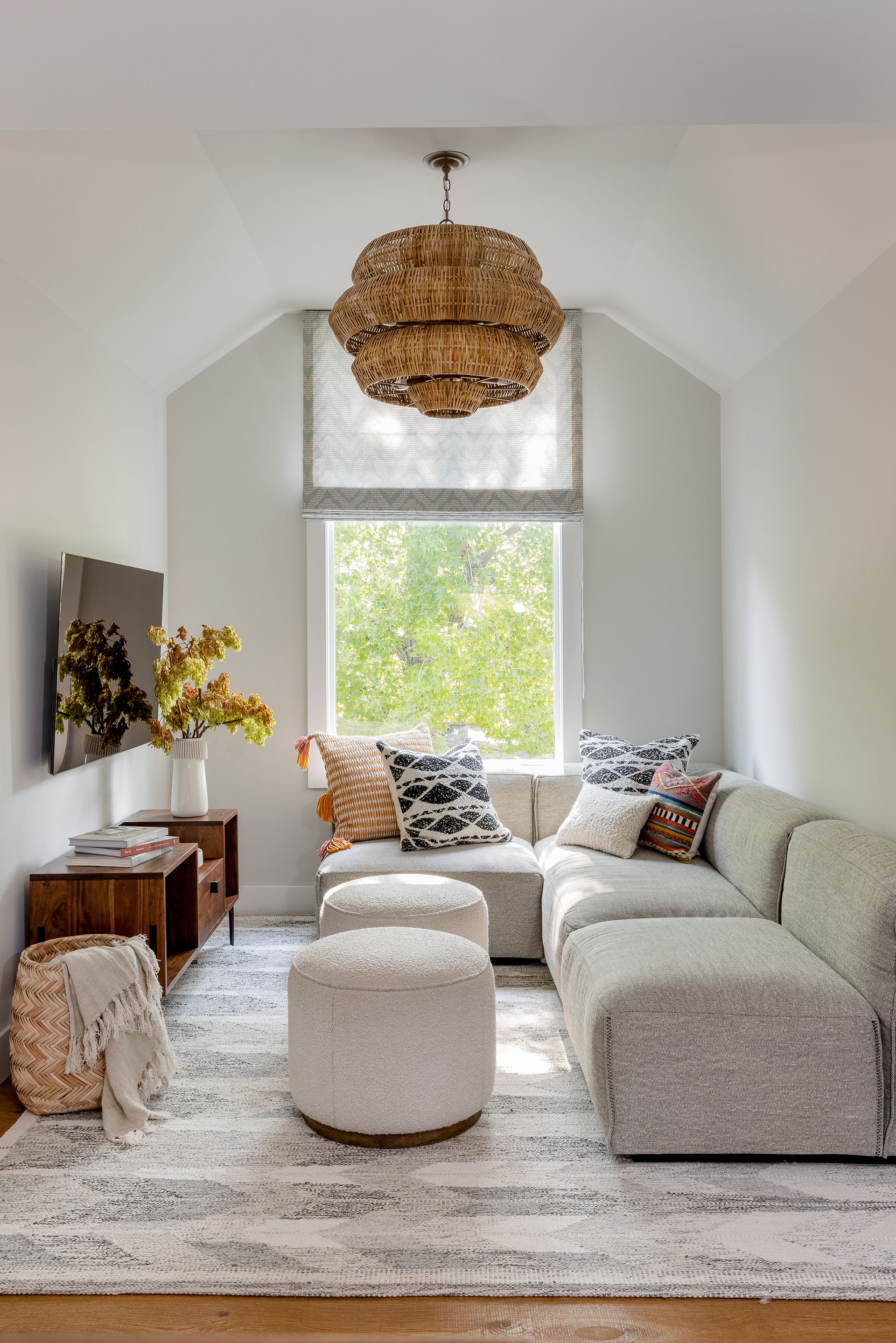 It may be hard to choose between our best throw blankets, but an overabundance of throws and cushions can clutter a living room and even hinder our cozy living room ideas with visual clutter. You should consider getting rid of the ones that you don't use or that are worn out, especially when they are piled high in unnecessary baskets, suggests Jeniffer Smith, homemaker, and organizer at Urban Home Corner. If you can't quite part with some of your soft furnishings, 'consider storing them in a closet or another room or only keeping a few out for use,' she adds.
Jeniffer Smith is a homemaker and blogger with Urban Home Corner. A self-taught appliance expert, Jeniffer is now the go-to for organizing appliance queries on the blog, helping clients find affordable solutions to common home problems.
5. Old or unused toys and games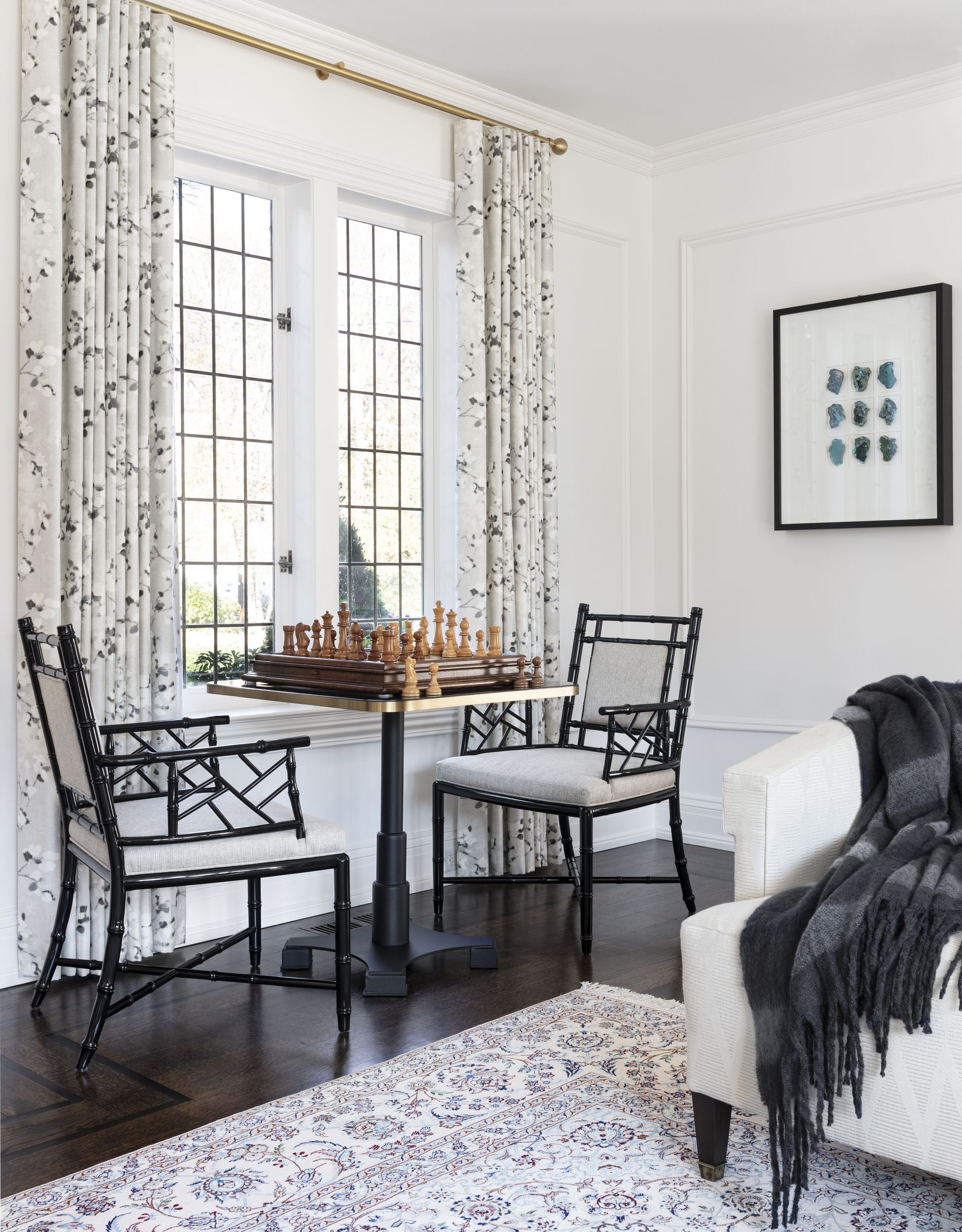 Children's and pets' toys, board games, and gaming consoles are among some of the most common offenders of clutter in a living room. Cutting back or storing them elsewhere such as in toy storage in playrooms or in home offices can help to make the living room a more relaxing space as having too many toys in your living room makes it difficult for adults to relax, overwhelms kids, and makes cleaning/tidying challenging, explains Sonja Meehan, professional organizer and owner of Simply Thriving Organization.
'Limit toys and games to a small number! Storing them in a storage ottoman/bench or attractive bin will make the room feel less cluttered. My favorite way to deal with the rest of the toys is to use a toy/game rotation system. With this system, most of the items are packed into storage bins and placed in an out-of-sight place like a closet or the basement.'
Sonja Meehan loves to organize, and is a member of the National Association of Productivity and Organizing Professionals with a certification in residential organizing skills.
6. Trinkets collecting dust on shelves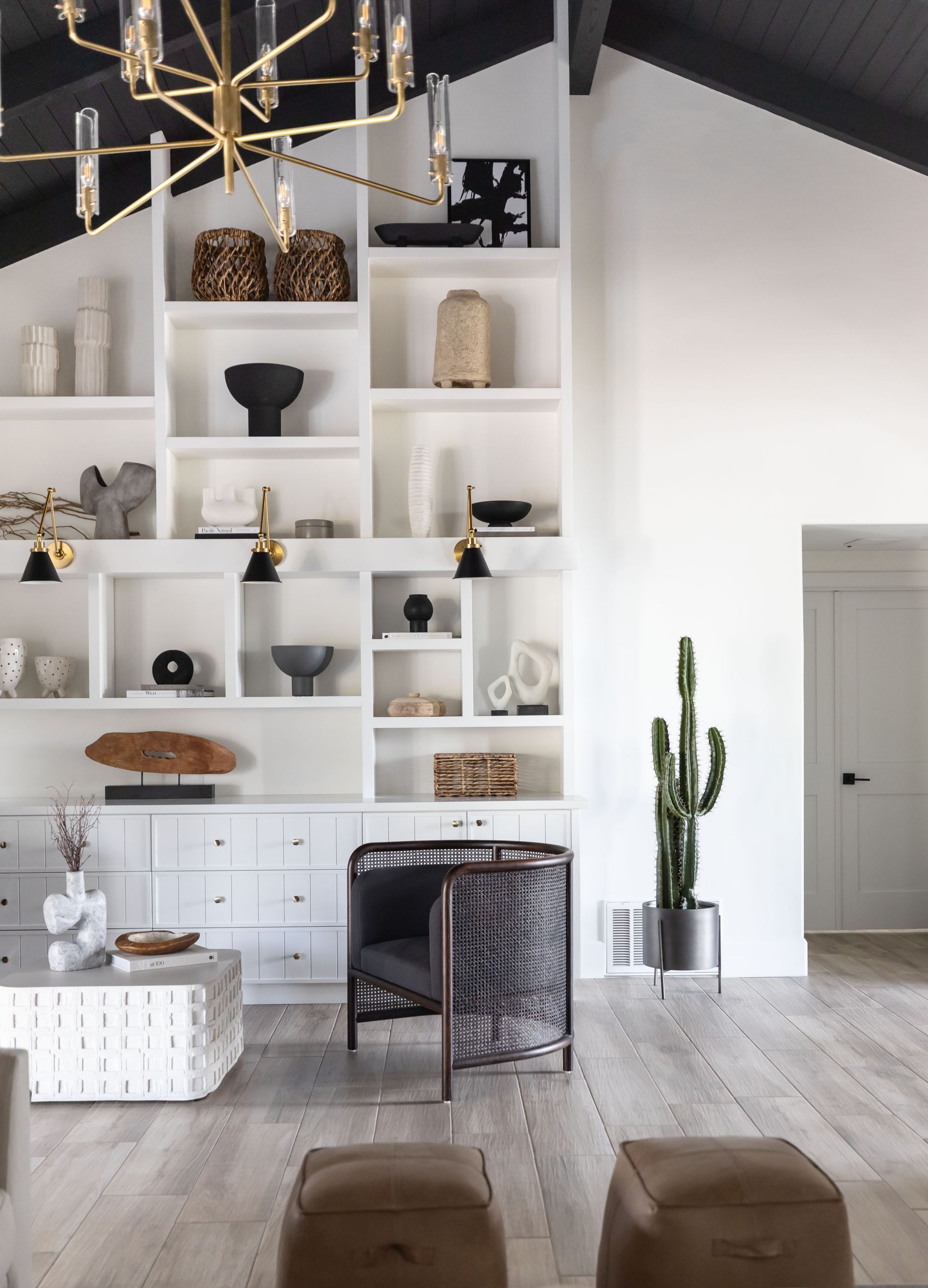 When styling a shelf it is easy to layer on trinkets and knick-knacks to fill in spaces, however, this adds to clutter and makes it impossible to clean a living room thoroughly. As a result, these small objects are seen as the number one thing professional declutterer Andrea Brame, founder of This Modern Mess, gets rid of from living rooms.
'When every square inch of shelf or surface space is covered in a collection, it not only makes dusting harder (and takes longer to clean in general), but the visual clutter index is off the charts,' she says. 'Now, this doesn't mean don't be a collector, but it does mean it's best to find a way to display that collection in a contained space that makes the collection appear as a single unit, not a random gathering of many items all over the living room.'
'Of course, accessories beautify the space,' continues interior designer Sarah Walker, 'but large-scale, high-quality pieces are much better than large quantities of cheap ones,' she says. 'This elevates the room aesthetically and cuts down on clutter significantly.'
Andrea Brame started This Modern Mess to help other busy moms simplify their lives, declutter and organize their living spaces, bring back a sense of calm to their home, and enjoy less stressful family time
7. Physical copies of DVDs and music you don't use
One of the biggest living room organization mistakes we make nowadays is to keep hold of physical DVDs and CDs when many of us turn to streaming instead, Andrea Brame, professional declutterer points out. 'I always get rid of these physical relics,' she says, 'eliminating the need to find clever ways to store numerous CDs, Blu-ray discs, DVDs, or even VHS tapes out of sight.'
8. Anything you don't find beautiful
We should all strive to make a living room beautiful, no matter its shape or size. So, it should go without saying that anything that you do not believe reaches this goal needs to go. 'If the item isn't useful or beautiful, it is a candidate for donation,' says designer Sarah Walker of Nuance Interior Design. 'If you can't part with it but it doesn't have a home in the living room, it is key to find a meaningful place for it so it isn't cluttered anymore.'
9. Old mail and important papers
In the digital age, it may be rare that you have to organize paperwork, however odd bits of mail and important documents should always have someplace to call home just in case. That home, however, should not be the living room.
'It can be easy to simply drop mail off in the living room as you open it or pass by, but you should aim to create a designated drop zone or filing system for important documents, mail, and papers, so they don't take over the coffee table,' suggests Andrea Brame, professional declutter and founder of This Modern Mess. A great spot would be in home office storage or a safe or strongbox in your bedroom or under the stairs.
10. Fake plants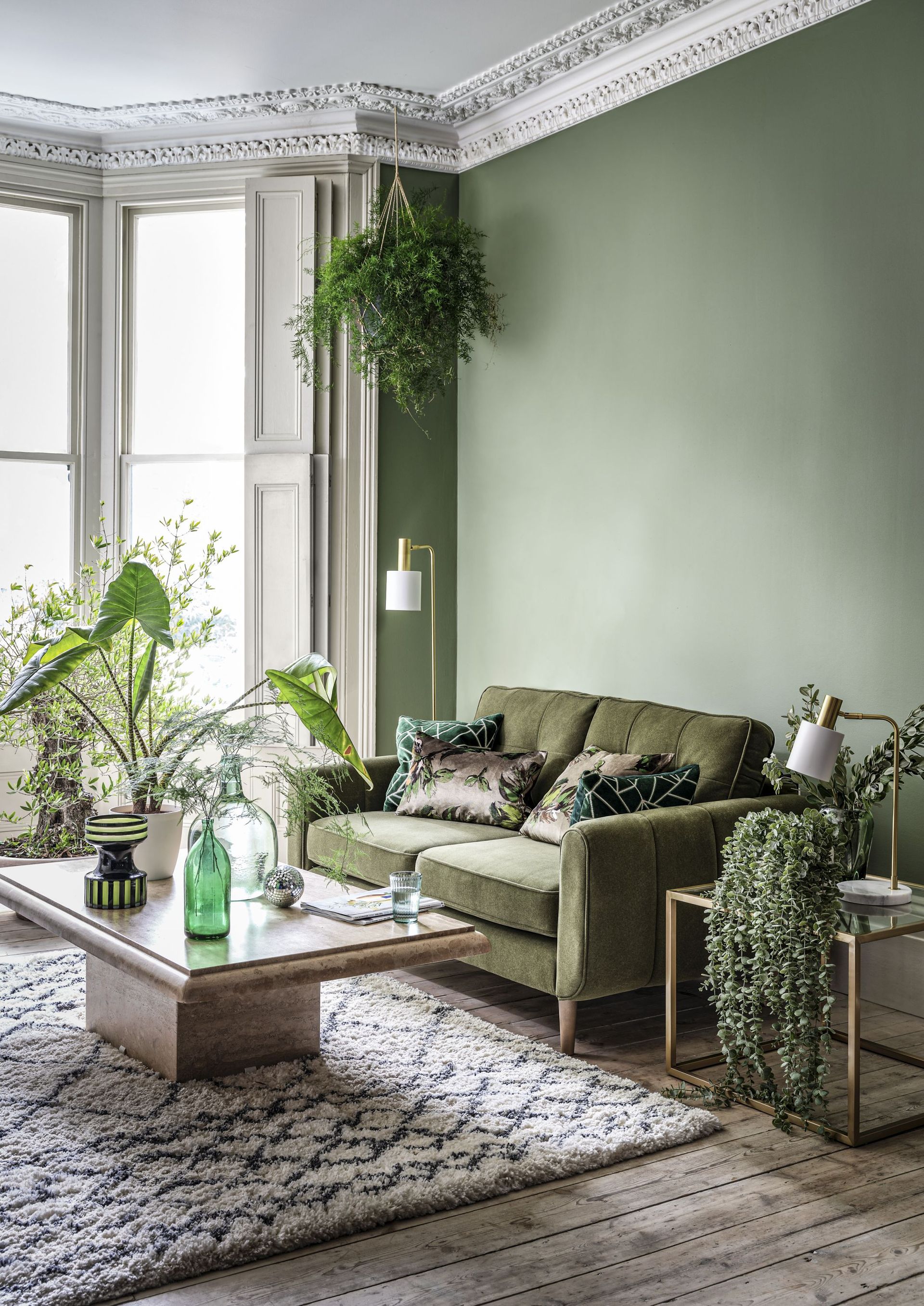 If you do not have a particularly green thumb, it can be tempting to go artificial when decorating with plants – they always look good after all, right?
'While fake plants can add a touch of greenery to your living room, they can also accumulate dust and take up space without offering anything to the room,' says organizer and homemaker, Jeniffer Smith. 'Consider removing any fake plants you no longer enjoy or are taking up too much space, and maybe even try your hand at a low-maintenance houseplant in its place to offer some benefits such as air purification or reduced humidity.'
FAQs
What is considered clutter?
Anything that gets in your way when doing everyday activities, that stresses you out when you see it, or that doesn't have a direct function in that pace can be considered clutter. These items usually accumulate around common spots like a coffee or side table, for example, and are left untouched for a period of time waiting to be put away or given a home.
What to do if you have too much stuff?
If you have too much stuff in your home, there are a few ways to deal with the fallout after decluttering. Some things that are old or worn out may be best for recycling or the trash, depending on the time – with large items often eligible for collection by local services. If you are looking at remodeling your space, selling some of your old things online or through garage sales is a good way to find money to put back into your home. A charitable option is to donate things to thrift stores, and charities, or even give them away to friends and family.
---
When getting rid of things from a living room, you don't always have to focus your attention on general junk. Thinking carefully about what you really use in the space can help to weed out a whole myriad of items that, while pretty and/or technically functional, don't quite work in the room you have.
Sign up to the Homes & Gardens newsletter
Decor Ideas. Project Inspiration. Expert Advice. Delivered to your inbox.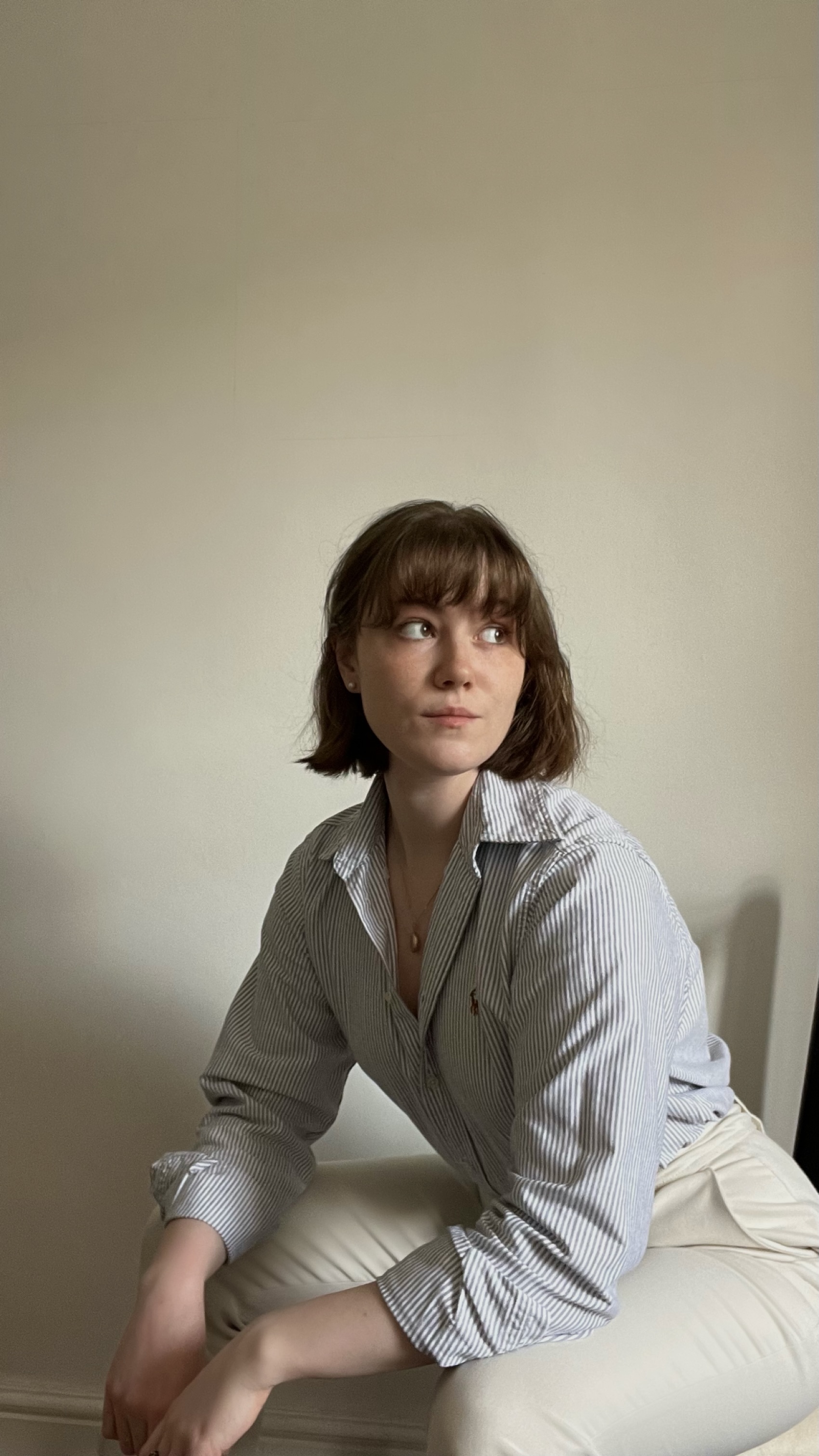 Chiana has been at Homes & Gardens for a year, having started her journey in interior journalism as part of the graduate program. She spends most of her time producing content for the Solved section of the website, helping readers get the most out of their homes through clever decluttering, cleaning, and tidying tips – many of which she tests and reviews herself in her home in Lancaster to ensure they will consistently deliver for her readers and dabbles in the latest design trends. She also has a first-class degree in Literature from Lancaster University.