10 small living room organizing mistakes – and how to avoid them
Familiarize yourself with these small living room slip-ups ahead of organizing, so you don't make the same mistakes…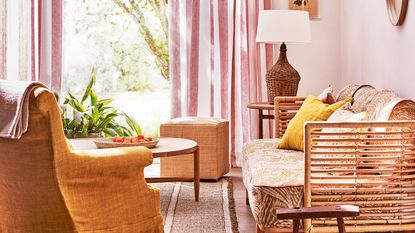 (Image credit: Future PLC)
If you have or have ever had a 'cozy' home, chances are you've made a few small living room organizing mistakes in your time. Frenzied furniture arranging, binge buying storage, cramming clutter behind closed doors, all in the hope you're going to create an extra inch here and there… sound familiar?
Don't worry, you aren't the first, but you will hopefully be one of the last if we have anything to do with it. While there may be copious amounts of conflicting advice when it comes to space-saving home organizing ideas, there are a few that every expert will agree is a living room blunder best avoided.
Not only have we listed the top small living room organizing mistakes here for you, but we've also provided you with ways to work around them. So, whether yours is family-friendly or a little more on the formal side, you can rest assured you're enlisting the best space-saving organizing tips professionals to use in every small living room.
Small living room organizing mistakes
How a small living room is used day-to-day can differ widely between households. While those with the luxury of space might be able to designate an entire room to screen-free relaxation, those of us with limited square footage usually have to be a bit more realistic about how the space is used if we want to make the most of the space in a small living room.
'Trying to fit everything in will only make the room feel smaller, and your organization will suffer as a result. Decide on your priorities and make decisions always with those at the forefront of your mind,' says Millie Hurst, section editor at Homes & Gardens.
Millie Hurst is Section Editor at Homes & Gardens, overseeing the Solved section, which provides readers with practical advice for their homes. Millie has written about and tried out countless cleaning and DIY hacks in the six years since she became a journalist, and has worked in both London and New York.
1. Forgoing a functional layout
One of the biggest living room organization mistakes is not giving enough thought to your living room layout. How you position your furniture can have a huge impact on the look, feel and functionality of the space.
It's fairly common in small living rooms to see couches and units pushed right up against walls, but according to interiors expert Amy Stansfield of WallSauce, and most design experts for that matter, this actually makes the space feel smaller.
'To make the room feel more spacious, you want to position furniture away from walls, creating a "room within a room" if you like,' she says. 'Work out your preferred layout first; two small sofas facing each other with a coffee table in the middle, for example, then sit items upon a large rug, leaving a narrow frame around them. Choosing a small rug will only accentuate how small the room is, so the bigger the better.'
Don't be afraid to experiment a little – if it doesn't work, you can always move it back again.
2. Overdoing it on seemingly 'sensible' storage solutions
It's a well-known fact that multipurpose furniture is great when organizing small spaces. Whether it's a coffee table with concealed cupboards and drawers or an ottoman that doubles up as a handy shoe storage idea, like this ottoman from Wayfair, they can be invaluable when it comes to containing clutter. However, in the case of a small living room, 'too much of a good thing' certainly rings true.
'People often invest in multipurpose living room storage ideas ahead of decluttering, then find they don't actually need them. The last thing you want is to waste floor space on unnecessary items, so complete the clear out first to ensure it's going to enhance the space in some way,' says professional organizer Vicky Silverthorn of You Need a Vicky.
The same goes for smaller living room organizers, too. You may think they're useful, but baskets and bins can easily become an eyesore if you overdo it, regardless of how stylish they are.
Vicky Silverthorn has been a professional organizer for over 10 years, helping people from all walks of life to declutter and organize their homes. As an expert in the industry, she believes that your wellbeing starts at home; if your home is in shape, other elements of your life will follow. Vicky has written an Amazon bestselling book on living a less cluttered life.
3. Thinking big means better when it comes to furniture
They may be able to conceal an awful lot of stuff, but bulky furniture actually works against you when it comes to achieving a well-organized living room, particularly if it's on the small side anyway. Aside from taking up invaluable floor space, they also offer up an opportunity to hold onto items you really don't need. Opting for more minimal pieces may feel counterintuitive, but it forces you to keep on top of clutter and prioritize essentials.
'Choosing pieces with sleek, minimalist designs can significantly impact the overall feel and functionality of the space. Opting for glass-topped tables or slim-legged consoles will reduce visual clutter, creating the illusion of more space and a less crowded feel overall,' says Zakhar Ivanisov, founder of Soul & Lane.
4. Overlooking hidden storage opportunities
Keeping surfaces as clear as possible is a primary goal when organizing small spaces of any kind, so you'll need to think outside the box a little if you want to find a space for everything. If you're clever about it, even the most tricksy of nooks and crannies can be transformed into usable space, with the help of a good joiner or cabinet-maker.
'Tailored to the dimensions of your small space, made-to-measure cabinetry can be designed to work around any quirks, such as a sloping ceiling or an awkward corner. Plus, going bespoke means that the internal layout can be adapted according to what you want to store which helps to keep clutter at bay,' says Irene Gunter, founder of Gunter & Co.
If going bespoke isn't an option, then turn your eyes to vertical opportunities, instead. Whether it's a blank wall or the back of a cabinet door, there's plenty of untapped storage potential to be had, from shelving and hooks to handy cubby-style organizers – with its sturdy pockets, this organizer from Target is ideal for storing electronics out of sight.
5. Allowing 'other room' items to hang around
As a multifunctional room, it's perfectly acceptable to bring items into the living room throughout the day – plates, toys, exercise equipment, books, devices and so on. However, what's not acceptable is letting them stay there. Failing to relocate these items to their original homes is a surefire route to a cluttered space.
Of course, it's important to be realistic; returning items as soon as you're done with them is not always feasible. Rather than leave them lying around, it can be useful to set up clutter 'drop-zones'. Baskets are great for this; set aside five minutes in the evening to relocate items that have built up throughout the day.
6. Taking the term 'multifunctional room' a little too literally
If you're organizing in a small apartment, or your home is more 'open-plan,' there will undoubtedly be some crossover between rooms, and that's fine – as long as you manage it properly.
'One of the biggest mistakes I see in small living rooms is people simply trying to cram in too much. Asking it to house coats, shoes, dog leashes, paperwork, cleaning essentials, and so on, yet expecting it to remain a calm and relaxing space to spend time in… the poor room doesn't stand a chance. Think about what really needs to be there, then consider other areas of the home for housing those general purpose items that don't make the cut,' says professional mover Nick Valentino of Bellhop Movers.
7. Not decluttering enough properly in the first place
Too much stuff will make any room feel small and cramped, regardless of how organized it is.
'As I often remind my clients, it's the space or the stuff – you can't have both. Adding shelves or cabinets to shove more stuff on and into is just going to make the space feel cluttered. The best approach is to efficiently edit down first so that everything fits comfortably into the space you have,' says professional organizer Sarah Giller Nelson of Less is More.
Washington-based interior designer, Diana Lombard agrees, and adds; ' be very intentional about the items that you display and the furniture pieces that you chose. Make sure everything serves a purpose and remove anything that you don't really need or love. Staying strict on this will help create the illusion of a much larger, more airy living room, regardless of square footage.'
8. Trying to cram too much behind closed doors
While we do recommend keeping surfaces clutter-free, that does not mean cramming everything you possibly can into cabinets and drawers without giving any thought to effective organization. 'Out of sight out of mind' does not apply in rooms designed for relaxation – you'll need to pay attention to organizing drawers, closets, and even living room bookshelf ideas if you want to truly unwind.
Storage helpers in the form of drawer organizers, dividers, pull-out storage racks and shelf risers can be extremely helpful for corralling smaller items you might want to store in a small living room, such as chargers, remotes, stationery, board games, etc. But before purchasing anything, it's essential that you measure up to make the best use of the space – we'd recommend doing it twice, just to be on the safe side. Don't forget to take into account the size of the items you're storing, too.
9. Not taking kids into account
If you've got little ones in your household, you don't want them to feel restricted about where they can play – any room should be available to them. A living room is usually a popular spot, particularly in the absence of playroom ideas. Luckily, organizing toys so they don't clutter a communal space doesn't have to be a chore, assuming you put a sensible system in place that everyone can follow, children included.
If you're storing toys in your small living room, you'll want to factor both style and practicality into your toy storage ideas. They don't have to be 'kiddy'; stylish baskets or a slimline sideboard are ideal for keeping toys contained. This also applies when organizing a playroom, or a kid's bedroom, particularly if they're shared spaces.
Alternatively, consider investing in portable caddies, one for each child – we like these colorful caddies from Amazon. Get them into the habit of bringing toys into your small living room to play with, then take them back up to where they live at the end of each day.
10. Allowing clutter to build
There's nothing like the satisfaction of a neat and tidy small living room after a serious decluttering session, but these one-hit wonders are not enough – you'll need to keep up the hard work if you want it to remain that way.
'Set up a monthly maintenance plan and add it to your calendar. Go through items like magazines, books, paperwork… anything that's accumulated on your surfaces. Smaller spaces become overwhelmed quickly and easily, so it's best to stay on top of it,' says professional organizer Dawn Falcone of The Chaos Liberator.
FAQs
How do you arrange things in a small living room?
'When arranging furniture in a small living room, it's important to consider traffic flow and functionality. Start by designating zones for lounging, entertaining and storage. Then, choose furniture that fits the scale of the room and allows for easy movement,' says professional organizer Sarah Schier, founder of Beautiful Life Creative Organizing.
'To create the illusion of more space, consider using furniture that is raised off the ground, like a sofa with legs or a coffee table on casters. Use area rugs to define zones and add texture to the space'.
How do I declutter a small living room?
As one of the most frequented rooms in the home, the living room is usually one of the most cluttered, too. And if yours is on the small side, we'd imagine you're looking to declutter a living room fast – there's literally no room for excess.
Start by blitzing the trash. You'd be amazed at how much of it there is, and how much of it you don't notice day-to-day – stacks of magazines, outdated manuals, takeaway menus, greetings cards, newspapers, etc, on top of bulbs that need replacing, unused cables, broken remotes… the list goes on. Focus on that first to boost productivity and motivation before working your way through other items using our small living room decluttering checklist.
---
When organizing a small living room, every inch counts – you can't afford to make mistakes. Luckily, they're easily avoided; by getting creative with your organization and storage solutions, you can double your small living room's square footage… or feel like you have, at least.
Sign up to the Homes & Gardens newsletter
Decor Ideas. Project Inspiration. Expert Advice. Delivered to your inbox.
For 10 years, Tara King worked as a Content Editor in the magazine industry, before leaving to become freelance, covering interior design, wellbeing, craft and homemaking. As well as writing for Ideal Home, Style at Home, Country Homes & Interiors, Tara's keen eye for styling combined with a passion for creating a happy – and functional – family home has led to a series of organization and cleaning features for H&G.