What colors go with purple? Perfect pairings, suggested by experts
Designers and color experts advise on the eight best color pairings for purple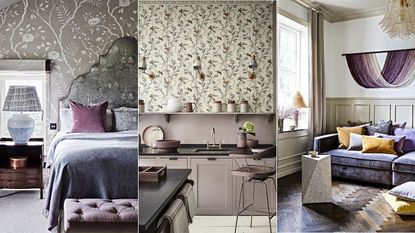 (Image credit: Brent Darby / Little Green / Bungalow DK)
There are endless color pairings you could pick for your scheme, but which colors look best with purple?
Decorating with purple can sway from a bold statement to a relaxing, zen space, says Ruth Mottershead, creative director of Little Greene. 'Purple encompasses many shades from soft, delicate pastel lilac to purple greys and deep eggplants. Depending on the shade of purple you choose, there will be a range of different complementary shades.'
But, when trying to curate the perfect purple room ideas it can be hard to know where to start. Below, we have spoken to color experts and designers and broken down their advice for color combinations for rooms with purple in, so that most of the hard work is done.
What colors go with purple?
Purple is a strong color, so it may be that you are looking at it for accent color ideas. Or perhaps you simply love purple and want to pair it with more muted shades as accents?
'When choosing colors to pair with purple, it's important to consider the undertones of the purple first. Different shades of purple can have different undertones, such as cool or warm,' explains Artem Kropovinsky, interior designer and founder of NYC studio, Arsight. 'By choosing colors that complement the undertone of the purple, you can create a harmonious and cohesive space.'
1. Balance out a range of purples with muted grays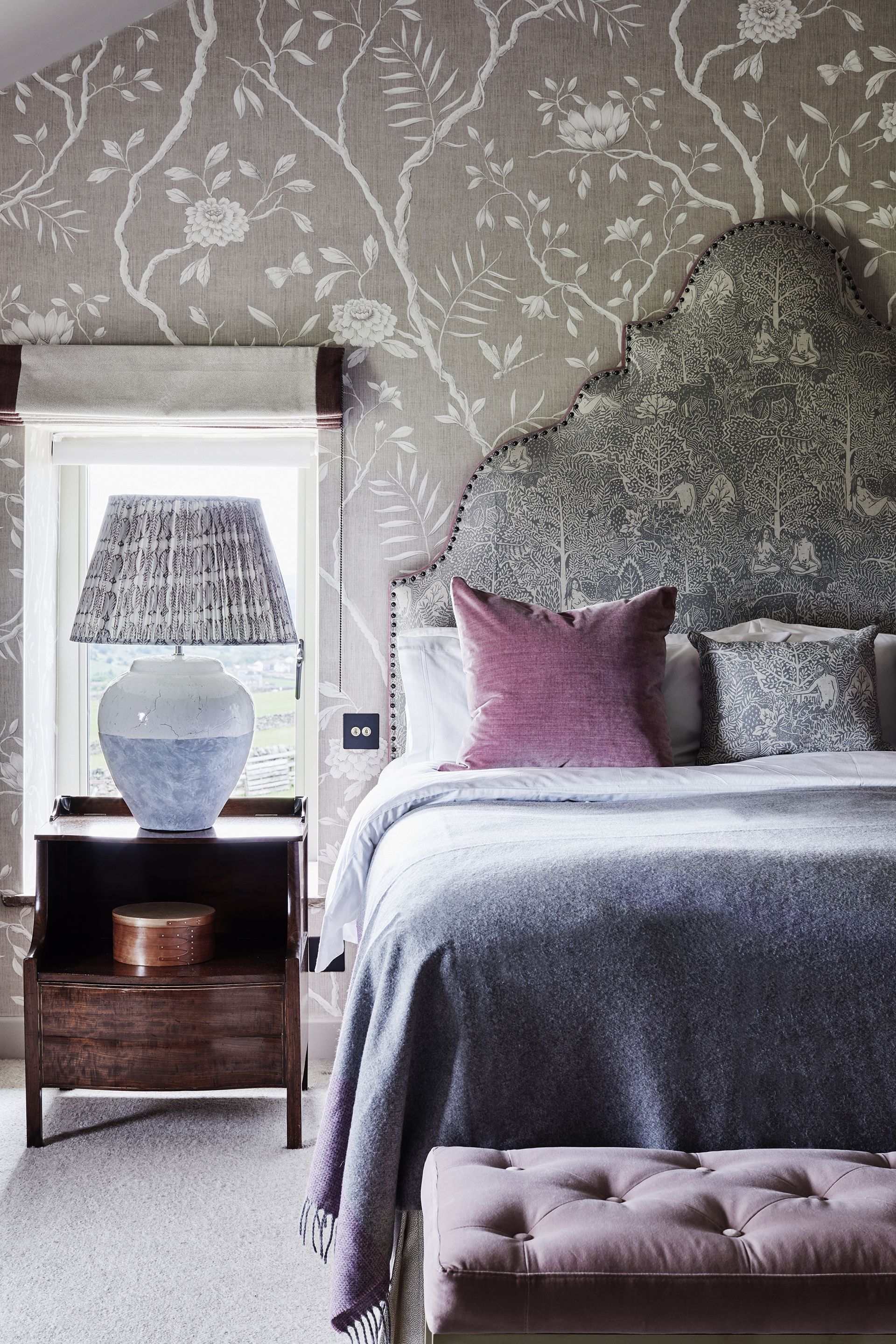 While decorating with gray is seen to be falling out of vogue in interior design trends for 2023, pairing it with purple can achieve a really sophisticated look.
'Gray is a fantastic pairing for the deep purple Purpleheart, however, consider the undertones within the shade and opt for grays or neutrals with a pink or lilac undertone for a harmonious finish; grays such as Dash of Soot or Arquerite make a perfect combination with strong purple,' suggests Ruth Mottershead of Little Greene.
'A soft pastel purple tone such as Hortens' works beautifully with clean mid-tone greys such as Mid Lead Colour for an elegant scheme or a deep plum eggplant such as Adventurer for an impactful yet intimate atmosphere,' Ruth continues.
2. Use contrasting yellow for a bold statement
Decorating with yellow takes a level of confidence. However, using it in moderation and pairing it with purple can help balance the scheme out, and add lots of visual intrigue.
'Another great option for pairing with purple is to choose colors that are opposite on the color wheel. Yellow and green are two examples of colors that can create a striking contrast with purple,' suggests interior designer Artem Kropovinsky. 'Yellow can add a cheerful and lively feel to the space. This combination can create a striking and visually interesting space.'
3. Couple with green for a soothing scheme
Both considered some of the most relaxing colors, the right shades of green and purple can create a truly peaceful space.
'A vibrant and welcoming pairing with purple is the color green – as they face each other on the color wheel, it is a more contrasting combination,' explains Helen Shaw of Benjamin Moore .
'Therefore, in order for them to feel more harmonious, think about picking shades that have a similar undertone such as a dusty shade of lilac and soft sage.'
If you are considering decorating with green walls, we have also broken down the colors that go with sage green, too.
4. Opt for muted pastels for pared-back schemes
If dark color trends are not for you, then opting for lighter pastels could be a great way to inject some fun into a scheme and complement lovely lavender tones.
'One of the most popular choices is to pair purple with shades of lavender, pink, and soft blue,' continues Artem Kropovinsky, interior designer and founder of Arsight.
'These colors are often found in nature and can help to create a soothing and peaceful atmosphere in a room. They also add a touch of femininity to the space, which can be particularly appealing in bedrooms or other private spaces.'
5. Fall back on black for a fool-proof pairing
Although there is some debate around whether black is a color or a tone, one thing we can agree on is that it simply goes with everything – including purples.
'As the ultimate neutral, black does go with purple but using a strong purple with a strong black will absorb a lot of light in a space,' says Helen Shaw of Benjamin Moore.
'Perhaps consider using a lighter gray for a more approachable atmosphere and complete the look with touches of sleek black furniture.'
6. Play it safe with universal off-whites
Pairing purple with whites is a great way to enliven white room ideas and stop the scheme from falling flat. Alternatively, opt for off-whites to provide somewhere for the eye to rest in a predominantly purple space.
'The regal color purple can sometimes be a challenge to decorate with, so often it's best to temper with softer neutrals,' says Joa Studholme, Farrow & Ball's color curator. 'Yellow-based neutrals and off-whites can work well here such as Matchstick and Off-White, but for a more contemporary look team with something a little more drab like Drop Cloth, this works nicely to balance our own true purple, Pelt.
'If you want to paint a whole room, a formal dining room would be good here, opt for a complementary off-white such as Peignoir so the contrast between wall and trim becomes softer.'
7. Go dark and moody with similar jewel tones
We love indigo, and though it can be considered as a little on the cooler side, opting for all-round warm jewel tones to match it can enrich a space and create a striking impression.
'If your aesthetic requires something stronger as an accent, look to jewel tones such as Emerald Green,' suggests Joa Studholme, Farrow & Ball's color curator.
8. Warm up purple schemes with soft neutrals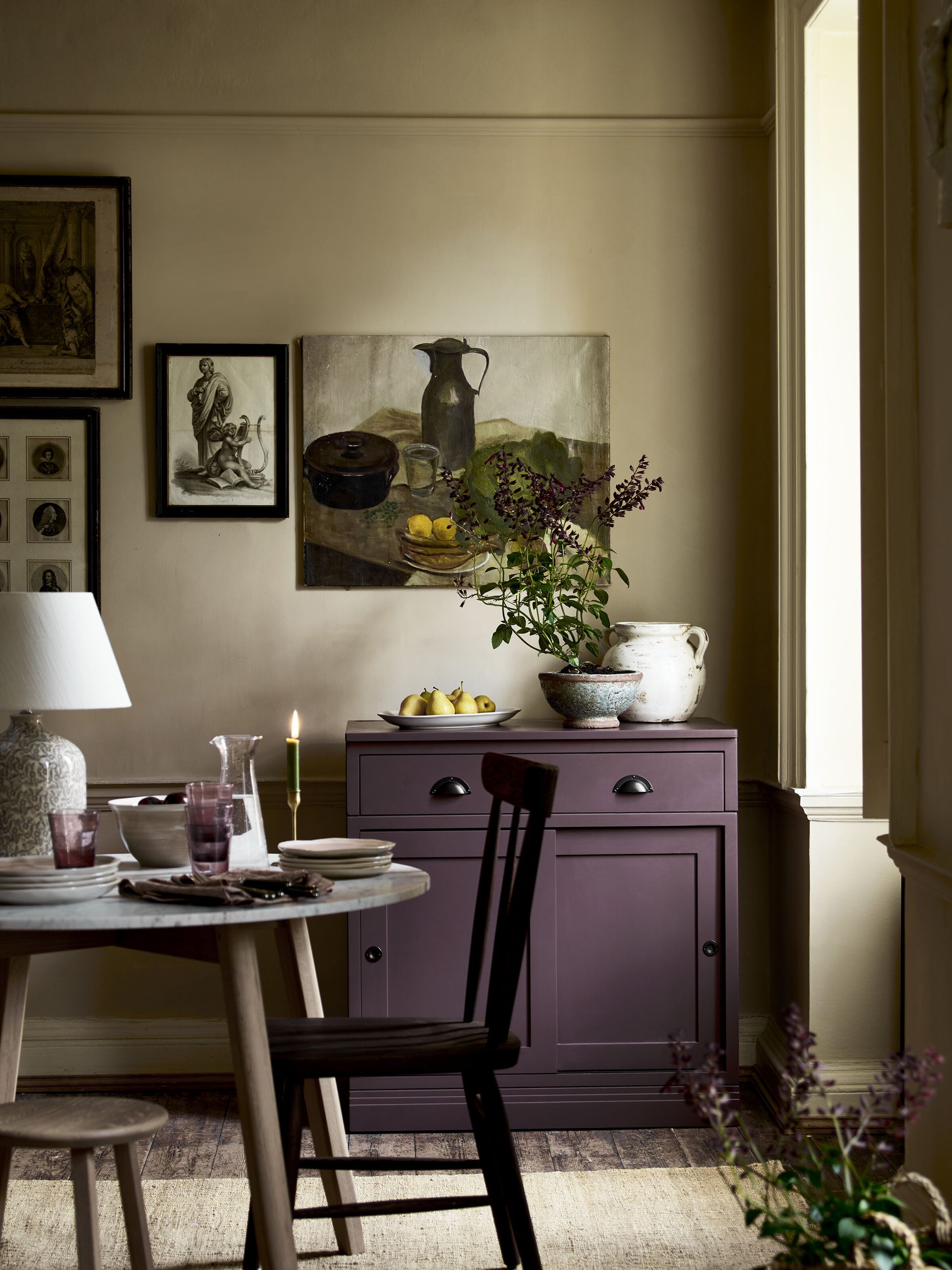 Decorating with brown can be incredibly elegant, and it's a great match for purple.
'Purple is both playful and modern, lending itself to spaces that encourage creativity. From a cabinet colorway to a ceramic splashback to a wallcovering, it brings a certain energy to the room. Pair your purples and lilacs with neutrals – like grays and browns – to add a vibrant yet subdued feel to spaces,' says Katherine Cohen, trend and product expert at FLOR.
Which colors don't go with purple?
Despite its many shades, there are certainly some colors that do not pair as harmoniously with purple. One of those is decorating with orange.
'While there are many colors that can complement purple, there are also a few that should be avoided. Bright orange and red are two examples of colors that can clash with purple and create a jarring and overwhelming space,' Artem Kropovinsky warns. 'Additionally, it's best to avoid pairing purple with too many other bold colors, as it can make the space feel overwhelming.'
What color furniture goes with purple walls?
When choosing furniture for a purple-painted space, opting for pieces in neutral tones can help make the purple walls a stand-out feature. Browns, and particularly the rich browns found in natural wood is the perfect color pairing for purple. Alternatively, go for a contrasting yellow or green sofa, for example, to make that the star of the show. If you are feeling bold, consider opting for a standout piece of purple furniture, such as a chair or painted chest of drawers that will complement the existing purple on the walls.
How do you make a purple room look good?
When trying to make a purple room look good, picking out the accent colors carefully is incredibly important. For an elegant space, choose muddy purples that match perfectly with natural, raw materials in surfaces and furnishings, such as wood, cane or bamboo; for a bolder step, pair purple with green accents. Because purple is such a bold color, it is best to avoid very bright color accents: red and orange won't work in most spaces, other than playrooms.
Sign up to the Homes & Gardens newsletter
Decor Ideas. Project Inspiration. Expert Advice. Delivered to your inbox.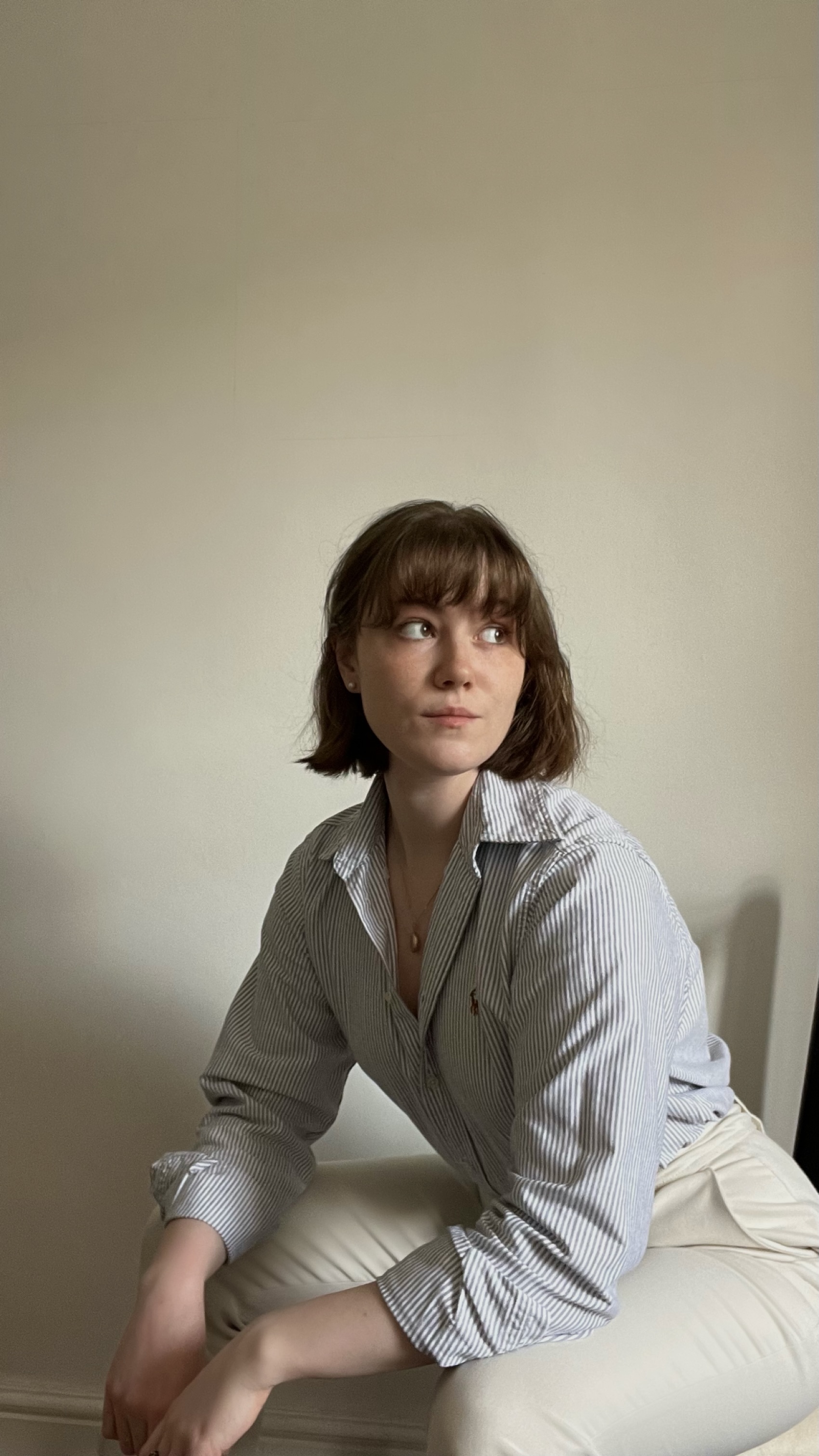 Chiana has been at Homes & Gardens for a year, having started her journey in interior journalism as part of the graduate program. She spends most of her time producing content for the Solved section of the website, helping readers get the most out of their homes through clever decluttering, cleaning, and tidying tips – many of which she tests and reviews herself in her home in Lancaster to ensure they will consistently deliver for her readers and dabbles in the latest design trends. She also has a first-class degree in Literature from Lancaster University.