What is the best lighting for a kitchen? Design experts agree on this essential combination
Get your kitchen lighting right for a functional yet cozy kitchen scheme with these expert tips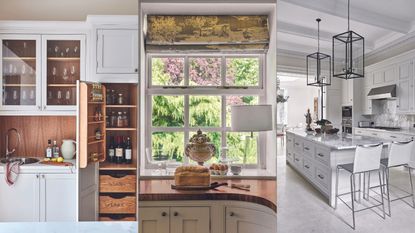 (Image credit: SOPHIE GALE / POLLY ELTES / DAVID LOVATTI)
Kitchen lighting can be easily overlooked. As a space, the kitchen is predominantly a functional space, requiring brighter task lighting and it is easy to forget the subtleties of layering lighting in a space we do not always associate with relaxing.
Getting your kitchen lighting ideas right, however, can create a room that is perfect for both cooking and entertaining guests with a relaxing late-night drink – especially as kitchen ideas continue to dominate as one of the most multi-purpose rooms in our homes.
Whether your kitchen is just for cooking, or if it doubles as an entertaining space, a home office, or a dining room, these top designers and experts have shared their approaches to kitchen lighting.
What is the best lighting for a kitchen?
Getting kitchen lighting right is more than ensuring you have a task light and an ambient light. Rather, you have to carefully layer task lighting, ambient lighting, and accent lighting to make your kitchen feel inviting.
'The best lighting schemes involve light from a variety of sources, all of which should be controllable, allowing you to alter the mood at will,' says Richard Moore, design director at bespoke and luxury kitchen designers, Martin Moore. 'A combination of ceiling spots, pendant lights, under-cupboard lighting and freestanding lights offers a multitude of potential effects, transforming the kitchen from practical work zone to relaxed entertainment area.'
Here, we have asked designers about their favorite ways to use lighting in a kitchen to help inspire your kitchen redesign.
1. Play with pendants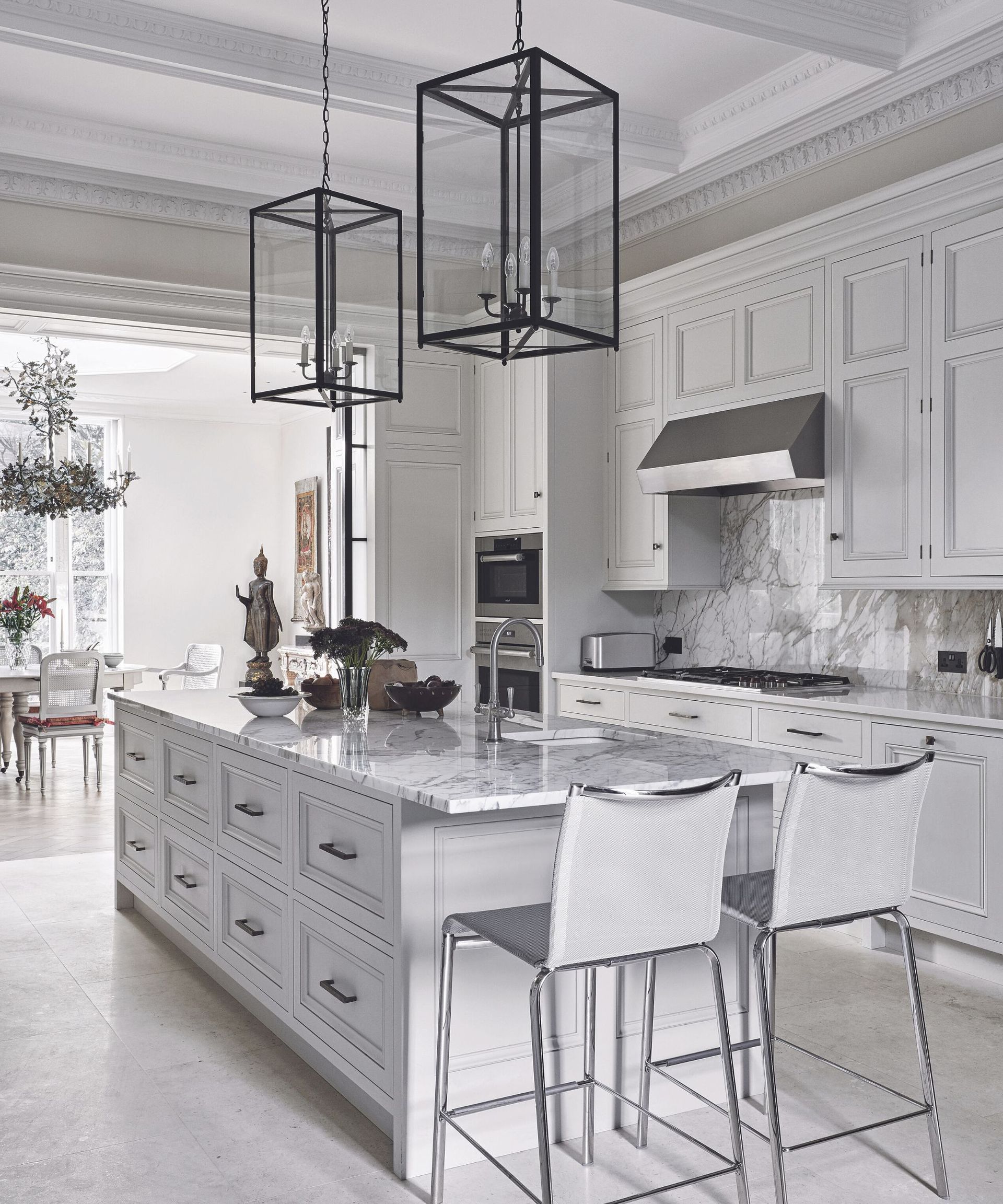 When it comes to lighting a kitchen, lighting doesn't have to be solely functional, but decorative for beautiful kitchen ideas too. 'Currently pendant lighting is a popular choice when it comes to kitchen design, with many clients opting for three lights placed above the island,' says Richard. 'Three pendants provide enough light to create an atmosphere, but do not overwhelm or clutter the space, however, larger islands may require a greater number of pendants. Glass pendants are a brilliant way to subtly introduce color into a space and can be mixed and matched to create visual interest.' When choosing pendant lighting, it is important to get your light sizing right to prevent a fitting that overwhelms the space, or rather looks minuscule and out of place. Great tips for choosing kitchen island pendants are to situate the light around 30-36 inches away from the top of a kitchen island and space them two feet apart. The positioning of lights can help you to determine the right size shade.
'There is also a focus on character lighting; large pendants are very popular, helping to introduce color and a decorative touch to the kitchen,' he adds. 'In lofty rooms, pendant lighting helps to draw the focus downwards towards the island.'
2. Utilizing undercabinet lighting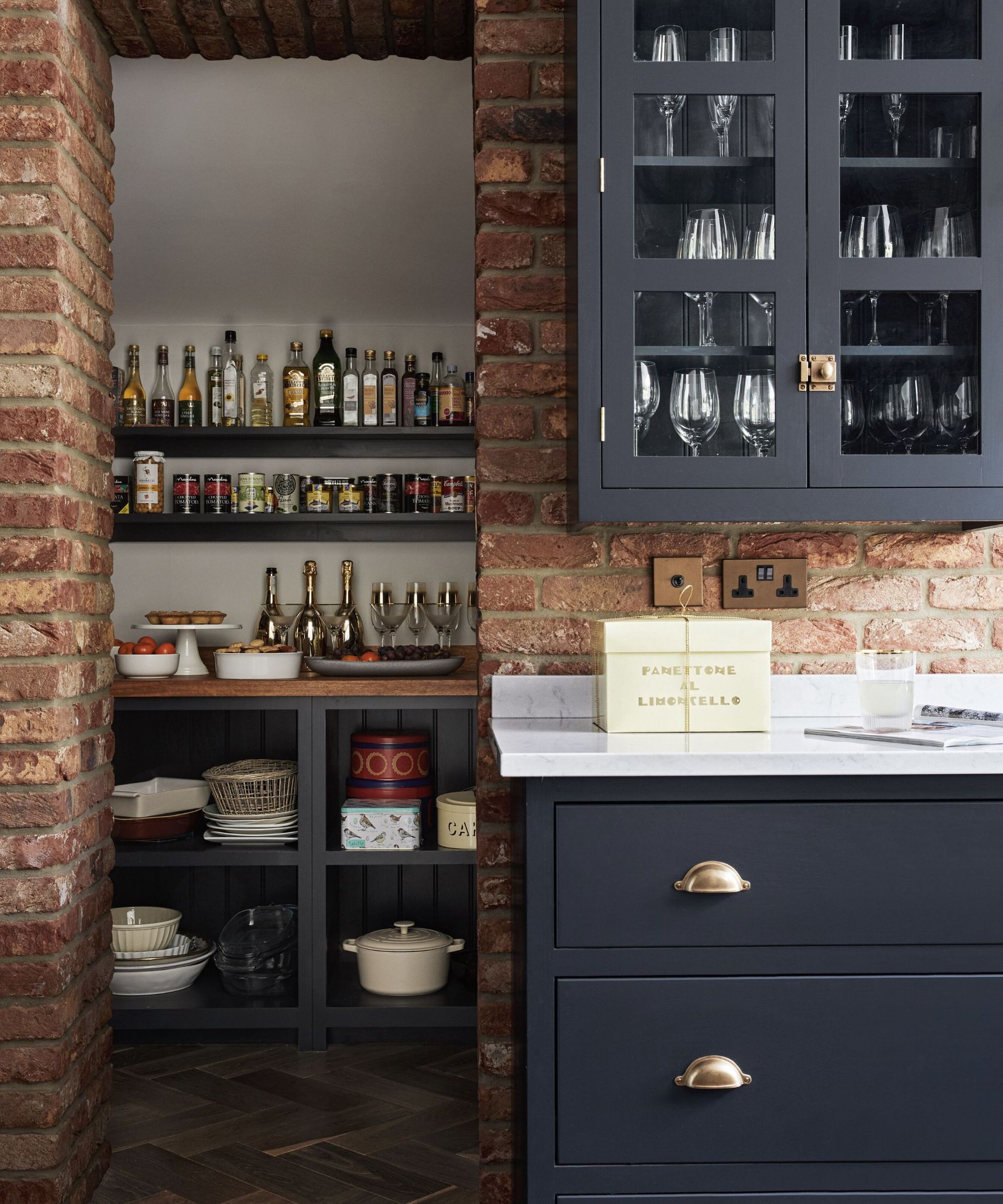 Not only for modern kitchen ideas, sleek undercabinet lighting is also a great way to layer in functional task lighting while maintaining the overall aesthetic appeal of your kitchen. 'Create a kitchen fit for all purposes with smart lighting,' recommends Giuliano Ghidini, consumer commercial leader at Signify UKI, owner of Phillips Hue. 'Whether you are cooking or entertaining, you can have the right light to help. Adding strip lights under your kitchen cabinets can give you focused, bright light for cooking, food preparation, and washing dishes.
'Philips Hue lightstrips offer the most flexibility for kitchen under-cabinet lighting. With wireless smart light, you can dim and brighten your light strips to help with preparation or cast your kitchen in colorful light to set the scene for a romantic dinner or party.'
3. Zone your space with lighting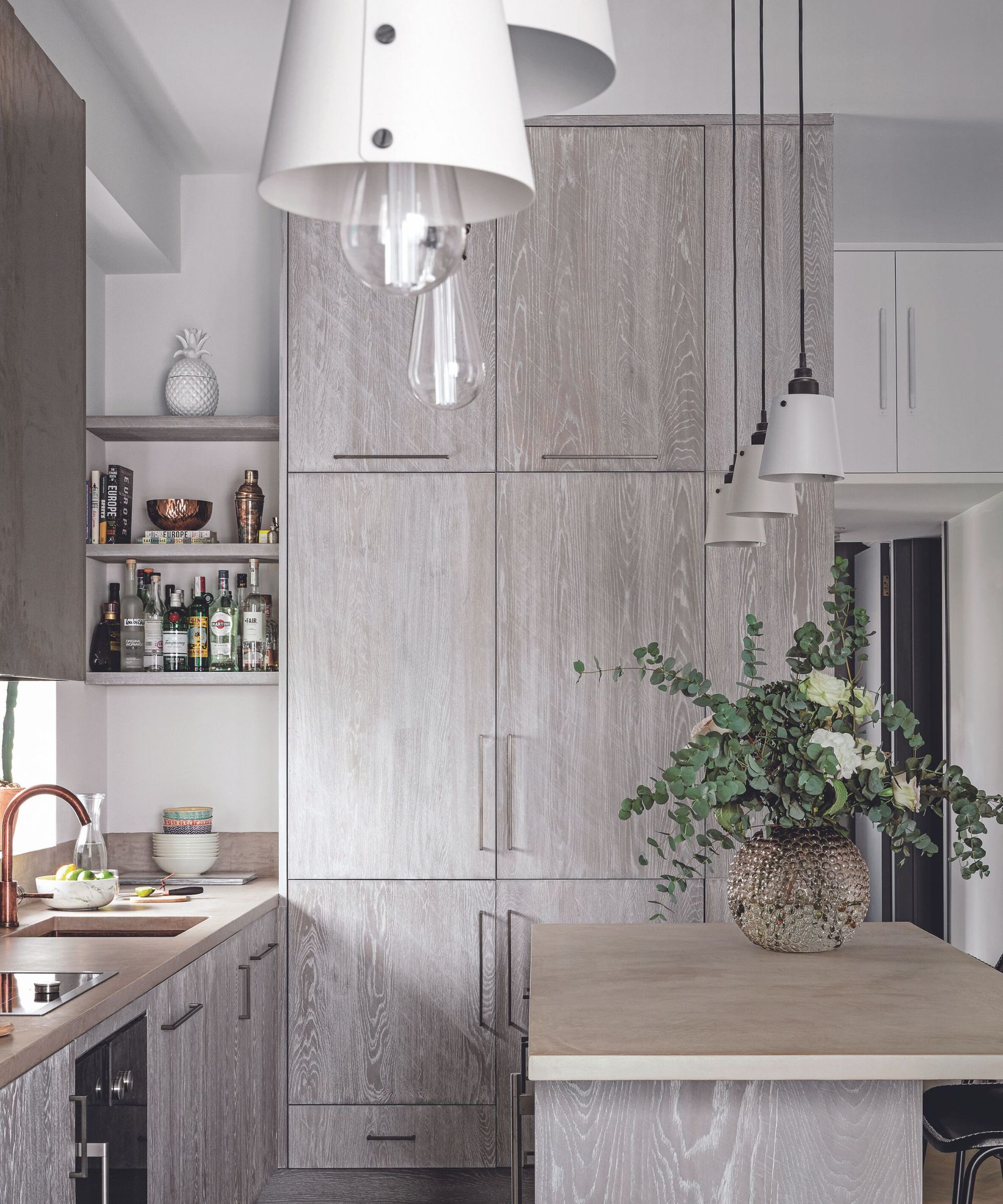 Open plan kitchen ideas risk feeling too open or cold if the lighting is not layered correctly, suggests Tom Howley, design director at the eponymous kitchen company. 'Your kitchen must have elements of multifunctionality in the physical layout and the lighting schemes to create different zones within the space that can be used for different activities, simultaneously or individually.
'The most effective lighting solution is to specify a lighting scheme that allows bright task lighting over the countertops where the food preparation is taking place, and warm, low lighting for the guests. There may only be a couple of metres between these two very different light sources, but it makes a world of difference to your guests' entertaining experience and the chef or the host's cooking experience.
'Strategic lighting and seating solutions like this will encourage guests to relax and enjoy the kitchen and the informal dining experience.'
4. Make a statement of dinnerware with cabinet lighting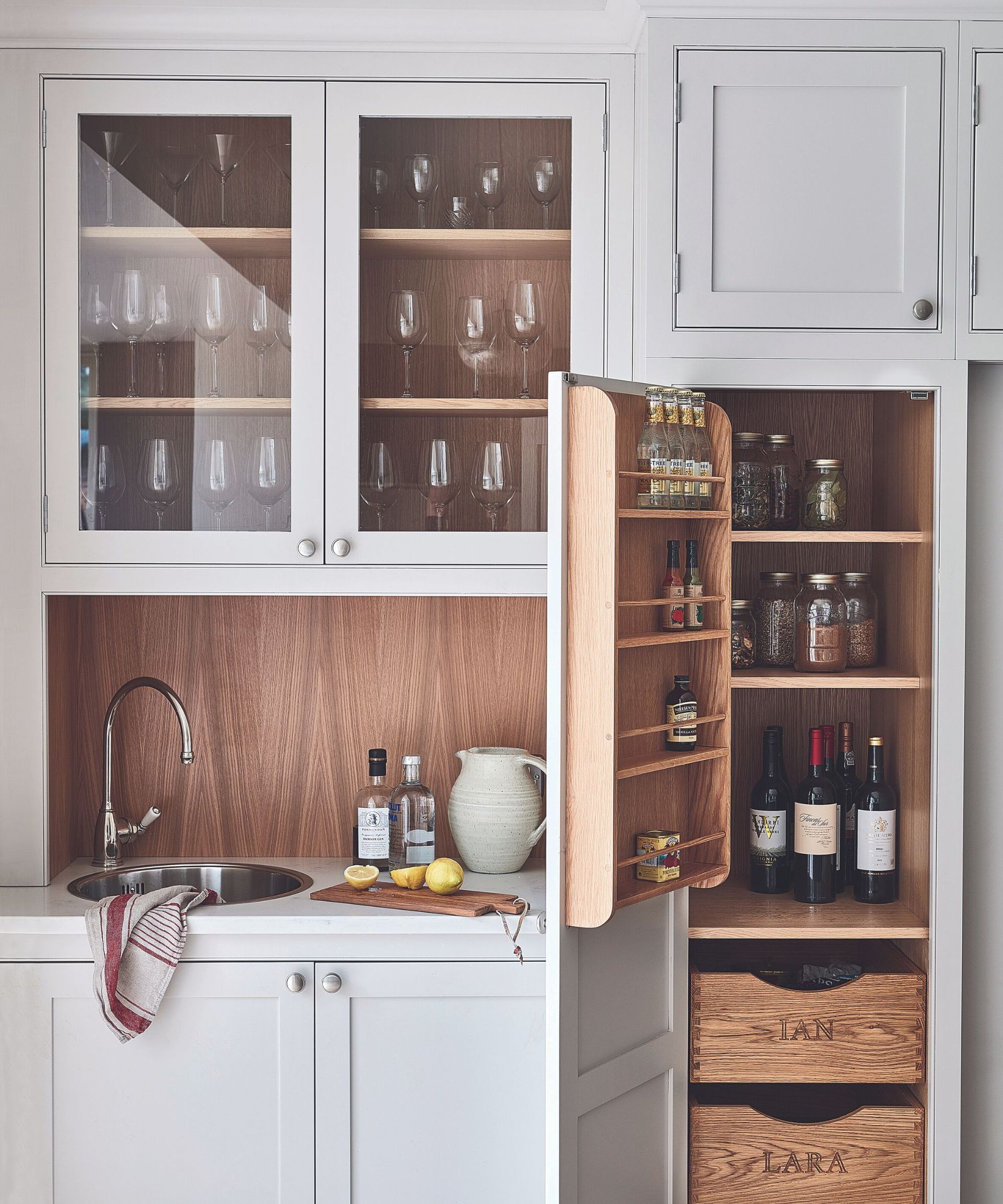 Kitchen cabinet lighting ideas have continued to feature in kitchen trends this year, with more people featuring their dinnerware as decorative pieces. What's more, this lighting idea adds subtle accent lighting throughout the kitchen without it cluttering up workspace or kitchen corners.
'If you have beautiful crystal or are proud of your dishware, why hide it away in the dark?' asks Tom. 'Adding integrated mood lighting ensures your finest pieces are never forgotten. It also provides an alternative ambient light source when you're enjoying a romantic dinner or cocktails with friends. Used in the right places, such as in corners or where there is a lot of closed cabinetry, glass-fronted cabinets can make your kitchen look even more spacious.'
5. Don't forget dimmable lights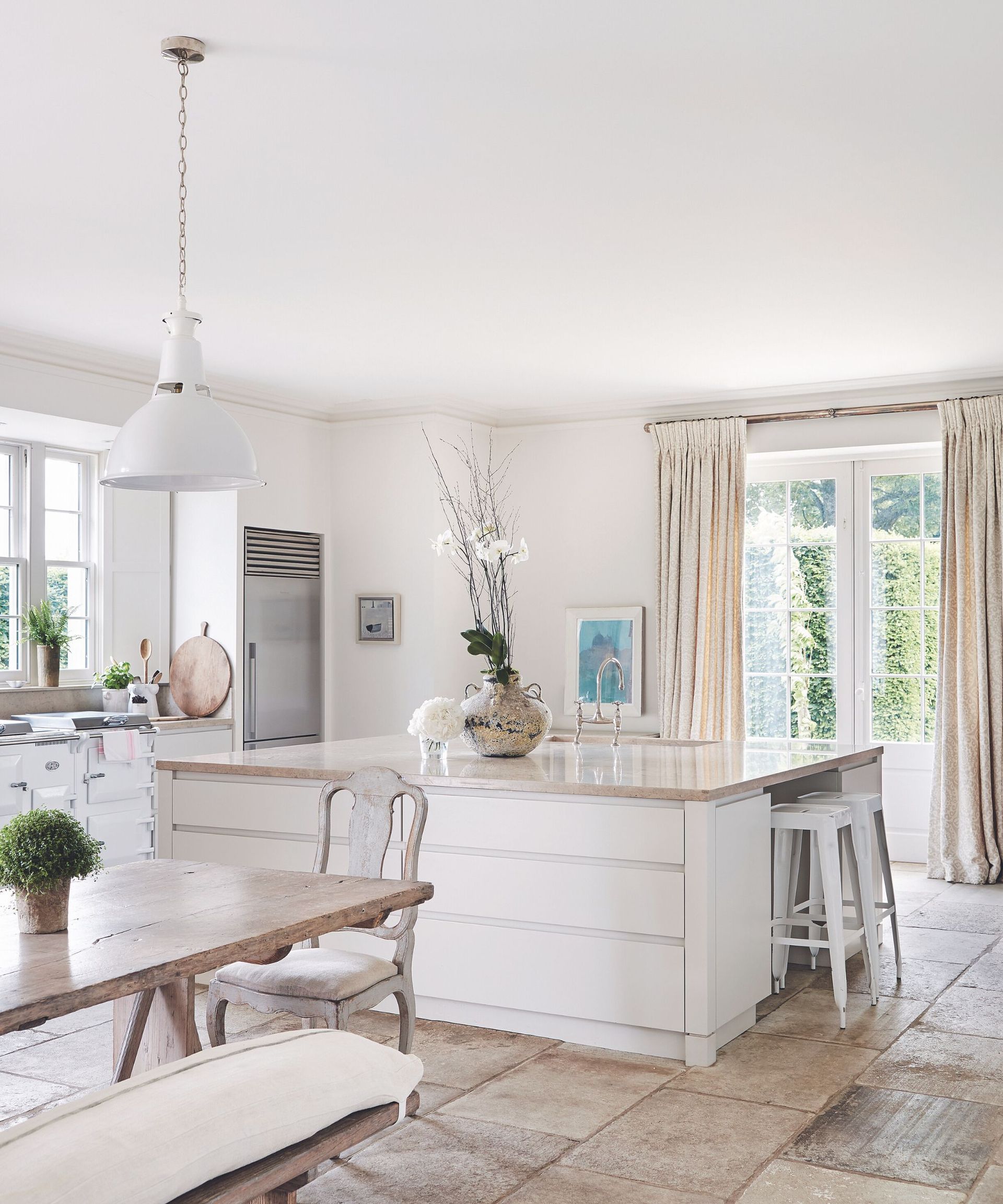 Dimmable lighting is one of the most functional lighting options in any room although it is rarely considered when designing a kitchen. 'Whilst bright lights are needed in the kitchen for functional purposes, if you are looking to create a space that can transition into a cozy evening spot, it's a great idea to invest in dimmable lighting. This will allow you to alter the atmosphere in an instant,' recommends Lizzie Beesley, head of design at Magnet. 'From overhead spotlights running across kitchen worktops and dangling over an island, to rattan lamps, candles and under or in-cabinet lighting, there are lots of other smaller lighting tricks to create a warm ambient atmosphere. The key is to dot them around the space to create zones of dark and light areas that draw you in and illuminate the surrounding features.'
Dimmable lighting is a good idea for small kitchen ideas with little real estate to spend on adding layered lighting such as tabletop or floor lamps, or have closed-faced cupboards. Dimmable lighting offers the ability to have bright functional ambient lighting for cooking that can transform into relaxed lighting for eating or pottering around the kitchen.
6. Consider 'unconventional' kitchen lighting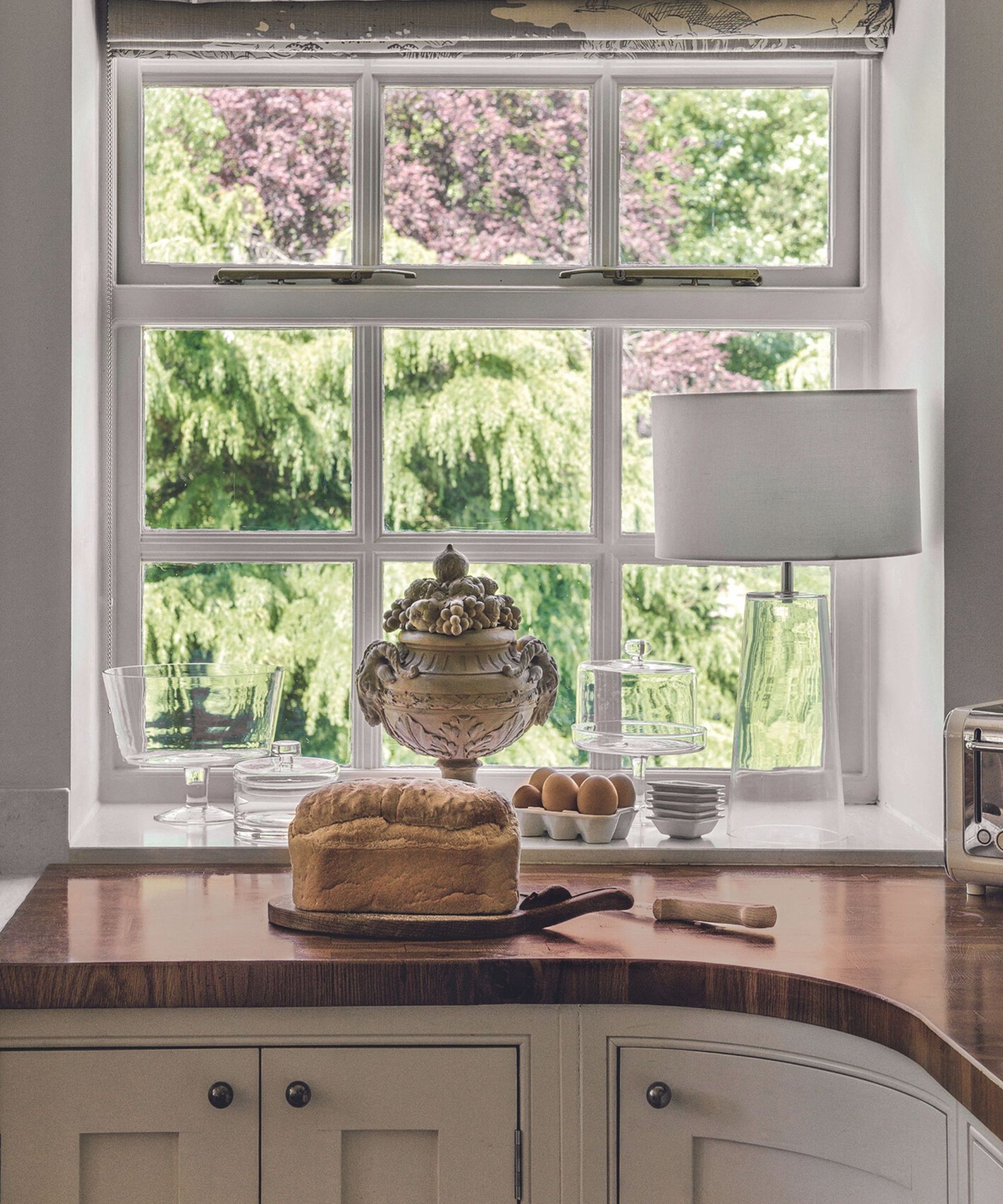 If you have a particularly large kitchen, 'unconventional' lighting options such as floor and tabletop lamps offer a way to beautifully light your kitchen as well as take up space in your kitchen layout ideas.
'Kitchens obviously need to work hard and so does the lighting. Recessed spotlights or undercabinet lighting is a common solution, but also consider the space when it's not being functional,' advises Niki Wright, co-founder of lights&lamps. 'Family and friends often congregate around an island so consider low level or pendant lighting here.
'Don't be afraid to use 'living room' lighting in the kitchen: a floor lamp in a corner or a table lamp at the end of a worktop. Our Porsa collection is a beautiful solution for the kitchen. We have pendants for above an island or table, wall lights for above or below a shelf, floor lamps to light the corner of a dining space and a statement flush ceiling fitting which perfectly complements each piece in larger or open plan spaces.'
Adding lighting options such as lamps can help to create both soft accent lighting as well as task lighting if you use the right bulbs. Using dimmable bulbs or color-changing bulbs will allow you to have a bright white lamp on your kitchen counter, for example, that can be warmed up to a cozier accent light when you want to relax.
How to use directional downlights
Directional downlights are a common lighting option for kitchens and allow light to be filtered around the room to the places you need it most. This is especially useful if you have one main lighting fitting in the center of the room and are not looking to rewire your kitchen.
Angle lighting to fall on your worktops or cabinets to provide functional task lighting around the room. You may need to try positioning your lighting a few times to get the right adjustments for you.
The best bulbs for a kitchen
LEDs are fast becoming one of the best options for kitchen lighting due to their energy efficiency, cooler running temperatures, ease to replace, and bright light. LEDs are up to 80% more efficient than their predecessor, fluorescent bulbs, and offer more advantages when lighting your kitchen.
May modern LEDs are also dimmable, allowing you to curate your kitchen lighting each night depending on your mood
How bright should a kitchen light be?
The main kitchen light, or the ambient light, should be a warm white tone rather than a bright white or daylight bulb. This yellow-ish hue creates a softer glow in the space that can be supplemented with brighter white task lighting under counters or through lamps.
Although the best brightness for a kitchen bulb is debated, you should aim to use 30-40 lumens per square foot in your kitchen for the best effect.
Sign up to the Homes & Gardens newsletter
Decor Ideas. Project Inspiration. Expert Advice. Delivered to your inbox.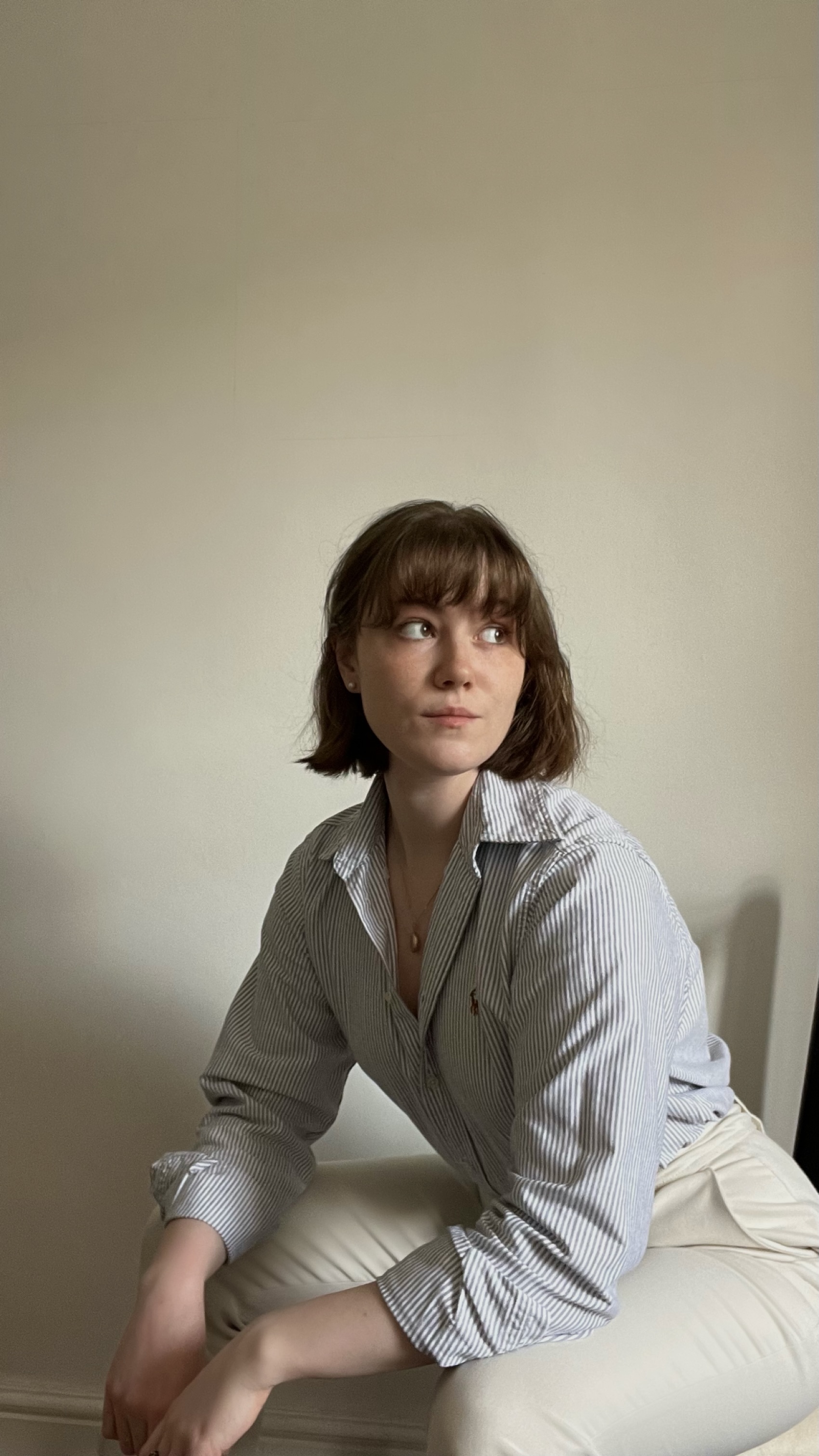 Chiana has been at Homes & Gardens for a year, having started her journey in interior journalism as part of the graduate program. She spends most of her time producing content for the Solved section of the website, helping readers get the most out of their homes through clever decluttering, cleaning, and tidying tips – many of which she tests and reviews herself in her home in Lancaster to ensure they will consistently deliver for her readers and dabbles in the latest design trends. She also has a first-class degree in Literature from Lancaster University.