Grandmillennial kitchen ideas – 10 homey looks that are right on trend
A Grandmillennial kitchen combines the best of all worlds: the homespun of your grandma's kitchen with all today's mod cons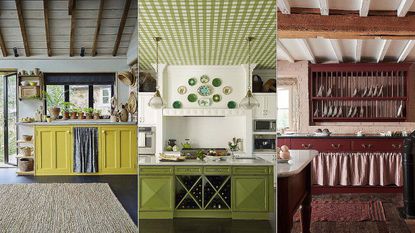 (Image credit: Carpetright / Mendelson Group / deVOL)
There's no denying the alluring charm of Grandmillennial kitchen decor. Nostalgic, colorful, packed with pattern, it's a heritage style that feels inviting, sustainable and easy to switch up.
If you're new to the party, Grandmillennial kitchens are those pretty, layered, traditional kitchens you are no doubt seeing all over social media. As a decor style, it's been made fashionable by Millennials, who want to reproduce the looks they remember in their grandparents' kitchens.
Far from being a passing fad, we think Grandmillennial kitchen ideas are here to stay. Minimalism is (not quite but nearly) dead; comforting layering is back. And this is how to get the look right.
Grandmillennial kitchen decor
Kitchen trends come and go, but it's fair to say that painted kitchens have never gone out of fashion. A painted finish is a key element of the Grandmillennial kitchen, and with our post-pandemic need for a comforting, comfortable home, it's no surprise that additional layering – from window dressings to ramped up patterns to rugs on floors – have made this a fashionable look that's going to be timeless. Another kitchen style that will never go out of fashion and which suits the look? Shaker kitchen ideas are perfect.
1. Source vintage fittings for authenticity
What sums up Grandmillennial kitchen decor? It's all about individuality: finding one-offs or original pieces that you can repurpose into your room. Think: detailing, so a fluted-front sink, and lighting with fringing, for example.
'Grandmillennial kitchen style is buying vintage or unusual pieces rather than high street shopping. It is putting things in your kitchen that may be better suited to a living room or your grandma's home and about being brave and unique with colors and not following a tried and tested (but obvious) look. It's about mixing up old with new and always trying to source authentic and well-made pieces,' says Helen Parker, creative director of deVOL Kitchen.
2. Green is a key 'Grandmillennial' shade
While any period-style kitchen color ideas will suit, green kitchens are typical of Grandmillennial style.
'This kitchen, created in collaboration with interior designer Brooke Copp-Barton, sees a play of old and new within the various components, from the bespoke island, the heart of the kitchen, to the unique antique spice cupboard. It is these varied pieces which create a room with a sense of history, depth and interest. Items collected over the years, rather than bought together,' says Felix Milns, HUX-London.
'Layered with a fresh green color palette, which washes over the walls in a soft pastel with a darker shade highlighting the woodwork and a mid-tone shade across the cabinet doors, it is a very relaxed look that feels as though it has always been there, transcending the idea of a "trend".'
3. Add soft layering with rugs and more
Grandmillennial style kitchens tend to be most successful when layered with the type of decor you'll traditionally see in a living space or bedroom. Kitchen rugs, kitchen art ideas and fabric skirts instead of door fronts are all musts.
'You don't need to have an old property to adopt the Grandmillennial style – think painted cabinets, a curtain hiding an appliance, old baskets and vintage tableware. Textures like a coir rug and beams across a shiplap ceiling will add an authentic touch whilst giving character to the space,' says Jennifer Ebert, digital editor, Homes & Gardens.
4. Fluted glass cabinetry and heritage wallpaper set the scene
Kitchen wallpaper ideas were probably last seen in the 1980s, but they are back, and the designs that fit the Grandmillennial kitchen tend to have much more of a heritage feel.
'Wallpaper can transform a kitchen from clinical and functional into a more homely and personal space. Here, our beloved Crane Fonda wallpaper has been reimagined in an impactful larger scale. We've picked out a core color from the wallpaper and complemented it with cabinets in the same shade for an updated take on traditional shaker kitchen style,' says Jamie Watkins, co-founder of Divine Savages.
5. A fabric skirt is a must
'Often considered as traditional or quaint, fabric skirts in the kitchen are something we are seeing more and more in contemporary interiors and they are anything but twee. Bringing a touch of Grandmillennial chic to modern kitchens, fabric skirts are a great way to introduce a splash of pattern in a space that often lacks decorative details – and color,' says Louisa Tratalos, founder of Colours of Arley.
'Creating a cupboard or under sink fabric skirt is an inexpensive, easy update that will hide away clutter and soften a space. Go for a modern fabric such as a bold stripe in a bright colorway to add a fresh new take on an old time trend. It offsets the sterile or natural materials in a kitchen by adding an element of playfulness. To complete the look, tie the room together with a coordinating drape or blind.'
6. Combine old elements with new
'We wanted a light and bright feel for this 1904 Craftsman kitchen remodel. The window looked to a covered porch which minimized natural light in the space. It was important to bounce that light around the room. Farrow & Ball's Wevet on the wall helped to achieve this,' says Jamie Haller, founder of Jamie Haller.
'Storage was a requirement for a family who cooks together – to balance a room of upper cabinets, I opted for negative space around the window, which created the feeling of lightness in the room. I sourced a petite brass open bulb pendant over the sink – I love the way the brass connects to the restored Douglas fir casing around the kitchen window and the 118 year old restored floors. The cabinetry was painted Farrow & Ball's Oval Room Blue.'
7. Mix patterns up
'This quintessentially Grandmillennial kitchen has some of the key elements for this look: mismatched patterns,' says Lucy Searle, global editor in chief, Homes & Gardens.
'Mixing patterns and prints isn't necessarily easy to do successfully, so I would suggest three rules: the first is to ensure that there are no more than three colors used within your three materials (whether at windows, on the floor or in cabinet skirts); the second is to pick non-matching, contrasting designs (above, you can see a small, ditsy floral contrasting with a simple, wide stripe); the third is to ensure the rest of the room is plain, even if it has elements of the colors you've used in the fabrics within it.'
8. Invest in heritage pieces
'Traditional heritage pieces like this plate rack are definitely worth investing in, or you could employ a craftsperson to make you one that can be handed down. The ethos of Grandmillennial kitchens is classic pieces teamed with today's.
'Paint new pieces to match the rest of the scheme and use it as a starting point colorwise – we like the monochromatic color scheme here, with the pale pink walls and fabric skirt,' says Jo Bailey, deputy editor, Homes & Gardens. 'Approaching the color scheme like this means that all the attention can go on the intricacy of the millwork, rather than pattern, for example.'
9. Display vintage plates on the wall
'The Grandmillennial kitchen trend of incorporating a mix of patterns, florals and pops of color feels very nostalgic to me, and I love when a space has a sense of history. In fact, I always prefer when styles are approached with the intent of creating a timeless design rather than something retro, trendy or "of the moment",' says Gideon Mendelson, founder of Mendelson Group.
'I love layering patterns in textiles and rugs, especially in rooms where people gather (living rooms, sitting rooms, libraries, and family rooms) because you want these spaces to feel warm, inviting, and cozy. Kitchens usually don't have as much opportunity for texture but we do look to layer patterns in these types of spaces via a Roman shade, a banquette, a few chairs, stools, or a runner. Kitchens always have cabinetry so the Grandmillenial pop of color could come into play there. Or, patterns, texture, or color on the island can be very impactful as well.'
We love the ceiling wallpaper idea here, which makes a lofty room feel much more cozy.
10. Find mismatched furniture and copper pans
'This look is for those who love the unconventional feel rather than the uniformity of a fitted kitchen. Freestanding kitchen ideas with a mixture of antique finds will do the trick perfectly. Don't forget to accessorize with copper – great for cooking and adding a warm, metallic finish to the scheme,' says Jennifer Ebert, digital editor, Homes & Gardens.
How do I create a Grandmillennial kitchen that doesn't look cluttered?
'The answer to building any scheme successfully, and that particularly includes a busy Grandmillennial kitchen, which can quickly look cluttered, is to add detailing slowly,' advises Lucy Searle, Editor in Chief, Homes & Gardens. 'As when designing a kitchen of any kind, my advice is to start with a point of inspiration. This could be a pretty fabric, a color or a type of wood, but that will help you establish the cabinetry, flooring and walls materials, finishes and colors. Then, you can start to bring in window and flooring layers (blinds, rugs, etc).'
Sign up to the Homes & Gardens newsletter
Decor Ideas. Project Inspiration. Expert Advice. Delivered to your inbox.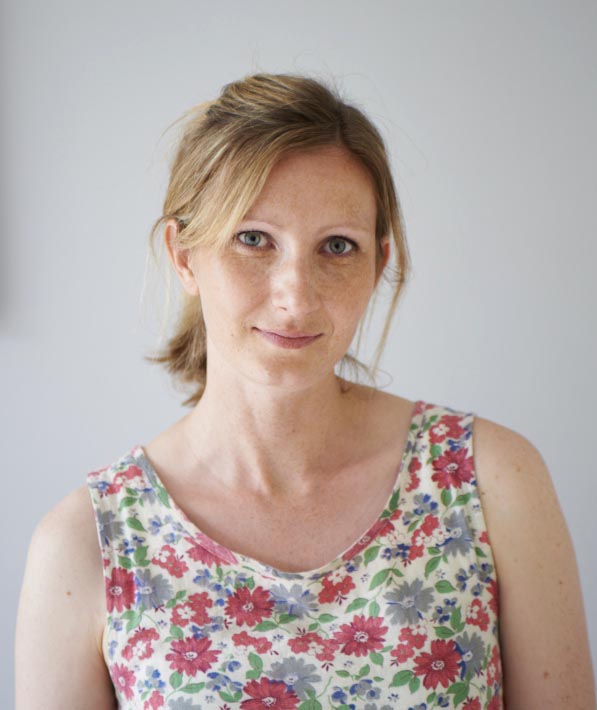 Sophie has been an interior stylist and journalist for over 20 years and has worked for many of the main interior magazines during that time, both in-house and as a freelancer. On the side, as well as being the News Editor for indie magazine, 91, she trained to be a florist in 2019 and launched The Prettiest Posy where she curates beautiful flowers for modern weddings and events. For H&G, she writes features about interior design – and is known for having an eye for a beautiful room.