Easter egg decorating ideas – from easy to elevated
These 10 Easter egg decorating ideas go above and beyond the store-bought dye kits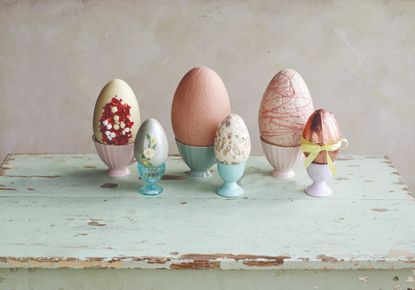 (Image credit: Future)
Easter egg decorating ideas range from easy to downright eggs-travagent.
Your ambition likely depends on whether your eggs will be Easter decorations or you're simply looking for an Easter craft idea for the kids. Either way, there are plenty of decorating ideas that allow all ages and skill levels to get involved in this beloved Easter tradition.
From decoupage to negative printing, these Easter egg ideas will inspire you to get creative.
Easter egg decorating ideas
If you're using real eggs, make sure you're up-to-date on how to decorate Easter eggs, otherwise, foam or plastic eggs will work with many of these ideas.
1. Wrap Easter eggs in fabric
Fabric scraps and spray adhesive or school glue are all you need to recreate this abstract idea. Cut colorful piece of scrap fabric into 1"-2" strips. Then spray the egg with adhesive (or brush on glue) and layer the strips until the egg is covered. This technique works on hardboiled, Styrofoam or plastic eggs.
If you don't have scrap fabric, get creative with what you have on hand, 'I love to cover craft eggs with scraps of ditsy floral fabric, but vintage lace can look effective too,' suggests Pippa Blenkinsop, Homes & Gardens' style editor.
2. Decoupage Easter eggs with floral stamps
'For a pretty Easter display, paint craft eggs in pastel colors and decorate them with vintage floral stamps,' says Blenkinsop. For a more permanent solution, use a decoupage medium (like Modge Podge) to seal the stamps. If you don't have stamps on hand, stickers or floral cutouts work well, too.
3. Tattoo your Easter eggs
Love the look of hand-painted Easter eggs but aren't exactly brimming with artistic talent? This idea mimics the look of a hand-painted Easter egg and it couldn't be easier. Instead of paint, gather temporary tattoos in spring themes, and apply them in the same way you would to your skin: lay the tattoo onto the egg, design side-down. Then, press with a damp paper towel for 30 seconds, and gently peel up the paper backing.
4. Recreate this herb-printed Easter egg decorating idea
The secret to achieving a negative-printed look with your Easter eggs: sheer fabric or a pair of pantyhose. Simply lay a fresh herb (leafy varieties like cilantro and parsley work well) on top of your egg, and wrap the fabric or pantyhose around it. Tie off the top, and submerge the egg into your dye.
No herbs on hand? Try small flowers, leaves, or clover.
5. Use a felt-tip pen for modern Easter eggs
Prefer neutrals to pastels? There's no need to dye your eggs at all. Instead, use a black felt-tip pen, permanent marker, or small paintbrush to draw linear shapes and abstract patterns on your Easter eggs.
6. Tie eggs with twine
Make use of your Easter eggs by using them to designate place settings during Easter dinner. We printed guests' names on simple tags made from cardstock, punched a hole at the end, and tied them around the eggs with twine.
7. Hand-paint speckled Easter eggs
Elevate the look of a simple, dyed Easter egg with a speckled design. This nature-inspired look is easy to recreate. Once you eggs are painted or dyed (and dried!), use a tooth brush and brown paint to stamp a speckled pattern on your eggs.
8. Dress up plastic Easter eggs
This next Easter egg decorating idea is both pretty and purposeful. Once you fill plastic eggs, use decorative washi tape to secure them closed while adding a pop of pattern. Your eggs will look more festive, and you won't have to worry about them spilling open.
9. Fill hollowed Easter eggs
Hollowed out eggs make a lovely, organic vessel for wildflowers. 'This is one of my favorite ways to decorate for Easter,' says Lucy Searle, Homes & Gardens' editor-in-chief. 'I display eggshell vases in a collection of egg cups and scatter them down the center of my table.'
To make eggshell vases, tap the bottom of the egg on a counter, and carefully pull off the top portion. Then, pour out the contents of the egg, and rinse. Fill it with water and add your flowers.
10. Personalize your Easter eggs
Use monogrammed Easter eggs to substitute for place cards during holiday meals. To make these oh-so-simple ones, simply add a bedazzled letter sticker to each egg. Or, for extra credit, draw each guest's first initial on an egg with glue, and place sequins on top with tweezers.
What can I use to decorate Easter eggs?
What you use to decorate your Easter eggs depends on the look you want, and the time you're willing to dedicate to the process.
Most commonly, Easter eggs are decorated with simple dyes, like food coloring, or color tabs dissolved in vinegar. If you have food coloring on hand, simply squeeze a few drops (at least 10) in a half cup of hot water, and add a tablespoon of vinegar, which enhances the color. The more food coloring you add, the richer your colors will be, and different colors and shades can be made by mixing food colorings.
You can also make dye from natural sources like beets, cabbage, and onion. To do so, boil the vegetable in water, and let it steep for a few hours. Strain out the liquid and mix with 1 tsp. vinegar per half cup of liquid. Tumeric and colored Jell-O powder can also be mixed directly into boiling water with a splash of vinegar to create dyes.
Dyeing isn't a requisite for decorating Easter eggs. Instead, you can use washi tap, fabric scraps and glue, paper decals and decoupage medium, glitter, or ribbon to decorate your Easter eggs.
Sign up to the Homes & Gardens newsletter
Decor Ideas. Project Inspiration. Expert Advice. Delivered to your inbox.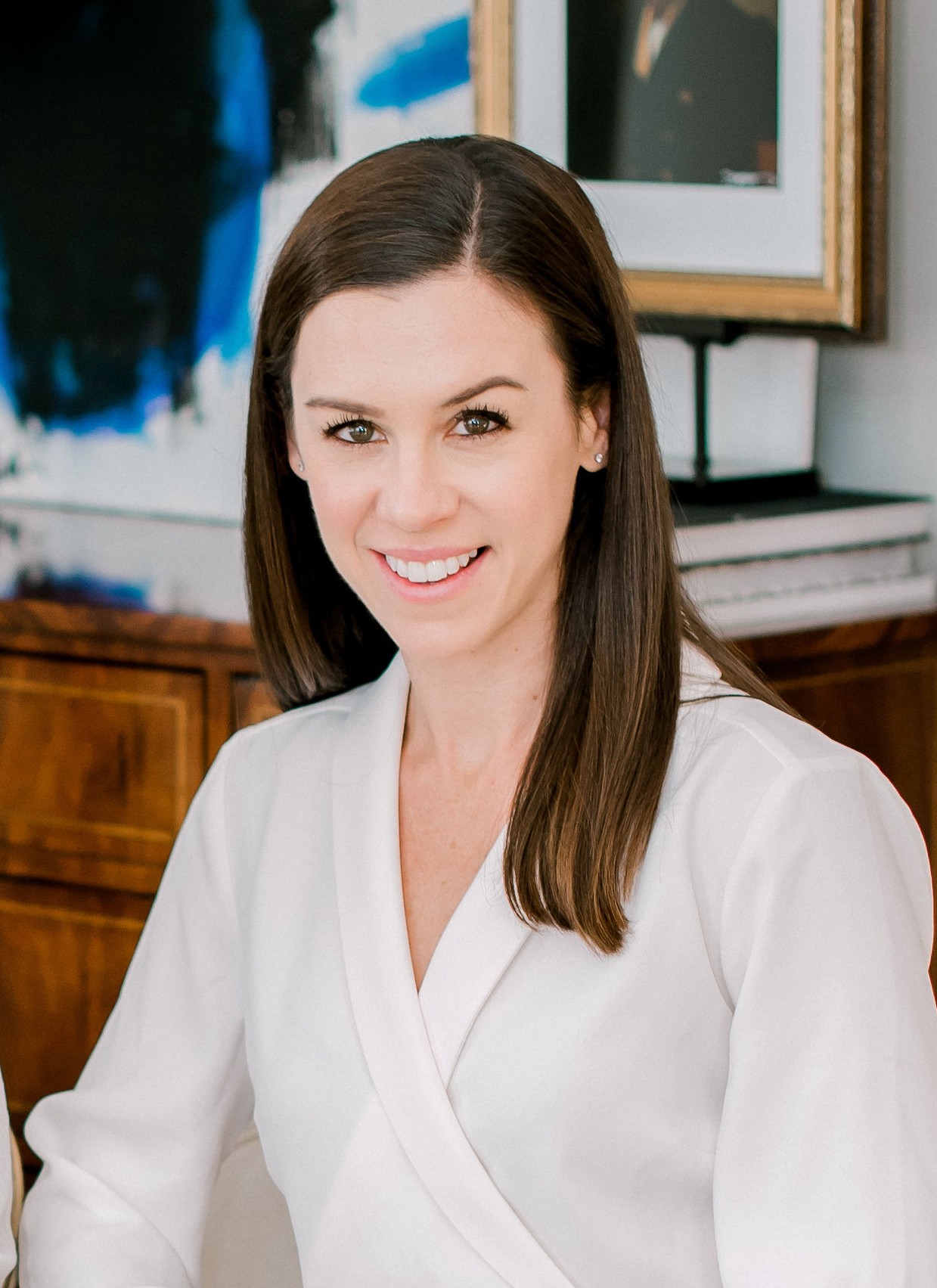 Executive Editor, Homes & Gardens
Kaitlin Madden Armon is a writer and editor covering all things home. Her work has appeared in Real Homes, Architectural Digest, Martha Stewart Living, Refinery29, Modern Luxury Interiors, Wayfair, The Design Network, and lots more. She graduated from Northeastern University with a degree in journalism and currently lives in Connecticut with her husband, three kids, and black lab.