Homes & Gardens' Color of the Month: May – Zoffany's Tiger's Eye
The month of growth and renewal deserves a sunny but sophisticated shade – and we're bathing in its warm and rich tones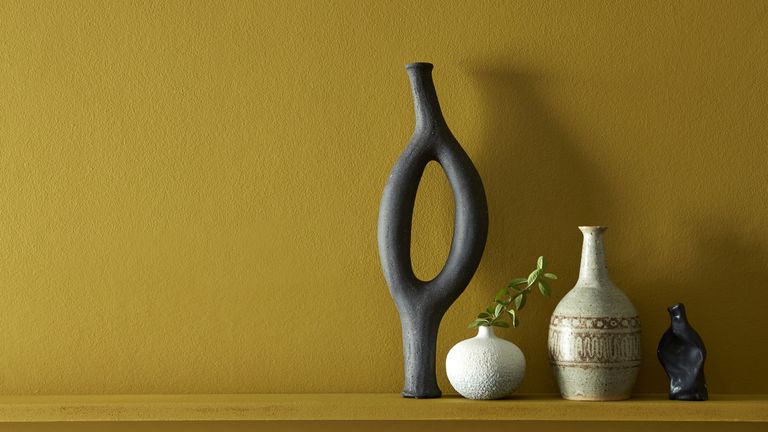 (Image credit: Zoffany / Tigers Eye)
By Megan Slack
Following in the footsteps of Little Greene's Travertine – H&G's first Color of the Month – we have returned for our second edition. This month, we're fixated on the organic radiance of May, the month of lush growth and rebirth. So, in homage to the month's warm and natural ambiance, we've selected a color that oozes sunshine without sacrificing its wholly sophisticated style. 
See: Living room ideas – inspiring ways to decorate and furnish your space
There is no color quite so fitting as Zoffany's Tigers Eye, the luxe but fun-filled shade that provokes a welcoming and energetic aesthetic. Zoffany curated this flavorsome yellow to mirror the ancient hues of a historical archive, but its full-bodied character has never looked quite so perfect as it does in the contemporary day. 
Zoffany suggests that the 'brave can use this color to open up smaller spaces and frame feature areas,' but we're here to convince everybody to bring Tiger's Eye into their interiors. 
What makes Tigers Eye May's Color the Month? 
'It's the shade of optimism and joy, so after the global turbulence of the past year, it comes as little surprise that yellow is decorating's color du jour,' begins H&G's Associate Editor, Busola Evans.
'But it is so much more than a flash in the pan – the right shade can have surprising longevity and add richness to more traditional schemes,' she says. Beyond its alluring aesthetic, Busola praises the shade's durability, meaning the golden tones will stay radiant, whatever the conditions. 
'It's now available in a chalky-textured True Matt finish, which is wipeable so suitable for high-traffic areas,' she explains. 
 How should we bring Tigers Eye into our homes? 
Try these ways to use this bold color.
Pair with nature-inspired colors for a therapeutic effect 
See: Living room paint ideas – stylish ways with paint, and expert decor tips
While the daring vibrancy of Tigers Eye is initially daunting, Busola explains that 'color combinations are not as tricky as one may think.'
She expands: 'Tigers Eye's brown undertones pair it beautifully with forest green, while creams and beiges add more serenity.'  
 Or opt for a striking combination of color 
Tigers Eye is durable, but it is versatile too. While the shade works alongside natural tones, it can certainly create an impact alongside colors of equal stature. Busola suggests ramping up the color 'with coral or powder blue accents,' which will be the talking point of any sized space. 
Consider your finishing touches 
After creating the perfect color combination, Busola encourages us not to neglect the finishing touches that impact the overall ambiance of the room. Zoffany pairs the shade with grey soft-furnishings and a minimal but impactful selection of plants in a nod to the shade's relationship to nature. But if you're still looking for tips, Busola suggests that we can't 'go wrong with brass, wood, and stone.' 
Check back here in May for the next Color of the Month, or keep scrolling to read more about April's selection. But above all, enjoy spreading Tiger Eyes' sophisticated rays throughout your interiors. 
April's color of the month: Travertine by Little Greene
Travertine, with its dune-line hue, is a calming neutral that feels more welcoming than white or grey, but what else made this color so appealing in April? And how should you bring this shade into your home? We spoke to Ruth Mottershead, Creative Director at Little Greene, to find out. 
'Travertine is a wonderfully warm neutral. Found at the National Trust's Basildon Park, this welcoming neutral was used on the walls of the Staircase Hall, designed to feel more like a sitting room than a cold corridor. With the shift away from the cool, blue-toned greys that have been so popular in recent years and the yearning for warmer, natural tones, Travertine is fast becoming a favorite for homeowners searching for earthier tones with an inherent warmth,' Ruth begins. 
She adds: 'Incredibly versatile, Travertine is at home in both contemporary, traditional or country interiors, as well as bold or softer, paired back design schemes; it offers a sense of timelessness, creating design schemes with longevity.'
How should we bring 'Travertine' into our homes? 
Ruth then offered her suggestions on how to bring this versatile shade into any kind of home, whether you want a fresh off-white backdrop or to create a bold contrast.  
Using Travertine in a neutral color scheme
Ruth explains: 'For a traditional scheme, use Travertine on walls, paired with the lighter Stock on the ceiling. For those looking for a contemporary way to use this shade, you could paint three-quarters of the wall in Travertine and the last quarter and ceiling in Stock to open up the space and give the illusion of height.'
'The warmth of Travertine balanced with Stock feels incredibly soothing and works wonderfully with the addition of pale wood finishes, touches of rattan, and unglazed ceramics to add texture. This scheme provides the perfect off-white backdrop for decorative accessories and contemporary artworks in a light and airy setting'. 
See: Neutral room ideas – light, dark and timeless ways with color
Pairing 'Travertine' with darker shades to create a statement
'For a more dramatic scheme, create focal points with color blocking and use Travertine as more of a backdrop to contrasting shades such as Sage Green or Nether Red, which are related natural hues, or zone a space by using interesting color proportions,' Ruth shares.
'Travertine and Travertine Light can be seen as white in bolder schemes or will read as colors in their own right if used alongside a pure white like Shirting and Loft White, she adds. 
Using 'Travertine' for a continued color scheme throughout your home
'For continuity and connectivity throughout the home, using shades from the same color family is a good way to add interest in a subtle way. The Little Greene Stone palette is separated into six tonal families, made using the same base pigment but in varying strengths. These groups of colors are a timeless choice if you are looking for soft, neutral tones to provide natural movement throughout the home. They are easy to use in combination on walls, ceiling, and trim as well as providing a seamless color journey from room to room,' Ruth suggests. 
See: Paint ideas for every room – how to choose the best paint colors every time
She continues: 'Pair Travertine with a lighter tone that has the same base pigment such as Travertine Light or Travertine Mid, as whilst you will benefit from a slight change in tone, the overall look will be harmonious. A useful and gentle way to use this system is to change the tone to a lighter or darker version at the turn of a corner in the room, whether that be at a window reveal, a doorway, or a cornice, the effect, at first not recognized by the viewer is a source of harmony and a little intrigue. Or, layer with either soft linens in gentle greens or muted plaids, wool, or bouclé. If you can, incorporate wood and stone surfaces for the ultimate calming and natural scheme.