6 tips for painting a front door, according to the color experts at Farrow & Ball
Use these tips to get the color of your front door just right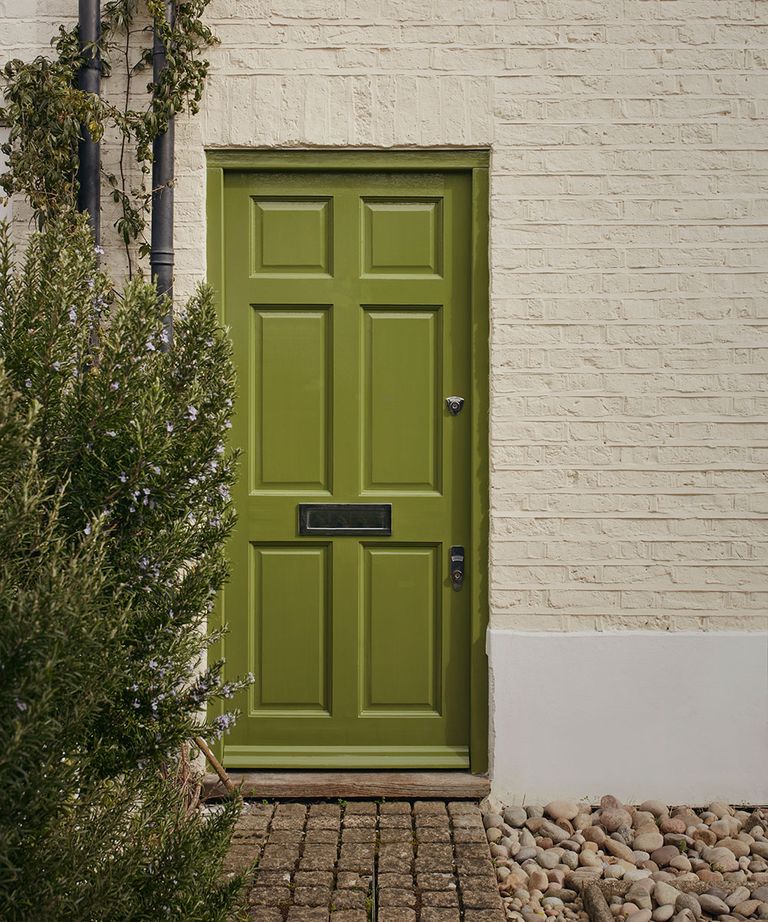 Painting a front door can be transformative for an entire house and will certainly increase your curb appeal.
A front door can say so much about the owner: it can be relaxed and welcoming or more formal. For us, the front door is so important; it is the start of the story and first and last impressions are so important.
See: Front door ideas – colors, materials and looks for exterior doors for the perfect entrance
We talk to Farrow & Ball's Colour Curator, Joa Studholme about how to paint a front door – plus, get tons of color tips.
1. Choose one color
To make a feature of your home's entrance, paint the front door and its complete frame in one color – this will make it look bigger and more imposing. And if you have a porch, consider taking the same color over the walls and ceiling for added drama – when you pass through this darker area it will make everything inside the house look bigger and lighter.
And you can use your chosen color on pots or planters to expand the feeling of space, and fill them with plants of flowers to match, for an even more charming start to your home.
See: 10 most popular Farrow & Ball colors – the must-have, on-trend shades
2. Finish in style
Your choice of finish is as important as your choice of color. Full Gloss, with its high sheen level, perfectly complements the flat stone of many buildings, resulting in a classic, traditional looking front door. Full Gloss is especially effective in strong colors which look both chic and discreet.
When it comes to choosing color for your front door, it is vital to look at samples outside, where they will appear lighter than in the house. Remember when considering using Full Gloss that it will catch any available light so will not appear as strong as in a flatter finish.
See: Front porch ideas – clever ways to create a strong first impression
3. Be daring
Using bold color on the outside of urban buildings has become very popular – a strong exterior creates the ultimate in pavement appeal and allows us to indulge in colors that evoke memories of nature and childhood which comfort us.
Using the same color on the exterior and interior of glazed door creates a seamless continuity between inside and out. To enhance this flow, use the same color on both exterior and interior window frames as well, to blur the distinction between the house and garden.
Of course, if the interior walls are also painted the same color you will instantly feel more connected to your outside space.
4. Use a favorite color
You can afford to be slightly nostalgic in your choice of front door color as you do not live with it all the time – you only view it when either entering or leaving your house.
But the choice can also serve as a titillating pointer to the colors used inside. An earthy color that reflects the colours of nature, will have an organic feel to create the perfect start to the journey through your home. Consider using it not only on your front door but also in a small intimate hall. The richness of the colour in this small space will make all the rooms off it look bigger and lighter, while bringing a little of the exterior inside.
See: Front door design: a guide to choosing a new front door
5. Consider the history of the home
The architectural style of your property, and the period in which it was built is certainly more relevant when it comes to painting the exterior than the interior – as are the colours your neighbours have used – your choice of a subtly toned white might just appear dirty in contrast to their bright white.
Nature provides so many rich and welcoming colors, which feel comforting as well as discreet. It is a good idea to paint your front door and any neighbouring woodwork, such as garage doors, window boxes and garden gates, all in the same color. Think about using Full Gloss on the front door, for gravitas, and the slightly more relaxed-looking Exterior Eggshell on everything else.
6. Make a statement
Take time to consider the paint finish as well as the color for your front door. Do you want it to be soft and welcoming or grand and imposing? Classic darks, with their air of nostalgia and dependability, will always be popular for front doors.
See: How much is a new front door?
But consider a strong subdued green or blue as the perfect alternative to charcoal or black for a more organic feel reflecting the great outdoors. When used in Exterior Eggshell with its low sheen level, they appear discreet and contemporary and if you feel they are a little overwhelming, they can be tempered by the color of the door surround or the walls of the house. Colors and finishes can have a truly transformative effect on the exterior of your property.
Photography,@kensingtonleverne
Jennifer is the Digital Editor at Homes & Gardens. Having worked in the interiors industry for a number of years, spanning many publications, she now hones her digital prowess on the 'best interiors website' in the world. Multi-skilled, Jennifer has worked in PR and marketing, and the occasional dabble in the social media, commercial and e-commerce space.
Over the years, she has written about every area of the home, from compiling design houses from some of the best interior designers in the world to sourcing celebrity homes, reviewing appliances and even the odd news story or two.