Introducing the Period Living bed collection at Wrought Iron & Brass Bed Co
In a new collaboration, Period Living has put its name to a range of beautiful beds by the Wrought Iron & Brass Bed Co – see the designs and find out how to save £250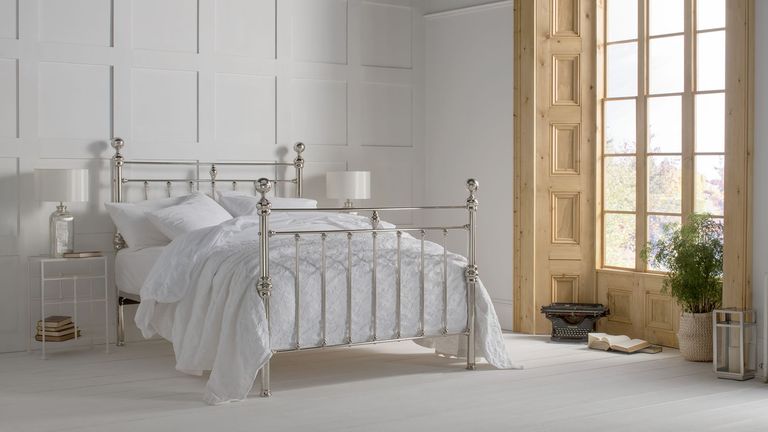 (Image credit: Wrought Iron & Brass Bed Co x Period Living)
By Melanie Griffiths published
H&G's sister brand Period Living has partnered with the Wrought Iron & Brass Bed Company to present a timeless collection of superior quality beds that work for homes of every era.
Buying a new bed is a big decision, especially for period homeowners looking for a design that is well-made, comfortable and complements their interior style
So, the Period Living team has hand-picked six beautiful designs, which are all made in Britain using time-honored methods of craftsmanship enhanced by the latest technology. The beds are guaranteed to last a lifetime, and are destined to become heirloom pieces.
Plus, for a limited time, you can save £250 when you spend £1,000 – simply use code 'period living' at the checkout. Offer ends 31 May 2021 and is available in the UK only.
Charlotte iron bed
Evocative of bedtime stories and period dramas, Charlotte would work as well in a country cottage as in an elegant townhouse.
It's a simple and timeless design that's perfect if you're looking to furnish a large bedroom, or if you are looking for a bed brimming with heritage appeal.
Shop now: Charlotte iron bed, from £695, Wrought Iron & Brass Bed Co
Arthur nickel bed
Perfectly poised and polished, Arthur is a luxurious brass and nickel bed that celebrates Victorian design with decorated bedposts and hand-spun finials.
It would bring a timeless touch to homes of almost every era, and its nickel finish creates a lovely sense of light in a bedroom.
Shop now: Arthur nickel bed, from £1,830, Wrought Iron & Brass Bed Co
Henry iron bed
Brimming with old-school charm, Henry is a simple, nostalgic design that can be dressed up or down to suit a range of room styles.
Based on the retro dormitory style, the bed features chunky, thick slats, while its extra height adds a touch of grandeur.
Shop now: Henry iron bed, from £695, Wrought Iron & Brass Bed Co
Victoria brass bed
Victoria features an elegant sweeping curve, grand bed posts and hand-spun finials.
Its graceful curves and brass highlights make it worthy of bearing the monarch's name – it's a fairytale bed for creating a truly sumptuous sanctuary.
Shop now: Victoria brass bed, from £895, Wrought Iron & Brass Bed Co
Albert brass bed
A simple heritage design with a dash of indulgence, Albert combines a classic iron bed frame with brass finials and top bar.
It's an understated yet sophisticated design, but its brass finials add a touch of regal splendor.
Shop now: Albert brass bed, from £895, Wrought Iron & Brass Bed Co
George brass bed
George is a slightly more masculine design that exudes luxury, and is the perfect choice if you're looking to really spoil yourself.
The bed's detailing is opulent yet elegant, and it would look stunning in a bolder room scheme.
Shop now: George brass bed, from £2,765, Wrought Iron & Brass Bed Co
About Wrought Iron & Brass Bed Co
A family business, the Wrought Iron & Brass Bed Company is the only iron bed maker recognized by the Guild of Master Craftsmen, and the first to be certified as carbon neutral.
From its workshop on the Sandringham Estate in Norfolk, it makes every bed to order using only the finest raw materials, sourced as locally as possible.
It powers its workshop with renewable energy, minimizes single plastic use, sources only FSC-certified wood for its bed slats, and offsets its carbon emissions.
Wrought iron is a low-carbon material favored for ornamental ironwork since ancient times, so is an authentic choice for period homes.
The Period Living collection has a bed design to work with every room scheme, from the regal elegance of Victoria and Albert to the retro feel of Henry, all in a choice of colors and in five sizes, up to super-king, with some models available as a day bed.
Comfort is also top priority, with a wide choice of mattresses on offer from iconic British brands Vispring and Hypnos.
Discover more and browse the collection at Wrought Iron & Brass Bed Co.
As editor of Period Living, Britain's best-selling period homes magazine, I love the charm of older properties. I live in a rural village just outside the Cotswolds, so am lucky to be surrounded by beautiful homes and countryside, where I enjoy exploring. I am passionate about characterful interiors and heritage-inspired designs, but I am equally fascinated by a house's architectural elements – if I spot an elegant original sash window or intricate stained-glass front door, it fills my heart with joy. It's so important to me that original features are maintained and preserved for future generations to enjoy. My other passion is my garden, and I am slowly building up my planting knowledge, and becoming more confident at experimenting with growing my own. As well as editing Period Living, I am also co-editing the Country Channel of Homes & Gardens. In my previous roles, I have worked on Real Homes and Homebuilding & Renovating, writing about modern design and architecture, so my experience is broad – but my heart belongs to period homes.