Espresso Works All-In-One Coffee Machine – you get what you pay for
Our barista tested the Espresso Works All-In-One Coffee Machine. It's a brilliant option for beginners, but lacks some finesse. We'll go into all the details.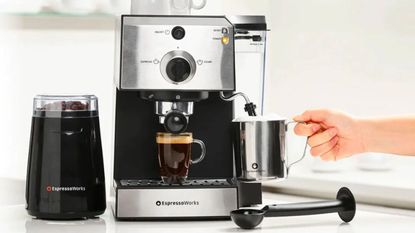 (Image credit: EspressoWorks)
For $200, you won't buy a better espresso machine. The Espresso Works easy to use and comes with lots of accessories. However, it lacks build quality and consistency, so if you're fussy and have another $300 to spare, you can do better.
Reasons to buy
+

Lots of useful accessories

+

Really good price

+

Easy to use
Reasons to avoid
-

Grinder is imperfect

-

A little basic for some

-

Feels a bit cheap
You can trust Homes & Gardens. Our expert reviewers spend hours testing and comparing the latest products, helping you choose the best for you. Find out more about how we test.
Espresso machines are the more technical coffee maker counterpart to bean-to-cup machines. If you want to make speciality coffee and need the perfect balance of price and performance, this entry-level machine is your best option.
I've tested the best espresso machines available and you'll need to triple your budget before finding anything better. The Espresso Works machine offers a simple way to make brilliant, basic coffees.
It also comes with lots of useful accessories. Whilst these might not be best-in-class performance wise (we'll get into the details later), they're generally pretty good.
If you're short on space, shopping on a budget, or looking for something simple, this is your best option. The more technically advanced coffee connoisseurs will find this lacking, but in this price range, you can't do much better than the Espresso Works.
Specifications
Swipe to scroll horizontally
| | |
| --- | --- |
| Dimensions | 9"D x 9.75"W x 11.5"H |
| Materials | Stainless steel, ceramic |
| Weight | 9.7 lbs |
| Power | 1350 watts |
| Type | espresso machine |
Unboxing
There's a lot to love about the unboxing and set-up process, especially once you've gotten past the immense amounts of plastic and non-recyclable polystyrene. The Espresso Works has stickers all over it, which I normally bemoan, but these have useful tips and tricks for maximising the machine's capabilities.
On the countertop, this is a compact, relatively smart coffee maker. It's pretty lightweight and looks smart, so for the price, I'd be happy to have this on display. There's a cup warmer on top, making this feel like amore luxurious coffee maker than the price would suggest. As I'll mention further down, this is one of the few coffee makers I could have imagined buying and using as a student or in a new, very small apartment.
The full name of this machine is the 'Espresso Machine & Cappuccino Maker with Milk Steamer- 7 pc All-In-One Barista Bundle Set w/Built-In Milk Frother'. This refers to the large quantity of extras that Espresso Works throws in. I've tested machines which have costed over twenty times the price and they haven't been as generous as this. Alongside the machine, Espresso Works provides a tamper (which doubles up as a scoop), a milk frothing pitcher, portafilter, espresso cups, and a coffee grinder. Buying these separately from Walmart would cost you at least $70 and that's not including postage or the time it would take to source them. Whilst I'm not denying that this is generous, these are the absolute basic versions of each accessory and they all felt quite cheap, especially the portafilter and grinder. I'll go into more detail about these further down.
Who would it suit?
This has dorm room essential written all over it. The compact footprint, low price point, and simple functions are perfect for those who are really short on space and money but want to be able to treat themselves to delicious coffee.
I'd extend this appeal to any one who is a beginner or not confident with speciality coffee. The functions are all straightforward and I made some good coffee in here. This also comes with plenty of accessories, so you won't accidentally go over budget when investing in your coffee machinery.
As you might expect from who it suits, there's a clear market who might not quite enjoy this as much. If you're a barista and looking for a technically advanced machine, this is basic.
What is it like to use?
Before I turned the machine on, I wanted to start using the grinder. It's the perfect example of how this is a generous appliance, but a cheap one too. The cordless grinder is a blade grinder, which is really no different to using a blender to make coffee grounds. I put my beans in the grinder and turned it on. The end results were exactly as expected: the grounds were inconsistently sized and the beans got warmed up as they were thrown around. This meant that the coffees which I made using these grounds weren't as smooth, delicate, or consistent as the ones which were made with my Union grounds. I did a taste test and could tell the difference from just a sip.
However, I would caveat that with the fact that I was a barista. If you like basic coffee and you're not too fussy about flavor, you'll love the ritualistic process of grinding coffee. You can always upgrade your grinder later on in your coffee-making journey (when you do, take a look at our buying guide for the best coffee grinders).
Test 1: Espresso
The first test for any and every espresso machine is, of course, how well it makes an espresso. After filling the water reservoir and turning it on, the machine had reached its optimum pressure and temperature before my timer had even reached ten seconds. I've waited ten minutes for more technical machines, so this is good if you need speed.
I scooped my coffee grounds using the coffee scoop provided. This was about the perfect amount for the portafilter, although when I weighed it, I would say it's about 1 teaspoon short of the perfect quantity.
When I locked the portafilter into place, I had to brace the machine with my hand. As a budget option, it's quite light and, even though it has grippy feet, it lifted off the countertop a little when I didn't hold it in place.
The first time that I used this, it made 80 dBA of noise, which is pretty loud. On all my other shots, it was quieter, but certainly still on the loud side of the noise spectrum.
The portafilter extracted my shots a little unevenly, as you can see in the image, but the actual flavors and temperature were close to perfect. I felt it was a little weak, but it was also mild and delicate in flavor. If you're new to espressos and more used to filter coffee, this is a good option for a gentle transition into more punchy, powerful shots.
Test 2: Americano
After pulling just one shot, the machine needed a few seconds to warm up again. It's quick to warm up, quick to make espresso, big quick to cool down. It's the product of being a cheap machine and at least there's some consistency.
The brew head is quite low, so if you like a large mug of Americano, you'll struggle to fit it under here. I ended up making espressos in my espresso cup and then adding them to a big mug of hot water.
The machine dispenses hot water out of the steam wand, which is straightforward to use and had a neat guard to stop any spray from burning your hand or making a mess. It's a design feature that I've not seen before and I like it.
Once I had added hot water to my espresso, I had a good Americano; both the flavor and temperature were good. It was a little weaker than average, but well balanced and I could taste the chocolatey notes more distinctly than I expected to. There was even some lovely, hazelnut-hue crema on top.
Test 3: cappuccino
As I've mentioned, the guard on the steam wand makes this milk frother a little different. Aside from an impressive 360 degrees of rotation (meaning you can angle your milk jug however you like) there is a guard on the end of the wand. If you've never textured milk before, this will be the cleanest steam wand you'll use.
The guard prevents any hot spray or spitting. However the more accustomed you come to it, the more limiting the guard becomes. It bubbles rather than textures the milk, which doesn't give the same smooth mouth feel.
This is easy to remedy: bang the milk jug on the countertop and swirl the milk around until the large, airy bubbles have disappeared. After doing this, your milk will be salvaged and smooth to drink. I made some delicious cappuccinos using oat and dairy milk, so it is possible, but will tale more time and effort.
I felt again that the coffee tasted a little weak, but I was in the kitchen with some other expert testers who enjoyed it without any complaints. The flavors were still generally well extracted and distinct, so overall this wasn't bad.
Cleaning, storage, and maintenance
This is a low-maintenance machine. The drip tray is easy to empty, as is the portafilter. Everything should be washed in the sink, by hand, and I would recommend doing this after every use. The most difficult part to clean is the steam wand shield, but even this isn't too tricky. If you free-steam (just let the wand steam without any liquid) it will clear of any milk residue and stay in good condition. It's worth keeping an eye on the reservoir, especially if you have hard water, or make sure to use filtered water to avoid any limescale build up.
This is small enough to keep on your countertop without having to sacrifice much space. If completely clear countertops are what you're after, this is small and light enough to tuck into a cupboard too.
How does it rate online?
The price point of the Espresso Works has attracted lots of beginner baristas and it's an incredibly popular option. This received lots of praise for the accessories, value, size, and performance. It has an average of 4.2 stars on Amazon out of over 3,000 ratings, which is pretty impressive.
There seems to be some general agreement that this build is cheaper than a Breville, for example, but that's pretty obvious in the price. Lots of people commented on the accessories in particular as feeling cheap, but it's good to have them at least. This isn't a machine you'll use for 20 years, but it's an inexpensive way to test out how you'll get on with an espresso machine.
How does it compare?
I texted this straight after the Wirsh espresso machine, probably Espresso Works' main competitor. The Wirsh is a similar price, but a little smaller. Overall, I much preferred using the Espresso Works. It was quicker, more intuitive, and had some extra, well-considered features, such as the cup warmer.
The Espresso Works is unapologetically a beginners' machine, so they've built in safe guards around the steam wand and shot length as well as the coffee options. It's less consistent with shots, but if you're new to making coffee, this shouldn't cause much of a problem in your basic drinks. The Wirsh tries harder to appeal to more experienced baristas and, for that reason, sacrifices on usability. If the deciding factor isn't footprint and width, I'd choose the Espresso Works.
Should you buy it?
If you're a coffee novice, on a budget, looking to test out espresso making, this is the machine for you. It's not top spec nor is it high tech, but it doesn't pretend to be. If you've only got $150, this will be money well spent.
How we test
At Homes & Gardens, we really care about coffee. That's why we rigorously test every espresso machine before we recommend it to you. Laura, a trained barista, tests the best, the cheapest, and the trending coffee makers so she knows exactly where to place each coffee machine in the market. Not only will she taste test, she'll make notes on appearance, storage, maintenance and unboxing. That way, if you decide that this is the coffee maker for you, there won't be any nasty surprises waiting for when this arrives at your door. If you'd like to find out more about how we test, you can visit out dedicated page.
Sign up to the Homes & Gardens newsletter
Decor Ideas. Project Inspiration. Expert Advice. Delivered to your inbox.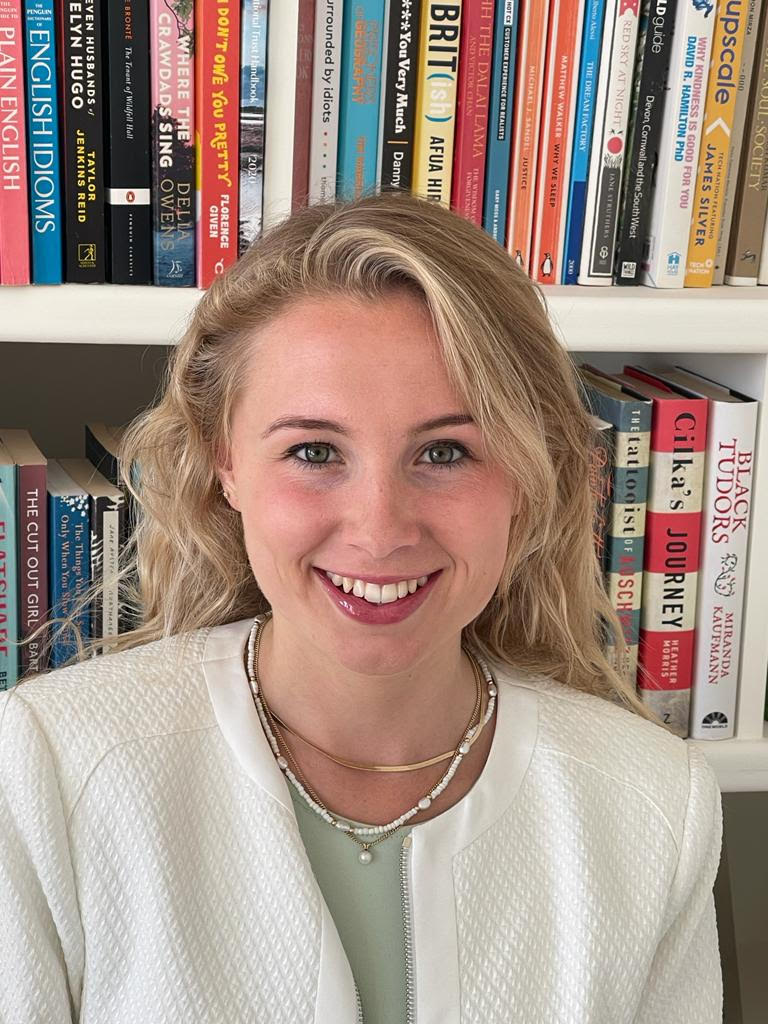 Laura is our eCommerce editor. As a fully qualified barista, she's our expert in all things coffee and has tested over thirty of the best coffee makers on the market. She has also interviewed Q-Graders and world-leading experts in the coffee industry, so has an intimate knowledge of all things coffee. Before joining Homes & Gardens, she studied English at Oxford University. Whilst studying, she trained as a master perfumer and worked in the luxury fragrance industry for five years. Her collection of home fragrance is extensive and she's met and interviewed five of the world's finest perfumers (also known as 'noses'). As a result of this expansive fragrance knowledge, she always puts quality and style over quantity and fads. Laura looks for products which have been designed simply and with thoughtful finishes.