Nectar vs Tempur-Pedic: which mattress brand is best?
Nectar vs Tempur-Pedic: could the iconic brand be brought to an end by a box mattress?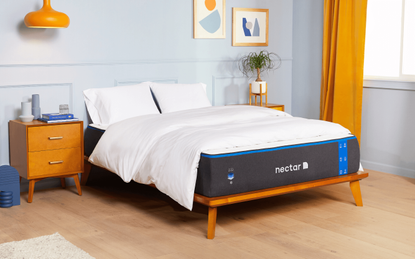 (Image credit: Nectar)
Tempuc-Pedic is the most iconic brand on the market. For most readers, they're synonymous with high-quality mattresses. However, that star has started to fade in recent years with the introduction of box mattresses like Nectar.
Unlike Tempur-Pedic mattresses, which tend to be expensive and need a crew to set up in your home, Nectar mattresses offer fantastic value, and can be delivered just like an Amazon package, straight to your door.
To figure out which of the two brands is best, I've put two comparable mattresses from each brand in a Nectar vs Tempur-Pedic head-to-head. Both of these beds have been tested by our expert writers, so we have first-hand experience of the strengths and weaknesses of each. They're also mainstays of our guide to the best mattresses, so you know you're getting good quality.
Written by
Alex is Head of eCommerce at Homes & Gardens and spends his days trawling the internet for the latest product launches and deals, as well as testing homes products in our specialised test facility. Before H&G, he worked for several other consumer magazines reviewing homes goods and garden tools.
Products tested by
Products tested by
Jaclyn Turner
Jaclyn was the former the US eCommerce editor at Homes & Gardens, where she specializes in a variety of homes topics from vacuums to mattresses. Jaclyn's specialist subject is mattresses, so she was the perfect tester for tackling the Tempur-Pedic ProAdapt.
Products tested by
Products tested by
Casey Clark
Casey Clark is a freelance writer from NYC who specializes in beauty, fashion, and lifestyle. She trialled the Nectar Memory Foam mattress for a month to see how it stacked up against the best mattresses.
Nectar vs Tempur-Pedic
Firmness: Medium-firm
Type: Memory Foam
Construction materials: gel memory foam, soft transition foam, supportive base layer foam.
Sizes: Twin, Twin XL, Full, Queen, King, Cal King; Split King Height: 12"
MSRP: $339-$1,198
For
Not too soft, but not too hard - an even combination
Easy to assemble; comes in a box (no movers required)
Alleviates back and muscle aches
Solid motion isolation; good for partners
Lifetime Warranty
Against
Weak edge support
Easily forms impressions
Firmness: Medium-hybrid
Type: Hybrid
Construction materials: Tempur material and coils
Sizes: Twin, Twin XL, Full, Queen, King, Cal King, Split King, Split Cal King Height: 12"
MSRP: $2,799-$5,598
For
Sleeps cool
Cover zips off
Decent edge support and excellent motion isolation
In-home delivery
Against
Very Expensive
Heavy
Not compatible with box springs or on floor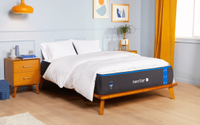 (opens in new tab)
Tempur vs Nectar - sleep styles
As memory foam mattresses, both beds are adaptable to a variety of sleep styles, as they mold to your body. Memory foam mattresses tend to be best for side sleepers, as memory foam is designed to sink underneath the hard points of your hips and shoulders while still offering support. However, in our tests of these mattresses, we found that both were adaptable for all sleep styles, and work well for sleeping on your back, front, and sides.
Tempur vs Nectar - which is coolest?
WINNER: Tempur-Pedic ProAdapt
The ProAdapt sleeps much cooler than the Nectar. Though she admits she sleeps hotter than most, our tester Casey found that the Nectar mattress wasn't the best for keeping cool. The cover claims to be moisture-wicking, but she found that when the temperatures rose she often woke up in the night because she was too warm. If you live somewhere hot, the Nectar might not work for you.
The ProAdapt, on the other hand, was tested in the steamy weather down in Atlanta, GA, and our tester had no issue with overheating. This is especially impressive with a memory foam bed, as their dense materials tend to trap heat. If you tend to overheat in the night, the ProAdapt is the better mattress.
Tempur vs Nectar - which is best for motion isolation?
WINNER: Tempur-Pedic ProAdapt
If you're a light sleeper, the Tempur-Pedic is the better choice. 'Motion isolation' is a measure of whether or not you can feel your partner move in the night. We test it by sitting a full cup of water on a mattress and lying next to t, seeing if any water spills.
While the Nectar has relatively good motion isolation — no water spilled on the cup test — it has very poor edge support. This means it's a little mushy at the edges and corners, so while you might not notice if your partner turns over in the night, it might wake you if they get up in the night to use the bathroom.
The ProAdapt, conversely, is unbelievably good with motion isolation. On test, we put a cup full of water on each mattress it to see if nearby movement will cause a spill. Not only did no water spill with someone turning next to it, but by a stroke of luck our tester's dog happened to jump up on the bed right in the middle of the test. unbelievably, nothing happened. Even with a boisterous dog all over the mattress, the water was utterly still. If you're a light sleeper, the ProAdapt is the clear winner.
Tempur vs Nectar - which is cheapest?
WINNER: Nectar Memory Foam Mattress
This is straightforward to answer. The Nectar is far, far cheaper than the ProAdapt. A queen bed only costs $699 vs the whopping $3,399 of the ProAdapt. This difference is all the bigger for the fact that Tempur-Pedic rarely run sales, and Nectar are almost always offering discounts. For the thousands of dollars less than the ProAdapt, a deal on the Nectar Memory Foam might also thrown in free pillows, protectors, and sheets. The Nectar mattress is much better value for money.
Tempur vs Nectar - which has the best sleep trial?
WINNER: Nectar Memory Foam Mattress
Just as above, the Nectar presents far better value. Warranty and sleep trial is one of Tempur's biggest weaknesses. The ProAdapt has a very short trial of just 100 days. At just over three months, that's only one season, so if you buy the ProAdapt in the summer you might find that it sleeps too cool in the winter, at which point you're stuck with the mattress. It also has a relatively short warranty of 10 years.
The Nectar, on the other hand, has a 365-day trial, so you can see if the mattress works for you throughout the year. It also has a fantastic lifetime warranty, which is decades better than the ProAdapt.
Which is best?
Overall, the ProAdapt is clearly a better bed. It sleeps cooler, and has better motion isolation. However, the price point puts it beyond reach for most of us. Nectar offer a decent mattress that won't break the bank. Unless you're an utter obsessive about sleep, you likely won't notice the difference.
As Head of eCommerce, Alex makes sure our readers find the right information to help them make the best purchase. After graduating from Cambridge University, Alex got his start in reviewing at the iconic Good Housekeeping Institute, testing a wide range of household products and appliances. He then moved to BBC Gardeners' World Magazine, assessing gardening tools, machinery, and wildlife products. Helping people find true quality and genuine value is a real passion.