Nolah Original Mattress Review: perfect for side-sleepers
A great choice for those who prefer a medium-feel, highly responsive mattress.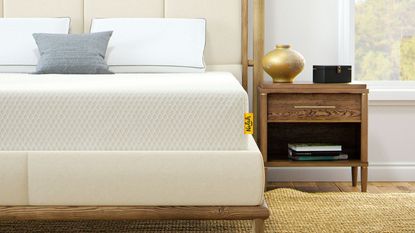 (Image credit: Nolah)
The Nolah Original 10" is a good choice for those who want to avoid memory foam but don't want an old-fashioned spring mattress. It's constructed with AirFoam, which does not retain heat as much as memory foam, making it a great choice for those who tend to sleep hot.
Reasons to buy
+

Excellent motion isolation

+

Good pressure relief

+

Great for side-sleepers

+

Does not trap heat as much as memory foam
Reasons to avoid
-

Edge support is not the best

-

May not be firm enough for some sleepers
You can trust Homes & Gardens. Our expert reviewers spend hours testing and comparing the latest products, helping you choose the best for you. Find out more about how we test.
Beds-in-a-box have totally transformed the mattress market, and now the internet is saturated with deals on cheap mattresses that may not actually be good for your sleep.
We wanted to see how the Nolah Original 10" stacked up against others in its class, so my partner and I tried one out for several weeks, sometimes joined by our young son. I also put it through a series of tests to see how well it tolerates weight, movement, and more.
This mattress is softer than my previous mattress and I found that I sunk more deeply into this mattress than others in a similar class. This took a couple of nights to get used to, but after I adjusted I found that I really liked the feel. The Nolah is also highly responsive to movements, so I never felt "stuck."
As a side sleeper, I often wake up with a sore hip when mattresses are not responsive enough or don't have pressure relief. I found that the Nolah Original 10" allowed me to sink deeply enough into the mattress that I didn't have any soreness in the morning. I tend to choose firmer mattresses, but I am now a covert – this is a new contender for the best mattress.
About this review
About this review
Jamie Davis-Smith
Jamie Davis Smith is a product reviewer who's been testing all types of bedding and sleep products for more than ten years. As a working mother of four, Jamie values a good night's sleep above all else.
Her review of the Nolah Original 10" Mattress is based on her firsthand experience with the product, which was provided by the brand free of charge. She and her partner slept on the mattress for about a month before writing this review. They were sometimes joined by their young son. Jamie plans to keep the mattress, which allows us to return to update the review with insights on how the product fares over an extended period of time.
Specifications
Swipe to scroll horizontally
| | |
| --- | --- |
| Firmness: | 4 profiles |
| Type: | Medium-firm |
| Construction materials: | Memory foam |
| Sizes: | Twin, Twin XL, Full, Queen, King, Split King, Cal King |
| Height: | 10" |
| MSRP: | $999-$2398 |
Who would it suit?
This mattress is best suited to side sleepers. It's great if you need a little pressure relief on sore joints, though it's less helpful if you need something firmer.
Is it worth it?
Yes. It's a little more expensive than other box mattresses, for example, the Nectar Original. That bed is almost always $699 for a queen, where this is $971. However, this bed is much softer than the Nectar, so if you know you need something soft, this is the way to go.
Setting up the Nolah
Ordering through the Nolah website is easy. All Nolah mattresses are made to order so it can be hard to tell how long it will take a mattress to arrive. The website says that mattresses ship within 3-10 days. Mine shipped eight days after I ordered and arrived four days after that, meaning that I received my mattress 12 days after ordering. For a custom-made mattress that is pretty fast.
My Nolah was delivered by FedEx ground shipping. I was able to get the mattress inside easily on my own. The box was in relatively good shape, and although dented in one spot, it did not affect the mattress at all. My Nolah Original was delivered during a strong rainstorm and the box was noticeably wet. However, it mostly kept its shape well despite being drenched so I didn't have any concerns about the mattress being damaged due to shipping and the elements.
The size of the mattress was not marked on the outside of the box and nothing inside indicated the size either. Because the mattress is tightly compressed it was hard to tell what size it was when I first took it out of the box. I would have liked to have confirmed that I received the right product before I let the mattress decompress, but once I removed the thick plastic covering the mattress I could tell right away it was the right size.
Nolah recommends decompressing the mattress directly on top of the bed frame where it will be used. I didn't do this because it takes 24 hours for the mattress to fully decompress and I needed somewhere to sleep the night it was delivered.
It probably would have been easier to bring the still-compressed mattress to the room where I would use it to allow it to decompress there. However, when the mattress was delivered in the late afternoon I opened it in my living room to decompress for the rest of the night. My teenage daughter and I were able to get the mattress up the stairs with no problem. That may have been harder with a California King, but it was very manageable with the full-size mattress I ordered.
Once I cut off the layers of plastic, the mattress seemed to achieve its full shape and 10" of height almost immediately. However, since the instructions said that it could take up to 24 hours for the mattress to decompress fully, I resisted the urge to jump on the mattress and test it out right away. There were no unpleasant off-gassing odors, so I felt comfortable sleeping with the still-decompressing mattress in my room the night it was delivered.
If all of that sounds like too much work, Nolah will pick up your old mattress and set up your new one starting at $125.
What it's like to sleep on?
Motion Isolation
To test the firmness of the Nolah Original, I put a 25-pound weight on the mattress next to a glass of water. When I put the weight on the mattress it sunk more than expected, almost two inches.
However, even with the weight sinking so far, the glass of water next to the weight remained very stable. The water moved a bit in the glass, but the glass itself stayed relatively flat and did not noticeably move. This is excellent motion isolation.
This weight test tracks with experience sleeping on the mattress. My husband often gets up earlier than I do and sometimes wakes me up when he gets out of bed. I hardly felt him getting him on this mattress. My young son often joins my husband and me in bed. His squirming often wakes me up, but I was noticeably less disturbed by his night-time wiggles.
Edge Support
I also used a glass of water and a 25-pound weight to test the edge support on the Nolah Original. Unlike when I placed the glass and weight in the center of the bed, when I placed them on the edge, the glass noticeably tipped to one side. However, the weight sunk into the mattress less, indicating that the sides of the mattress are firmer than the middle.
As a practical matter, the edge support of the mattress is reasonable compared to many other models. The slight movement on the edges of the mattress did not bother me while testing the mattress and is likely to impact a regular user.
Breathability
I tend to sleep hot, which makes some memory foam mattresses unappealing as they tend to trap heat. Nolah uses AirFoam instead of memory foam. Although the feel is similar, Nolah says that AirFoam does not trap as much heat. This mattress also comes with a breathable cover that allows air to flow more freely. I tested the mattress during a couple of unseasonably warm days and even then felt that the mattresses did not feel warm, tracking with Nolah's claims that AirFoam is a cooler alternative to memory foam.
Nolah makes a cooling mattress cover, which I also have. The cooling cover felt noticeably cool to the touch out of the box. While I think it's always a good idea to cover mattresses to protect them (especially when small children or pets are in the home), I don't think the cooling cover is necessary to make the Nolah comfortable to sleep on during hot nights. However, it's a nice option to have for those who sleep hot and are concerned.
Sleep Tracking
I use a sleep tracker every night. This is anecdotal, so take it with a grain of salt, but my sleep score improved while I was testing the Nolah. My smartwatch told me that I was getting a good mix of deep, light and REM sleep more often than usual. My sleep tracker tells me that a good mix of different types of sleep is good for recovery and I felt refreshed each morning when I woke up.
Freebies
The Nolah Original 10" comes with two free pillows. Like the mattress, the pillows come compressed and need to be unwrapped to expand fully.
A unique feature of Nolah's pillows is that they come with a lot of stuffing that can be removed. Nolah recommends trying the pillows with different levels of stuffing until you find your comfort level. I loved the pillows just as they came, completely full, but I think it's great that the pillows are customizable. Although I like the pillows I was using before, I have swapped them out for the ones that come free with the mattress since I like them better.
Returns and warranty
Because it can take 30 days to break in a new mattress and get used to a new feel, Nolah requires that customers try the mattress for 30 days to be eligible for a full refund. However, after the 30-day break-in period, Nolah allows returns anytime during the next 90 days. What this means is that Nolah may give customers a full refund if they apply for one between 30-120 days after receiving their mattress.
Three months should be enough time for anyone to decide whether they like a new mattress or not. If Nolah approves a refund, the customer is responsible for paying a $99 fee to cover costs associated with the return.
The Nolah Original comes with a lifetime warranty, but what is covered depends on how long you have had the mattress at the time you make a claim. In the first two years after purchase, Nolah will replace a defective mattress. After three years, Nolah will repair defective mattresses, but the amount covered is prorated based on years of ownership. After three years of ownership, Nolah also offers a "Don't Lose Sleep" program. Under this program, instead of making a warranty claim the original owner can keep their mattress and get a new one at a substantial discount.
How does it rate online?
The Nolah Original 10" is rated very highly online with 4.9 out of 5 stars on the Nolah website. Many commenters note that the mattress feels very plush. Several reviewers note that this mattress helped relieve their back pain. One reviewer said that they could not tell the difference between their Nolah Original 10" and a higher-priced mattress they also had in their home.
Some reviewers said that, like me, the mattress was softer than they expected, but that they still got a great night's sleep. A few people said that they wished they had upgraded to the 12" version of this mattress but that they were still happy with their purchase.
Final thoughts
The Nolah Original 10" is a great choice for those who prefer a plush mattress. The responsiveness and pressure point relief make this a good choice for those who tend to wake up with hip, shoulder, or back pain.
Sign up to the Homes & Gardens newsletter
Decor Ideas. Project Inspiration. Expert Advice. Delivered to your inbox.
Jamie Davis Smith is a writer, attorney, and product reviewer with more than ten years of experience. She has tested hundreds of items first-hand, sometimes with the help of her four children. Jamie lives in Washington, DC.