How to host Thanksgiving in a small space – 5 expert tips
For cozy and streamlined entertaining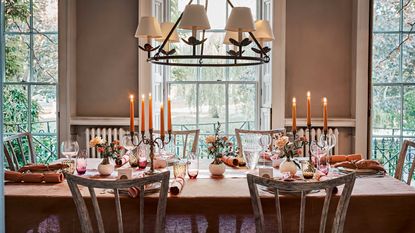 (Image credit: Future)
One of fall's pinnacle moments is that of Thanksgiving. A time when all of the family and friends can come together to celebrate cozily at home. But can giving thanks feel entirely sincere when your hosting space is somewhat limited, leading to a little, albeit tame, frustration?
Though your home's square footage may not be aplenty, rest assured that there are some design choices you can make so that this will not have a dampening effect on the festivities.
Setting your Thanksgiving table will be a joy, spirits will be high, and all eyes will be set on a beautifully styled space. Most importantly (to some more than others), no prized tableware will be broken.
How to host Thanksgiving in a small space
Even the best host might feel a little overwhelmed in the holiday season. Once guests have enjoyed the welcome of charming Thanksgiving decor outdoors, the pressure heightens for the indoor space. This is how experts recommend hosting Thanksgiving, successfully, in a small space:
1. Start with a sensible guest list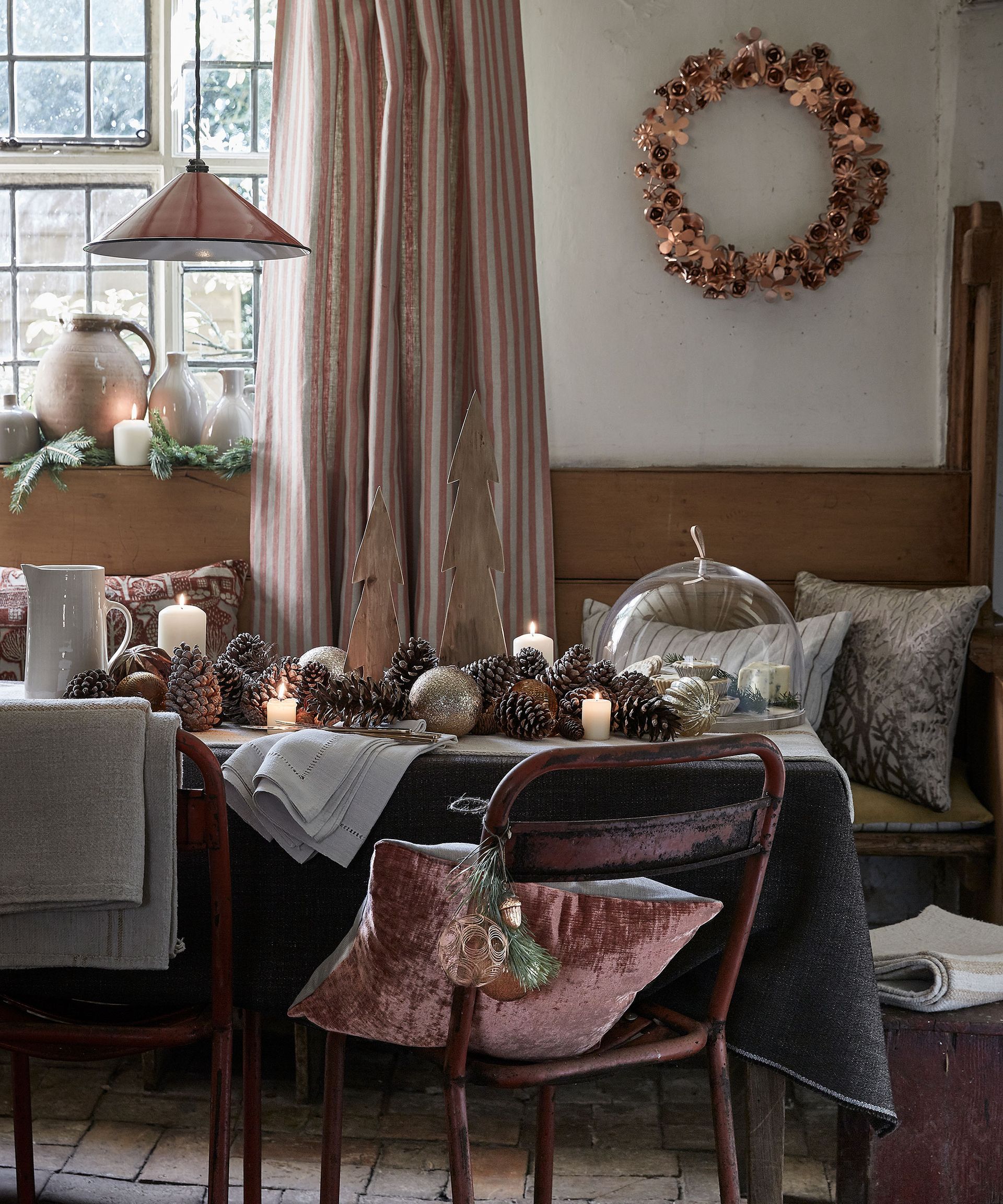 We can work miracles to some degree, but that is not to say that you should not give thought to who and how many people exactly you will be hosting on Thanksgiving.
'First, plan your guest list,' Victoria Holly, principal designer and founder of Victoria Holly Interiors tells us.
The intention of better hosting in a small space is to bring more ambiance and make your home feel cozy, rather than cramped, for Thanksgiving. 'Consider how many people you can comfortably accommodate in your small space.'
Remember this when putting your guest list together so that you are set up for success and a happy time from the onset.
Victoria Holly Interiors is a full-service interior design firm that specializes in creating beautiful and functional spaces for both residential and commercial clients. They pride themselves on their ability to deliver high-quality projects that meet the unique needs and preferences of their clients. Victoria Holly Interiors offers a wide range of professional services, including project management, interior design, construction assistance, and renovations
2. Declutter to 'optimize' space
When space is limited, decluttering should be a regularity. The holidays might feel like the wrong time to start decluttering, but it could, in fact, help you create a far more efficient and streamlined space to enjoy special moments.
'When entertaining in a small space, it's important to avoid clutter,' says Devon Wegman, design director and founder of Devon Grace Interiors.
There are some spaces experts always recommend decluttering before the holidays anyhow. 'First things first: declutter as much as possible. The more that may be put away (even under the bed, in a closet, or in the bathtub), the bigger the space will feel,' says Dianne O'Connor, CEO of Weston Table.
Then once you have a distilled version of day-to-day and even holiday items, rather than buying new organizers, you can look to existing places in your home for better, and more inconspicuous, storage.
Seeking an alternative to the hurried necessity and uniform shopping experiences found on big box sites, Dianne O'Connor envisioned an online shopping destination rich in inspiration and real-life content. Dianne founded Weston Table with the belief that shopping online should be an entertaining, mindful experience that immerses people in a world of beauty, possibilities, and purpose. Dianne's unique point of view on living, giving, and entertaining has been shaped by her extraordinary life experiences. From growing up in rural Big Sky country, pursuing higher education in Texas, thriving as an international investment advisory professional, and traveling across five continents while raising five children, she developed a curiosity to share the best of what she has encountered at home and abroad. Weston Table is the culmination of these personal and professional experiences – a curated online marketplace of artisanally-designed, superiorly-crafted, and ethically produced goods in which beauty, function, and life values align.
3. Maximize your dining room layout
With less clutter and the feeling of more space to work with, it makes room for creative ways to accommodate guests around for the Thanksgiving feast. Reshuffling your dining room layout entirely or simply rethinking your seating arrangement could bring a more fluid feeling to your holiday celebrations.
Holly encourages us to look beyond traditional Thanksgiving seating arrangements: 'If you don't have enough seating for everyone at a traditional dining table, consider alternative seating options. Use a combination of dining chairs, benches, stools, and even floor cushions to create a flexible and informal seating plan.'
When it comes to seating, this could even be made easier by considering a 'self-serve' approach to the actual Thanksgiving meal.
'Or you can do a walking Thanksgiving dinner, although it can make it hard for guests to eat!' suggests Holly. Considering how guests will move around and enjoy the space is key.
'In space-constrained areas, self-service is the way to go. If possible, find two distinct places to set up, one for drinks and the other for food. Having the bar and the food areas as far apart as possible creates an opportunity for guests to naturally move around. If there happens to be another space, even a windowsill or a small table in which to set up a dessert station, this is an easy way to ensure guests will gravitate to different areas on their own,' adds O'Connor.
Holly further suggests looking at your dining room or space as a whole: 'Don't just add another table but think about how you can reimagine the entire space. I also love getting double-wide fabric from a fabric store and using it as an oversized tablecloth - this way guests can't tell what's really going on under the table (maybe you've combined a couple of tables together!)' Though you might feel less inclined to go big in a small space, adding dramatic features can often be the zest a cozier room needs for a bubbly and welcoming feel.
4. Keep simplicity in mind
In the same breath, keeping a simple decor scheme that is less fussy will ensure your hosting space stays flexible and good-looking. Thanksgiving dinnerware will look better when it has space to shine, and a room that looks overdone is not one we strive to design.
'Keeping things simple is best,' Wegman tells H&G. 'Especially to save room for people to put down drinks and plates. If possible, opt for benches instead of chairs, to maximize seating. On the table, placemats will crowd it too much, so opt for chargers under plates instead. Anything else on the table should do double duty as function and decor. Think decorative glasses for water and wine, a decorative pitcher for water, and decorative napkin folding to add texture.'
5. Make sure decor has unexpected 'double duty'
O'Connor reminds us to keep exciting objects on display as talking points: 'Keep the items that are potential conversation starters in sight such as books about wine or travel or perhaps an unusual item that has a story behind it.'
For any decorative features you do have on show, try to ensure they serve more than one purpose. Remember that function can mean many things, and it is worth exploring especially when keeping a little living room decluttered. In a hosting environment, movement and conversation should flow without interruption, and design can play an important part in making this work.
'In living spaces, fold and put away extra blankets, magazines, baskets, or other storage vessels that people may bump into (this too will make the space feel a bit bigger),' adds O'Connor who also recommends giving thought to a pared-back color scheme when using flowers or candles, for instance.
'I prefer to stick to one color of flower when entertaining in small spaces as it pulls the entire room together and creates a feeling of a larger space. However, I love putting the flowers in all types of vessels and having each arrangement a bit taller or shorter, single stem, or a plump bunch.'
Fall candles and flowers will add ambiance and make the space feel effortlessly on season: 'Candlelight makes guests' faces glow and creates a relaxing atmosphere. I put candles everywhere! On the mantle if you have one, on the bar, on the buffet, inside a fireplace, on the floor, and even the bathroom – guests will eventually make their way there too, so I leave no attention to detail undone. Little more is needed. In small spaces, less is always more.'
Warm Cider and Cinnamon Woodwick Candle
This candle infuses your home with honey and vanilla scents that creates an inviting ambience you're sure to appreciate.
FAQ
What is the best Thanksgiving tableware for a small space?
A variety of table and dinnerware can work best to make use of vertical space. O'Connor says to consider how you will make your food display even more appetizing: 'Use tiered stands, different height bowls, and serving platters and fill them with bite-sized foods that are interesting combinations of textures and tastes expected during the Thanksgiving feast.'
'Imagine the wonder and surprise when serving maple-glazed squash cubes and roasted quartered brussel sprouts woven on cocktail picks. Best of all, think outside the box. A small space probably means a small table and limited seating. Set the table with martini glasses and invite guests to fill them with all the traditional holiday fixings on the table – mashed potatoes, gravy, a dollop of cranberry conserve, and small slices of turkey.'
Pay attention to the details, not just of the feast itself but also of how the day will roll kindly into the evening.
'A stemmed glass is easy to hold on to and so memorable that guests will forget that you invited them to eat this special meal while seated on cushions on the floor.'
How do I host Thanksgiving in a small apartment?
Whether you are hosting family, friends, or both in a cozy apartment, it is all about keeping your main hosting area free from items that will serve no purpose. If you have enough surfaces available for food and drinks, without your second coffee table, consider moving it to another room for the party hour:
'If possible, remove furniture pieces, including coffee or end tables that won't be used, and store them in a bedroom space,' suggests O'Connor. 'The room will open up immediately, seem bigger, and give your guests easier passage to move about the entertaining space.'
Remember to think about the items guests will bring that risk cluttering the space too: 'Borrow a fold-away clothes rack that may be tucked along one side of the entryway or in a bedroom. This is the easiest way to organize guests' coats and bags. Use high-quality hangers so that they don't bend and frustrate guests.'
---
Thanksgiving can be just as wonderful when hosted in a small space. Reimagine your space for entertaining that is streamlined and set to create the coziest of memories.
Sign up to the Homes & Gardens newsletter
Decor Ideas. Project Inspiration. Expert Advice. Delivered to your inbox.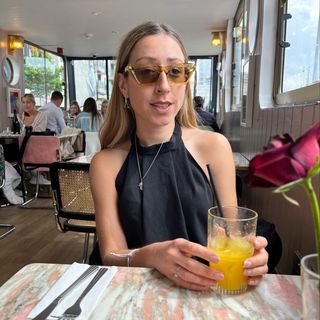 Camille is the former deputy editor of Real Homes where she covered a broad range of topics, including house tours, small space design, and gardens. She studied English language and Italian at the University of Manchester and during a year abroad studying linguistics and history of art in Bologna, Italy she started documenting her adventures and observations in a blog. Camille is always creating and spends her downtime painting, taking photos, traveling, and writing short stories.