How to make bedding feel warmer – 7 tricks I use for a fluffy bed
These seven tricks make me want to hibernate through winter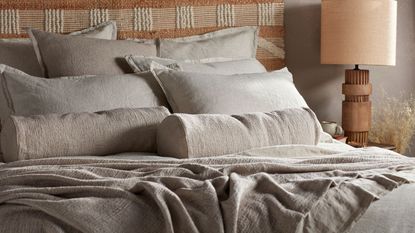 (Image credit: The Secret Linen Store)
As winter rolls in, I aspire to create a bed that is impossible to roll out of in the cold mornings.
The trick, I discovered, is to make bedding feel warmer with intense layering and to fluff up my best bed sheets for a cloud-like bed that is perfect for hibernating the cold months away.
These are the seven things I do to make bedding feel warmer, and why they are my go-tos as soon as the mercury drops in fall.
How to make bedding feel warmer
In my old period home, my north-facing bedroom can be freezing cold in winter, and, seeing as I don't want to leave my heating on all night, making my bedding feel warmer and fluffier is a must.
Along with making heating more efficient throughout my home to keep the space warmer, this is what I do for a cozy oasis to escape winter.
1. Up the duvet tog rating
Even if you do nothing else to create a fluffy, warm bed, an absolute essential is choosing a duvet for winter. When the cold weather sets in and I start to wake up feeling chilly, I take it as my sign to switch to my winter duvet insert. This has a higher tog rating than my spring/summer duvet and helps to keep me feeling snug.
My winter duvet is also a down duvet, with the natural materials trapping in that extra layer of warmth for a truly cozy sleep spot that is almost impossible to get out of in the morning.
2. Pick natural materials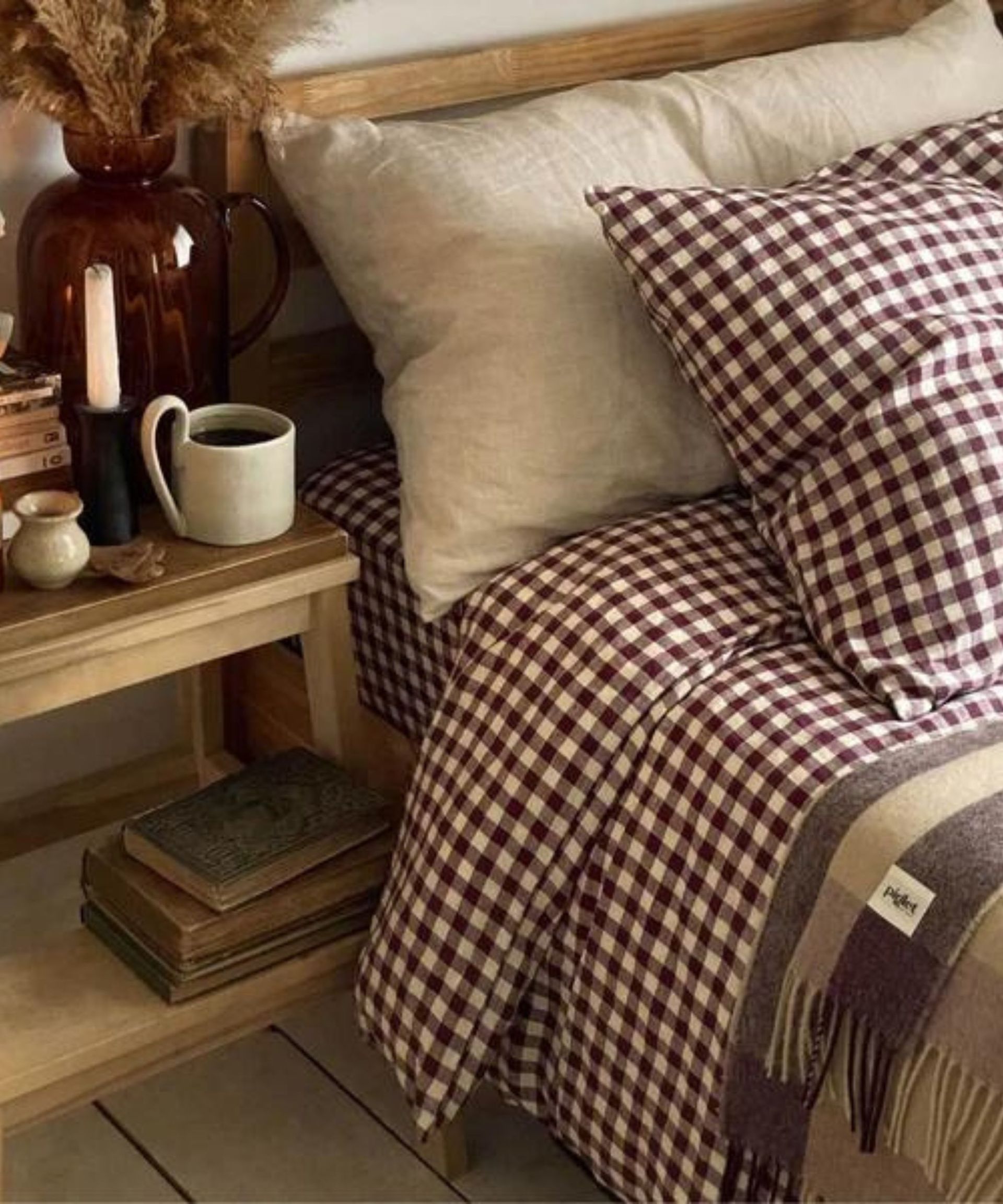 Natural down comforters are not the only natural material I pick for winter. I also love to layer my best linen sheets to help keep me warm too – with the added benefit of the slubby material making my bedroom look cozy and welcoming after a long day, too.
Linen is also perfect for keeping you cool in summer and warm in winter, making it a great investment for your bedroom. Just be sure to brush up on how to wash linen bedding to keep it in top condition and protect its thermoregulating properties.
Natural Plaid Linen Bundle
Inspired by a vintage check pattern, this natural plaid bed linen bundle calls to mind rustic and cozy cabin interiors.
3. Always layer a throw blanket
Every bed needs good throw blankets – it is one of the essentials of layering in interior design, after all.
My bed usually has at least one, sometimes two throws on it as an added bit of bedroom decor, but they can be pulled up and used as extra layers on particularly cold nights.
It is best to go for natural materials again for the thermal properties, such as wool or merino, but any throw will do for keeping in the heat.
Tricolor Mohair Wool Blanket
Created in a fully manual weaving process keeping with a tradition that dates back to the 15th century, this lightweight blanket with high volume is the perfect item to keep you warm on cold winter days.
4. Add a mattress topper for an underlayer
Layering is not just about what you put on top of your bedding to make it feel warmer, but underneath it too.
I previously never bothered with mattress toppers, but I gave in after my mom gave me a spare one. The teddy fleece topper, like this one from Amazon, beneath my fitted bed sheet adds an extra coziness that makes my bed look fluffy and makes me feel that little bit warmer through the night.
Now, I wouldn't be without it.
5. Add a heated blanket for extra coziness
Even with all those layers, my bed still feels ice cold when I first get into it and it has been sitting empty all day. My solution is to use a heated blanket sandwiched beneath my duvet to heat the bed and my best mattress before I get in. I can then either unplug it and leave it in place while I snuggle up with a book or pull it out and fold it neatly under my bed for use again tomorrow.
The natural materials in my bedding and the layering on top then retain this heat throughout the night so I am not left feeling cold until I have to get out of it in the morning.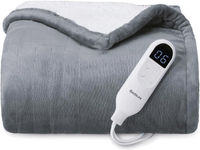 Electric Heated Blanket | View at Amazon
With four-time settings and six heat settings, this heated blanket is ideal for snuggling up with in bed or when going to sleep.
6. Stack up throw pillows
Although pillows might not be the first thing you think of when it comes to making a bed feel warmer, having multiple pillows and throw cushions on my bed makes it look fluffier and more inviting. I like to settle in between them all when I am winding down for the night, making me feel cozier and therefore warmer as if by some trick of the mind.
I usually then take most of these out when I turn in to sleep, with my bedroom chair becoming the perfect place to store throw pillows at night.
7. Don't forget the pajamas
It is not just the bedding that is important when it comes to feeling warm and cozy at night. The pajamas play a huge role too. I am a pajama and loungewear enthusiast and love to pick out some brushed cotton PJs for ultimate warmth.
Cayla organic cotton-jersey pajama set
Skin's 'Cayla' pajama set is made from certified organic Pima cotton jersey that's equally soft and breathable. It includes a collared shirt and elasticated pants, both decorated with contrasting piping.
FAQs
Why are my bedsheets so cold?
If your bedsheets are cold then it is likely to do with the room temperature – a cold room will lead to old sheets. To counter this, warm the room significantly before going to bed, or use an electric blanket between your mattress and your duvet to heat the inside of your bed before you get in to help save money at home.
How can I heat my bed without an electric blanket?
If you don't have a heated electric blanket to help warm up your bed before you get in, you can turn to use a good old hot water bottle or two under your duvet, with layers of duvet and throw blankets on top to help keep the heat contained.
---
It is not just my bedding I focus on when keeping a bedroom warm without heating, however. I also rely on some smart heat-retaining tricks to keep my space warm through the night even after the heating turns off.
Sign up to the Homes & Gardens newsletter
Decor Ideas. Project Inspiration. Expert Advice. Delivered to your inbox.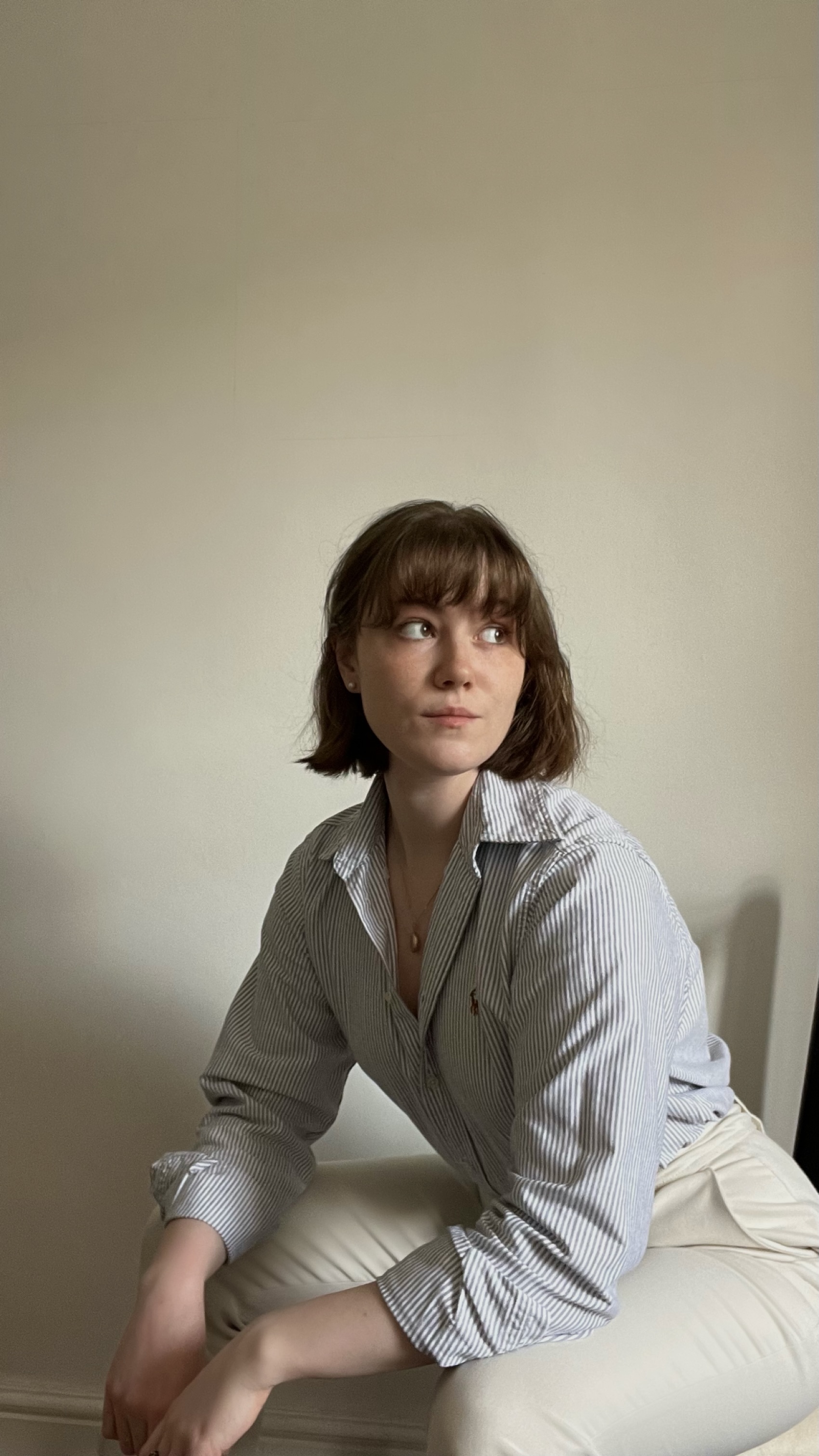 Chiana has been at Homes & Gardens for a year, having started her journey in interior journalism as part of the graduate program. She spends most of her time producing content for the Solved section of the website, helping readers get the most out of their homes through clever decluttering, cleaning, and tidying tips – many of which she tests and reviews herself in her home in Lancaster to ensure they will consistently deliver for her readers and dabbles in the latest design trends. She also has a first-class degree in Literature from Lancaster University.