5 questions to ask yourself before you forgo upper kitchen cabinets
What to consider before you go without upper cabinets altogether, according to kitchen designers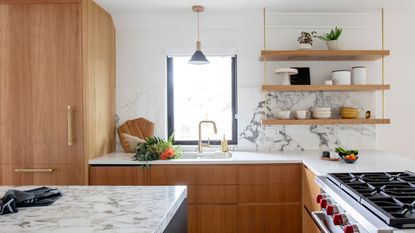 (Image credit: Janis Nicolay)
Reimagining any space is an exciting prospect, but a kitchen remodel might be one of the most rewarding.
It is not something we do every day, and there is endless modern kitchen inspiration to act as a driving force behind refreshing this space.
Though upper kitchen cabinets have an important role in keeping kitchenware, appliances, and more discreetly stowed away, many of us have been exploring kitchens without wall cabinets.
What should you consider before forgoing kitchen cabinets?
But will the benefits of more free wall space and a simpler kitchen display mean that going without upper kitchen cabinets is well and truly for you? In the spirit of making sensible kitchen design choices, we approached some industry experts.
We design with purpose, style, and longevity in mind, so before doing away with upper kitchen cabinets altogether, you must ask yourself some key questions to ensure that you will be happy with your design decision in the long term.
The global function of a kitchen remains the same, but when it comes to how exactly you use the space, this will be unique to every household. It is, therefore, important to be mindful of what type of kitchen storage suits you best. A good way to define this is to give thought to what is really working in your current setup, and what is not. This is what the experts recommend considering, highly, before you make your decision:
1. Will you have enough storage to suit your needs?
The question of sufficient storage is the first on the minds of our interiors experts.
Though this may seem like an undeniable jump-off point, there are aspects of thorough and efficient kitchen storage that are easy to overlook. Even minimal or invisible kitchens will need it in some shape or form.
'Will you have enough storage?' Says Ami McKay, creator of PURE Design, who suggests this as the first question you ask yourself before forgoing kitchen cabinets.
'The most important consideration here is if you can achieve your storage needs without the cabinets,' agrees Alexia Sheinman, the chief strategy and brand officer of Pembrooke & Ives, a New York-based interior design agency.
Look at whether you have enough storage as it is, where it is lacking, and how to improve your setup. If your existing upper kitchen cabinets are already overflowing, we would recommend getting on top of your items and organizing kitchen cabinets accordingly to gain a true understanding of whether your current storage is sufficient as it is, and open to modification.
Ami McKay founded PURE Design in 2000 on the belief that design is found in the art of giving. The work that she puts into each project reflects her personal life experiences and she believes they are at the heart of her business. Today, she is proud to be named one of Canada's Top Five Interior Designers.
Alexia's passion for design has been inspired by the varied cultures and environments in which she has lived, studied, and worked. She was born and raised in New York, but has worked and studied all around the world. Alexia has studied in Greece, worked in Italy, attended university in the United Kingdom where she received a BSc in Philosophy and Politics, and completed her Masters degree in New York, receiving an MFA in Interior Design from Parsons.
Alexia joined Pembrooke & Ives as an interior designer in 2013, and has been working on multiple exciting projects ever since – including the renovation of a country club in Long Island, a reading room of the Center for Jewish History, and a 10,000 sq ft office space on Madison Avenue.
2. Could your pantry work harder?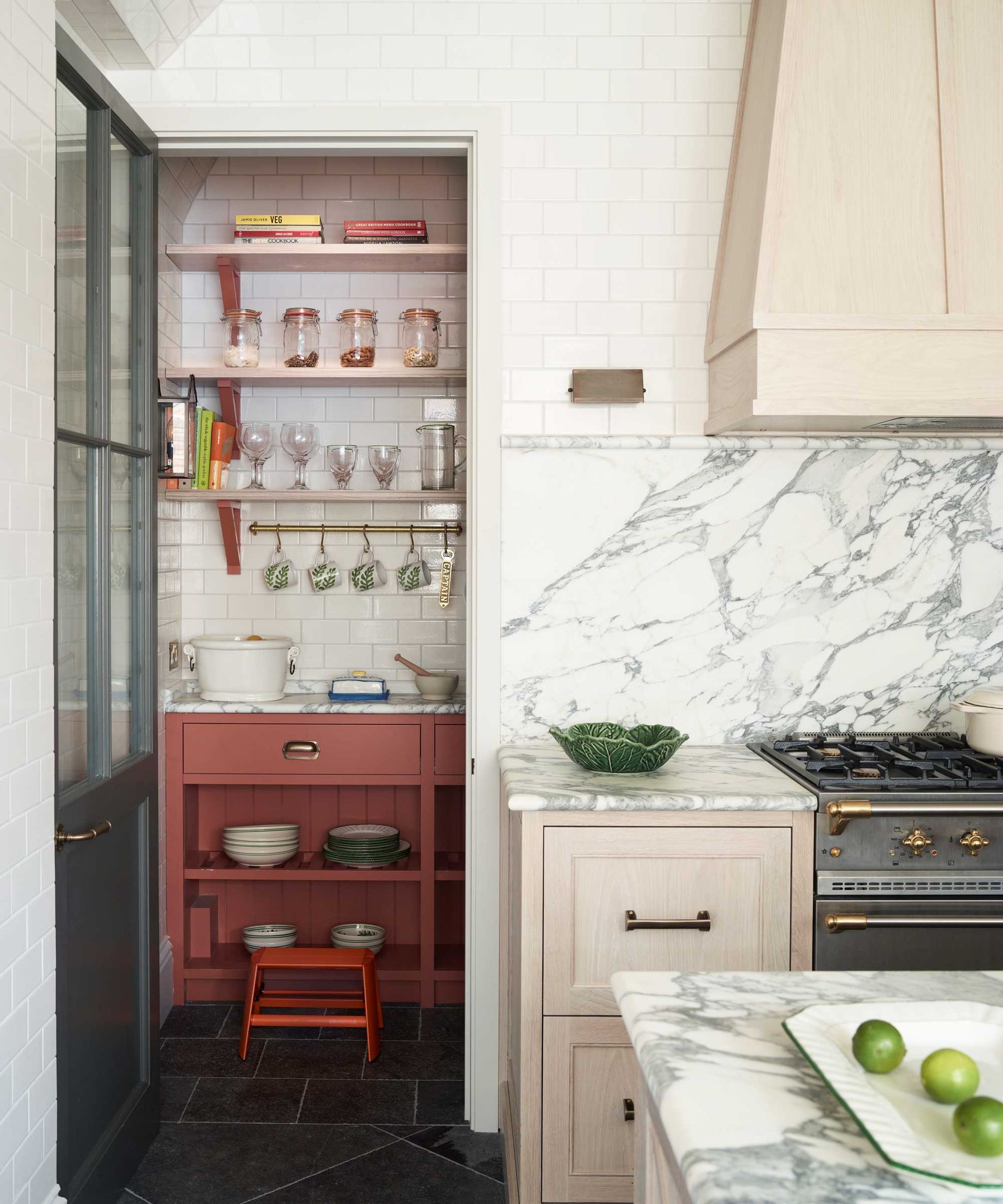 As you start finding alternative storage solutions, take note of the obvious areas that might accommodate the extra items you would need to stow away. An organized pantry will naturally leave more room for impromptu additions, but will it be able to comfortably accommodate all of the items currently residing in your upper wall cabinets?
'Mostly, will you have enough storage space to hide away everything you don't want on show?' Says Rebecca Nokes, design director, John Lewis of Hungerford.
To keep your space looking streamlined, you should aim to conceal as much as you can, limiting the possibility of clutter. Look to under-counter storage and pantries as a possibility.
'If there is enough under-counter storage or a pantry area you may be just fine,' says Sheinman.
Rebecca Nokes, Ddsign director at John Lewis of Hungerford graduated with a degree in Digital Print Design for Interiors from the Manchester School of Art, and then pursued a career in bespoke interior design.
She is now design director at John Lewis of Hungerford, which has recently celebrated its 50th Anniversary. Rebecca designs beautiful interiors throughout the home, as well as kitchens, for their clients, from London to Paris.
3. What will be the most suitable storage alternatives?
If you will not be storing kitchenware and the like in upper kitchen cabinets, where will these items go? More importantly, will these be realistic and within reach?
Including bespoke storage solutions when designing a kitchen will give you more opportunities to find suitable alternatives to upper kitchen cabinets. 'Pantries and islands can be designed bespoke so you can hideaway foodstuffs and small appliances,' says Nokes.
For best results, we recommend paying close attention to how your space will work most efficiently. 'It is important to plan out all your kitchen, cooking and dining needs and work backward from there,' adds Sheinman.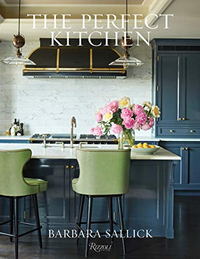 The Perfect Kitchen, Barbara Sallick | From $21.87 at Amazon
Learn more about the beautiful and inspirational kitchen design in this bestselling book by Barbara Sallick. Find practical advice as well as hundreds of images to inspire your own remodel
4. How else might you use the free wall space?
Not only will forgoing kitchen wall cabinets bring more serenity to your space, but it will also present design prospects that go beyond kitchen shelves. Consider art, beautiful accent tiling, or more subtle kitchen wall decor, depending on the mood you want to create. It is simply important to consider how you will use the space afterward, as it will give more reasoning to your decision.
'Freeing the upper wall space of a kitchen helps simplify or lighten the space. It also welcomes a bigger design impact of a full marble slab or tile feature wall,' says Allison Lind, principal designer and owner at Allison Lind Interiors. 'Adding a floating shelf (or a few) can provide functional storage or display surface if needed.'
Nokes adds how freeing up wall space leaves a ripe opportunity to add charisma to your kitchen. 'You can use this space to install open shelving, which is perfect for adding personality to your kitchen, and displaying everything from favorite cookbooks, and carefully chosen ceramics to rows of pot plants.'
Allison's career started in interiors journalism before her passion for designing beautiful spaces prompted Allison to set up her own firm. A keen eye for detail and creative outlook keeps Allison Lind's team high in demand.
5. Will you be able to maintain your new kitchen look?
'Will you be able to keep the open shelving tidy?' asks McKay. Knowing how to organize open shelving in a kitchen is one thing, but keeping it that way is often the hard part.
'Yes, it invites more dust than your closed-off cabinetry, but sometimes the extra cleaning requirements are far outweighed,' adds Lind about floating shelves.
Whether you have chosen new open shelving, or moved all of the items that were originally in your wall cupboards to your kitchen island or pantry, being realistic about whether you can sustain the look is key.
FAQ
Why is it a good idea to do without upper kitchen cabinets?
Upper kitchen cabinets might overwhelm a small kitchen layout, for example, but that is not to say that other kitchen spaces – big and small – will not benefit from this design. The big question is: 'Do you have ample storage without them? If so, I stay away with the uppers,' says Lind.
It all depends on what you are working with and the look you would like to achieve. A no-cabinet look lends itself to a minimalist kitchen but could also add appeal to a cozier, cottage-style space.
'Be creative and clever with your storage solutions, I have hidden cabinets for spices and oils that may only be 6 inches deep, but that works! I like to take advantage of usable nooks and corners with custom millwork where you wouldn't expect it for all of my kitchen items. I have everything hidden away!' Shares McKay.
The aim of any change should be to make the space more appealing and functional, so take your time to think of the best design solutions for your household.
---
If you are currently relying on your current kitchen cabinets to keep beautiful earthenware, there might be the opportunity to put it on display instead of behind closed doors.
If, however, you rely on your upper cabinets to store all manner of kitchenware, including lesser-used small appliances, you should find a new home for these items ahead of forgoing their current residency.
Ensuring that you can easily keep your kitchen space organized and free from clutter is essential to recreating the most impressive pictures of kitchens without upper wall cabinets in your own home.
Sign up to the Homes & Gardens newsletter
Decor Ideas. Project Inspiration. Expert Advice. Delivered to your inbox.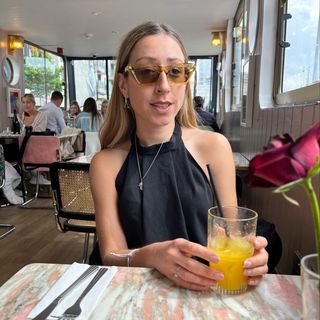 Camille is the former deputy editor of Real Homes where she covered a broad range of topics, including house tours, small space design, and gardens. She studied English language and Italian at the University of Manchester and during a year abroad studying linguistics and history of art in Bologna, Italy she started documenting her adventures and observations in a blog. Camille is always creating and spends her downtime painting, taking photos, traveling, and writing short stories.