Queen vs full mattresses: what's the difference?
Not every bed is created equal. Here we look at the difference between queen and full mattresses, with expert advice on the right size for you.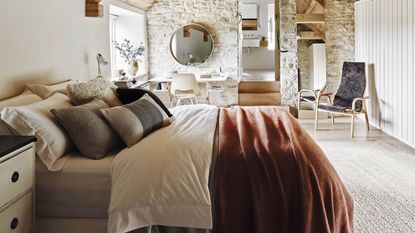 (Image credit: Future)
Sign up to the Homes & Gardens newsletter
Decor Ideas. Project Inspiration. Expert Advice. Delivered to your inbox.
Thank you for signing up to Homes & Gardens. You will receive a verification email shortly.
There was a problem. Please refresh the page and try again.
If you're new to mattress shopping, then you might be blown away by all the choices you never knew you needed to make. As well as deciding on the type and make up of your mattress, of course, one of the key factors to consider is size.
Size should be easy to consider. It should be that all you need to do is measure up your space. However, there's two common mattresses sizes where it's tricky to tell the difference. Queen and full (also known as double) beds are among the most popular mattress size options, but they look similar sizes.
The terminology can be confusing for newbies to the mattress-buying game. But it's worth getting your head around it, since those extra few inches either way will make a difference.
As you'll discover, the right option for you depends on numerous factors – like whether you sleep alone or with a partner, your tendency to toss and turn, if you suffer back pain, and the budget you're working with. Let us give you the lowdown on these two common mattress sizes and what to consider before you buy…
Queen v full mattresses at a glance
Swipe to scroll horizontally
| Header Cell - Column 0 | Queen | Full |
| --- | --- | --- |
| Dimensions (US) | 150cm X 200cm / 5' X 6'8 | 136cm X 190cm / 3'3" X 6'3 |
| Pros | More room to for two people and usually more option in terms of mattress type | Doesn't take up as much floor space, and is usually cheaper |
| Cons | Takes up more floor space and is often more expensive | Can feel cramped and not suited to those of a taller build |
| Best for | Older sleepers with joint or back pain issues, as well as couples, or individuals who tend to fidget | Those with smaller bedrooms, teens, singles or couples who prefer it cosier |
What is the difference between a queen and a full-sized mattress?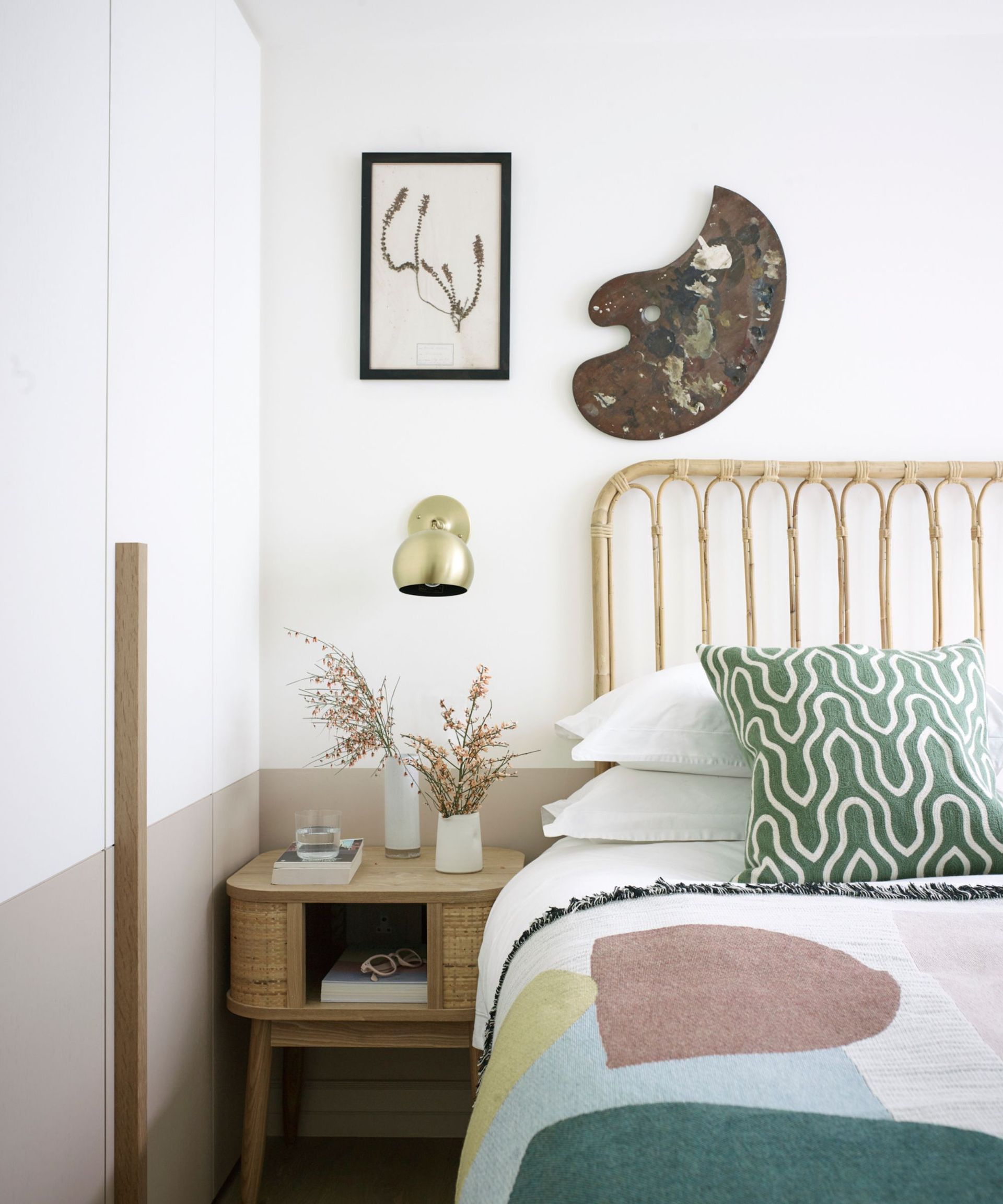 The answer to this actually depends on where in the world you are browsing mattresses from. Confusingly, in the US a 'queen' is bigger than a 'full', while in the UK the reverse is true.
'In the US, a "queen" is larger (typically measuring 150cm X 200cm / 5' X 6'6) while a "full-sized" – also called a double – is smaller (10cm X 190cm / 3'3" X 6'3),' explains Theresa Schnorbach, sleep scientist from sleep company Emma. 'By contrast, a UK "queen size" is a small double (120cm X 190cm / 4'0 X 6'3), with a "full" mattress coming in slightly larger (135cm X 190cm / 4'6 X 6'3).'
Theresa Schnorbach is a psychologist and sleep scientist specializing in Clinical Psychology and Cognitive Neuropsychology. She has completed post-graduate training in Cognitive Behavioural Therapy for Insomnia (CBT-I) with the German Sleep Society (Deutsche Gesellschaft für Schlafforschung und Schlafmedizin (DGSM)), endorsed by the European Research Society.
Is a queen or a full sized mattress best?
Deciding on which size is best for you depends on lots of factors – your sleeping position, your size, who you share a bed with (if anyone), cost, and the size of your bedroom to name just a few.
As Theresa explains, 'Choosing a mattress all depends on how you sleep, who you sleep with, and how old you are. Those who are older, suffer from joint or back pain, or who are fidgety, may require a larger mattress size – like a US "queen" – to get a better night's sleep. This will also provide ample room for couples to not feel cramped, and is likewise great for individuals who prefer extra space to spread out while sleeping, such as those who toss and turn or like to stretch.'
However, there are others who might do better choosing a full-sized mattress. 'It is a great option for those with smaller bedrooms,' notes Thomas Høegh Reisenhus, sleep specialist and sleep counselor for Tempur. 'While it may be a cozier fit for two, it offers plenty of space for one person to stretch out.' Additionally, a double is an ideal option for teenagers or young adults who may not require as much space as a couple but want more room than a twin-sized mattress.
With an extensive knowledge of sleep, from sleep conditions to the ideal microclimate to ensure quality and quantity of sleep, Thomas has worked with a number of leading universities, hospitals, experts and elite athletes.
In 2018, Thomas qualified as a sleep counsellor, thereby acquiring an even deeper knowledge of how sleep hygiene, diet, exercise and general lifestyle impacts sleep, as well as how to help and guide people who experience specific sleep issues.
Buy a full sized mattress if...
You're a solo sleeper who only shares a bed on occasion
You have teenagers or young adults (they are good size beds for a dorm)
If you are of a smaller build
In your bedroom dimensions aren't huge
If you are budget conscious (and don't mind a smaller set up)
Buy a queen size mattress if...
You're in a couple
If you like to spread out in your sleep
If you need more options with mattress types
If you're plus size
If you suffer from back or joint pain
What are the price differences between queen and full mattresses?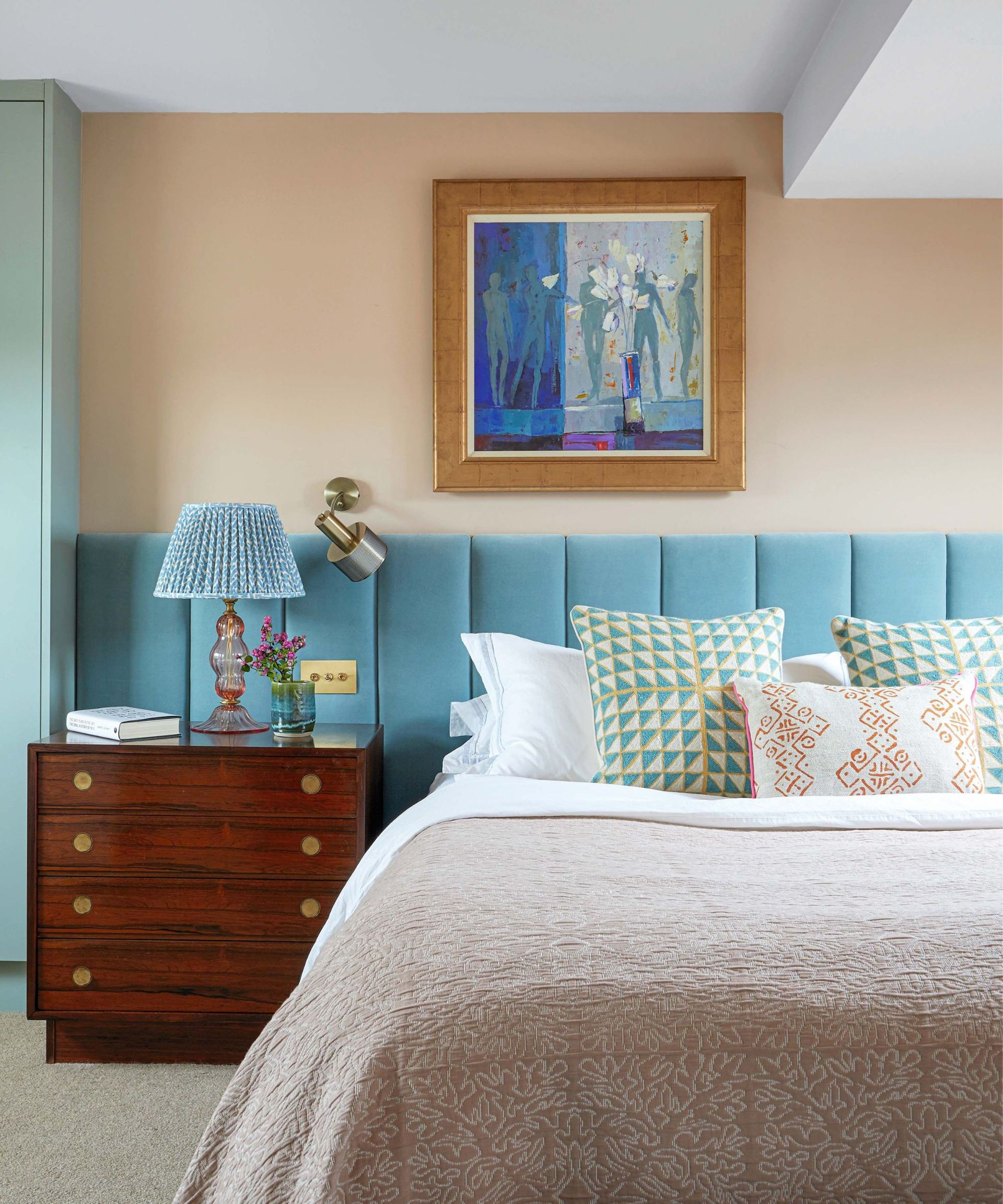 If you've got more wiggle room with spending, then a queen is likely to be your best bet, while a full-sized mattress is likely to be more suitable for those on a budget. 'Generally, mattresses with larger dimensions will require more materials and therefore have a greater cost,' explains Theresa Schnorbach. 'However, it's important to note that specific prices can vary depending on the brand, mattress type, materials used, and any additional features offered.'
Unsure whether to make the investment? 'It's important to invest in the best mattress you can afford, as, far from being a luxury, they really do play such a huge part in fostering wellbeing in all areas of life,' says Thomas Høegh Reisenhus. He believes that if you're sitting on the fence it's best to go up a size. 'Where possible, choose the largest mattress and bed frame you can afford to allow plenty of space to move around and find the sleep position that's most comfortable for you. That's even more important if you often find yourself sharing your bed with kids or pets.'
However, there are no hard and fast rules. It's important to think about your own personal needs when it comes to a comfy sleep environment. Schnorbach notes that 'most brands will offer mattresses in a wide selection of sizes, so it's best to consider what you might need in terms of support, bedroom space, and the requirements of your bed frame.' But make sure you lean into your own personal needs. Thomas adds: 'Finding the perfect mattress is influenced by your shape, weight, personal preference, health conditions, and favorite sleeping position, and so, ultimately, every choice is unique to you, including the size.'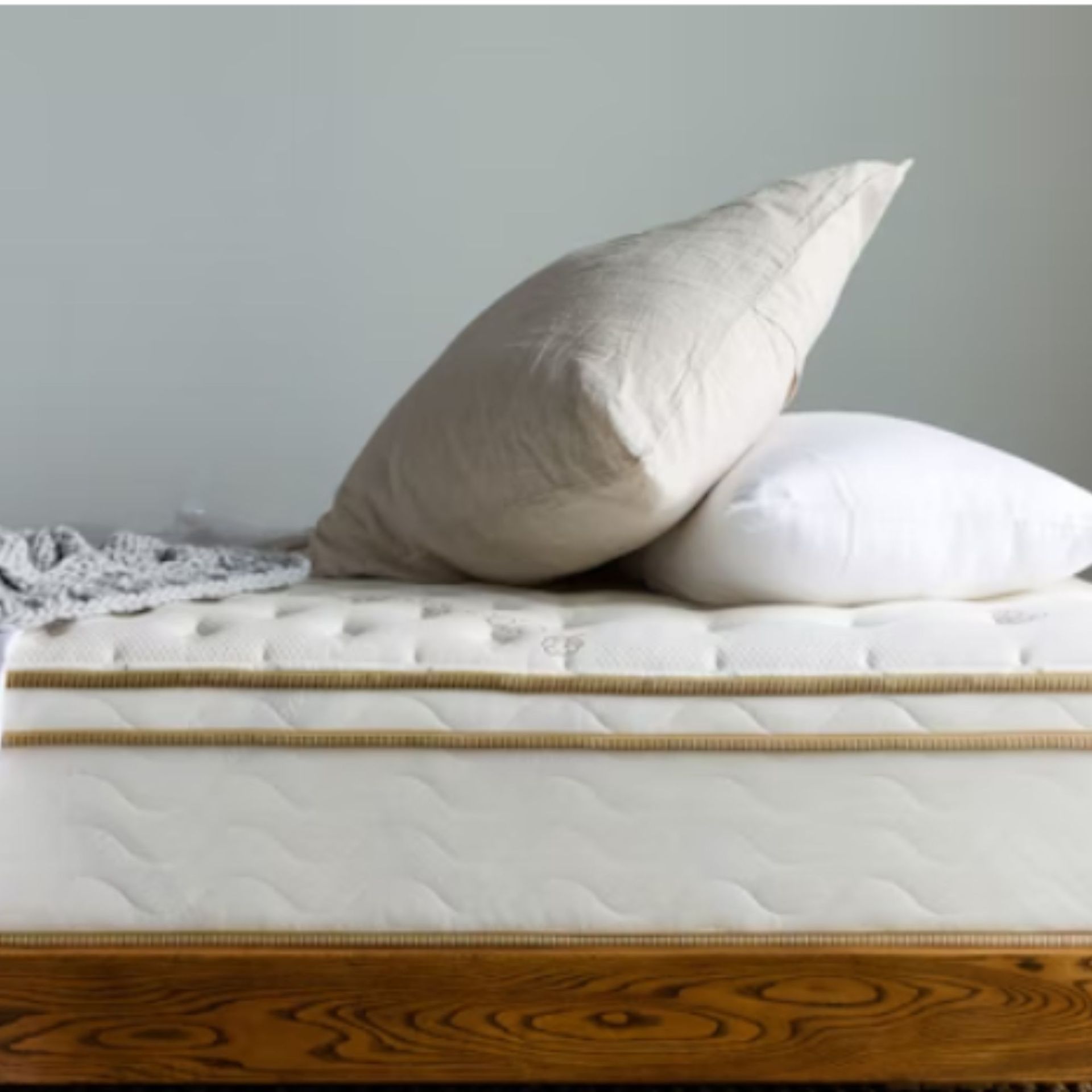 Best overall mattress
Available in both queen and full (double), the Saatva Classic is a luxurious, well-made mattress with a strong track record when it comes to lush comfort and pressure relieving support, that's also an incredible value. Dubbed an innerspring hybrid, the Saatva Classic combines the supportive structure and breathable qualities of individually wrapped coils with the comfort and contouring of high-density foam across five layers.
Read the full Saatva Classic Mattress review to find out more.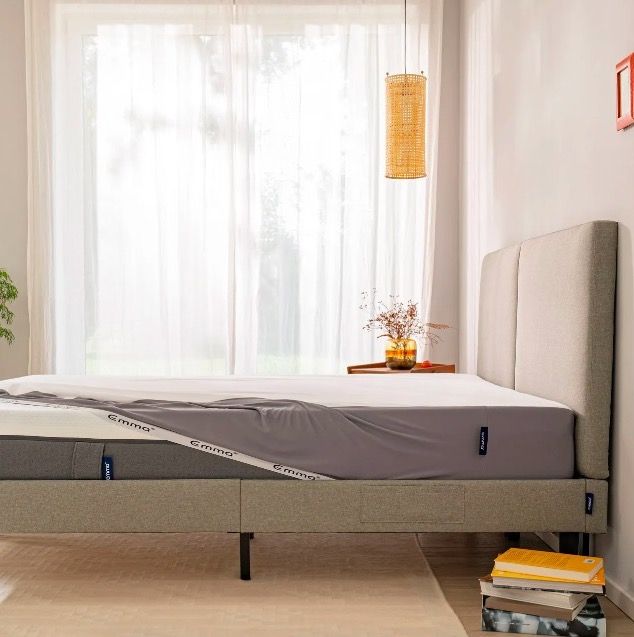 Best memory foam mattress
Again, you can pick up the Emma Original Mattress in both queen and full, and is the best memory foam mattress (in our reviewer's opinion). This mattress 'instantly impressed' our tester Chiana Dickson, who found that even just sitting on this box bed was comfortable. A medium-firm bed, it gently cushions you without the sinking feeling of some memory foam mattresses. It's springy and responsive, bouncing back to form, and always feels stable and secure.
We have a full Emma Original Mattress review for more details.
Best affordable mattress
Nectar Memory Foam Mattress
Far from basic, the Nectar mattress is soft and supportive, and if you suffer from back pain, it won't cost much to help relieve the pain. In our best mattress guide, it's ranked as the best mattress for back pain (which is impressive given its affordable price). Our reviewer Casey found it alleviated some of the pain from her fibromyalgia.
Our Nectar Memory foam mattress review goes into more detail.
Mattress size FAQs
What's the biggest mattress size?
The biggest commercially available mattress is an Alaskan King. These huge beds measure 108"x108", or 9ft by 9ft. You can fit a whole family and pets in one of those, but prices tend to start at upwards of $3000.
How thick should my mattress be?
This varies hugely by material and construction, and thickness is no guarantee of comfort. However, your mattress should be at least 8" thick to be supportive.
---
While there's little difference between the two beds, those few inches can add up to a lot when you're working in a tight space. When measuring up for a mattress, make sure to leave a couple inches either side for the side of the bed frame, and if space is really tight, opting for a full over a queen could be a lifesaver.
Sign up to the Homes & Gardens newsletter
Decor Ideas. Project Inspiration. Expert Advice. Delivered to your inbox.
Lauren Clark is a freelance writer and editor with more than eight years of digital and print journalism experience. She covers all aspects of lifestyle, specialising in health and wellness topics, and her work has previously been published in titles such as Women's Health, The Times, Daily Telegraph, Stylist, Woman & Home, Grazia and Dazed.