8 easy ways designers make a shower look more expensive
The shower is the new tub, and focusing on this section of your bathroom will elevate the whole space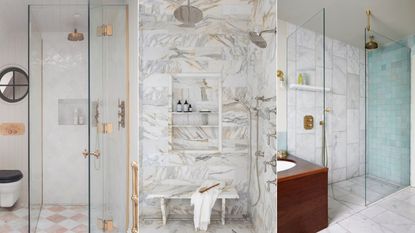 (Image credit: Future/Julie Soefer)
Apart from perhaps kitchens, bathrooms are the most expensive room in your home to renovate. So ripping out your bathroom and starting again every time trends change is an unrealistic endeavor for most. However, there are plenty of ways to update your current space and make it look like you've had a mini remodel.
The shower is a pretty important part of your bathroom, and while it was once second to the tub, bathroom trends right now are all very focused on the shower. A luxurious shower is like the new walk-in closet.
We asked designers for some simple ways you can update your shower to make it look more expensive. Focusing your efforts, and your budget, on this section of the room will have a big impact on the look and feel of the overall space, so whether you want to give just your shower area a remodel, or looking for small but effective ways to make your current set up feel new, here are some designer approved tricks.
8 tips for making a shower look more expensive
These tips range from literally 10-minute jobs to straightforward switches you can make to hardware or tiles in order to make your shower look more expensive. None will cost you anywhere near the amount of a total bathroom remodel, and one of these designer tricks is even free.
'Elevating the appearance of your shower can achieve a high-end look without requiring a luxury budget. For starters, consider installing frameless glass shower doors, as they exude an elegant, sleek, and modern appeal.' explains designer Kati Curtis.
'Replacing a basic showerhead with a rain showerhead can add a touch of luxury. Use colorful or iridescent tiles to create a more bespoke look. If you have the wall space, consider Integrating recessed niches to provide storage while maintaining a streamlined look. Lastly, the choice of hardware, such as handles and showerheads, in premium finishes like brushed nickel or matte black can enhance the perceived value of your shower.'
1. Upgrade the fixtures
Updating your shower fixtures is definitely the smallest thing you can do with the biggest impact. You've probably gotten very used to your fixtures, you probably don't even notice them anymore, but updating them to something fresher and more luxe with have an instant elevating effect.
'For a stunning shower, I truly believe you should invest in fixtures that are both well-made and beautiful. Plumbing fixtures are often used daily and it's important that they stand the test of time,' suggests designer Marie Flanigan.
'Invest in plumbing fixtures first and then prioritize your shower surround selections. Another very luxurious finish is including an infinity drain, which eliminates the need for a center drain and is more aesthetically appealing.' she adds.
'Swap out old, dated fixtures with more modern and stylish alternatives. This can include replacing the showerhead, faucets, and handles with sleek, contemporary options. Polished nickel or brass finishes can add a touch of luxury,' agrees Victoria Holly.
2. Clean and regrout
Easy peasy. If you aren't looking to invest in anything new, you can make your shower look more expensive by giving in a freshen-up. Cleaning a shower is an hour-long job that can make all the difference and result in the space looking more expensive.
'My number one tip for making your shower look and feel its most luxurious isn't exactly a fun one: Keep it clean! It may seem obvious, but a sparkling clean shower instantly looks chic and upscale. Beyond that, invest in small luxuries like hanging eucalyptus under the shower head and splurging on a fancy bath mat, shower curtain, and soap,' says Kathy Kuo.
If you have the DIY skills go a step further and clean and regrout your shower tiles. Victoria Holly says, 'Elevate your shower by having your current tiles cleaned and regrouted. Crisp, clean grout lines can instantly refresh the look of your shower and make it appear well-maintained.'
Designer Tala Fustok also adds the point that scent can have an effect on how your shower feels. So after you've cleaned, light a candle or add a diffuser. 'Think about your senses – a luxurious aroma such as bergamot, tuberose or jasmine will instantly elevate your shower space to five-star heights.' she says.
3. Go luxe with the materials
If you are having a redesign of your shower and looking for ways to make it look elegant and expensive, the main focus should be on materials. The finishes you choose for your tiles, the enclosure, and the fixtures are what make up your design and will have the biggest impact.
'When designing a new shower, investing in high-quality materials is the key to achieving an expensive look. Consider using natural stone tiles like marble or travertine for the walls and floors, as opposed to less heavy materials like porcelain or ceramic,' explains Victoria Holly.
'These materials not only exude luxury but also age beautifully, adding a timeless elegance to your shower. Also, look for higher-quality metallic finishes for your plumbing fixtures such as polished brass or polished nickel. Opt away from less-custom-looking finishes such as polished chrome or brushed nickel.'
4. Incorporate niches for storage
This is the chicest, most expensive-looking way to do shower storage. Ditch all the storage accessories that add visual clutter and build in a shower niche so everything stays out of sight. Going for built-in options in your shower design gives that luxury hotel-like feel.
'Incorporate built-in niches that span the whole wall of the shower or make a statement. And a built-in shower bench or seating area utilizing the same marble as your countertops. These thoughtful additions not only enhance functionality but also add an upscale feel to your shower, giving it a spa-like ambiance,' explains Victoria Holly.
5. Reduce the clutter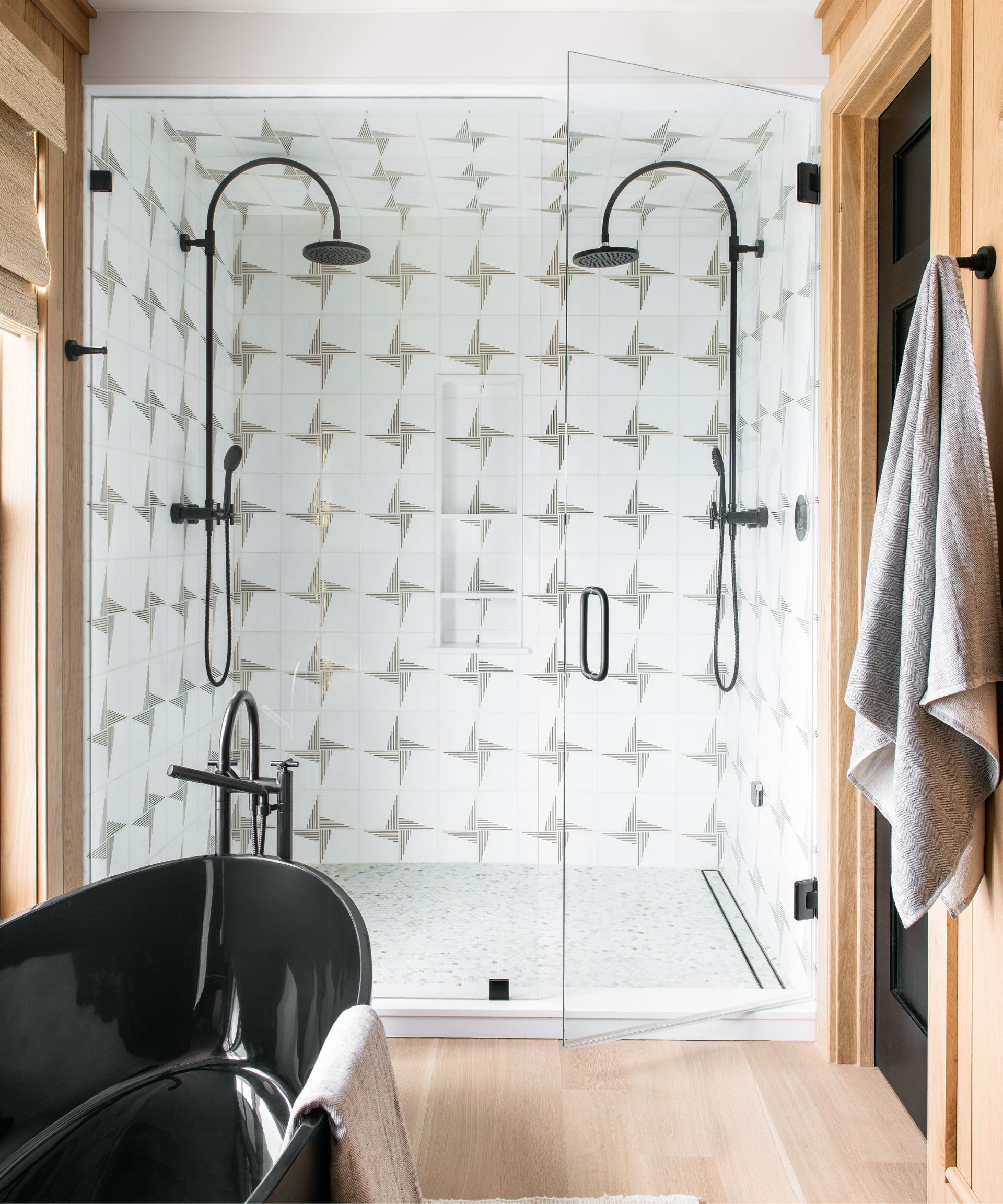 Speaking of clutter, get it out of the shower. If you want your shower to look more expensive in just a few minutes, take out all the toiletries. Have a cull and check what you really need to be keeping in there, these should only be the things you use every time you shower. Everything else can be kept elsewhere in bathroom storage.
'Reducing clutter is an instant way to add elegance to any space, including a shower,' says Tala Fustok. 'Removing unnecessary products or incorporating a subtle storage system that blends with the decor will bring a desired chicness. As for the bottles you need daily access to, consider pouring the product into unbranded monochromatic containers in keeping with your bathroom scheme, to avoid product hue and branding chaos.'
6. Ensure your lighting is soft and ambient
Shower lighting may not sound like the most exciting part of your design, but it can make all the difference to how chic and expensive it looks. Like in any room, you want your lighting to be layered but practical. So consider your shower lighting as part of the whole bathroom lighting scheme.
The go-to option for a shower is recessed LEDs. They will highlight the space and are subtle and sleek. Just go with a warmer tone light so the space is soft and inviting. Warm lights always look more elegant than cooler ones.
'Consider installing ambient and accent lighting within your shower space. A light-up niche with an LED strip is a great way to do this, as well as incorporating beautiful sconces on either side of your mirror, or dramatic pendant lights that come from the ceiling,' suggests Victoria Holly.
7. Go frameless
Taking a minimalist approach will always result in a sophisticated, elegant setup. So instead of adding the fuss of a shower enclosure, create more of a shower room effect and choose a shower designer that has a frameless door.
'To make a shower area look more expensive, opt for a high-quality, frameless shower door that can totally transform the look of your shower. Frameless glass creates a seamless and open look, making your shower appear more spacious and modern. It also allows your beautiful tile work to shine through, enhancing the overall aesthetic,' says Victoria Holly.
8. Or embrace the trend for shower drapes
A lot of bathroom trends right now are about creating bathrooms that feel like softer, cozier spaces, bringing in lamps, drapes, and rugs. Soft furnishings in a bathroom add a quiet luxury feel, and while you do have to be practical about where you add these accessories, it's a simple look to recreate.
Now, shower curtains may not sound like the most elegant of additions, but they have had a glow-up and you can now find shower curtains that are designed to look like drapes. Zero PVC in sight.
'My top tip for making a standard shower look more expensive is to skip the standard shower curtain or glass door and instead opt for floor-to-ceiling double draperies (with waterproof liners inside, of course) and hardware to match your bathroom finishes. Not only will your shower look stunningly chic, but you'll also feel like a movie star every time you throw open the curtains and step out of the shower, with your hair wrapped in a towel turban,' recommends Bethany Adams.
FAQs
How can you make a shower look more luxurious?
'Large format tiles on walls and floors are a great way to make a shower enclosure or wet area look more luxurious especially if they're terrazzo or marble tiles. A built-in recessed shower shelf to display toiletries will also add a more high-end elegance and appeal,' explains Tom Rutt.
'Your choice of metal finish can also have an impact on the feel of shower space. Brass finishes for example always feel more luxurious. An oversized rainforest showerhead will also enhance the look and usage of your shower.'
What colors make a shower look more expensive?
Really any colors can be made to look expensive, it's more about the materials you choose. Neutral shades will always look chic, especially if you bring them in in the form of natural materials like stone and marble. For a more statement look, go dark, nothing looks more elegant than a dark bathroom.
Sign up to the Homes & Gardens newsletter
Decor Ideas. Project Inspiration. Expert Advice. Delivered to your inbox.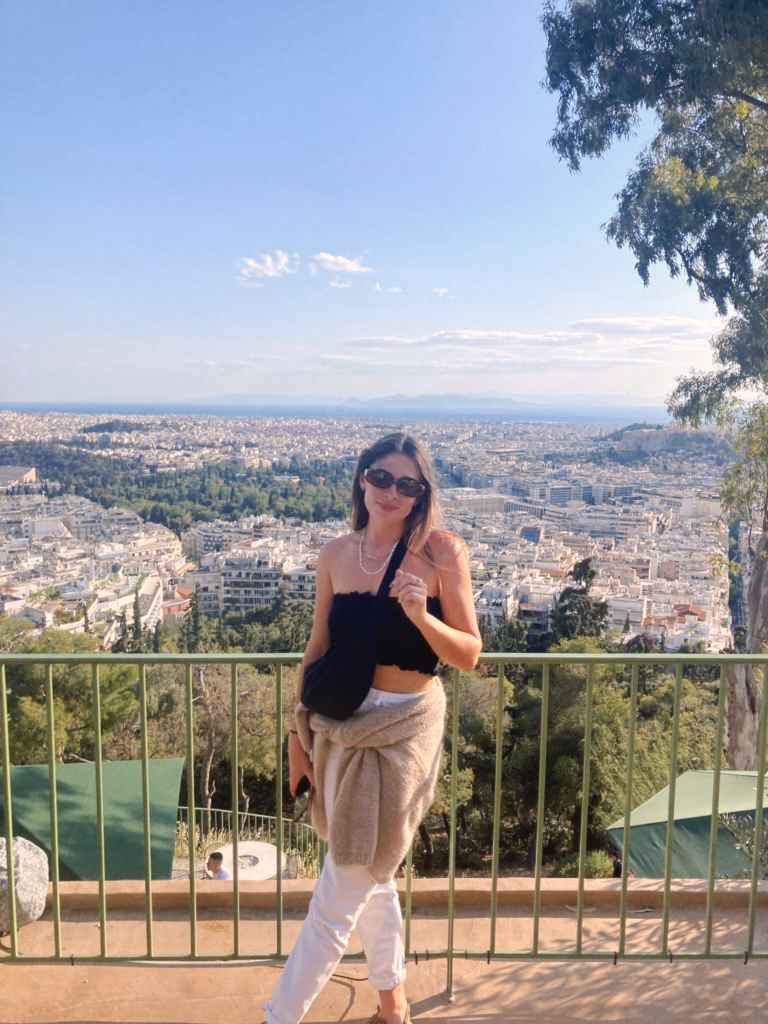 I am the Head of Interiors at Homes & Gardens. I started off in the world of journalism in fashion and luxury travel and then landed my first interiors role at Real Homes and have been in the world of interior design ever since. Prior to my role at H&G I was the digital editor at Livingetc, from which I took a sabbatical to travel in my self-converted van (not as glamorous as decorating a home, but very satisfying). A year later, and with lots of technical DIY lessons learnt I am back to writing and editing, sometimes even from the comfort of my home on wheels.