Balcony shade ideas – 15 ways to shelter your space from the sun
From simple umbrellas to innovative shading solutions, there are plenty of effective ways to keep your balcony cool on a hot day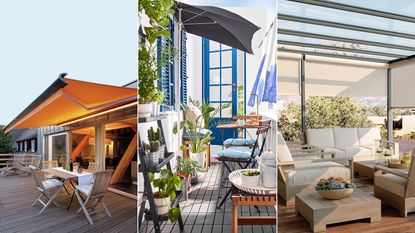 (Image credit: Warema; Ikea; Graber Blinds)
Sign up to the Homes & Gardens newsletter
Decor Ideas. Project Inspiration. Expert Advice. Delivered to your inbox.
Thank you for signing up to Homes & Gardens. You will receive a verification email shortly.
There was a problem. Please refresh the page and try again.
While many of us long for glorious sun-filled days spent on the balcony, too much solar exposure can be bad for us, our pets and plants. To ensure we can enjoy our time outside safely it's well worth being prepared and having an effective balcony shade solution on hand.
From nifty solutions using plants and trees to bespoke products and professional installations, there are plenty of ways you can shield your space from the sun, no matter how big or small your balcony garden.
'A sun shade on your balcony serves two purposes: protecting your space from the glare of the sun and giving you some privacy from prying eyes,' says Aaron Green, Founder of Essential Home and Garden. Which idea you go for depends very much on your style, your budget and your balcony's configuration.
Stay sun safe with these balcony shade ideas
Get your shading solutions right and your choice of design can work just as well at providing protection from the sun as it can for giving you some extra balcony privacy.
1. Install exterior solar shades on your balcony
If your balcony has a ceiling and sun is an issue from the front or side, then solar shades could be the solution. 'The patio is an extension of the home and should embrace the same design principles as the indoors. For more structured spaces, consider solar shades, which are rated for exterior installation,' says John Weinstock, Executive Vice President of Marketing for Graber Blinds.
'These weather-resistant and energy-efficient shades block UV rays, providing a barrier from the heat and add additional privacy. The shades can be retracted when not in use and support a sleek and modern aesthetic.'
2. Keep it simple with a balcony sail shade
Graceful and elegant, sail shades epitomize the chic style of coastal life and work just as well on balconies as they do when used as a more general backyard shade idea. Installed and tensioned correctly these shapely panels of canvas are hugely effective at keeping sun and showers at bay.
Choose from bespoke or off-the-peg designs that typically come in triangular, square and rectangular formats. Depending on the shape and size of your balcony, secure them directly to the wall, pole or railings.
Product quality and price points vary wildly, so it's worth checking a few details before going ahead and buying. Manufacturers fabric samples will help you gauge the weight, opacity and general look of the finished sail, while thread quality and stitching techniques will inform about likely lifespan. Look for high quality PTFE (100% polytetrafluorethylene) thread which is heat and UV resistant and check that seams are double, or triple sewn.
3.
Made from PU coated polyester fabric, this simple shade sail is fully waterproof and can also be machine washed if necessary. It comes in a choice of five different sizes and four different colors (blue, orange, white and the gray pictured). It is supplied with the fixing rope you'll need to attach it to your balcony.
4.
This large triangular design is a practical choice for a covering a spacious balcony. Offering excellent UV protection, it comes with a five-year warranty. Rain can pass through the fabric to prevent it pooling on top, so do bear in mind it's not waterproof. Comes in a wide range of alternative sizes and a choice of 13 colors.
5.
Workpoint Rectangle Sail Shade
Measuring 26x20ft, this rectangle sail shade is big enough to cover a sizeable dining area on your balcony. It's made from a breathable fabric to ensure the space stays well ventilated on hot days. Water can also run through it to prevent it gathering on top. It doesn't come with any hardware or ropes, so you will need to purchase these separately.
6. Try some balcony curtains
Fancy a shade solution that you can alter in an instant? Then outdoor curtains are well worth a try. 'Outdoor curtains can be hung on a balcony to provide shade and privacy,' explains Robert Silver, Editor in Chief of Progardeningblog.
'Made of outdoor-rated fabric that can withstand exposure to the elements, they can be easily opened and closed to control the amount of sunlight that enters the space. Whether hung from a rod or suspended from hooks, these sun shades come in a variety of styles and colors to match the aesthetic of the balcony.'
Other installation methods include using heavy-gauge exterior steel wire rope across the space to hang or thread curtains on to.
When it comes to choosing fabric for your balcony drapes, there's an endless choice. Depending on how frequently you wish to use them and how effective you want them to be at blocking out UV rays, outdoor curtains come in four key types of fabric: acrylic, PVC, polyester and cotton. As they may well be exposed to rain as well as sun, it's best to choose washable and quick drying materials. Overall weight may also be an issue, so do bear this in mind when making your choice.
7. Use plants to provide shade
'Hanging balcony plants or potted plants can provide natural shade on a balcony. Vines, for example, can be trained to grow up a trellis or along a railing, providing shade and adding greenery to the space,' says Robert Silver.
With so many beautiful hanging planters to choose from, why not create a living foliage curtain to cast shade on your balcony? The plants that will thrive happily depend on your US hardiness zone and the aspect of your plot. Do bear in mind though that many balconies are their very own mini microclimates so take a close note of how and when the sun hits and whether the area is exposed to sudden, cold winds.
In cooler climates, plants such as fuchsia, mimulus, English ivy, dwarf bougainvillea and Madagascar jasmine all thrive in sunny spots and will cast ample shade for some or all of the year.
For warmer or very sheltered locations take a look at popular trailing indoor plants such as spider plants, wax plants (Hoya Carnosa), tradescantia, Devil's Ivy and Donkey's tail.
8. Install a balcony awning
'An awning opens up your lifestyle possibilities and is so beneficial it's like having an extra room in your home, extending your living space into the outdoors,' says Lisa Cooper, Head of Product at Thomas Sanderson. 'They can be used all year round, providing shade from the sun's rays in warmer months but also in the winter to shelter from wind and rain, not only for you but for your furniture and soft furnishings. And it's not just you that an awning protects – the shade of your awning will also keep the adjoining interior room cool, help reduce glare inside and help prevent sun damage to your furnishings.'
Tempted to explore awnings further? Then you will need to consider not only looks and size but the operating system too. Whether it's a front porch awning or one for your balcony, most high-quality awnings are fully motorized, so they can open and close at the touch of a button via a hand held remote as standard.
Some more simplistic products use manual retractable systems that rely on articulated spring-loaded arms. Cassette designs offer rigidity and style, ideal for a balcony, thanks to the cunning combination of frame and articulated side arms.
9. Upgrade to a smart awning
Looking go up a level with your balcony awning? Thanks to advancing technology these sun shades can offer plenty more than protection from sun and showers. The latest life enhancing options include:
Sun sensors Intelligent sun sensors automatically open up the awning when the sun appears.
Wind sensors Wired or wireless, these clever pieces of kit detect vibration as a sign of changing weather conditions and automatically close up the shade to protect it from possible damage.
Integrated lighting Ranging from LED strips, spotlights and colored lighting, these outdoor lighting options can be programmed to dim, fade and cycle through ambient color.
Heating Compact and discreet heating elements can be fitted into the mounting bar. Using infrared shortwave technology they heat efficiently and economically.
Sound With Bluetooth tech and built-in speakers you can stream and enjoy favorite tracks while relaxing and entertaining.
Programmable timer Set the awning to open and close at key times of the day and night.
Voice-activated controls Some products can be linked to a smart hub and operated by voice command.
10. Find the perfect balcony umbrella
While there are many patio umbrella options available for a backyard, some are more suited to compact balcony spaces than others. 'A parasol is a great option for smaller balconies,' says Aaron Green. 'These can be wall mounted or attached to a heavy base on your balcony. You can put a small outdoor table under a patio umbrella to have a small, cozy space on your balcony to read or have coffee.'
Choosing the most suitable style of sun shade for your space is all important, as it can help or hinder how often you use your balcony. 'Cantilever umbrellas eliminate the pole in the center of balcony seating areas, but tend to be less durable with high wind,' explains Ashley Newton, Lead Design Consultant at ShadeScapes Americas. 'However, they can also offer features like tilting and rotating, which can make them more advantageous throughout the day. Market/center pole umbrellas have inherent durability and are also available with mobile bases, but may not always be the most optimal for space planning. Budget is also a factor as there is a wide range of prices and associated quality on the market.'
Half parasols are another handy product to try. Designed to sit flush to the wall, they are particularly useful in very tight spaces. Supported by a single upright in a stand, they can prove economical and are easy to erect when needed.
11.
Castlecreek Half Round Patio Umbrella
This space-saving half patio umbrella design is designed to fit flush to a wall, making it suitable for use on a small balcony. Choose from three colors (red, green or the khaki pictured). It has a lightweight yet durable aluminum pole, and the base is sold separately.
12.
Shade Round Outdoor Umbrella with Base
Where space isn't too much of an issue, you can opt for a standard patio umbrella. Tilting designs are always a smarter option as you can easily alter the height and direction the umbrella is facing throughout the day to offer maximum sun protection. If offers UPF 50+ protection.
13.
Business & Pleasure Soleil Beach Umbrella
If you're looking for something that will earn you some serious style points, this pretty design is worth a look. More suitable as a temporary solution for hot, sunny days, it's made from water-resistant canvas and nylon canopy with cotton fringing and a reclaimed timber pole. Comes with a matching carry bag for easy storage, or so you can take it to the beach too.
14. Pot up leafy trees and shrubs for natural shade
No matter how big or small your balcony, a few leafy shrubs or trees in pots can reap huge benefits. Creating visual interest, they can also help to soften ambient noise, attract birds and pollinators and create valuable shade.
'When done right, trees can grow exceptionally well in extra-large planters on a balcony,' says Bert Stouffer, CEO, PolyStone Planters. 'In fact, planting trees in containers has become popular for areas and homes that want to add greenery but have limited outside space. A little porch or balcony can easily be the home of your tree, just make sure that you choose a large and suitable planter for it.'
Tempted to give it a go? Consider the following for your container gardening ideas:
Tree shape Lollipop standards will add formality but limited shade. Multi-stemmed trees add a natural, woodland feel. Weeping trees will create elegant, dappled shade over a large area.
Decorative features Varieties with interesting bark and stems will add instant character. Look for glossy, peeling bark; patterned and textured trunks and smooth, strokeable stems.
Fruit trees Grown on dwarfing rootstock, many fruit trees are happy in pots and will produce delicious fruit for years.
Flowering beauties Many ornamental trees or flowering shrubs are suited to planter boxes, particularly if they demand acidic or lime conditions.
15. Add a structure overhead
If you have a large balcony, it could be worth investing in a permanent structure, similar to a patio cover. A pergola-style design with a slatted roof can be both traditional or contemporary in design, depending on the materials you opt for.
Timber pergola ideas will suit a more classic look, and you can soften the effect of the wood by growing climbing plants up and over the structure. We also love the romantic vibe of the design pictured, with its simple sheer white curtains that can be pulled across to provide extra shade and privacy.
A more modern aluminum design is a better choice for a sleek space – go for a fully-automated model where the roof can be tilted or open and closed completely for the ultimate in ease of use.
Do bear in mind that any structure will need to be securely anchored to your balcony, plus your balcony needs to be able to support the additional weight of the new structure too. For those reasons, make sure you seek professional advice before adding one to your space.
What's the quickest way to shade a balcony?
Perhaps the simplest way to shade a balcony is to suspend, drape or fix up fabric panels. Think laterally – a flat bedsheet, throw or tablecloth will all work well as a cover overhead and are often decorative too, adding to the look. Alternatively try cut lengths of store-bought fabric or table runners laid in parallel strips to cover a wider area.
Depending on the size and location of the balcony, fixing methods may vary. Curtain clips, clothes pegs, safety pins and wire split rings are all handy and effective. Add them at evenly spaced points around the edge of the fabric panel, thread with twine or flexible rope and secure to conveniently placed features around the area or a number of discreetly installed steel hooks.
How do I reduce the heat on my balcony?
'A balcony can help you enjoy a seamless transition between your home and the outside world so when working with a small outdoor space, it's important to not overcrowd the area to ensure the flow from inside your home is uninterrupted,' says Lisa Cooper, Head of Product at Thomas Sanderson.
'Covering your balcony with shade can provide shelter from the sun, protecting any outdoor furniture from sun damage and helping to keep your balcony cool. Natural elements like water features and plants can also help reduce heat as they have cooling properties, can filter the surrounding air and can soothe our spaces.'
---
As much as you might love the idea of relaxing out in the sunshine at the height of summer, sometimes that heat can get a little too much. Adding an element of shade to your balcony will keep you cool as well as protecting you from the most harmful of the sun's rays.
Whether you go for a quick fix or a more longterm built-in solution, you'll soon appreciate have a cooler, more shaded outdoor spot to relax in.
Sign up to the Homes & Gardens newsletter
Decor Ideas. Project Inspiration. Expert Advice. Delivered to your inbox.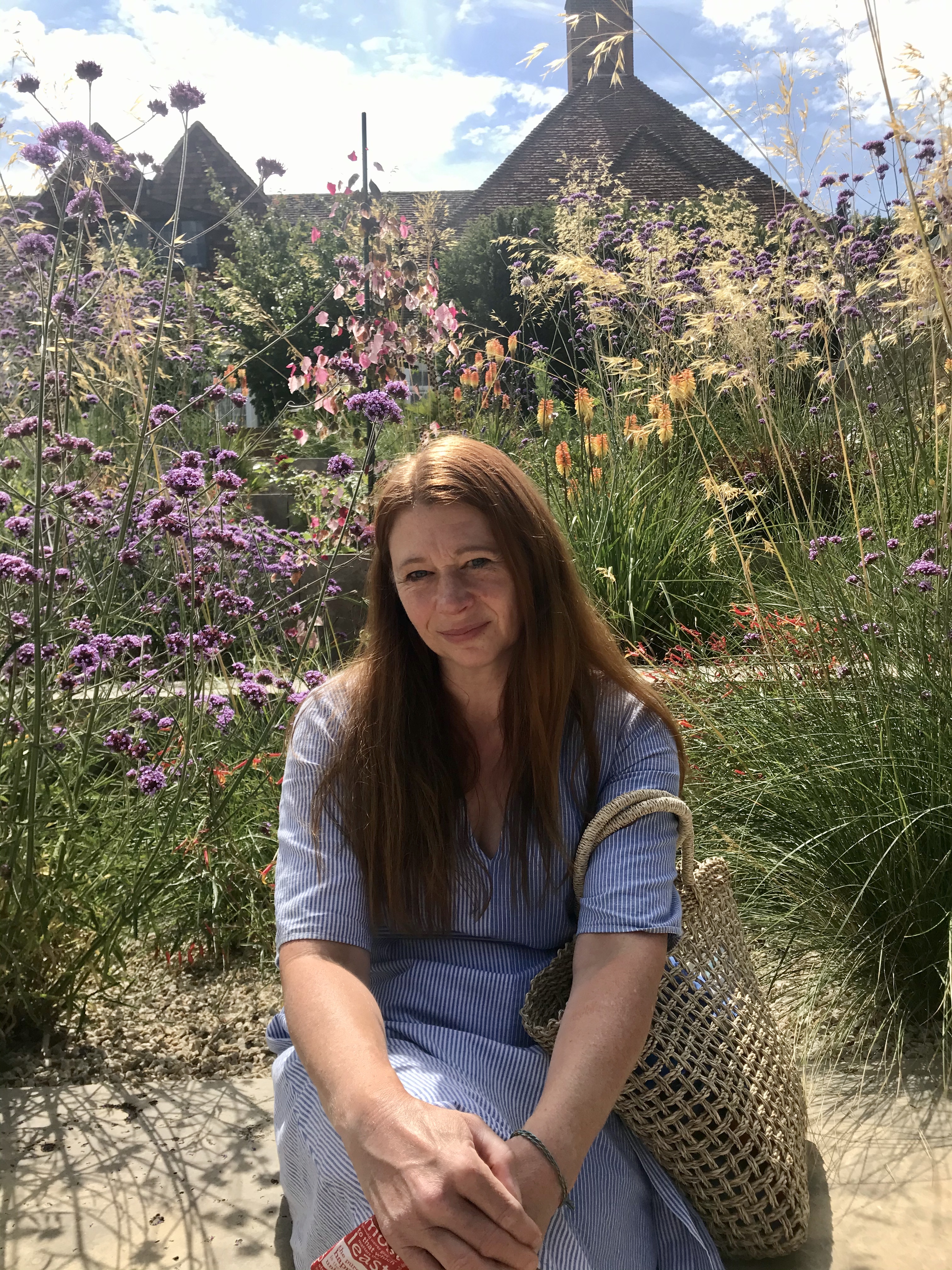 Jill Morgan has spent the last 20 years writing for Interior and Gardening magazines both in print and online. Titles she has been lucky enough to work on include House Beautiful, The English
Home, Ideal Home, Modern Gardens and Gardeningetc.com. Although much of her career has involved commissioning and writing about reader homes and home improvement projects, her
everlasting passion is for gardens and outdoor living, which is what she writes about for Homes & Gardens.