Easter outdoor decor: 22 inspiring ideas for your backyard
Celebrate the spring holiday in style with these pretty looks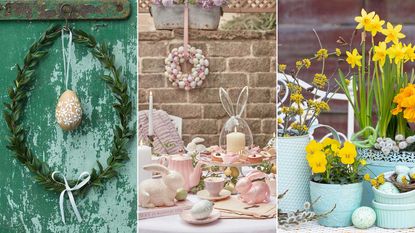 (Image credit: From left to right – Westend61 GmbH / Alamy Stock Photo – Lights4fun – Natalia Greeske / Alamy Stock Photo)
Easter is probably my favorite holiday of the year – the sun is shining (with a bit of luck), blossoms are blooming, and there's the promise of summer ahead. Everything feels fresh and new, and it's a wonderful opportunity to get outdoors and throw a get-together to celebrate.
Whether you want to include an Easter egg hunt in your festivities or throw a charming lunch party, the spring garden is the perfect setting. And there are plenty of decorative ways to give it that extra boost to delight both adults and children alike.
Even if you're not planning a garden party, adding a little Easter outdoor decor to your porch or patio is still a lovely way to embrace the season for your own enjoyment. It doesn't have to be expensive or overly time-consuming, either, and even small details can make a big difference in bringing a spring-like feel to a space.
A former professional gardener and allotment-grower, Holly now spends her days writing about plants and outdoor living for Homes and Gardens, caring for her large collection of houseplants, and drawing her favorite blooms. She also loves crafting, and always has projects underway for each seasonal holiday, from flower arrangements to DIY salt dough.
22 cute ways to decorate your yard this Easter
Freshen up your plot with these pretty Easter decor ideas.
1. Create an Easter branch
One of my all-time favorite ways to decorate for Easter is to create an Easter branch. It's something we always had when I was growing up. My mom would put it in the hallway until the big day. Then, it would become the centerpiece of the dining table – whether celebrating indoors or out.
Use whatever is breaking bud and showing fresh green leaves – often this is hawthorn or hazel. Add a few stems of forsythia for the sunny yellow blooms, or pussy willow for the soft buds. Pear blossom, if available, is also a good addition. Then you can decorate the stems as you wish – we used to blow and paint eggs and add loops of ribbon, but if you're short on time, there are plenty of pretty decorations available online.
Alternatively, a vase of fresh flowers or even a selection of seasonal potted plants can be just as good for an eye-catching centerpiece, as Jen Stark, the Founder of Happy DIY Home (opens in new tab), suggests.
'Create beautiful floral arrangements using spring blooms like daffodils, tulips, and hyacinths,' she says. Get creative to add seasonal flair: 'Consider using carrots or eggs as decorative accents to tie in the Easter theme,' Jen adds.
Jen also recommends hanging decorated Easter eggs from nearby tree branches, or placing them in baskets around your space. Inez Stanway, the Owner of Live Laugh Create (opens in new tab), agrees: 'Brightly colored eggs and paper garlands strung through trees or bushes in the yard can add vibrant hues that will help the area stand out.'
2.
(opens in new tab)
Floral felted egg ornaments
I love the floral detail on these handmade felted Easter decorations. They're recommended for indoor use, but you could pop them outdoors just for your Easter garden party, providing it's a dry day. They come in a set of six.
3.
(opens in new tab)
These colorful eggs are perfect for brightening up a branch. Each set includes 24 pieces complete with ribbon loops, randomly selected in 8 different styles. There are two sizes available to suit large or smaller displays.
4.
(opens in new tab)
Colorful paper egg decorations
A set of 14 paper eggs in pink, light orange, light blue, yellow, purple, green and red (you get two of each color). Each has a string attached for hanging it from. They arrive flat, but assembly is easy – simply unfold and tear off the double-sided tape to secure.
5. Decorate doors and walls with spring wreaths
Wreaths aren't just for Christmas. They make beautiful additions to Easter outdoor decor, uplifting front doors and garden walls instantly.
Easter wreaths can be understated like the version above, which uses a simple stem of boxwood, a decorated egg, and a ribbon. Or, make a larger statement with your spring door decor by combining pastel-painted eggs, bright blossoms (real or faux), colorful fabrics, and twigs for a nest-like design.
6.
(opens in new tab)
Preserved spring meadow wreath
Impress your guests with this hand-crafted naturally-dried 22"-diameter wreath. Made in Washinton, USA, it includes a delicate mix of quail brush twigs, everlasting, flax, and globe amaranth. Perfect for a sheltered porch.
7.
(opens in new tab)
This cheerful wreath from The Holiday Aisle® is sure to brighten up your front door with its faux flowers and Easter eggs – I love the vibrant yellow, pink, and baby blue tones. It's 22'' in diameter and would suit a covered porch.
8.
(opens in new tab)
Another design from The Holiday Aisle®, this wreath has a more rustic edge and is a good choice for a natural theme, while still making an impact. It arrives ready to hang, although some gentle shaping may be required to get it looking just right.
9. String up pretty bunting
'Easter is the perfect time to decorate your backyard to usher in spring and bring a bit of cheer,' says Inez Stanway of Live Laugh Create. 'Start by hanging Easter-themed banners, fashioned with cute bunnies or fun slogans, along the fences or around furniture.' Paper garlands in pastel colors are another option and they're easy to make yourself.
Alternatively, opt for bunting – and if you're handy with the sewing machine, you can create a design that perfectly suits your color scheme.
Then, add extra whimsical charm to your Easter yard decorations by tying in an Easter bunny theme. Jen Stark, the Founder of Happy DIY Home suggests using bunny figurines or stuffed animal toys. And while you're curating a space set for an Easter party, consider lighting, too. Candles, either real or LED, always add a sense of elegance and magic.
10.
(opens in new tab)
Burlap flag and felt banners
This set includes two pretty garlands – one featuring burlap flags (each around 5 x 7 inches big) and the other with small yet vibrant felt balls. String them above your outdoor dining table to set the scene.
11.
(opens in new tab)
Foliage and Easter egg garland
This 5ft-long garland from Lights4fun features artificial foliage and pretty pastel eggs. I think it would be perfect arranged down the center of your Easter dining table – whether indoors or out – for a woodland feel.
12.
(opens in new tab)
Burlap Easter bunny garland
My favorite detail on these durable, handmade, burlap flags is the adorable faux flower 'tails'. The garland is super-chic but well-priced, too, and it's already assembled for ease of use. Perfect for pairing with other pared-back Easter decor.
13. Give your planters an Easter update
Spring containers are one of the best ways to welcome the new season outdoors, and it's easy to give them a quick update in time for Easter.
I love this mix of violas and white muscari, one of my favorite spring bulbs. Tuck quails eggs, pretty feathers, and miniature nests amongst the foliage; tie a ribbon around the edge; and for extra height and drama, push twigs of blossom or buds into the soil towards the back of the display.
A box like this is ideal for brightening a window sill. Just ensure there are drainage holes in the bottom to keep the plants in top health.
14.
(opens in new tab)
Sarah Gordon bunny planter
A gorgeous planter for spring bulbs or succulents, these hand-painted designs from Sarah Gordon, exclusively for Anthropologie, are bound to bring cheer to a display. There are two designs to choose from. It's best to use these for limited outdoor use, in covered areas – perhaps a porch or sheltered deck.
15.
(opens in new tab)
These quail eggs have been hollowed out, ready to add to your Easter decor ideas. Try nestling them amongst your container arrangement, or show off their natural beauty by placing them in a beautiful jar on your dining table. Bear in mind that they are delicate, so are not likely to last long periods of time outdoors.
16.
(opens in new tab)
Pastel-colored gingham ribbon
Nothing says Easter decor like pastels and gingham. These cute ribbons are an easy and inexpensive way to give window boxes and small patio planters a seasonal spruce – just tie them around the top and fasten with a bow.
17. Add seasonal detail to table settings
Curating seasonal table settings is one of the best parts about entertaining in my opinion – you can really get creative and it makes any indoor or outdoor dining occasion feel extra special.
This napkin trick is adorable and easy and will instantly set a cheery tone. But there are lots of other accessories you can bring to your Easter table decor, from handmade menu cards to jam-jar posies.
Zak, the Founder & General Manager of Soul & Lane (opens in new tab), suggests using Easter baskets and nests combined with seasonal flowers such as tulips. 'These two elements together will instantly elevate the look of your table at a very small cost,' he says. Just be mindful that most spring bulbs are toxic, so keep them well away from your food and dinnerware. Zak adds how you can alternatively use faux flowers which look just like real ones.
'Another way to bring some color and fresh elements into your decoration is by using flower arrangements as your table runner. You can even hide some small chocolate eggs to add some playfulness to the table,' he adds.
18.
(opens in new tab)
Extend your Easter theme to your serveware with this bunny-shaped bowl in the center of your table. It's made from hand-carved tropical hardwood, and is great for salads or sweet treats.
19.
(opens in new tab)
Colorful iron Easter baskets
These handmade, spring-inspired baskets with scalloped edges will give your Easter table decor a boost. Available in three different sizes and four pretty colorways, they are the ideal base for transforming into stunning arrangements with flowers, moss, and decorative eggs.
20.
(opens in new tab)
Made of aluminum, these small but sweet place card holders will add a touch of playfulness to any Easter table. The set includes four, and you can be sure your guests will love them.
21. Give your space an extra boost of blooms
I'm a big fan of this simple trick for any garden party – Easter included.
Simply secure glass bottles or jars to sturdy sticks or stakes with jute and fill them with spring flowers. They can be dotted along the side of a pathway, into containers, or at the front of flower beds to draw the eye – it's so simple yet effective.
For a twist on the idea, swap the jars out with small baskets filled with colorful eggs.
22. Consider color schemes
'Easter is associated with pastel colors, so incorporating these hues into your decor can help create a festive atmosphere,' says Jen Stark. 'Consider using pastel-colored tablecloths, napkins, and plates.'
Zak of Soul & Lane agrees: 'Of course, you can mix and match your own preferences in there, but using white, pastels, and earthy tones as your base will help you create a cohesive decoration that can be elevated with some pops of color,' he says.
For me, yellow is the color for spring as it signifies sunshine and joy. As this example above shows, it combines beautifully with duck-egg blue and crisp white, and I'll be throwing hints of pale pink – probably in the form of silk ribbons – into my Easter decor mix this year, too.
The garden was always a big part of Holly's life growing up, as was the surrounding New Forest where she lived. Her appreciation for the great outdoors has only grown since then; over the years, she's been an allotment keeper, a professional gardener, and a botanical illustrator. Having worked for Gardeningetc.com for two years, Holly now writes about plants and outdoor living for Homes & Gardens.