7 frost hardy plants that put on a show even through cold winters
These cold hardy plants are not fazed by frosts, snow, or the bitter cold - and most will come back year-after-year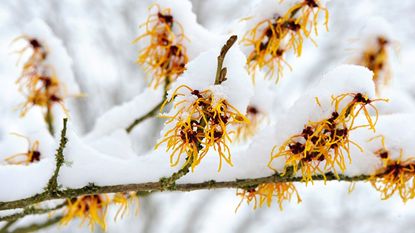 (Image credit: Getty Images/Jacky Parker Photography)
Gardens can sometimes appear bare and blank during the winter months. The summer brings with it a peak of flowering blooms, followed by the vivid colors of fall - which can leave the empty borders and bare trees of winter feeling bleak in comparison.
However, it need not be that way. There are shrubs and bulbs that come to the fore during the winter, putting on a show of color and interest even when temperatures plummet. Frost hardy plants will not mind being touched by freezing weather, and are capable of poking blooms through a fresh layer of snow.
There are many plants that can thrive in the cold, whether they are grown for their flowers, stem color, or winter berries. When planning a winter garden, you can combine all these unique characteristics to create a space that looks fantastic year-round.
How to know if cold-hardy plants will survive
The level of cold that your plants face each winter will depend on your US hardiness zone. It is always important to understand your climate and do research to ensure you choose outdoor plants that can survive winter in your area. Frost hardy plants are able to survive very cold temperatures and frosts, though it is worth checking to make absolutely sure they are suitable for your particular backyard ideas.
1. Snowdrops
Type: Bulb
Hardiness: Zones 3-7
Location: Dappled shade
Snowdrops are one of the first flowers to appear in late winter and their sight is often heralded as the first sign that spring is on the way. Snowdrops are very hardy plants and can survive to -25°F; they do not mind being subjected to frosts or buried under winter snow.
One of the best winter flowers, snowdrops have bell-shaped flower heads that hang from narrow stalks. The time to plant snowdrops comes in October and November, and these perennial bulbs will flower from January to April. Snowdrops then die back and will remain dormant, ready to bloom again next winter.
Snowdrops are either available to buy as perennial bulbs to plant in fall, or sold 'in the green' - when they are actively growing - to be planted in late winter or early spring. There are lots of different snowdrops to grow, in varying forms and colors. One of our favorites is the classic Galanthus 'Elwesii', which is available at Dutch Grown.
2. Winter pansy
Type: Biennial
Hardiness: Zones 4-7
Location: Borders, containers
Winter pansies are cold hardy plants that can provide real pops of color in a winter garden. The plants are bred to withstand colder conditions and can bring interest, as well as bright blooms, during the winter months.
Plants can go into the ground in September or October to be grown as annuals, or they can be treated as biennials in colder climates. Even though they are highly tolerant of cold, they still enjoy sunny conditions - ideally the plants will get four hours of sunlight even in winter to perform at their best.
Winter pansies may stop flowering when the temperatures drop below 25°F but they do survive to 20°F and start blooming once the thermometer increases again.
If you are growing winter pansies as part of a winter container then they will require watering throughout the winter months. It may sound surprising, but you should water plants even ahead of a freeze.
3. Dogwood
Type: Shrub/tree
Hardiness: Zones 3-8
Location: Full sun to partial shade
Cold hardy dogwood trees, also known as Cornus, are fantastic additions to any winter garden thanks to their colorful stems. These attractive stems can range in colors from vivid yellow or green to bright red or orange. As these glorious stems follow on from a dogwood's berries in summer, and the intense foliage in fall, it truly makes growing dogwoods a year-round experience to enjoy.
Dogwoods want to grow in full sun to part shade and in moist, but well-draining soils. The more sun they get, the brighter the stems will become in winter. They can benefit from a bit of dogwood pruning annually - and there are methods for pruning plants specifically for the colorful stems.
If you want a plant that can really stand out and give winter and fall color, then a dogwood should be near top of the list. One such option for a fiery winter color is the Arctic Fire Dogwood, available at Nature Hills, this is a dwarf version that has glorious bright red stems.
4. Winter heather
Type: Shrub
Hardiness: Zones 4-8
Location: Borders, containers
Winter heathers are common sights in garden centers come fall and winter. They are very low maintenance and can be ideal for window boxes and containers. The small evergreen shrubs are cold hardy and not undeterred by the worst of the winter weather, including frost and snow, with colder temperatures actually boosting the color of the foliage.
Winter heathers bloom with small flowers for long periods during the colder months. They can flower from November right through to April. Plants prefer a sunny spot, and the more sun they can get the more vibrant the foliage color will be.
5. Cyclamen
Type: Bulb
Hardiness: Zone 4-9
Location: Shady spots, woodland, pots
Hardy types of cyclamen are undeterred by snow and ice, and will flower in December and throughout winter. The hardiest types, such as cyclamen coum, produce their foliage in early fall and can flower for months on end.
They grow from miniature bulbs and are fuss-free plants, they simply need watering during dry spells in spring or summer and benefit from an annual mulching. It is important not to plant the small cyclamen tubers too deep, no more than two inches down, as this can cause them not to flower. It is a woodland plant that does want some shade and well-drained soil, as waterlogging runs the risk of the tubers rotting.
6. Winterberry
Type: Shrub
Hardiness: Zones 3-9
Location: Borders, hedge
Winterberry is a type of holly that is very hardy and it has all the classic holly characteristics, including the dark green leaves and bright berries present throughout winter and into spring.
However, in a stark difference to classic, evergreen holly, winterberry is deciduous and loses its leaves in fall. That means the stunning berries stand out beautifully against the shrub's bare stems. It is important to remember that winterberries are dioecious - either male or female - and you do need both plants to get the sought-after berries.
The shrub prefers full sun to part shade. It wants soil to be more on the acidic side and will not thrive in neutral to alkaline soil. Though it copes in any soil type - including poor-draining soils. The correct time for when to prune holly bushes comes in spring and it is recommended to prune regularly as winterberry shrubs can grow very large and do have a tendency to spread.
A fantastic example is the Little Goblin Orange Winterberry, available at Nature Hills. This is a compact winterberry that has extra large, bright orange berries that really stand out during the winter.
7. Witch hazel
Type: Shrub or small tree
Hardiness: Zones 3-8
Location: Full sun
Witch hazel is a fantastic winter flowering shrub that produces brightly-colored flame-like blooms in shades of yellow or orange in late winter. It can get quite large, growing up to 20 feet tall, but does not require much annual maintenance.
Witch hazel is a very cold hardy shrub, though the exact hardiness of any type will depend on the variety. Hamamelis virginiana, the American witch hazel, which is available at Nature Hills, is regarded as the most hardy and can tolerate temperatures all the way down to -30°F.
Plants do best in full sun and in a well-draining spot, but they do favor soil that is slightly acidic. The best times to plant these cold hardy shrubs is in spring or fall.
FAQs
Can hardy annuals survive frost?
Hardy annuals are plants that complete their life-cycle in one year - they are sown, flower, and ultimately die. They are capable of surviving a frost without the need for protection. Hardy annuals can tolerate a frost that damages their foliage, however do need some protection if a heavy frost is predicted. This is because any damage done to their roots, such as from a heavy ground frost, can ultimately kill the plant. You can protect hardy annuals using cloches or by covering them with fleece.
---
When thinking about any backyard landscaping ideas, it is a great idea to plan for a year-round garden. Whether you have a large space, or just a small backyard, there are plants that can brighten up those gloomier winter months. You can also incorporate old stems or seedheads of summer and fall-flowering plants as features. These can be architectural and look stunning tinged with a frost, while they are also a food source for birds during the colder months.
Sign up to the Homes & Gardens newsletter
Decor Ideas. Project Inspiration. Expert Advice. Delivered to your inbox.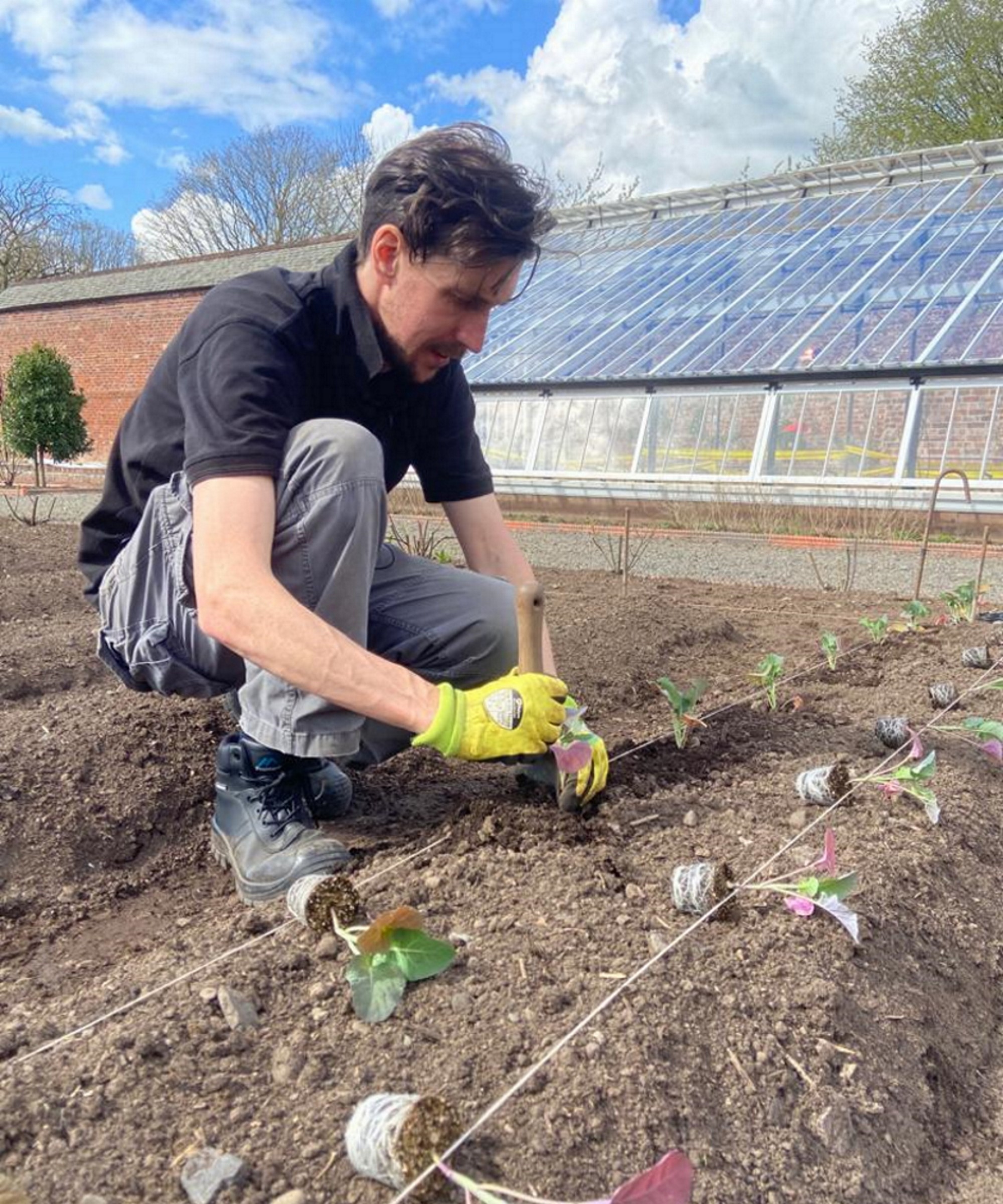 Drew's passion for gardening started with growing vegetables and salad in raised beds in a small urban terrace garden. He has gone on to work as a professional gardener in historic gardens across the UK and also specialise as a kitchen gardener growing vegetables, fruit, herbs, and cut flowers. That passion for growing extends to being an allotmenteer, garden blogger, and producing how-to gardening guides for websites. Drew was shortlisted in the New Talent of the Year award at the 2023 Garden Media Guild Awards.