Patio vs deck – which option is right for your backyard?
If you can't decide between a paved patio or a timber deck, these pros and cons should help you come to the right decision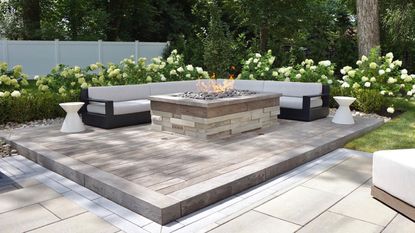 (Image credit: Creative Design and Maintenance)
Sign up to the Homes & Gardens newsletter
Decor Ideas. Project Inspiration. Expert Advice. Delivered to your inbox.
Thank you for signing up to Homes & Gardens. You will receive a verification email shortly.
There was a problem. Please refresh the page and try again.
Extending your living area outdoors is a great way to maximize space and enjoy your backyard year-round. Both patios and decks fulfil this purpose well. However, it can be tough to decide which one is right for your space.
'Hard landscaping is an expensive element of any backyard design, so it pays to do your research before deciding on either a paved patio or timber deck,' says Beth Murton, Head of Gardens for Homes & Gardens. 'And it's not just the initial costs of materials and labor that you need to consider either. There's the ongoing maintenance requirements to keep your space looking its best, so make sure you factor this into your decision too.'
You'll also need to consider the layout, size and topography of your existing backyard too. Decking lends itself to sloping sites more than a paved patio, for example, while a paved patio can be a more cost-effective option for a patio in a small backyard.
How to choose between a patio vs deck
Whether you prefer the more tactile nature of timber deck ideas or like the versatility of paved patio flooring, there are plenty of factors to consider when choosing the most suitable option for your backyard.
By taking a look at the pros and cons of both options, including cost, maintenance, preparation and design, you can work out what will suit your space and budget best.
Pros of patios
Less maintenance
One of the biggest benefits of patios for homeowners is in maintenance. When there are so many maintenance concerns to check off in your home and backyard, you don't want to add to the list unnecessarily.
If your patio is placed in the right area, you won't need to worry about cleaning or fixing very often. Whether you've chosen pavers or concrete, a quick pressure wash in the afternoon will make your space look good as new. Even if you don't have one of these handy tools, there are several ways to clean patio pavers without a pressure washer that will keep it tidy for months or even years.
Along with less maintenance, patios typically have a longer lifespan too. According to Tom Clifford, General Manager at Westminster Stone, 'patios are typically made of durable materials such as concrete, brick, or stone, which can withstand heavy foot traffic, weather, and other wear and tear such as scratching from patio furniture.'
Fewer permits
When making any structural modifications to your backyard, building permissions usually come into play. But, when it comes to installing a patio, you likely won't need any permits or permissions before you start, greatly simplifying the process.
According to Andrew Giannattasio from GTG Custom Home Builders, 'Decks typically require a permit; patios rarely require a permit. It's never a good idea to skip permitting. It will always come back and bite you in the end.' As rules differ by region, however, ensure you check the specific requirements in your area first.
Cheaper to install
For those on a budget, patios are considered cheaper to install than traditional decking. The exact difference in cost depends on the patio materials you are using. For example, a gravel patio will be far cheaper than a paver patio. But on average, patios typically end up being cheaper than a similar-sized deck.
In terms of how much a patio costs, an average 12 by 12 paver patio will set you back around $1,440 to $3,600, depending on materials chosen. In comparison, for decking costs, a smaller 12 by 6 deck costs more than double, ranging between $5,000 and $11,000.
Cons of patios
Can't be built on uneven ground
Patios require more ground preparation before installation than decking. The surface needs to be completely level before installation, making it difficult for sloping gardens or rougher terrain. Even a gentle slope can cause structural issues if it is not resolved before laying the patio.
I've experienced this problem first-hand when choosing between a patio or decking after building on a challenging site. Building on a steep slope was tough enough from an engineering perspective, so adding a patio structurally wasn't possible. A deck allowed me to work around the challenges of the space with ease with the help of decking professionals.
Potential for stains or cracks
With long-term use, your patio will experience some wear and tear. Many patio materials are prone to staining or cracking, which can be difficult to fix, depending on the cause. Rust stains, discoloration of concrete or tiles and cracking under the elements are all potential problems to consider.
There are a few ways to remove things like rust stains from patios, but this does add to the maintenance required to keep it looking tidy. If you take good care of the patio and fix any issues as soon as they arise, this con will be far less onerous.
Lower return on investment
If you're thinking of laying a patio, you're probably not planning on selling your home any time soon. However, keeping resale value in mind can improve the outcome of sale if you do plan on selling your home in the future.
According to the Cost Vs Value report by Remodeling by JLC, patios offer a 55.2% return on investment – a much lower percentage than decking and the second lowest return on investment of all the home upgrades compared in the report.
Pros of decks
Ideal for slopes
While patios require a completely level surface before installation, decking is raised off the ground, perfect for sloped areas where patios are tricky to construct. This also limits preparation time before installation according to Helen Godsiff, brand manager at Eurocell.
'To avoid levelling out the turf in your garden, decking provides an easy, cost-effective option of creating flat, inviting surfaces that make full use of your outdoor space.'
Having a raised deck can also help you make the most of a view, or bring your outdoor living area up to the same level as your indoor space for a seamless transition.
Flexibility in design
Decking is easy to modify to suit your outdoor space or work around existing structures like trees. 'Decked areas can be built to any shape or size, making them a flexible option for any outdoor space,' says Tom Clifford. 'They can also be designed to incorporate features such as built-in seating or lighting.
'Decked areas often have a more contemporary look, which can be desirable in certain outdoor settings,' he adds. There's also such a wide range of deck color ideas that your deck can be painted or stained to match the color scheme of your home.'
Better return on investment
If you decide to sell your home in the future, decking can be a greater asset compared to patios. In the same Cost vs Value Report, composite decking had a 69.1% return on investment and wooden decking was one of the highest on the list, with a 75.6% return on investment.
Cons of decks
Expensive to install
Decking is certainly the pricier option between a patio and deck. In fact, Andrew Giannattasio says, 'I can say without a doubt that a deck will cost more than a similar sized patio.' Building a deck yourself can lessen the cost of the project, but patios are a more cost-effective investment overall.
The cost of installation is not the only factor to consider. As decks typically require more maintenance and need to be replaced sooner, the cost of upkeep is also higher. However, Helen Godsiff suggests composite decking to get around this con.
'To get the most out of your space, composite decking is a beautiful low-maintenance alternative to timber, with no need to paint, stain or seal. Combined with an anti-slip surface that doesn't splinter or rot, it makes it perfect for families and busy households.' If you opt for traditional timber decking rather than composite, you might need to factor in some slippery deck solutions during your project to ensure the finished deck remains safe to walk on in all weathers.
Weight restrictions
As decks are raised off the ground, there are weight limitations to the structure, depending on how the base is constructed. You'll need to factor in the weight of your outdoor furniture and any other items you plan to place on the deck, as well as the possibility for large crowds in the space, according to Andrew Giannattasio.
'The best example of this is a hot tub. If you're going to have a hot tub deck, you're going to need to make some significant structural improvements. In a patio, it's built in – there's no changes that are needed and no additional cost.'
Permits required
Before you start building a deck, you'll probably need to obtain a permit. Most decking companies can assist in the process. But if you're building a deck yourself, you'll need to obtain the right permissions before you get started. There will also be an inspection process to ensure it is structurally sound before use.
Rules differ per region. But, as an example, a Department of Permitting Services in Maryland lists their decking requirements online:
'A building permit is required for all decks regardless of the height above grade. For decks constructed with stairway illumination (see plan requirements), outlets or hot tubs, spas, etc., an electrical permit may also be required.'
The verdict
'When it comes to choosing between a patio and deck, the reality is there's no one size fits all solution,' says Beth Murton. 'When designed and installed correctly, both will enhance your space and can help you to create the sought-after outdoor living room that so many people crave these days.'
Ultimately, your final choice will come down to personal preference, the layout of your backyard, your budget, and how much backyard landscaping preparation and maintenance you are willing to manage.
Sign up to the Homes & Gardens newsletter
Decor Ideas. Project Inspiration. Expert Advice. Delivered to your inbox.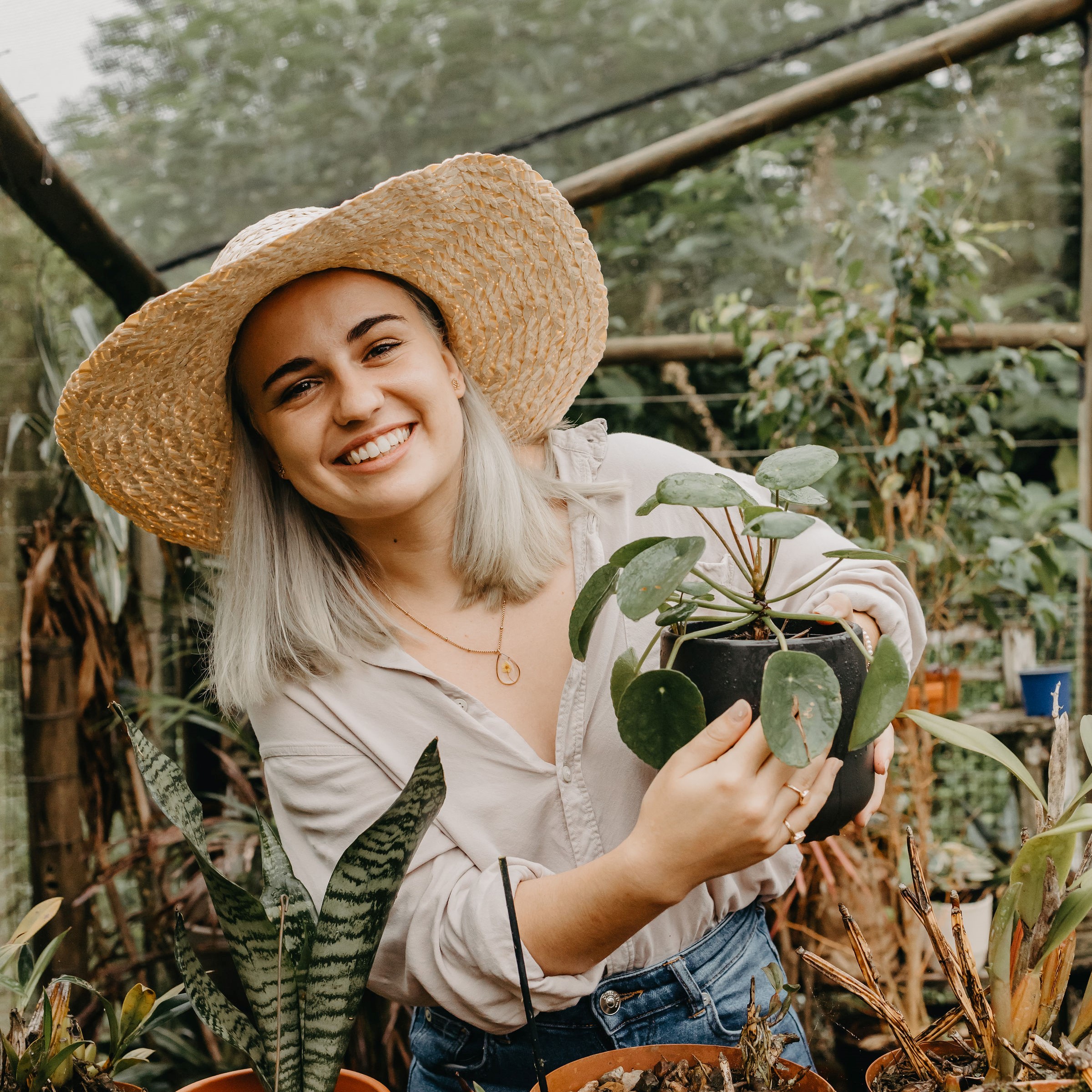 Contributing Editor, Gardens
Madison is a garden writer and editor, covering all things outdoors and lifestyle. After completing a BA in History and Political Science, she transformed her years-long passion for plants into a career writing for both digital and print publications. As garden editor of several print titles, Madison focuses on trends and developments in the continuously expanding gardening industry. When not typing away at her desk, she tends to her ever-growing houseplant collection and travels frequently, photographing and reporting on gardens around the world.