Hot tub deck ideas – 10 stylish surroundings for your backyard spa
Create a relaxing space on your deck with these tips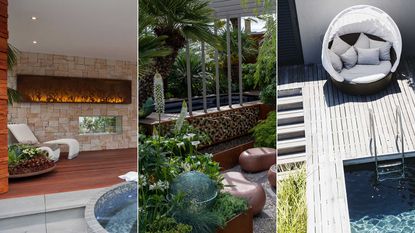 (Image credit: (From left to right) A Garden / Alamy Stock Photo – Astronaut Images / iStock / Getty Images Plus / Getty – Images Sarah Cuttle / RHS)
A carefully curated hot tub deck is crucial for creating a soothing sanctuary that's a joy to spend time in. After all, no matter how high-tech your spa is, it's hard to relax if the view does nothing to inspire, if you feel on-show to neighbors, or if it's tricky to access.
A hot tub deck can enable your spa to sink into your landscaping scheme, too, and stop it from becoming an eyesore. And, if you choose a non-slip material, it will also up the safety factor of the space around your hot tub.
10 hot tub deck ideas to turn your spa into an outdoor oasis
Consider these looks for a chic and sleek retreat on your very own doorstep.
1. Create a tropical vibe with plenty of plants
'A hot tub deck is the perfect place to incorporate natural elements into your outdoor space,' says Becky Decker of Gardeninghood.com.
She suggests using potted plants or creating a vertical garden for a lush, green environment. Both ideas are well-suited to even the most compact of plots, and can screen prying eyes from neighboring yards if carefully placed.
In the garden shown above, designed by Kate Gould, the raised hot tub deck was surrounded by plenty of architectural, tropical plants such as tree ferns and bamboo. The result was a soothing, jungle-like environment that offered cooling, dappled shade and privacy, too. And, as many of the plants were evergreen, the effect would last throughout the seasons.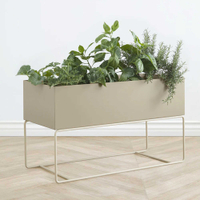 Large Ravine Planter in Taupe | $405 from Lulu & Georgia
Made from durable powder-coated metal, this raised planter is an easy way to add more greenery to your hot tub's surroundings. We like the pared-back color, too, which would fit into all sorts of modern schemes.
2. Incorporate soft lighting into your hot tub deck
'Plan out your lighting carefully,' says Dave Fraser, the Owner of Fraser Decks and Patio Covers. 'Great lighting can drastically improve the overall look and feel of a deck.'
Becky agrees: 'Good lighting can make all the difference when it comes to creating a cozy, relaxing atmosphere. Install outdoor lighting to highlight your hot tub and deck area, and consider adding string lights or lanterns for a soft, romantic ambiance. You can also install motion sensor lights for added safety and convenience.'
For a modern backyard, try installing recessed spotlights into your decking boards for a seamless look, as demonstrated in the setup shown above. LED striplights tucked beneath stair risers in the decking steps are another option that offer gentle light while avoiding trip hazards after dark.
Dave is the Owner of Fraser Decks and Patio Covers, the premier outdoor living specialists in San Diego, CA. Earlier in his career, Dave's focus was building custom homes. Then he discovered a passion for outdoor living spaces and has been designing and building custom decks and outdoor living spaces for the past 10 years. His company is award-winning and nationally recognized, garnering 12 national Deck/Outdoor Living project of the year awards, including eight from the North American Deck & Railing Association.
3. Consider your materials carefully
'Your hot tub deck should be a place to relax and unwind, not spend hours maintaining,' says Becky. 'Choose low-maintenance materials like composite decking, which is resistant to moisture, mold, and mildew, and requires no sealing or staining.'
'The decking also needs to be slip resistant, so that you don't slip when you get in and out of the hot tub,' Dave adds. 'Get samples of different boards, get them wet, and test them out before you install them permanently.'
4. Integrate your tub into an outdoor living space
Create a comfortable seating area near your hot tub, with outdoor furniture that complements your deck's style, recommends Becky.
'Add a couple of lounge chairs or a sectional sofa, and consider adding an outdoor fireplace or fire pit for extra warmth and ambiance.' There are plenty of ways to make a deck more inviting – it'll soon be your new favorite zone in your yard.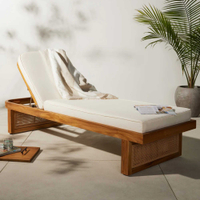 Anson Indoor / Outdoor Chaise | $2,299 from Lulu & Georgia
Made from FSC-certified teak, all-weather wicker paneling and performance fabric cushions, this adjustable lounger is the perfect addition to a hot tub deck for enhancing that home-spa feel.
5. Add an overhead shelter to your hot tub deck
'When designing your hot tub deck, it's important to consider your climate. If you live in an area with harsh winters, you'll need to take steps to protect your deck and hot tub from the elements,' says Becky. 'Consider adding a pergola or roof to protect your hot tub from snow and rain, and invest in a high-quality hot tub cover to keep your water clean and warm.'
A shelter overhead can also provide much-needed respite from the midday sun, to keep you comfortable and protected as you enjoy your spa. For maximum versatility, consider a louvered pergola which can be adjusted depending on your needs.
6. Create a multi-levelled space
If you're planning a total backyard transformation, especially if it's on sloping ground, you could consider incorporating different levels with your deck. It's a great way to zone the space effectively, and can improve access to your spa.
'Use the decking to your advantage to make entering and exiting the spa easier,' says Dave. 'You can leave the spa on top of the deck, recess it into the deck, or build stairs around the hot tub to allow easier access.'
We like the decorative screen used in this yard, too, which creates an attractive divide between the dining space and the hot tub.
7. Install a garden room on your hot tub deck for extra privacy
'Privacy is important when it comes to creating a relaxing outdoor space, especially if you have neighbors nearby,' says Becky. There are plenty of garden privacy ideas to choose from, including plants – as mentioned above, parasols, pergolas and screens. But if you really want to give your spa a sense of exclusivity, a more-structured garden room could be the answer.
This example features trellised walls and windows, meaning the view can still be enjoyed while relaxing in the tub. What's more, it means the space can be used whatever the weather.
8. Sink your spa into your deck for a sleek and streamlined look
Let's face it, hot tubs aren't always the most attractive backyard features. But, by sinking yours into your deck, you can disguise its bulky exterior and create a more streamlined, modern aesthetic.
If it's made from timber, you could consider painting or staining your deck to give it a new look – and it will help to protect it from the elements, too. We particularly like the choice of pale decking in this space, which offsets the elegant outdoor furniture beautifully. Meanwhile, a sunken planter of ornamental grasses adds a flush of greenery and texture.
9. Make the most of the view from your deck
Whether it's the ocean, a woodland, or simply the rest of your garden, if you're lucky enough to have a beautiful view from your backyard, then position your hot tub deck to make the most of it. And if it's high up, consider glass-paneled fencing to surround it – that way it'll remain safe.
If you don't, then think about how you could improve the surrounding vista – perhaps by planting your favorite flowers nearby, or hiding any compost piles or trash cans within sight with ornate screens.
10. Zone the space with a garden fence
Define the edges of your hot tub deck by installing a garden fence. Slatted wooden designs, natural woven screens, decorative metal dividers – the choice is endless when it comes to styles. Not only will it help to separate the zone from busier areas of your yard, but it will also provide shelter from wind and can make the space look even more stylish.
Trellis panels are great for letting plenty of light and air through while still creating a distinct boundary, and you can train climbing plants up them, too, for an extra spa-like feel.
---
What practical points do you need to consider when installing a hot tub onto a deck?
'When it comes to installing a hot tub on a deck, proper planning and execution are key,' says Karel Williams, a Master Plumber at Emergency Plumbing Squad.
'Before installing a hot tub, assess the deck's structural integrity to check whether it can support the weight of the hot tub, water, and people. You should work and consult with a structural engineer or qualified contractor to evaluate your deck and recommend any necessary reinforcements.
'An important tip to prevent water damage and mold growth is to incorporate proper drainage solutions around the hot tub area,' he continues. 'If your hot tub is partially or fully enclosed, make sure you have adequate ventilation to prevent moisture buildup and maintain a comfortable environment.
'Finally, plan the hot tub's placement to allow for easy access to electrical and plumbing connections and routine maintenance tasks. You might also want to consider incorporating removable deck panels or hinged sections to facilitate future repairs or replacements,' he says.
What's more, be sure to check the local building codes to ensure you meet the specific building requirements for your project, as Dave Fraser, Owner of Fraser Decks and Patio Covers, advises.
Karel began his plumbing journey as an apprentice under his father at 16 and grew his family's business tenfold. He has gained valuable insights into hot tub installations and their integration with deck designs. He is now dedicated to making a larger impact in the plumbing industry nationwide.
---
Whatever hot tub deck ideas you decide on, always plan how you will use the space ahead of time, says Dave. 'A simple way to do that is to get some blue painters' tape and lay out where the spa will go and where your furniture will go. You'll get a good idea of whether you have allowed enough space or not.' Take into account people backing up or leaning back in their chairs, plus space for walking behind them, he adds.
Remember, safety and practicality are just as important as style, so make sure you cover each aspect carefully. That way, it will be much easier to create your own personal paradise that's guaranteed to soothe your stresses after a long day.
Sign up to the Homes & Gardens newsletter
Decor Ideas. Project Inspiration. Expert Advice. Delivered to your inbox.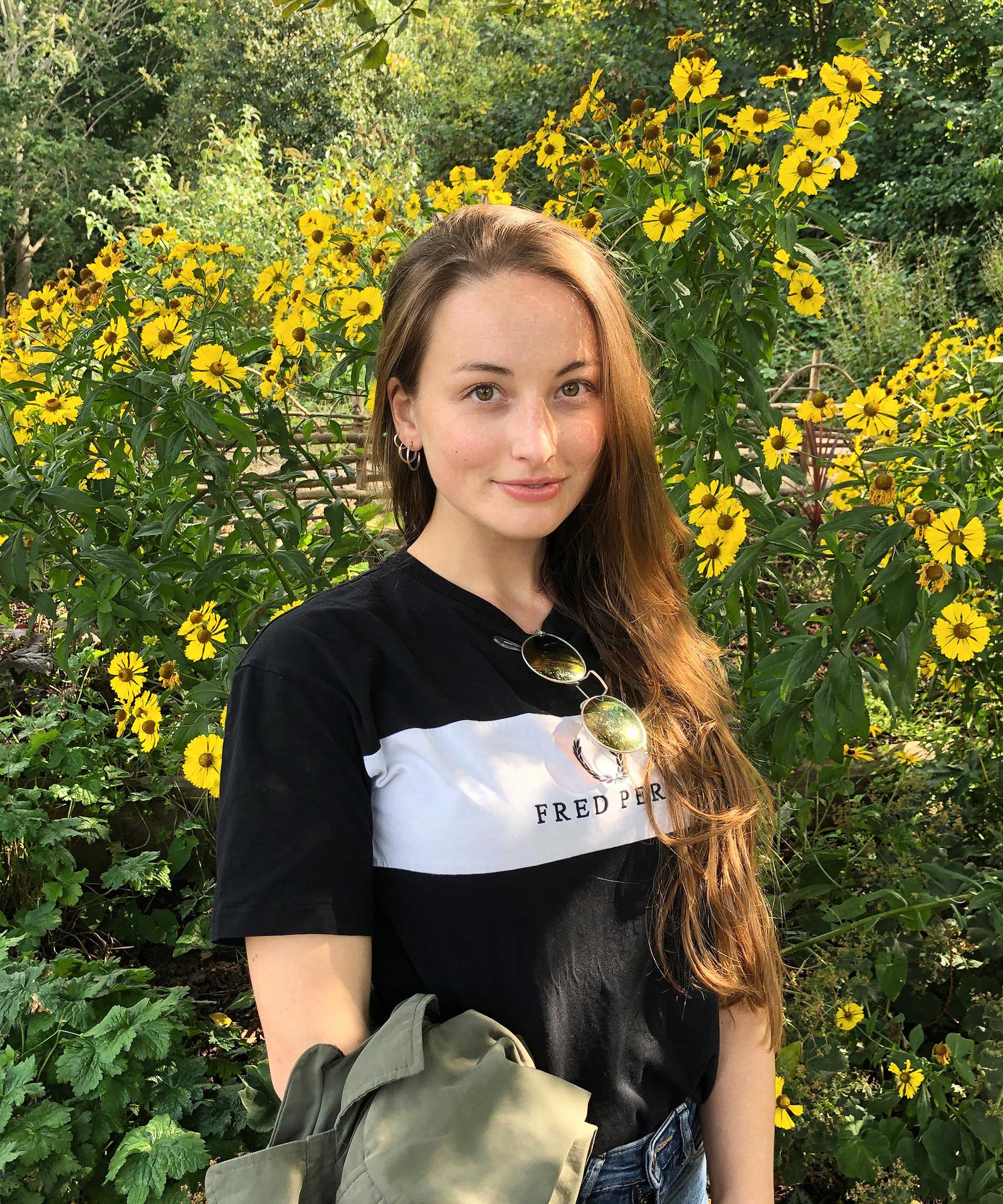 Freelance Gardening Writer
The garden was always a big part of Holly's life growing up, as was the surrounding New Forest where she lived. Her appreciation for the great outdoors has only grown since then; over the years, she's been an allotment keeper, a professional gardener, and a botanical illustrator. Having worked for Gardeningetc.com for two years, Holly now regularly writes about plants and outdoor living for Homes & Gardens.