Decking steps ideas – 8 stylish ways to elevate your deck design
Add a professional looking finishing touch to your deck steps with these expert tips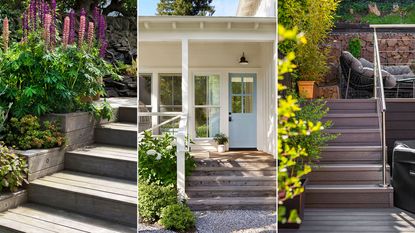 (Image credit: Alamy/Yardzen/CladCo)
If your backyard is split level or terraced, you can use decking steps as a link to help you make the most of your space and access different areas smoothly. Meanwhile if you already have a raised deck or multi-level deck design, upgrading the steps adds a more polished look.
Deck steps are an excellent way to add a finishing touch to your yard, serving both an aesthetic and a functional purpose. With the right materials and design, you can create a beautiful addition to your outdoor space.
Whether you're looking for some deck ideas to smarten up an existing project with some new steps, or starting a design from scratch, there are lots of smart options to choose from so it's easy to find something that suits your space.
8 inspirational decking steps ideas
Decking steps can really improve the look of your garden, especially if you're looking for sloped backyard ideas.
'They serve as a transition between different levels of your yard while adding character to your deck, says Andrew Laurier, expert at Be Green. 'Decking steps are not just a means of accessing different levels of your yard. Instead they can be a design feature that enhances the overall aesthetics of your outdoor space.'
Factors like choosing the right materials and deck lighting, as well as avoiding common decking design mistakes are key considerations during the design and construction process, so follow our expert know-how to make sure you get it right.
1. Choose low-maintenance materials
When it comes to selecting materials for deck stairs, durability and aesthetics are key considerations. When building a deck, it's always best to opt for materials that are resistant to weathering, rot, and decay.
'I'm a fan of low-maintenance decking materials such as PVC, especially on a low deck or where it's located near water,' says Chrissy Arsenault, owner and designer of Live Original Designs. 'Composite is another great low-maintenance option.'
Avoid using materials like plain untreated softwoods, as they may not withstand outdoor elements, are susceptible to wear and tear, and can deteriorate quickly.
'If you prefer a natural look, go for high-quality, pressure-treated wood, cedar, or redwood,' says Gene Caballero, co-founder of landscaping company Green Pal. 'They're all excellent choices but will require regular sealing or staining to keep them in good shape.'
It's generally recommended that a professional fits steps on a decking area. 'This is to ensure measurements are accurate and appropriate materials are used,' says Chloe Grayling, product expert at Cladco. 'But if you have a reasonable degree of DIY experience with decking, it is absolutely possible that this sort of design can be achieved without professional help too.'
Chrissy Arsenault is the owner of Live Original Designs. With over 18 years' experience in residential landscape design, her work reflects through a range of property types from compact urban gardens to sprawling cottage retreats. Considering every outdoor living space as an extension of the home, her work includes careful design and planning of custom decks.
Gene Caballero grew up living in South America and Middle Tennessee. He has a MBA in Finance and worked as a corporate sales coach for a Fortune 50 company. Gene has worked in the landscaping industry for over 25 years, including many deck installation and repair projects.
2. Accessorize deck steps with neat planters
Include smart deck edging like boxy planters, patterned borders and lighting panels to set off your deck steps with a professional looking touch.
'I always finish my corners with a picture-frame border (no cut edges!) and closed risers and sides. I like a vertical board skirting for a clean look without visible framing, and it also keeps the critters out,' says Chrissy Arsenault.
You can also mix in interesting materials for risers if you prefer a less uniform look. Cobble stones and flagstones lend a more organic and natural feel to your decking steps. By mixing up your hardscaping materials you get a more unique look that doesn't simply rely on wood alone.
3. Pay attention to design details
Certain safety considerations should always be factored into your design right from the get-go so it's a good idea to find out how to build deck stairs. 'The steps should all be equal in height, between 6-7 inches,' says Chrissy Arsenault. 'It's also a great idea to add riser lights that cast light downwards on a timer, for safety as well as a beautiful accent.'
Not only is this a practical consideration but the decking steps look better too if they are symmetrically spaced. If you want to mix up your deck color ideas a little, they can be a contrasting color.
'Stair width should be a minimum of 36-48 inches, though if I only have two or three risers I may design long steps to more gracefully transition from level to level,' says Chrissy. 'If possible, I create a multi-level deck with a low, railing-free, transition space between the upper deck and the grass or patio. This just looks more open, and helps to define various outdoor rooms as well.'
4. Enhance deck stairs with lighting
Deck lighting will transform your steps into a stunning focal point in your outdoor space. Lighting is not just about aesthetics though, it's also crucial for safety, especially when it comes to steps.
'One of the most popular ideas is recessed lighting,' says Gene Caballero. 'These lights are installed within the steps themselves and provide a gentle glow that outlines each step. They're subtle, yet effective, and can give your deck a sleek and modern look.' We like these outdoor LED step lights from Amazon.
Another option is to use solar-powered post-cap lights. 'These fit onto the posts at the end of your handrails and cast a downward light onto the steps. They're easy to install and since they're solar-powered, you don't have to worry about wiring,' says Gene.
If you want to create a bit of a 'wow' factor, consider strip lighting. This involves running a continuous strip of LED lights along the edge of each step. This can create a striking effect, especially in low light.
'Use warm white light for a cozy, inviting feel,' adds Gene. 'Blue or cool white can feel harsh and unwelcoming, which is not what you want for your backyard lighting, especially as this is a space where you're going to relax.'
5. Use decking steps to connect zones
In gardens with different outdoor rooms or zones, decking steps guide you from one area to the next. They're not just a practical solution, but can also serve to highlight the journey through your yard, making each step a reveal of a new vista or planting scheme.
If you have a raised deck, for example, decking steps can act as a natural transition from the deck to the lawn or garden. It creates a more unified and cohesive outdoor space, rather than having your deck feel like a separate entity.
'In a sloping yard, multi-level decks with steps connecting each level can be a great solution,' says Gene Caballero. 'This doesn't just make the slope more manageable and usable, but it also gives you the opportunity to create distinct areas on each level. You can have a dining area on one level, a lounge area on another, and perhaps a fire pit or hot tub on the lowest level. The steps in this case don't just provide access, they visually signal the transition from one zone to another.'
6. Soften the edges of steps with planting
Consider integrating deck planting ideas with your steps too. 'Plants of varying heights, colors, and textures can add a lot of charm to your steps. Low-growing plants can soften the edges, while taller plants or trees can frame them beautifully,' says Gene Caballero.
Steps are of course a fantastic design element for connecting your yard's various elevations with planting. 'Try incorporating climbing plants into your design,' suggests Joshua Bartlett, home improvement specialist and founder of I'll Just Fix It Myself. 'Climbing plants, such as honeysuckle, clematis, or ivy, can be trained to grow up and around the steps, making for an attractive and organic focal point.
'By doing this, you can make your decking steps more welcoming and add a touch of nature to your outdoor space.'
7. Be creative with angles and shapes
Decking steps don't have to be all about straight lines, so if you're building a new deck from scratch then it's the perfect opportunity to be a little creative.
Consider offsetting the angles of your steps, particularly if you have a large backyard. Angled steps can help direct people to other areas of your outdoor space, such as the pool deck or a lawn area.
Don't discount curves either, as they can create a softer, more organic look. Do bear in mind that adding curved steps is likely to be more labor-intensive and require more than your average DIY skills, so it's a job best left to the professionals.
8. Add decking steps to a front porch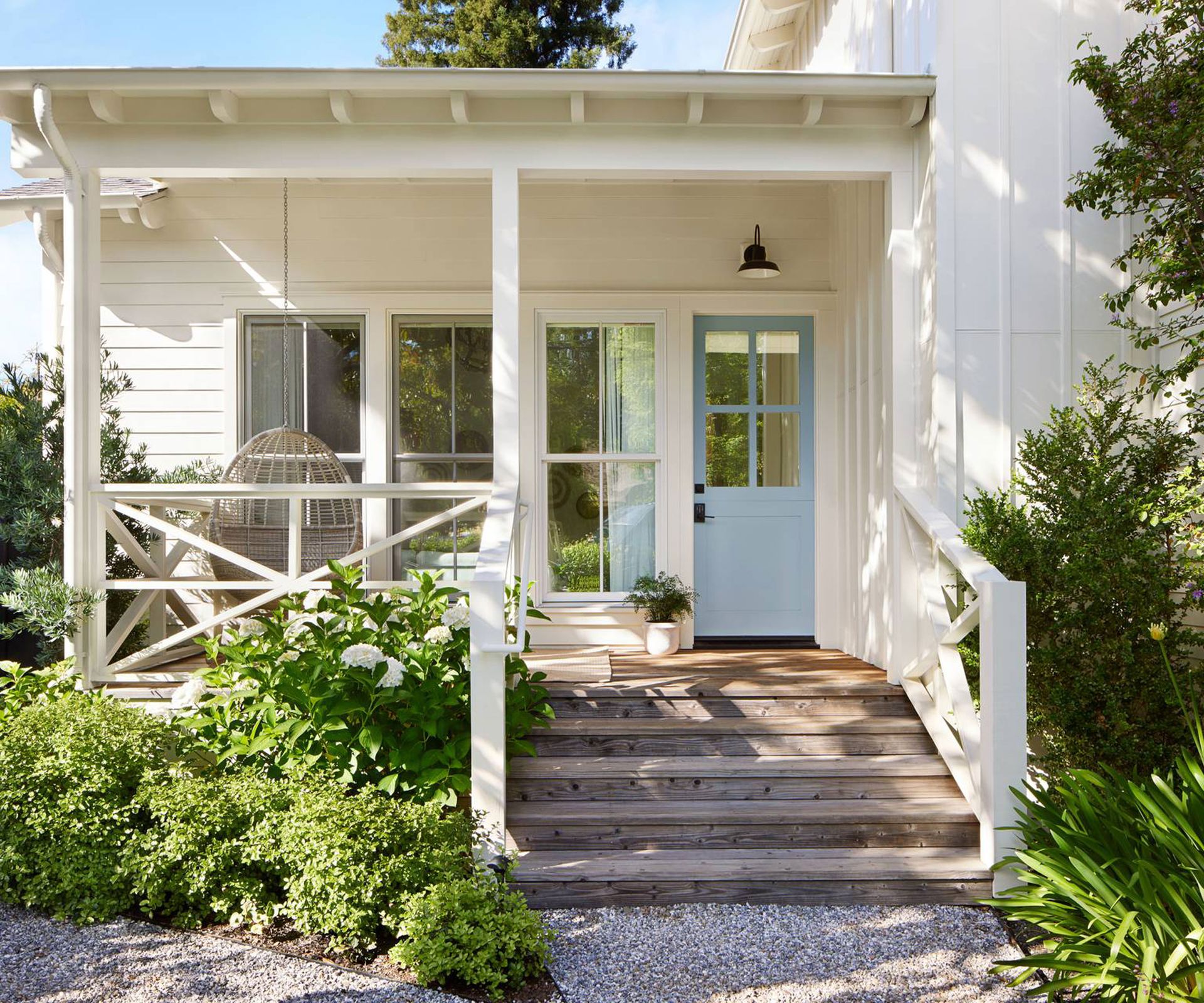 Deck steps aren't just reserved for a backyard – they can be a wonderful addition to your front yard landscaping too. A simple run of steps leading to a covered front porch can be a smart way to welcome guests to your home.
To ensure the steps are safe and easily accessible for anyone visiting your home, it's advisable to build a deck railing on both sides of the steps. Match it to the front porch railings for a smart, cohesive look.
Scented plants, such as a beautiful rose, that can grow up the side of the railings will add to the curb appeal, creating an enticing fragrance when people brush past it on their way into your home.
---
Adding steps is a great way to make a deck more inviting, ensuring that is accessible to everyone in your home. For safety reasons, remember to avoid any materials for deck steps that become slippery and therefore dangerous when wet, such as marble, smooth stone or glazed tiles.
Sign up to the Homes & Gardens newsletter
Decor Ideas. Project Inspiration. Expert Advice. Delivered to your inbox.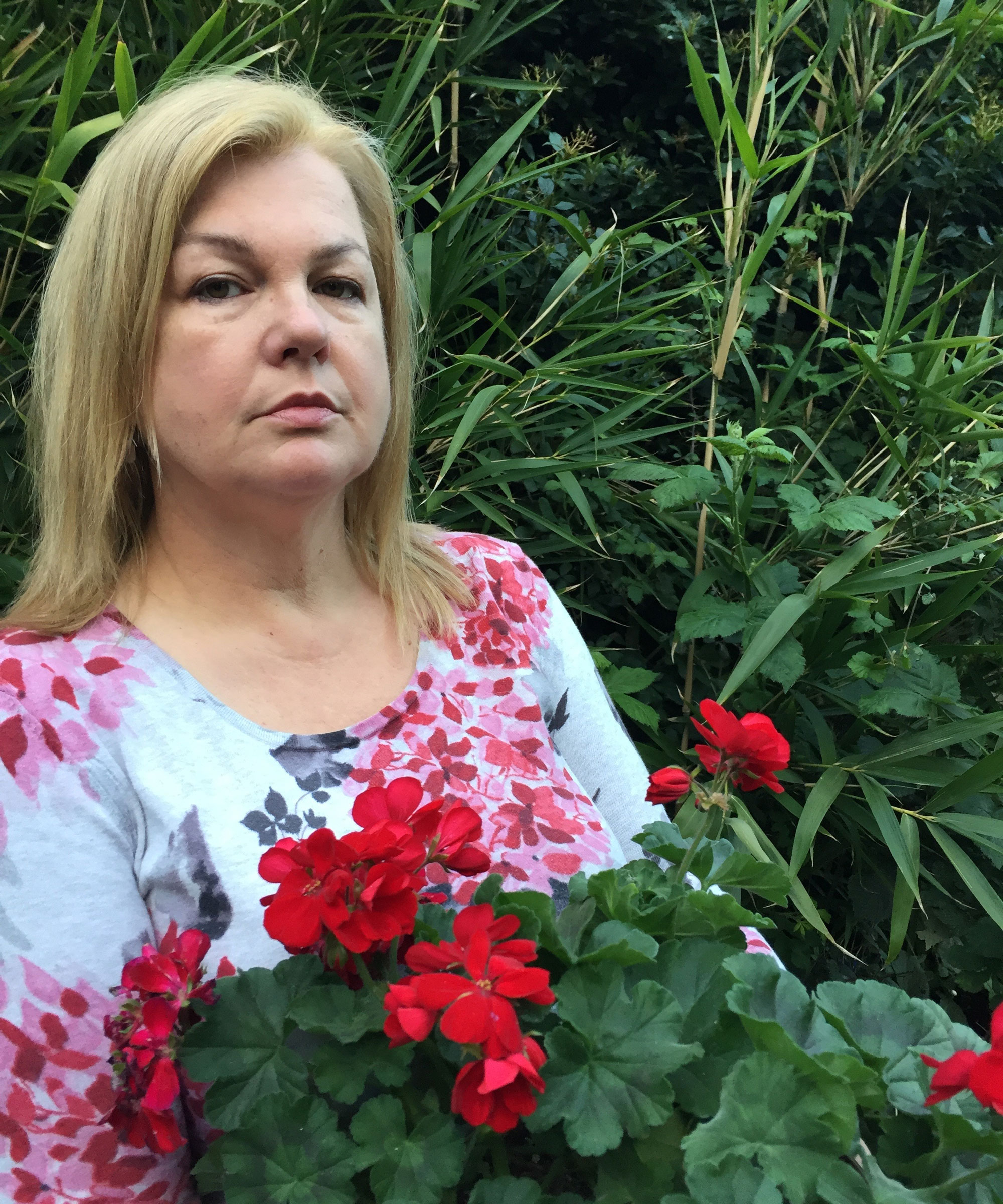 Lifestyle journalist Sarah Wilson has been writing about flowers, plants, and garden design and trends since 2015. Having already studied introductory garden and landscape design as well as a course in floristry she is currently adding to her list of qualifications with an RHS Level 2 course in the Principles of Plant Growth and Development. In addition to homesandgardens.com and livingetc.com she's written for gardeningetc.com, Modern Gardens and Country Homes & Interiors magazines.