An antiquity-packed Virginia home fills its garden with Southern charm
The home of furniture designer Will Massie hosts ancient artefacts, and has been a quarter of a century in the making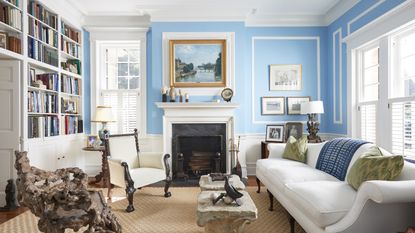 (Image credit: Kip Dawkins)
Often, the perfect family home isn't built in a year, or even three – sometimes it takes a quarter of a century.
In many cases, the world's best homes do not arrive fully formed from a fixed term renovation or build project, and neither do their gardens. In the case of this house in historic Richmond, Virginia, they are an ever-evolving work in progress.
'We completely renovated 23 years ago but we've continually made changes and updates since,' says Will Massie, Co-Founder of outdoor furniture brand McKinnon & Harris. 'I'm constantly thinking about things we would like to change.'
'My wife Alice McGuire Massie and I chose this house carefully, while both my business and our daughter Ella were in their infancy. We loved it instantly for its charming disrepair; as a designer and maker of garden furniture, the house was the perfect canvas. Over the past 23 years, we have crafted it into our family home as both the company and Ella have grown up.'
Now, it is not only home to the Massie family, but their impressive collection of antiques, ancient Greek and Roman artefacts, modern art and the plants that fill their much-loved, Southern-style garden. Massie took us on a tour of his home, and talked us through how his ode to history and family life all came together.
Garden
For the Massies, their garden ideas are just as integral to their lifestyle as the house itself. 'Gardening and the outdoors have always been important components of my life,' said Massier. 'McKinnon & Harris is named for my grandmothers, who created memorable Virginia gardens and inspired this passion in me.'
'We lived through about five years of dust and red clay in the house renovation and building the garden,' said Massie. 'Beautiful gardens take patience and time and are always evolving, so I would say that we're still continuing our project, years after it began.'
'When we first moved into the home, the existing garden was overgrown and did not have a sense of order or relate to the house. There was no sense of movement from the front to the rear.'
'We were able to create a closer connection between house and garden by adding more windows on the garden side,' explained Massie. Here, the outdoor seating area is overlooked by a large bay window, flanked by Osakazuki Japanese maples. The McKinnon & Harris furniture includes a sofa, club chairs and high tea table all in Shenandoah Gray Green.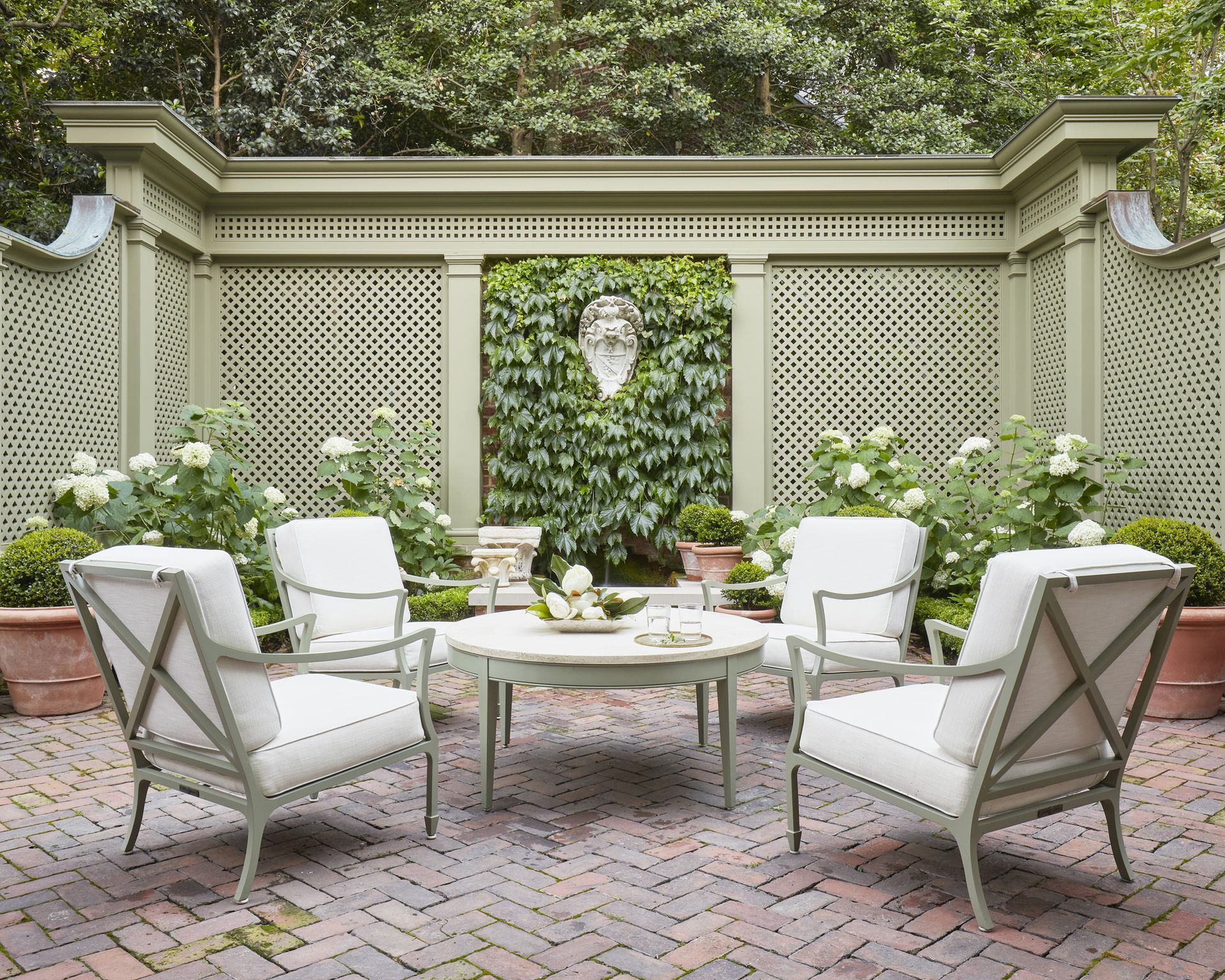 'The trellis enclosure creates a focal point and private roomlike space,' said Massie. 'It's my favorite outdoor room. It's our living room in the garden. The garden's hallways and room align with the house's windows in a graceful manner.'
'Shade is essential in the South. You have to create a little oasis to get some relief from the sun,' he said. 'I chose the lattice fencing so we could still have a breeze, get some dappled light and have privacy.'
Adding to the grandeur of the structure is an 19th century Italian stemma – or cartouche – from the Oligiati Family, which is surrounded by Boston ivy and a number of Roman marble capitals.
The formal structure of the garden also speaks to Massie's passion for classical antiquities. Paved corridors leading to a circular water fountain are flanked with classically inspired cast iron French urns.
'We included water features that add to the tranquil ambience and chose antique pieces that we've collected on family holidays that truly make the garden feel like an extension of the interior space,' said Massie.
Library
Heading inside, Massie's home office ideas also get the antique treatment. 'The Wedgwood blue library is my favorite room in the house,' he said. 'It's filled with all the things I love: a classical fireplace, books, capitals, Greek and Roman objects, wrought ironwork and an English Root chair.'
The sky blue paint on the walls is custom-matched to an 18th century Wedgwood plate, and forms a vibrant backdrop to an eclectic decor. Among the items on display are a collection of Roman and Greek marble heads; a pair of 2nd century Syrian Romano marble capitals; a 16th century, Ottoman-wrought iron falconer's sign, and an English Root Chair with a story.
'The English Root Chair was once owned by landscaper and former New York theatrical producer Luther Greene,' explained Massie. 'The chair was in his basement grotto on East 58th Street that was completely composed of sea shells and took 20 years to create. Later, the root chair was purchased by family friend and horticulturist Tom Amstrong of the Whitney Museum. The chair was saved from a fire that completely destroyed his Fishers Island summer home. It's the one item I would grab if the house caught on fire.'
Master bedroom
In the master bedroom, things get personal. Artwork by friends and family can be found all over the home, but this room hosts a particularly beautiful piece by Alice McGuire Massie. Hanging above the rest of the bedroom ideas is a tapestry depicting the tree of life that has been hand painted by McGuire Massie. Below it, the bed headboard and skirt are upholstered with Tapa Stripe fabric from Fortuny is brilliant blue with warm white.
Family room
'We purchased the Moroccan Berber rug at the Kasbah Tomadot in the Atlas mountains,' says Massie, of the item at the heart of his family living room ideas. 'It is available from the Eve Branson Foundation. The Eve Branson Foundation provides young people with artisanal skills-training to preserve traditional Moroccan and Berber crafts, enriching the lives of local families from Atlas Mountain communities.
Above the marble fireplace is a painting by Massie's sister, Annie Harris Massie, while the McKinnon & Harris furniture includes a pair of deCamp club chairs in Goshen Stone, with Picnic-Limewash fabric.
Second bedroom
In the second bedroom, the vibrant blues continue, this time with the help of the Windmill Wings paint color from Benjamin Moore. This is paired with cool white linens, and given structure with a statement antique-style four poster bed. The art is a family affair once again with paintings by Alice McGuire Massie and Annie Harris Massie.
Bathroom
These blues warm up a little for Massie's bathroom ideas – in this room, the walls command attention with a fresh lilac hue above the dado rail, contrasted with crisp white tiles beneath. Visual interest and further warmth comes courtesy of black details in the floor tile pattern, covered partially by a Persian-style runner rug in reds and ochres.
Breakfast room
In the breakfast room, the patterns of Wedgwood's famous pottery are channeled through the use of Josef Frank's blue and white La Plata fabric on the curtains, armchair and cushions.
The way that classical antiquities have influenced Massie's furniture design gets a nod in this room too, with both a 2nd century Roman marble column and a column-like McKinnon and Harris Suhling table placed at the sides of the armchair.
Kitchen
Marble appears in many forms throughout the home, but makes its biggest impact among Massie's kitchen ideas. Against the white cabinetry, the countertops and backsplashes stand out in Calacatta marble, its metallic tones emulated in the stainless steel base kick plate. The scheme is lent warmth by the house's original heart pine floors.
Living room
Massie's living room ideas are once again driven by his family's artistic capabilities, this time featuring a wooden schooner model built by his father in law, Dr. Hunter Holmes McGuire Jr.
Alongside more antiquities – including a 10th century Umayyad Andalusian marble capital and a Roman head on the Jamb Ltd. marble mantel – the sofas are the real star here.
Upholstered in Fortuny's white and gold Carnavalet fabric, the 17th century-style design is inspired by the wallpaper in the Carnavalet Museum in Paris. 'The intricate garden urns and floral patterns bring the garden inside,' said Massie.
Dining room
Nature once again creeps into the home's dining room ideas. The walls are covered with de Gournay's Emerald Green Earlham wallpaper in hand-blocked silk, depicting flowering trees which hold investigating birds.
Above the fireplace is an oil painting of Alice McGuire Massie and their daughter Ella by friend Everett Raymond Kinstler, while the furniture includes a set of 1958 Ole Wanscher armchairs made from rosewood, and a Federal period Virginia walnut sideboard.
'We chose the striped Dhurrie rug to take the formality of the room down a few notches and make the room feel more livable and casual,' said Massie.
Powder room
'The tiny bathroom is my ode to Sir John Soane,' says Massie of the downstairs powder room. Mimicking the 18th century architect's penchant for filling the walls of his home with classical artefacts, this bathroom is decorated with a number of 19th century architectural plaster panels, which offer a contrast of both tone and rusticity to the room when placed over the walls painted in Farrow & Ball's Mole's Breath.
Interior Design / Will Massie & Alice McGuire Massie
Photography / Kip Dawkins
Sign up to the Homes & Gardens newsletter
Decor Ideas. Project Inspiration. Expert Advice. Delivered to your inbox.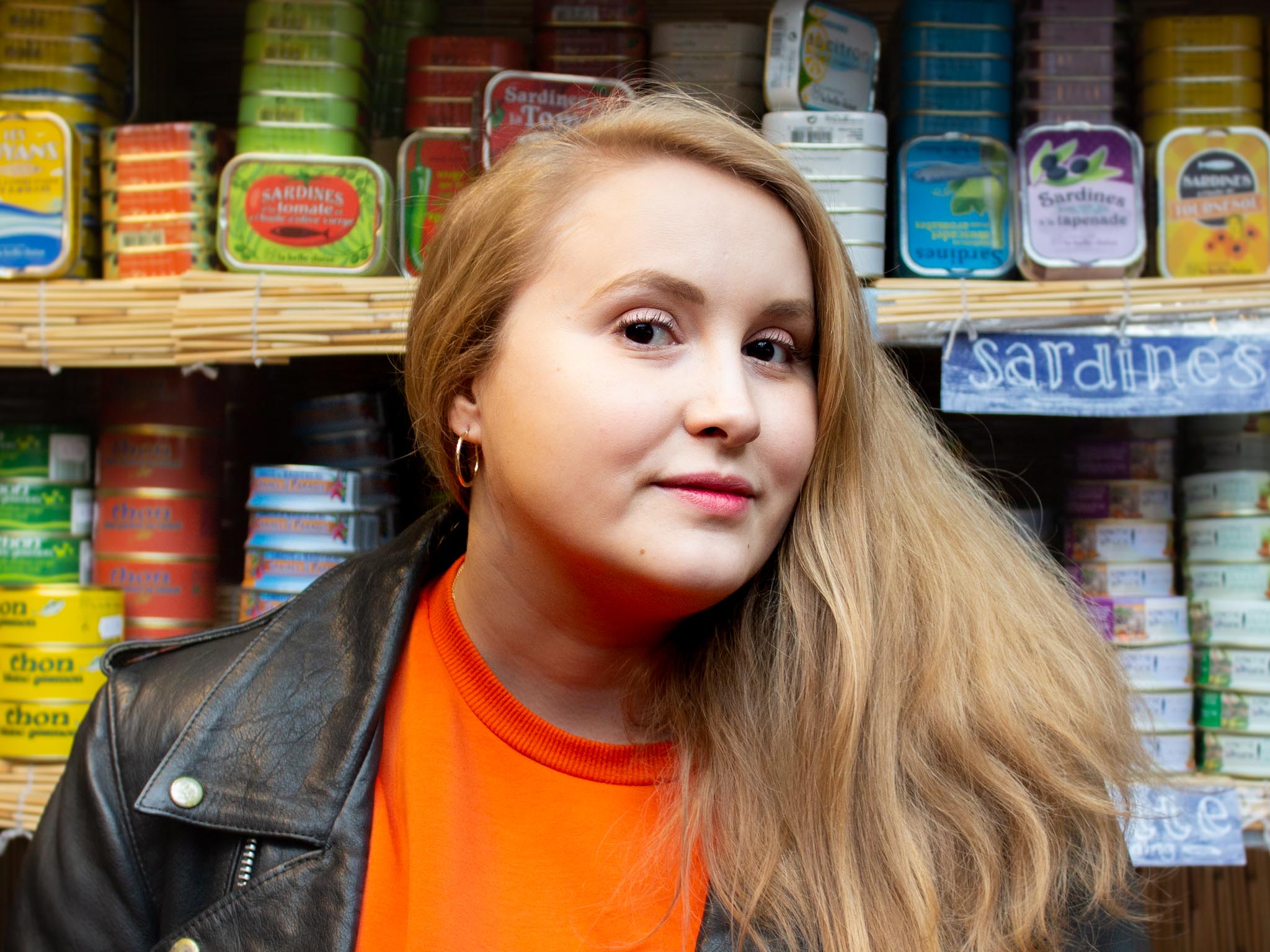 Ailis started out at British GQ, where a month of work experience turned into 18 months of working on all sorts of projects, writing about everything from motorsport to interiors, and helping to put together the GQ Food & Drink Awards. She then spent three years at the London Evening Standard, covering restaurants and bars. After a period of freelancing, writing about food, drink and homes for publications including Conde Nast Traveller, Luxury London and Departures, she started at Homes & Gardens as a Digital Writer, allowing her to fully indulge her love of good interior design. She is now a fully fledged food PR but still writes for Homes & Gardens as a contributing editor.