5 simple things interior designers do to make a dining room look bigger
Easy tricks to expand your space without having to knock down any walls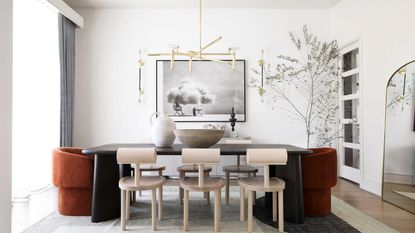 (Image credit: Matti Gresham Photography for Urbanology Designs)
When you gather in the dining room, the ambiance that you want to feel is one of sheer delight and excitement. A delicious meal is about to be served, enlightening conversation will flow, and on the right day, champagne might even be on ice. But homes, as we know, come with their unique quirks, and we can't all be blessed with spacious dining rooms.
However, if you think that it might be a lack of square footage that is letting your space down, rest assured, there are ways to make your small dining room look its best and feel inspiring once again.
How to make a dining room look bigger
Beauty is in the eye of the beholder and a little trompe-l'oeil has always proved useful in the world of small-space design.
'Mastering the art of visual expansion in your dining room involves strategic design choices,' says CEO and Founder of Urbanology Designs, Ginger Curtis. It is less about masking the 'smallness' of a room, and more about enhancing its most impressive features to add figurative scale.'
When decorating a smaller space, there are so many easy tricks to help make the room look bigger. This is what the experts recommend to create a dining room that is grand on every level.
Rooted in simplicity and elevated by extraordinary beauty, interiors by Dallas-based Urbanology Designs bring organic luxury to life. Their soft, modern approach allows clients to relax in the warmth of a comfortable and crafted home. Their design-forward sensibility looks beyond today's times, trends, and whims to create homes with longevity and intention.
1. Bring spaciousness with mirrors
Decorating with mirrors can add design interest to every room and it is the perfect place to start in a space, or even light, starved dining room.
Though you may not have considered including mirrors in this part of your home before, it would be a shame to miss out on such a clear design opportunity. 'Thoughtfully position mirrors to not only reflect light but also conjure a perception of profound depth, magically enlarging the space,' suggests Ginger.
Designer, Kati Curtis also notes how the use of mirrors will help a dining room appear larger. 'When strategically placed, and properly designed into a room, mirrors can create an illusion of more space by reflecting light and the room around them. This works by tricking the eye into perceiving more depth in the room, as the reflection extends the line of sight. Moreover, mirrors enhance the brightness of the room by reflecting both natural and artificial light, which further contributes to a feeling of spaciousness.'
To add even more unique character, look beyond classic mirrors and consider furniture items with reflective elements for the same enhancing effect. Kati shares a clever design tip: 'I prefer the use of Eglomise, a technique where the back side of glass is painted to create a beautiful reflective surface, which can be used on cabinet fronts, wall panels, or furniture pieces to add depth and elegance.'
Ami McKay, creator of PURE Design suggests going big and choosing vintage designs with a little more personality to them where you can.
Kati energizes spaces with a fearless commitment to pattern and texture, color and motif. That commitment is invigorated by friends, mentors, and clients who share her design passions and passion for design. It's reinvigorated by Kati's chronic and incurable travel-bug, which has taken her around the world. Kati's work has been featured in Architectural Digest, The Wall Street Journal, The New York Times, and Interior Design Magazine, among many others.
Ami McKay founded PURE Design in 2000 on the belief that design is found in the art of giving. The work that she puts into each project reflects her personal life experiences and she believes they are at the heart of her business. Today, she is proud to be named one of Canada's Top Five Interior Designers.
2. Light thoughtfully and generously
When it comes to lighting a dining room, layering task, and ambient lighting is important for visual balance and function.
'Illuminate the room generously with bright, ambient lighting to amplify the sense of openness,' shares Ginger Curtis. Work with natural light in the space and with your newly placed mirrors for the best effect.
3. Choose furniture that does not take up too much visual space
When a room is physically small, it can make furniture choices seem limited. Thankfully, there are ways to still include all the furniture pieces you might expect in your dining room, without it overwhelming the space. Keeping things simple will ensure a calm yet distinct cozy finish.
'Cultivate a minimalist ambiance by embracing only the essential furniture and decor items, transforming the space into a clutter-free haven that naturally feels more expansive,' says Ginger Curtis.
From subtly transformative designs to the undeniably ergonomic, choose wisely and it could make all the difference. 'Having a banquette and an off-center table against a window or in the corner allows you to have more space,' shares Ami McKay. 'It's also super inviting and cozy.'
We'd encourage you to be thoughtful with your dining room layout, much like you might float a couch. 'Curate a spatial symphony by skillfully arranging furniture to maximize every inch, allowing it to gracefully float away from walls and avoiding any obstruction of pathways,' shares Ginger.
If you prefer more of a classic finish but know that it will not suit your day-to-day, look to advances in dining room tables. 'Choose an extendable table for options and chairs that don't take up too much visual space,' says Ami. This way, you should still be able to keep it central, without it imposing on the space literally when not necessarily needed.
Ami McKay founded PURE Design in 2000 on the belief that design is found in the art of giving. The work that she puts into each project reflects her personal life experiences and she believes they are at the heart of her business. Today, she is proud to be named one of Canada's Top Five Interior Designers.
4. Create horizontal shapes and silhouettes
Drawing the eye up will always yield grand results and this can be achieved in a number of ways. Ginger Curtis encourages us to focus on the design of our dining room curtains.
'Elevate the grandeur by hanging curtains high, gracefully brushing the floor, imparting an elongated allure to the windows, and infusing a touch of refined elegance into the dining experience,' she suggests.
Devon Wegman, Designer Director and Founder of Devon Grace Interiors also vouches for this method. 'Additionally, tall features on the walls will add to this effect, such as ceiling-mounted drapes. By keeping drapes clean and minimal, such as ripplefold linen drapes, they don't clutter or crowd the space, but create lines that guide the eye upward, making the room feel even taller,' she says.
Furthermore, by keeping drapes a little elusive, you might draw more attention to your windows, which will in turn enhance space.
Devon Grace Interiors is an award-winning full-service design and general contracting firm specializing in inspiring luxury residential and commercial projects. The Chicago-based firm, that is led by Devon and her husband Michael Wegman, prides itself on challenging outdated industry practices, using cutting-edge technology to streamline the design process. With a multidisciplinary background and years of experience working with some of the most prestigious architecture and design firms, Devon has honed her eye for contemporary, textural design. As the creative force behind DGI, Devon looks at spaces holistically and creates cohesive, tailored designs that balance dramatic, bold moves with modern, clean lines.
5. Captivate with art on any of all five walls
To create a sense of drama it is all about detail and scale. 'Introduce a captivating dimension with a statement piece of art, a visual spectacle that captivates attention and artfully distracts from the room's actual dimensions,' says Ginger.
Ami McKay recommends going oversized when selecting art, much like we can see in the space above by Maestri Studio. Furthermore, we know that accent walls can be just as dinstinctive as art itself. Wegman encourages us to look at different ways to add artistic detail: 'One of our favorite ways to make a dining room feel bigger is to treat the ceiling with a unique finish. This can either be a glossy paint or a wallcovering. Incorporating a decorative finish draws the eye up and enlarges the design and space as a whole.' Work to your taste and choose a finish or wall decor design that will bring out the best of your small space and suit your audience.'
FAQ
What paint is best to use in a small dining room?
From color choice to furniture placement, approaching a particularly small dining room with more than one expansive edit will see you enjoying the best results.
Mirrors are not the only way to increase the feeling of spaciousness through light reflection. This can be cleverly achieved with the right type of gloss paint and even furniture finishes.
'High gloss lacquer paint can further enhance the feeling of space in a dining room,' highlights Kati Curtis. 'High gloss lacquer reflects light effectively and when applied to walls or ceilings, it gives a sleek, polished look that can make the room feel more expansive.'
Consider light colors that will by default help a smaller room appear larger and be sure to carefully consider all the finer details like your table positioning and mirror placement. 'The combination of mirrors, eglomise, and high gloss lacquer can work in harmony to create an illusion of increased space and light,' adds Kati Curtis.

What furniture will make a dining room look bigger?
'One of the easiest ways to increase space and utility of the dining room is to invest in an expandable table,' says designer Kim Gordon who notes how our use of the dining room now often goes beyond humble meals – especially since the pandemic – but that there are clever ways to embrace this in an elegant fashion.
'Every day isn't Thanksgiving with 10+ filled seats. A beautiful pull-out table in its smallest form creates lovely clear space, giving the room an air of expanse. the extra space will also allow for roomier upholstered, loungy style chairs; better for playing chess in - or reading a book.'
---
Whether you want your dining room to appear bigger and make the perfect setting for a Thanksgiving table spread, or if yours feels too claustrophobic to host even the smallest of vol-au-vents in a joyful mood, there are plenty of space-expanding tricks you can use to elevate the space, making it feel larger and loftier.
Sign up to the Homes & Gardens newsletter
Decor Ideas. Project Inspiration. Expert Advice. Delivered to your inbox.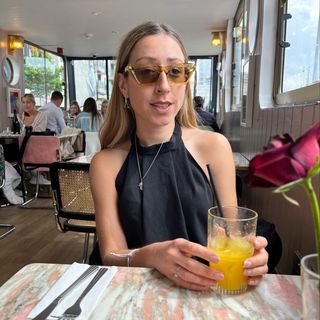 Camille is the former deputy editor of Real Homes where she covered a broad range of topics, including house tours, small space design, and gardens. She studied English language and Italian at the University of Manchester and during a year abroad studying linguistics and history of art in Bologna, Italy she started documenting her adventures and observations in a blog. Camille is always creating and spends her downtime painting, taking photos, traveling, and writing short stories.