The 6 mistakes you're making with the design of your farmhouse kitchen
We explore the farmhouse features that are falling flat and guide you on how to style this look to perfection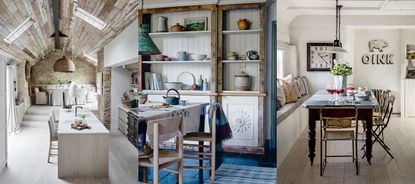 (Image credit: Brent Darby | Future | Dan Duchars)
There is no denying that a farmhouse kitchen is one of the most popular designs to embrace in homes both old and new.
Simple, timeless and elegant, farmhouse kitchen ideas establish a beautiful union of the modern and the rustic and can create a cozy kitchen space that feels warm, welcoming and rich in organic and natural character.
However, with every decorating success comes a decorating disaster. Whether it's going overboard with a theme and using too many accessories, or making the wrong kind of impact with the use of too much of the same material, we are on hand to guide you through the 6 mistakes to avoid when designing and styling your very own farmhouse kitchen.
6 farmhouse kitchen mistakes to avoid
As we have explored with modern farmhouse mistakes, there is nothing to be ashamed of if you have embraced these decorating ideas, after all, it would be boring if we all had homes that looked exactly the same!
This is a guide to help those who are looking to give their current farmhouse decor ideas a fabulous refresh, and for those who are considering a fabulous farmhouse kitchen scheme and want to know what to avoid.
1. Too much wood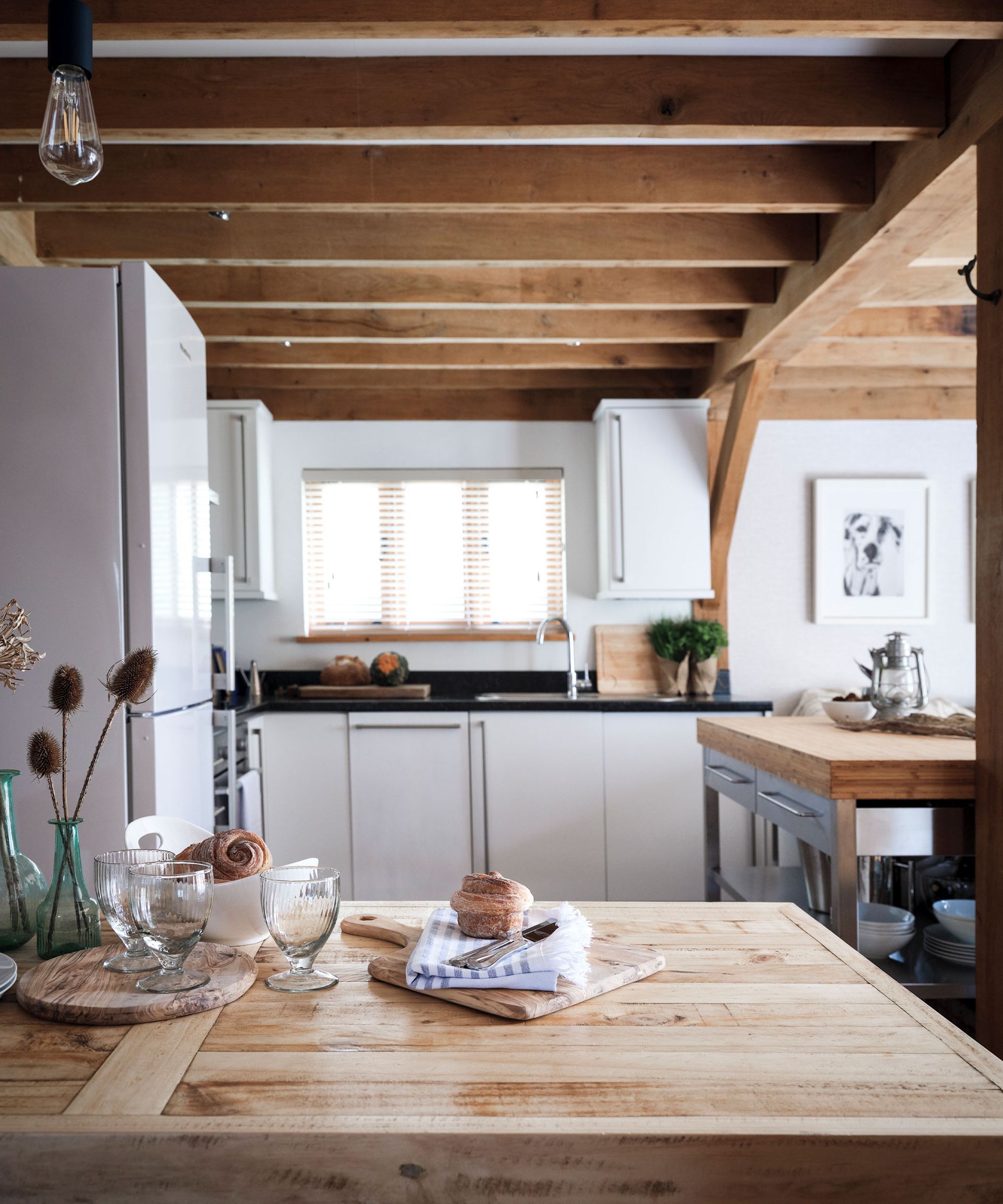 Yes, you heard that right, too much wood is on our list of farmhouse kitchen mistakes.
From wood kitchen cabinets to wood flooring ideas and wood ceiling ideas, wood is a beautiful, durable and utterly timeless material to work with in interior design, however, as the popular saying goes, you can sometimes have too much of a good thing.
Wood is at the essence of farmhouse decor, however, the key to creating a harmonious farmhouse kitchen is all about balance and channeling a more modern farmhouse look where mixing materials is key.
While wooden cabinetry and shelving look great in a kitchen, creating elements of contrast through kitchen tile ideas and kitchen color ideas will only give your wooden features the space and recognition they deserve, rather than creating a kitchen environment that is overwhelmed by a mix of too many wooden tones and textures.
2. Awkward faux barn doors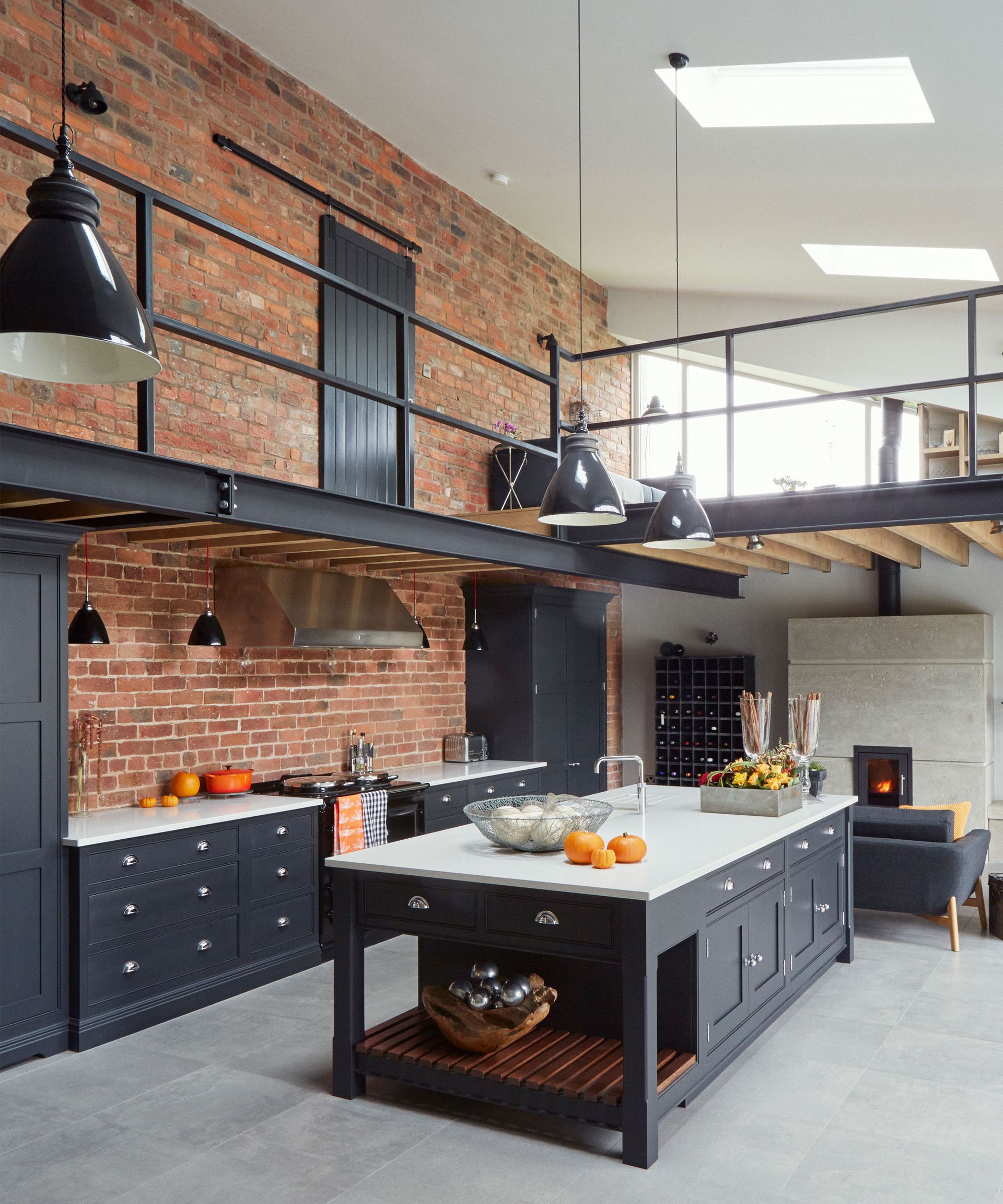 Faux barn doors are one of the worst trends that we would like to be left behind in 2022, let us explain why you should be avoiding them in your farmhouse kitchen.
A barn door can be a beautiful design feature, and many authentic doors are wonderful reminders of the original architecture and history of a property. However, when used in the wrong type of setting – especially in a modern kitchen, a faux barn door can create an award juxtaposition with the rest of the space, rather than bringing in a desired element of character.
Creating contrast in interior design is key for adding depth and character to a space, however, if you're looking to create a farmhouse style in a more modern kitchen, think how this can be achieved through a curated blend of materials, furniture and accessories, rather than with faux original features that do not belong.
3. Not incorporating other styles into the scheme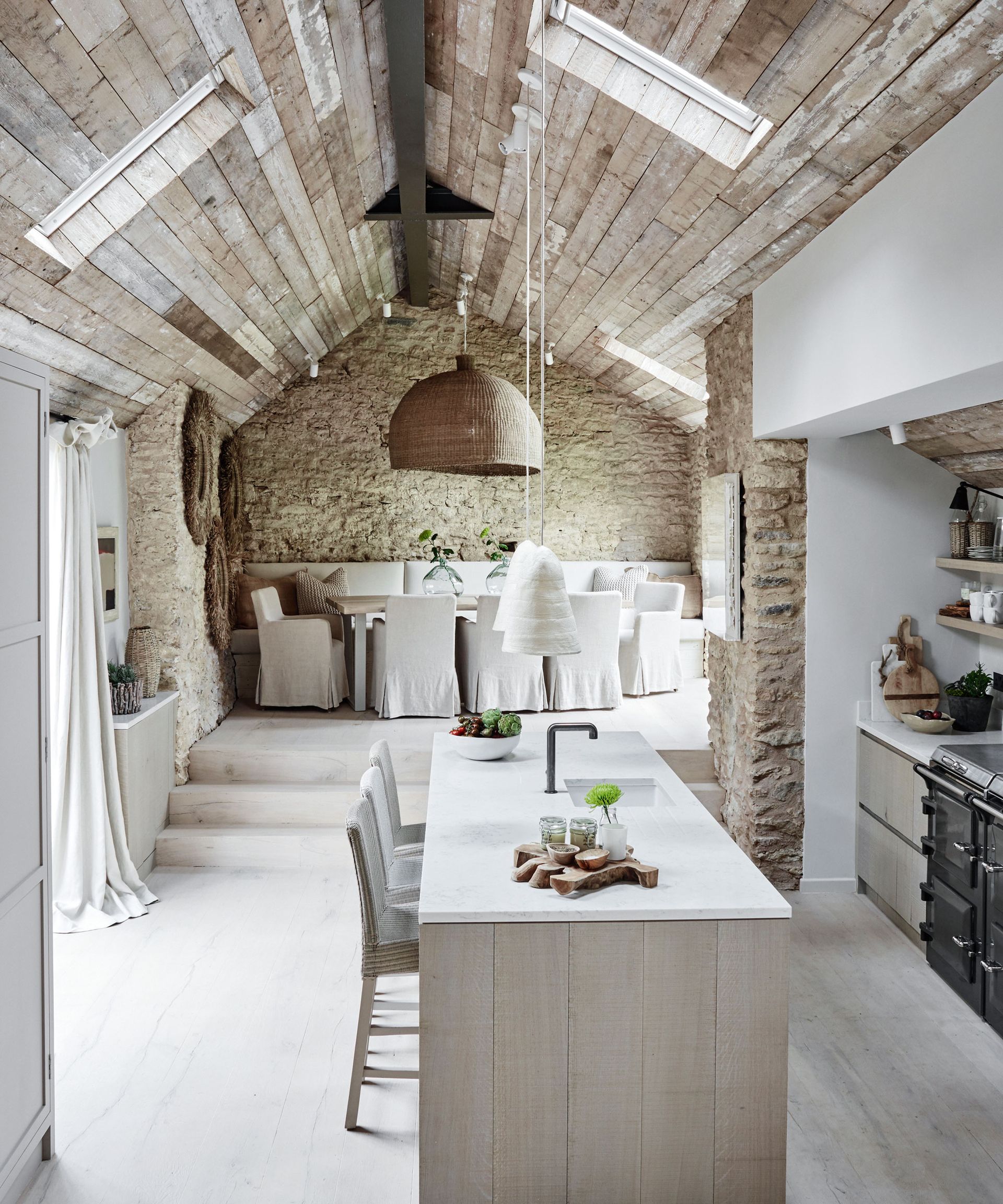 From farmhouse kitchen ideas to coastal kitchen ideas, following a theme can often help narrow down your interior design choices, making things a little easier when decorating a space. However, when embracing themed decor, there is a fine line between stylish and saturated.
A mix of styles can make the most eclectic and beautiful of spaces, and 2023 interior design trends are all about creating contrasts and uniting the old with the new. Farmhouse decor often lends itself to more neutral room ideas, so it can often coordinate beautifully and seamlessly with a whole host of other styles, from Scandinavian kitchen ideas to industrial decor and more.
Purveryor of modern farmhouse decor, Joanna Gaines, says in her blog that in her home, 'you'll see a sweeping shift of styles other than farmhouse, like modern, rustic and industrial, with the goal of creating a more refined overall look.'
When following a theme, there will always be certain guiding principles to consider in order to get the overall look right, but there are no set rules, it is your chance to get creative with your own unique take on the style, and create a space rich in character and personality.
4. Overdoing rustic elements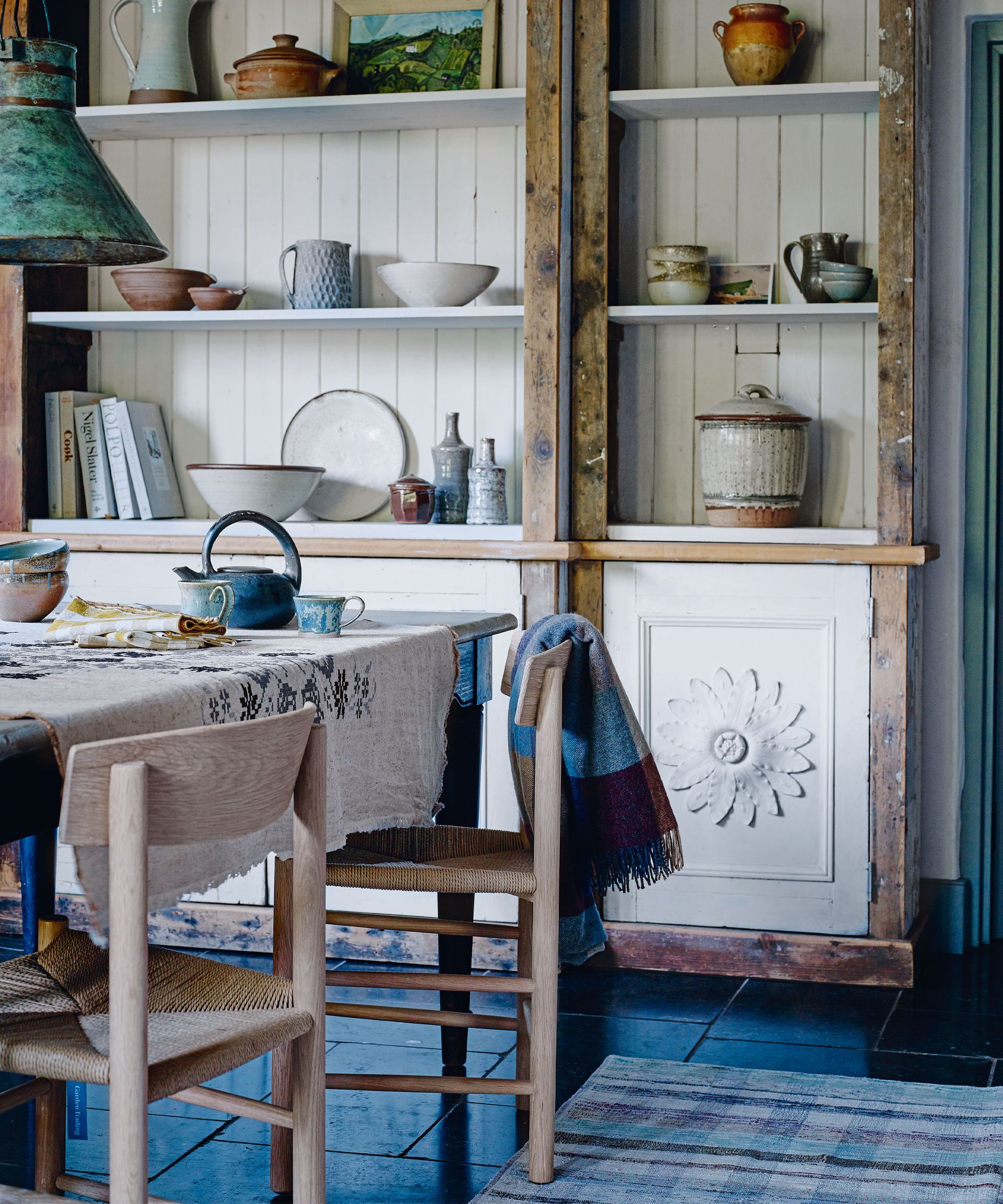 Farmhouses are places rooted with the outside world and agriculture and are traditionally situated amongst beautiful rural, natural landscapes, with farmhouse decor often defined by a more simple and rustic style, with the heavy use of natural materials and earthy color palettes inspired by the colors of nature.
Contrasting rustic accents, like wood and metal, with sleek materials such as marble and a more contemporary color palette, will ensure that you have the perfect balance of both the rustic and the refined.
5. An overuse of word art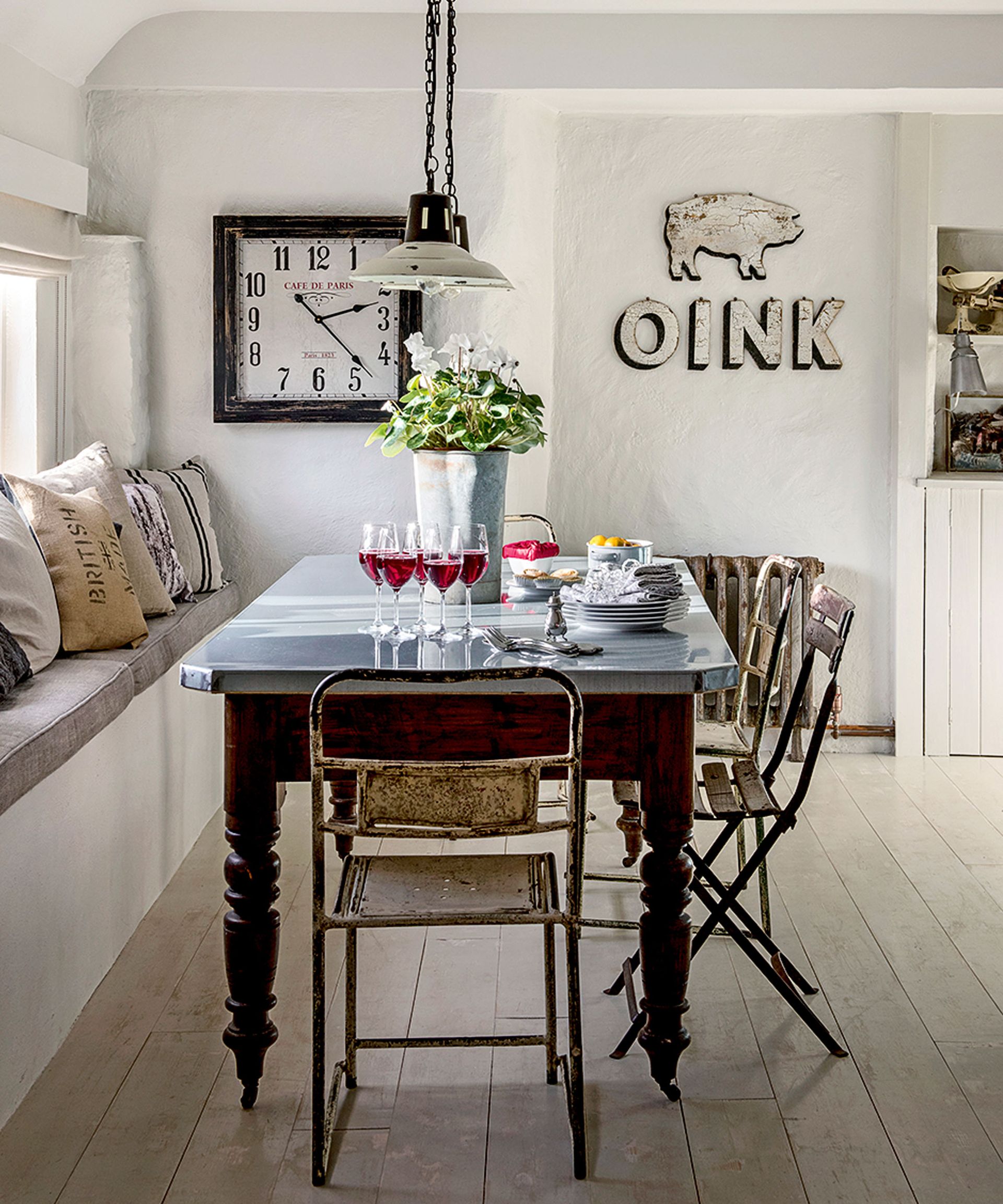 Some of us just cannot get enough of quote signs, from the famous Live, Laugh, Love to personalized family signs, of course, if these decorations bring you joy and make your house feel more like a home, then that is all that matters.
However, it pays to let your farmhouse kitchen design speak for itself, rather than pointing out the obvious with a collection of themed signs.
The main thing to learn here is not to take things too literally, you do not need a big FARMHOUSE sign above your dining table to establish a theme, instead, think about your overall use of materials and colors, and how more subtle decorations, such as woven baskets and plants can add the final farmhouse flourish, instead.
6. Ignoring the practical elements needed in a kitchen design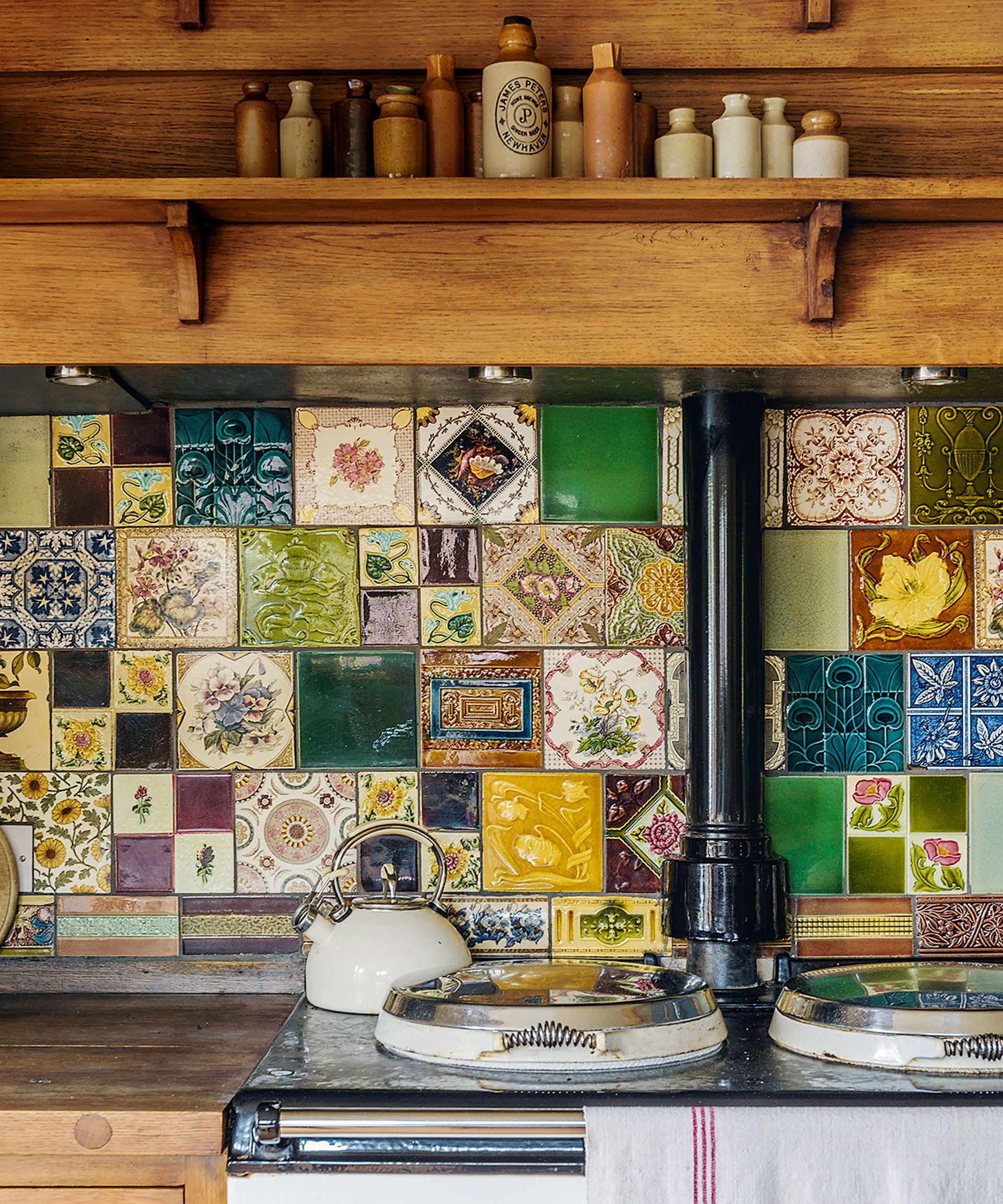 From too many knick-knacks on your surfaces to an awkward kitchen layout that disrupts the overall flow and usability of your space, in a busy hub of the home such as a kitchen, the space will always need to be beautiful and incredibly practical.
'When it comes to designing spaces in my home, it's always a balancing act of function and style. Because we live in a farmhouse, our home will always have that foundational aesthetic – so whenever I feel like a space could use a change, I'm intentional about making choices that not only support the needs and interests of our family in that season, but that also reflects my evolving design style.' says Joanna Gaines.
The kitchen is often the heart of the home for many, and it is a space that works hard to serve a whole host of functions, from cooking, eating, relaxing and entertaining. If you've just moved into a farmhouse that has the original kitchen intact, do not be afraid to make necessary changes to ensure the space feels more functional. If done right, you will not be stripping the space of character, rather, you will be creating a beautiful blend of the old and the new, and enhancing the room so it perfectly adapts to your needs.
What are the elements of a farmhouse kitchen?
Key elements to consider for a farmhouse kitchen design include:
An elegant mix of materials (old and new) think metal, marble, wood and wool
Color palettes rooted in nature, but also don't be afraid to be bold!
Wooden cabinets
Wooden flooring
Exposed wooden beams
A large wooden dining table
Decorated open shelving, decorations include plants, ornaments, traditional cookware
Is a farmhouse kitchen out of style?
Far from it, farmhouse kitchens remain enduringly popular and are one of the most celebrated styles to embrace in the kitchen.
Farmhouse decor ideas are rooted in an elegant simplicity that champions the use of durable, natural materials to create a warming and cozy space rich in character, making the style incredibly timeless.
Farmhouse decor can also easily coordinate with a range of themes and eras of design, from incorporating more modern color palettes to using an eclectic mix of contrasting materials and furniture pieces, a farmhouse kitchen can provide a versatile foundation for a truly beautiful and unique kitchen design – no matter the style or age of your property.
Sign up to the Homes & Gardens newsletter
Decor Ideas. Project Inspiration. Expert Advice. Delivered to your inbox.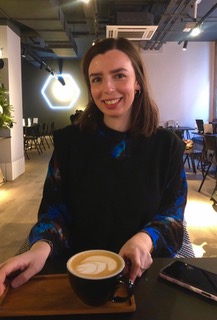 Zara joined Homes & Gardens in February 2022 as a Content Editor. After studying English Literature at University, she worked as an Ecommerce Website Editor, Content Writer and Buying Intern at multiple independent businesses within the luxury retail and lifestyle sectors. Her role at Homes & Gardens unites her love, experience and passion for the world of design and desire to create inspiring written content. She enjoys nothing more than discovering new trends, brands and products, whether that be in fashion, interior design or lifestyle.