'It pays to be bold' – 15 unbreakable rules for displaying artwork that designers and artists swear by
Learn how to give the artworks in your home the space and spotlight they deserve with our inspiring design ideas and expert guidance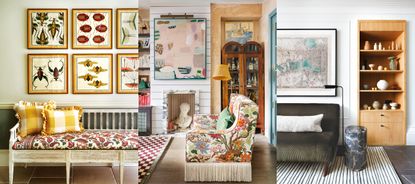 (Image credit: Salvesen Graham | Barlow & Barlow | Christian Bense, Alexander James )
The way art is displayed can have a truly transformative impact on a space, and we have spoken with a collection of artists and interior designers who offer their best advice on how to beautifully display the artwork in your home.
From sculptures to paintings, ornaments to tapestries, decorating with art can uplift a room with beautiful character, texture, and color. Displaying artwork can create engaging visual interest, instigate a talking point, and is often the final finishing touch that can help pull a whole design scheme together.
Our experts take us through a collection of artwork display ideas and explore how artwork can help to define a room by enriching a space with a sense of identity and unique visual flair.
Learn from the experts on how to display artwork in your home
Whether you're exploring how to choose art for the home and need further advice on how to display, or are simply looking for some beautiful inspiration for your wall decor ideas, let us take you through 15 display design ideas to help you bring beautiful decoration into your home.
1. Curate a talking point
This eye-catching table display makes a conversational starter for guests in the home of the artist and designer, Margit Wittig, perfect for an entryway or living room.
'The round table was one of the first pieces of furniture I ever bought, and it has been a key piece in every home I have had,' says Margit. 'It now doubles up as an inspirational work table and somewhere to display my finished pieces – an ideal option for anyone wanting to arrange art anywhere other than on a wall.'
She adds, 'I have placed two sculpted clay portraits facing each other on wooden bases and a white contemporary geometric table lamp in the middle to soften and give height. The key to making a successful arrangement is to mix height and scale.
Margit Wittig is a London-based sculptor and painter who designs and makes contemporary bespoke lighting and furniture. Margit studied sculpture and stone carving at the Sculpture Academy as well as metal work at Central Saint Martins. She launched her brand in 2016, with commissions for handcrafted lamps.
2. Show off your creative flair
A small bathroom is a perfect place to play with color or pattern, as well as host art or objects.
'We love displaying items, and a bathroom is no different than any other room,' say Angus and Charlotte Buchanan of Buchanan Studio, who designed this stand-out space for their children.
A striking, immersive bathroom design, we love the joyful use of color for the bathroom tile ideas, and how the niche shelving makes clever use of the wall space, proving a practical and stylish storage and display area.
Angus and Charlotte Buchanan
Angus and Charlotte Buchanan form the husband and wife design team behind their London-based creative design frim, Buchanan Studio, set up in 2018.
3. Hang artworks in a neat grid pattern
There's something very pleasing about the symmetry of hanging paintings in a grid pattern, as this design by Salvesen Graham shows.
This display technique is a simple approach that works easily with sets of artwork, creating a well-balanced visual note in a room – a great way to incorporate a sense of symmetry into a space, too. The key is to create continuity by having each one in the same type of frame.
4. Build a collection
Displays of art don't always have to take center stage in a room to leave an impact. Take advantage of any surface to house a collection of ceramics.
In this case, a bespoke TV cabinet designed for a project by Albion Nord is crowned by pots, urns and candlesticks.
'We love the combination and balance of using antique, found and contemporary objects together to create a sense of evolution in a space,' says Camilla Clarke, co-founder and creative director, of Albion Nord.
Creative director at London-based interior design firm, Albion Nord, Camilla Clarke has worked at some of London's leading interior design practices. Clarke uses her artistic background to influence her interior designs on everything from contemporary penthouses to Georgian homes.
5. Enhance artwork with paneling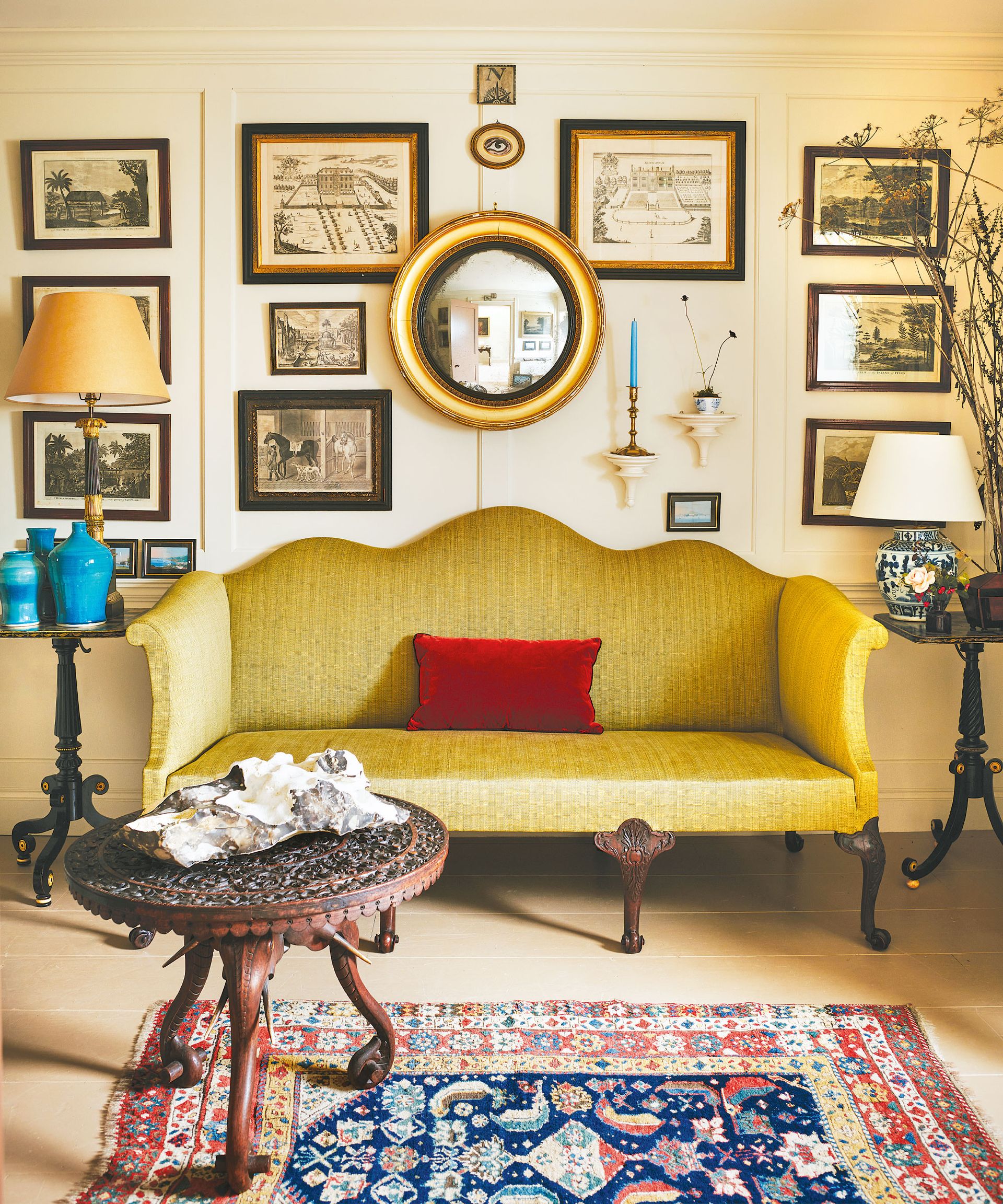 Gallery walls are popular in design schemes, but some are taking compositions a step further and including interesting brackets or wall paneling ideas for further interest.
'Being a small space, this room needed a sense of intimacy,' says interior designer and antique dealer, Max Rollitt. 'Paneling adds texture and creates shadow and depth in a room. There's no need to be frightened of hanging on paneling; the geometry of it will tempt you to center where you place things on each panel, but don't be afraid to span a panel or style – or, indeed, cover up large areas. It's only architecture. Likewise, brackets are an architectural element, but they can make for an interesting way to display things.'
Max Rollitt originally trained as a furniture designer and maker, and was apprenticed to Frearson and Hewlett, an antique furniture restoration workshop supporting the top London trade. Since 1993, Max has run his own antique business in the South Downs village of Avington, and he began creating his own range of bespoke furniture in 1998. Max entered into the world of interior design in 2006.
6. Create a place for plates
For those who are nervous about hanging paper and canvases on bathroom walls, plates are a good alternative – they don't mind a bit of splashing.
In this green bathroom scheme by Octavia Dickinson, she's used plate stickers for hanging the plates. 'I am a big hanger of plates on walls, but I especially love hanging them in a bathroom, so there's something at lower eye level to gaze at when you're having a bath,' says Octavia.
'I like plates to be grouped together rather than one on its own; that said, I'd use a large serving plate on a wall, but surround it with paintings so it's in good company. The fewer ordered plates are arranged, the better. I tend to stick to a similar size of a plate and build a cluster of them from the inside out.'
We offer further guidance in our dedicated feature, how to hang plates on a wall.
After graduating from the Courtauld Institute of Art, Octavia joined a leading international gallery, working in both contemporary and traditional painting and sculpture and with whom she moved to New York. After three years in America, she came home to the UK and turned her experience in the arts to a career in interior decoration.
7. Introduce texture with a beautiful tapestry
'Hanging tapestries as art is a great way to introduce texture, color and warmth into a space. They are also brilliant sound absorbers, which can help with acoustics in noisy rooms,' says Katie Lion, senior interior designer, Kitesgrove.
'We sourced this beautiful antique tapestry in Paris and it serves as the focal point of this room,' says Katie. 'The tones informed our choice of the inky blue paint we used on the wall; it offsets the tapestry beautifully and stops it from feeling too traditional.'
Just like a beautiful wall mural, a tapestry can transform the look of a blank wall with eye-catching color, texture and immersive, artistic design.
Katie Lion is a senior interior designer at London-based design firm, Kitesgrove. Prior joining the brand in 2017, Katie has extensive experience as a designer, working for other brands such as, Soane Britain.
8. Embrace modern art
A piece of contemporary art can have a big impact on a room, lending it an edge. This triptych of glossy resin panels in rich greens by Fleur Simon was commissioned by Studio Ashby.
Creating a striking statement in this open-plan living space, the artwork helps to create a sense of rhythm and movement in the space. By having artwork on both walls, the designs work wonderfully to help zone the dining area, too.
9. Place pieces on a pedestal
Putting a sculpture or ceramics on a pedestal has the immediate impact of elevated status, and mirrors how these art pieces would be displayed in a gallery.
'In this project, the oversized vessel with its worn patina and vibrant color makes a striking contrast to the pared-back palette,' says Tom Cox, co-founder of Hám Interiors.
The elevated large vessel and smaller framed artwork on the wall make the most out of the alcove space, creating an inviting viewing area and design feature in this living room space.
10. Enhance artwork with joinery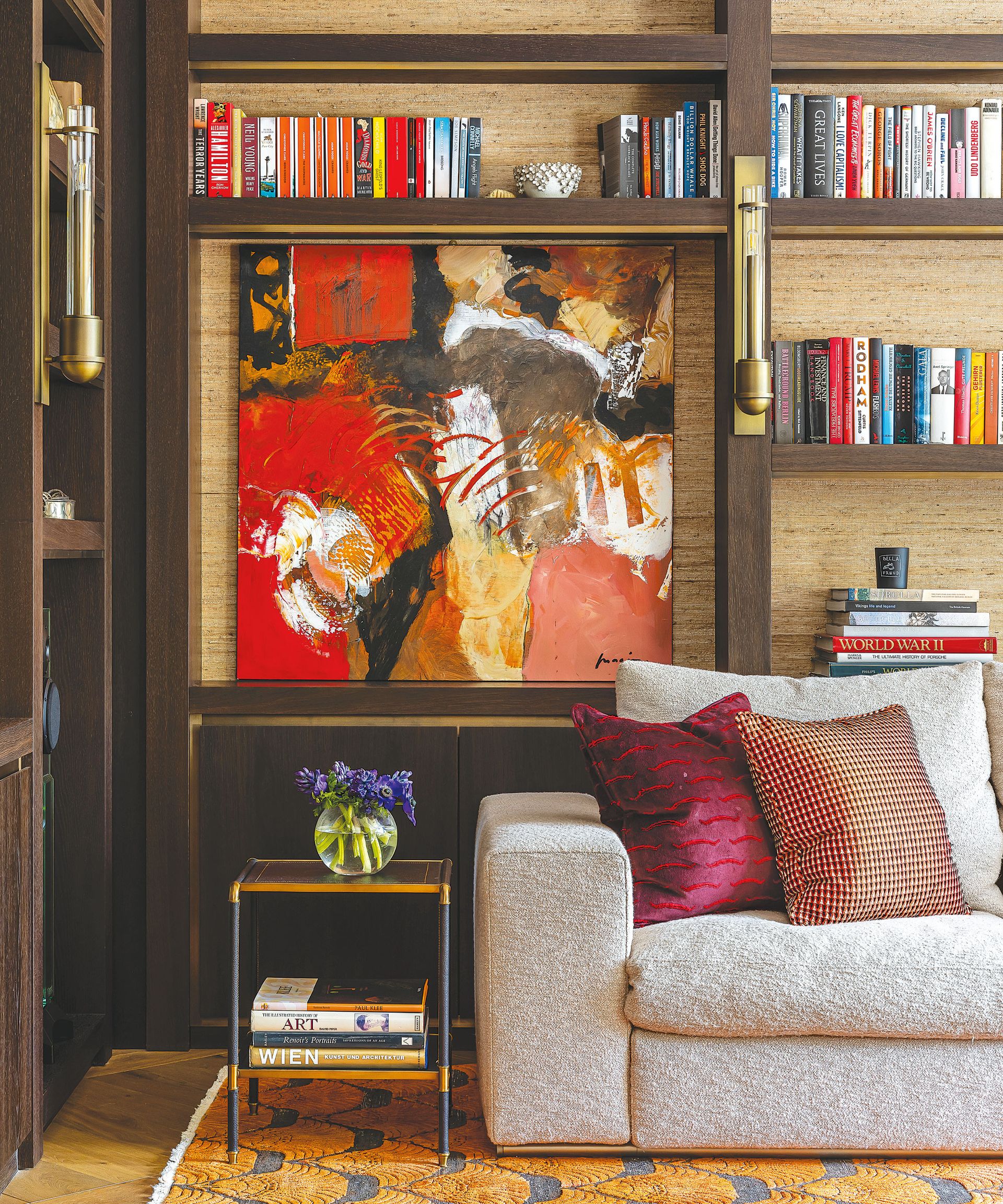 'Placing artwork within joinery is a lovely way to hero a painting,' says Samantha Todhunter, who decorated this library-meets-TV room.
'Here, dark wood and textured grasscloth on the wall create a warm, luxurious color scheme that perfectly complements the abstract painting.'
The bespoke wooden shelving creates the perfect frame for the artwork and helps to ground and connect the painting to the room, with the colorful books on the surrounding shelves beautifully complementing the palette of the painting.
Samantha Todhunter began her career as a journalist and art director for Vogue Living Australia. Upon moving to the UK, she contributed to numerous international design publications. She then went on to work as an interior designer and opened her own London practice in 2012.
11. Unite the old with the new
Contemporary art can be very happy in a bathroom, providing a contrast against more functional, clinical elements.
This scheme by Studio Duggan features a portrait painting by Spanish artist, Lídia Masllorens. Its scale ensures the design has a strong presence in the room, with the piece establishing a stylish contrast with the more traditional bathroom scheme.
12. Style with classical pieces
Classical pieces such as busts and bronze urns can't help but elevate a setting – especially in a contemporary context.
In this entrance hall by Katharine Pooley, urns are placed in niches set into the wall, and in the center sits a plaster bust of the Gaddi Torso, creating a magnificent design feature and focal point that greets you as you first step foot into the home.
13. Make a statement with similar designs
Shelves can act as art installations in their own right, without parting with thousands of pounds in the process.
Displaying objects of the same kind creates a meaningful and significant statement and sense of repetition – but the items don't need to be high art. The act of styling a shelf and putting objects together on display using a strong color scheme can create a coherent thread and a beautiful visual impact.
Here, a series of pots of the same size have been used to support each of the shelves above with great effect. It's a classic approach of Kit Kemp, interior designer and founder and creative director of Firmdale Hotels. 'Combining color, vintage fabrics and a geometric rug was a fabulous way to refresh this living room,' says Kit.
Renowned British interior designer and founder of the hotel chain, Firmdale Hotels, Kit Kemp has been creating and designing beautiful interior spaces for over three decades.
14. Create a decorative entrance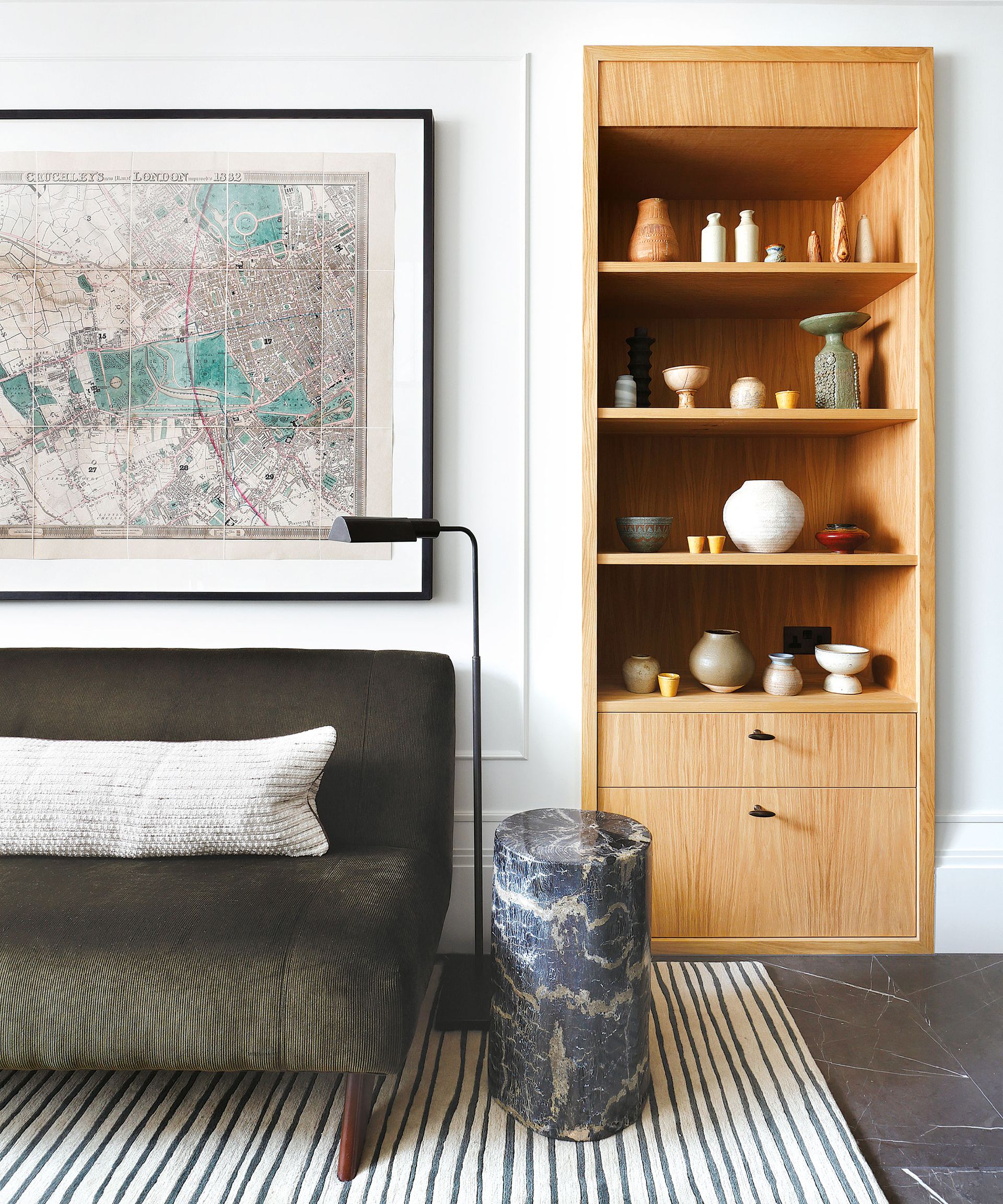 No one should feel compelled to fill shelves with books – especially in a room that isn't intended as a reading space.
This scheme by interior designer Christian Bense is the entrance hall of an apartment. Creating a pause between the front door and the rest of the home, the display of ceramics on the shelves of the joinery in raw timber is a welcome sight for visitors.
As passing spaces, hallways, and entryways can be tricky to decorate with art as there is the assumption that no one will stop and look. Here, however, Christian has carved out a seating area, which invites people to sit and admire. The retro bench is covered in corduroy by Rose Uniacke and the striped rug is by Amy Kent.
15. Embrace a maximalist style
While it can be tempting to spotlight a favorite painting as a showpiece, at the same time as pulling back on decorative details lest they detract from it, it's not the only way to go.
Lucy Sear-Barlow, of Barlow & Barlow, shows how to fold other artistic elements into a space with charming results for maximalist decor ideas.
Here, in the living room of Lucy's former London home, a painting by Diane Whalley is hung in a foremost position above the fireplace. But also drawing the eye is a sofa covered in Magnolia by GP&J Baker, alongside a vintage cabinet that doubles as a bar. Taking a cue from the pink in the painting is a Chequerboard rug, part of a collaboration between Barlow & Barlow and Pelican House.
FAQs
Does artwork need to be framed?
A frame will not only protect a work of art, but it can also elevate the design, and help it look more balanced and appealing when mounted onto the wall.
Kit Kemp says, 'remember to protect pieces within their frame to avoid exposure to water. A thick frame can also help to define the art, and create a sense of separation.'
A frame can also uplift a design with wonderful texture and contrasting color and pattern, as Georgia Spray, founder of Partnership Editions says, 'when framing an artwork, think about the colors you want to emphasize in the piece.'
If you're planning a gallery wall, a mixture of different frame colors and styles can make for an eye-catching and eclectic display. 'Don't get too worried about whether frames match or not – I personally think a bit of mismatch is a great thing' says Spray.
---
Learning how to best display artwork in your home will not only beautifully celebrate the work of an artist, it will help to spark wonderful moments of joy through enriched visual interest, character and style.
As interior designer, Kit Kemp says, 'it pays to be bold – stick to your guns. Colors that speak to you will bring life and personality to your interiors.'
Sign up to the Homes & Gardens newsletter
Decor Ideas. Project Inspiration. Expert Advice. Delivered to your inbox.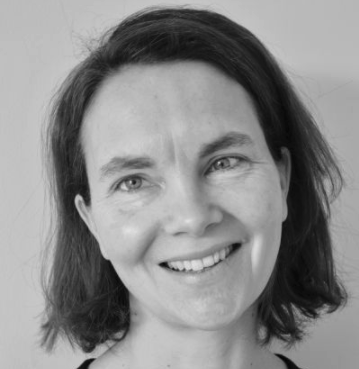 Arabella is a freelance journalist writing for national newspapers, magazines and websites including Homes & Gardens, Country Life, The Telegraph and The Times. For many years she has specialized in writing about property and interiors, but she began her career in the early 2000s working on the newly launched Country Life website, covering anything from competitions to find the nation's prettiest vicarage to the plight of rural post offices.