What type of flooring is best for a living room?
Discover the best type of flooring for your living room with our expert guide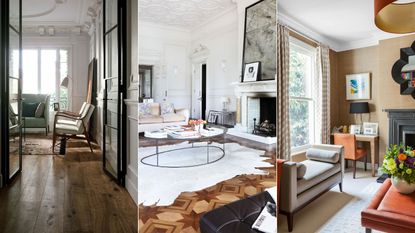 (Image credit: Future)
When it comes to finding the best type of flooring for your living room you are faced with a nearly endless array of colors, textures and materials. Finding the best type of flooring will of course depend on the style of your room and interiors; the make-up of your family (namely if you have children or pets) and the look and feel you want to achieve.
Your flooring is one of the most important parts of your living room ideas. Covering the largest surface area in the room, living room flooring ideas are extremely influential in the atmosphere of the space.
So whether you're looking for the perfect carpet for a classic living room or are in search of a hardwearing material to complement your open plan living room ideas, we've rounded up some of the best types of flooring for your living room.
What type of flooring is best for a living room?
Wool carpet and wood flooring are often regarded as the best types of flooring for a living room, however, there are lots of other living room flooring ideas that are equally great.
'Flooring is the key element when it comes to setting the tone for any interior. Get this right and all the other details will fall into place,' says Darwyn Ker, managing director of Woodpecker Flooring.
1. Choose solid oak flooring for a classic look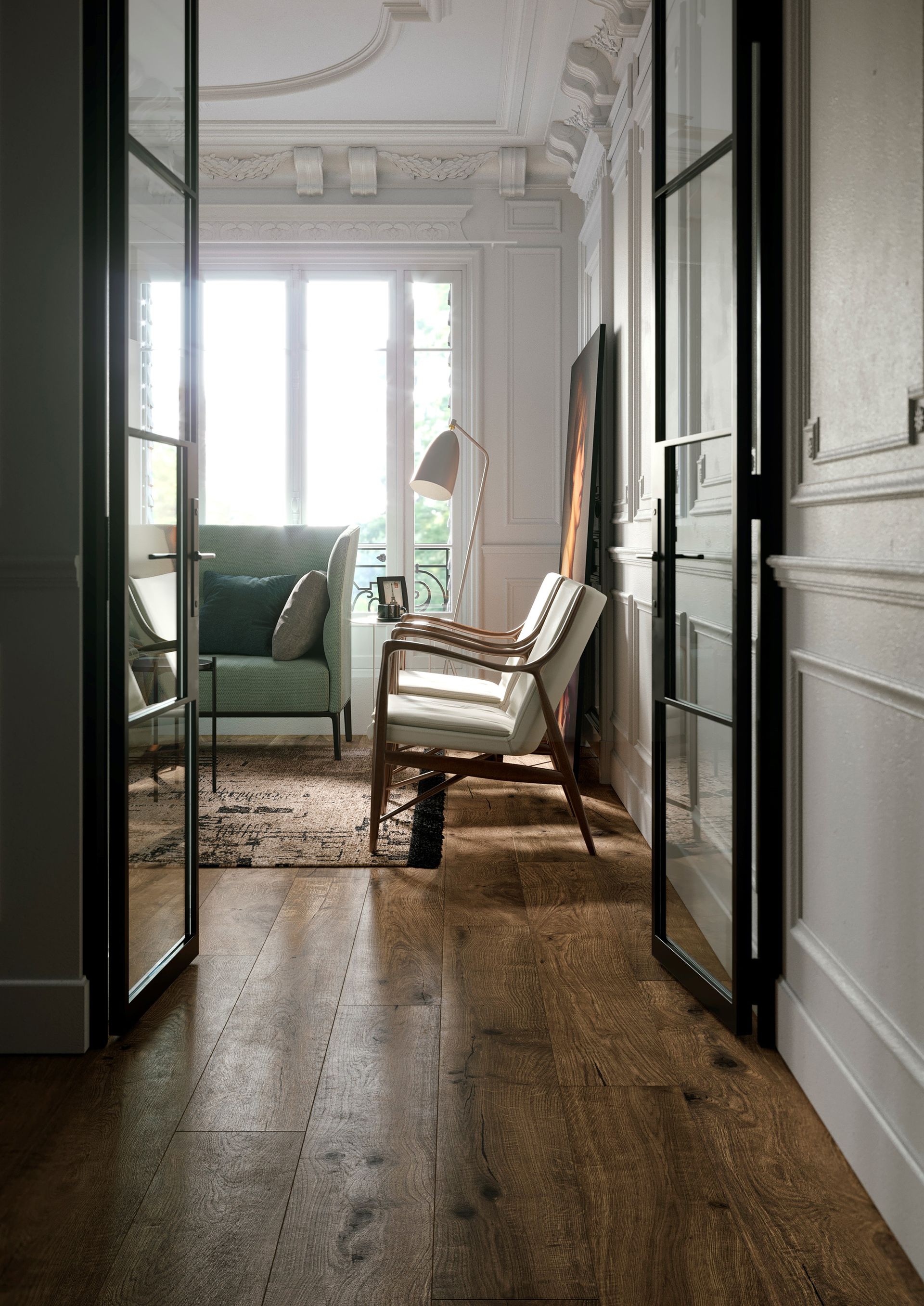 Timelessly beautiful, wooden flooring is one of the most desirable features in a traditional living room due to its authentic, natural appearance, its durability and warmth underfoot.
From light blondes to deep and moody tones there are lots of wood floor ideas for a living room. However, the most characterful option is natural hardwood flooring. Aging gracefully, natural wood flooring reveals a characterful differentiation of shades between each board that other materials all attempt to imitate.
2. Embrace elegance with geometric wood flooring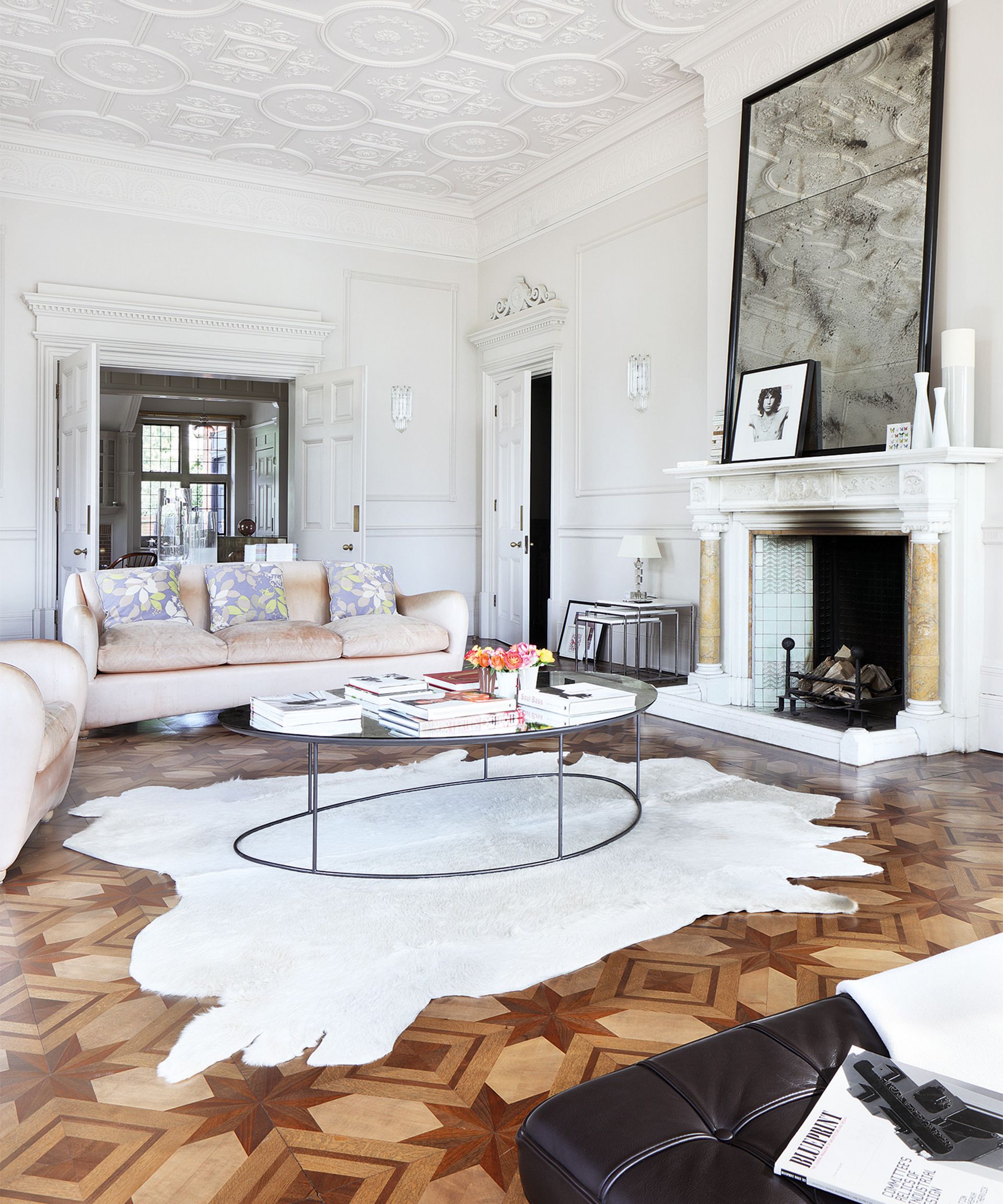 If you're looking to make a statement with your flooring – perhaps searching for the perfect pairing to your formal living room ideas – then an intricately laid parquet is a great choice. In this beautiful living room designed by architectural and interior design company, Point 3 Design, marquetry and parquet has been combined in a geometric pattern to create an eye-catching living room floor that is a work of art in its own right. We love the warmth it brings to the space with its rich variety of colors and textures
3. Embrace high-end comfort with a wool carpet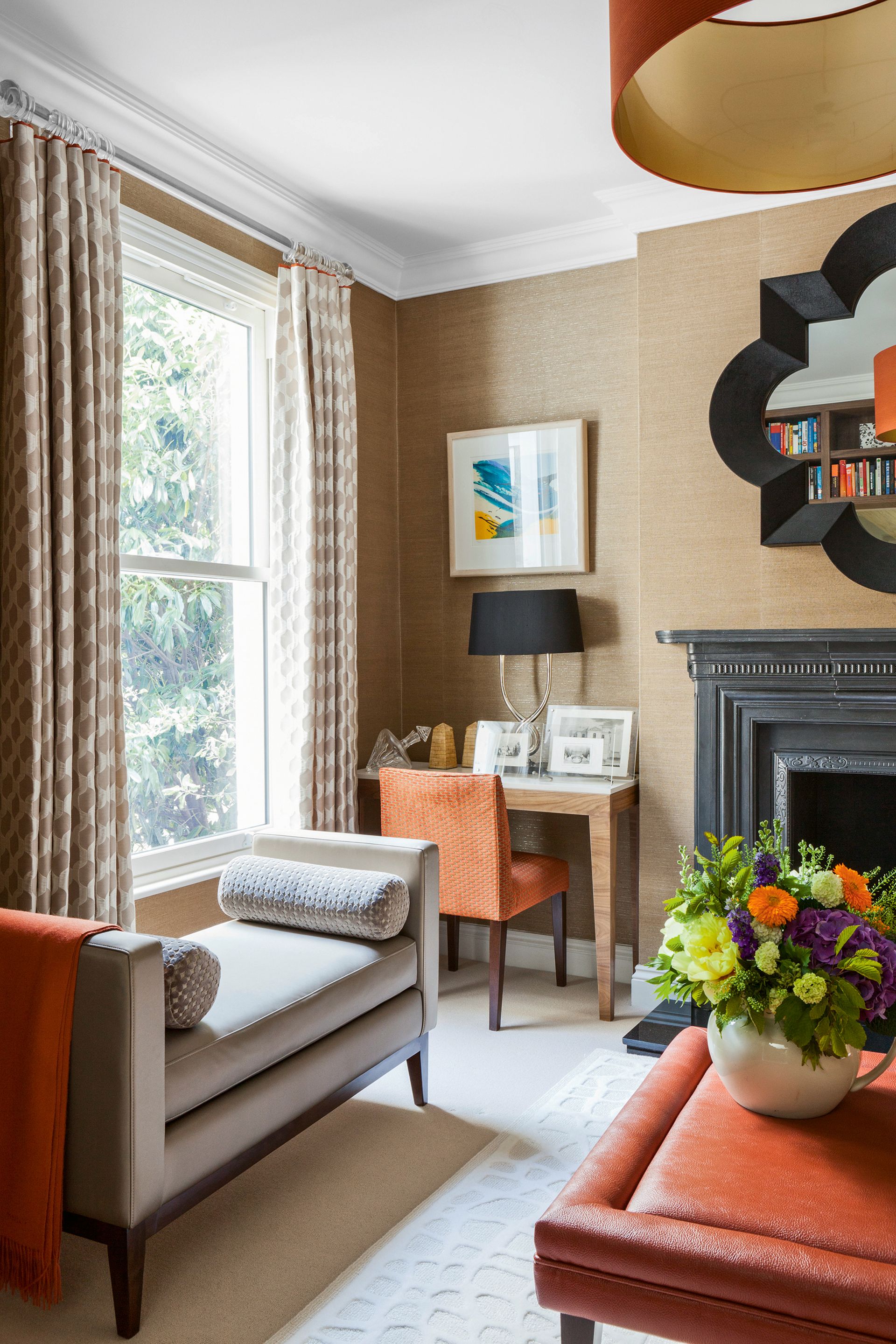 Carpet ideas are the classic choice for living room design and there are plenty of living room carpet ideas from which to choose. If you're looking for a plush, springy and completely natural floor covering, then 100 per cent wool is the way to go.
'Carpets are often the biggest investment to a room in so many ways; value, longevity and area coverage. This is why we always advise to style from the floor up when completely refurbishing a space,' says Jodie Hatton, design manager at Brintons. 'Where an alternative flooring like wood or tiles might make a room feel stark and bare, a soft woven wool carpet, layered with accessories in cashmere, mohair and linen will all work to soften the overall look.'
It is commonly known that wool is a highly effective insulator. After all, it is designed to keep sheep warm through even the coldest winters, so it will certainly help to reduce a home's heat loss and lower energy bills. However, it can also help keep your living room cooler in warmer weather. 'As an insulator wool can also prevent too much heat coming through the floor and it's moisture wicking properties prevent you from getting too warm.'
If you are looking for a living room flooring covering that will complement your fireplace ideas, wool is a great choice due to its fire-resistant properties.
4. Consider tiles for the living room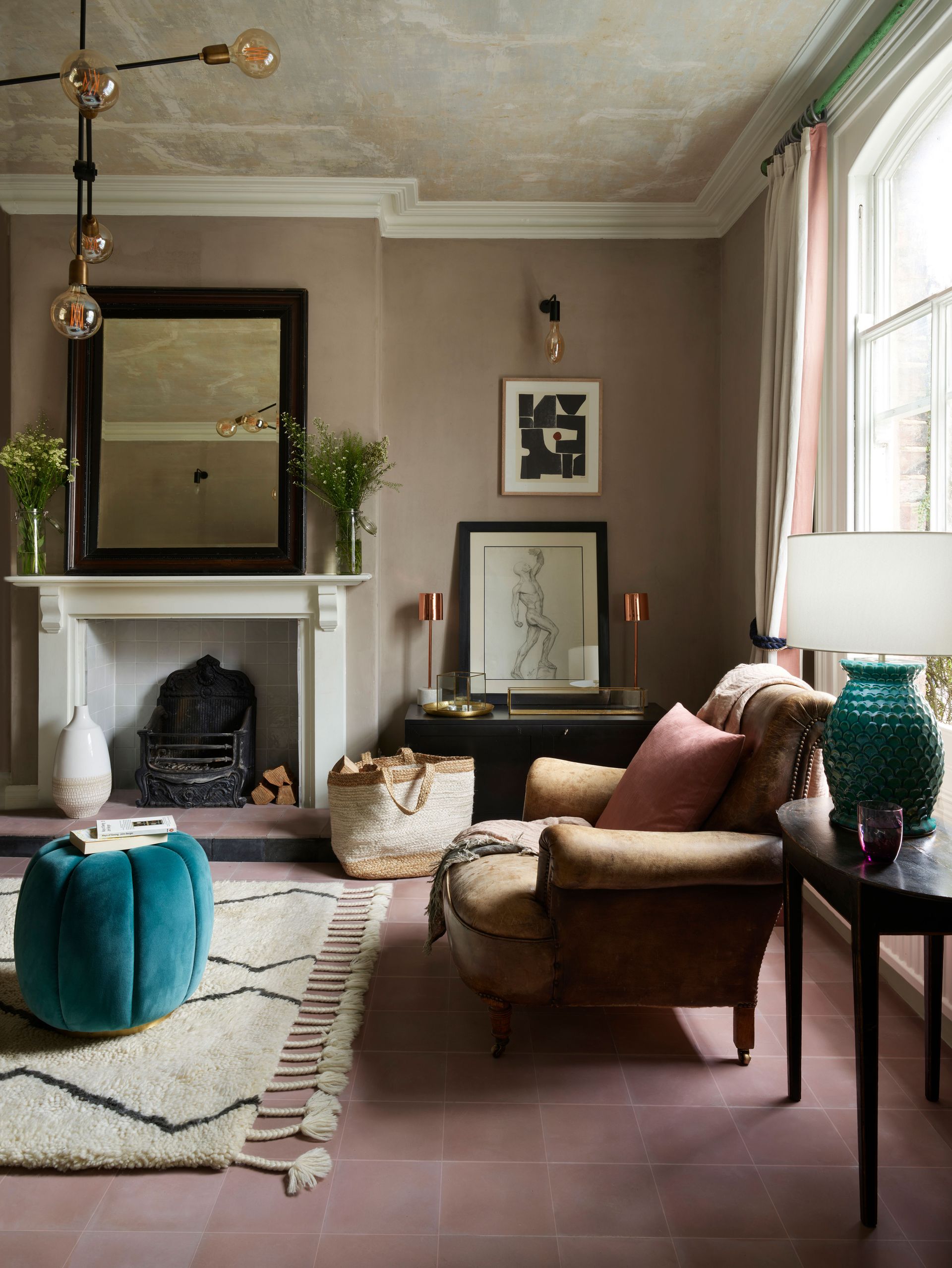 Tiles might feel like an unusual choice for a living room but they can bring a burst of color and texture to both modern and traditional living room ideas. Furthermore, they are also an extremely durable choice of floor covering.
Hand-poured in Spain, these Leather Brown encaustic tiles from Bert & May, contain crushed marble for a strong and beautifully tactile finish. Colored with natural pigments and taking inspiration from the warm, earthy tones of terracotta, the tiles create a neutral backdrop for a wide variety of interior styles.
Make them work in a living room by teaming with a cosy berber rug, warming metallics and leather furnishings for an inviting, rustic ambience.
5. Stain-resistant carpet for a family living room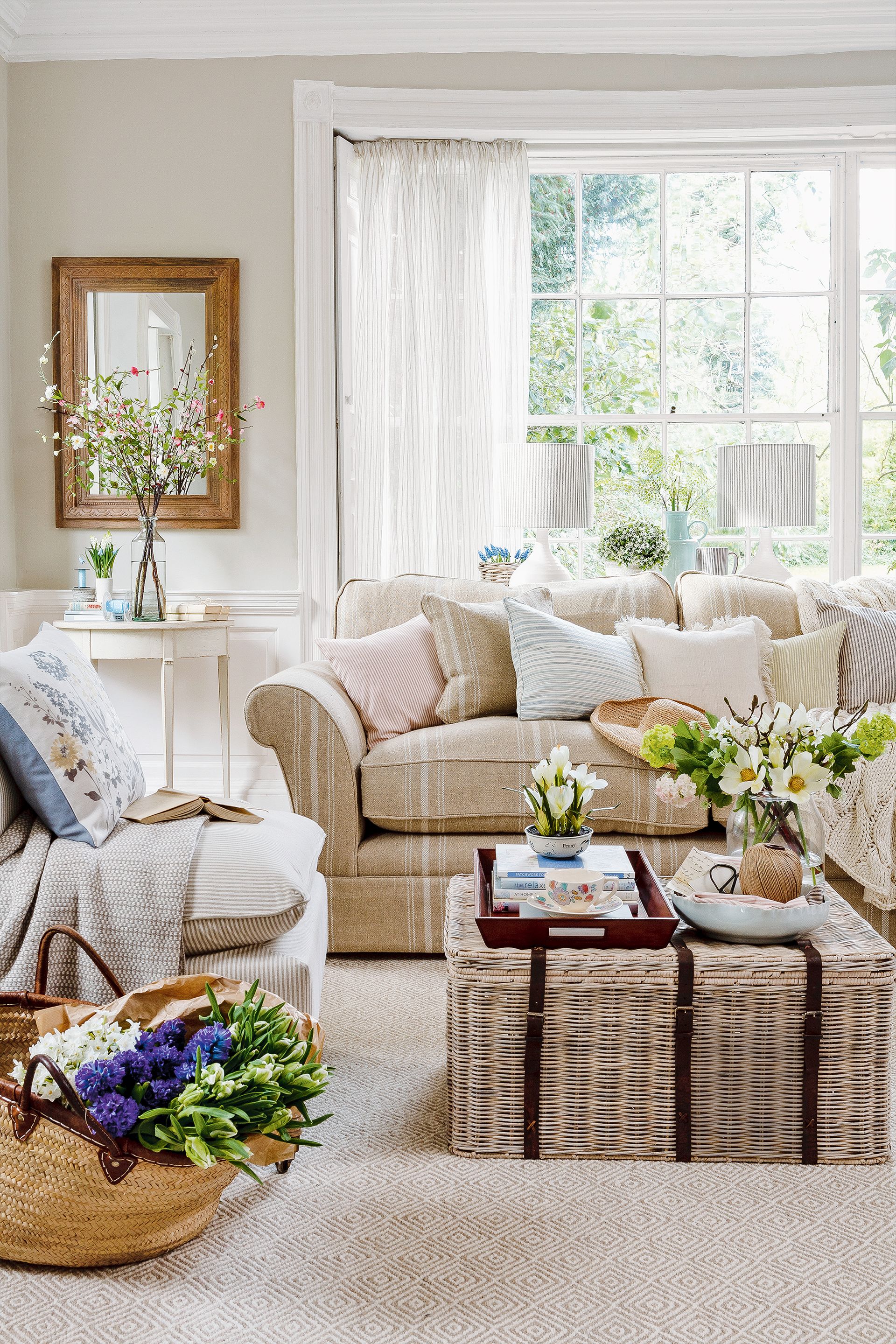 When it comes to family living room ideas, durability is key. The best living room flooring for this space will be able to withstand potential scratches, scuffs and spills while still retaining a flawless aesthetic.
Stain-resistant carpet is the best living room flooring for a family living room. You can even opt for lighter colors. Often, neutral, lighter-colored carpets are seen as a challenge to keep clean, particularly for younger families or those with pets. Man-made materials, however, as opposed to more natural alternatives, can withstand more vigorous cleaning methods such as bleach. This means you can keep your new carpet in pristine condition, no matter what shade you choose.
6. Create a traditional look with an antique rug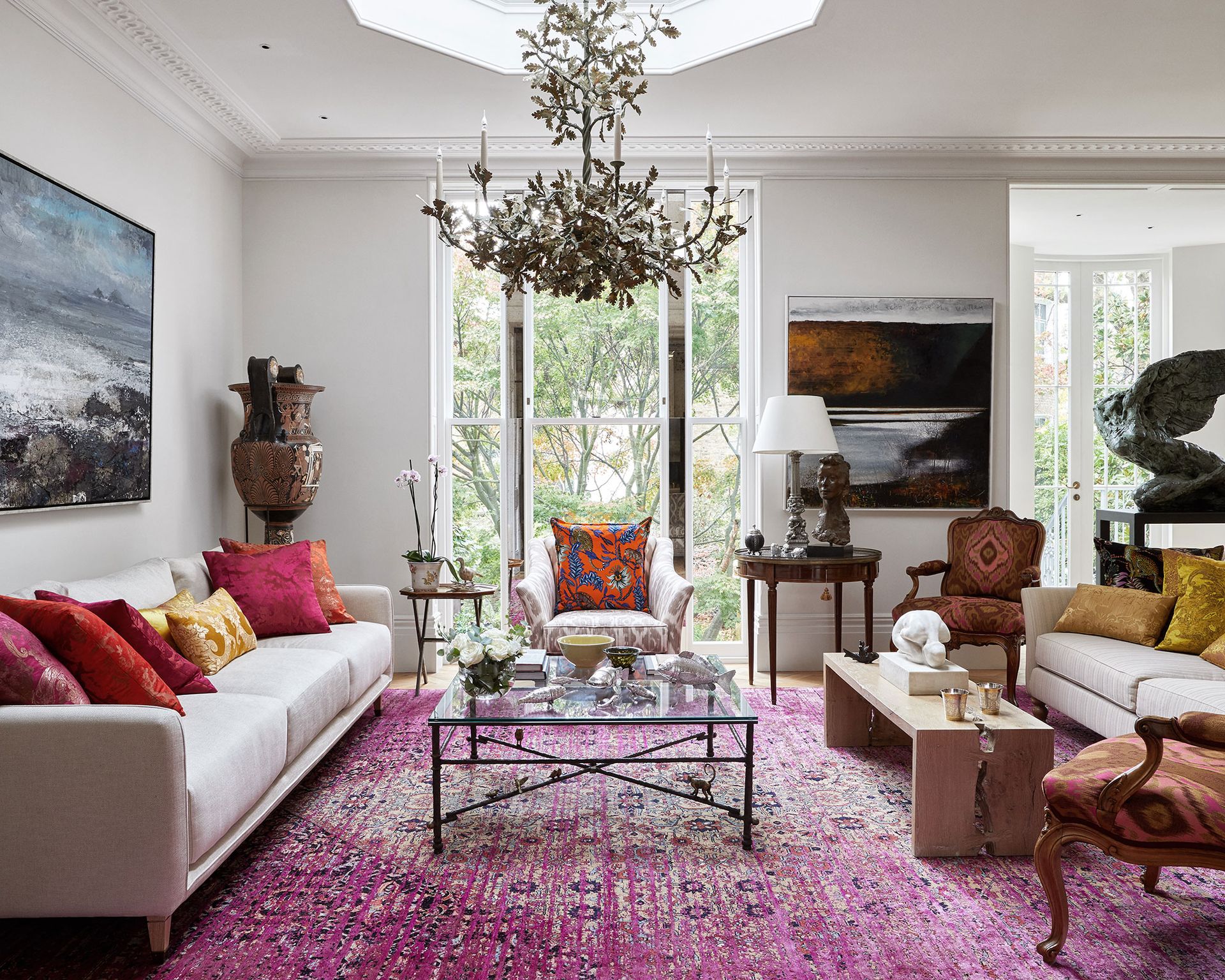 If you are gravitating towards solid flooring for your living room, then a rug is a must. Not only does a rug bring comfort underfoot and zone your space but it will also define your living room's color scheme. Therefore, it is key you know how to choose a rug. Thankfully there are lots of living room rug ideas to inspire you, too.
'Heading into the colder months, layering rugs on either a hard or carpeted floor is a wonderful way of bringing even more warmth, texture, and vibrancy into a space. To create a balanced scheme, it is important to consider the composition of the colors and patterns that you're combining, as too many can easily overwhelm a scheme,' notes Jodie Hatton, design manager at Brintons.
'As a general rule, it is a good idea to pick out just a few colors and run them throughout the rug scheme or use a hue that harmoniously works well as a backdrop such as greys or beiges. Similar to how dark walls can transform a small room or a patterned wallpaper can bring interest to otherwise dull space, a patterned rug is an inspired way to make a feature of a smaller room. It can help to add interest and character to the room.'
7. Sisal carpets for a country living room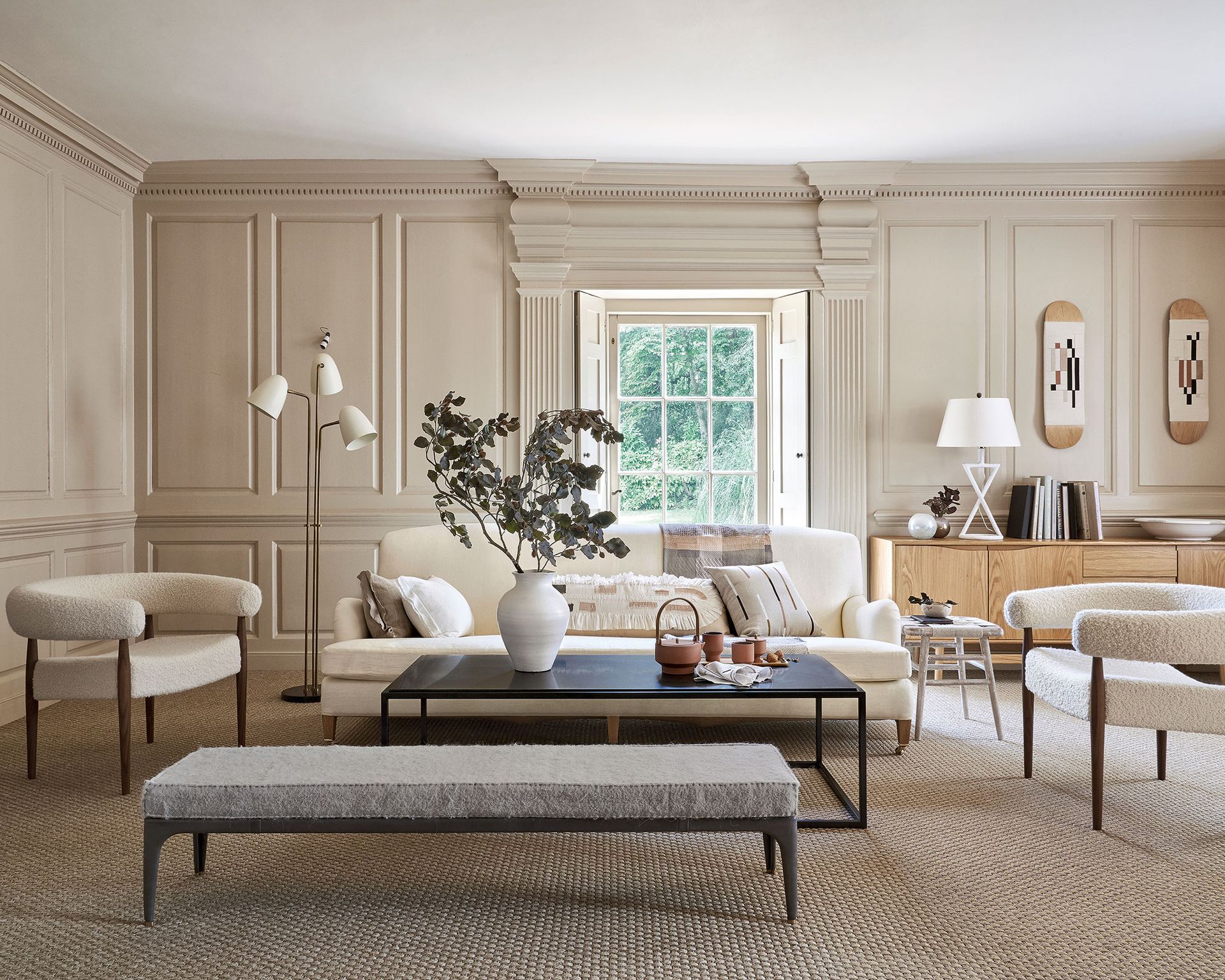 Derived from the leaf fibre of the Agave sisalana plant, sisal, when woven, becomes an extremely hard-wearing, comfortable and sustainable flooring material. Like seagrass, it doesn't require any artificial treatment to preserve its rich color or woven texture, making it the perfect natural addition to your home.
Pair with neutral furnishings – like a linen sofa and wood grain cabinetry and coffee table – and accessories – rattan is a great choice – for a laid back, eco-friendly scheme.
8. Durable and cost-effective wood-effect porcelain tiles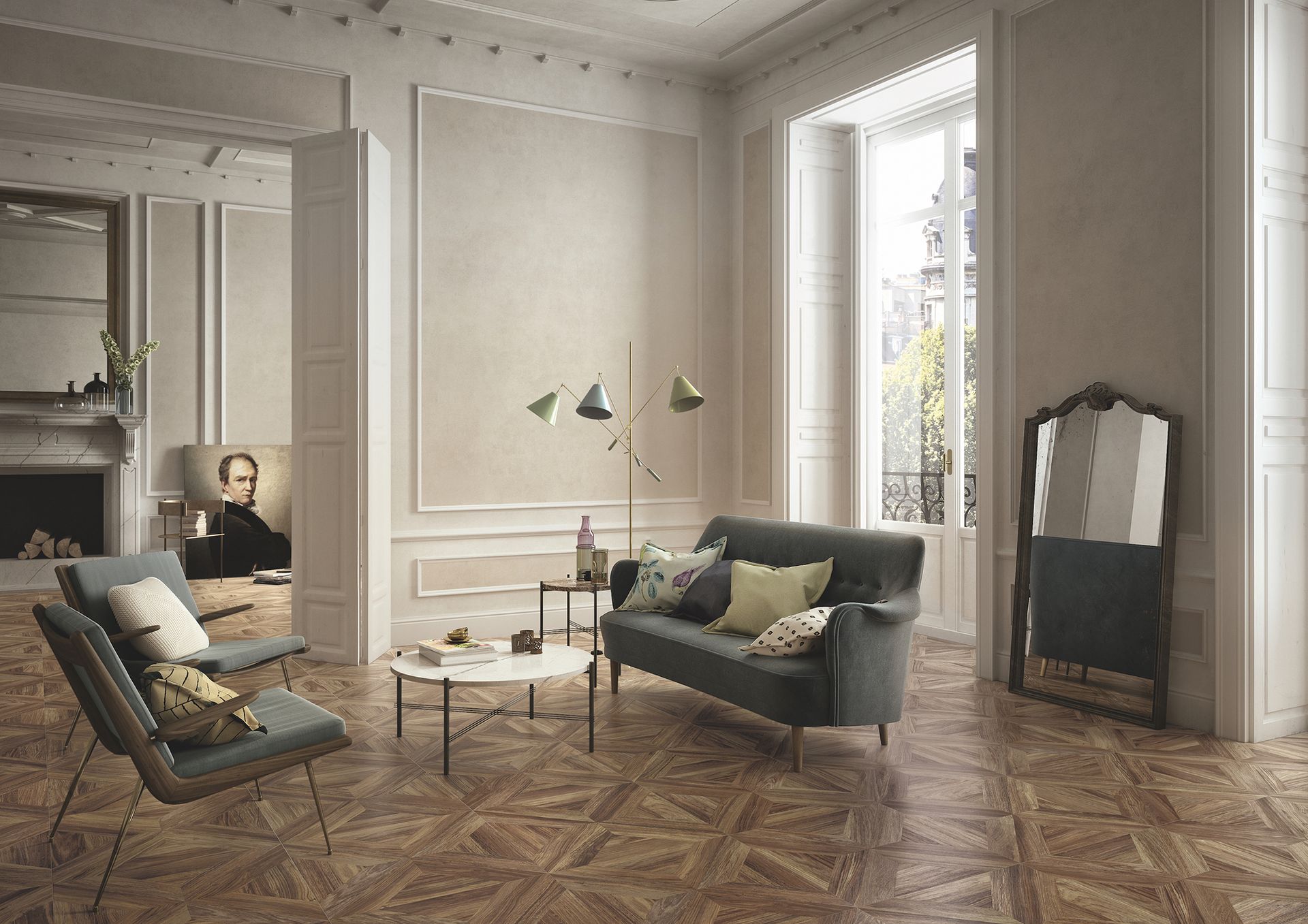 While hardwood flooring is beautiful, it is expensive, can be prone to scratches and it's a poor companion to underfloor heating. Thankfully, you can mimic its warm and welcoming appearance with wood-effect porcelain tiles.
'Wood effect porcelain flooring is a more practical choice to solid wood flooring, and the prints and tones available certainly do mimic the look of real wood,' says Isabel Fernandez, director at specialist high-quality natural stone company Quorn Stone. 'However, unlike real wood, wood effect porcelain is also suitable for underfloor heating. Underfloor heating is an increasingly popular asset to have in the home – providing warmth from the floor up.'
9. Natural stone for an open-plan living room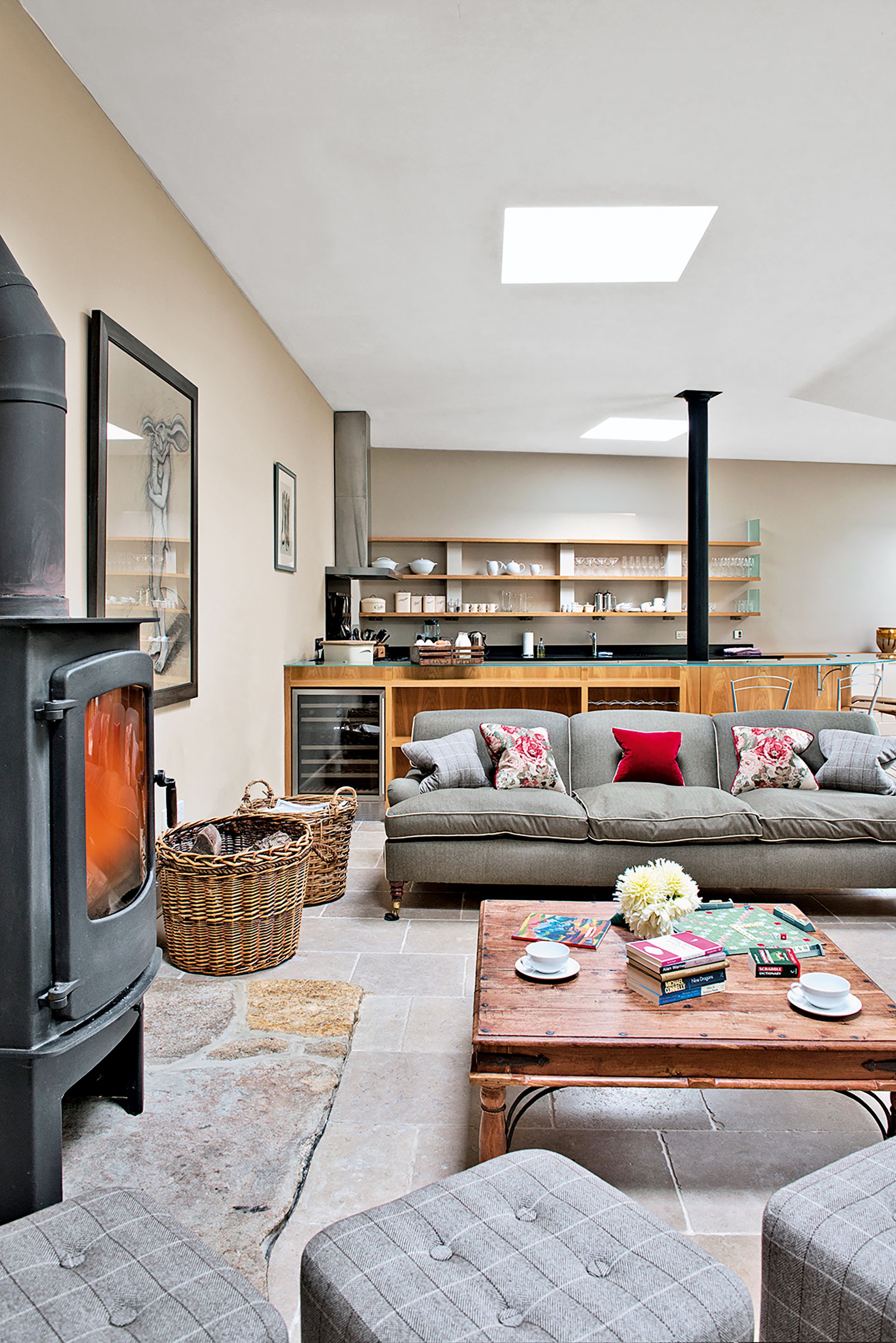 If your living room opens out into your kitchen, then you need a flooring that feels luxurious and characterful in the living room but can withstand the vigor of the kitchen environment. In spaces such as these, stone flooring is the perfect solution.
Add warmth to your living room by pairing stone flooring with underfloor heating. 'Natural stone tiles tend to be thicker, which will take a little longer to heat up, but means it will retain the temperature for longer - thanks to its natural density and thermal conductivity. Porcelain is a manmade product that is fired at an extremely high temperature, resulting in a strong, robust tile. Porcelain is also a good thermal conductor, and tending to be thinner, will heat up faster yet still retain the heat for a long while after,' says Fernandez.
10. Reclaimed wood for a period home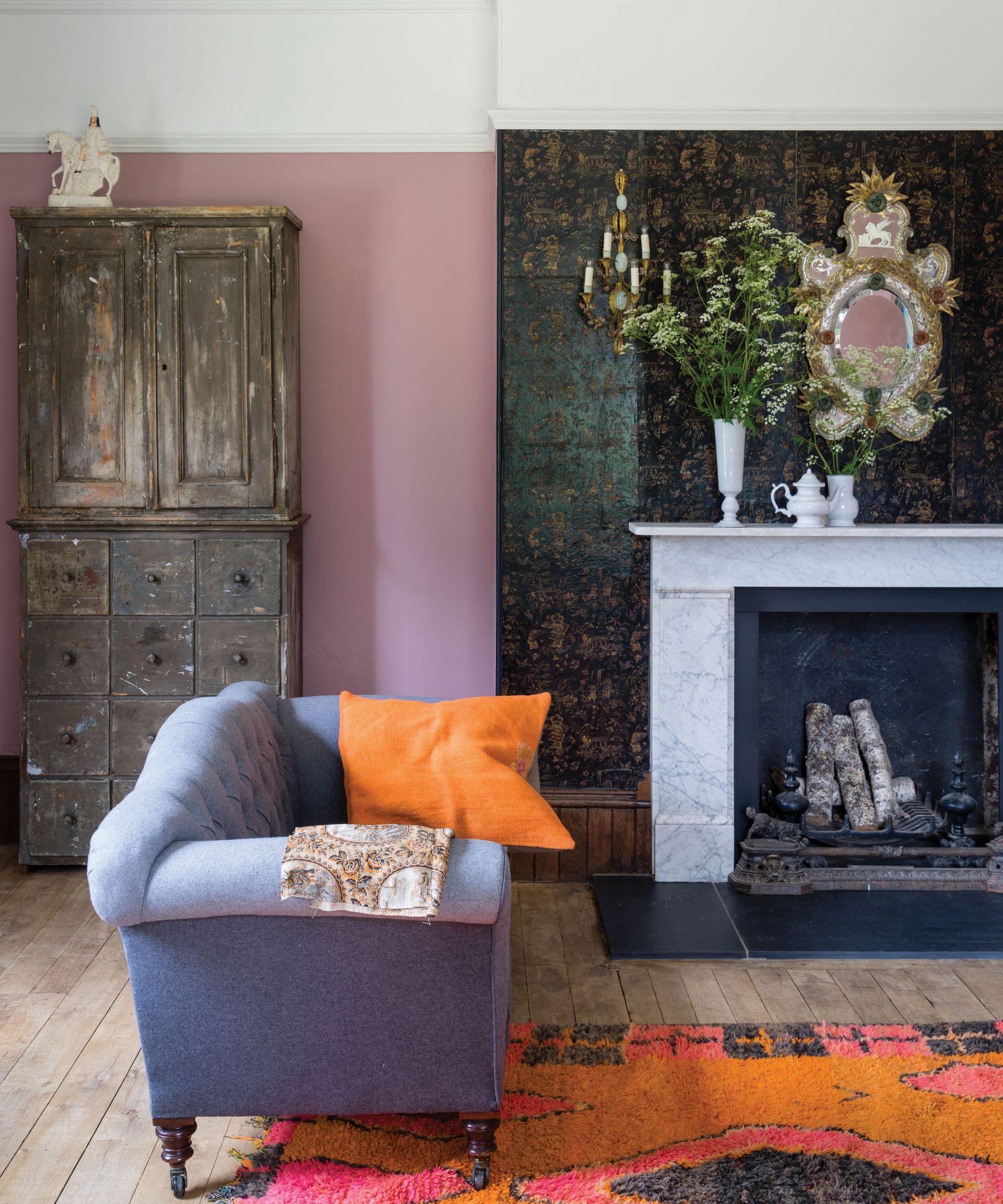 If your style is on the more traditional side of things, then you can't go wrong with a reclaimed floor. Boasting a rich patina that is impossible to replicate artificially, opting for a reclaimed wood flooring is also a great way to save energy and resources. Reclaimed wooden flooring has the added benefit of being previously exposed to a range of temperatures. This means it will have already expanded and contracted to its full potential, so it is less likely to warp or split.
11. Choose a blonde wooden flooring for a Scandi inspired living room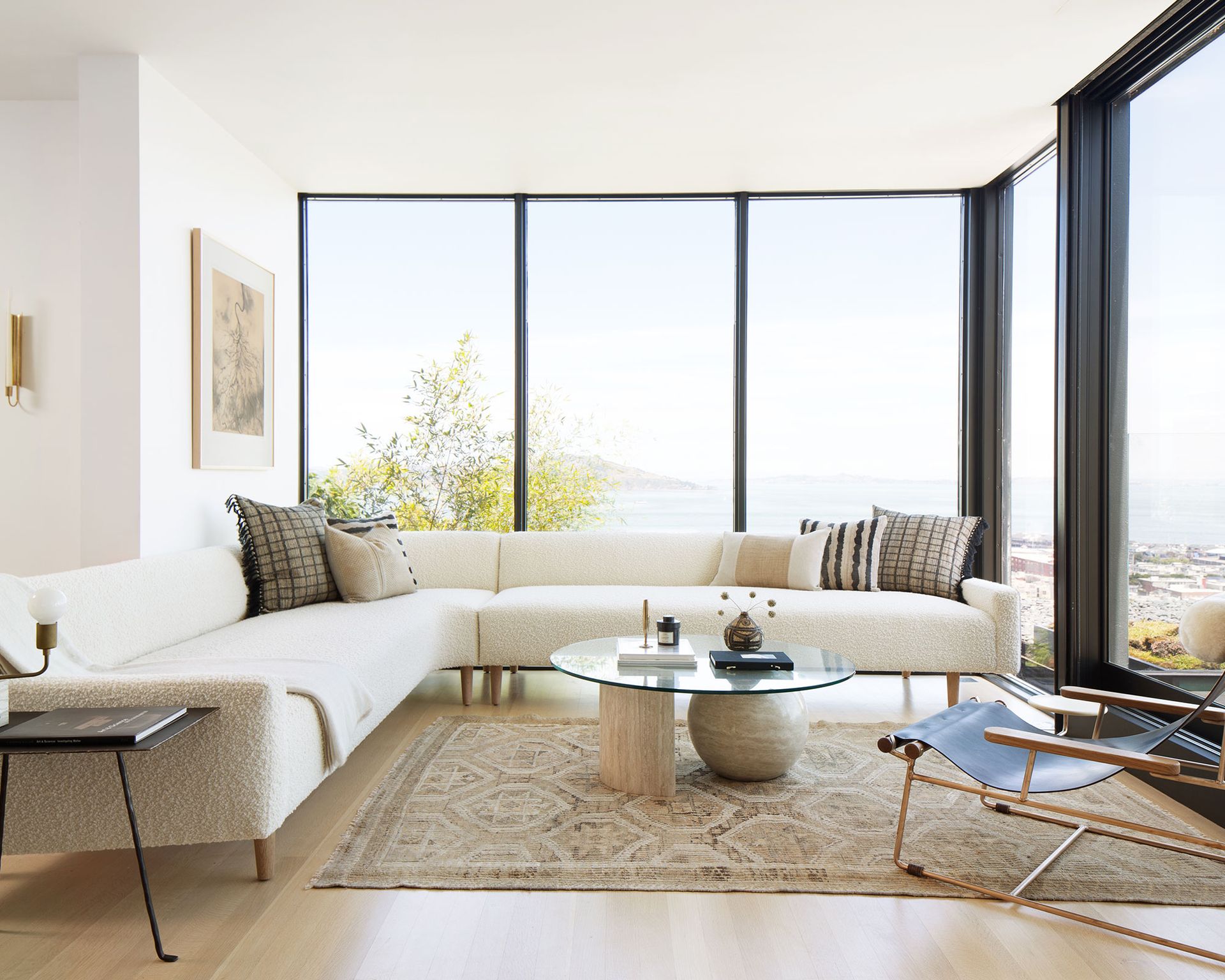 When it comes to the best flooring for Scandinavian living rooms, then blonde wood flooring is a great choice. Inspired by the vastly popular Nordic trend, paler finishes for wooden floors are becoming increasingly popular in homes of all ages and styles. Complementing a more minimalist design scheme, grey and light-toned floors add a modern flair to a home.
Is carpet still popular in living rooms?
Yes, carpet is still popular in living rooms. 'Carpets are synonymous with comfort which is why they are the most popular choice for flooring in the bedroom and living room,' says Jon Flannigan, product manager at Kersaint Cobb.
What type of carpet is best for living rooms?
Wool is the best type of carpet for living rooms. 'Wool is an excellent choice due to its natural insulating properties. Wool is often thought of as creating a warm and cosy environment which is one of its many benefits, a lesser known benefit is wool's cooling properties, as an insulator wool can also prevent too much heat coming through the floor and it's moisture wicking properties prevent you from getting too warm,' says Jodie Hatton.
Sign up to the Homes & Gardens newsletter
Decor Ideas. Project Inspiration. Expert Advice. Delivered to your inbox.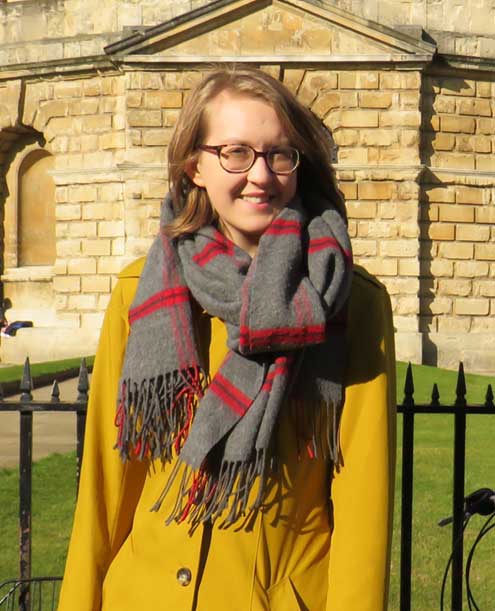 Content Editor and Sub-editor
Having graduated with a first class degree in English Literature, Holly started her career as a features writer and sub-editor at Period Living magazine, Homes & Gardens' sister title. Working on Period Living brought with it insight into the complexities of owning and caring for period homes, from interior decorating through to choosing the right windows and the challenges of extending. This has led to a passion for traditional interiors, particularly the country-look. Writing for the Homes & Gardens website as a content editor, alongside regular features for Period Living and Country Homes & Interiors magazines, has enabled her to broaden her writing to incorporate her interests in gardening, wildlife and nature.