How to make a kitchen more relaxing – 12 designer tips to create a zen-like space
Turn the busiest room in your home into a calming space with these quick tips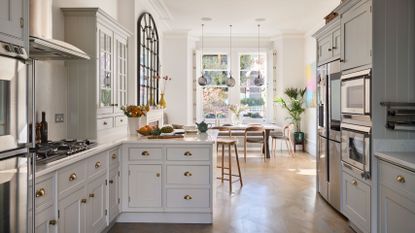 (Image credit: Darren Chung)
Sign up to the Homes & Gardens newsletter
Decor Ideas. Project Inspiration. Expert Advice. Delivered to your inbox.
Thank you for signing up to Homes & Gardens. You will receive a verification email shortly.
There was a problem. Please refresh the page and try again.
The kitchen is the heart of the home. The busiest space, the one that has to wear all the hats – work space, social space, dining space. And being so multifunctional, it often means the kitchen isn't the calmest. It rarely has that zen-like feel you might get from a living room or a bedroom, and yet you spend just as much time in the kitchen, so it's important to reduce the chaos where you can.
But how can you make this hard-used space feel as relaxing as possible? We asked designers what their tips are for designing a kitchen that feels every bit as relaxed as the rest of your house. Color, decor, lighting, and even layout can all have an impact, so whether you are designing a new kitchen or looking for ways to make your current space less manic, there are plenty of kitchen ideas here to inspire.
How to make a kitchen more relaxing
Relaxing kitchens are not just about creating rooms that look good, but feel good, so when designing a calm space it's important to take a holistic approach and engage all the senses.
While the kitchen color ideas, kitchen lighting, and the kitchen flooring you choose are all key factors in designing a kitchen, creating a restful space all starts with well-thought-out kitchen layout ideas.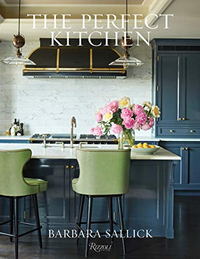 The Perfect Kitchen, Barbara Sallick | From $21.87/£30.45 at Amazon
Learn more about the fundamentals of kitchen design in this bestselling book. Find inspirational advice as well as hundreds of images to inspire your own remodel
1. Keep clutter at bay for a more calming space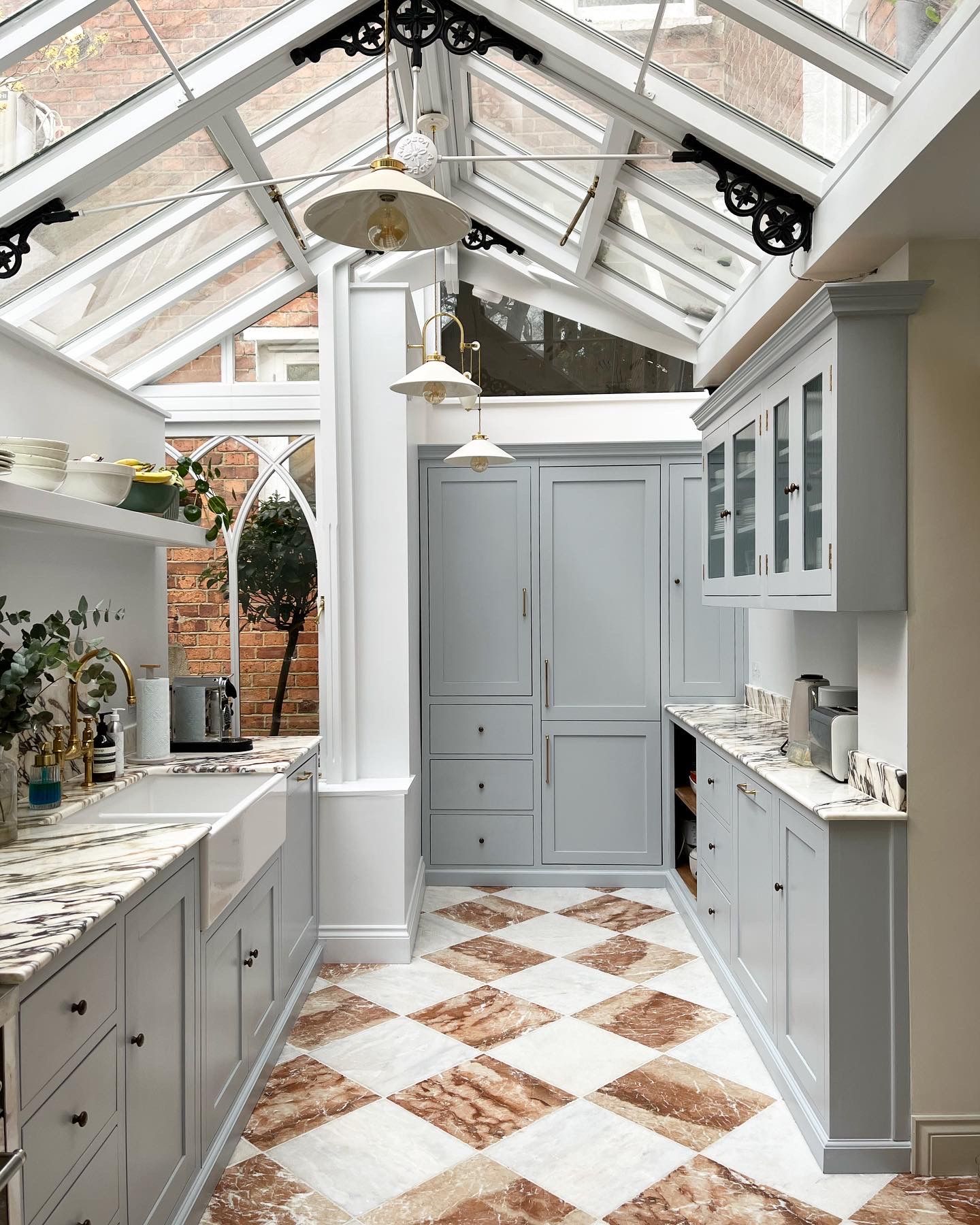 'The best way to make a kitchen relaxing is to make it functional,' says Leanne Kilroy founder of Bird & Bone and Good Bones. 'This means using the space you have in the best possible way: making sure everything has a place so there isn't too much clutter on work surfaces or in cupboards, and ensuring the flow works, so using the kitchen is a pleasure.'
'And I find muted colors more relaxing, but color is so subjective! I think a really important aspect of making a kitchen more visually relaxing is having a great lighting plan, one that prioritizes task as well as mood lighting. Kitchen lighting can affect the feel of a space so much, it's really important to have warm, dimmable lighting throughout.' she adds.
2. Ensure everything has a place and purpose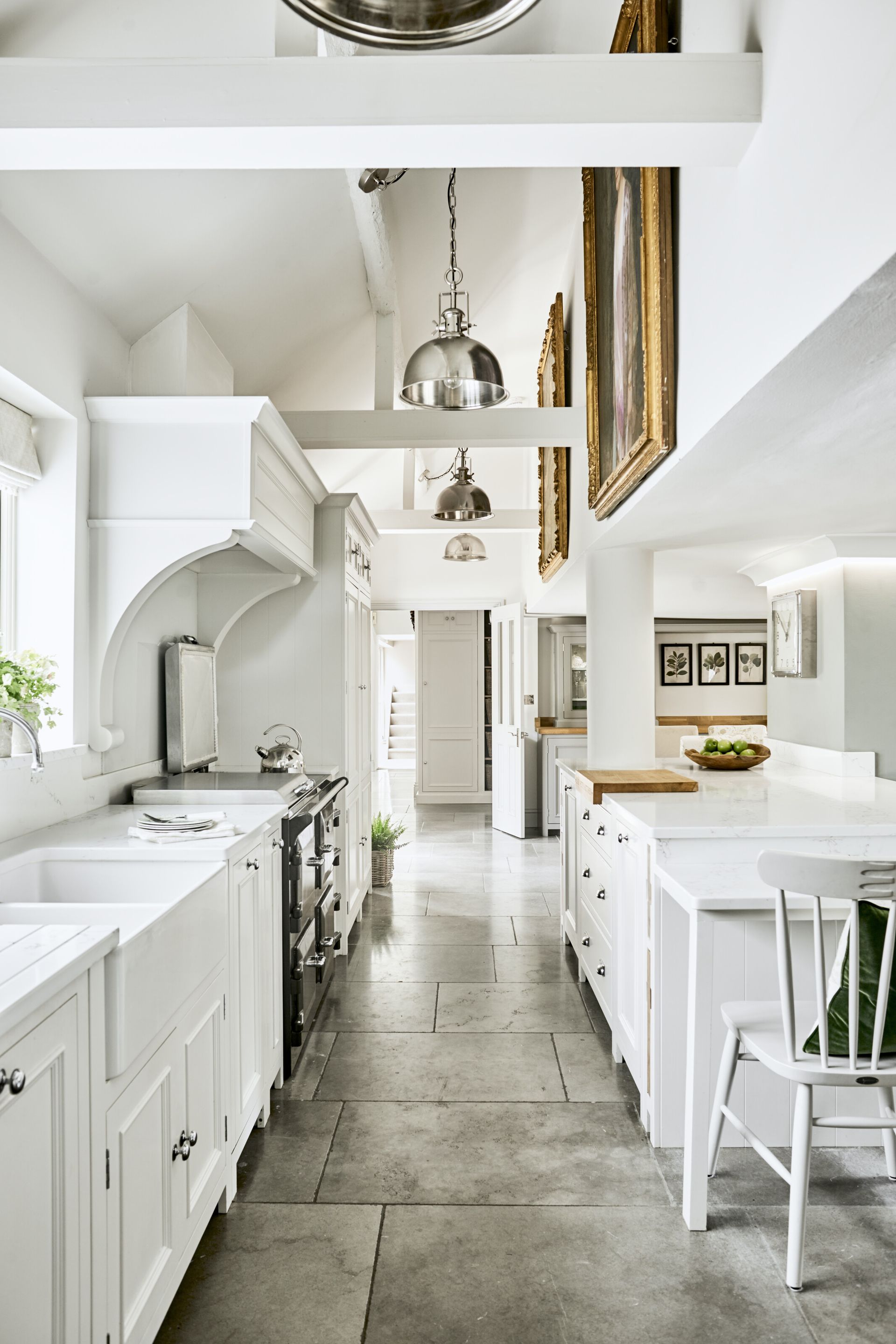 'Organization and styling also play a significant role in the overall feeling of your kitchen: eliminate clutter on your countertops, keep the number of appliances out in the open to a minimum, maintain the interiors of your kitchen cabinets, and perhaps take the time to reorganize the interiors every few months,' explains FORM Kitchen design lead, Bianca Betancourt.
'Accessories and display items should positively impact the space and be gentle on the eyes. This is an opportunity to bring in more color, texture, organic shapes & materials. Maintaining an organized, simplistic, and subtly designed space will influence relaxation, reduce stress & will create an overall well-functioning space.'
3. Incorporate softer, more ambient lighting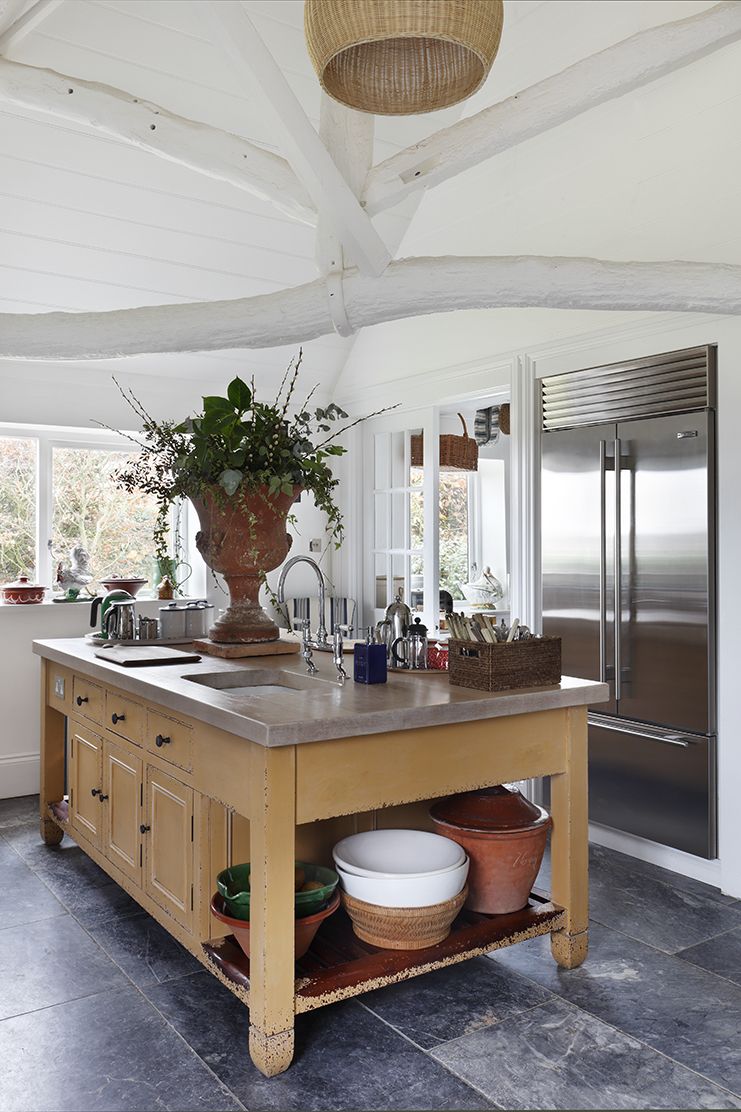 'Ambient lighting – this is really important to consider, all too often, we work in homes where harsh task lighting, such as spotlights are abundant, yet softer ambient lighting such as table lamps and wall lights have not been considered in the initial planning process. Ensuring lighting is dimmable is another way in which to create a cozy and relaxing atmosphere, particularly for winter evenings. We love incorporating table lamps into kitchen designs, making space for them on worktops or islands,' explains Kate Cox of HÁM interiors.
'For a relaxing feel, we often use natural tones such as soft greens or warm neutrals. A key element is to ensure the overall palette is cohesive and works together tonally and we also lean towards natural materials and honed finishes for tiles and flooring.'
'And keeping worktops clear of appliances where possible makes a huge difference to the feel of a kitchen, and when working with clients we try to ensure ample storage for blenders, toasters, etc. to avoid them being on show,' advises Kate.
Katie Cox been surrounded by an exciting and ever-changing landscape of antiques, fabrics and upholstery for as long as she can remember. Her taste draws influence from the English country house style, folk art and antiques. She loves spending time sourcing unique pieces that add character to her schemes and designing interiors that reflect the personality of her clients.
4. Stick to muted colors that calm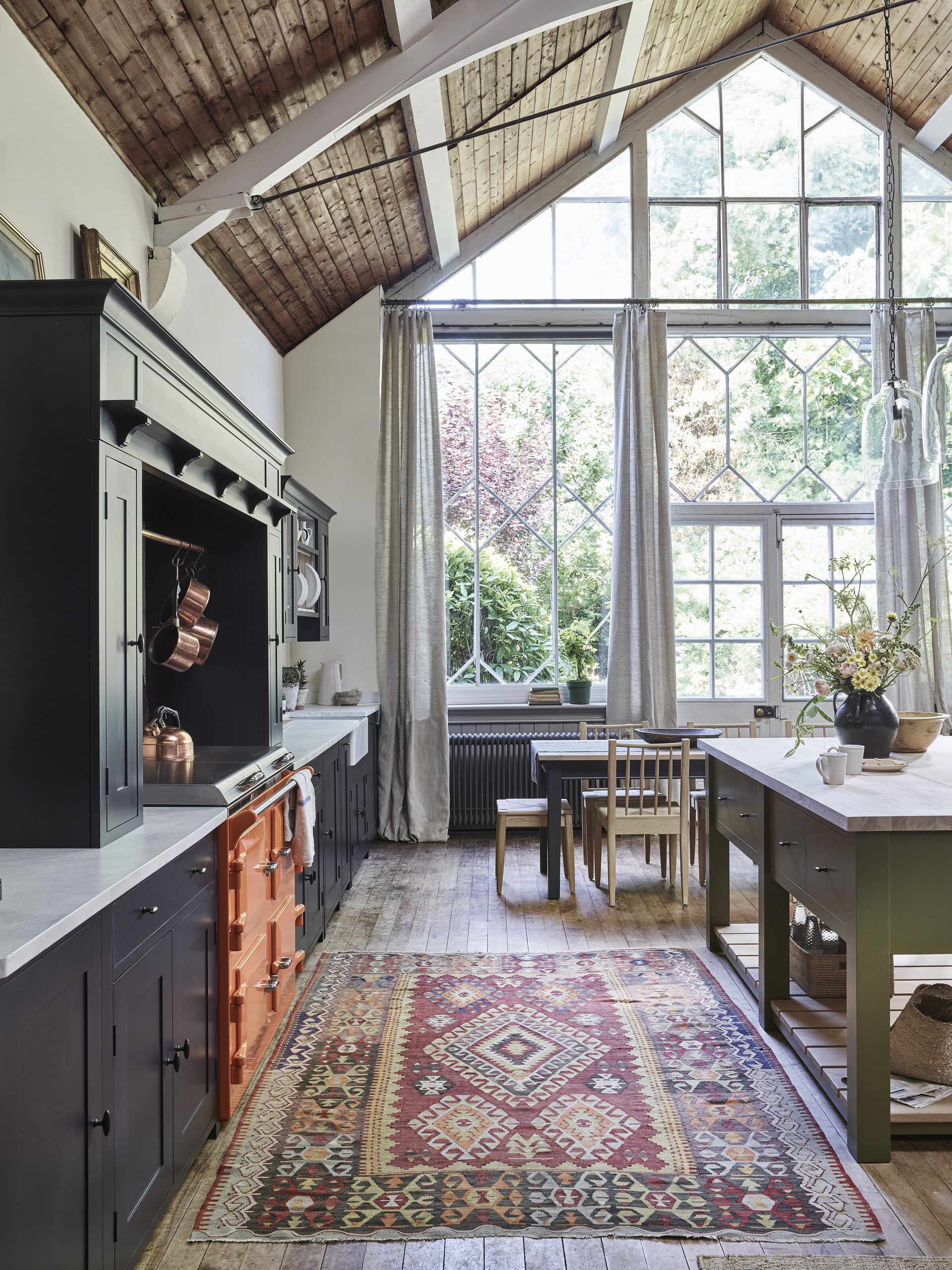 'Kitchen colors are linked directly to the way you feel when you are spending time there. Avoid using strong, insistent colors such as red or yellow. These colors will increase your heart rate and make you feel unsettled,' explains Simon Temprell, interior design manager at Neptune.
'Temper strong chromatic colors by tinting or toning them to become easier shades to live with. Or keep your brightest color to a kitchen island so that it doesn't overwhelm the senses. Try using colors that appear in nature to give you a calmer, more relaxing place to spend time. Soft, chalky sage green is a very peaceful shade and sits well with any kind of work surface.'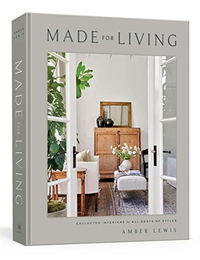 Made for Living: Collected Interiors for All Sorts of Styles, Amber Lewis | From $24.58 at Amazon
This national best-seller is a success for a reason: within the pages, interior designer Amber Lewis shares her most loved design secrets and know-how.
4. Make your kitchen feel less like a kitchen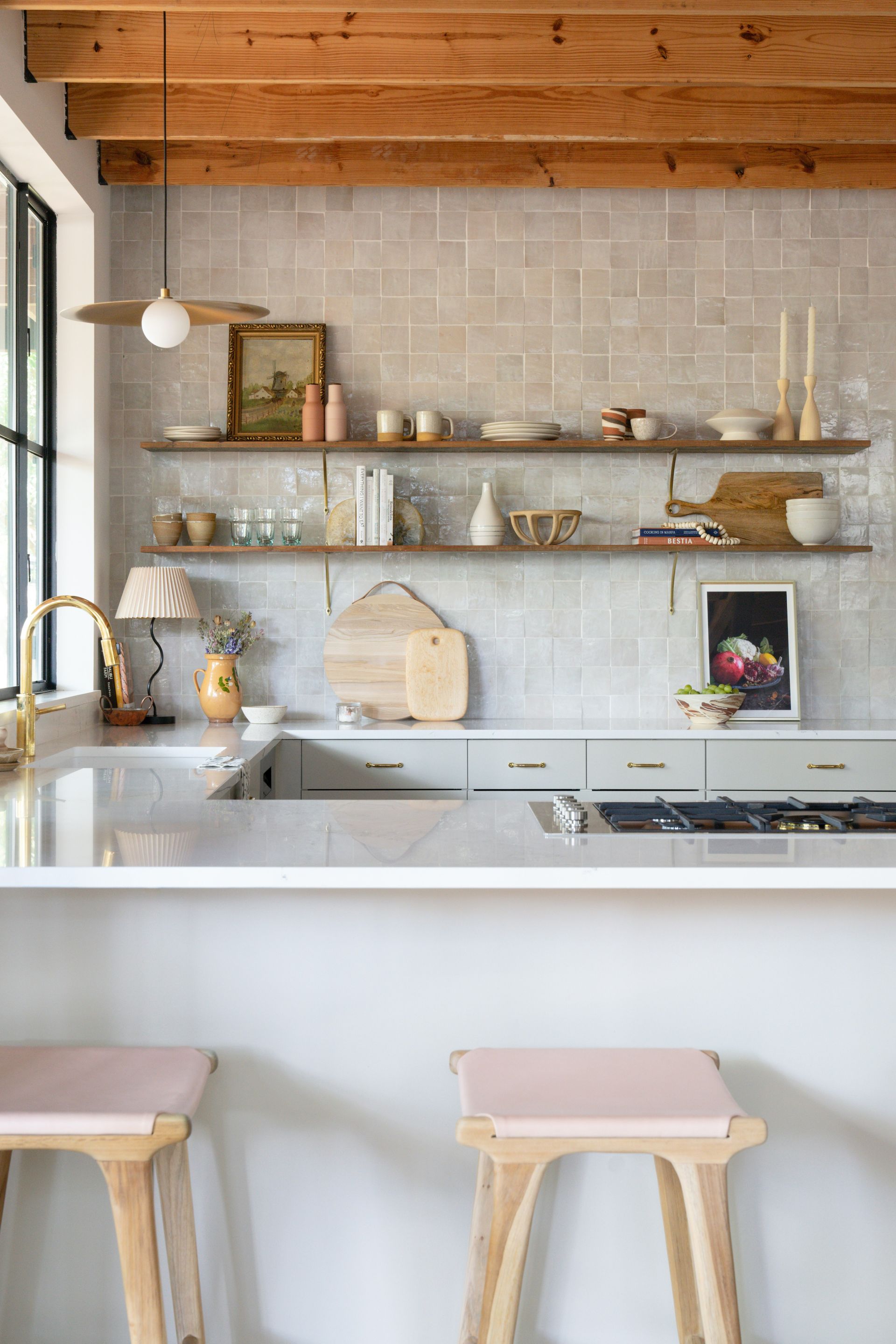 'To make it feel relaxing, plenty of homey and personal finds styled onto the counter and shelves to make you smile as you prepare meals. Vintage ceramics, small framed art, a lamp, and always a worn Turkish wool rug on the floor,' explains designer Natalie Myers.
'The kitchen is a smaller U-shaped kitchen in an industrial style new build. To soften the masculine feeling space of wood and steel, I created a backsplash accent wall of handmade zellige tile and unlacquered brass hardware and fixtures. The lighter and warmer-hued materials bring a feminine spirit that adds balance to the space.'
5. Layer up the textures to create a welcoming warmth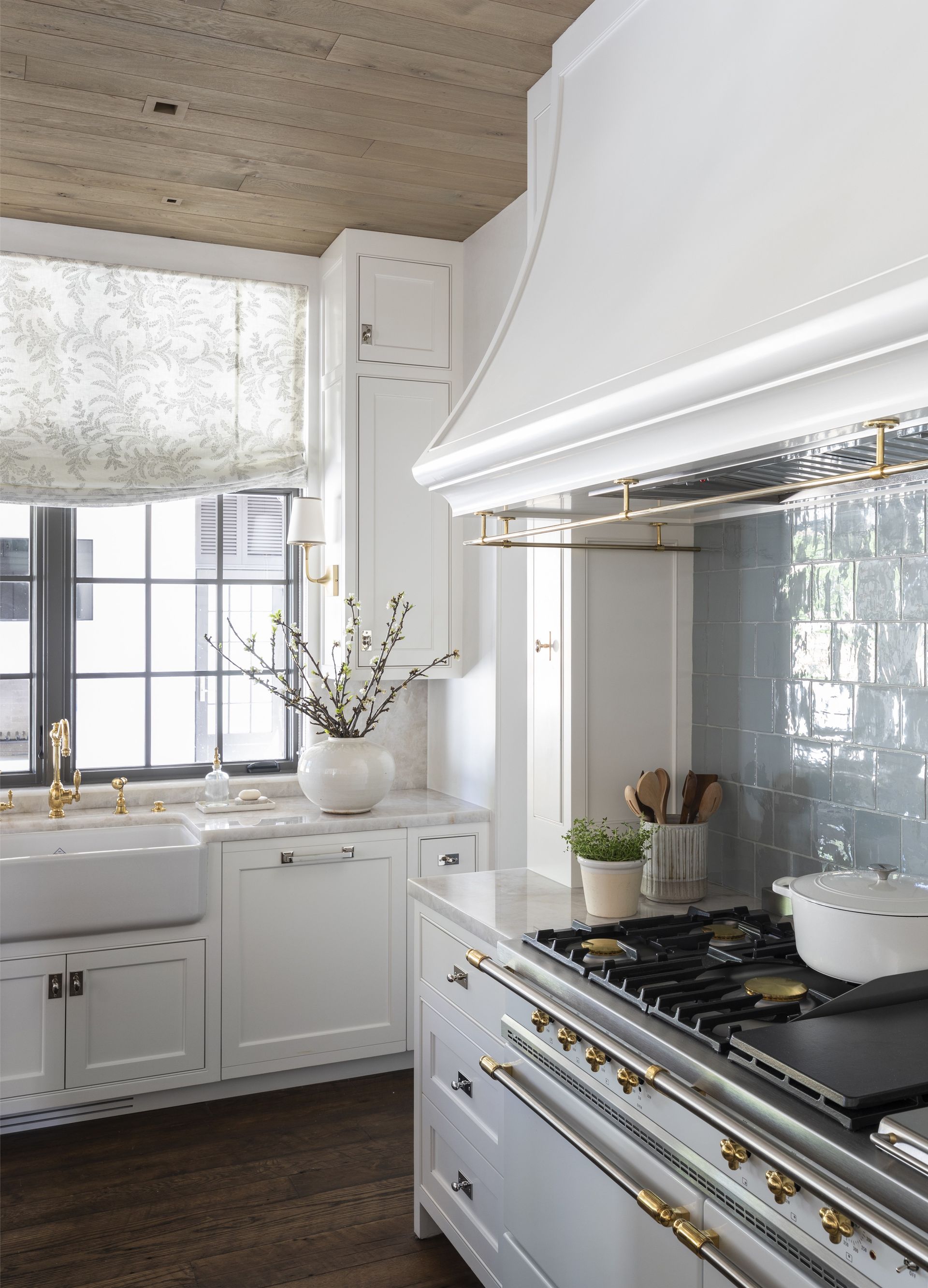 'For kitchens to be relaxing, they need to feel welcoming,' says designer Marie Flanigan. 'Texture and color palette are two of the most important things for creating an intimate and livable space. Start with your color palette and choose tones that create warmth. All white kitchens can feel warm, but you have to choose paint with slightly warmer undertones!
'Then, choose materials like kitchen countertops, flooring, and fixtures that create beautiful layers to your color palette. I love to include unlacquered brass because it will naturally patina, which makes the space feel lived in. Stone flooring is another detail that ages beautifully.'
'This project feels welcoming because of its charming color palette and accent details. From the blue zellige tile to the light cabinetry juxtaposed with the wood-slatted ceiling, it feels like an updated cottage in the sense that it feels both familiar and intimate. The hardware is also not to be overlooked with the heritage-style silhouettes that add to the kitchen's aesthetic.'
6. Take a more minimalist approach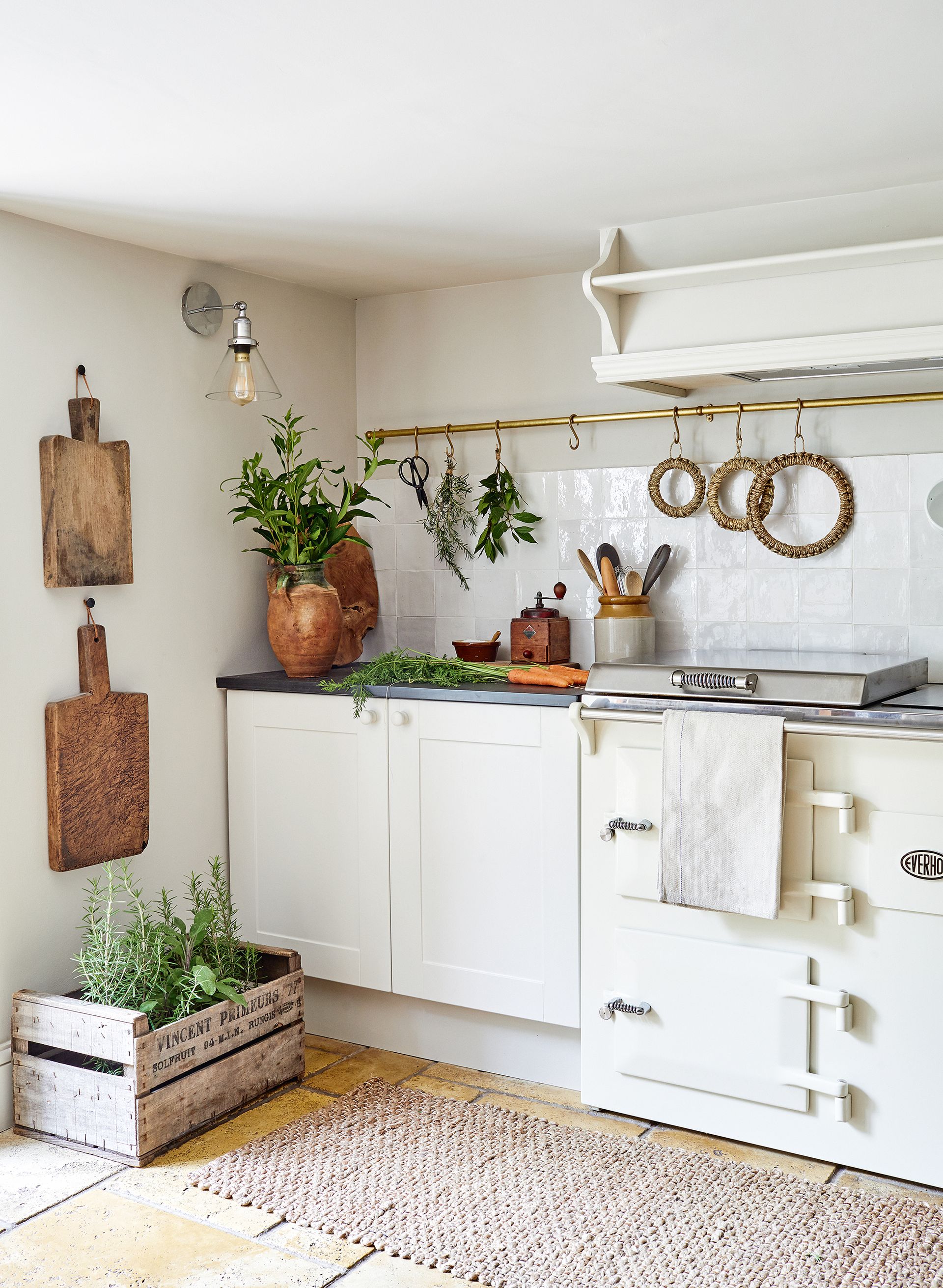 'There are many things that can be done in a kitchen to make it more relaxing. In regards to the overall aesthetics, selecting finishes and colors that are muted, neutral, and soft to the touch is the way to go,' explains FORM Kitchen design lead, Bianca Betancourt.
'Eliminating the overuse of multiple heavy colors, patterns, and textures will help soften the overall space. There are many tasteful ways to mix colors, patterns, and textures however, these spaces can tend to heighten one's senses which defeats the purpose of creating a relaxing kitchen. This doesn't mean the room has to be boring and plain! Think minimal – and implement some fundamentals of traditional Japanese Zen architecture and design. This will influence a deeper sense of serenity and calmness in the space.'
7. Bring in plenty of greenery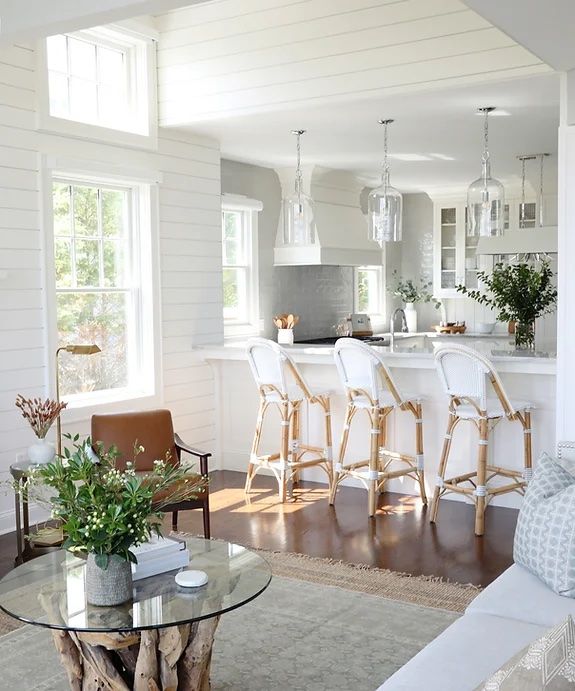 'Make your kitchen space more relaxing by incorporating greenery, natural light, and organic elements like handcrafted tile, marble, or stone. Consider adding a table lamp to the countertop for an incredibly cozy and relaxing touch,' suggests Lauren Sullivan of Well x Design.
'Adding life to a kitchen via real indoor plants or trees always adds a biophilic, relaxing element to a kitchen and can have truly transformative effects. If you choose the right plants they will even purify the air, aloe vera works well in pots and is very easy to look after, and weeping fig trees work well if there is more space available,' agrees Ash Mc Cullough, lead designer at Blakes London.
'Where possible we recommend removing wall cabinetry and opting for shelving units instead which sit less heavily within a space, offering flow and an opportunity to display art or curated items of pottery or plants.'
8. Make it personal to you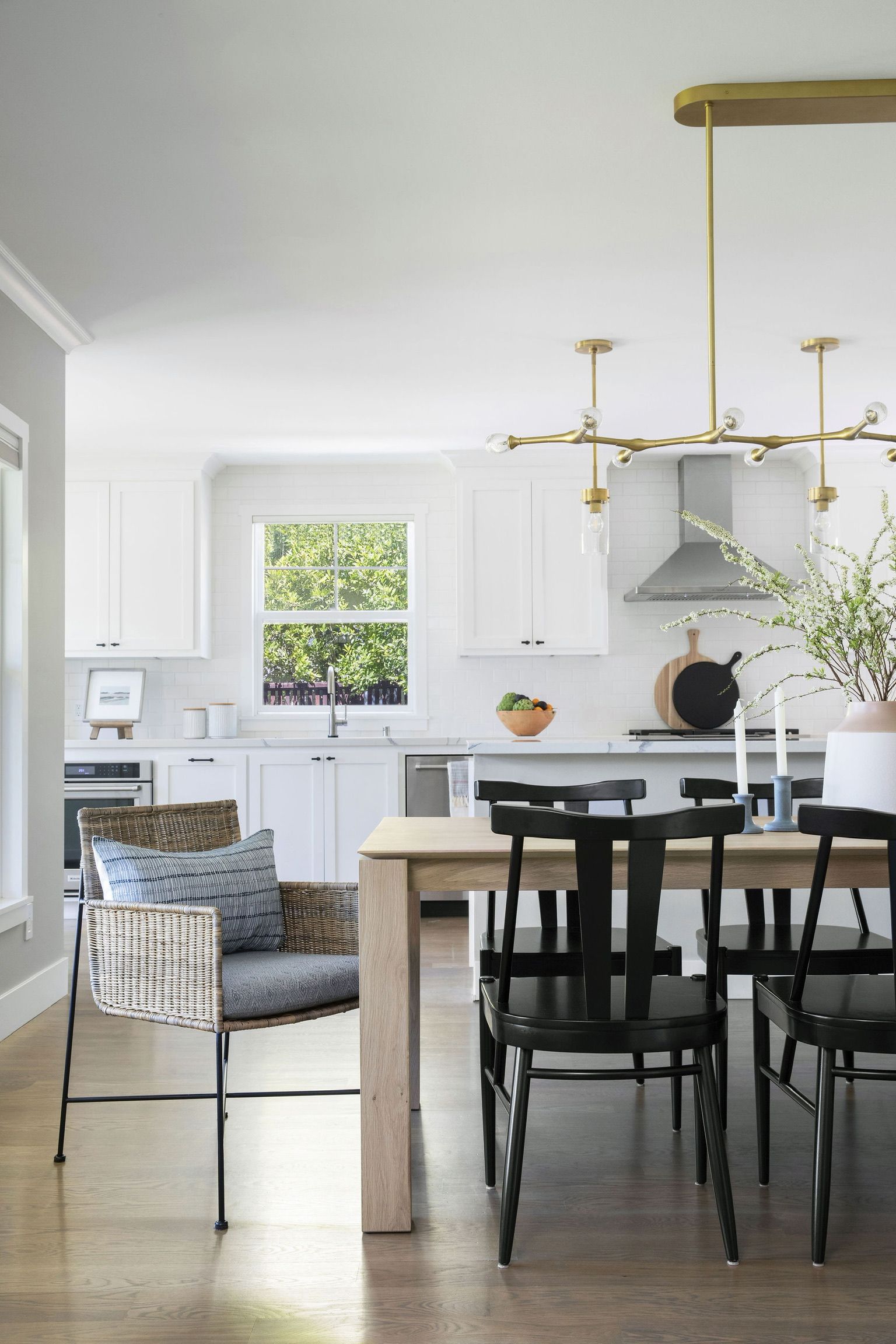 'We love styling kitchens with objects and art that have meaning for our clients - being surrounded by a piece from your favorite artist or a mixing bowl picked up from a recent trip can make doing even the most mundane kitchen tasks more peaceful,' says Ashley Macuga of Collected Interiors.
'And one of my personal favorite things about my kitchen is my ceiling Sonos speakers. In the morning, before the kids wake up and I have some time to myself, I will put on a playlist of "Chill Hits" from Spotify (my friends called me "Slow Jams" in college), and get my day started with a warm cup of coffee.'
9. Enjoy the relaxing effects of a blue color scheme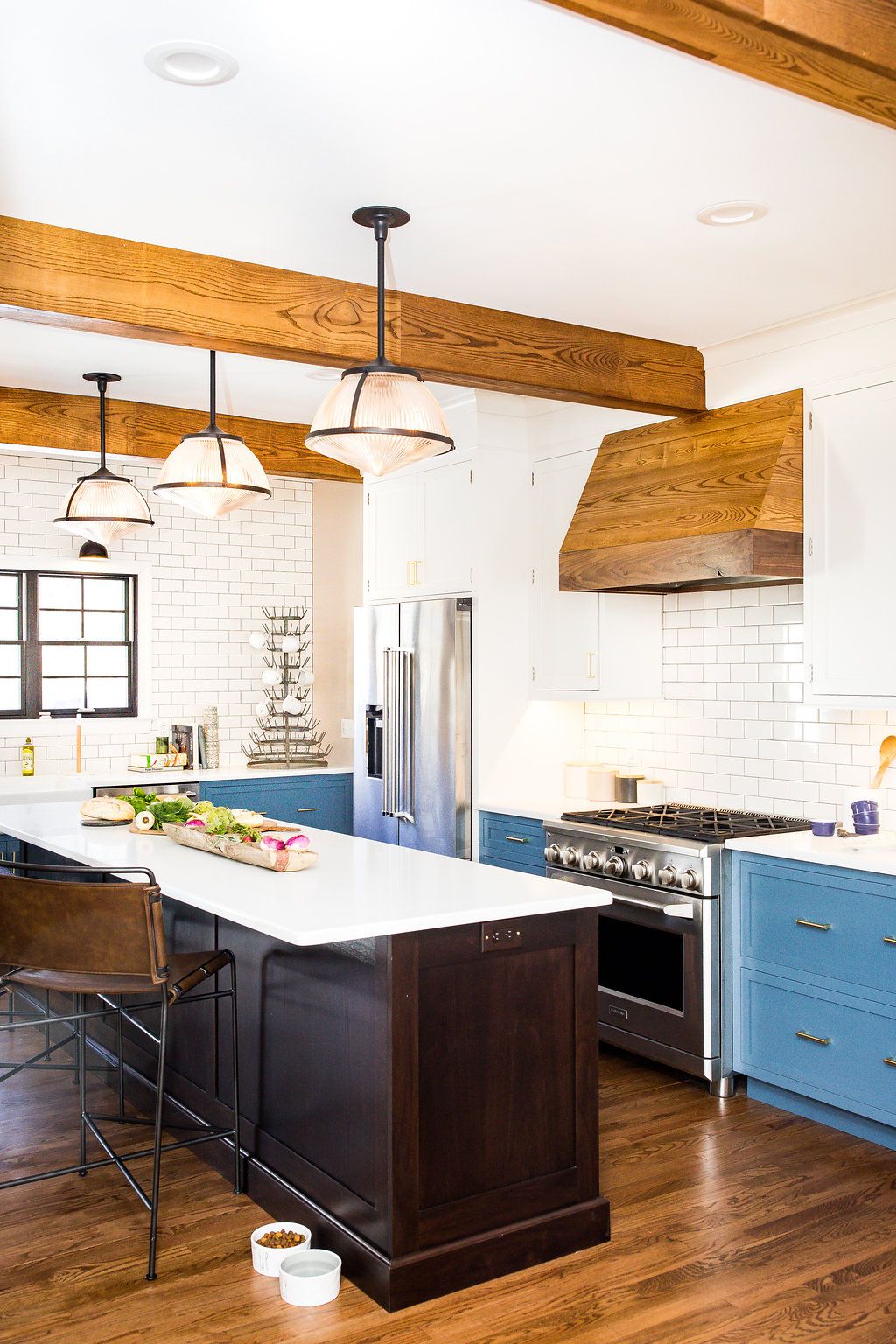 'The client's love of blue led to the relaxation effort here. She was very clear that blue was to be a prominent color to deliver her joy while cooking and spending time with her husband and kids. To embrace the overall woodsy feel, we went with a walnut-stained island to anchor the piece within the open space to the dining and living areas. The result feels casual and approachable, which is what we were all going for when visualizing a calming space for everyone to retire to after a long day.' says Jennifer Walter, founder of Folding Chair Design Co..
'This kitchen renovation was a team effort. The client was very involved in its layout and design to work best for her family. This house was a modern farm before it was a thing! The construction carpenter built the hood and beams himself and it gave it the rustic modern feel the client desired. We went for a simple white subway around the window for full effect since that wall had no uppers.'
10. Fill your kitchen with soothing wooden tones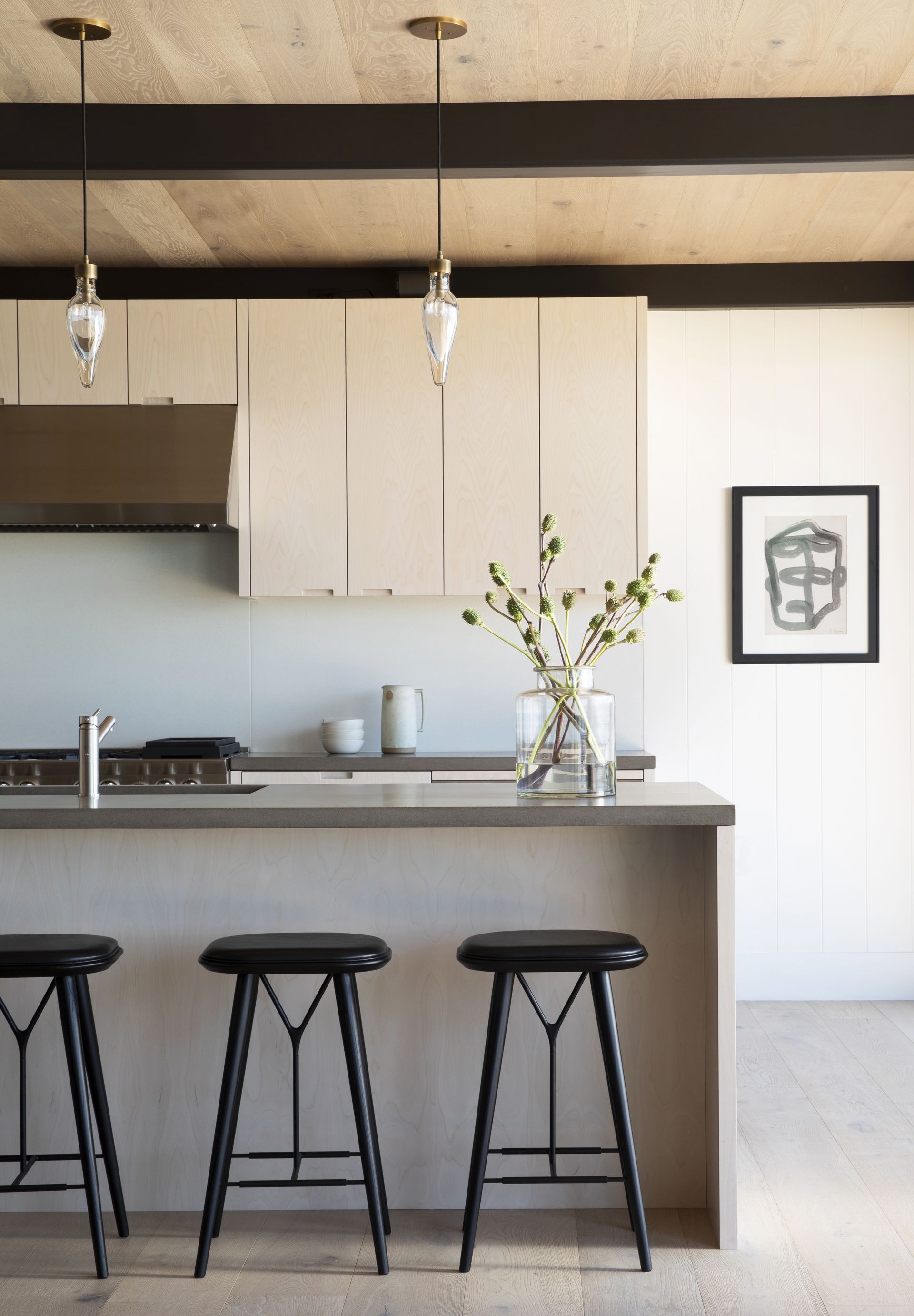 'This wooden kitchen is in a beach house on the Northern California coast. The goal of the renovation was to open up the space to the sea and to create a serene and relaxing retreat. We achieved this by limiting the material palette, keeping the wood tones light, and by using simple, clean-lined cabinetry. Keep these tips in mind when designing your own space,' explains Jennifer Jones, principal designer at Niche Interiors.
'My other top tips to make a kitchen more relaxing would be; to avoid busy tiles and lots of grout lines in the backsplash, hide toasters, blenders, and coffee makers in an appliance garage for a cleaner look and incorporate seating in the kitchen to encourage socializing and relaxation.'
11. Choose warmer tones for a softer approach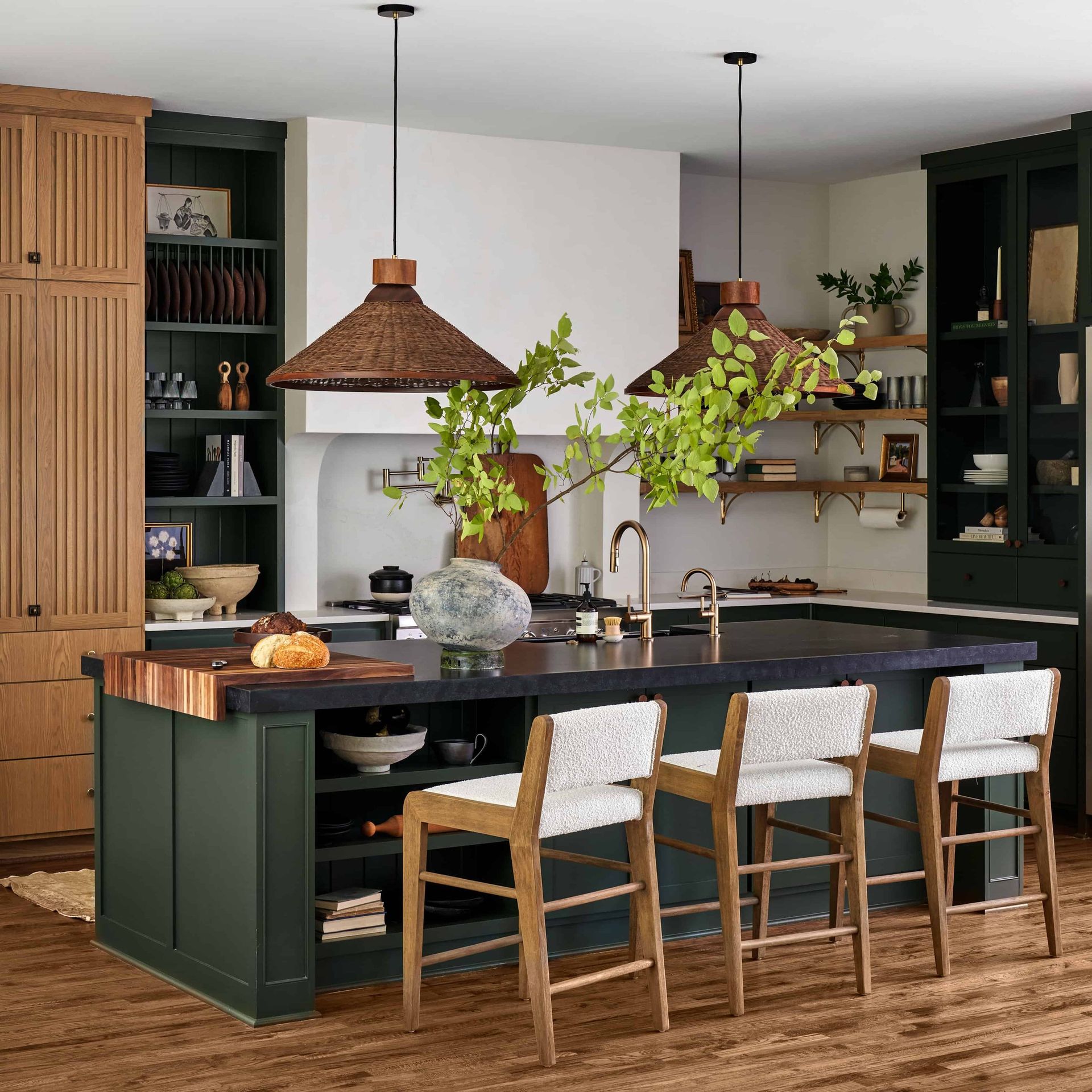 'Light, white oak has dominated for a while and now we are seeing a bigger emergence of deeper/darker/warmer hues in wood tones,' explains Ginger Curtis, President of Urbanology Designs.
'When done well you can pull off a relaxed traditional modern vibe that is stunningly refreshing. I believe this trend is gaining popularity because we are seeing examples of this done really well, and it excites people to see there is something new. A bolder move that helps transition a kitchen from what we are seeing every day to something a little more unique.'

12. Hide your appliances (even the fridge)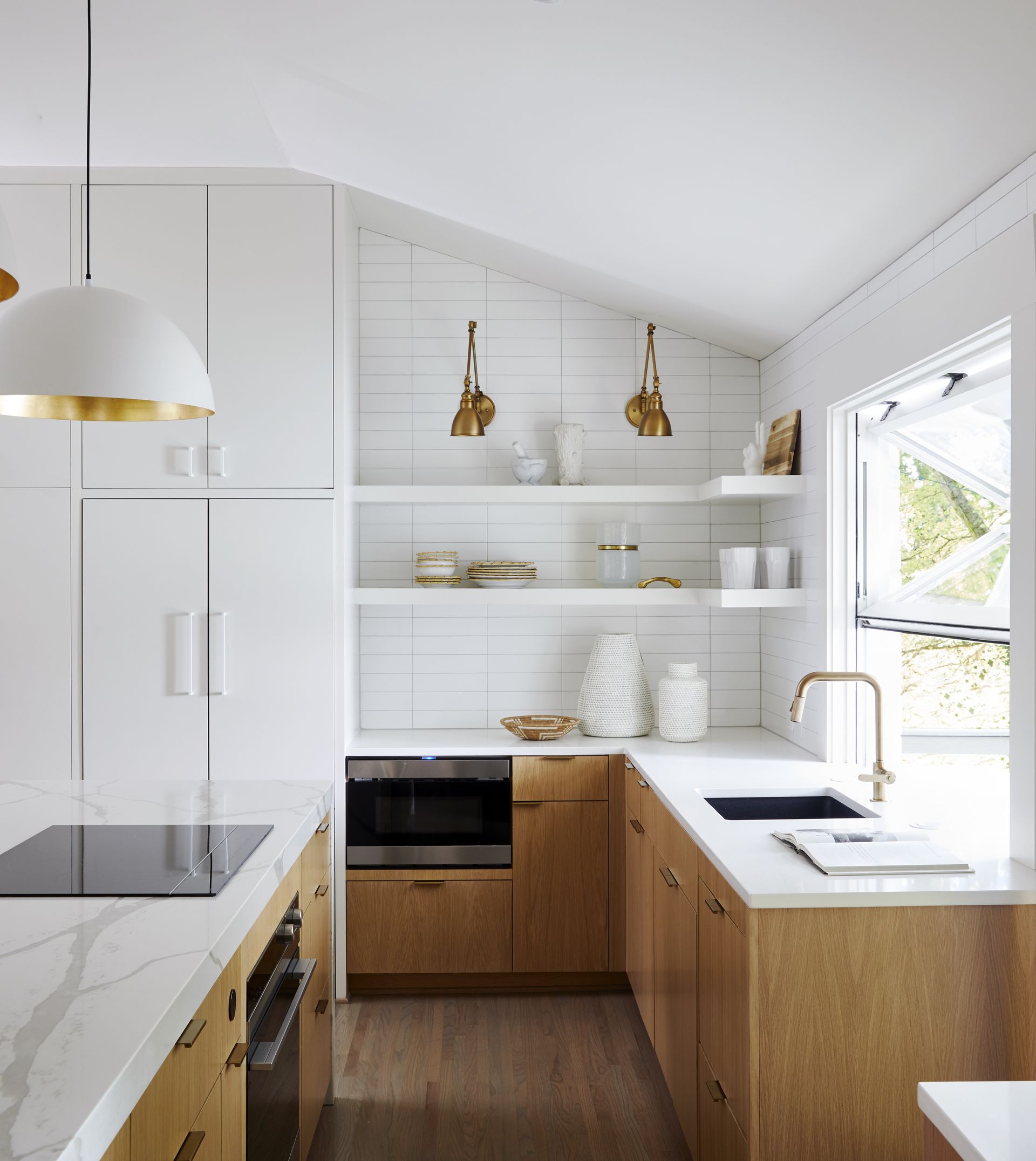 'Clutter is the archenemy of relaxation,' says designer Lisa Sherry. 'My kitchen designs include plans for all kitchen accouterments – cook's tools, pots and pans, spices, pantry staples, cutlery, and so on. I remove countertop clutter, making sure there's a place for everything.'
'I love panel-ready refrigerators. This oversized but very necessary appliance can be a bemouth in the kitchen. A paneled refrigerator elevates and relaxes even the most bustling kitchens.'
Sign up to the Homes & Gardens newsletter
Decor Ideas. Project Inspiration. Expert Advice. Delivered to your inbox.