How to organize a kitchen when you downsize – 11 ways to streamline your cookware collection
Make a smaller cooking space work for you with these efficient methods for organizing a kitchen when you downsize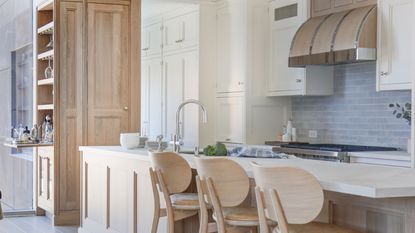 (Image credit: Bakes & Kropp)
Sign up to the Homes & Gardens newsletter
Decor Ideas. Project Inspiration. Expert Advice. Delivered to your inbox.
Thank you for signing up to Homes & Gardens. You will receive a verification email shortly.
There was a problem. Please refresh the page and try again.
Moving house is an exciting time, but if your new home is a bit smaller than your last, it will require a little more thought if you want to stay on top of the organization – particularly when it comes to more clutter-prone rooms, like the kitchen.
As one of the most-used areas of your home, you've likely acquired an awful lot of 'kitchen stuff' over the years, from utensils and pans to heirloom crockery and seasonal serveware. Cutting back can feel like a challenge. But don't be put off. Instead, see it as a chance to reset; to organize a kitchen the right way.
'A streamlined cookware collection is one of the things all the most organized kitchens have in common, so it's actually well worth doing before a move anyway, regardless of whether you're downsizing or not,' says Millie Hurst, section editor, Homes & Gardens.
We've asked the experts for their advice on how to organize a kitchen when you downsize. Rest assured, your cooking space will be just as functional, if not more so, than your last.
How to organize a kitchen when you downsize
As is the case with any organizational task, but particularly one which involves a reduction in space, it's best to start with good decluttering. Experts recommend you declutter a kitchen ahead of moving day to save yourself the hassle – and cost – of packing things you just don't need.
'Picturing life in your new, smaller kitchen can be hard, and people often move with far more than they actually have room for, which makes organizing tricky. It's hard, but really think about how you're going to cook in your new home, and what you really need to keep,' says professional organizer Laura Price, founder of The Home Organisation.
'Will you be hosting large numbers of people? If not, maybe you can let go of the largest serving dishes and saucepans. Similarly with cutlery and glassware. We're not saying get rid of absolutely everything, but effective decluttering will make for a much easier transition.'
Laura Price's goal is to help others experience the benefits of living an organized life after discovering that organized homes brought her peace when raising three children in a hectic home. Hence the birth of The Home Organization, a dedicated team of professional organizers.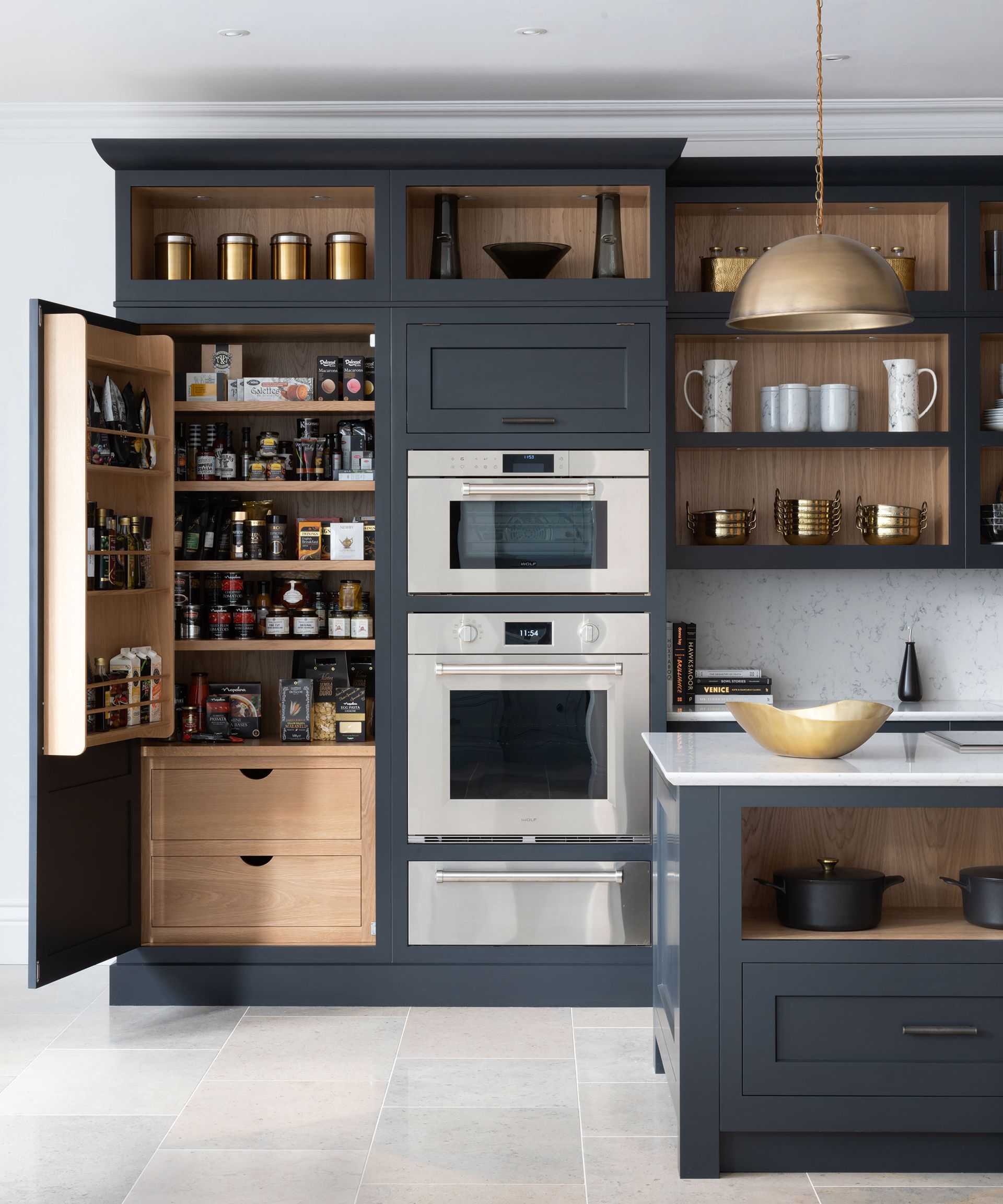 1. Set realistic goals – and stick to them
When decluttering to downsize, finishing a few days ahead of your move date should be your end goal. Carve out regular periods of time for decluttering into your diary, and plan which areas you're going to try and tackle. Set yourself manageable goals and sensible time limits, too.
If you're moving to a smaller property, you won't be able to cram everything in – even if you use a crowbar! Think about the space you'll have and how much you can comfortably fit: then set yourself a target to aim at. Don't forget to factor in a bit of growing room for new items, too,' recommends storage expert Simon Glanville, managing director at A Place for Everything.
2. Group like-items together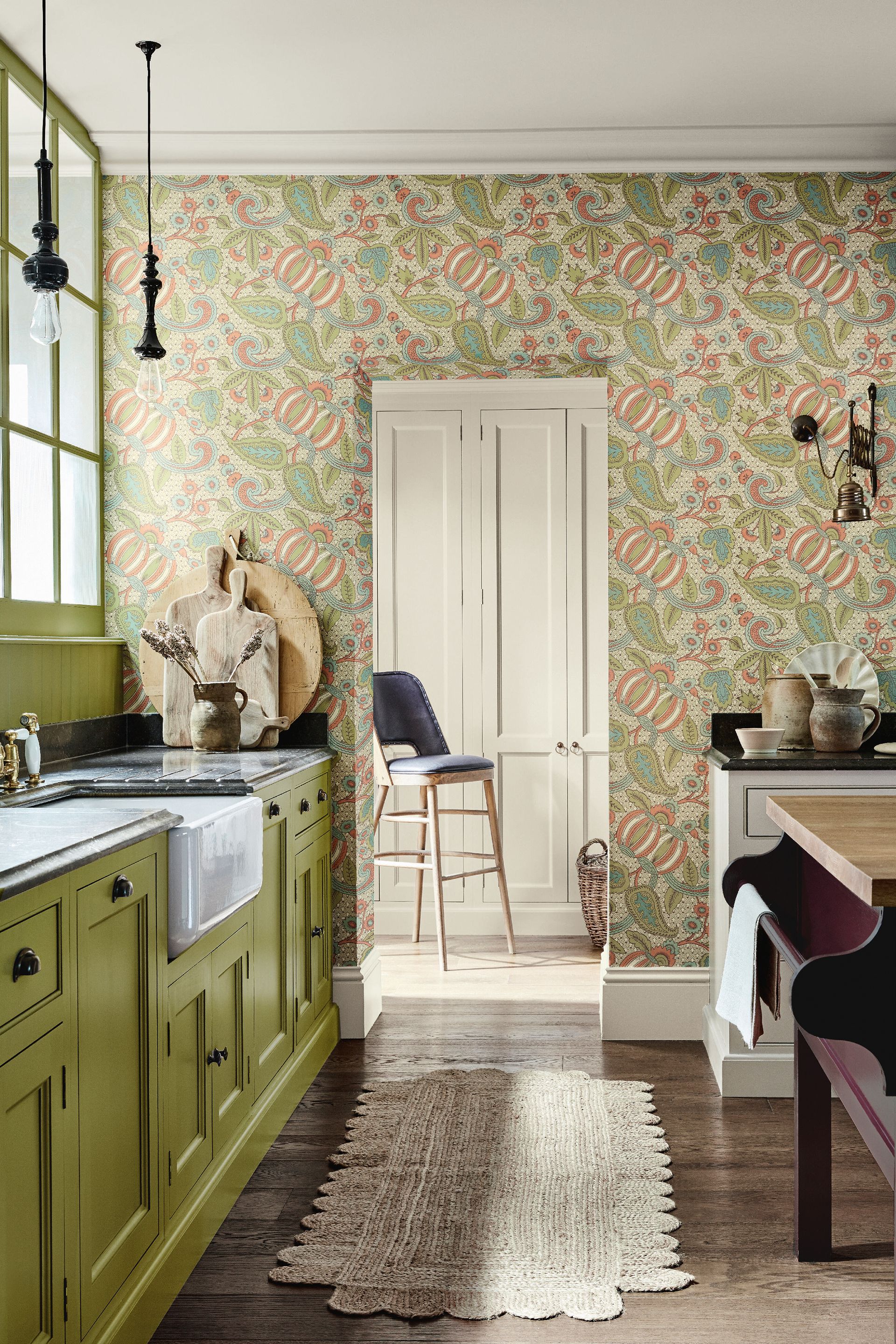 As one of the most-used rooms in your home, the kitchen holds an awful lot of stuff – working your way through it all at once can be really overwhelming. Breaking items down into categories – crockery, cooking utensils, pots and pans, small appliances, and so on – not only makes the decluttering process feel more manageable, but it also makes it easier to 'zone' your kitchen (more on that later).
Once you've categorized, you're in a great position to work out just how much you own and whether you really need to keep it all – we're going to guess you probably don't!
3. Get rid of multiples
Most homes are overrun with duplicate items, particularly in the kitchen. While some make sense – think mugs, chopping boards, and baking trays – others do not. Are you ever going to use more than one vegetable peeler at a time? What about a garlic press? Try and limit yourself to just one of each tool (make sure you hold onto the one that works best) and your storage space will go a lot further.
4. Cut back on single-use gadgets…
From spiralizers and egg slicers to novelty cookie cutters, we're all guilty of hoarding the odd 'time-saving' kitchen tool – or ten. There's nothing wrong with keeping single-purpose kitchen implements, as long as you actually use them. In most cases, they're not used nearly enough to justify the space they take up.
Even for those items you do use regularly, ask yourself whether you really need them in your cooking stash. More often than not, you'll be able to do the same job just as well with a paring knife or peeler – plus many more on top.
5…and appliances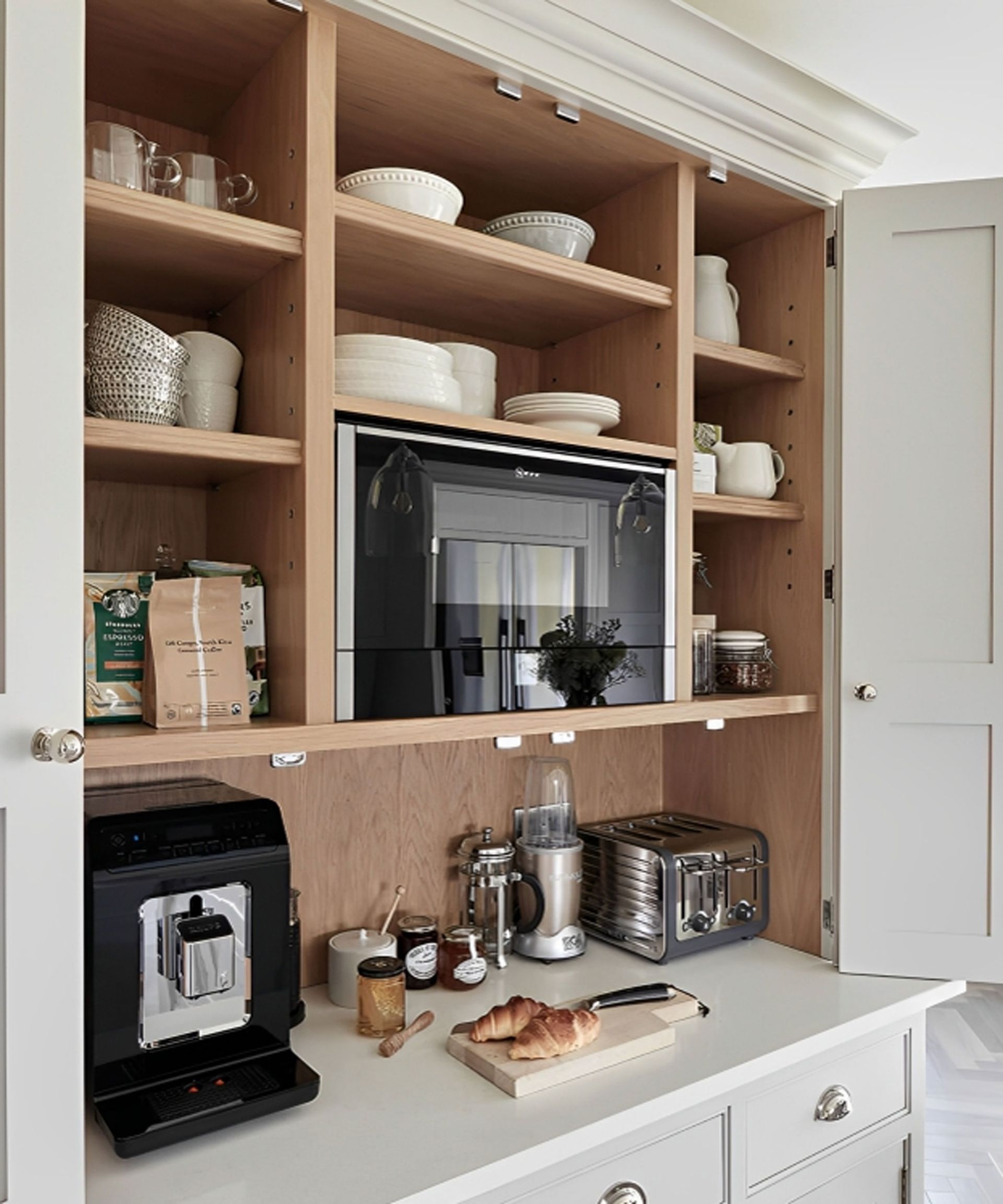 The same goes for appliances, too. While you may have had space to store ice cream makers and milk frothers before, you need to be realistic when downsizing. Think about what you truly need and use (rather than what you wish you did) then donate or sell the rest.
When shopping for kitchen tools and appliances going forwards, look for multi-purpose options, such as a food processor that also slices and grates. This not only saves space, but money too – win win', says Alessia Lamonaca, owner and lead designer at New Mode Home.
If you're in the initial stages of planning your new small kitchen layout, you could also consider installing built-in appliances to free up more space; an oven with a microwave function, or a pot filler, for example.
6. Make drawers work harder
When organizing small spaces, particularly kitchens, you'll need to think outside the box a little if you want to find a home for everything. While cabinets tend to be the go-to option for kitchen storage, drawers – especially deep ones – can be just as efficient at holding pots, pans, kitchen utensils and even food. The key is to kit them out properly.
'Cutlery trays, dividers and organizing inserts are worth their weight in gold. They make your drawer items easy to see, and access and are the best way to ensure things go back in the same place every time,' says Stephanie Nix, kitchen designer at Neptune.
While adjustable drawer organizers, at Target, work well when organizing kitchen drawers, it's also worth considering bespoke options too if you want to maximize space.
7. Take a more flexible approach to zoning
As any organizer will tell you, zoning is the key to a well-functioning kitchen, regardless of size. Cabinets around the 'cooking' zone should house pots, pans and baking trays, while those around the 'prep' zone – the main run of counters, or a small kitchen island – might contain kitchen towels, chopping boards and a waste bin, for example. The same goes when organizing kitchen countertops, too; organizing spices next to the hob makes sense, right?
While all these rules still apply when organizing a small kitchen, according to Emma Cowburn, kitchen designer at Harvey Jones, downsizing does mean you'll need to take a more flexible approach to zoning.
'In small kitchens where zones are close together, or even cross over in some cases, it helps to break activities down even further; tea/coffee making zone, seasoning zone, baking zone, and so on. Group necessary items together in containers or wire baskets (choose ones with handles, like these at Target), then move them around the kitchen as you need,' she says.
8. Be smart with storage
To organize a kitchen efficiently when downsizing, you'll need to ensure every space is usable space. From wire racks and drawer dividers to carousels and risers, kitchen organizers and pantry organizers can make all the difference, something to bear in mind when organizing trickier areas such as corner cabinets or deep pantry shelves, for example.
'Stackable caddies, like these clear versions at Amazon, and storage inserts can help you to utilize shelves, drawers and cabinets from top to bottom, while hanging racks on the back of the doors opens up all new realms of vertical storage options,' says Simon Glanville.
9. Store lesser-used items elsewhere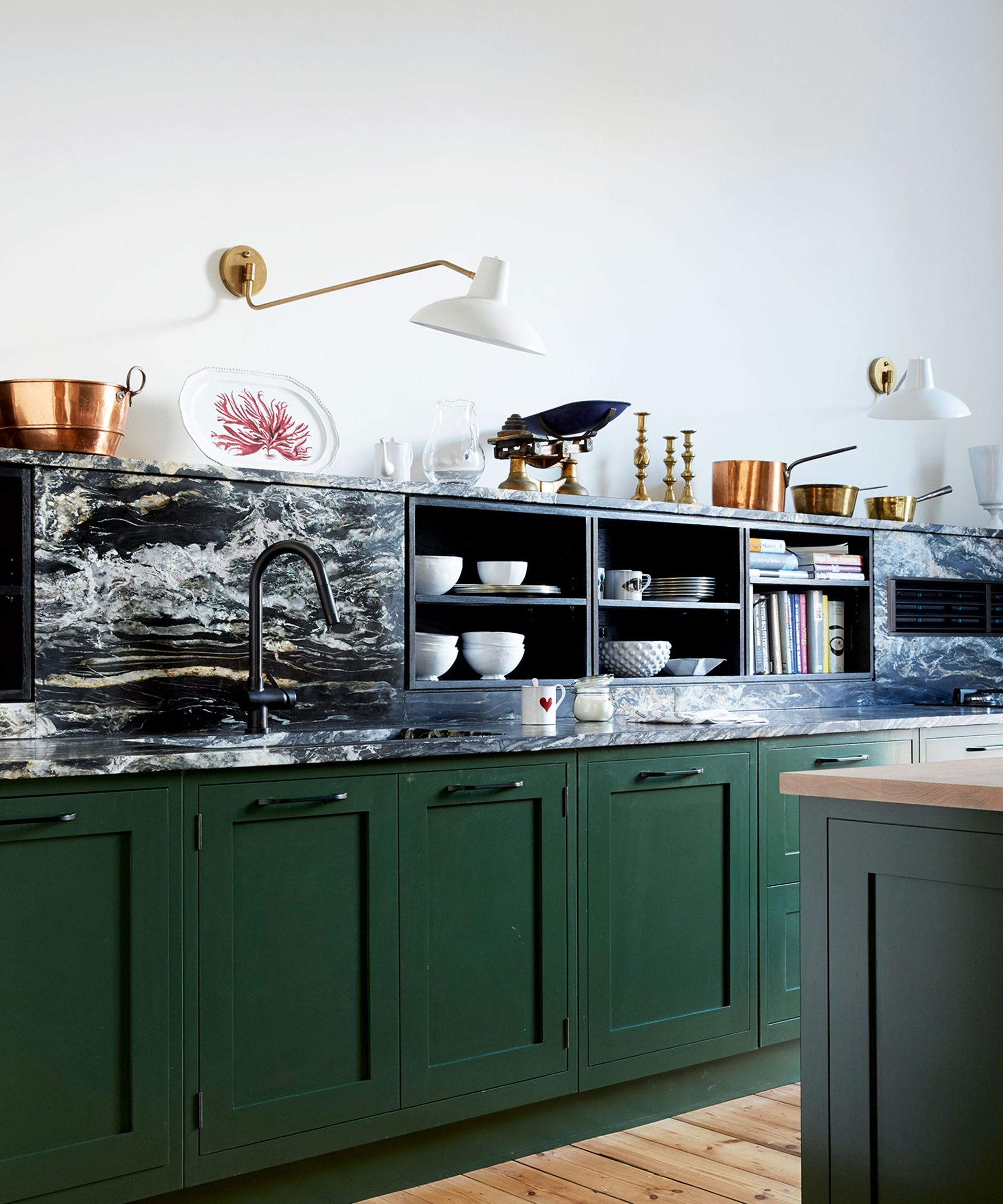 Downsizing your kitchen doesn't mean you should get rid of everything you own. While you may not use them often, there will be some items you'll want to keep hold of; seasonal platters, specialty appliances or gifted dinner sets, for example. Rather than have them take up prime storage space, consider moving them outside of the kitchen altogether.
If you'd rather keep your cookware contained in one area, consider alternative small kitchen storage ideas, such as the tops of kitchen cabinets or high open shelving for your prettier pieces. They're conveniently positioned out of the way, and double up as decor, too – just be sure to keep them orderly and dust-free to avoid a cluttered feel.
10. Don't forget about food
Regardless of whether you have one in your new kitchen or not, organizing a pantry should be part of your downsizing plan. It's all well and good to downsize your cookware, but if your tins, spices and condiments are out of control, you're going to struggle to stay organized.
Decluttering herbs and spices is a good place to start. Move through each jar, discard anything past its sell-by, or that you don't use. Then move on to tins, packets, and jars. For anything that's still within date, consider donating to local shelters.
When organizing a small kitchen without a pantry, it's important that you avoid buying in bulk going forwards, to avoid cabinets and drawers from overspilling. Store dried goods in clear containers so you can see when you're running low and keep an ongoing shopping list so you don't get caught short.
11. Keep countertops clear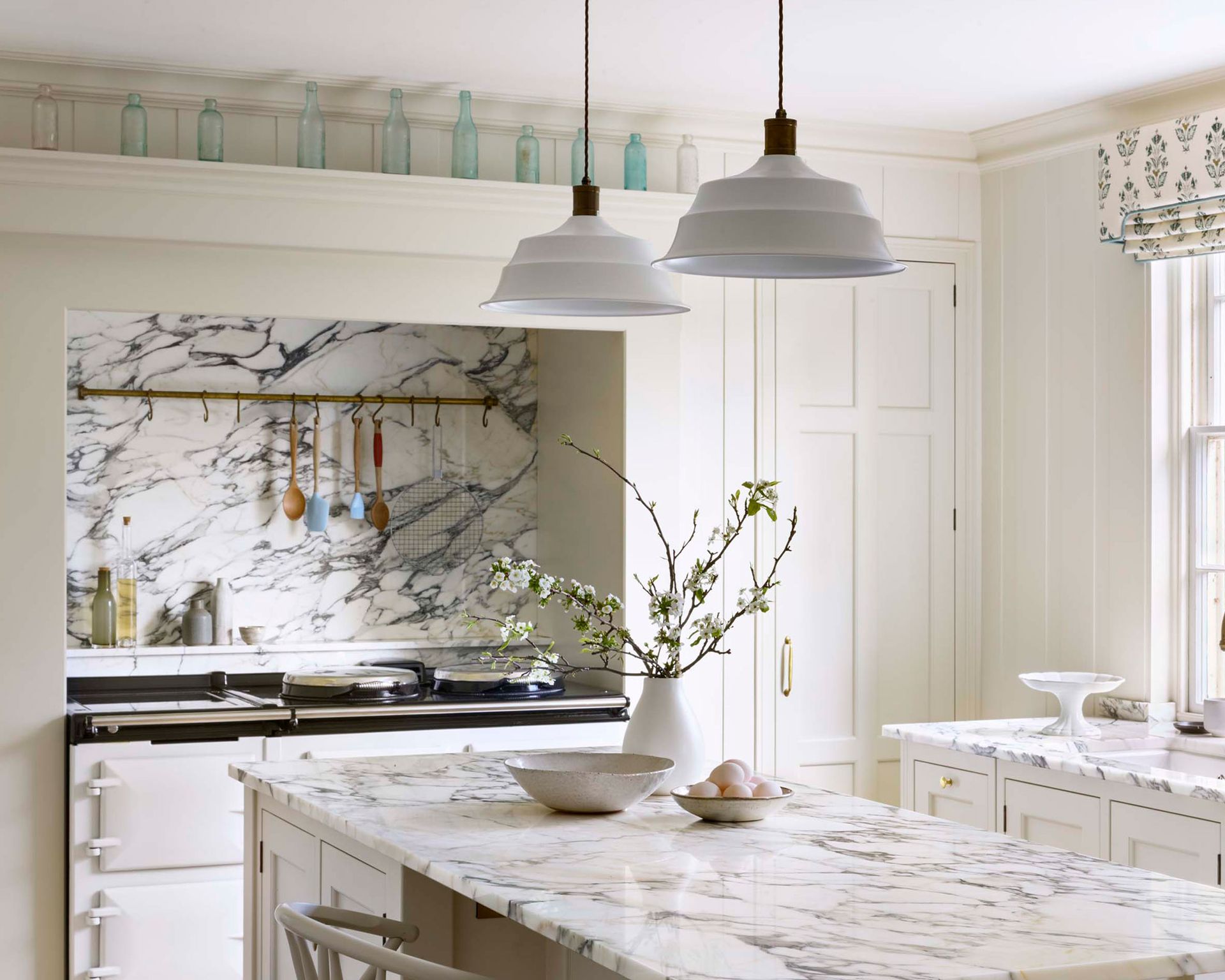 If you're downsizing to a smaller kitchen, chances are you're downsizing on prep areas, too. Luckily, it's pretty easy to make more counter space in a small kitchen. You've got two options; either physically make more (think fold-down counters, sink covers or portable kitchen island ideas) or create more by decluttering countertops.
'The key to keeping counters clutter-free is to declutter and organize the rest of your small storage so strategically that you don't feel the need to store items on surfaces. Dedicate easy-access storage space to your everyday essentials; that way, you're more likely to put them back straight after you've used them – I know this first hand!' says professional organizer Michele Vig, founder of Neat Little Nest.
FAQs
How do you declutter and organize a small kitchen?
All kitchens require similar organization techniques, regardless of size, but if yours is on the smaller side, you'll need to be a little stricter with yourself to ensure a functional workflow.
Streamlining your cookware collection is job number one. To make things easier, group items into categories, so you can identify multiples, as well as things you really don't need or use. Give multi-functional pieces priority; purpose-built gadgets, as well as more general items – a chopping board can double up as a serving board, for example. Do the same with pantry items, too.
Before putting items back, think about organizing your kitchen into zones. Utensils and cookware by the hob, cleaning products and kitchen bin stashed under the sink, you get the idea. Bear in mind there might be some crossover in a smaller space, so try and contain items in containers and baskets so you can move them around freely as you work.
Effective, space-saving storage solutions are key, so think about investing in some decent organizers to help the space you've got work that little bit harder. Doing this should help to keep counters clear, too.
---
It may feel a bit overwhelming, but there are lots of benefits to downsizing your kitchen. A streamlined cooking collection not only makes for a more competent cook but a more well-organized kitchen overall. And there's less cleaning to do, too – a bonus!
Sign up to the Homes & Gardens newsletter
Decor Ideas. Project Inspiration. Expert Advice. Delivered to your inbox.
For 10 years, Tara King worked as a Content Editor in the magazine industry, before leaving to become freelance, covering interior design, wellbeing, craft and homemaking. As well as writing for Ideal Home, Style at Home, Country Homes & Interiors, Tara's keen eye for styling combined with a passion for creating a happy – and functional – family home has led to a series of organization and cleaning features for H&G.