9 life-changing lessons I learned decorating my tiny rental's kitchen
No remodelling required – these tricks have transformed how I feel about my teeny, characterless kitchen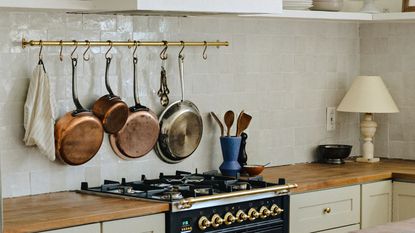 (Image credit: Unsplash)
When I moved into my new rental, I was not in a position to be ripping out the kitchen and remodelling the space from scratch. The major downside of this was the fact I would be stuck with the tiniest, builder-grade black-and-white kitchen I had ever seen – something that is certainly not my style.
Limited by budget and size, I knew I would have to draw on some small kitchen ideas and general home decorating ideas to try to spruce up the space without painting the cabinets or replacing the countertops.
I can easily say that this was one of the biggest decorating challenges in my new home, so here is what I did to finally make it a space I enjoy cooking in.
9 things I learned when decorating my tiny kitchen
Accessorizing a tiny styleless space was no easy feat! While a cool-toned room may work wonders for some people it is just not my style.
This is what I did to decorate my tiny kitchen and add warmth and character to this new-build space.
1. Accent lighting is not just for living rooms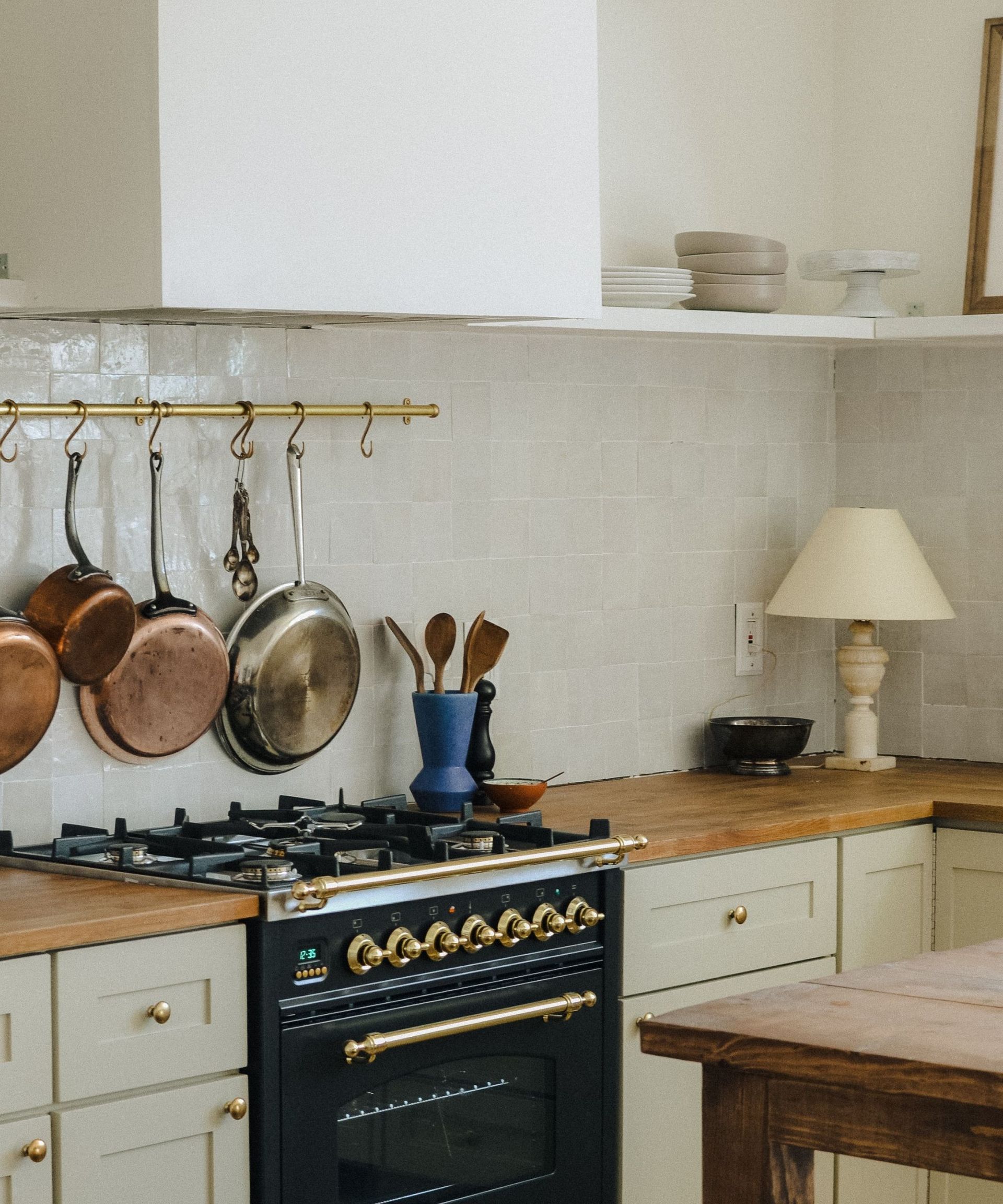 My kitchen has six bright white LED spotlights on the ceiling which is great for when I am cooking an intricate meal and need to focus, but it is horrendous when I am up for some relaxed late-night baking or midnight cereal (yes, I admit that I am guilty of some late night snacking – but I know I am not alone).
Correcting the kitchen lighting ideas was my first task and was probably the easiest step in trying to fix my kitchen. Although lighting ideas for small kitchens often focus on opening up the space and making sure it remains functional, accent lighting is as important in a tiny kitchen as it is in a cozy living room.
As a homebody who loves to bake, adding a simple table lamp in the corner of my U-shaped kitchen took me one step closer to the aesthetic cozy kitchen ideas I see all over Homes & Gardens and Pinterest. Adding a candle or two also helped to achieve this warm effect as well as helped to eliminate some of the less favorable kitchen smells (yes, salmon, I am thinking of you!).
2. Hide away appliances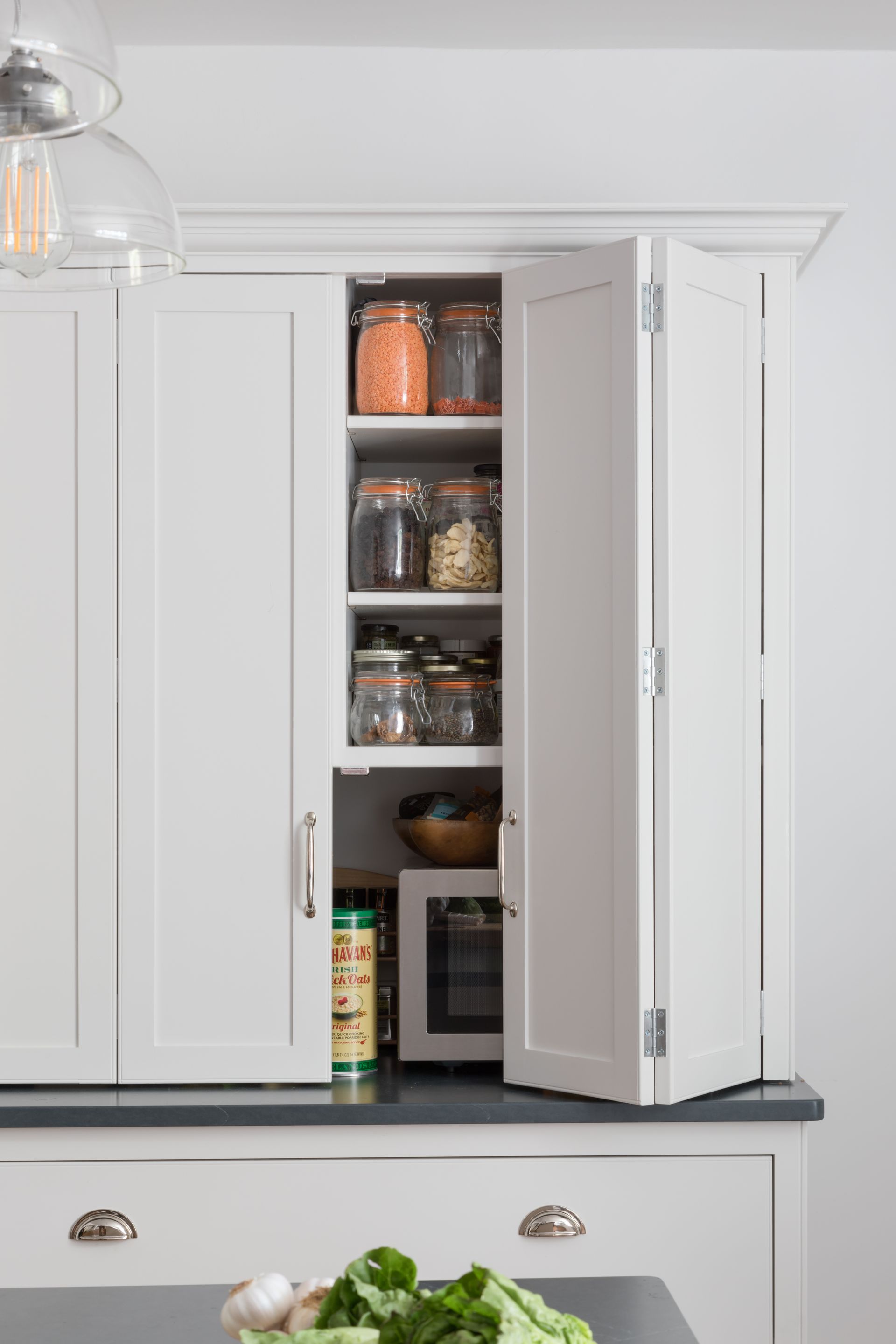 I found that hiding away my bulkier appliances such as the microwave and toaster not only helped to free up space on my limited countertop but also helped to make my kitchen look more streamlined and sophisticated.
I obviously have to cope with less than generous small kitchen storage ideas to slot my appliances away, but I did find that by decluttering and getting rid of things I don't use, ever, gave me extra cabinet space so that I can put them away when I am not using them. This was one of the main steps that made my kitchen look and feel more luxurious. After all, there is nothing less glamorous than a bulky stainless steel microwave cramping up a kitchen side!
3. Functional items can be decorative in tiny spaces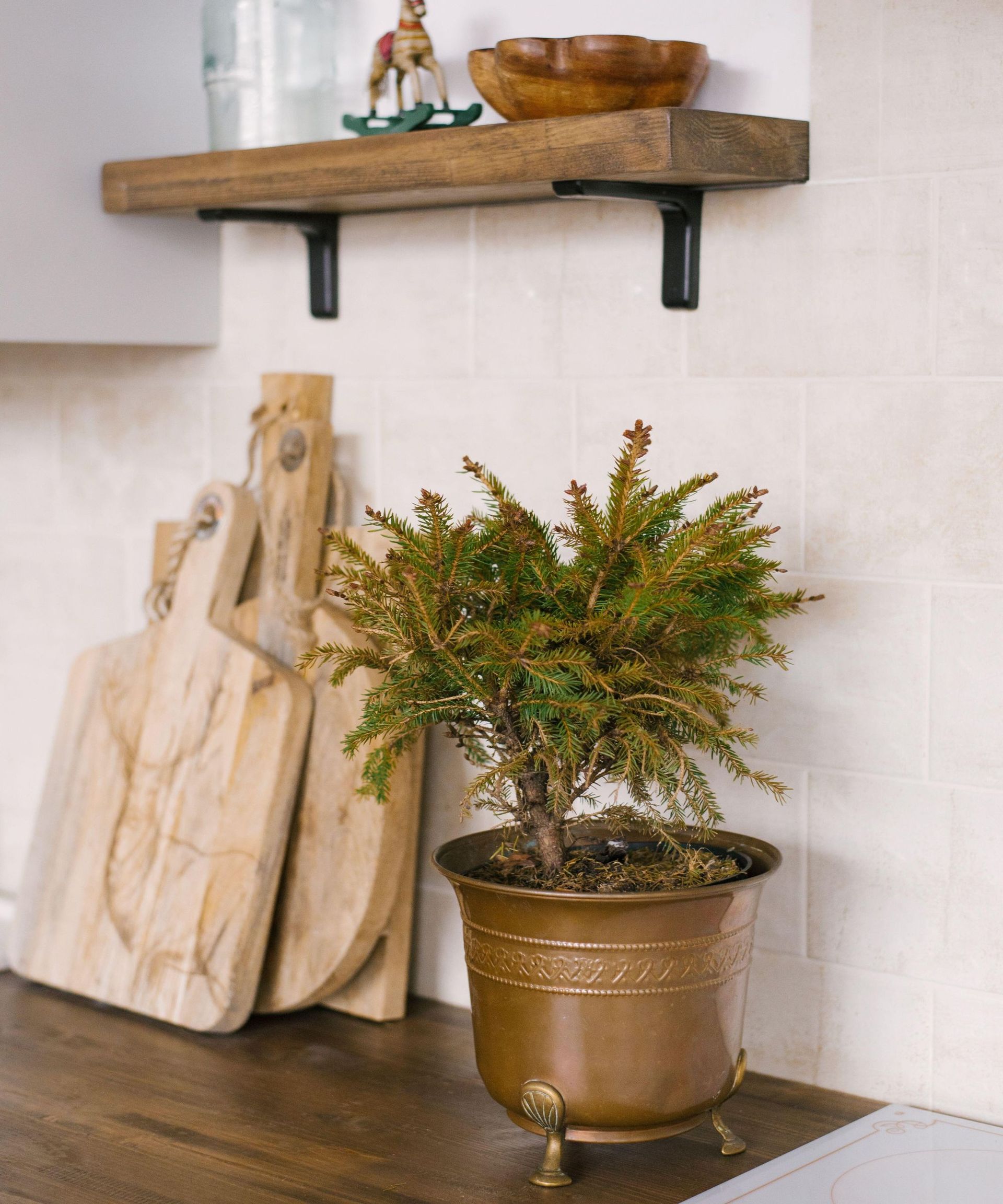 I knew that the main way to achieve my dreamy decorative kitchen ideas was plenty of detail, but trying to balance this cozy look with keeping the space functional wasn't the easiest.
I like the curate 'functional clutter' in my spaces. While some people like a much sleeker look, I think that using functional items such as a beautiful utensil pot, chopping boards, and sculptural salt and pepper shakers, for example, help to create structured 'cluttered' areas that help my kitchen feel cozier and lived-in as opposed to perfectly polished.
Adding these smaller areas around my cooker, for example, really helped to make my kitchen more inviting.
4. Decant food into aesthetic containers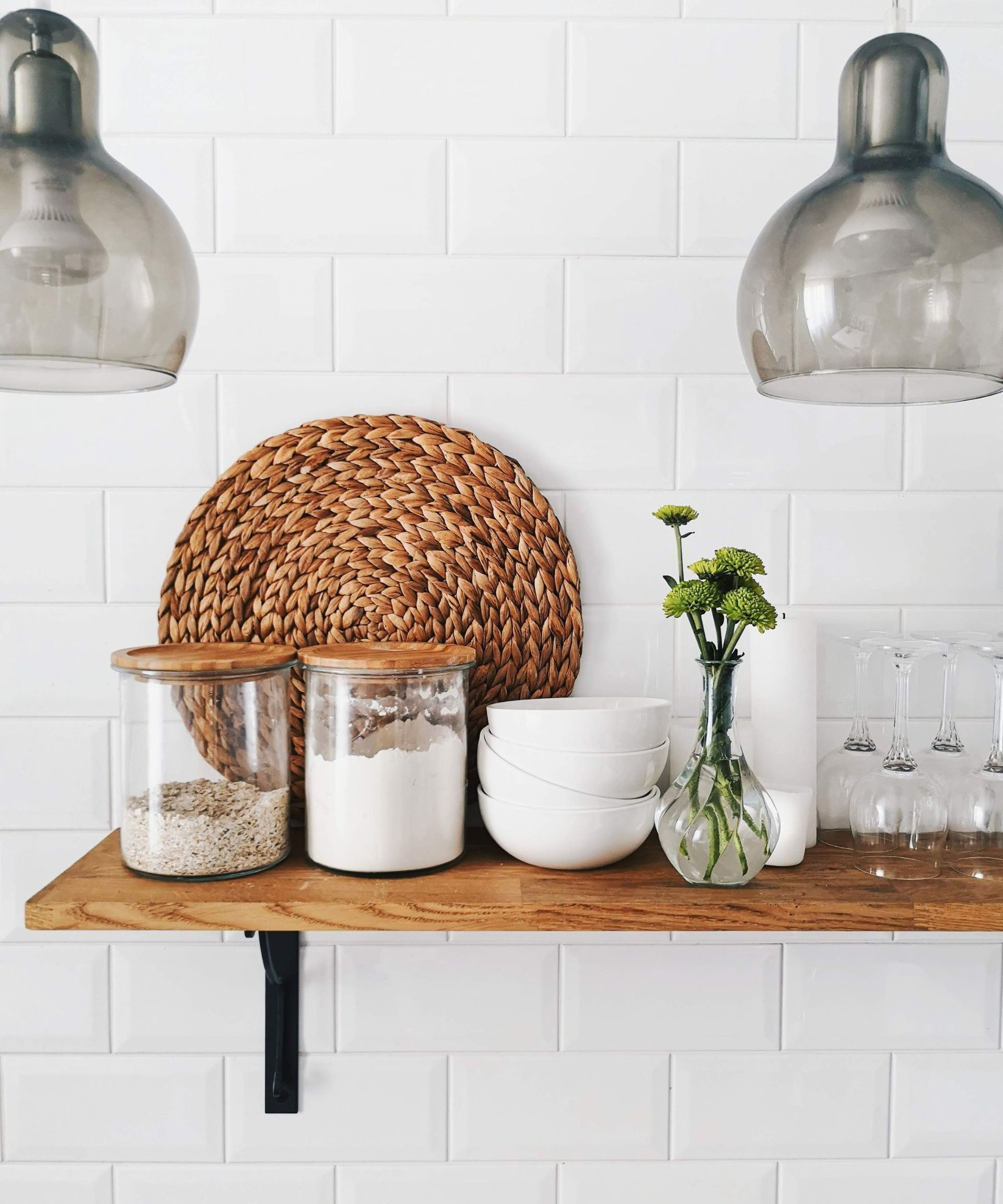 When I started decanting my food goods to help them last longer I realized the true decorative potential of even the most basic of foodstuffs in my kitchen cabinets.
Given that I needed to save space to actually cook in my kitchen, decanting pantry staples such as sugar, flour, salt, and grains into decorative jars such as these on Amazon allowed me to use my bare essentials as decor pieces throughout the space. What's more, it helped me with organizing kitchen cabinets too!
5. Always change out the hardware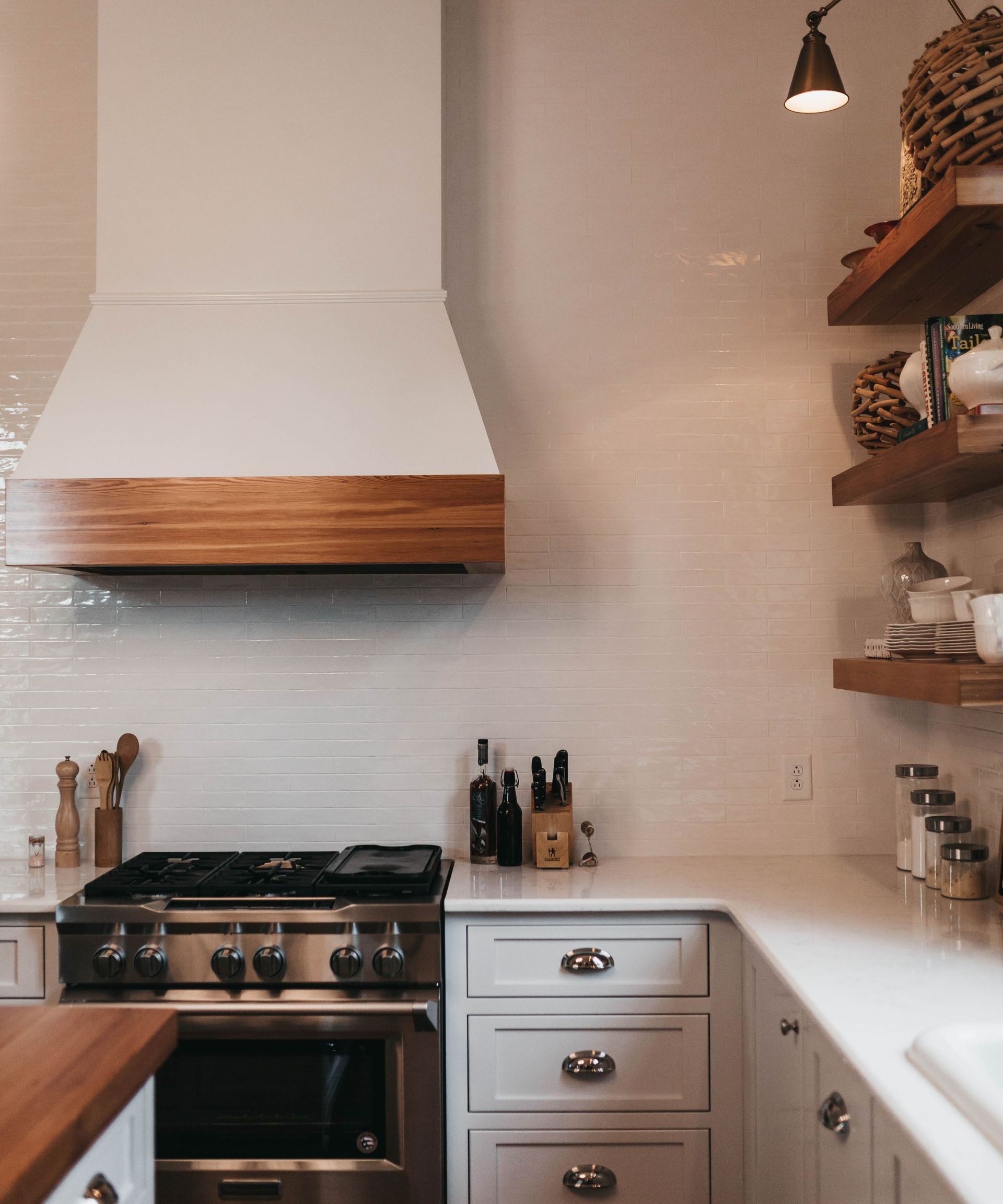 Learning how to install kitchen cabinet handles helped me to warm up my space and add my own personal touch to my builder-grade kitchen. I swapped out the cooler-toned chrome handles on my cabinets and drawers for brass pulls to add some variation. I made sure to choose weighty, high-quality metal finishes that would feel nice when used to give the kitchen a luxurious appeal.
The handles were not the only thing I changed out, however, with my light switch panel also falling victim to my need to decorate my tiny kitchen without any permanent updates!
I am a firm believer that hardware is the thing that really ties any kitchen together.
6. Add character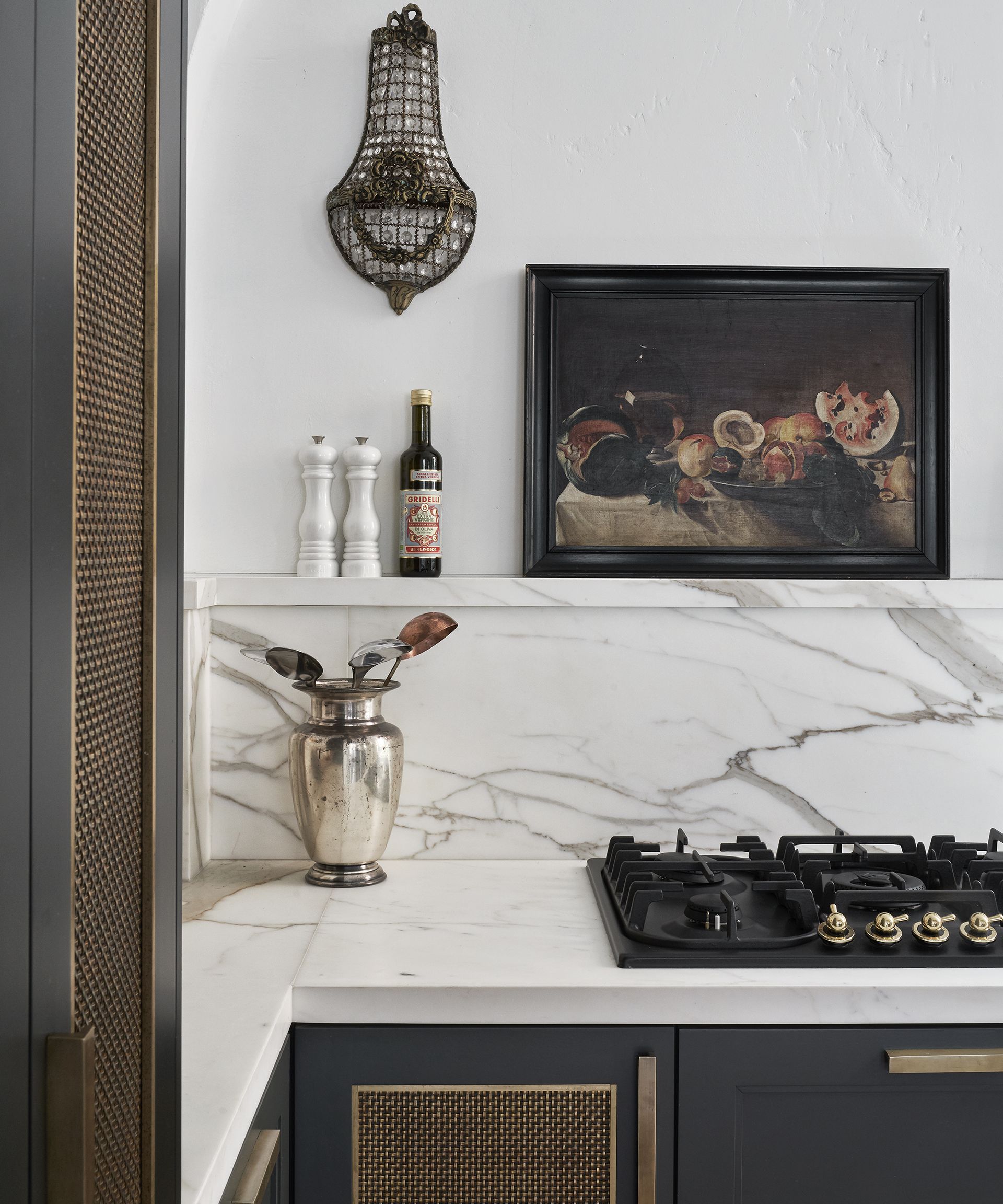 Adding kitchen art ideas in vintage frames, along with other vintage finds helped to introduce some character into my otherwise bland tiny kitchen space.
I was not in a position to repaint my kitchen, let alone change out the kitchen tile ideas, so adding art and interestingly textured vintage decor pieces broke up the monotonous white walls and black counters.
I found that you don't have to just hang frames on your kitchen walls either, with frames left leaning against the backsplash beside a decorative cutting board creating a small interesting feature. Even better, this tip is renter-friendly too – or just good for those of us who take a while to make up our minds.
7. Never underestimate the power of plants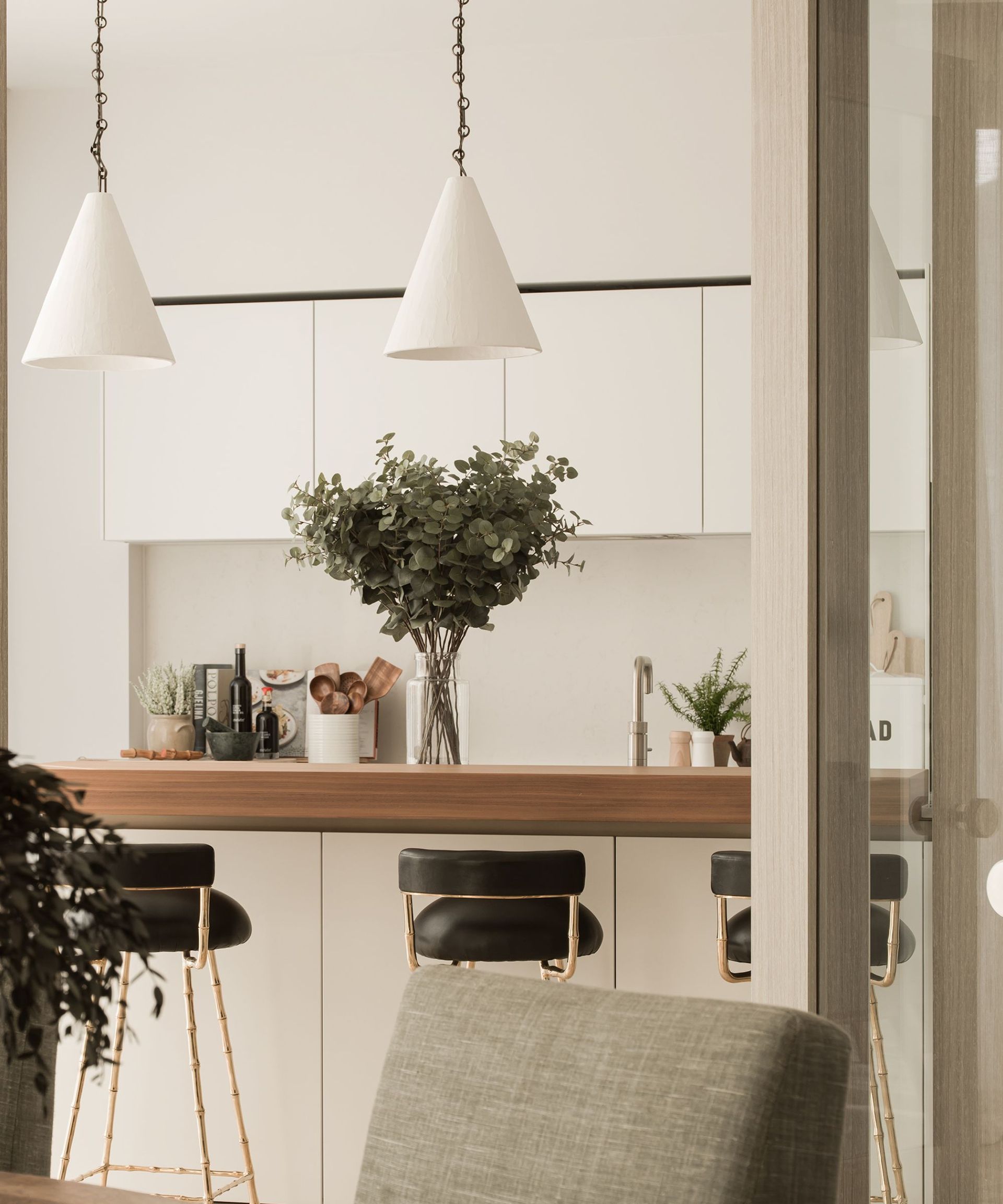 I think it goes without saying that decorating with plants is one of the most common ways of adding color to a space regardless of its size. I first felt that it wouldn't make sense to add a plant pot or vase to an already cramped kitchen but the bright pop of color it added, along with its interestingly sculptural leaves, introduced some nice variety to my space.
I admit that I did almost kill off the first plant I put in my kitchen, however, as the humidity from cooking was just a little too much for the poor thing (whoops!). Now that that one is safely recovering in my home office, I have made sure to research the best kitchen plants that can withstand the rigors of everyday cooking.
8. Use a rug to warm the space and hide the floor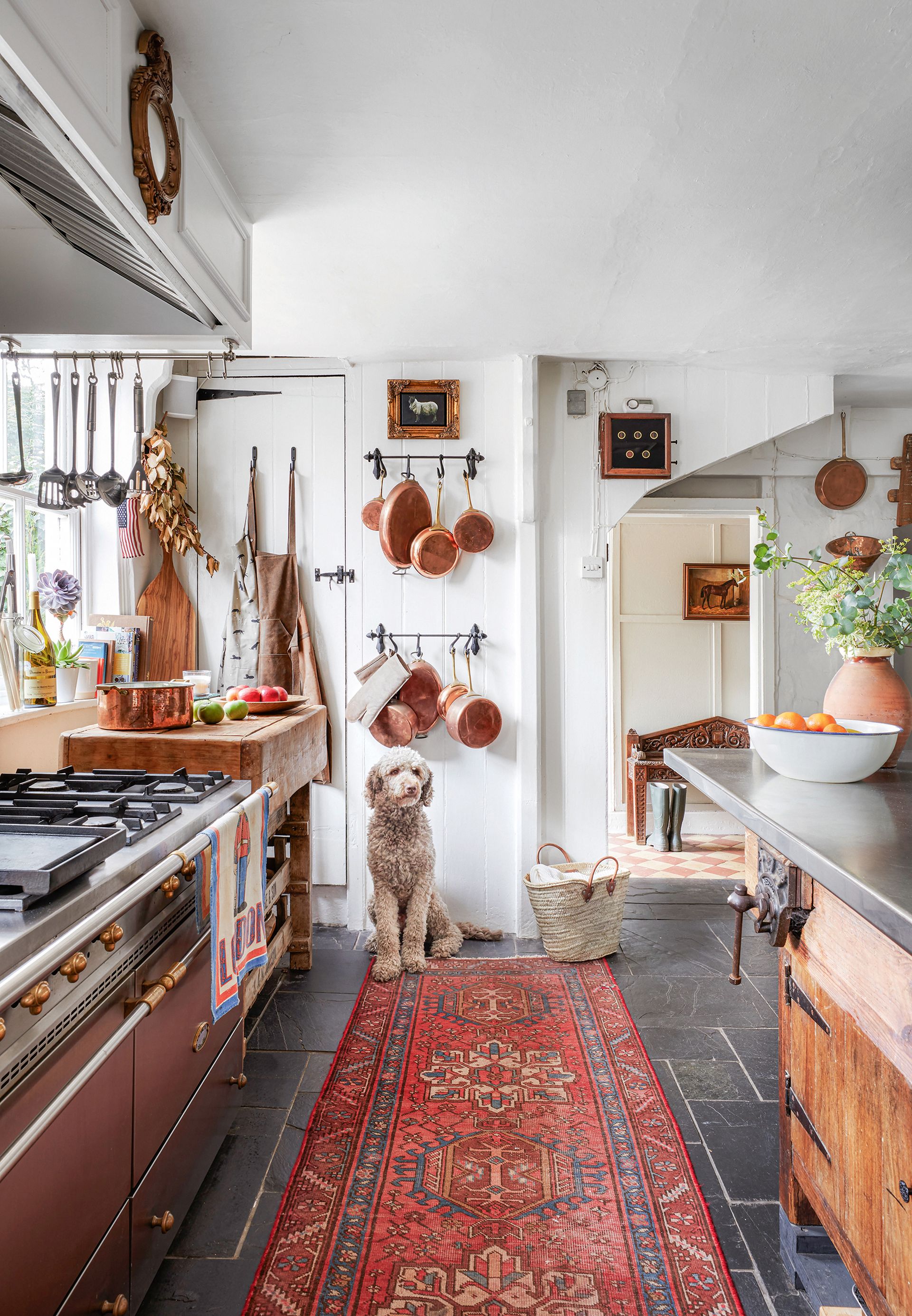 My kitchen has an incredibly old marble tile floor. This may sound luxurious but no matter how much I scrub I know there are some marks I will never be able to get out.
Adding a kitchen rug not only hid the horrid floor but also helped to introduce color in a more unexpected part of the kitchen. Even better, adding a rug or runner didn't clutter up the space in any way, making it the ideal addition to a tin, cramped room.
Using a low-pile, washable floor runner means that I can easily freshen up the rug whenever I spill something so the stress is taken off of making a mess.
9. Adding window dressings makes any space cozier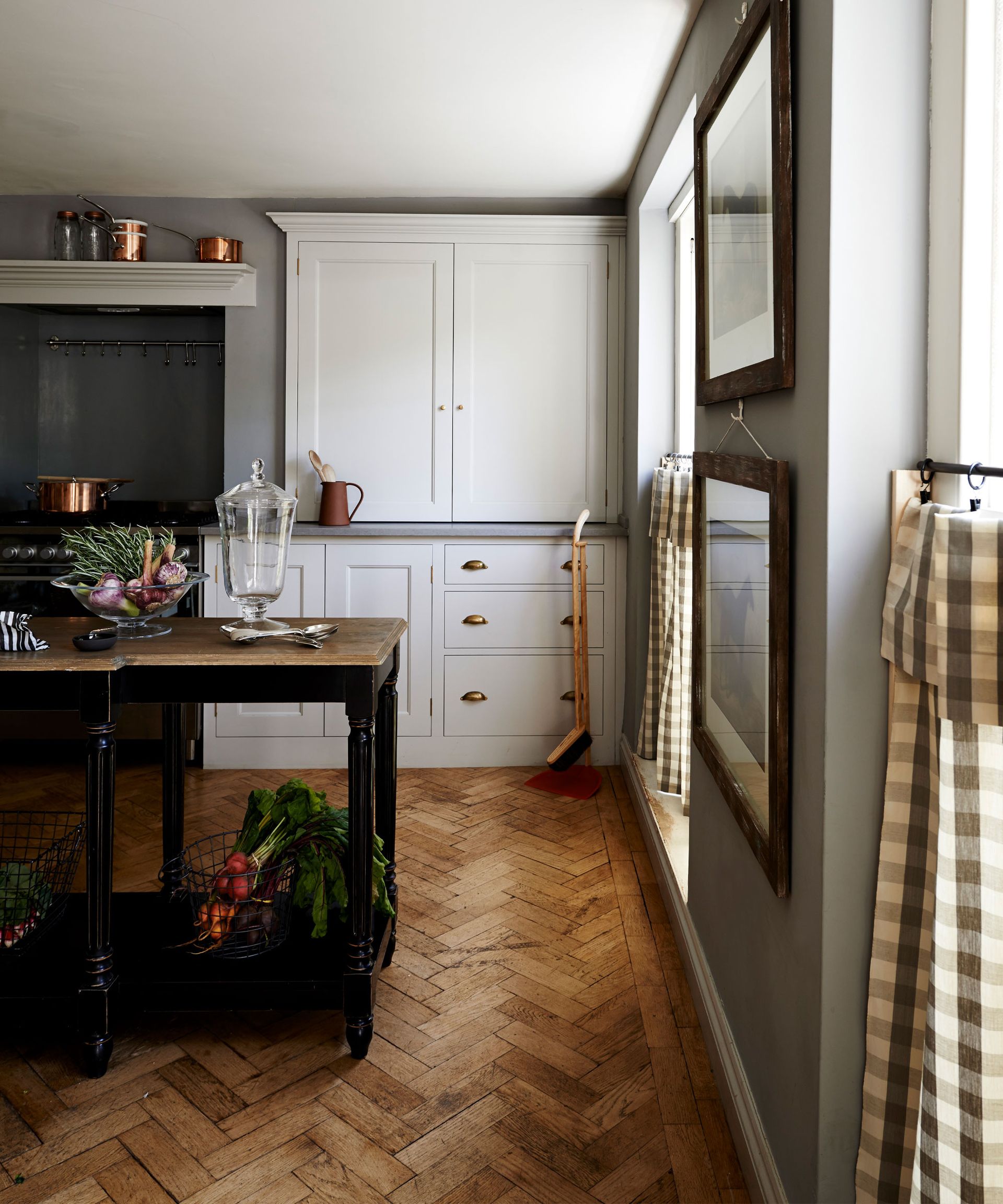 My kitchen originally had a simple blind and no kind of exciting window treatment ideas whatsoever.
Hanging curtains is not something I have considered in my kitchen until I saw a designer suggest it on H&G. Although blinds are technically more practical than kitchen curtain ideas, they easily add a much-needed softness to the space as well as continue to add color and texture in an otherwise drab room.
What color to paint a tiny rental kitchen?
To make a smaller kitchen look bigger, use lighter color palettes to give the space the appearance of being light and airy. If white is not for you consider lighter neutrals such as beiges and creams, or even pastel shades for a positive pop of color.
How do you make a small kitchen feel cozy?
One of the main ways to make a tiny kitchen feel cozy, especially if the room is painted in light, bright colors, is to get the lighting right. Adding warm toned accent lighting will help to set the mood and warm the space up for late night cooking and a cozy eating experience.
Sign up to the Homes & Gardens newsletter
Decor Ideas. Project Inspiration. Expert Advice. Delivered to your inbox.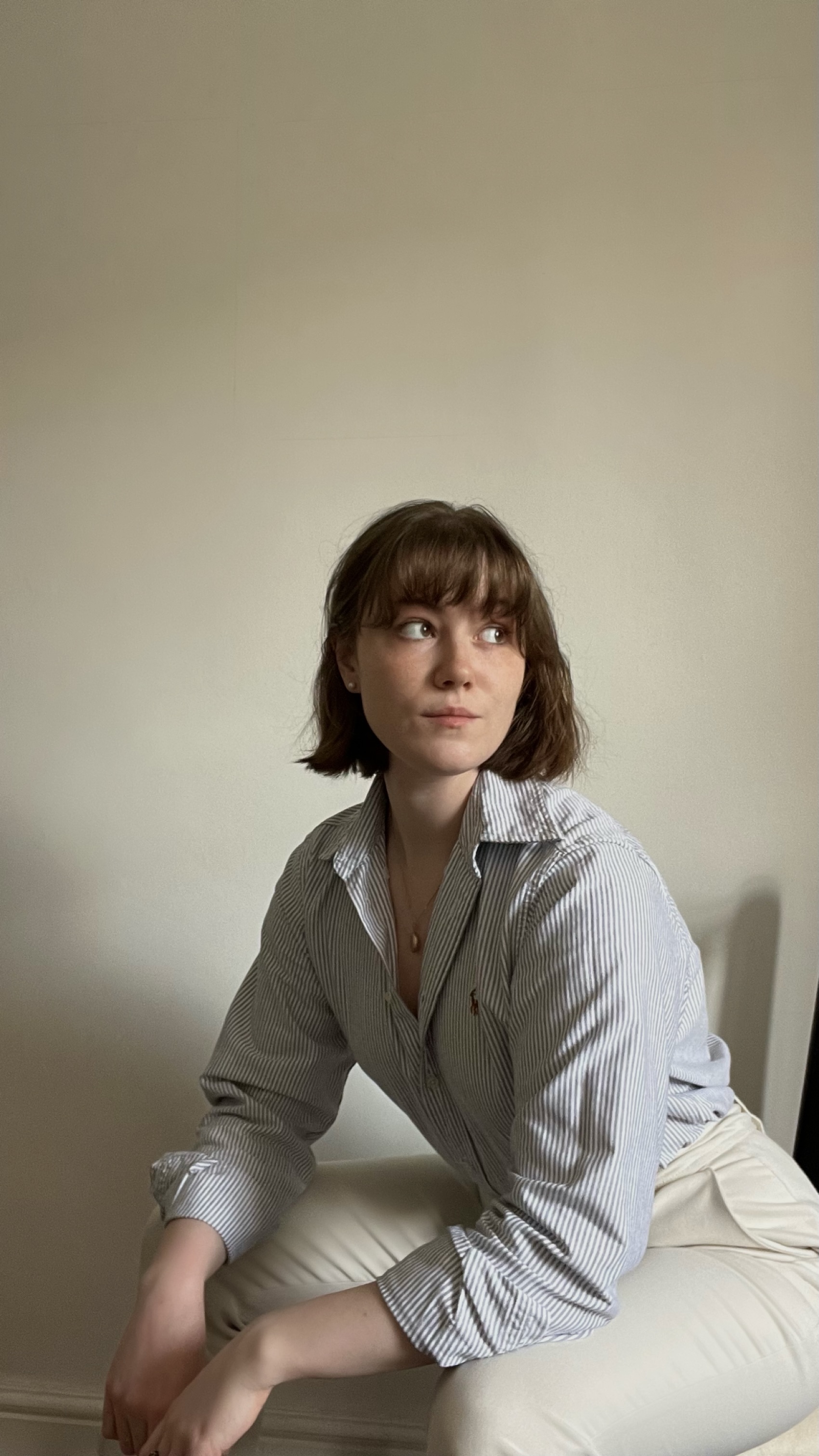 Chiana has been at Homes & Gardens for a year, having started her journey in interior journalism as part of the graduate program. She spends most of her time producing content for the Solved section of the website, helping readers get the most out of their homes through clever decluttering, cleaning, and tidying tips – many of which she tests and reviews herself in her home in Lancaster to ensure they will consistently deliver for her readers and dabbles in the latest design trends. She also has a first-class degree in Literature from Lancaster University.