How can I make my kitchen more inviting? 6 techniques interior designers use
Creating an inviting kitchen for entertaining has never been easier than with these designer tips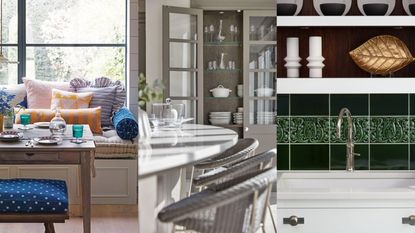 (Image credit: Simon Bevan / Tom Howley / Craven Dunnill Jackfield)
Creating an inviting home is one of the most common requests when it comes to designing an interior. While you want to create an inviting space for guests, family, and friends, designing a space such as a kitchen that is also inviting to you as you come home from a day out is equally as important. So, how can I make my kitchen more inviting?
When it comes to kitchen ideas, creating an inviting space is about how you curate a kitchen layout coupled with comforting kitchen decor ideas and soft kitchen lighting ideas. Creating a cozy kitchen is also a great way to make a kitchen feel inviting, especially in the fall and winter months when the temperature drops and we gather more frequently in our kitchens for feasts and holidays.
How can I make my kitchen more inviting?
Here, we have spoken to some of our favorite designers and experts to learn their tricks for making a kitchen more inviting, from decorative kitchen ideas to kitchen lighting, to help you redesign your space.
1. Add staple seating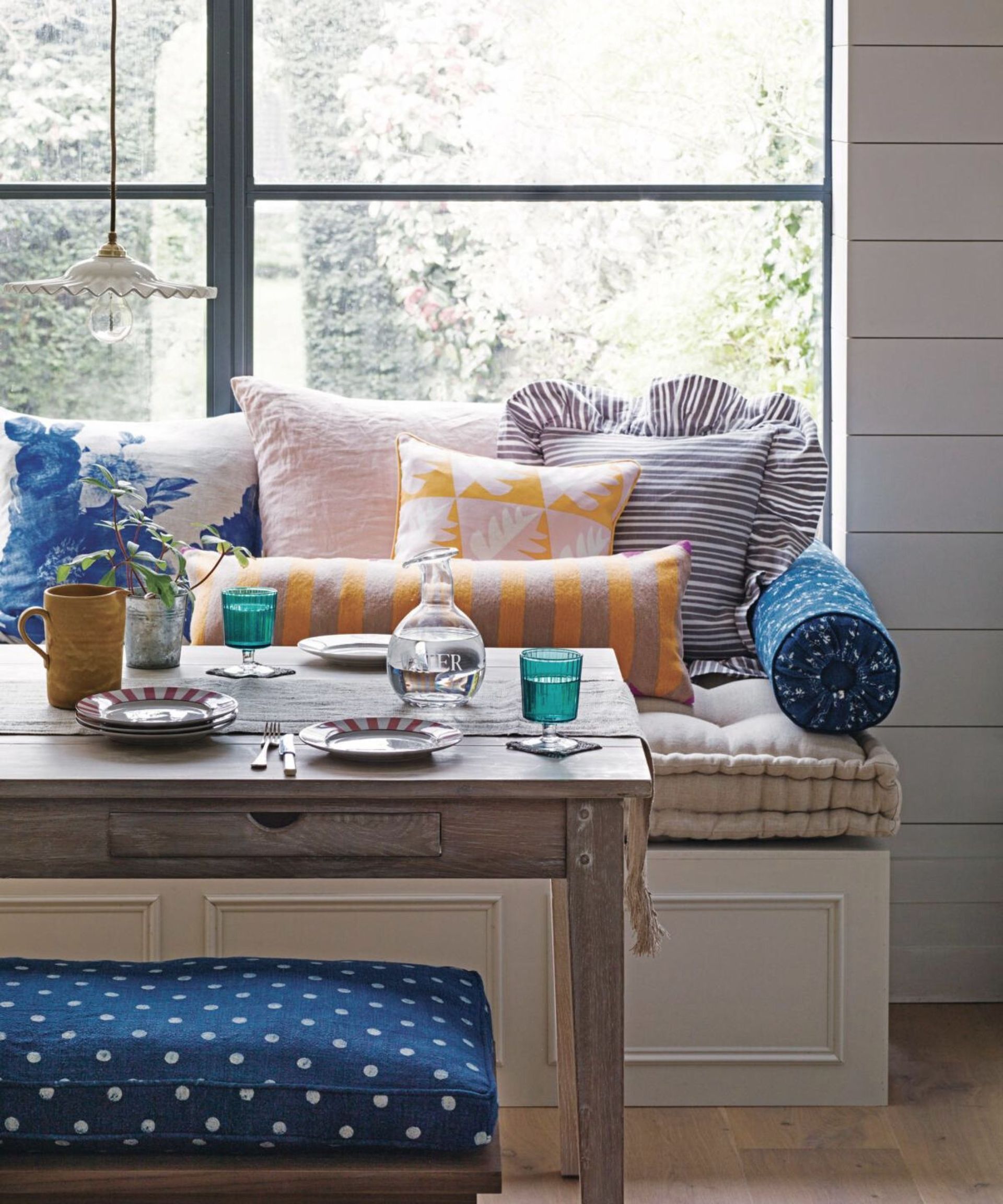 Adding somewhere for your guests to sit and relax as you host is a great way to make your space feel more inviting. Kitchen seating ideas can come in many forms, from bar stools to banquettes, and all offer the ideal place for guests to join you as you cook or for you to relax as you wait for a meal.
'Banquette seating can make your kitchen feel even more welcoming, especially when it incorporates cozy soft furnishings,' says Sophie Hartley, a designer at Tom Howley. 'The key to sizing up banquette seating in a smaller space is introducing curved shapes rather than seating that follows the width of the wall. This will increase the amount of seating available and will also create a more 'conversational' shape, meaning that people sitting around the table will be directed towards each other. This example also features some neat, narrow storage, tucked behind the curve of the banquette bench. When choosing a table, round shapes are best to echo the rounded seating.'
'Whilst it's important to set the mood and atmosphere of the space, creating a kitchen that's practically cozy comes down to ensuring you have soft spaces and nooks to land.' continues Lizzie Beesley, head of design at Magnet. 'Make the most out of corner areas in the kitchen and add banquette kitchen nook seating to maximize seating. If space is tight, opt for a rustic wooden bench with integrated storage in between cabinets. Adding lots of textural cushions and blankets on top of these seating spaces will make them the perfect spots to perch and relax.
2. Incorporate designated social space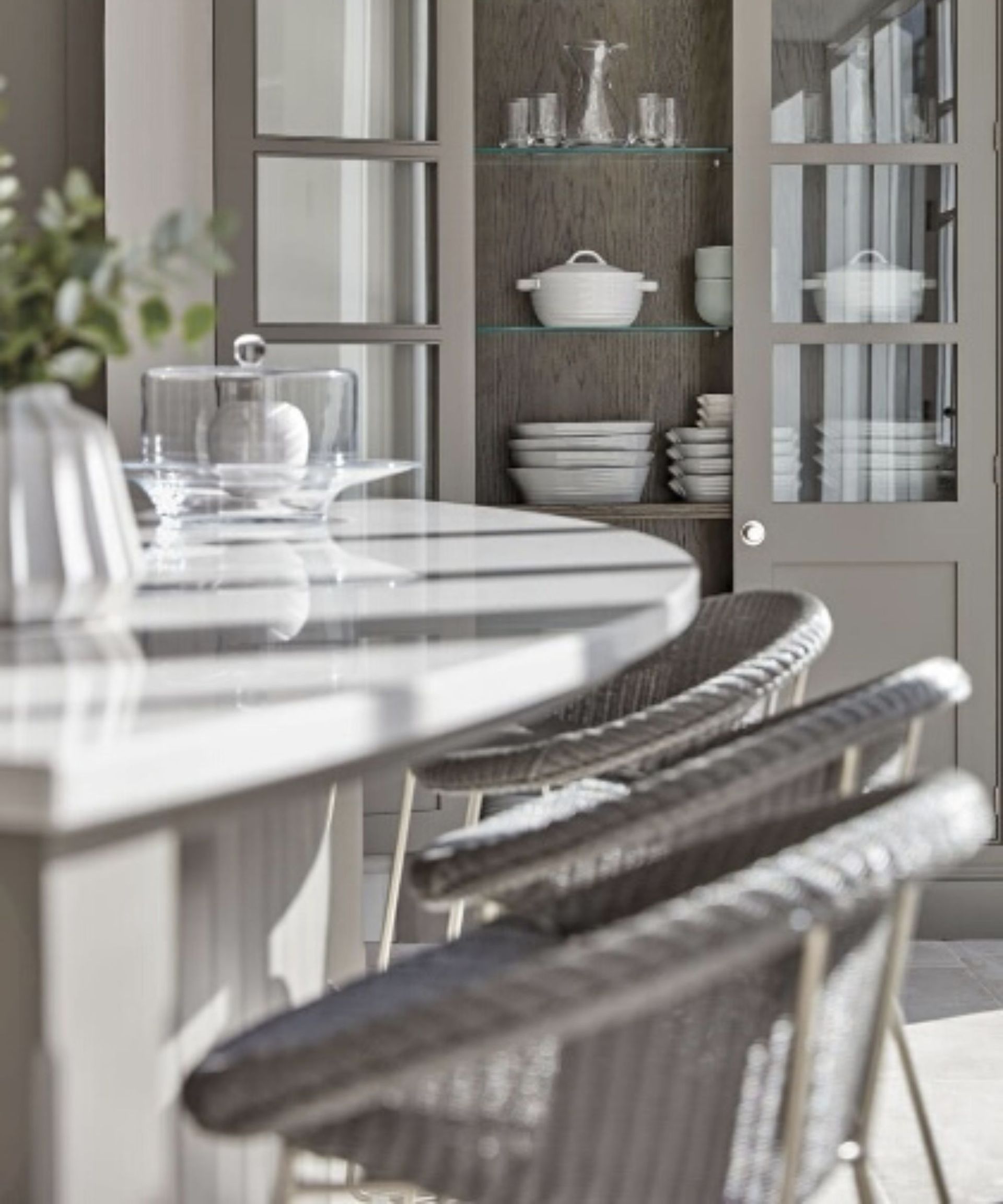 'I do not believe that the dining room is a redundant space, but the kitchen is becoming a dual-functional space for cooking as well as eating meaning open plan living has to be second nature,' says Tom Howley, design director at the eponymous kitchen company. 'There is a time and a place for formal dining, but the modern kitchen has to be able to accommodate an impromptu pasta with friends or an unforeseen stir fry with the family. Not only this, but the kitchen is also a homework base, a relaxed office space, and a home bar. A wide island counter or baker's table will provide a generous and welcoming gathering place, especially when lined with textural barstools.'
Incorporating social spaces such as kitchen island ideas into your kitchen layout provides more space for cooking too, making the room not only more functional but also inviting you in to cook and utilize the space.
3. Invite in warmth and color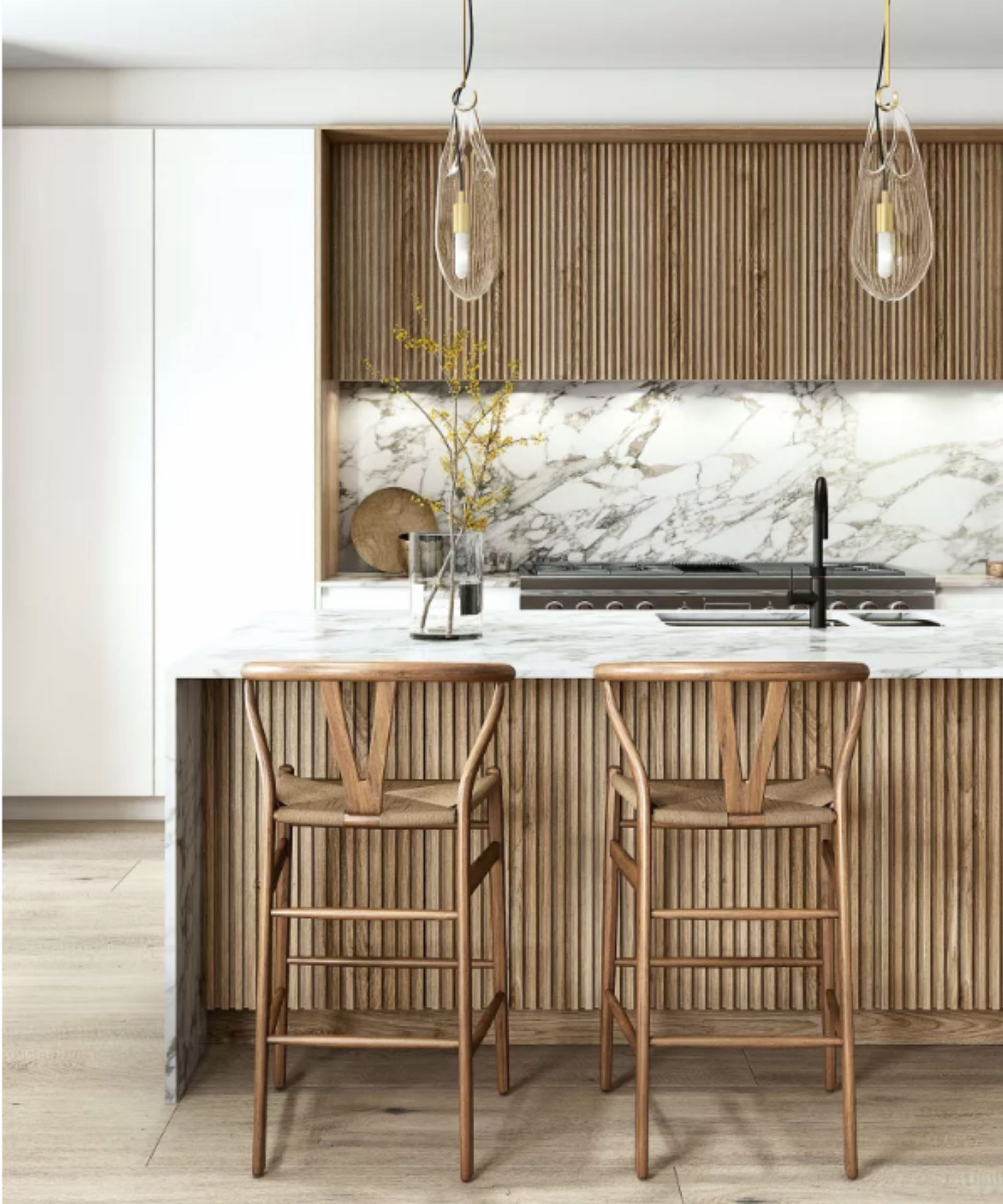 Incorporating kitchen color ideas and adding warmth can be done through a range of methods from kitchen rug ideas to warm up the space both visually and literally, to kitchen art ideas with warm tones and adorning picture lights adding a lived-in feel to the room.
For a more permanent pop of color, consider incorporating bold, bright shades through tiles, countertops, and backsplashes to instantly boost the mood of visitors and create an interesting talking point. 'Using tiles as a kitchen backsplash is an exquisite way of displaying and accentuating their pattern, texture, and glaze. A beautiful way to bring a burst of color into a room, highly reflective gloss tiles are also a great way to create a sense of space and openness,' explains Diane Hyde, marketing manager at Craven Dunnill. 'Whether you're looking to go bright and bold or simple and classic, our offering of tiles comes in a whole range of styles and designs to suit all types of homes.'
4. Bring the outside in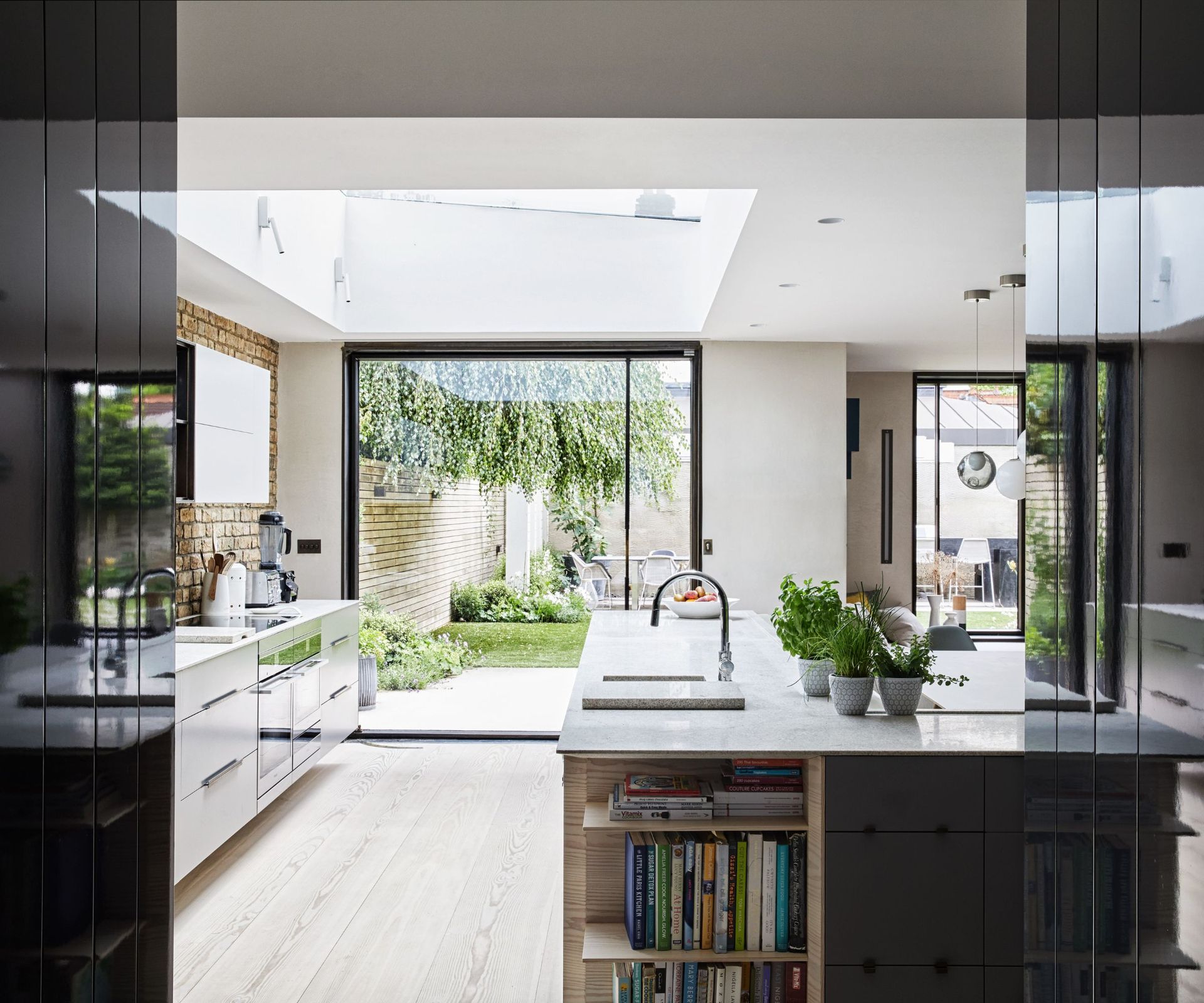 Bringing the outside into the home through natural materials and plants is a common way to make any space in the home feel inviting and draw people into the room. 'Rich walnuts and soothing oaks are a wonderful way of bringing a touch of the outside and creating a warming, cozy feel in a kitchen that is perfect for the fall months,' says Bo Hellberg, CMO at String Furniture. 'Earthy tones are perfect for enriching a space and bringing in a calming feel to a home. Whether you're looking for a richer feel with walnut and oak or a more subtle look with ash, our versatile shelving systems and cabinets are designed to suit all styles and sizes of kitchens while allowing you to express your creativity with something uniquely individual.'
Consider wood kitchen cabinet ideas for a timeless, warm-toned look, or incorporate some of the best kitchen plants for a pop of green – one of the most relaxing colors to add to a space according to experts.
'Cork is a really clever and versatile material that's coming back in style in 2022,' adds Bo, suggesting a more interesting alternative to standard wood. 'Cork is a material part of the "biophilia" trend, where we seek to connect with nature and organic materials and plant life, in our homes. It is obviously inherently sustainable and brings warmth and texture to any surface or space, but it's also ideal for insulating, which makes it great for kitchens. Cork is a great match for our metal shelves, taming the industrial look. It combines the Scandi kitchen interior with a softer, organic material. Japandi-light, if you like, especially if you look at the wine rack or the cutlery dividers. And the cork underlays look great with any pots and pans.'
5. Add visual interest with a 'talking piece'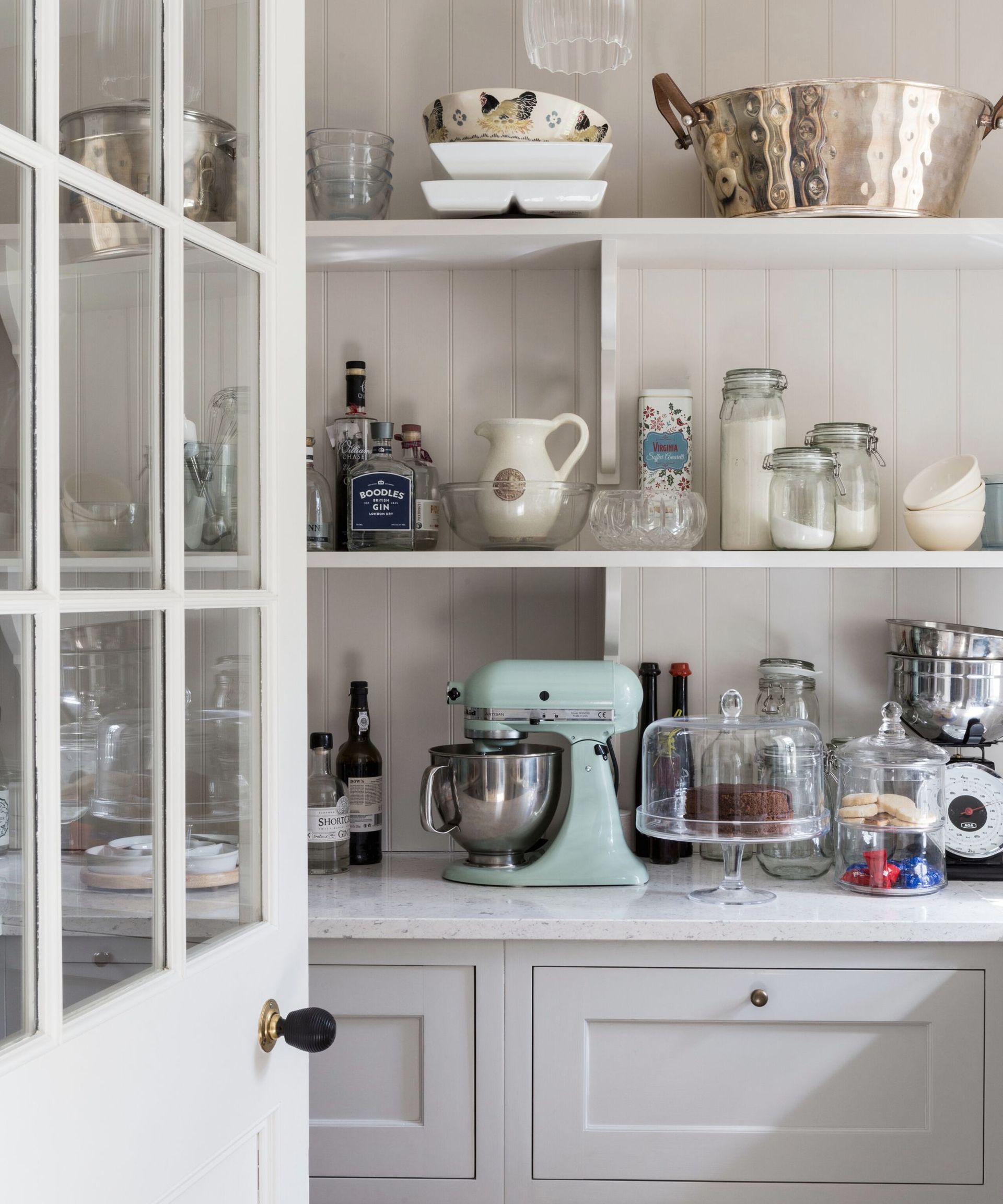 While kitchen shelving ideas have to be practical, it is important to consider their stylish appeal. 'Creating a truly cozy kitchen comes down to the smaller details that tie together cohesively to create a space that is unique and inviting,' says Lizzie. 'If you have open shelving, don't be afraid to mix and match dishes and mugs. Several different patterns and unique handmade pieces bring personality and warmth to a space. Dried flowers and fresh plants will also add charm to a kitchen. Not only are they decorative, but they are proven to reduce stress and will help make you feel calm and relaxed.'
'Installing a few bookshelves in a lesser used corner of your kitchen is also a great way to create a cozy reading corner that's uniquely yours with a range of your favorite books on show.'
6. Open the kitchen to the backyard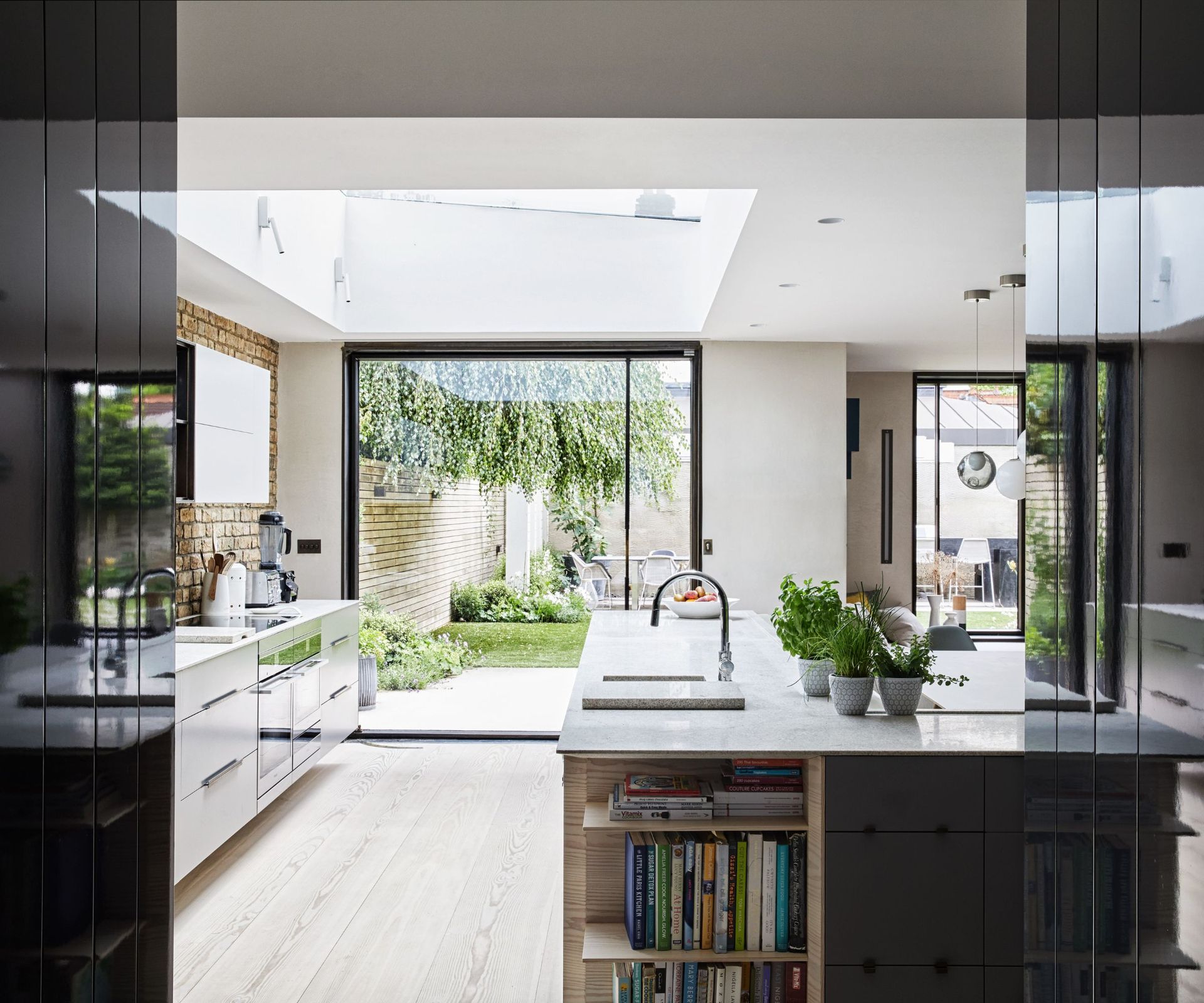 One of the biggest ways you can make a space feel inviting is to open it up to the outside. Installing sliding doors or french door ideas from the kitchen to an outdoor patio space, for example, creates an interesting statement feature and welcomes guests into the space in the warmer months as you dine al fresco. 'Depending on location, we find connecting to the outdoors makes the biggest impact and potentially adds the most value,' says Nick Cryer of Berkeley Place. 'If you have a green or interesting space outside the kitchen, invite it in by introducing large glazed areas. The outdoor space will also increase the usable kitchen footprint in better weather. We find creating a kitchen where the task-orientated spaces are clearly separated from the non-task-orientated spaces also helps relax the mood.'
How can I make my kitchen more social?
One way to make a kitchen more social is to create an inviting atmosphere within the space. Adding cozy sitting places such as banquettes or padded bar stools encourages guests to join you as you cook. A kitchen island helps to separate the cooking space from socializing space so that guests further feel able to join you without getting in the way of the meal.
How can I make my kitchen stand out?
The best way to make your kitchen stand out is to incorporate a bold accent color into the space. Adding an impressive pop of a bright or jewel hue makes an interesting statement to your kitchen to get guests talking.
Sign up to the Homes & Gardens newsletter
Decor Ideas. Project Inspiration. Expert Advice. Delivered to your inbox.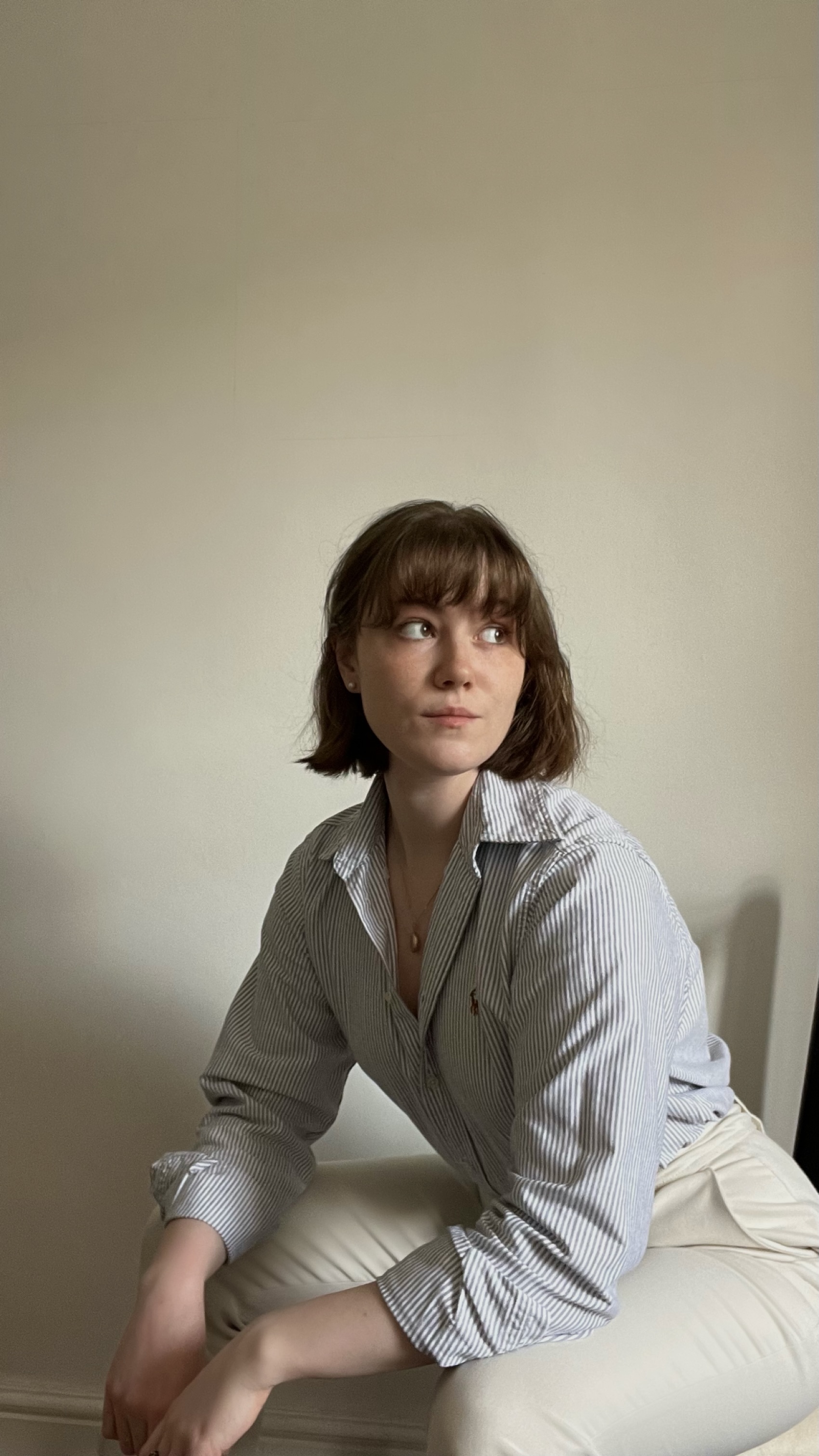 Chiana has been at Homes & Gardens for a year, having started her journey in interior journalism as part of the graduate program. She spends most of her time producing content for the Solved section of the website, helping readers get the most out of their homes through clever decluttering, cleaning, and tidying tips – many of which she tests and reviews herself in her home in Lancaster to ensure they will consistently deliver for her readers and dabbles in the latest design trends. She also has a first-class degree in Literature from Lancaster University.