Should a kitchen island be centered? The design rules you should know
Wondering if a kitchen island should always be centered? This is the answer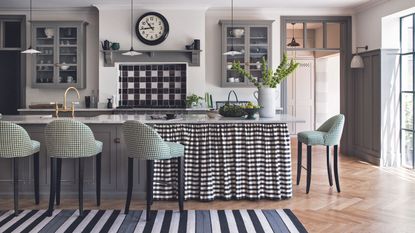 (Image credit: Paul Raeside)
Sign up to the Homes & Gardens newsletter
Decor Ideas. Project Inspiration. Expert Advice. Delivered to your inbox.
Thank you for signing up to Homes & Gardens. You will receive a verification email shortly.
There was a problem. Please refresh the page and try again.
Picture a kitchen with an island and chances are the island is in the center of the room. After all, it makes sense in terms of creating adequate space around the island, and it's an arrangement that's pleasing to the eye.
But is it essential to the success of your kitchen design that the kitchen island is centered, or can you create the kitchen layout of your dreams when the island is positioned otherwise?
These are the answers, and the design rules to be aware of.
What are the benefits of centering an island?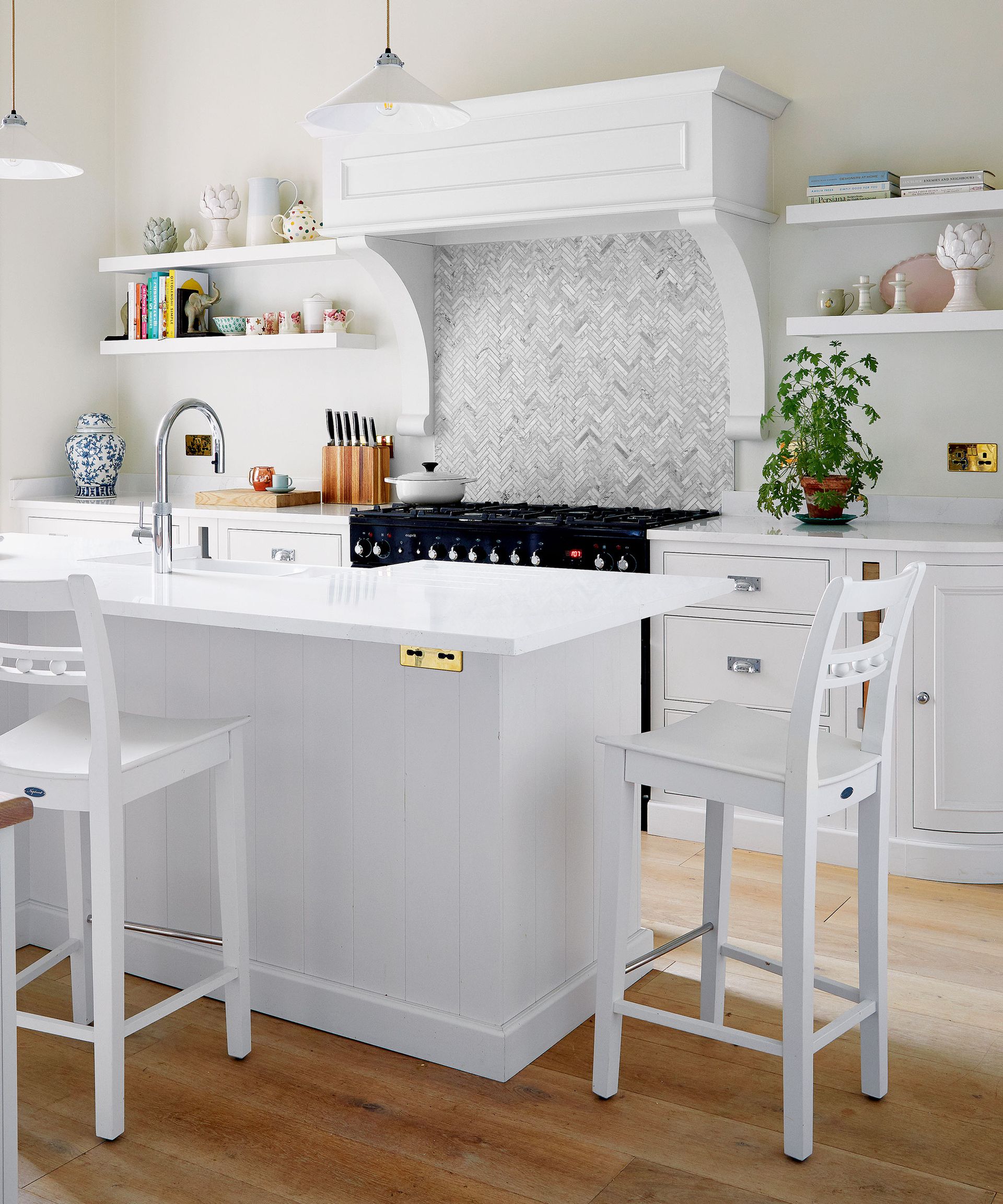 The good news: successful kitchen islands do not rely on centering. But to understand the design details, let's first take a look at why centering an island is so popular.
Visually, centering is pleasing
Putting an island in the center of the room, often at the heart of a U-shaped kitchen, creates a symmetry that's attractive to the human eye.
A central island creates a focal point
An island that is in the center of the room is a fabulous focal point and one that can be enhanced by details such as the island paint color and the choice of island countertop (both of which may be different from the cabinets and countertops in the rest of the room).
It's more inviting
Equally, if it has seating, it places the most inviting part of the room center stage.
When shouldn't you center a kitchen island?
A central island layout isn't always attainable nor desirable due to a host of factors. This is when not to position an island centrally.
When it compromises functionality
'Traffic flow, work space, and cabinet/appliance arrangement should always take priority over a perfectly centered island,' says Erika Jayne a DC designer, general contractor and owner of Erika Jayne Design.
In other words, don't center the island in the room no matter how desirable it is to do so if it's going to compromise the kitchen design in a fundamental way that makes the room less functional, and which could even cause hazards.
When it squeezes kitchen space rules
The crucial details to prevent problems with circulation, work space, cabinets and appliances when there's an island in the room? In designing a kitchen island, it's vital to be aware of kitchen space distance rules, and the minimum distance required around an island for a single cook is 40 inches, while it's 48 inches for multiple cooks. As for the minimum distance between oven and island, that should be 42 inches.
What are the alternatives to centering an island?
If centering an island isn't an option, there's no need to give up on having one. There are alternatives that can still result in a fabulous kitchen design, and they're all below.
1. Centering an island on a feature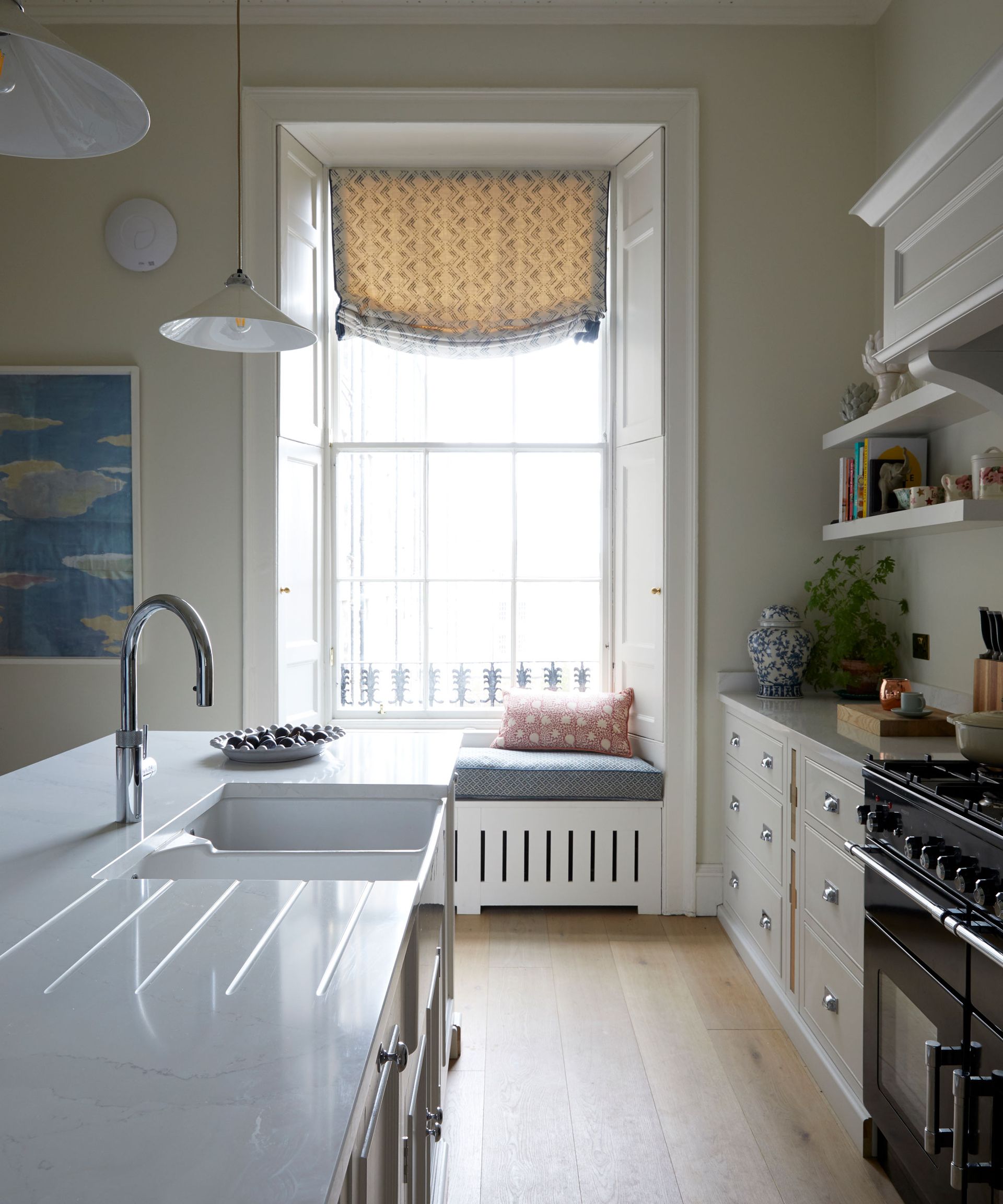 Kitchen islands can be centered on a particular feature instead of the room itself.
'Centering an island on a key work or focal area (such as a window, the sink, or the range) is always ideal,' says Erika Jayne.
Think work area and you might locate an island you intend to use for food preparation, for example, centered on the range or a cooktop. Alternatively, if the island sees its major use when it's time to clean up, you could locate it near the sink and dishwasher.
'You might be concerned about what designers call the kitchen triangle, which consists of sink, refrigerator and stove, when you're centering the island on a work area,' says Lucy Searle, global editor in chief of Homes & Gardens. 'But if the island is used for preparation, ergonomically there's no problem with this becoming a fourth destination.'
As for centering the island on a window, this can be successful as the eye is naturally drawn to this feature of a room, so it can be visually appealing to center the island on it.
2. Swapping one island for two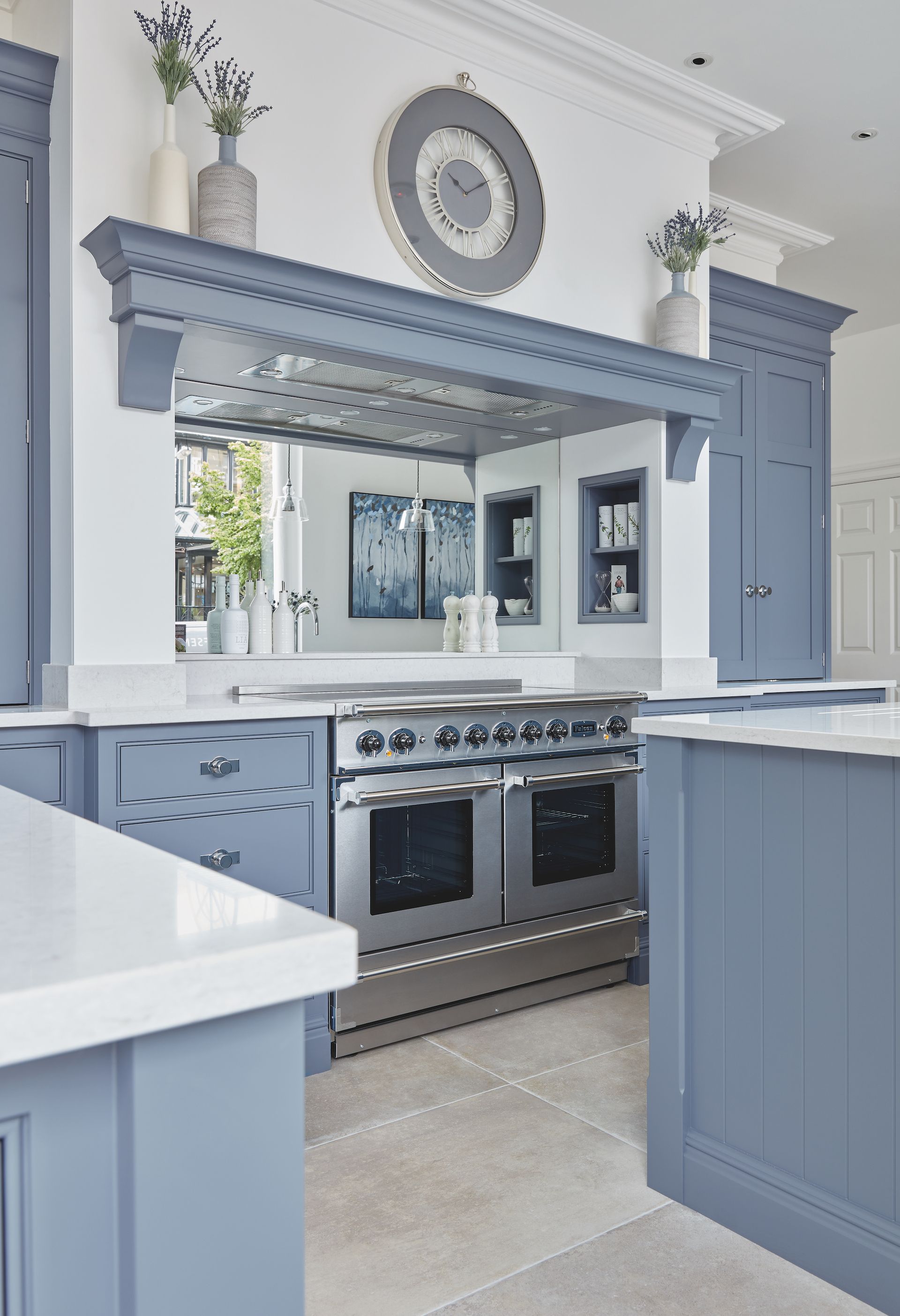 If one large island won't work in the kitchen, two smaller islands could be the answer instead. Double island kitchens can be easier to locate within the room than one larger island, and they can offer more usable countertop space than an island with big proportions.
Rather than focusing on centering, two islands puts the emphasis on zoning a room with one island part of the work area of the room and one for eating and entertaining, for example, with the result that they feel comfortably placed within the room.
And they don't even have to be positioned symmetrically to achieve design success. 'If the kitchen isn't square in shape, it isn't necessary to line up two islands,' says Lucy Searle. 'Nor do they need to have the same dimensions. The size and shape should relate to what they are used for.'
Think peninsula rather than island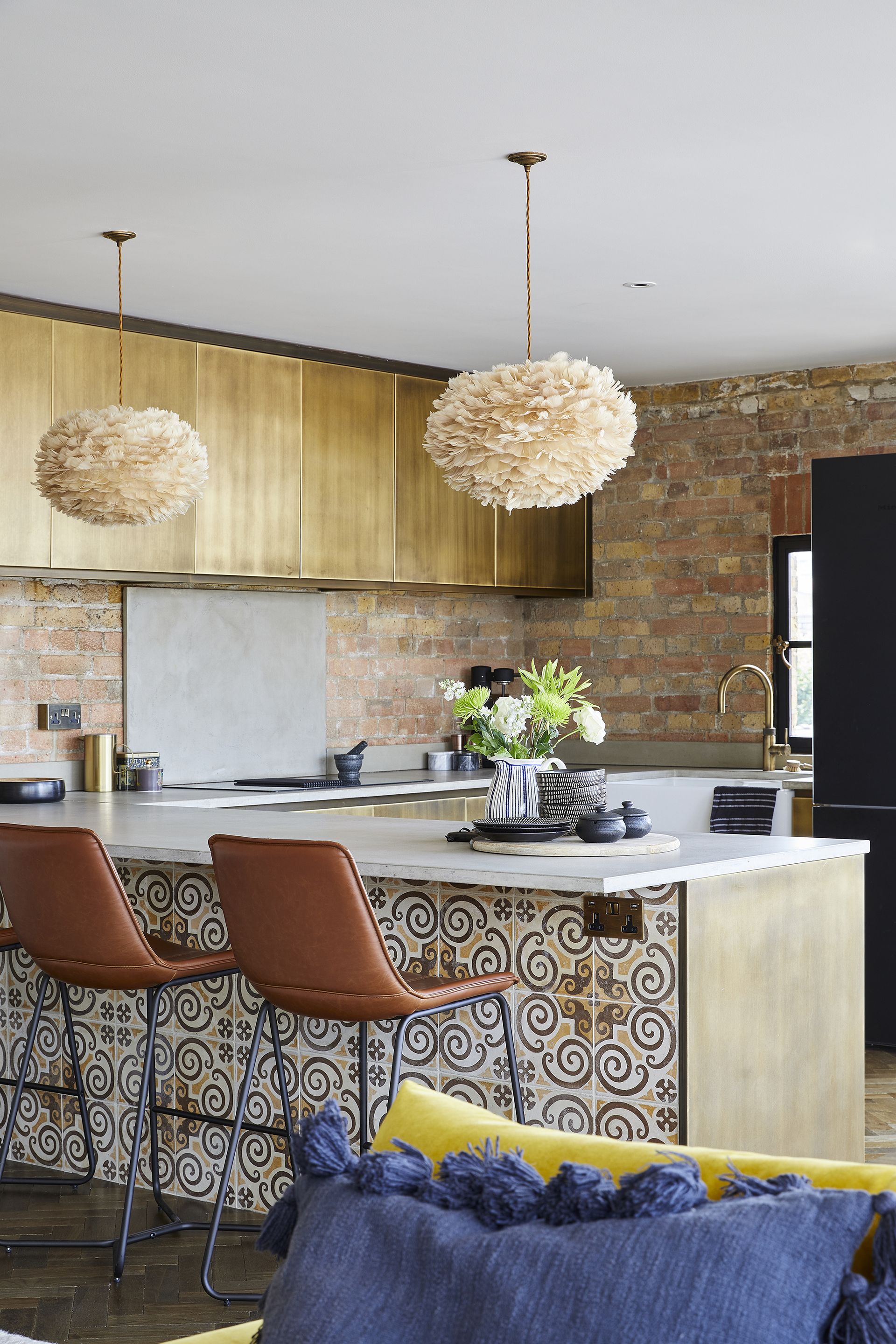 If the alternatives to centering detailed above aren't suitable for your kitchen, there is an additional option – the almost-an-island kitchen peninsula.
'Peninsulas may be used when one large island simply isn't a good fit for the space,' says Erika Jayne.
Extending from the wall and at a right angle to a run of floor cabinets, a peninsula can zone the space in which the kitchen is located, dividing the working part of the room from the dining area, for example.
A peninsula can therefore help create a U or L-shaped kitchen, which looks balanced without the need for a centered island. It's a sound solution for a small kitchen providing the utility of an island without requiring the same floor area.
FAQs
How should I position my kitchen island?
Whatever its position, what's crucial is that there's sufficient space for the island. An over-large design can badly compromise the kitchen design. 'An experienced kitchen designer will be able to appropriately size and locate an island within a space,' says Erika Jayne a DC designer, general contractor and owner of Erika Jayne Design. 'This is where professionals shine. Balancing function with aesthetics is our specialty.'
Ideally, pick a position that makes sense: if the island is to be used for cooking and prep, it needs to be near the cooker; if it's for tidying up, put it nearer the dishwasher.
How do I check the position of a kitchen island before installation
If you are remodeling and yet to install your island, the easiest way to check the position works from all angles within the room and that you are planning the right size kitchen island is to place four dining chairs on the floor, at the proposed corners of the island. Then throw a sheet over the chair backs to create a life-size replica of where the island will sit. It's easy to then move the chairs and sheet around until the size and position is just right.
Sign up to the Homes & Gardens newsletter
Decor Ideas. Project Inspiration. Expert Advice. Delivered to your inbox.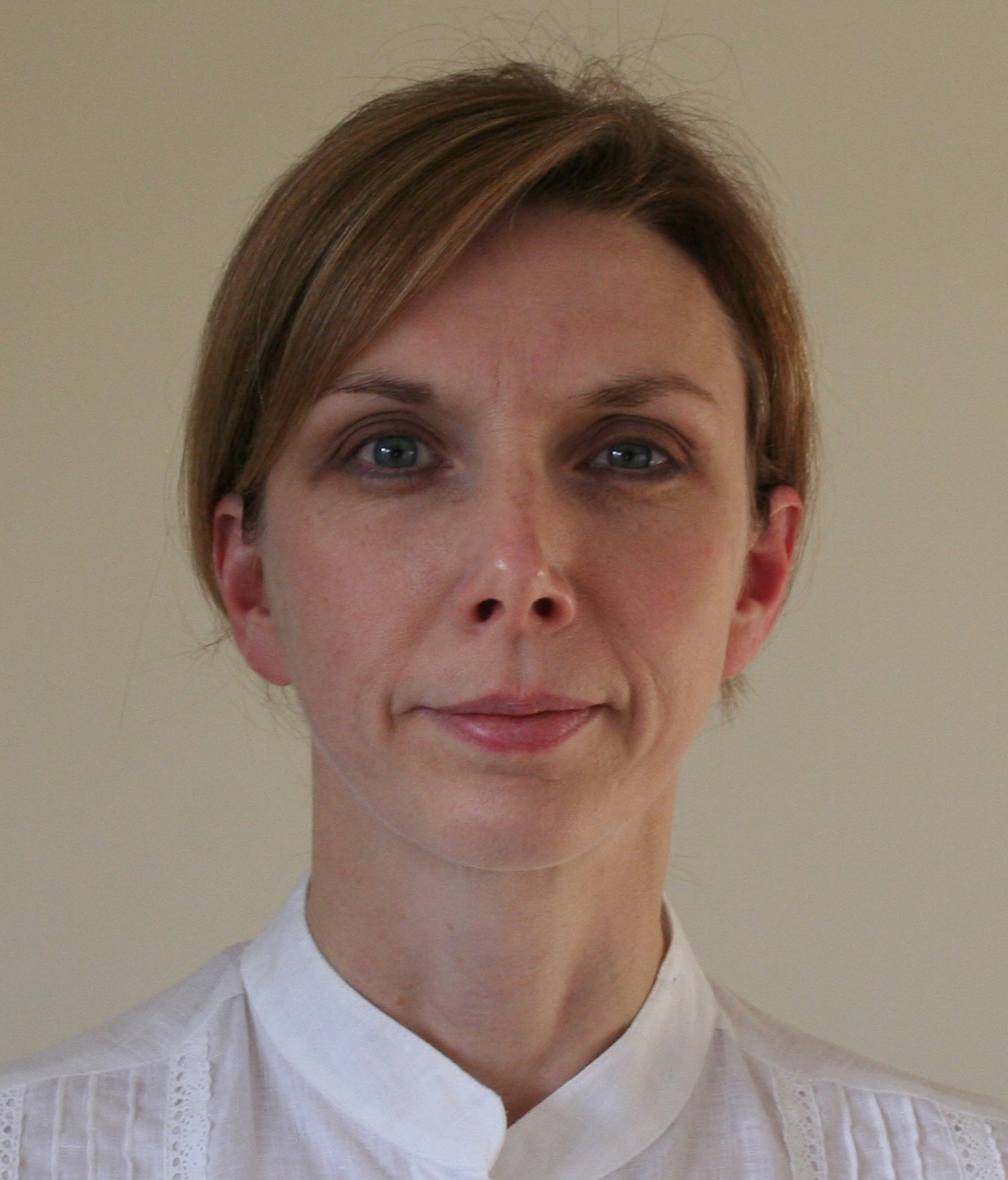 Sarah is a freelance journalist and editor. Previously executive editor of Ideal Home, she's specialized in interiors, property and gardens for over 20 years, and covers interior design, house design, gardens, and cleaning and organizing a home for H&G. She's written for websites, including Houzz, Channel 4's flagship website, 4Homes, and Future's T3; national newspapers, including The Guardian; and magazines including Future's Country Homes & Interiors, Homebuilding & Renovating, Period Living, and Style at Home, as well as House Beautiful, Good Homes, Grand Designs, Homes & Antiques, LandLove and The English Home among others. It's no big surprise that she likes to put what she writes about into practice, and is a serial house renovator.