The over-table rod is this Christmas' worst trend if done badly – here's how to do it well
No room for a table centerpiece? The over-table rod is – we're told – the solution. We're not convinced, and have better ideas. Whether you love it or hate it, this is how to get it right. And wrong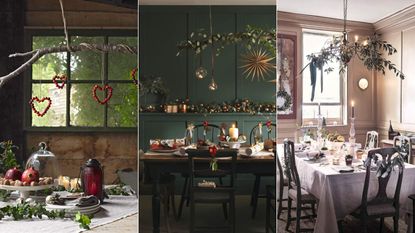 (Image credit: Future)
We'd not heard of the over-table rod until this week. Perhaps we're behind the curve. If you are too, you can see some pictures above, but in brief, it's a pole that sits on stilts clamped to either end of your dining table, which you can then decorate festively.
The theory is that this frees up valuable table real estate a Christmas table centerpiece would take up to allow space for your food and drink. 'These over-table poles are often fully adjustable and allow you to create imaginative, bespoke tablescaping for special occasions,' says Pippa Blenkinsop, home stylist, and writer for Homes & Gardens. 'Done well, by which I mean covering every part of the pole with decor, they can look really beautiful. Done badly, they look awful. Plus, while making space in the middle of the table, they do mean either end of the table is out of use. And I think there are better, prettier alternatives, some of which are frankly simpler.'
Here's a look at how to style over-table rods well, what to avoid, and what to do instead.
Love them? These are the best over-table rods to buy
On Sale
Hopesun Adjustable Table Rod Stand
How to style over-table rods well, and what not to do
From masking the rods to getting the height right, this is how to style one well.
1. Ensure the pole can't be seen through the decor
It is impossible to deny the impact of fresh Christmas foliage as opposed to faux Christmas garlands. Draping real greenery along an over-table pole is the perfect way of adding a touch of tradition to this less-than-conventional tablescaping idea, however, it's vital that you can't see the pole, as in the picture above.
'Flowers and foliage are an easy way to add that drama to your tablescape; it really is "more is more",' says Lucy Whiddett, founder of The Table Stylist*. Draping premade Christmas table garlands around the pole and elevating the look with small lights and ornaments allows you to go full out without creating a logistical disaster.
2. Pick a theme that complements your scheme – and get the height right
As with any Christmas table decor, it is important to pick a theme to ensure cohesiveness.
'Pick a theme and color for your event – consider your personality and style, the season, and the event itself,' suggests Lucy Whiddett. 'I often build a theme around a specific item such as a nutcracker, for example. Pick three colors that fall into your chosen palette: primary, secondary, and accent. A nutcracker tablescape would have red as primary, pink as secondary and gold as an accent, for example. This gives you some parameters to work with, so you're not overwhelmed by all the choice.'
As for height, ensure it sits well above the eyeline of diners so they can see each other, and be sure not to burn candles beneath it.
3. Swap a rod for a branch for a more pleasing, rustic look
We much prefer this look, though we're aware not everyone has the means of hanging a branch from their ceilings. However, if you do, it's a wonderful alternative – especially if your home has a rustic or traditional Christmas theme already.
Once the branch is secured in place, you can keep the ornamentation as simple as you like, or decorate it with foliage and string lights.
At the end of the season, simply remove any non-compostable elements and throw the branch in your compost bin or garden waste.
4. Hang foliage from a light fitting
'Adding foliage and decorations to over-table light fittings is an easy way to dress them up and to create a festive look fast. Use florists' wire and ensure the foliage doesn't touch the bulbs themselves if the light is to be switched on,' suggests stylist and homes writer, Pippa Blenkinsop.
5. Pick out personal touches to maintain a touch of nostalgia
With an over-table display, there are more opportunities to let treasured Christmas ornaments take center stage when they may otherwise be missed if hanging on a tree.
'You can also use other decorative items you already have in your home, special trinkets, fruit, chocolates, baubles, foraged foliage from the garden, or even home-made items for a most cost-friendly option,' suggests Lucy Whiddett.
What makes an over-table look aesthetically pleasing?
A large part of making a shop-bought over-table rod look aesthetically pleasing is to make sure it has a theme, and to over-fill it so that the rod itself can't be seen. Ensure the vertical supporting rods can't be seen through the decor, and disguise the table clamps with greenery, too. Winding delicate string lights through the greenery will look pretty and mean you don't need candles on your table, too.
*In partnership with SCS.
Chiana has been at Homes & Gardens for six months, having started her journey in interior journalism as part of the graduate program. She spends most of her time producing content for the Solved section of the website, helping readers get the most out of their homes through clever decluttering, cleaning, and tidying tips – many of which she tests and reviews herself in her home in Lancaster to ensure they will consistently deliver for her readers and dabbles in the latest design trends. She also has a first-class degree in Literature from Lancaster University.