5 new rustic kitchen ideas that prove country can be more than cute
Are you looking for a modern twist on the rustic kitchen? A new take on the country cook space? Take inspiration from these beautiful rooms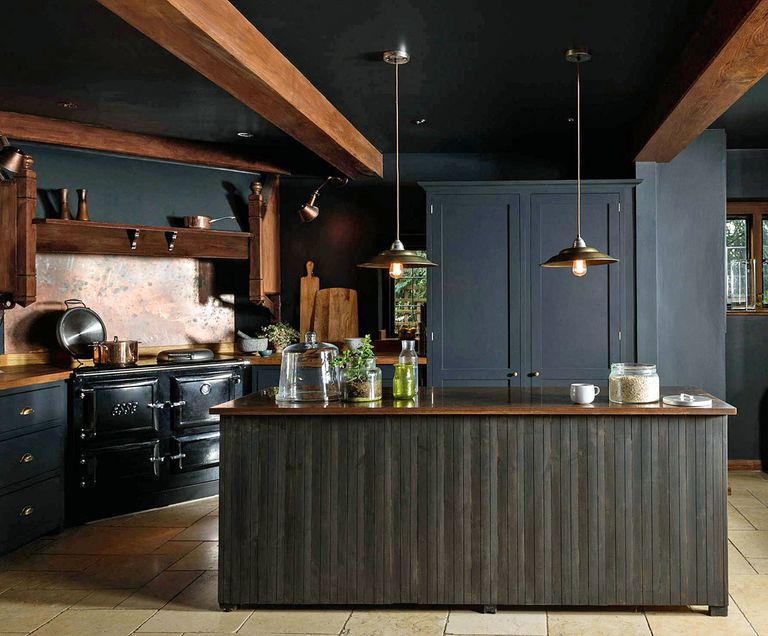 (Image credit: deVOL)
By Lucy Searle
Rustic kitchens are designed to be charming – but if you want a showroom-worthy finish for your new room, you can take 'country' to a new level by giving it a more modern look – one that's more streamlined, sleeker and smarter.
Below, we've singled out five beautiful kitchens that embrace the rustic appeal. Each one is distinct from the others; each will suit both modern or contemporary homes; and each is sophisticated in a way you might not expect from any kitchen labelled 'rustic'. We love them all – and we think you will find ideas to steal from each.
So, please, enjoy, and when you're done, take a look at more inspiring pictures of kitchens in our gallery.
1. A rustic kitchen modernized with monochrome geometrics
This is by far the most traditional of our rustic kitchen ideas, with its Shaker style cabinetry and fabric skirting on the kitchen island. What gives it a more modern twist? The strict adherence to a black and white scheme – unadulterated by fussy accessories – and the geometric patterns that grace the floor, the furniture and even the backsplash.
2. A rustic kitchen where the charm is its simplicity
Sebastian Cox is a great Homes & Gardens' favorite and his kitchen for deVOL typifies his approach to understated design, an ethos that makes his kitchen perfect for lovers of rusticity and modernity. Described by deVOL as 'urban rustic', it focuses on utilizing – and showing off – sustainable British timbers. We think it is beautiful.
3. A country kitchen with a 2021 color scheme
Country – or rustic-style or farmhouse – kitchens invariably have a painted finish, and the cabinetry color is usually a traditional shade that's inspired by nature, easy to live with and, in the nicest possible way, unchallenging.
Here's how to make the change: pick a kitchen color scheme that does challenge everyone's perception of what rustic rooms should look like. So, while this kitchen, the Petersham by deVOL, honors the tradition of raw wood cabinetry, the color applied is on trend for a kitchen designed in 2020.
4. A traditional rustic farmhouse kitchen – but simpler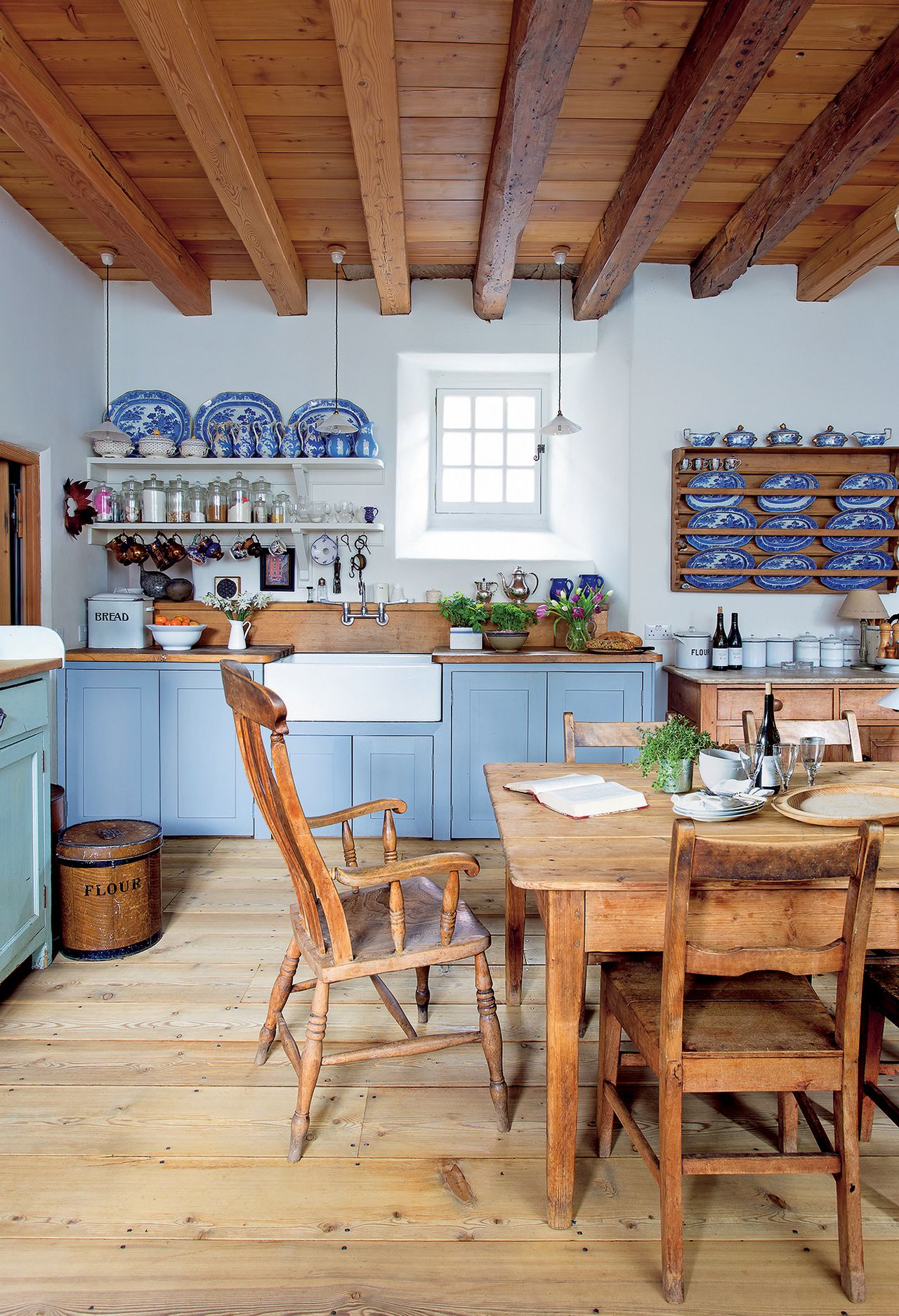 Love the idea of a modern rustic kitchen, but feel a more traditional-style room will suit your period home better? This kitchen, sourced by the team over at our sister title Period Living, is a beautiful example of how to create a room that pays homage to the rustic look, without being too saccharine.
The secret? Once again, it is the pared back color scheme, limited throughout to blues and matched, for warm and character, with old wood. For a look that's utterly unique and charming, one-off finds from antiques markets are a must, too.
5. A painted rustic kitchen – with a bold focal feature
Even without the bold pink/red cabinet, this rustic kitchen has been made bolder by the repetition of the cabinetry color on the walls. Take those two elements away and you are left with a very attractive, but much more traditional space. Such is the power of paint.
You can find out how to choose a kitchen color scheme in our guide if you need more guidance on that.
My first job was writing a DIY column for a magazine for the over 50s (which seemed a long way off back then). I then moved to a DIY magazine as deputy ed, then freelanced my way around the homes departments of most women's magazines on the market before working on Your Home and Family Circle magazines as homes editor. From there, I went to Ideal Home magazine as associate editor, then launched 4Homes magazine for Channel 4, then the Channel 4 4Homes website before going back to freelancing and running a social media business (you can see where I had kids from the freelancing gaps!). I was tempted back to the world of big business by the chance to work with the great team at Realhomes.com, where I was Global Editor-in-Chief for two and a half years, taking it from a small website to a global entity. I've now handed the reins of the website to our American managing editor, while I take on a new challenge as Editor-in-Chief of Homes & Gardens.