Carpet trends 2021 – 8 stylish new looks for fabulous floors
From back-to-nature beauty to must-have maximalism and playing with pattern... our look at carpet trends reveals interesting results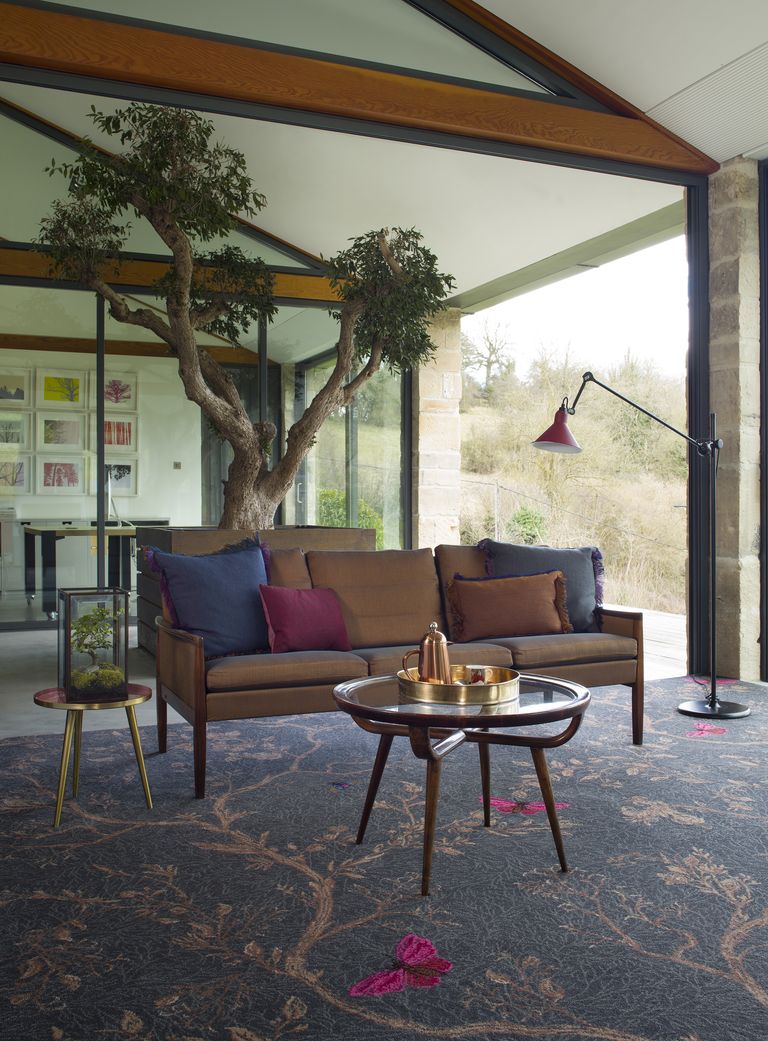 (Image credit: Brintons)
There's something about a carpet, with its cozy-chic, plush underfoot feeling, that wood just can't impart. And, while wooden flooring isn't going anywhere, carpet is making a comeback in a big – and very stylish – way. Looking into carpet trends 2021, it seems we will be expressing our creativity in bold, imaginative and innovative style.
'By treating the floor as the 5th wall, carpet is a fantastic way of introducing color or pattern into the home,' says creative designer at Brintons, Jodie Hatton. 'The floor is no longer an afterthought. The entire room can be styled working from the floor up.'
From mixing bright and bold contrasting colors to rich jewel tones, geometrics and intricate patterns, our 2021 carpet trend see self-expression as key. At the other end of the scale, the earthy, organic natural trend is set to endure throughout next year, bringing a calming landscape into our homes.
We've teamed up with a host of experts, from the likes of Brintons, Cormar Carpets, Alternative Flooring, Axminster and Carpetright, to bring you the must-have carpet trends 2021 to ensure your floor-fillers are packed with style.
Discover the top carpet trends 2021
Some are timelessly elegant – others require bravery, but will create an indulgent finish that's pure luxury.
1. It's only natural
The enduring back-to-nature trend will carry through and be big news for 2021. 'Think natural materials like wool, sisal and jute, and warm, earthy tones to create a mindful and restful space,' says Alexandra Hindle, Marketing Executive at Cormar Carpets.
Keep everything neutral and add natural accessories like pampas grass for a luxury modern boho feel, or introduce colors that are reminiscent of the outside, like on-trend rust and terracotta furnishing.
See more: Tile trends – from Art Deco to Moroccan, these are the surfaces you need to see
2. Eco chic
An extension of the natural trend (top), sustainability and eco-focused fabrics will increasingly dictate how we're decorating our homes. As such, natural fiber carpet will become more and more prevalent.
Lorna Haigh, from Alternative Flooring, says: 'Climate change is more than a trend. Our natural fibre flooring are all monsoon-grown grasses that are sustainably sourced – coir, seagrass, sisal and jute. For style and substance, our Sisal Herringbone makes a classic wall-to-wall carpet. Deep pile carpets in undyed Wool Barefoot, meanwhile, are popular in bedrooms as they're super soft underfoot and satisfy the sustainable and wellness trend. '
3. Hotel luxe
'With comfort and wellbeing at the forefront of many homeowners' priorities, plush carpets will be particularly on trend for 2021,' says Natalie Vest, fitted flooring buyer at John Lewis. 'Indulging in a velvet style pile or a luxurious chunky loop helps to create a soft and sumptuous environment. Perfect for low footfall spaces, such as bedrooms or home offices, these bring a hotel-style luxury into your home.'
Gary Bridge, Design Director at Axminster, agrees and says you can combine the sustainability and back-to-nature trend with hotel luxe, saying: 'With the topic of sustainability set to reach new heights in 2021, the eco-chic trend is one that's here to stay. Our Aalya carpet is a revolutionary, luxurious carpet concept crafted from the finest blend of sheep's wool and a touch of alpaca. A wool carpet cares for both you and the planet, as well as offering luxury underfoot. A natural, biodegradable and renewable fibre makes for a sustainable design investment, not to mention a wise lifestyle choice.'
4. Bold and bright
'Bold color and expressive style will be seen across homes in 2021,' says Carpetright buyer David Snazel. 'As we start the new decade, homeowners will be taking the time to consider their spaces and look for ways to put their own stamp on it; ensuring it is a place they love to spend their time in.'
Be brave and pair a colorful carpet with bright furniture or paint for a lively, joyful look.
5. Maximalism
Carpet trends 2021 are all about expressing yourself – don't be afraid to show off your personality. Brintons' Jodie Hatton says: 'Maximalism is all about breaking the rules. Let your creativity run wild with this fun trend which is making a massive come back, especially in the carpet industry. Mis-matched color combinations and clashing patterns define the contemporary idea of maximalism; it's all about self-expression.
'Clash bright wall colors with a patterned carpet and you are half way there with this trend. Add mismatched textiles and expressive artworks and your rule breaking, personalized version of a maximalist interior is all set to enjoy. The best thing about this trend is it's basically choosing all your favorite things and throwing them together.'
6. Pattern play
Lorna Haigh, from Alternative Flooring, agrees that we'll be getting more adventurous for 2021, mixing patterned carpets with printed sofas for a head-turning interior. She says: 'I do now think that we are prepared to make more of a statement. Our patterned carpets allow people to explore and to express their personality through their homes. With the increasing number of patterns around there is choice from florals, stripes and geometrics right through to animal print.'
Indeed, it seems going to the wild side is now not just for the fashion world. Lorna adds that you don't need to be scared by animal print as it can be done tastefully in neutral shades. 'Quirky B has a new leopard and snake skin patterns for carpet. These are wild but surprisingly easy to use as a statement floor,' she says. 'They can be classified as a neutral as the palette for the most part is a mix of naturals, browns, grey and blues.'
7. Geometrics
Geometrics have been a popular trend across other interior areas this year (cushions, duvets, rugs) and the look will be big for carpet trends 2021. Brintons suggests that herringbone in particular will be popular, in different sizes, textures and colors; Carpetright has recently released a dotty range that is cute in children's rooms.
Alternative Flooring's Lorna Haigh says we're getting bolder with our geometrics, experimenting with bright hues and 'a play on haberdashery with button and ribbon pattern for carpets and a patchwork for runners'.
8. Jewel tones
'In carpet trends 2021, another looks we'll be seeing is jewel tones,' says Brintons' Jodie Hatton. In a recent development by Londonewcastle, the designers used an incredible deep purple carpet that's a great indicator of what's to come. 
The interior designer of the project, Trilbey Gordon, says: 'I love to use bold, statement-making carpets in decadent jewel tones. Carpeting adds warmth to an interior. We are in turbulent times and during these periods people tend to look to textures and colors that offer comfort.
See more: Fabric trends – the colors, patterns and materials to use
'There is something about the feel of a plush soft carpet that is incredibly reassuring. Statement colored carpets were a trend we thought we'd left behind. But style is cyclical and we're in the midst of a 1970s-inspired interiors boom. Joe Colombo, Nanda Vigo and Willy Rizzo were all designers from the 1960s and 70s that had penchant for carpet and their aesthetic feels very relevant now.'
How to choose carpet
Jodie Hatton, Residential Designer at Brintons advises: 'It's key to have the intended use of the room at the forefront of your mind when choosing carpet. What kind of feel do you want to create? How will the room be used? Is the space a reception area where you want to make a statement? Or a room you want to use as a retreat creating a calming and relaxed feel? Having that decision at the forefront of your mind as you choose your carpet will help to guide you towards the perfect choice for your space.'
Which carpet is best for which room?
'Bolder statement patterns always tend to lend themselves well to hallways, stairs and landing spaces as these tend to be high traffic areas. As these areas aren't "lived in" as such they also lend themselves to creating more of a design statement, as there is a limited amount of space for furniture,' continues Jodie Hatton.
'The feel of a room is important and a very personal choice, as a successful interiors scheme will reflect elements of our personality. Some will want a calming, relaxing bedroom to retreat to whilst others may want to opt for more of a boudoir feel. Carpets to consider for a relaxing room would be a neutral plain, for ultimate luxury and a plush feel take a look at a velvets collection.' 
'Living rooms by name and nature are one of the most lived in areas of a home; when selecting carpet for this room it is important to consider how it will wear and clean, especially if you have children or pets at home. A Berber bell twist which has a small fleck in which will hide any mishaps.'