Front door cleaning tips – 6 ways to freshen up your entryway in a flash
These front door cleaning tips will smarten up your entrance and transform the look of your home – and they make a super-easy spring cleaning project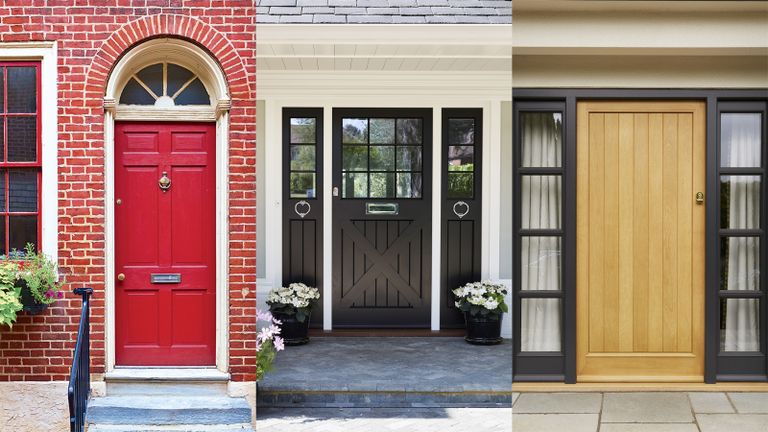 (Image credit: Mylands Paint, Westbury Joinery)
Taking a few moments to clean your front door is the equivalent of giving the front of your home a facial – think of it like applying a scrub and a face mask, then basking in compliments as everyone remarks how fresh you look.
It's the same when it comes to your front door – as these front door cleaning tips reveal. 
Sills, ledges, glazing and door furniture all accumulate dust and grime, even if your front door is protected by a porch. This dirt can dull the color of your paintwork or the surface of your door, reducing your home's curb appeal. 
Sanitizing or disinfecting the knocker and door handle will make you and your visitors feel more confident when they come to your door, too.
Plan to tackle front door cleaning in the spring and again in the fall. 
'Your door should be lightly washed down twice a year with clean water to keep it clear of destructive dirt and organisms that can damage the surface,' advises Jonathan Hey, Founder of Westbury Windows & Joinery.
We asked Hey for his top front door cleaning tips to give your entrance its sparkle back.
1. Brush away dirt and cobwebs
Start at the top and make sure to tackle ledges, crevices and sills. Dirt, leaves and bugs will accumulate in corners, especially if your front door is relatively close to the street.
2. Wash down the front door
'Use a damp cloth and wash down the front door with clean water and a small amount of mild detergent,' advises Jonathan Hey of Westbury Windows & Joinery. Rinse thoroughly to avoid streaks and residual detergent on the surface. 
'Never use hose pipes or large quantities of water on your front door as it might cause it to swell and warp,' says Hey. 'Remove excess water gently with a squeegee. Complete with a final wipe with a damp cloth or leather to remove all water from the surface.
Use a Magic Eraser to clean away any stubborn marks and grime, particularly around locks.
3. Repair any damage
We walk through our front door every day but rarely stop to take a good look at the threshold, so this is your chance to make sure everything is in order. 
Check to see if the door opens and closes easily. If the hinges aren't strong to hold the weight of the door, the door will drop and stick on the step.
Examine the surface of a wooden door to see if it needs to be revarnished. 'We recommend a specialist colour sealant to coat hardwood areas,' says Hey. 'Don't forget the thresholds. Usually made from hardwood, they need coating every two years to ensure optimum care and durability.
For painted doors, look out for any damage or cracks in the paintwork and seal these areas immediately. 'Any movement in the wood can cause cracks in the paintwork, leading to water ingress that causes swelling and rotting over time,' says Hey.
In terms of glazing, glass moves more than wood, so regularly check that there is no water ingress between the glass and bead. 
4. Clean the glazing
You can wash down any glass in and around your front door at the same time as cleaning the  surface. But make sure you don't wipe any grit or dirt across the glass as this is abrasive.
'Use a soft cloth when cleaning glass and remove any jewellery, particularly any rings with diamonds, to prevent scratching,' advises Hey.
Shine the glass with glass cleaner or white vinegar for a smear-free finish.
5. Check seals and waterproofing
Waterproof seals and draft-proofing should be inspected for damage, then wiped clean of dust and dirt with a soft cloth dipped in warm water and mild detergent.
6. Polish the door furniture
Handles, plate and other hardware should be wiped down, then cleaned with mild detergent. 
'Metal polish or any type of abrasive cleaner must not be used on door hardware, although the occasional application of wax polish will help to prolong the finish of the metal,' says Hey.