Bodum Programmable Coffee Maker –brilliant for basic drip coffee
The Bodum Programmable Coffee Maker is the best option for those shopping drip coffee on a budget.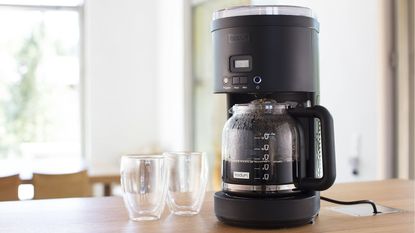 (Image credit: Amazon)
This best budget option for making drip coffee. The coffee settings are simple and a little limited, but the results are delicious. You'll have to triple your budget to find a better option.
Reasons to buy
+

Subtle and stylish

+

Makes bold coffee

+

Inexpensive option

+

Tactile handle

+

Re-usable filter
Reasons to avoid
-

Keep warm only lasts for two hours

-

Limited functions
You can trust Homes & Gardens. Our expert reviewers spend hours testing and comparing the latest products, helping you choose the best for you. Find out more about how we test.
If you've spent any time browsing coffee makers, you will have seen Bodum amongst some of the best on the market. The Danish company's philosophy – 'good design doesn't have to be expensive' – started over seventy years ago and they've maintained an affordable, simple, and stylish image ever since.
But with this a emphasis on simplicity, Bodum's Bistro Programmable coffee maker is basic. It's also only $50 in total. Considering that some of our favorite drip coffee makers cost in excess of $350, this is a steal.
The machine itself is very minimalistic. It's ergonomic and feels like considerable quality, even though its one of the cheapest models we've tested.
If you're seeking a speciality coffee maker, there are much more technical models available. However, if this is your first foray into home coffee brewing, you won't regret buying a Bodum coffee maker.
Specifications
Swipe to scroll horizontally
| | |
| --- | --- |
| Dimensions | 11.63 x 7.75 x 16 inches |
| Capacity | 12 cups |
| Weight | 5.7 lbs |
| Power | 950 watts |
| Materials | Stainless steel, silicone, glass, plastic |
| Filter | Stainless steel (re-usable) |
Unboxing
Bodum claims to take environmental issues seriously. A quick scroll on their page will claims sustainability integrated at every part of the coffee making process. The coffee maker came in mostly cardboard packaging, but I was surprised to find that there was some plastic wrap too. However, I reached out to the Bodum team and they reassured me that these are recyclable HDPE and LDPE, which is great to see.
The main body of the machine feels premium, considering the price. On the countertop, it looked slick and smart. There are plenty of stainless steel finishes and the carafe is made from thick borosilicate glass with an easy-to-grip silicone handle, which is unusual for this price point. Bodum also usefully includes a small coffee scoop and paper instructions. This machine is straightforward, but if you're not sure, the combination of images and text make it incredibly easy to navigate this drip coffee maker.
Who would it suit?
The most obvious appeal of this Bodum is its price. At around $50, it's the cheapest drip coffee maker I've tested. And yet, it doesn't feel like a budget version. Yes, the body is plastic, but the filter is stainless steel, the jug is surprisingly thick tempered glass and there are other silicone and titanium finishes too. It feels comfortable to hold and the design is well-considered, so if you like luxury, but you're stretched a bit thin, this is an excellent option for investing in.
As a basic model, it's worth noting that if you spend more money, you'll get more features. For example, with another $140 added to your budget, the Breville Precision brewer has enough capacity to make six different types of coffee: fast, gold, strong, personalized, pour over, and cold brew.
What is it like to use?
The first time the Bodum turns on, you set the time on the LED screen. This isn't just to ensure that you're caffeinated and punctual, it means that you can make use of Bodum's 24 hour programmable setting. As the name suggests, you can set a time that you want your coffee to be ready and the Bodum will quietly prepare it. I tested this out and it worked to the minute, so would be really useful if you like to have a pot of coffee ready first thing in the morning.
Another feature that needs some attention before you can start making coffee is the water reservoir. This fills from the back, so you'll need to have a pitcher to fill it. In ordero access the reservoir you need to lift the lid and pour very carefully. This is quite a precarious part of the preparation process and, if you have low cupboards, you'll need to pull the machine out from under them, which is frustrating. However, once the 51 oz capacity is full to the max line, you can make 12 cups of coffee before re-filling.
Making coffee
Before I explain more about the coffee making process, I recommend investing in a coffee grinder and using freshly ground coffee to achieve the most flavorful coffee results. If you alreadt own a grinder, use a medium grind to start with (your grounds should look like granulated sugar or table salt), because this will ensure your coffee flavors are optimally extracted, tasting not too weak or too bitter. If you don't own a grinder because you're on a budget and short on time or for any other reason, pre-ground coffee is fine too – as long as it's good quality.
I was using 200 Degrees' Brazilian roast ground coffee and wanted to test out Bodum's coffee scoop. I filled it and weighed it on the scales. It measured 0.5 oz, which is close to perfect for coffee. If you're happy with a little imprecision, this scoop will become your next best friend. It's quick to use and means you can get making coffee almost immediately without needing to unpack coffee scales.
I scooped my ground coffee into the reusable filter basket and pressed the front button to set the coffee brewing. When brewing, the machine is really quiet - almost imperceptibly so. The only noise I could hear was the classic drip filter burbling, which was the sound of water boiling and then being distributed over my grounds. The Bodum uses a shower head to ensure that water evenly saturates your coffee grounds, producing a balanced and flavorful cup.
It's hard to go wrong with brewing, because there's just one button. So, just under ten minutes after I had pushed the start button, the machine had filled up the coffee carafe with 12 cups worth of coffee. I thought that the jug would feel heavy and awkward to lift, but the silicone, easy-grip handle was easy to hold and really smooth to pour from.
Taking a sip of the filter coffee, I was surprised at how bold and strong the flavors were. I'm used to quite delicate filter coffee, but this was some of the strongest and richest that I've tasted. The notes were really well balanced too. I thought my grind was a little coarse, so thought the coffee would taste bitter, but it was perfect.
Keep warm
Not everyone wants coffee at the same time, which is when a 'keep warm' heat plate comes in useful. Bodum's warming function won't turn on properly for 25 minutes, because the stain-resistant plate does an excellent job of retaining heat. After that, the machine claims to keep coffee warm for up to two hours. I kept testing it and the coffee was drinkable up until the three hour mark, after which it was too cold to enjoy.
This is short for a drip coffee maker, but it does mean that the coffee didn't end up tasting stale, burnt, or bitter. Even though I would have liked for the coffee to stay warm for longer, this is a good way to ensure that your coffee is always fresh and flavorful. However, it is a little wasteful if you like to keep drinking from the same jug all day long.
Cleaning, storage, and maintenance
The build and materials of the Bodum means that this is effortless to clean. The stainless steel doesn't mark and wipes clean. The main plastic and silicone body has texture, stopping it from looking cheap or dirty, so it's easy to keep in pristine condition.
When you're finished with the coffee, the filter basket lifts fully out. The coffee grounds end up drying a fair amount, so they're easy to empty into the bin. The filter is supposed to be dishwasher safe. However, given that it's built to last a lifetime, I would recommend hand washing it. That way you can guarantee that it isn't being treated too harshly or bent out of shape by harsh jets.
How does it rate online?
Out of over 500 reviews on Amazon, this averages at four stars. Lots of users notes how well this extracts the coffee flavors. People also found it easy to use and felt that the whole coffee maker looked like a more premium product than the price tag might suggest.
The most common criticism was that the reservoir is difficult to fill. The opening is small and if you're in a hurry it's easy to over-pour and make mess around the machine.
Bodum has been making this coffee maker for years, which is useful for assessing its longevity. There were plenty of reviews from people who use this machine every day, so I found that most people owned theirs for about three years. Oftentimes, the reasons people stopped using the machine was because the plastic cracked (making the showerhead redundant), or the heating plate rusted. If you're careful with drying and cleaning the machine, you should be able to ensure that it lasts a little longer.
How does it compare?
This is by far the cheapest drip coffee maker we've tested. If we wrote our buying guide based on value, this would sit at the top. When using it, the Bodum reminded me the most of Smeg's drip coffee maker. Both machines make use of a showerhead, producing flavorful cups of coffee. Similarly, they are both a little tricky to fill, because the water reservoir opening is small.
Style-wise, Smeg wins. The retro design is available in a range of colors and it looks stunning on the countertop. Bodum is simple and puts forward a surprisingly good case for a minimalistic drip coffee maker, but if you're style-conscious the Smeg is more eye-catching. However, the Smeg was too tall to fit under wall cupboards and the Bodum could just about slide under. If you need to balance convenience and appearance, the Bodum could be a better option.
Even though its dimensions are smaller in total, the Bodum has enough capacity to brew another two cups of coffee too. Flavor wise, it's hard to discern between the two. They both extracted coffee flavors really well and the warming plates didn't spoil the flavors of coffee over time either. Smeg has more flavor settings, allowing you to customize how mellow or strong you want your brew to be and can keep the coffee warmer for longer. This means that the Smeg is flexible for a range of coffee drink habits.
If price wasn't taken into account, it would be a tough decision choosing between the two. However, at 1/5th of the price, the Bodum looks like exceptional value in comparison to the Smeg.
Final thoughts
For the price, this is an exceptionally good drip coffee maker. In fact, there aren't really any models that can compete. The coffee might not speciality-standard and this isn't the kind of coffee maker that you'll keep for a lifetime, but it's good as an initial investment.
How we test
At Homes & Gardens we take our coffee testing seriously. That's why all of the products we recommend and review go to our test kitchen. There, our team of expert product testers will put every appliance through their paces.
I used to be a barista, so I love testing out all our coffee appliances. When testing coffee, aside from the all-important taste test, I also make notes on unboxing, storing, and cleaning a product. This means that when using a coffee maker in your day-to-day life, you won't face any unwelcome surprises - I will have already spotted them. If you'd like to find out more, you can visit out dedicated page for how we test coffee makers.
Sign up to the Homes & Gardens newsletter
Decor Ideas. Project Inspiration. Expert Advice. Delivered to your inbox.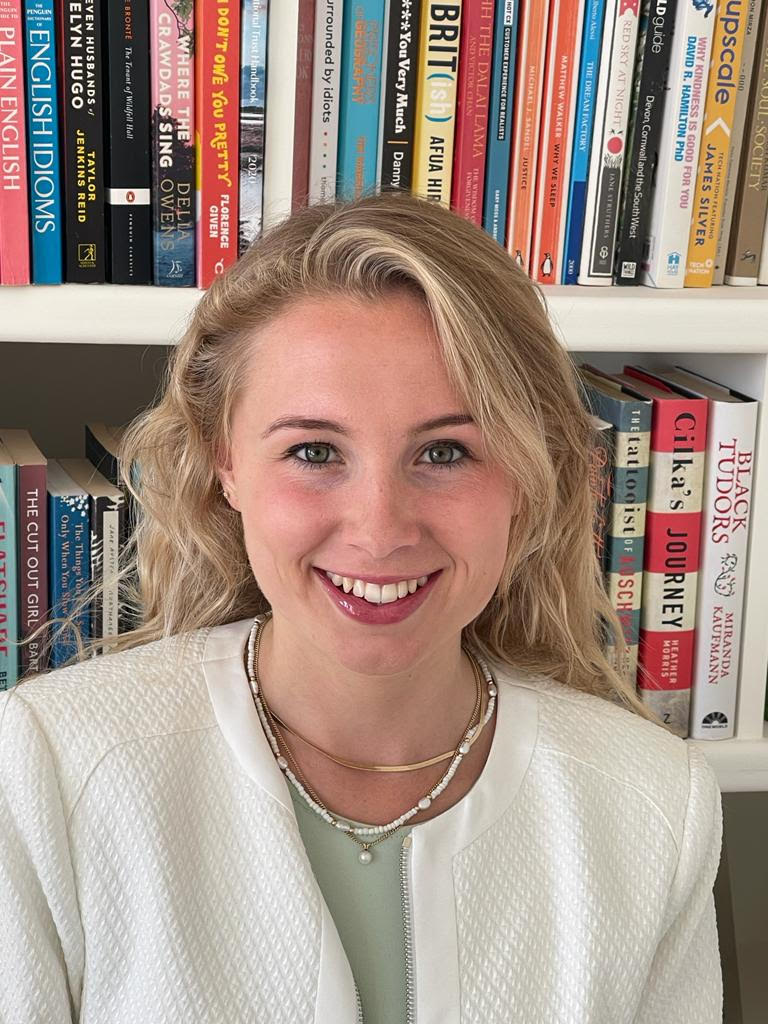 Laura is our eCommerce editor. As a fully qualified barista, she's our expert in all things coffee and has tested over thirty of the best coffee makers on the market. She has also interviewed Q-Graders and world-leading experts in the coffee industry, so has an intimate knowledge of all things coffee. Before joining Homes & Gardens, she studied English at Oxford University. Whilst studying, she trained as a master perfumer and worked in the luxury fragrance industry for five years. Her collection of home fragrance is extensive and she's met and interviewed five of the world's finest perfumers (also known as 'noses'). As a result of this expansive fragrance knowledge, she always puts quality and style over quantity and fads. Laura looks for products which have been designed simply and with thoughtful finishes.