How to combine a home office and guest room – for a multi-functional hosting space
Make the most out of the space in your home with a combined guest room and home office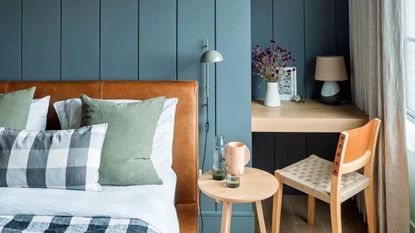 (Image credit: Future)
Sign up to the Homes & Gardens newsletter
Decor Ideas. Project Inspiration. Expert Advice. Delivered to your inbox.
Thank you for signing up to Homes & Gardens. You will receive a verification email shortly.
There was a problem. Please refresh the page and try again.
When limited on rooms, it can be hard to pick between a useful guest space and a functioning home office – but why not have both?
Creating a good guest room office comes down to just eight essential things, designers say. The trick? Picking the right furniture to help transition the space without having to rearrange the whole room.
Here, the experts have explained how to strike the perfect balance when merging these two practical rooms, and what you should avoid if you want a welcoming space.
How to combine a home office and guest room
The key to merging these two spaces is to make each element feel intentional, so nothing feels cobbled together last minute when you have an emergency meeting, or guests come round to stay. Here is what the experts fall back on:
1. Maximize the space with pull-out desks
If you don't use your home office too much, don't have a monitor, and want the emphasis to be on hosting, then a hidden desk or built-in unit may be a good solution to slot into an existing guest room, suggests Gideon Mendelson, founder, and creative director at The Mendelson Group.
'I like to maximize the space as much as possible, utilizing built-in or pull-out desks,' he shares. 'Units built into the wall save floor space for the rest of the room and provide additional storage and an attractive spot for guests to sit and do some light work if needed.'
Founder and Creative Director of Mendelson Group, Gideon believes that design can be a great stress reliever. Gideon is known for his architecture and interior design in Manhattan, Westchester County, Miami and the Hamptons.
2. Use a sofa bed
If you need more of a permanent home office, doubling up as an occasional guest room, then using a full desk with a sleeper sofa or bed chairs may be a better alternative, Gideon Mendelson, creative director, continues. They are also a great way to host a guest without a guest room, too, should the need arise.
'Sofa beds are perfect for home offices, serving as a sitting area during the day for visitors, or if you want somewhere softer to work but able to be pulled out when guests stay over.'
If you are limited on space, then a single sofa bed may be a better option, adds Moriah Frantz, designer, and founder of the eponymous design studio.
'One or two of these can be arranged to face your desk, perfect for if you regularly take meetings in your home, she says – perfect for a more formal setting.'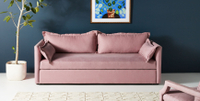 Denver Trundle Sleeper Sofa | $2,698 at Anthropologie
Rated our favorite sleeper sofa, this couch comes in a good range of upholstery options to suit any space and has comfortable feather and fiber cushions for a comfortable night's sleep.
3. Or consider a Murphy Bed
If additional seating doesn't work for your office space, then bespoke joinery in the form of a Murphy bed is another great way to add additional sleep spots to your home office while also building in surrounding storage and display units.
'We are seeing more of a demand for Murphy beds, which can be combined with side shelving/storage that serve two functions; bed when needed and office storage,' Nathalie Malka, founder and lead designer at Nathalie M Designs reveals. 'Pair that with an easily mobile desk, and it's an easy transformation.'
4. Place focus on table lighting
The requirements for bedroom lighting and home office lighting are very different, with one needing softer, more relaxing mood lighting and the other demanding focused task lighting.
To bridge the gap, Gideon Mendelson, creative director, suggests putting emphasis on using table and floor lamps that can set the mood and direct focus.
'Since typical bedroom lighting is not optimal for workspaces and digital meetings, I like to add lamps on the desk and/or nightstand for additional lighting. Or, add a statement chandelier to elevate the space,' he says.
5. Be creative with your choice of desk
There are some great places to buy desks that offer stylish solutions that don't look like they came from an office block. When designing a combined home office and guest space, consider using a home office desk design more reminiscent of a console table with drawers, advises Deborah Vieira, interior designer and founder of Deborah Vieira Designs.
'This is a great option for a desk, as office-related storage can be concealed inside, but will still look sleek and uncluttered for guests, even doubling as a dressing table if needed.'
6. Choose a chair with a joint appeal
Office chairs are infamous for looking bulky and ugly, so, in a guest space, consider picking something comfortable, but with a little more visual appeal to avoid guests feeling like they are staying in a corporate office block, advises Deborah Vieria, interior designer.
'In these situations, I like to pick a comfortable, supportive dining armchair with an upholstered seat and back that would also work well in a bedroom setting for getting dressed,' she shares.
7. Consider a computer cabinet to keep screens hidden away
An on-display monitor can really take away from the relaxing scene you are trying to set in a guest bedroom, so consider a cabinet with a pull-out desk, or a closing bureau to keep your bulky computer and cables tucked away neatly when not in use, or when a guest comes to stay, suggests Mille Hurst, Solved section editor at Homes & Gardens. This home office storage solution is a great quick fix for an otherwise awkward necessity.
Millie Hurst is Section Editor at Homes & Gardens, overseeing the Solved section, which provides readers with practical advice for their homes. Millie has written about and tried out countless organizing and DIY hacks in the six years since she became a journalist, and has worked in both London and New York. She is currently completing a diploma in interior design.
8. Put emphasis on multi-functional storage
Speaking of storage, it is important to make space for both your office supplies and your guest's clothing and toiletries.
To help storage blend seamlessly into the space, Deborah Vieira, interior designer suggests using a dresser: 'A dresser could be adapted for file storage, with empty drawer(s) for guest items, and a bookcase could be attractive and functional for both office and bedroom.'
FAQs
Should I put my office in my bedroom?
It is best to avoid putting your office desk in the room you sleep in frequently. Consider placing it in a spare bedroom, or guest room instead to help you separate your work-life balance. If you must put your office in your bedroom or a guest room, consider using a cabinet desk that can be closed at the end of the workday so you are not cluttering bedrooms with electronics, and to help you shut off from stress before bed.
What is a Murphy desk?
A Murphy desk, much like a Murphy bed, is a desk that folds out away from a wall and can be tucked away again when not in use. This makes it a great alternative to a permanent home office if you only work from home some of the time or only occasionally need a workspace for hobbies or life admin. These can easily be slotted into any room, too, be it your living room, dining room, or guest bedroom.
---
It is perfectly possible to merge a home office and guest room and create a space that feels cohesive and calm. Using smart furniture selections and clever storage will result in a room that you feel confident welcoming guests into, and happy to work in, too.
Sign up to the Homes & Gardens newsletter
Decor Ideas. Project Inspiration. Expert Advice. Delivered to your inbox.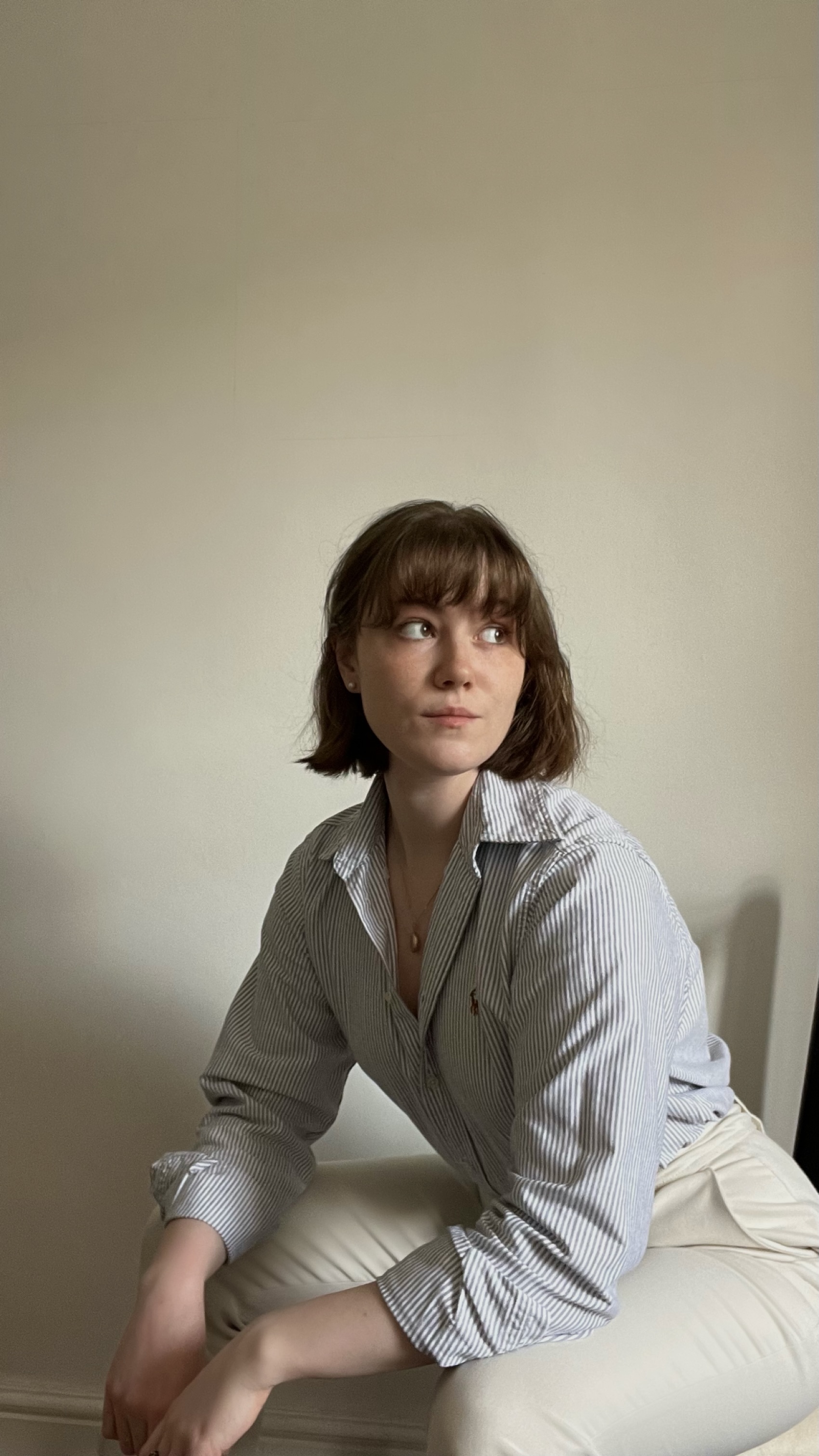 Chiana has been at Homes & Gardens for a year, having started her journey in interior journalism as part of the graduate program. She spends most of her time producing content for the Solved section of the website, helping readers get the most out of their homes through clever decluttering, cleaning, and tidying tips – many of which she tests and reviews herself in her home in Lancaster to ensure they will consistently deliver for her readers and dabbles in the latest design trends. She also has a first-class degree in Literature from Lancaster University.