How do I mix storage and display in the living room? 7 artful tips from experts
The defining and discreet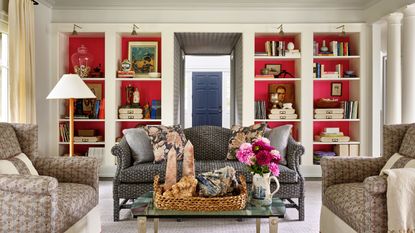 (Image credit: Read McKendree for Joshua Smith)
There are endless reasons why you might want to mix storage and display in a living room. Our homes work harder than ever nowadays to fulfill an aesthetic that is welcoming, exciting, and unique, all without looking overly busy or a little too curated.
Alas, no matter how good we are at decluttering small living rooms, or even open-plan spaces, some items will always remain. Those that are essential to the functioning of the space, and others that never fail to bring delight to our surroundings need a place to stay long-term, so could it be that living room storage and decorative display might be able to go hand in hand? Let us reassure you, the rumors are true.
How to mix storage and display in the living room
Streamlining belongings and organizing your living room in an orderly fashion that can be easily sustained is a step towards a home that is more visually appealing and restful on the soul. Less 'clutter' will let more exciting details take center stage once again. Rather than notice how many ornaments you have on display, guests and family members might applaud how they highlight your home's architectural bones instead.
The trick is to conceal or disguise belongings as best you can, drawing eyes towards far more beautiful and interesting design affairs. Here are some artful approaches to take according to designers:
1. Carve out space for bespoke storage
One of the biggest intrigues for choosing bespoke furniture is simply the fact that it will be designed to fit, and therefore complement your space perfectly.
Custom-made furniture has a place in every home and one of its key purposes is to make the most of even awkwardly-shaped rooms. Francis Nicdao, principal and chief creative officer of Pembrooke & Ives shares how it presents a brilliant method for combining both an interesting display and essential living room storage.
'For living spaces, finding areas where you can carve out built-in storage and display is a great design feature,' says Nicdao.
Be it open shelving with integrated drawers (perfect for essentials that should stay behind closed doors) as we can see in the space above by Living with Lolo, or a simple surround to bring more excitement to the fireplace, bespoke additions make a fine opportunity to tap into storage solutions that are as unique as your home.
As principal and chief creative officer at Pembrooke & Ives, Francis is responsible for the creative oversight of projects across the company as well as for running his own design and decorating team, working on residential and commercial projects across the country. Having worked at the company for over fourteen years, Francis has helped shape and grow the company into what it is today.
Born in the Philippines, Francis grew up in a town where handcrafted furniture is made. Family and family friends had factories where they trained artisans in woodwork, caning, and embroidery.
Surrounded by artists and craftsman, he was interested in art and design at a young age. After moving to New York, he focused on drawing and painting, receiving scholarships to various art schools and apprenticeships.
Francis studied at Pratt Institute earning a Bachelor of Fine Arts degree in Interior Design. He also attended a design and architecture program at the Royal Academy of Fine Arts in Copenhagen. Prior to Pembrooke & Ives, Francis worked at D'Aquino Monaco where he designed private residences, spas, and retail concepts for various clients. At Pembrooke & Ives, he continues to work on high-end residential projects as well as full building renovations, lobbies renovations, and product design.
2. Bring attention to an existing focal point
Bespoke shelving and the like will also give you the opportunity to define focal points, like your fireplace or a piece of art.
'Custom Millwork is your best friend for optimizing storage and display solutions in the living room,' says Ami McKay, creator of PURE Design. 'Among our design specialties, we frequently design millwork around the fireplace if there is one, and even artfully conceal a television within. Combined with some shelving, often on either side of the fireplace, you have an opportunity to exhibit your favorite collections, books, and photographs.'
To make the most of the room, especially in a small living room space, choose floor-to-ceiling displays that will bring a little drama too.
Ami McKay founded PURE Design in 2000 on the belief that design is found in the art of giving. The work that she puts into each project reflects her personal life experiences and she believes they are at the heart of her business. Today, she is proud to be named one of Canada's Top Five Interior Designers.
3. Create 'areas within niches'
Good-looking displays in every room will reveal a little of a home's personality. From the more creative living room wall looks to the furniture you choose to keep, it can all say something about you, and this must not be forgotten when nodding to practicality too.
Nicdao tells us more about how they approach artful storage solutions and living room display: 'Whether it is for a home bar or for the display of artwork and objects from a client's collection. We like to create such areas within niches (and sometimes even add the option to close off the display with discreet sliding doors) so as not to disrupt the formality or flow of the living room,' says Nicdao.
This might mean arranging your best glassware with expertise or concealing a very good-looking wine cooler as part of an essential home bar, creating an area for entertainment in a way that adds flamboyance rather than a look that is regimented or dare we say, boring.
4. Incorporate versatile furniture that brings drama
From styled consoles that leave room to work a little harder, to vintage dressers that are a display in themselves, look at pieces that can bring more to the space than what meets the eye.
'In our living rooms, we frequently integrate sideboards,' shares Lauren Lerner, CEO and Founder of Living with Lolo. 'This provides our clients with additional storage space while allowing us to showcase beautiful accessories on top. If a sideboard isn't suitable, our next choice is a console. When using a console, we prefer to include elegant baskets underneath for storage and adorn the top with stylish accessories.'
Incorporate pieces that will bring endless character to a space, and consider repurposing an old wardrobe or dresser for maximum living room storage potential. Snug in an alcove or floating, you'll enjoy an additional surface to style as you wish and a decorative space to conceal items too.
Lauren Lerner is the principal designer and founder of Living with Lolo, the interior design firm based in Scottsdale, AZ, since 2017. Fueled by her love for clean lines, mixed metals, colors, and timeless pieces, Lerner thrives on bringing a client's home to life from the very beginning.
5. Make baskets your best friend
Antiques and bookshelves are beautiful in their own right, but Victoria Holly, principal designer and founder of Victoria Holly Interiors tells us how she makes bookcases work harder with baskets in a living room that wants storage too: 'When integrating storage and decor into a living room, I always like to place baskets on the bottom. The reason for this is baskets are visually heavier, and that way your decor doesn't feel top-heavy. Integrate different sizes for a more unique display. 'I also like to do a line of baskets at the bottom and then integrate smaller baskets throughout above,' adds Holly.
We particularly like how there is a basket posed just underneath the coffee table in the picture above. You can find stylish storage baskets even at Amazon, we spotted a woven set of four from La Jolíe Muse on Amazon which would complement a modern or rustic living room nicely.
Victoria Holly Interiors is led by experienced designer Victoria Holly, who boasts an impressive reputation in the field of interior design. With over a decade of experience, Victoria Holly is known for her artistic skill, meticulous attention to detail, and exceptional talent for curation.
6. Create layers of interest on your coffee table
Though styling a coffee table will not offer the biggest ROI when it comes to storage, a more expansive and interesting design will carry books, your every edition of Homes & Gardens, and a trinket with ease.
McKay treats coffee tables as such: 'More ways to display items in a living room include the coffee table, where you can create a curated array of your favorite oversized coffee table books, keepsakes and perhaps a beautiful bouquet of flowers in a vintage vase.'
7. Use open shelving to lean into 'design moments'
Decorating shelving requires some skill, especially when it is open shelving. Take it as a brilliant way to corral items in an artistic way.
'Open shelving can also allow for a more curated display of goods but may sacrifice valuable storage space for the sake of a "trendy" design moment,' says Artem Kropovinsky, an interior design expert and the founder of Arsight. 'Open shelves are a fine design choice, but crowded, overfilled open shelves become less of a design element and more of a potential eyesore.' Use bright living room colors to make the space pop further, and don't be afraid to change what you have on display through the seasons.
Artem Kropovinsky is an interior design expert and the founder of Arsight, a global award-winning design firm with over a decade of experience in residential and commercial interior design. With a cohesive team of professionals, Arsight specializes in tackling complex projects, including new constructions, complete residential renovations, restaurants, and retail stores. Their designs embrace authenticity and originality, utilizing natural materials and handcrafted elements for a unique and cohesive aesthetic.

FAQs
How should I store multiple items in my living room?
Depending on your lifestyle, you may have lots of items that reside in your living room space. Keeping clutter concealed will help keep a calm, collected, and inviting ambiance in your living room. An effortless way to add visual appeal to storage is to use textured or decorative containers. Designers favor baskets in particular, and some note how decorative drapes can conceal a few too many items when you need it too:
'A design trick I often use to make a storage space a bit more appealing is using a wall of drapery to conceal organization areas,' says Kropovinsky. 'Hanging a roll-ceiling track or tension wire, which can be found at Ikea for relatively affordable prices, will allow you to hang floor-to-ceiling drapery. If you are in a loft apartment, this hack is especially useful in detracting from clothing racks, or other visible storage. Essentially, floor-to-ceiling drapery creates a new textured addition to your space and acts as an effective room divider.'
---
Visually appealing displays and storage can make a good match in a living room space. Think outside the box and you will be able to use your space to its full functional and decorative potential.
Sign up to the Homes & Gardens newsletter
Decor Ideas. Project Inspiration. Expert Advice. Delivered to your inbox.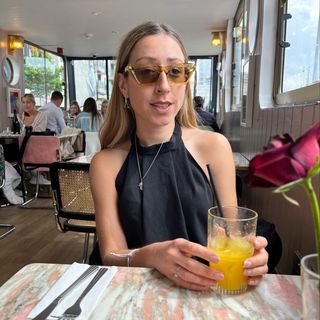 Camille is the former deputy editor of Real Homes where she covered a broad range of topics, including house tours, small space design, and gardens. She studied English language and Italian at the University of Manchester and during a year abroad studying linguistics and history of art in Bologna, Italy she started documenting her adventures and observations in a blog. Camille is always creating and spends her downtime painting, taking photos, traveling, and writing short stories.