How to create a home gym – everything you need to start exercising in the comfort of your own space
You don't need a gym membership to get in shape, simply turn your spare room into your very own home gym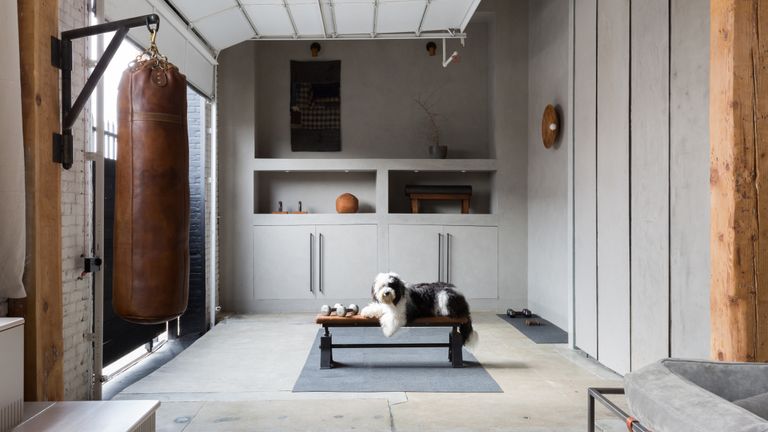 (Image credit: Amy Bartlam / Stephen Kenn Loft Gym)
One of the best ways to incorporate wellness and vitality into your home is through designing your own home gym.   
A beautifully-designed home gym, which is both visually appealing and fully-functional, makes the prospect of a workout far more enticing. 
What do you need for a home gym?
The interior design of your home gym – the lighting, colors, décor and acoustics – are as fundamental as the equipment you choose.   
'People often assume an at home gym is all about the equipment; it's not, just as an actual gym isn't just about the equipment,' says interior designer Katharine Pooley. 
'It's about the music, the lighting, the atmosphere; the same is said for your at home workout space. Make sure you're creating an experience for when you exercise; much like they do in boutique gyms.'  
These elements help you create a space that matches your specific needs: just as you would design a tranquil bedroom, or a functional kitchen, you should also take care when planning a home gym that is energising, calming and motivating in equal measures. 
How do I set up a home gym?
In order to design a gym that is perfect for you, first be honest about what you will actually do there and the equipment you need to reach your fitness goals. 
'When drawing up the floor plan, be practical about the size of the room you have and what will fit in comfortably,' says interior designer Kelly Hoppen. 'You won't enjoy exercising if everything is too close together and you are left with very little space for stretching.'   
It is also worth adding a few individual touches, something to make the space personal to you, such as beautiful artwork, motivational messages or captivating photography.
Are home gyms worth it?
If you can create the space for it you really should consider it – a home gym is such an asset, it actively encourages fitness and positivity in your life. There are so many areas in our homes that are underused; spare bedrooms, basements and attics full of clutter, out buildings and garages sitting empty. By comparison a home gym is something you and your family will use and enjoy every day and will be an uplifting and empowering addition to your home.
How much does a home gym cost?
The cost of building and setting up a home gym greatly varies in price depending on the amount of equipment, quality of finishes and level of acoustics you go for. If you're after a professional-looking set-up, then we recommend calling in the experts.
Motive8's home gym solutions start from around £10,000. They also charge just £300 for an onsite home consultation (100% fully refundable if order is placed). For that money, they will produce 2D/3D/CAD drawings, provide you with equipment recommendations and a full design proposal.
What is the best at home workout equipment?
'Every client is unique, so the most important thing to take into consideration is what they will use their home gym for,' advises Kelly Hoppen. 'Most people like to have a cross trainer, a running machine, and a floor mat, but they may also want space for a Swiss-ball work, a barre for ballet, a set of weights, a rowing machine and so on.' 
What are the benefits of a home gym?
If you're body conscious and don't have the confidence to step into the gym, then a home gym is the answer. You can get the results you are after without leaving the house.  
'Many people get much better results training at home, says Julia Buckley, fitness trainer and author of The Fat Burn Revolution and Heal Me. 'In the time it would take to pack your bag, travel to the gym, get past the turnstiles, find a locker and get to the equipment you want, you could do an entire workout at home.'   
You don't need any equipment to get started, but as you get into it you could invest in dumbbells, and a gym ball. The key is to get moving. 
'It's all about variety,' says Julia. 'Variations on exercises such as squats, lunges, deadlifts, burpees, press-ups, pull-ups and jumping moves are great ways to burn fat.' 
Work at your own fitness level and always check with your GP before you start.