Terrace ideas – 10 timeless spaces to inspire your landscaping
A well-designed terrace is a true delight – here are some ideas and expert advice to make yours green and interesting year-round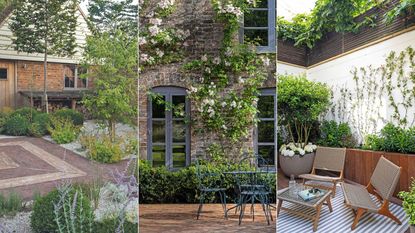 (Image credit: Harriet Farlam / Jason Ingram / Mark Bolton)
Sign up to the Homes & Gardens newsletter
Decor Ideas. Project Inspiration. Expert Advice. Delivered to your inbox.
Thank you for signing up to Homes & Gardens. You will receive a verification email shortly.
There was a problem. Please refresh the page and try again.
Designing a terrace is a wonderful opportunity to create a space that's an extension of your indoor living and/or dining space.
As such, you need to consider just not backyard landscaping ideas and materials but furniture and decoration, too.
And, whether your terrace features a deck or patio, you will want to ensure that space is maximized. Here, experts tell you how to achieve all of this.
10 terrace ideas – for a beautifully designed space
Whether your terrace is part of a courtyard garden, sited in a balcony garden or is a corner of a larger space, these ideas will give you timeless inspiration.
1. Create a seamless blend with consistent materials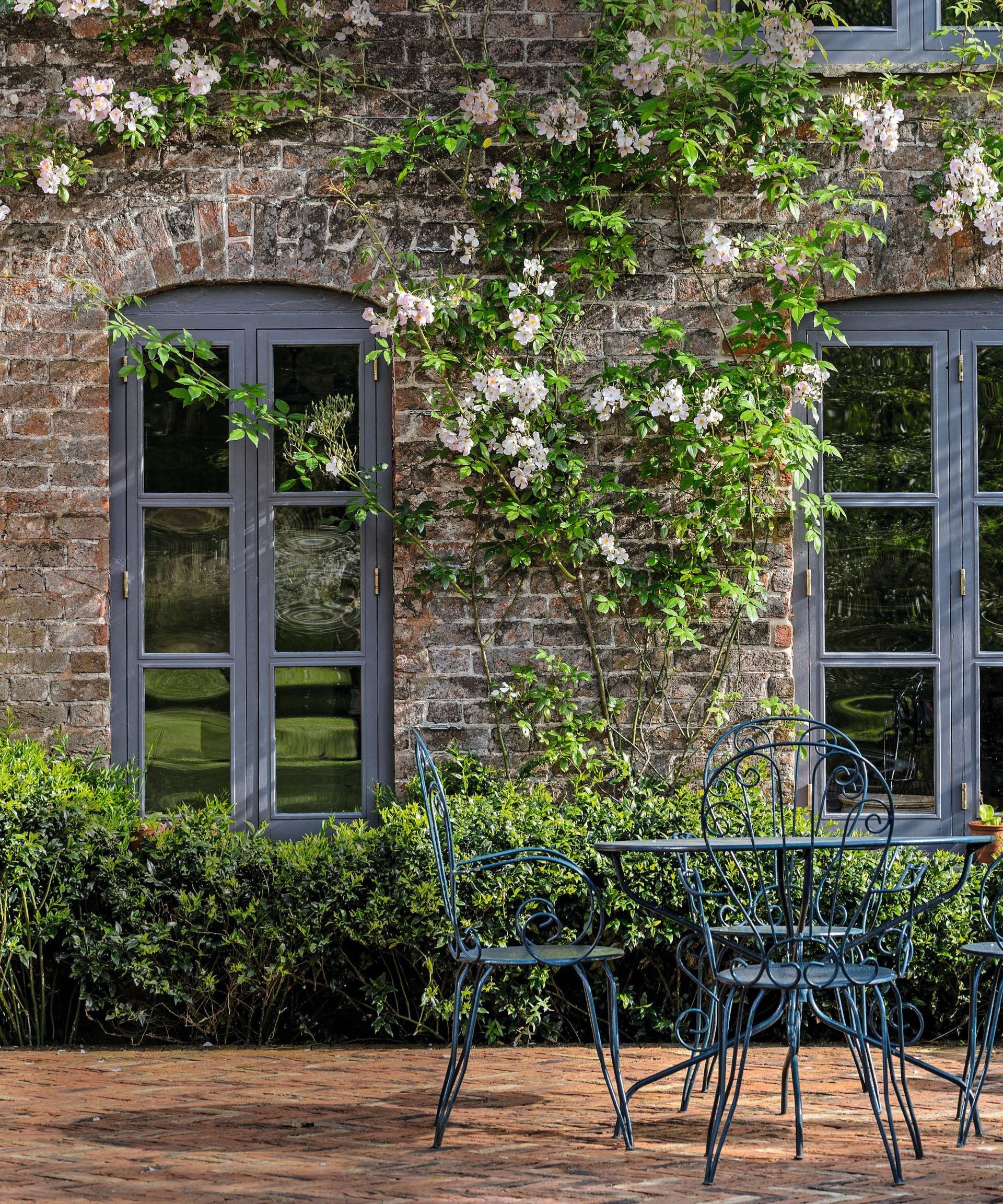 A terrace with no level change makes for a smooth transition from inside to outside.
'Enchanting in its simplicity, this herringbone-style brick terrace offers a seamless extension to the kitchen as well as posing a pretty focal point from within,' says Alasdair Cameron from Cameron Gardens. 'In late winter, scent from sarcococca diffuses into the kitchen and in summer the stunning rambling rose Francis E Lester offers a sweet blossomy scent.'
Gray dining furniture – perfect for an al fresco lunch or evening barbecue – echoes the paintwork of the windows, while this clever patio flooring idea of matching the brickwork to the house on the floor of the terrace creates a smart, consistent look.
2. Make bold landscaping choices for impact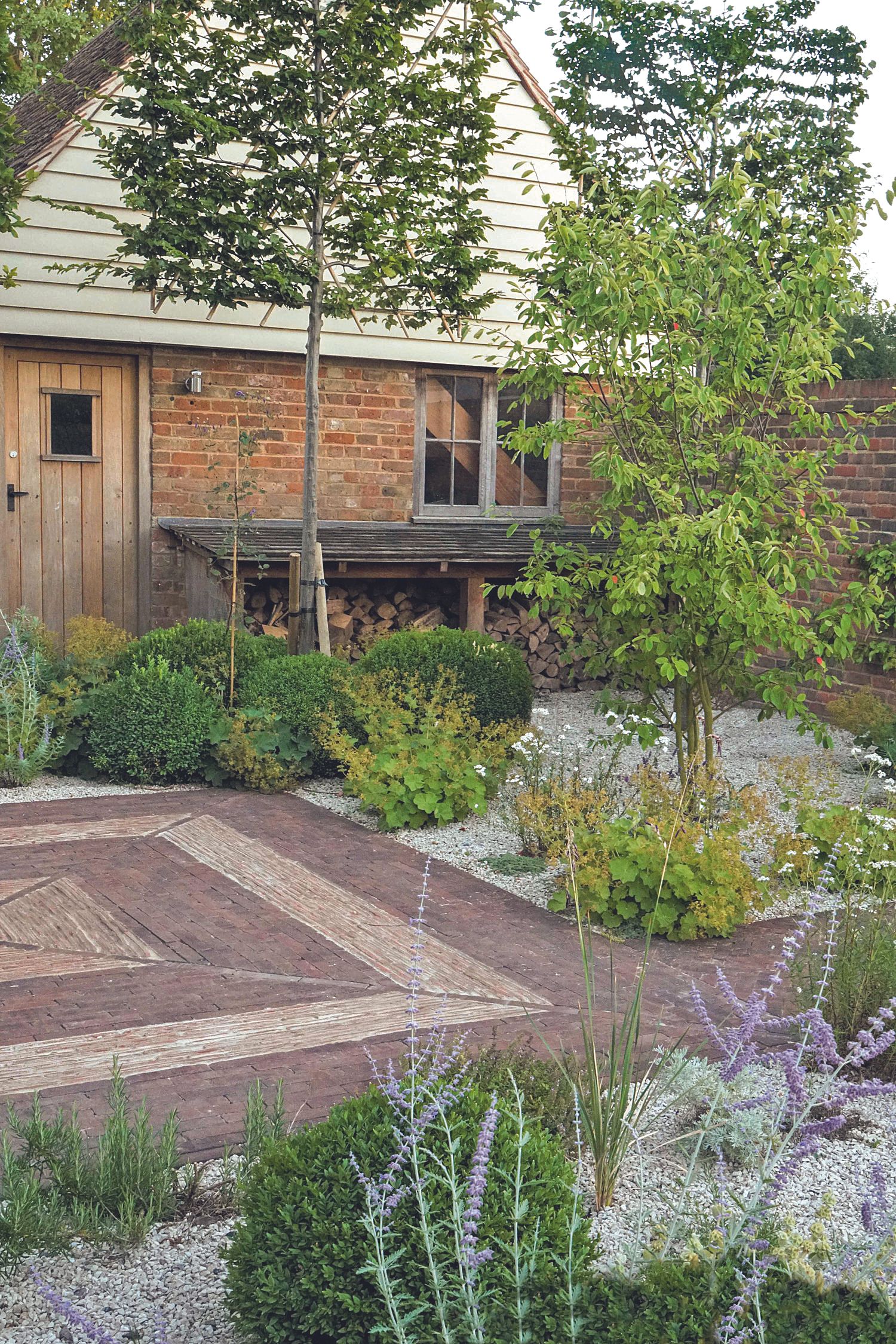 If you are looking for paved backyard ideas, this is intriguing. A central square 'pad' creates a calming pause in a terrace space. In this historic farmhouse, Harriet Farlam of Farlam & Chandler designed a detailed paving pattern.
'It's important for the materials within a terrace to work together in harmony with their context and built surroundings,' says Harriet. 'In this case we chose a clay paver and Kentish peg tile; materials both used locally and within the main house.'
The pattern creates a focal point within the terrace and a central meeting point which connects various paths leading to different areas in the wider garden – a parking courtyard, pool garden and formal lawn.
3. Use locally sourced materials for a timeless terrace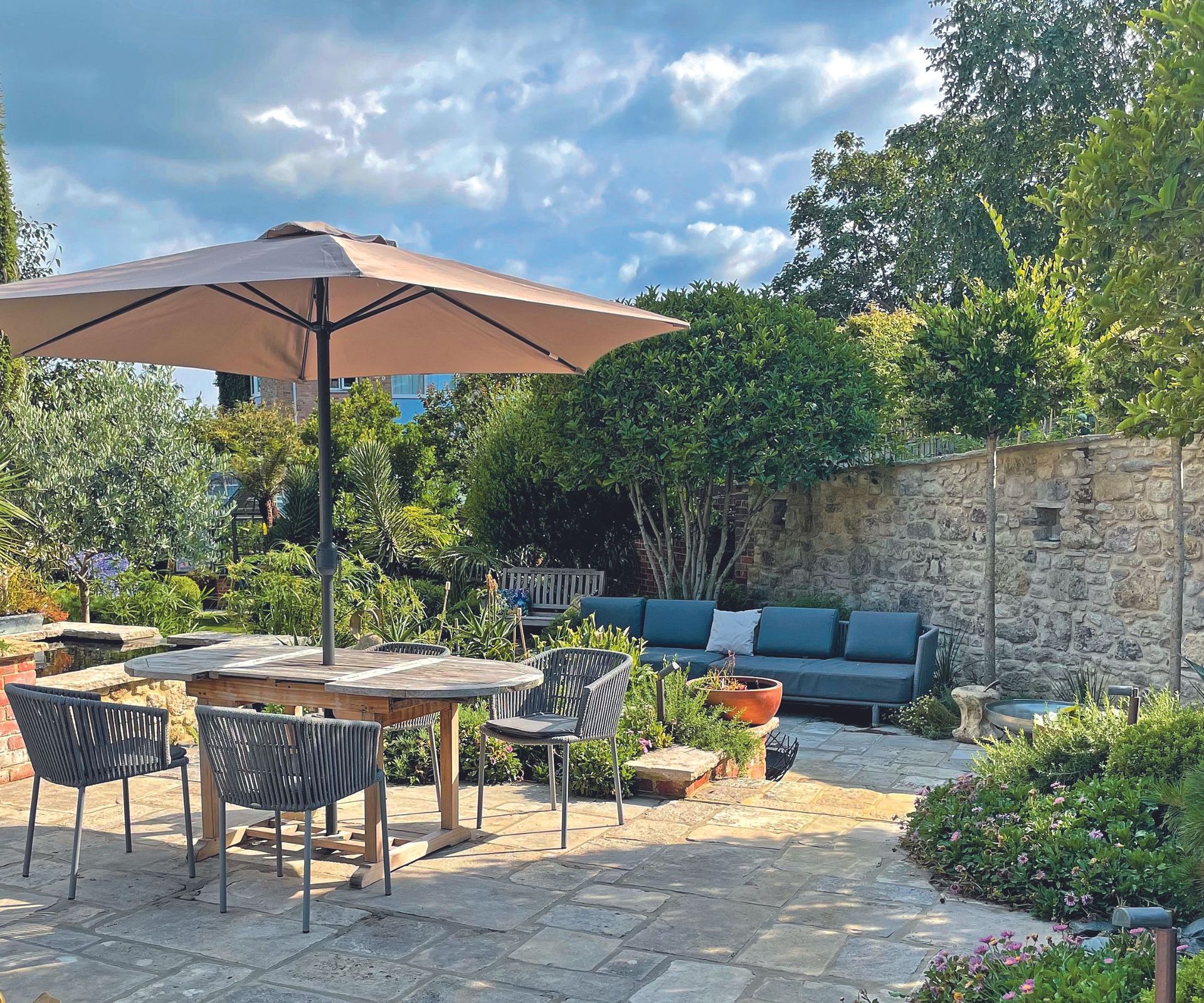 Walling and its treatment contribute hugely to how a terrace feels.
'Too high and too stark and the space can feel tight and overwhelming,' says garden designer Helen Elks-Smith. 'Get them right and they can contribute to the space feeling protected and secure.'
In this town yard, a wall had fallen into disrepair and was lost under dense vegetation. 'The boundary wall has been carefully and skilfully rebuilt using local stone in a traditional method using lime mortars, giving the garden a strong sense of place, anchored into its surroundings,' says Helen.
The paving here was also salvaged from site and reused with additional paving reclaimed locally to extend the terraces.
4. Choose decking for a small terrace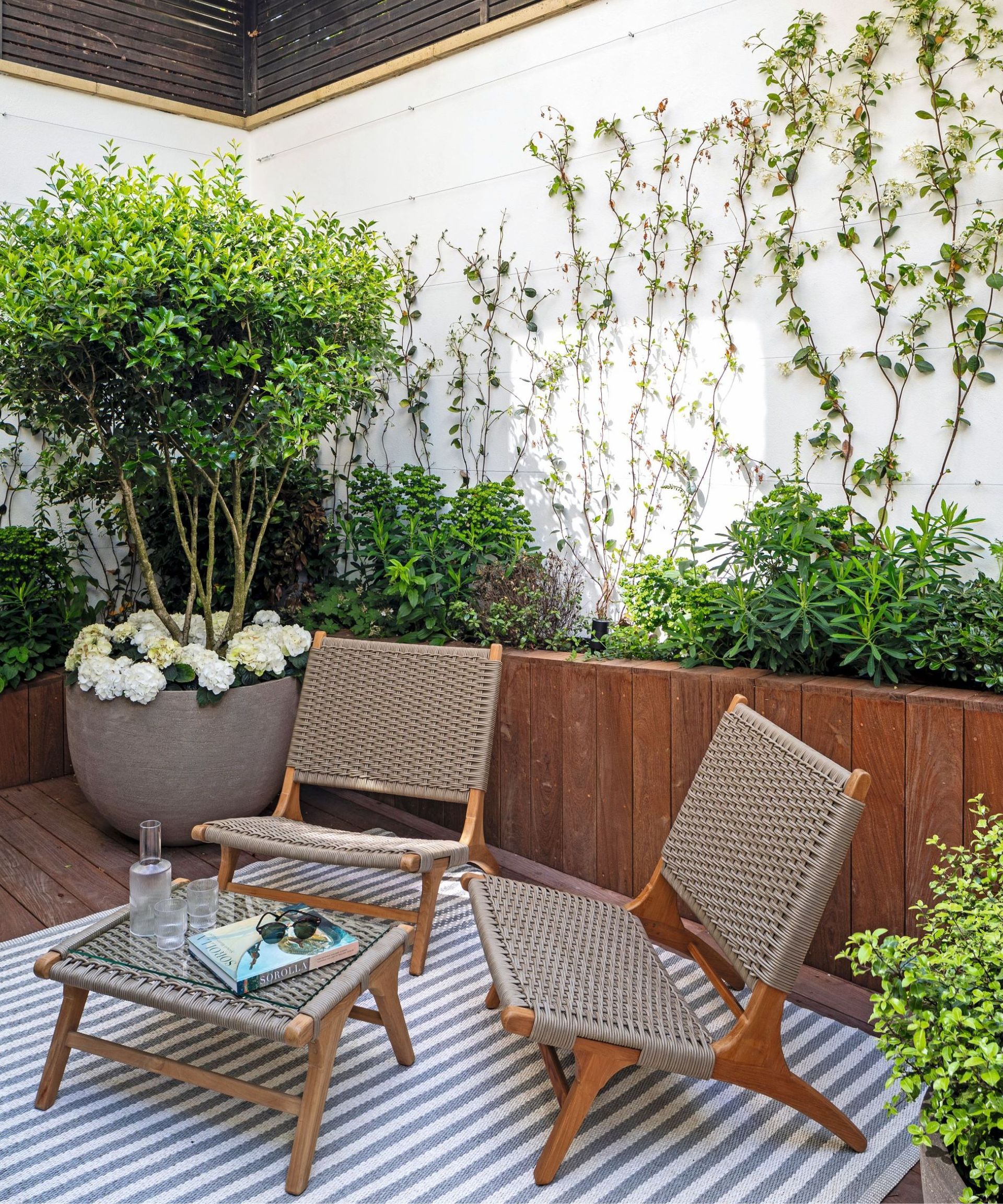 Lay hardwood flooring such as iroko, ipe and balau for a long-life wooden surface that looks and feels good on a small footprint.
'By combining natural timber decking with soft furnishings and textures, we created an inviting outdoor living "room" within this townhouse terrace,' explains Clara Ewart, head of design at interior design practice Kitesgrove.
'The style of the chair lends itself well to both relaxing and lounging, as well as dining. The addition of a striped outdoor rug not only helps to break up the space, but enhances the indoor-outdoor feel of the space.'
The oversized planters and climbing plants help to zone the seating area by drawing the eye upwards.
5. Create privacy with small trees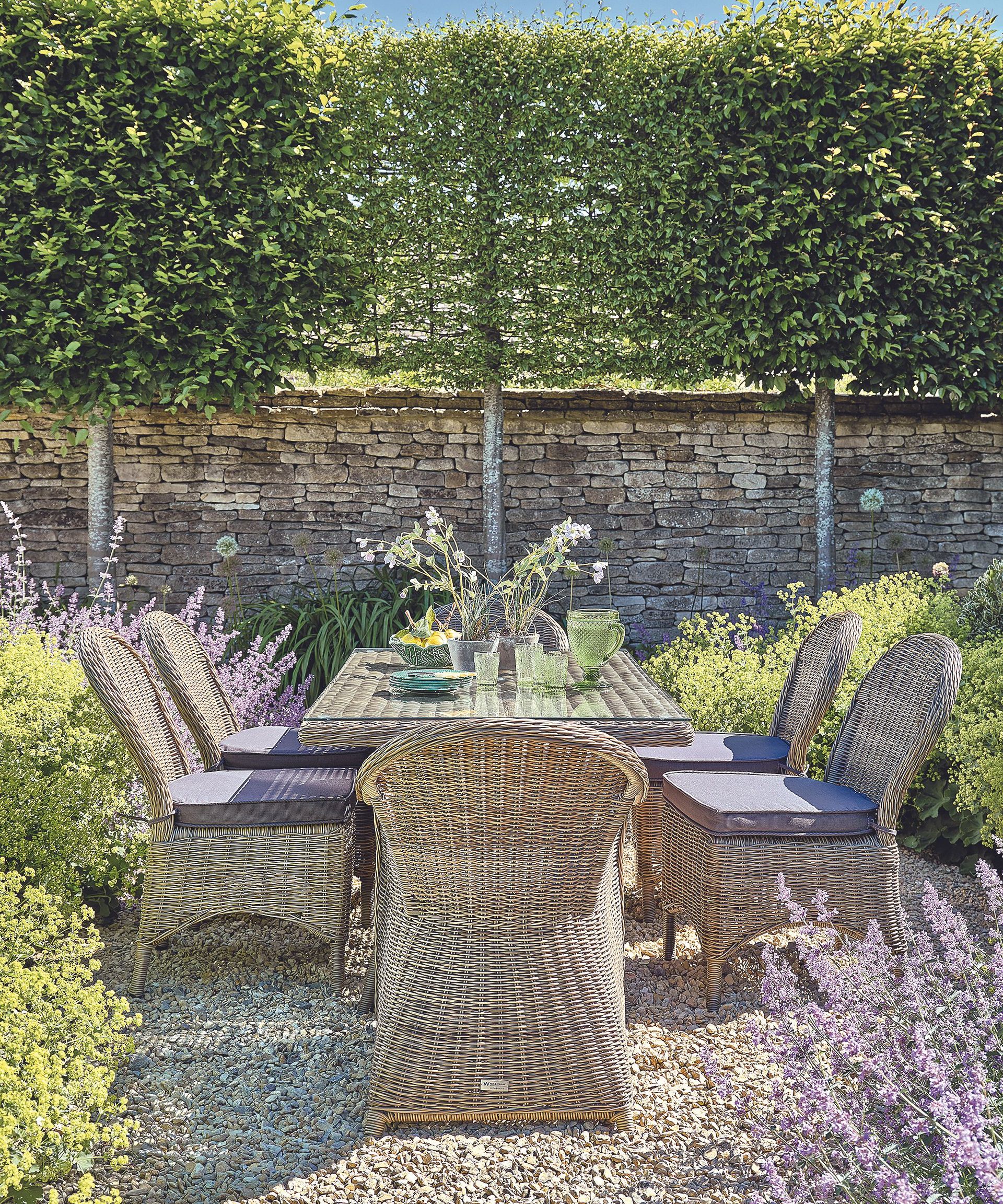 Small trees play a starring role in a terrace, changing with color and texture through the seasons. The best trees for privacy include pleached and multi-stemmed varieties, which also add depth, height and all-important seasonal interest.
'Carpinus betulus in standard and pleached forms introduce structure and greening without creating visual weight,' says garden designer Cassandra Crouch, 'and a multi stem specimen, such as Koelreuteria paniculata, provides a strong focal point and more characterful feel to draw the eye.'
The trees here, along with the Mayfair rattan dining furniture from Bridgman, help to soften the stone walls and gravel underfoot.
6. Create a floor show with paving and planting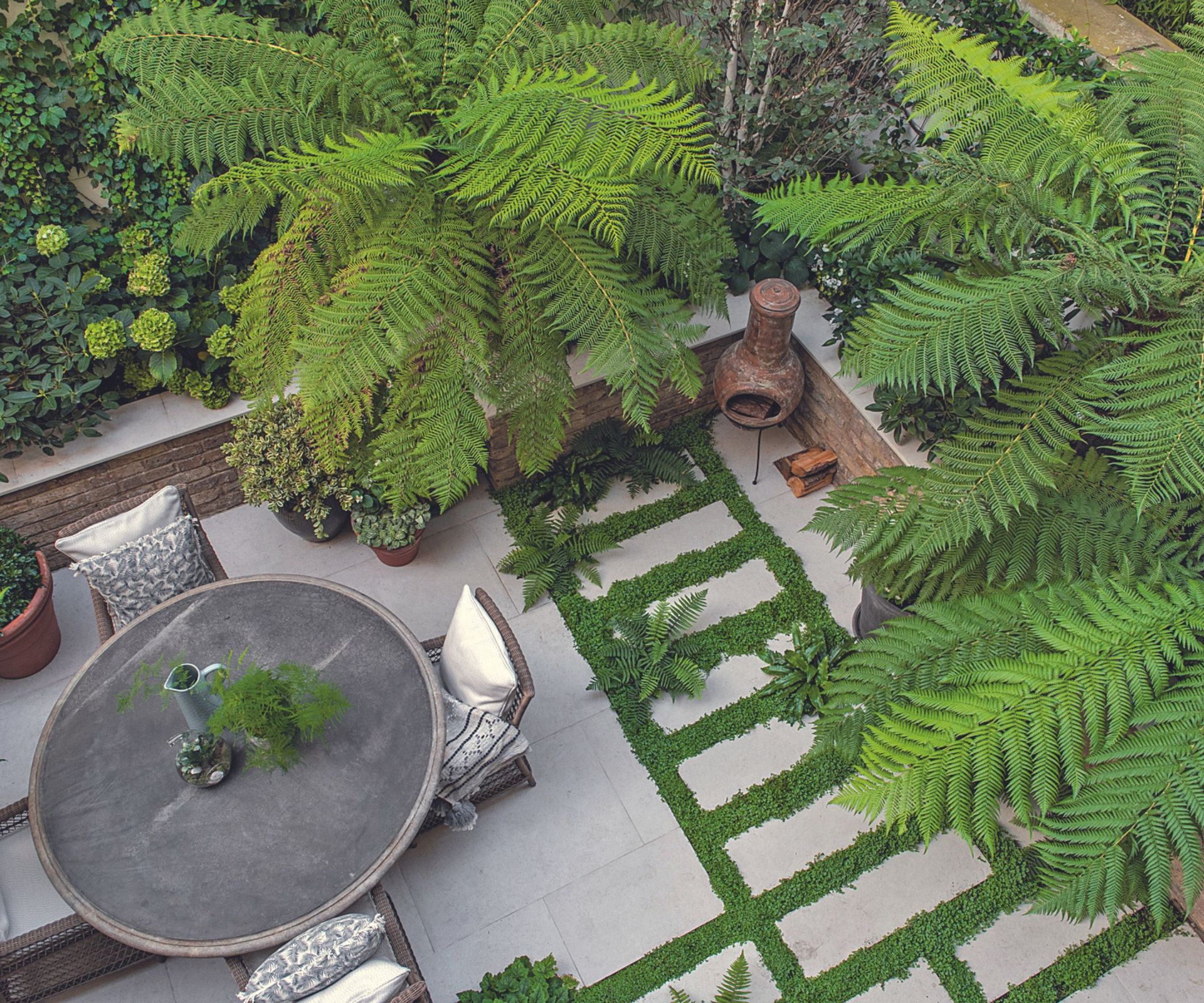 It's tempting to push all the planting to boundaries in a bijou space, but the effect often only defines the smallness of the space. In the garden of this townhouse, a patchwork of floor-level planting was designed alongside the central seating/dining area to create an enticing and soft effect.
'Porcelain was used to maintain a clean bright surface in this backyard that does not see any direct sunlight,' explains garden designer Kate Gould. 'To break up the flooring material, I used evergreen ferns and evergreen ground cover.'
Where you need shade plants, try to keep the planting palette to green and white.
7. Introduce a water feature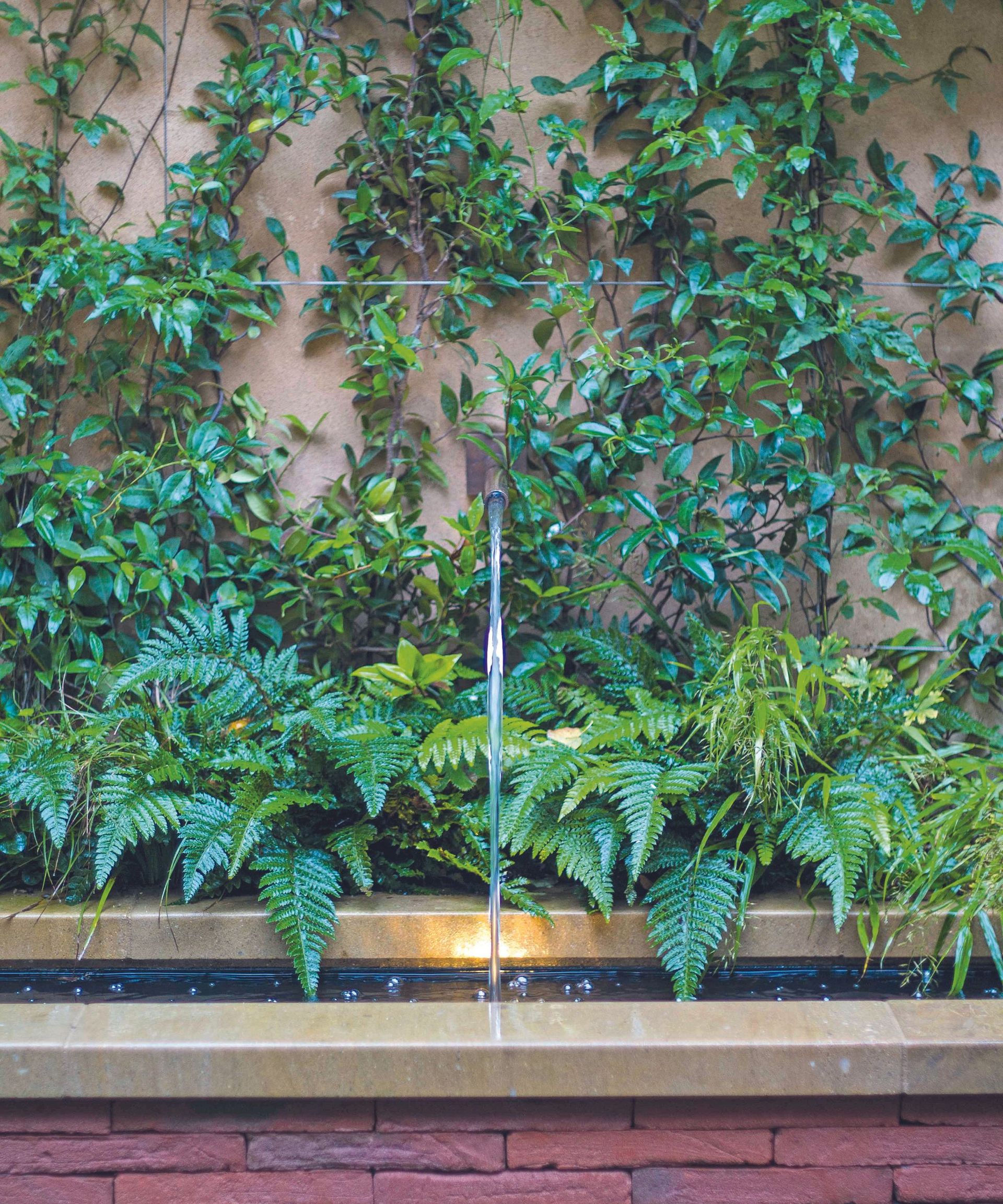 The sound of running water brings a cooling, soothing sparkle to a terrace's atmosphere. In this row house in central London, located within a conservation area, designer Henrietta Murray-Wicks of HMW Studio positioned a water feature as the key focal point through the door that leads to the garden. It acts as a backdrop for the entire space.
'It has a multi purpose,' she says, 'working hard to bring in sound (through the three spouts), reflective qualities through lighting within the water, planting to the rear and also a lovely spot to lean against when hosting parties.'
Vande Moortel brick slips echo the property's facade, but in a contrasting color to make it stand out with a Yorkstone coping.
8. Create intriguing reflections with mirrors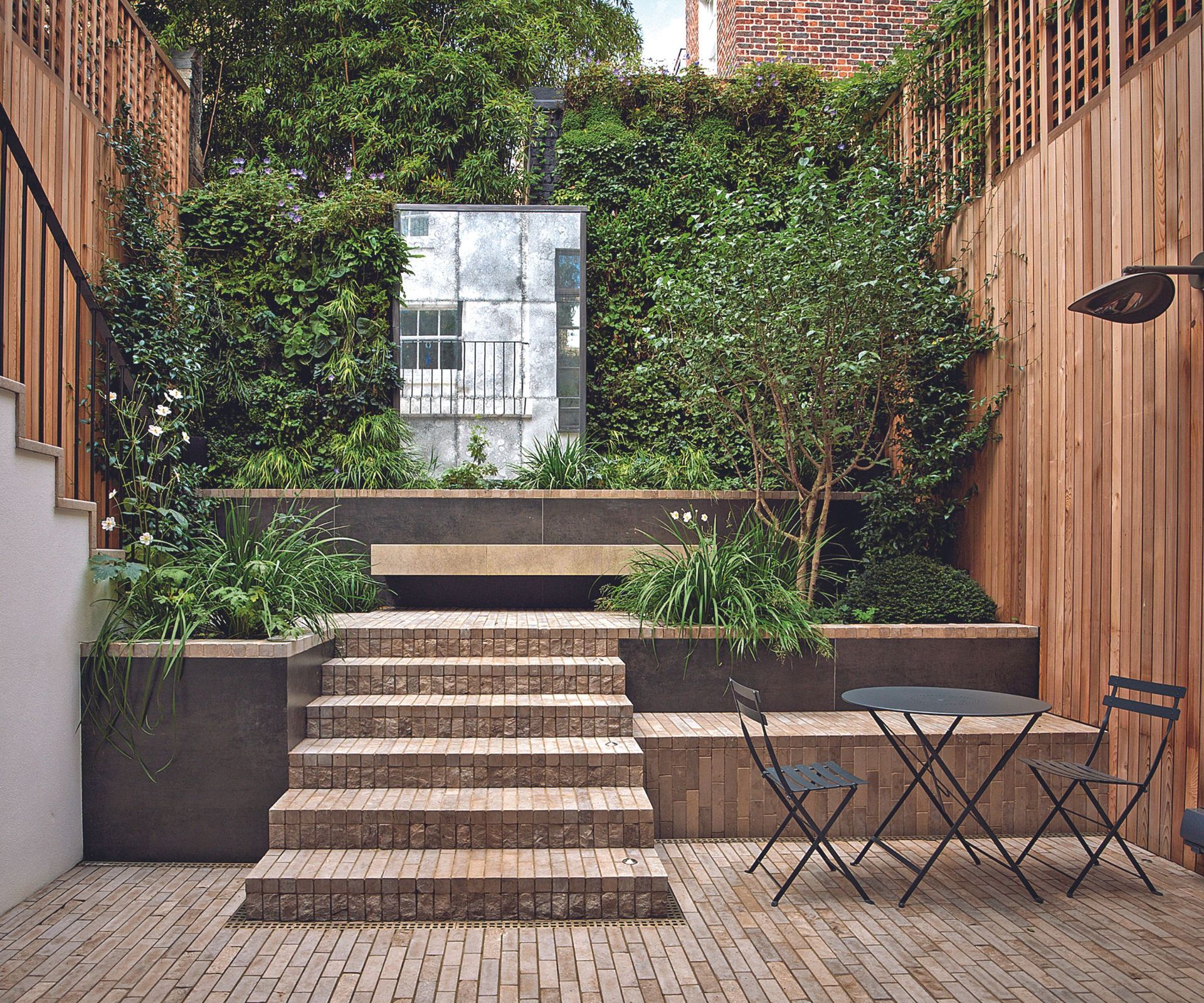 Pay attention to the light and vertical garden ideas advises Gavin McWilliam of McWilliam Studio, who used reflective surfaces in this townhouse terrace. An antique distressed mirror opens up the space bringing light and drama into the space.
'A green wall was included in the scheme,' adds Gavin, 'starting off with shade-loving plants at the bottom and as it went higher with increased light levels the planting became more experimental.
'As a mainly green space with splashes of white, the design focused on texture and the use of foliage to bring movement and interest. White works well in shaded areas, so white Japanese anemones and Libertia grandifl ora provide little sparkles throughout the space.'
9. Fit in a crowd with sectional seating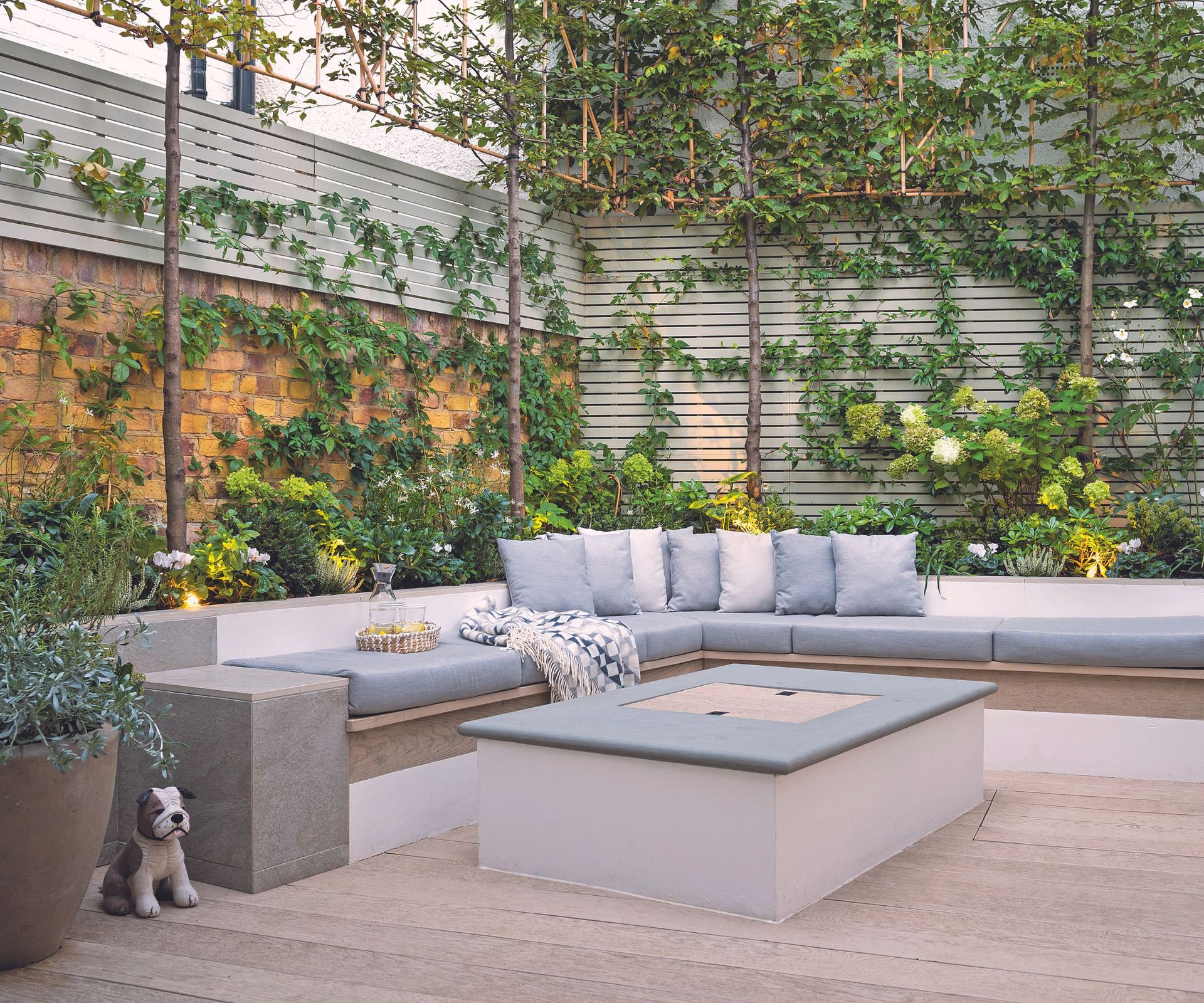 In-built furniture clustered around a coffee table or gas flame backyard fire pit table is a neat destination for late-night entertaining. When positioning, Chris Harrington of Harrington Porter recommends considering the views from the house, as well as back to the house (what you will be looking at).
'For sofa-style lounging, think about how many people you'd like to seat and consider where the sun goes throughout the day,' he says.
In this renovated townhouse, a simple palette of materials and subtle grays, whites and taupes were chosen and replicated throughout.
10. Create visual interest with sculpture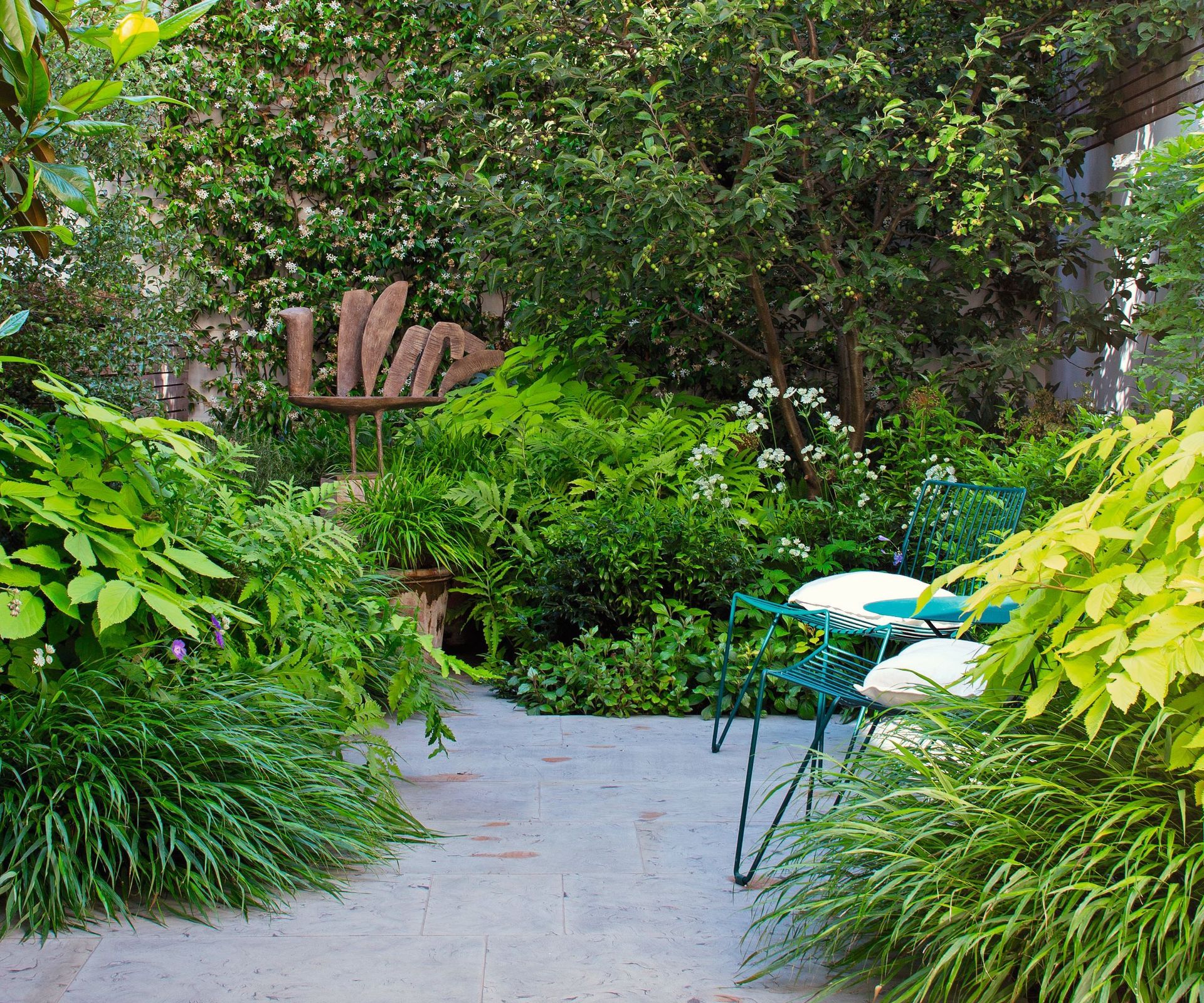 Sculpture pleases the eye and acts as a yard art element. In this terrace, with high walls on both sides, Barcelona Bird by Christopher Marvell was set upon an oak plinth by designer George Cullis of Studio Cullis.
'The naivety of the bronze piece and the naturalistic tones of the bronze, offer a constant and calming presence, which will be obscured and revealed by the plants as they change through the seasons,' says George.
The artwork is surrounded by a lushly planted collection of terracotta pots and overhung by the boughs of a flowering crab apple tree that encourages wildlife.
FAQs
How to decorate a rooftop terrace?
Roof garden terrace decor should be approached in just the same way as you might decorate a terrace in a backyard: add beautiful planting, a central coffee table or fire pit, around which you can arrange lounge furniture and, if room, a dining space. Ensure it's beautifully it, too, and don't forget to introduce garden shade ideas to shelter under on hot days.
---
Terraces make fantastic sloped backyard ideas, and while we show you a series of single terraces here, they can be designed in groups, each for a different purpose – lounging, dining, even cooking in an outdoor kitchen – to create a multi-use space.
Sign up to the Homes & Gardens newsletter
Decor Ideas. Project Inspiration. Expert Advice. Delivered to your inbox.
With over 30 years of working in journalism on women's home and lifestyle media brands, Rhoda is an Editorial Director, Homes Content, at Future. Over time, Rhoda has worked on the entire homes and gardens portfolio including Homes & Gardens, Country Homes & Interiors, Livingetc, Ideal Home, Style at Home, Woman & Home, 25 Beautiful Homes, Amateur Gardening and Easy Gardens. She was also editor of Country Homes & Interiors for 14 years, leading it across print and creating the blog Country Days. She has also worked at Woman's Weekly, Family Circle and Practical Parenting.