5 design and color lessons we've learnt from this tiny but perfect kitchen
This mini kitchen may be small but it's big on personality – its design details and bold color schemes mitigating its compact proportions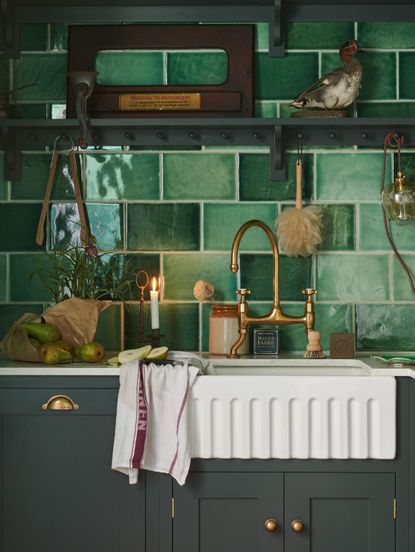 (Image credit: deVOL)
Once a derelict old cottage with no kitchen, this space was transformed by owner Joe into a glimmering beacon of beauty that is viewed as soon as he opens his front door.
Joe is a clever collector and has gathered a really interesting array of kitchen ideas – delightfully quirky objects to fill his home and his kitchen, so he needed plenty of open shelves, glass cupboards and a dramatic backdrop. He chose deVOL (opens in new tab)'s emerald green tiles and Shaker cupboards painted in Bakehouse Green to create this moody, atmospheric space.
1. Small kitchen cabinetry can be dark
For anyone looking for small kitchen ideas that are impactful, consider going for a bold color. The decision to go for deep dark colors in a small room is a brave one, but these green kitchen ideas work very well and give the room grandeur and a real sense of presence. It feels full of character and personality, so much so that its size is celebrated.
2. Rustic terracotta flooring adds distinctive character
If you are looking for cottage kitchen ideas, don't overlook the floor. Here, a warm terracotta tiled floor from deVOL's sister company, Floors of Stone (opens in new tab), was laid.
This is very in keeping with the rustic history of the cottage and flows so beautifully into the garden, which is accessed by big French doors directly from the kitchen.
3. Hardwearing countertops are a must in small spaces
Looking for kitchen countertop ideas for a small kitchen? It's vital that they are super durable as well as being stylish.
Joe chose really hardwearing Silestone countertops that could take a good deal of use in this small space. The 'Helix' finish is close to natural marble in terms of looks, with its light-enhancing white base and grey veining.
A smattering of our Bella Brass knobs and handles, adds to the authentic feel of this rustic kitchen.
4. Detailed fittings add to a small room's texture
The final decision was a deVOL fluted sink, which adds that final tactile element to the room and works perfectly in this decorative and delightfully cluttered and charming space. The coloring of the tiles is one of those delightful kitchen backsplash ideas that adds extra texture and shine, and detailing of the Shaker pegrail is perfect for this tiny space.
5. Authentic lighting is the perfect finishing touch
Cottage lighting ideas need careful thought – anything too modern, such as downlights, would ruin the authenticity of this period-style space. Joe chose a simple deVOL creamware pendant light, which adds to the traditional feel of the kitchen perfectly.
Lola Houlton is H&G's long-term intern. Currently student of Psychology at the University of Sussex, she began writing content for Real Homes around the subjects of children's and teenagers' bedroom, in particular covering the psychology of teens and their approach to tidiness. From there, Lola expanded her knowledge of a broad range of subjects and now writes about everything from organization through to house plants while continuing her studies.